---
We independently research, test, and recommend the best products; you can learn more about our review process here.
So you're tired of paddling your canoe against the wind and current, huh?
The good news is that a trolling motor will solve your dilemma, but what is the best trolling motor for a canoe, and how can you mount one?
That's where my years of experience fishing out of kayaks and canoes come in handy!
By the end of the article, you will know why I rated the Newport Vessels X-Series as the best canoe trolling motor.
I promise not to troll you too much as we make our way through the article! haha sorry… Dad jokes.
Top 3 Trolling Motors For a Canoe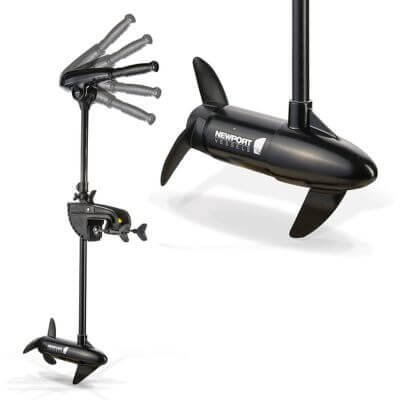 Best Trolling Motor Overall
Newport Vessels X-Series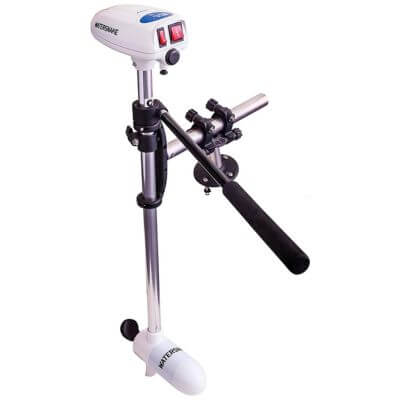 Watersnake T18 ASP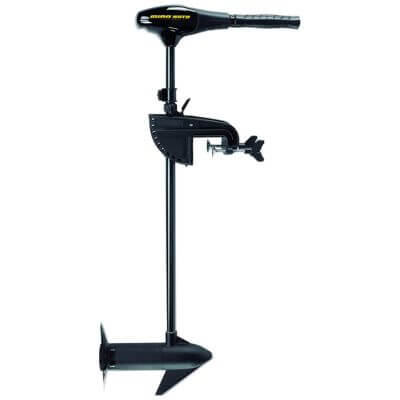 Best Freshwater Trolling Motor
Minn Kota Endura C2
---
How We Selected Our Favorites
Regardless of features, trolling motors are pretty much the same, irrespective of the platform they're used on. It's the subtle differences that make or break a good trolling motor.
As we test and go over these trolling motors with a fine-tooth comb, there's always an eye toward how it functions with a canoe specifically.
The truth is, all of the trolling motors on this list will work on other platforms, such as kayaks, jon boats, and even some decked-out SUP boards.
It's "how" they function on a canoe that matters to us for this, specific list, and we set up our "must-have" features accordingly.
Mounting and Portability: Canoes are shaped very differently from a kayak or a jon boat. So not only does the trolling motor have to feature a solid mount, it has to have a degree of portability as well.

Lightweight durability and specific mounting options are the primary focus here.
Power: The power of a trolling motor is important for most canoes. Since canoes come in a wide variety of sizes, displacement, or planing hulls (with a lot of variety between those two), you need something to move them through the water at a good pace without sucking the life out of your batteries quickly.
Connectivity: For fishing, the level of connectivity is fairly important, especially if your canoe is rocking a fishfinder, transducer, battery, lights, and other devices.

The more high-tech your rig, the more connectivity becomes a must-have feature in your canoe.
Durability: Typically, trolling motors for canoes are on the smaller side. You don't need a Garmin Force for one of these. Of course, you could go with some overkill but that's exactly what it would be.

The point is, these are smaller trolling motors, so their longevity and durability should really stand out.
Best Trolling Motor for Canoes Overall
Newport Vessels X-Series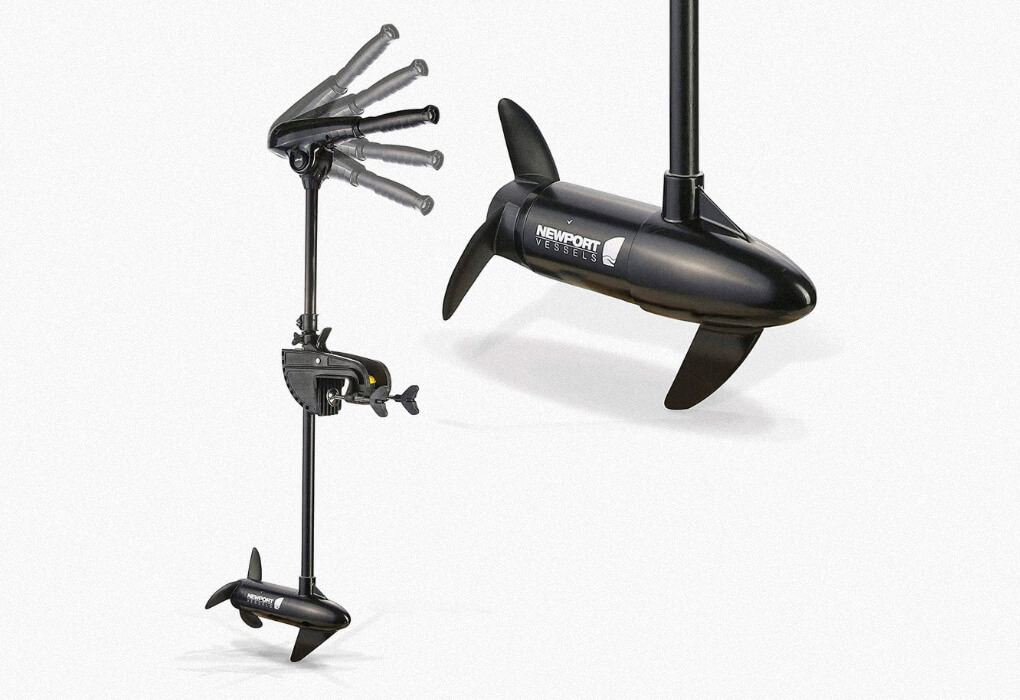 Key Features
12-volts
55lbs thrust
36-inch fiberglass shaft
Eight speeds: Five forward speeds, three reverse speeds
Why We Love It
Newport Vessels knows their business when it comes to kayak and canoe trolling motors. This is where the primary focus of the company lies.
The X-Series has the perfect shaft length (36"), and it's a slick-looking, powerful motor that mounts easily and works in either freshwater or saltwater environments.
The X-series is a transom mount trolling motor, so if your canoe has a flat transom or trolling motor bracket, it will fit it.
The 55 pounds of thrust and five forward speeds are more than enough to propel your canoe quickly through the water so you can get to your favorite fishing spot fast.
I love the telescoping handle and adjustable head unit because the trolling motor adjusts to you and where you're most comfortable instead of putting you in awkward positions to operate it.
The fiberglass shaft is just long enough to fully submerge the lower unit but not so long that it gets in the way of your fishing.
The X-Series features a 40 lb or 55 lb thrust model, transom mount trolling motor, constructed with corrosion-resistant materials.
For anglers living on the coast, there's no need to worry about transitioning from fresh to brackish, to saltwater environments.
The motor is sturdy, well-made, and built to withstand the typical punishments a trolling motor goes through.
Read our full review here: Newport Vessels Trolling Motor review.
Best Budget-Buy
Watersnake T18 ASP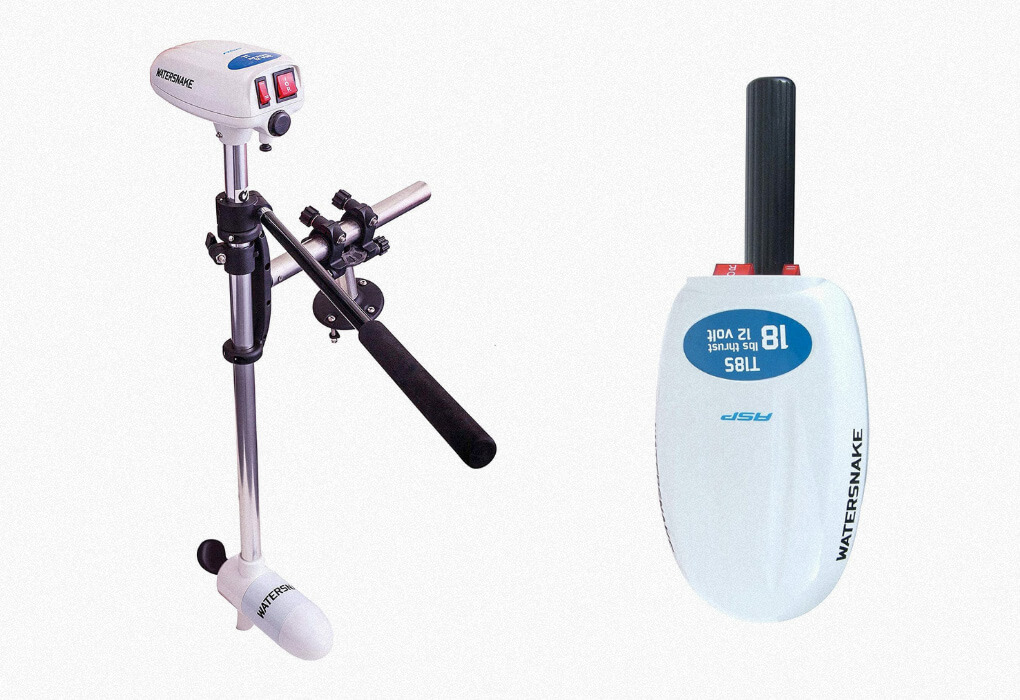 Key Features
12v
18lbs or 24lbs of thrust
24″ shaft
Two forward speed and two reverse speeds
Why We Chose It
Watersnake makes several transom mount and bow mount trolling motors for anglers. They're known for creating budget-friendly products like the T18 ASP.
They are inexpensive because their products are low-tech and straightforward, so they make excellent entry-level products for beginner anglers.
The Watersnake T18 ASP is inexpensive, so if you're unsure about canoe fishing with a trolling motor, then this will give you a decent taste without emptying your wallet.
The lightweight nature of the trolling motor ensures you won't have to compensate for it by leaning away from it while you're in your canoe.
Depending on how tall your canoe sits out of the water, the shaft of the T18 ASP might be a little short, so you might have trouble keeping the lower unit fully submerged if you run into waves while on the water.
The Watersnake is like a lot of affordable options since they've had to cut out some of the more highly technical aspects of today's trolling motors.
With that being said, it's a solid trolling motor in terms of build. The only drawback is the mounting bracket—it tends to remain loose enough to allow the shaft to spin.
The Watersnake's simplicity and efficiency are what sets it apart. You won't get the built-in transducer or any of the high-end, wireless, and GPS you get with the Minn Kota offerings.
However, T18 ASP is a low-power, efficient trolling motor you can depend on in a canoe.
The Watersnake T18 ASP is for any canoe angler on a budget or the beginner wanting to test it out.
Watersnake's slogan is "Created by anglers for anglers," which means they should understand the frustrations anglers face, and their products should help relieve those frustrations.
At the very least, they reduce the stress on your wallet!
Best Freshwater Trolling Motor
Minn Kota Endura C2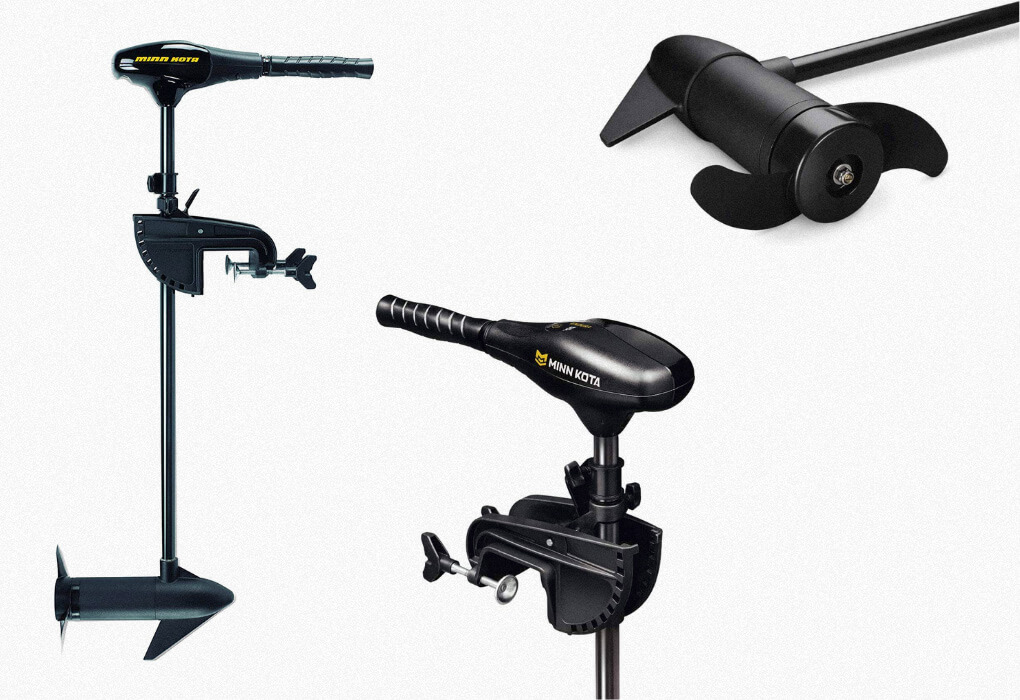 Key Features
12-volts
30lbs, 45lbs, 50lbs, and 55lbs of thrust
30″, 36″, and 42″ composite shaft
Eight speeds: Five forwards, three reverse
Why We Chose It
The Minn Kota Endura C2 runs off 12 volts like the other electric motors that made this list, so you only have to buy one deep-cycle battery.
This also means you only have to make room for one battery, saving space and weight in your canoe.
I love having options. Minn Kota offers several options for thrust and shaft length so you can choose which best suits your needs.
It's almost like having a custom motor for your canoe at a much lower price! It has five forward speeds and three reverse speeds, so I never feel like I can't find the perfect speed for a given situation.
The indestructible shaft of the Minn Kota Endura C2 means you won't have to be as careful while freshwater fishing in stumpy or rocky locations.
Freshwater canoers should only use the Endura C2 in freshwater, as it's not designed for brackish or saltwater environments.
The Endura C2 isn't as high-tech as some of its other, Minn Kota cousins, but it does have simpler, important features, such as a battery indicator on the control panel.
It has a more durable build than the X-Series, thanks to the indestructible shaft. Minn Kota placed an emphasis on durability and longevity, reflected by the two-year warranty.
The motor lift assist is a lifesaver. I'm 43 years old and my back isn't the same as my 23-year-old back.
The lift assist changes leverage, lifting the propeller up the shaft, within a bracket, transferring the weight upward, and making the trolling motor easy to fold in.
The composite shaft is designed with some built-in flex, so shallow waters are far more manageable. Since canoes are designed to push through shallower waters, the Endura C2 is the perfect companion.
If you're a shallow water angler or just spend a lot of time navigating shallow water, purchase an Endura C2 for a dependable push that won't get hung up.
Newport Vessels NV-Series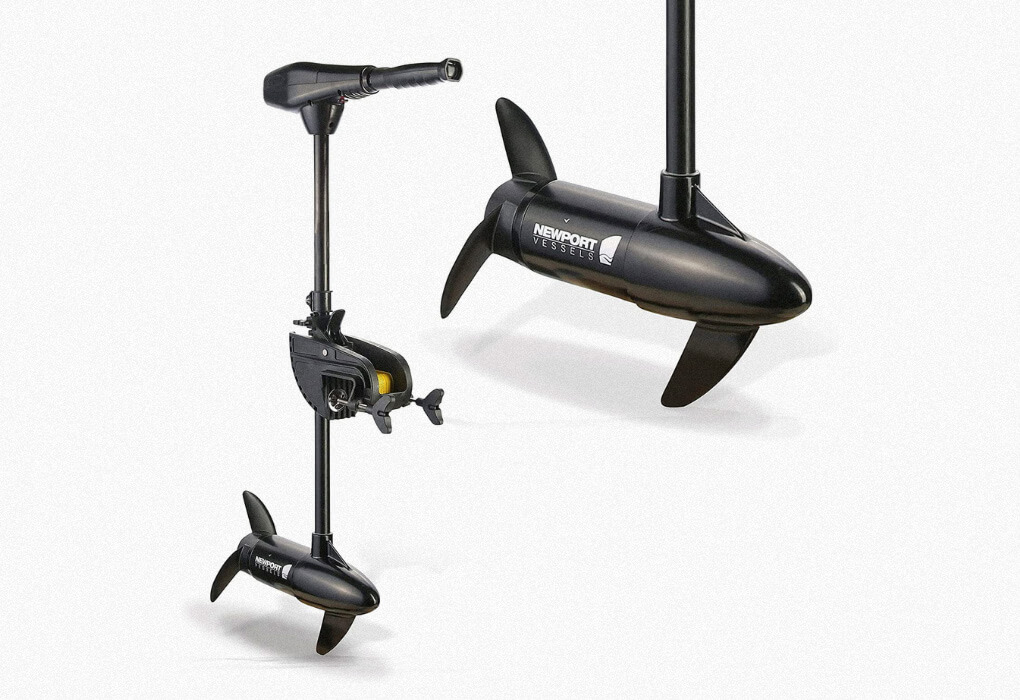 Key Features
12v or 24v
36lbs, 46lbs, 55lbs, 62lbs, and 86lbs of thrust
36″ shaft length
Eight speeds: Five forwards, three reverse
Why We Chose It
Newport Vessels trolling motors are versatile. Initially designed for their inflatable fishing boats, they quickly made kayak trolling motors, which conveniently work well on canoes.
While their quality control lets some minor problems slip through the cracks at times, their customer service is always there to fix the problem for Newport Vessels customers.
The Newport Vessels NV-Series has the option for 24 volts and 86 lbs of thrust, but that would be overkill for a canoe.
I would stick with the 55lbs or 62lbs of thrust at the most to help keep the weight down while still having more than enough power to move you across the water quickly.
The telescoping handle is an excellent feature because you can set the motor back behind you at a comfortable distance and still have complete control.
The biggest downside to Newport Vessels trolling motors, in general, is the spotty quality control.
However, their customer service does an excellent job of ensuring you're back on the water as quickly as possible. Compared to the other trolling motors on this list, the versatility is what sets the NV-Series apart.
Freshwater, saltwater, a wide spread of thrust options at purchase, and eight speeds are highly convenient for canoe anglers.
The NV-Series is an ideal trolling motor for the angler who frequently fishes saltwater and freshwater. It has several options, so you're sure to find an electric motor that fits your style.
Looking for an affordable trolling motor that still retains many of the bigger brand features shouldn't be a pain.
Put the NV-Series on your list today and find out why Newport Vessels deserves more name recognition.
Read our full review here: Newport Vessels Trolling Motor review.
Minn Kota Traxxis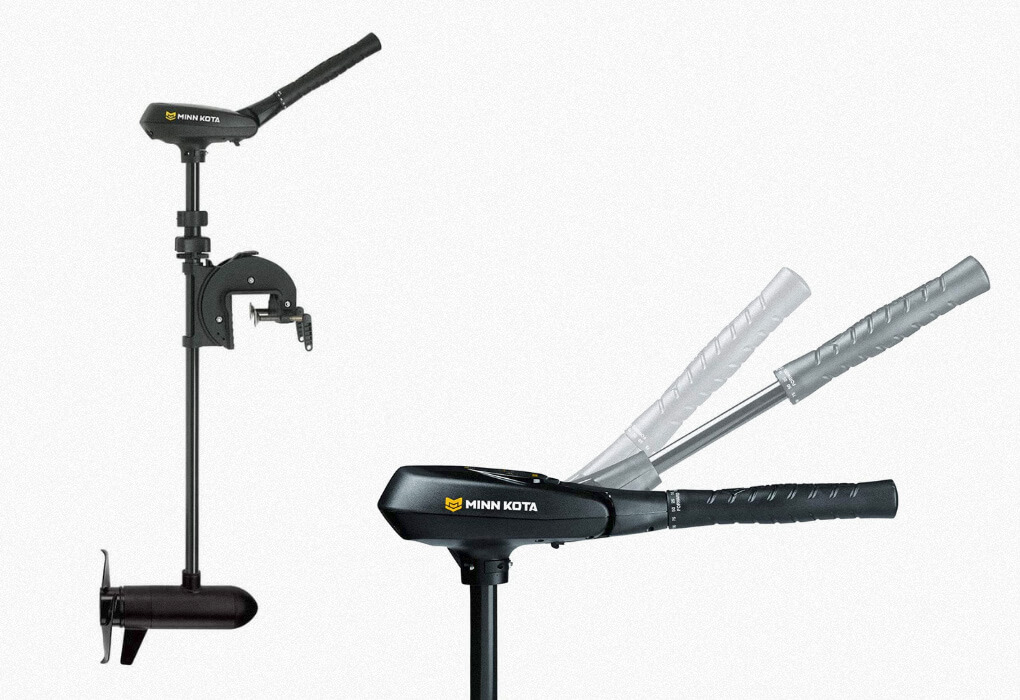 Key Features
12v
55lb thrust
36″ shaft
Variable speed
Why We Chose It
Minn Kota has been a leader in the trolling motor industry for many years, so it's no surprise that they have a couple of trolling motors listed as one of the best trolling motors for a canoe.
Their recent struggles in quality control were amplified when Lowrance and Garmin introduced the Lowrance Ghost and the Garmin Force.
However, I think Minn Kota will bounce back with a tremendous trolling motor of their own, as they've done time and again.
The Traxxis has a Digital Maximizer, which is Minn Kota's way of prolonging battery life. They claim Digital Maximize will increase the battery run time by five times.
The 36-inch shaft is the perfect length to keep the lower unit fully submerged without interfering with your fishing activities.
The Traxxis has a telescoping and tilting handle so you can find the most comfortable position for steering your canoe. The one-hand stowage feature is just what it sounds like.
The Traxxis is easy to stow and deploy, when necessary, using one hand.
The quick-lock cam is a fantastic feature for canoers. You can adjust the depth on the fly with the quick-release and lock cam.
It opens and closes faster than you can blink, allowing you to incrementally adjust the depth up or down.
The flare-blade propellers are designed for pushing through thick, underwater vegetation, which canoers run into on a fairly frequent basis.
I recommend the Minn Kota Traxxis to dedicated canoe anglers. It's more expensive than the other trolling motors on the list, so it's not for someone just trying out canoe fishing.
MotorGuide R3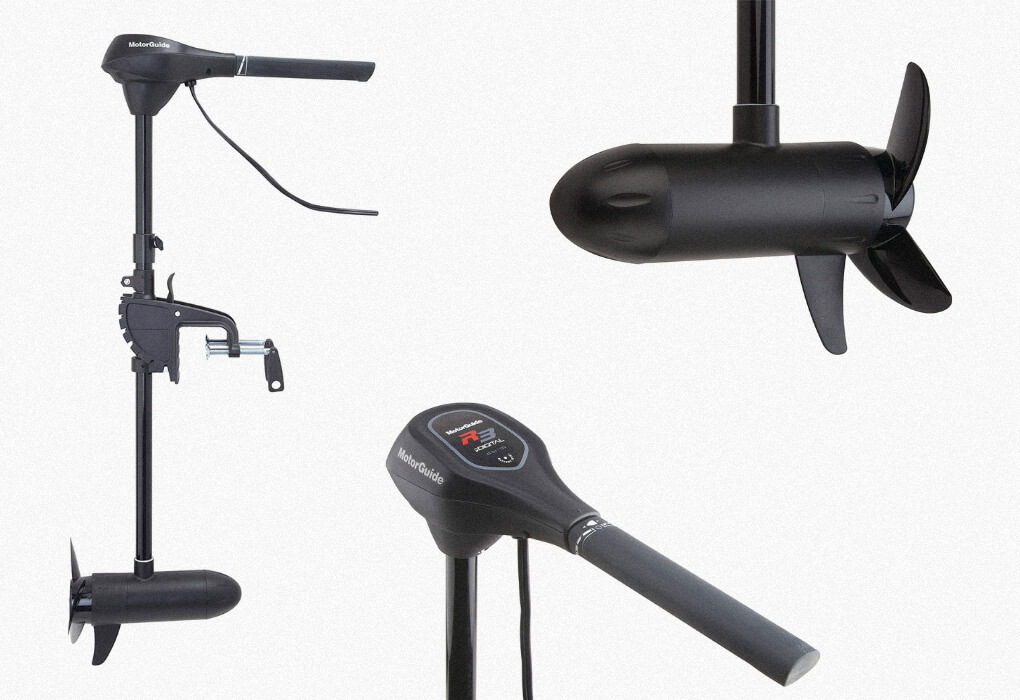 Key Features
12-volts
30lbs and 40lbs of thrust
The 36-inch and 30-inch shaft
Seven speeds: Five forward and two reverse
Why We Chose It
MotorGuide is another brand that has manufactured trolling motors for decades. They should know what they're doing and do it well in theory.
However, the quality of their products and customer service has left a lot to be desired in recent years, despite that Motorguide's still trusted by many professional anglers today.
As I previously mentioned, I love having options.
Hence, the MotorGuide R3 has multiple thrust and shaft length options makes me happy as an angler because I'm more likely to find the perfect match for trolling motor and canoe.
Unlike other comparable trolling motors with three reverse speeds, the R3 only has two reverse speeds.
While this isn't a significant drawback, it does make one wonder why they wouldn't want at least as many speeds as their direct competitors.
The Motorguide R3 separates itself from the NV-Series, X-Series, Traxxis, and Endura because it's a simplified, entry-level trolling motor that gets the job done.
For its price, you're getting a highly durable and dependable trolling motor that will mount to your canoe and remain there for a long time.
The MotorGuide R3 is a entry-level canoe trolling motor. If you're still deciding if you like canoe fishing or not, then the R3 might be for you. It won't break the bank and you can afford to upgrade down the road.
Read our full review here: Motorguide Trolling Motor review.
Buying Guide: Factors To Consider Before Buying Electric Canoe Motors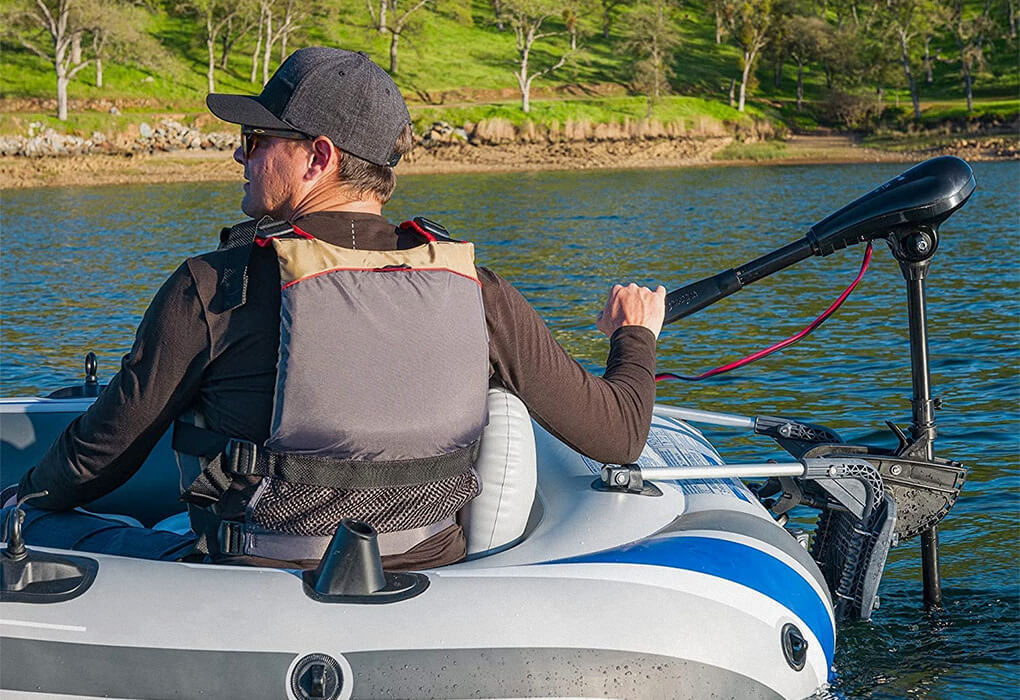 Canoes were intended to be paddled. That's why most don't have a place to mount a motor.
That means a few special considerations need to be made before purchasing a trolling motor for a canoe. The most important considerations are:
Thrust: What pound thrust trolling motor do you want or need? You might think the more thrust, the better.

However, once you start getting more than 55 lbs of thrust, you're not gaining much speed compared to the added weight. For my 14′ canoe, a 55lb thrust trolling motor will push it about 3.5-4mph, which is plenty fast for me.
Weight: Considering the weight is important because, most likely, the trolling motor will be mounted to a bracket off the side of the canoe.

So if the trolling motor is heavy, it will cause your canoe to lean, which might cause you to lose balance and flip.
Shaft Length: The ideal shaft length keeps the lower unit submerged at all times, including when you encounter waves, and is out of the way while you fish.

If you fish shallowly, you don't want the motor and prop constantly hitting the bottom.
Power Options: The power options are pretty simple for a canoe, in my opinion. I would only run a trolling motor that requires a 12-volt battery.

As we talked about earlier, this keeps the weight down, and there are fewer things that can go wrong
Standard Features: What standard features are most important to you? Canoe motors will not have many features. They keep everything relatively simple.

That doesn't mean you can't find a trolling motor with the features you want and need. You might have to look a little harder, though.
If you want to put a Lowrance Ghost or Garmin Force on the front of your canoe, then I say go for it, but for the rest of us who won't use 90% of the features they offer, it's best to stick with a simple tiller handle trolling motor.
That way, you don't have to worry about where you're going to place the foot pedal.
How Will You Mount the Canoe Motor?
As I mentioned previously, most canoes don't have a flat transom, which makes mounting a trolling motor a little more tricky than mounting one on a fishing kayak.
However, as anglers, we are an industrious group of individuals and can figure out many different ways to mount a trolling motor to a canoe.
Many people DIY their mount, while others purchase one. It will depend on the make and model of your canoe as to which mount you should buy, so do your research!
What Size Trolling Motor for a Canoe?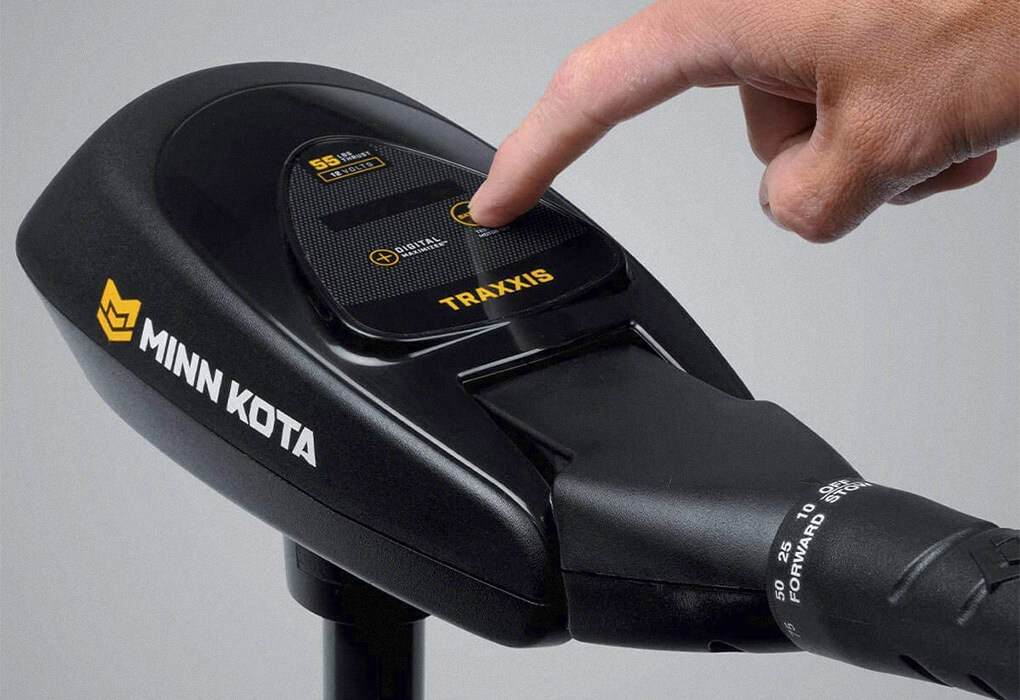 The best size trolling motor for a canoe will vary from situation to situation. Now that I have given the copout answer, a 55lb thrust brushless motor with a 36″ shaft is the best all-around size trolling motor for a canoe.
I would also add a Lithium-Ion 12-volt battery instead of a Lead-Acid battery but more on that later.
Once you've decided on which canoe motor is best for you, you'll need to purchase a few other items to have a successful trip on the water:
Trolling Motor Mount For Canoes
You can purchase a trolling motor bracket for canoes or craft one yourself.
Either way, you will need a bracket unless your canoe has a flat transom, then you'll only need a way to reinforce the transom so it can support the weight of the motor.
This is one of the best DYI brackets I found on Youtube.
Trolling Motor Battery
Purchasing a trolling motor battery can be confusing. That's why we created the best kayak trolling motor battery article.
Kayaks and canoes are similar enough that this guide will direct you in purchasing the best battery for your canoe.
*Spoiler alert* I think the Dakota Lithium 12v 54Ah is the best trolling motor battery for canoes and kayaks.
Heavy-Duty Battery Cables
Yes, I know the trolling motor comes with cables. However, they might not be long enough to run the length of your canoe if you need to place your battery on the opposite end to help disperse the weight.
Circuit Breaker
Unless you enjoy wasting money and buying a product multiple times, I suggest purchasing a circuit breaker. It will save your motor from power surges.
So instead of damaging your trolling motor, the circuit breaker will trigger, and all you have to do is flip a switch or press a button to reset it.
Final Thoughts
Even though canoes were not designed to have trolling motors mounted, we found a way to prevail! A fishing canoe with a trolling motor is a game-changer.
For those seeking a versatile and cost-effective solution, look no further than the Newport Vessels X-Series.
And if you're on a tight budget, the Watersnake T18 ASP may be the perfect fit for you. Don't wait any longer to upgrade your canoeing experience with a reliable trolling motor!
Do you have questions about the best trolling motor for a canoe? Feel free to ask them in the comments, and I'll answer them as best I can!