We independently research, test, and recommend the best products; you can learn more about our review process here.
Not every trolling motor is designed to withstand the corrosive nature of saltwater. That's why we've created this article to ensure you choose the best saltwater trolling motor that's sure to provide you with hours of fishing bliss.
The clear winner for best saltwater trolling motor is the Garmin Force. However, several others make the list and cost much less than the Force. They might be a much better option for you.
Whether you're in the market for a cheap saltwater trolling motor or the best money can buy, we have compiled what we believe to be the best motors for every situation.
Comparison Table: Best Trolling Motor for Saltwater
Image
Features
Features
Price

Best Overall

Multiple shaft lengths - 50" or 57"
24-volt or 36-volt power options
80 or 100 lbs of thrust
Bow mount

Bass ProCabela's

Best Spot Lock

Two shaft lengths of 54" and 60."
24 volts or 36 volts
80 lbs of thrust or 112 lbs of thrust
Bow mount

Bass ProCabela's

Best Bow Mount

Two shaft lengths of 52" and 62."
24v and 36v respectively with 80lbs thrust and 112lbs
Bow mount
Tiller Handle

Bass ProCabela's

Best Budget-Friendly

54-inch shaft length
54 pounds of thrust
12v
Bow mount
Tiller handle

AmazonScheels

Budget GPS

60" shaft
24v
80lbs thrust
Bow Mount

Amazon

Best Electric

Motorguide Xi5 Wireless Saltwater

48", 54", 60", and 72" shaft lengths
12v, 24v, and 36v models
55lb, 80lb, and 105lb thrust
Electric steer
Bow mount

Bass ProCabela's

Best Kayak Trolling Motor

24" shaft
55lb thrust
12v
Fiberglass shaft
Tiller handle
Transom mount

Amazon

Best Transom Mount Saltwater Trolling Motor

36" shaft
40lb and 55lb thrust
12-volt
Eight speeds
Transom mount

Amazon
---
Saltwater Trolling Motor Reviews
Garmin Force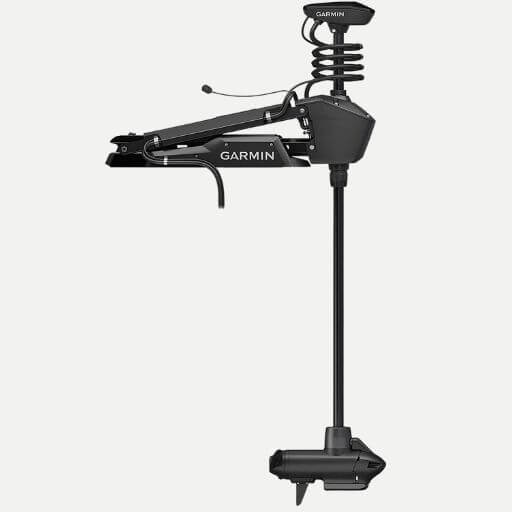 BEST OVERALL SALTWATER TROLLING MOTOR
Specs
Multiple shaft lengths – 50″ or 57″
24-volt or 36-volt power options
80 or 100 lbs of thrust
Bow mount
Pros
Silent brushless motor
Long battery life
Responsiveness of a cable-steer
Great customer service
Integrated sonar and GPS
Gesture steer
Cons
Expensive
Sonar only works with other Garmin electronics
Only two shaft lengths that aren't ideal for taller boats
Why We Chose It
Ever since Garmin introduced the Force to the market, the only other trolling motor that comes close to having all the same features is the Lowrance Ghost. Except, the Ghost is not approved for saltwater use like the Force.
I love the futuristic features like gesture steer that the Force offers. It will make others believe you're a Jedi steering the boat with your mind! You can find out more about these features in my Garmin Force Review.
Not only does it have new features, but it's improved on the ones we've come to love, like anchor mode and integrated sonar. Even though I use Garmin sonar, I don't particularly appreciate that the sonar is only compatible with other Garmin electronics. I would love to see a universal integrated sonar option.
While the Garmin Force is the best overall saltwater trolling motor, it's not for everyone. This trolling motor is for those who make a living fishing in salty or brackish water and NEED a high-quality trolling motor. I wouldn't recommend spending this much money unless you will use most of the features the Force offers.
Otherwise, you're wasting your money.
Minn Kota Riptide Ulterra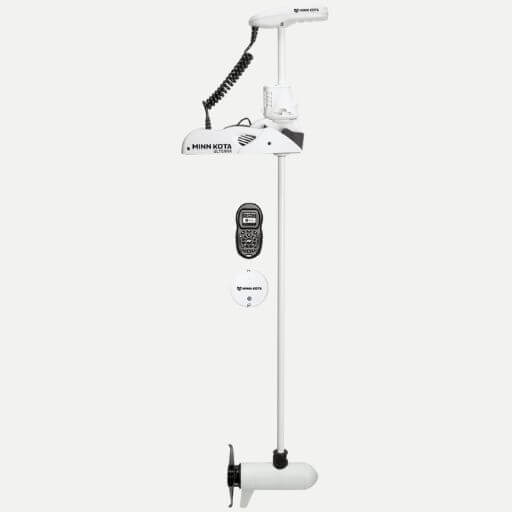 BEST SALTWATER TROLLING MOTOR WITH SPOT LOCK
Specs
Two shaft lengths of 54″ and 60."
24 volts or 36 volts
80 lbs of thrust or 112 lbs of thrust
Bow mount
Pros
Two-year warranty
Auto-stow and deploy
Spot-lock
Multiple control options
Cons
You will most likely need to use the warranty
Expensive
Only two shaft lengths
Why We Chose It
Minn Kota was the leading trolling motor manufacturer at one time. They pioneered the spot-lock or anchor mode technology.
Sadly, their quality has faltered in recent years, but their customer service is still good. We rated this the best spot-lock trolling motor because Minn Kota does an excellent job keeping you on the spot. However, the other features and parts aren't holding up, like the trim motor or the auto-deploy mechanism.
Controlling the trolling motor (when it's working) is easy with the i-Pilot remote, foot pedal, Humminbird electronics, or the Minn Kota App.
In theory, Minn Kota made an excellent saltwater trolling motor, but they failed to deliver quality. I only recommend Riptide Ulterra because Minn Kota pioneered the Spot-Lock technology. However, it might be best to look at other options with GPS capabilities.
Though it has fewer features, the Riptide Terrova is worth checking out eBay for an excellent used saltwater trolling motor for sale.
Minn Kota Riptide Fortrex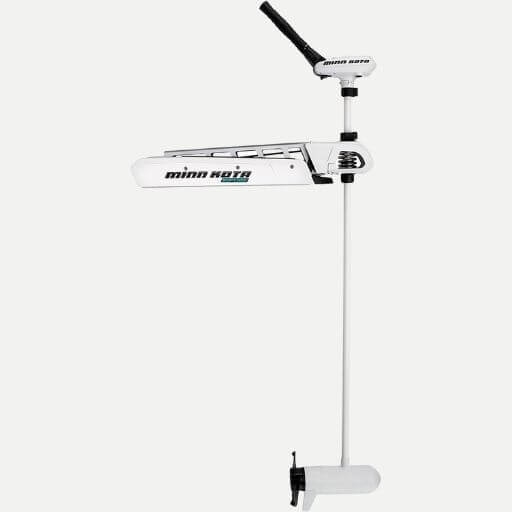 BEST BOW MOUNT SALTWATER TROLLING MOTOR
Specs
Two shaft lengths of 52″ and 62."
24v and 36v respectively with 80lbs thrust and 112lbs
Bow mount
Tiller Handle
Pros
Lift-assist mount
Removeable Bowguard 360 degree bracket
Advanced corrosion protection
Indestructible composite shaft
Adjustable tiller handle
Cons
Limited features
Tiller handle is the only option to steer
Only two shaft lengths and they might be short for taller boats.
Why We Chose It
Despite the disappointment with the Riptide Ulterra, Minn Kota has produced quality trolling motors for years. The Riptide Fortrex is a terrific example.
Instead of everything being made from plastic, Minn Kota used anodized aluminum to strengthen and increase the corrosion resistance of several parts.
While I would have preferred a longer shaft for this bow-mounted tiller handle, it adjusts, so you don't have to constantly bend over to steer the motor since there is no other way to steer it.
I would recommend the Riptide Fortrex to anglers who don't like using a foot pedal but want a saltwater bow mount trolling motor. It's powerful enough to quickly move larger boats and still quiet enough to sneak up on fish without spending a fortune.
Watersnake Assault Electric Trolling Motor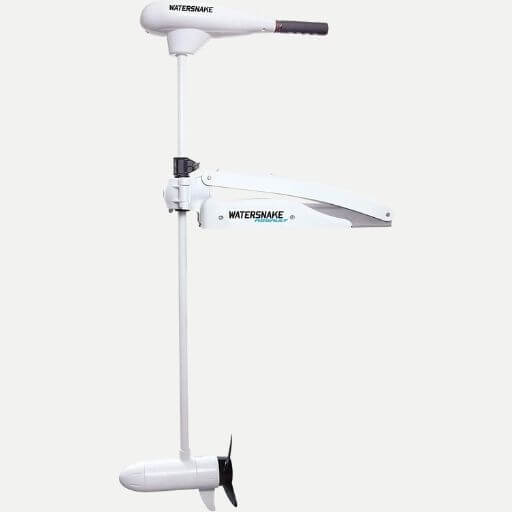 BEST BUDGET-FRIENDLY TROLLING MOTOR
Specs
54-inch shaft length
54 pounds of thrust
12v
Bow mount
Tiller handle
Pros
Cheap saltwater trolling motor
Simple design
Five forward speeds and two reverse speeds
Cons
The top electrical housing is not waterproof (it's an easy fix with an O-ring and silicone)
Limited features
The tiller handle is the only steering option
The tiller handle extends out but doesn't tilt
Why We Chose It
Watersnake is known for making inexpensive trolling motors for saltwater and freshwater use.
Though the Assault lacks many of the features of the other trolling motors that made the list, it comes at a steeply discounted price.
I noticed a few complaints from people saying it was not corrosion-resistant, which means they probably didn't wash it off and maintain it after using it in saltwater. So if you want to add this to your fishing boat, then be sure to wash it after every use and properly maintain it to last you as long as possible.
The Watersnake Assault electric trolling motor is for a saltwater angler on a budget. It has minimal features, but it will get the job done at a much lower price.
Haswing Cayman GPS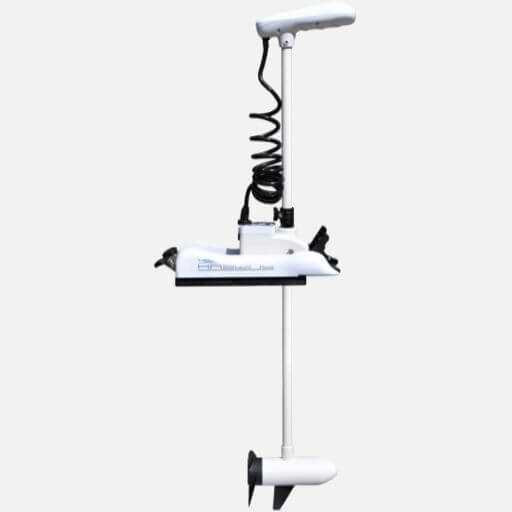 BEST BUDGET-FRIENDLY SALTWATER TROLLING MOTOR WITH GPS
Specs
60″ shaft
24v
80lbs thrust
Bow Mount
Pros
Multiple control options
GPS capabilities
Reasonably priced
Optional quick-release bracket
Cons
Limited features
Need a phone/ Helmsman app to use the GPS
Lacks resources for the Helmsman app
Will randomly disconnect from your phone
Why We Chose It
Haswing trolling motors have been around for over a decade, and I believe they're here to stay. I wouldn't consider them a high-end trolling motor by any means, but they offer a decent quality trolling motor at an affordable price.
The Cayman GPS is the best trolling motor they make, but I wish they'd combine the features across all of their trolling motors to make a single saltwater trolling motor that can compete with the higher-priced Minn Kota motors.
The price and GPS capabilities are what make the Cayman GPS special. While the GPS is limited to the Helmsman app, which has spotty coverage, it's difficult to find another trolling motor in this price range with a functioning GPS, wireless remote control, and a foot-pedal.
The Cayman GPS is ideal for saltwater anglers with small boats who need GPS anchoring but can't afford the big-name brands.
Motorguide Xi5 Wireless Saltwater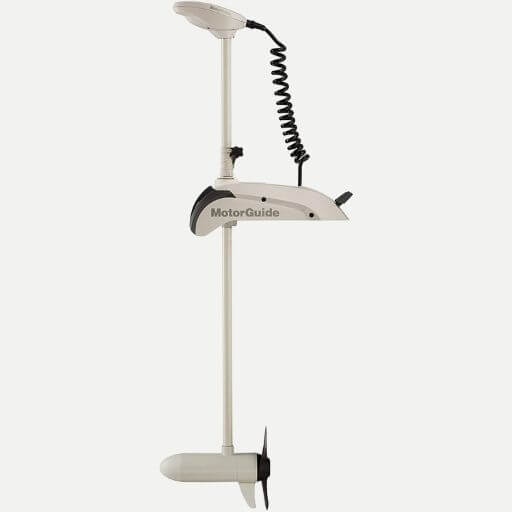 BEST SALTWATER ELECTRIC TROLLING MOTOR
Specs
48″, 54″, 60″, and 72″ shaft lengths
12v, 24v, and 36v models
55lb, 80lb, and 105lb thrust
Electric steer
Bow mount
Pros
Multiple shaft lengths
Multiple power options
Integrated sonar and GPS
Cons
It quickly drains the battery.
Low quality for the price
Subpar customer service
Why We Chose It
Motorguide is another trolling motor brand that has been around for decades. They're most known for their cable steer trolling motors, but the Xi5 was supposed to improve the Xi3. However, many people were not impressed, especially with the price.
The Motorguide Xi5 offers many features for a mid-range trolling motor like pinpoint GPS, wireless remote control, and electric steering. That's why I ranked it as the best saltwater electric trolling motor. For a deeper dive into the features, read my Motorguide x5 review.
The unbreakable composite shaft has a lifetime warranty, but that's expected from a motor in this price range. Chartplotter integration with Lowrance and Simrad electronics gives you control, which is nice if you own those brands. If you don't, though, then you're just out of luck!
The Motorguide Xi5 Wireless Saltwater is a good option if you need a mid-range trolling motor with a few features of a high-end trolling motor. It does have a few shortcomings but not enough to keep it out of our list!
Newport Vessels Kayak Series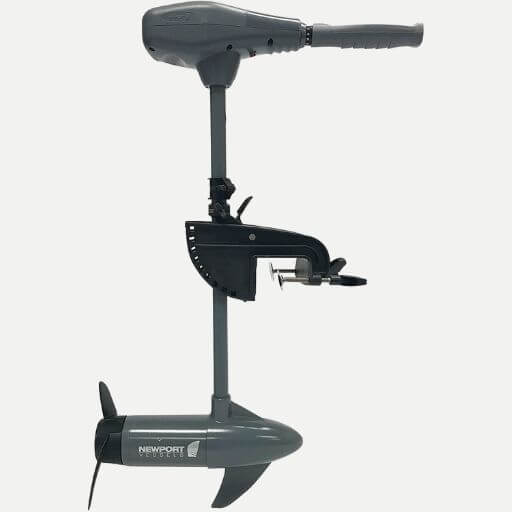 BEST KAYAK SALTWATER TROLLING MOTOR
Specs
24″ shaft
55lb thrust
12v
Fiberglass shaft
Tiller handle
Transom mount
Pros
Extremely affordable
Designed for Kayaks
Extendable tiller handle
Five speeds forward and three speeds reverse
36lb thrust or 55lb thrust with 12-volts
Cons
Kayak only
Limited features
Why We Chose It
Newport Vessels manufactures affordable saltwater trolling motors. They keep their prices low by most of their trolling motors being transom mount motors with limited features. Don't let their low prices fool you, though; they make a quality motor.
The Kayak Series by Newport Vessels doesn't have any fancy special features, but it delivers what it promises especially the variable speeds in forward and reverse.
Since it's designed for kayaks or small dinghies, it has a short 24″ fiberglass shaft. The five-point battery meter is a nice touch to know how much juice you have left in your batteries while on the water using this 12-volt saltwater trolling motor.
As the name suggests, the Newport Vessels Kayak Series is for saltwater kayak anglers, and that's why I rated it as the best saltwater kayak trolling motor. If you're in the market for a kayak trolling motor, we suggest checking out our Top 10 Best Trolling Motors for Kayaks article.
Newport Vessels X Series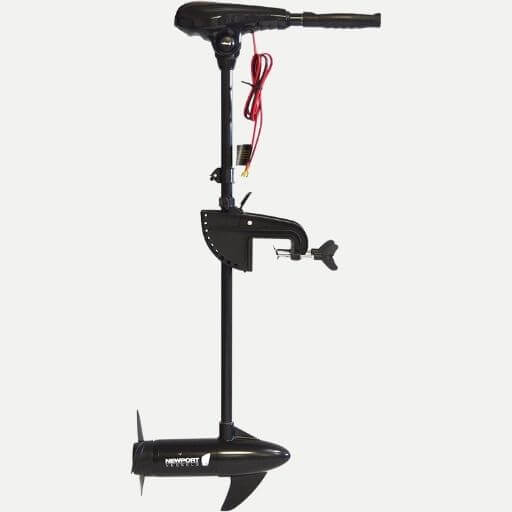 BEST TRANSOM MOUNT SALTWATER TROLLING MOTOR
Specs
36″ shaft
40lb and 55lb thrust
12-volt
Eight speeds
Transom mount
Pros
Inexpensive
Ten-point LED battery indicator
Available in camo color
The telescoping handle tilts up and down 30 degrees.
Cons
12v only
Limited features
Lead-acid battery only
Why We Chose It
I consider the X Series to be Newport Vessels' top trolling motor because it's a little more versatile than the other trolling motors in their lineup. They work great on their inflatable boats!
While all their trolling motors lack the fancy features of high-end trolling motors, they all do precisely what they promise. They get you from point A to point B; they're dependable and budget-friendly; the X Series is no different.
The X Series stands out from the others because of the tilting head unit and ten-point LED battery meter, but it doesn't have any heart-stopping features; for that, you'll have to spend A LOT more money.
The Newport Vessels X Series is the best saltwater transom mount trolling motor, so if you don't need all the extra features that a bow mount trolling motor offers, I highly recommend the X series. If you're curious about the rest of Newport Vessels trolling motors, you should read our Honest Newport Vessels Trolling Motor Reviews.
Buying Guide: Factors to Consider Before Buying a Saltwater Trolling Motor
Just like with any other trolling motor purchase, you should be thinking about the
The quietness of the motor
Battery life
Thrust
Power options
Customer service
and standard features
With a saltwater trolling motor, there are a couple of other considerations to keep in mind, like
Corrosion-resistance
Shaft length
With all of these factors in mind, let's dive a little deeper into why they matter.
The Quietness of the Motor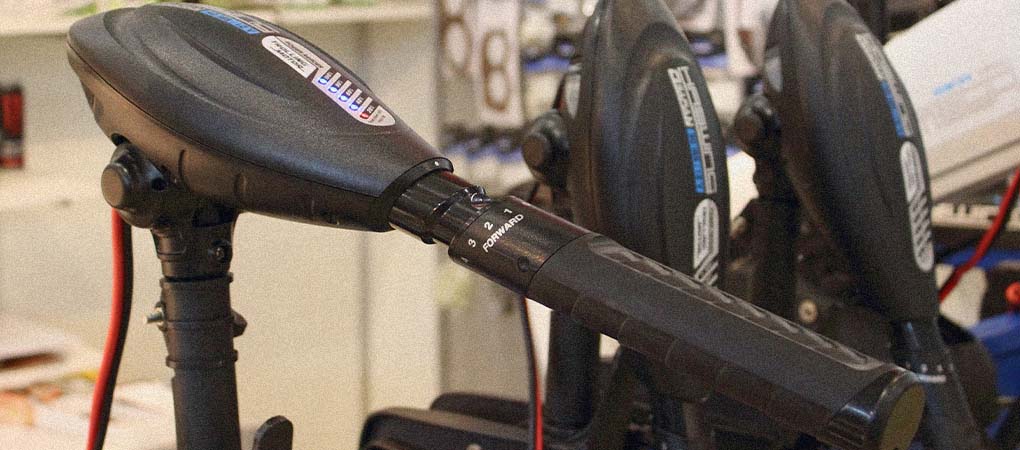 If your trolling motor is loud, you're going to spook fish. This is even more important when the water is clear, or you're fishing shallow. The motor noise won't matter as much when you're fishing deep. However, I prefer to be safe rather than sorry, so I go with the quietest motor I can afford.
Battery Life
It's impossible to charge your trolling motor batteries unless you carry a solar panel battery charger with you to extend your run time. Running out of battery juice is an awful way to cut a good day of fishing short or even a bad day of fishing, for that matter! So buy a trolling motor that conserves as much battery as possible.
Thrust
Whether you're fighting ocean currents and waves or only the weight of your boat, you need a motor with enough thrust to propel you in any direction. Boats large enough to hand the rough seas need more thrust than your average bass boat because they weigh more.
Power Options
Having options is always best. I like to know that I can make the trolling motor fit my situation instead of trying to fit my situation to the trolling motor. Most trolling motors will be powered by a 12-volt deep cycle battery, two 12v batteries, one 24-volt marine battery, or three 12v batteries run in series.
Theoretically, the more volts you have, the higher the thrust, but you can max out the motor, so it's best to have a circuit breaker in case of a power surge.
Customer Service
No matter what brand you buy, you will eventually have problems. That's why a warranty is nice, but I prefer doing business with companies that have excellent customer service. It shouldn't matter if it's a major breakdown or a minor inconvenience; the customer service should serve the customer!
Especially if you've spent a significant amount of money with the company.
Standard Features
We had a wide range of standard features on this list because we listed the high-end trolling motors alongside the budget-friendly trolling motors. You can't pay less and expect to have as many features as more expensive trolling motors. However, you should expect those features to work correctly.
Corrosion-Resistance
Corrosion isn't such a big deal for freshwater anglers, but brackish water and saltwater are very corrosive; that's why buying a saltwater-specific trolling motor is highly recommended. Even though you purchase a corrosion-resistant trolling motor, that doesn't mean you shouldn't maintain it after every use.
To prolong the life of your trolling motor, give it a good wash after each trip out and make sure water isn't leaking into places it shouldn't.
Shaft Length
Shaft length is arguably crucial for every fishing boat, especially for saltwater fishing boats. Having a short shaft means the lower unit will break the surface of the water while you're bobbing over waves.
This will cause a loud commotion above and below the water and force your trolling motor to work harder, draining your batteries quicker.
Consider Buying Used
If you need a high-end saltwater trolling motor but currently can't afford it, then don't hesitate to check websites like eBay for used and refurbished models. You do have to be careful not to get scammed into buying a pile of junk, but there are good deals to be found on secondhand websites.
You'll Also Need
Once you've bought your trolling motor, there are a few other essentials you will need.
Trolling Motor Battery
Trolling motors don't work without a battery. You'll need a deep cycle battery or a marine battery. The amount of volts your trolling motor is rated for will determine how many you need. Most batteries will be 12-volts.
However, there are 24v and 36v batteries available. I like lithium batteries because they are lighter and seem to hold a charge better. Still, some trolling motors are not compatible with lithium batteries, so you must purchase a lead-acid or ACM battery.
Click the following link and read my article on the best trolling motor batteries to make sure you buy the right one for your setup!
Battery Cable Extensions
You might need longer heavy duty battery cables if your batteries are too far from your trolling motor. While wiring in your longer battery cables, you should also consider installing a circuit breaker to keep from overpowering your trolling motor and burning it up.
Battery Box
If you don't have a place for your battery on your boat, then buy a battery box to keep it secured. The Newport Vessels battery box has several cool features like a USB port to charge your phone and a battery meter so you can see how much battery you have left.
Extra Prop
Having at least one extra prop is essential. You will run into rocks or other structures and damage or break your prop, so having a spare 3-blade propeller and the tools needed to replace it onboard will save your day of fishing.
Final Thoughts
By now, you've figured out the best saltwater trolling motor is the Garmin Force, but you've also learned of several viable options that cost must less, like the Newport Vessels X Series or the Haswing Cayman GPS.
If you have any experience with any of the trolling motors listed above or think we forgot to include a worthy candidate, then don't hesitate to leave a comment below!