---
We independently research, test, and recommend the best products; you can learn more about our review process here.
Not every trolling motor is designed to withstand the corrosive nature of saltwater. That's why we've created this article to ensure you choose the best saltwater trolling motor that's sure to provide you with years of fishing bliss.
The Garmin Force is the indisputable champion when it comes to the title "best saltwater trolling motor." That's not a conclusion I arrived at simply because it's the most expensive, either. The
Garmin Force sits on the saltwater trolling motor throne only after careful evaluation of its features, performance, and overall quality.
It's important to note that other trolling motors also deserve recognition.
These alternatives, while not as expensive as the Garmin Force, offer their own unique advantages and may be better suited for certain individuals or specific needs.
My goal is to provide you with a comprehensive selection that caters to various preferences and budgets.
My Top 3 Saltwater Trolling Motors
Not everyone has the time to sift through the careful minutiae of my brilliant analysis (emphasis on "brilliant" all mine). So here are the top three saltwater trolling motors I arrived at after careful consideration.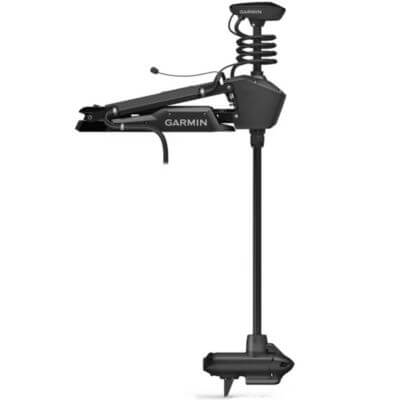 Garmin Force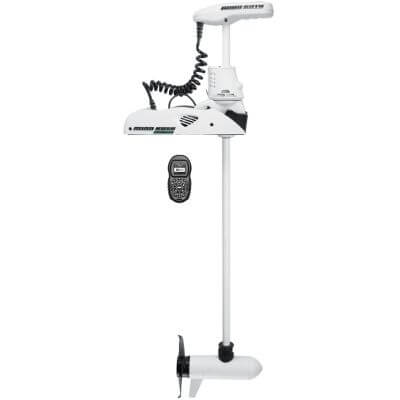 Minn Kota Riptide Ulterra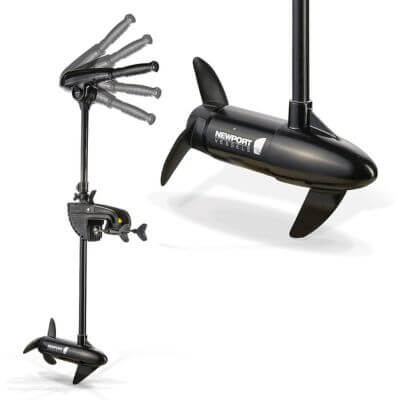 Newport Vessels X-Series
Of course, there is such a thing as brand loyalty, and I empathize. Some of you will go with Garmin no matter what, and the same can be said of anything Minn Kota.
However, these top three are so close to one another that the separation is no wider than a hair.
So, at least there's that. The point is, these are all outstanding trolling motors, including the ones not in the top three.
---
How I Tested
If you ask a person who moved from South Florida to Minnesota about salt, the profanity-laced tirade that's sure to follow is because their car fell apart, one piece at a time.
Thanks to salt roads on an undercarriage with no undercoat, the effects of salt are disastrous.
Salt corrodes everything at some point, and yes, it will eventually get to the best of the best on this list. There's very little in the world that can prevent it on an indefinite basis.
So, we go with what we have, and I made my picks based on how well these motors hold up first, with features a secondary concern. After all, what good are features if your propeller falls off?
Saltwater Compatibility: They wouldn't be on a "best saltwater trolling motors" list if they weren't compatible. However, there are degrees of compatibility.

Corrosion-resistant features, seals, and coatings all provide a rankings boost in my own estimation.
Thrust Power: Since this isn't a list with a specific focus on craft, I tried to create a list with a mixed bag of options. Nothing below has less than 50 lbs of thrust, with some having more than 100 lbs.

A few have multiple options for your choice.
Shaft Length: It's not always easy finding the perfect shaft length for your particular craft. So, I included multiple shaft lengths and trolling motors that come with multiple options as well.
Battery Voltage and Capacity: For obvious reasons, higher voltage motors generally provide more power and thrust, but it's also important to include longevity. 115 lbs of thrust is great, but not if it lasts 30 minutes.
Control Mechanism: Trolling motors offer different control options. Hand-operated motors are typically more affordable and straightforward, while foot-operated motors provide hands-free operation and precise control.

Some models also offer wireless remote controls for added convenience.
GPS and Navigational Features: Certain advanced trolling motors come with built-in GPS functionality and navigation features.

These include features like spot lock (virtual anchor) to hold your position, auto-pilot for following predefined routes, and mapping capabilities to mark waypoints or track your fishing spot.
Ease of Use: You don't want to spend your morning wrestling with your trolling motor, trying to get it to lower or raise accordingly.

Quick stowage options and rapid deployment, along with telescoping handles and other creature comforts, should come with a solid trolling motor.
BEST SALTWATER TROLLING MOTOR OVERALL
Garmin Force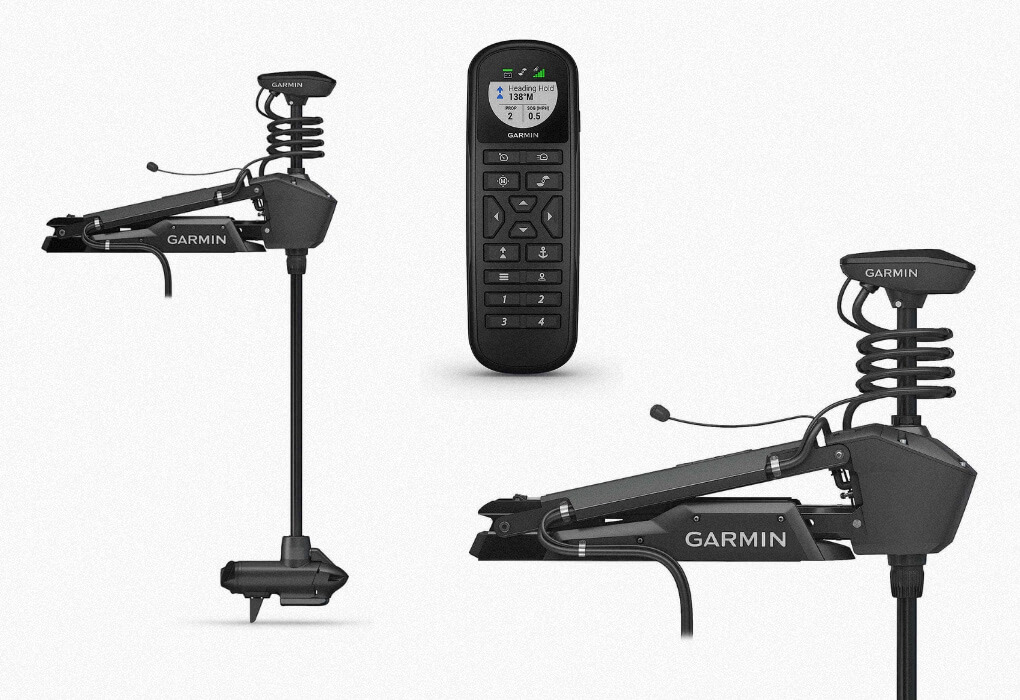 Key Features
Multiple shaft lengths – 50″ or 57″
24-volt or 36-volt power options
80 or 100 lbs of thrust
Bow mount
Why We Chose It
Ever since Garmin introduced the Force to the market, the only other trolling motor that comes close to having all the same features is the Lowrance Ghost. Except, the Ghost is not approved for saltwater use like the Force.
This is why the Garmin Force is the best saltwater trolling motor on the market, especially with the addition of the Garmin Force Kraken.
I love the futuristic features like the gesture steer that the Force offers. It will make others believe you're a Jedi steering the boat with your mind!
The future is here with other features like brushless motors; though they've been around in power tools for years, they've finally made their way into trolling motors.
It's about time that we anglers get a quieter, more efficient electric motor on our boats.
One of my biggest complaints about digital or electric steering trolling motors is that they're not as responsive as a cable steer.
Well, after testing the Garmin Force at some trade shows, it's safe to say that it's just as responsive as cable steer trolling motors, which is a huge jump in innovation.
Not only does it have new features, but it's improved on the ones we've come to love, like GPS anchor mode and integrated sonar.
You can find out more about all these features in my Garmin Force Review.
While the Garmin Force is the best overall saltwater trolling motor, it's not for everyone. This trolling motor is for those who make a living fishing in salty or brackish water and NEED a high-quality trolling motor.
I wouldn't recommend spending this much money unless you will use most of the features the Force offers.
Otherwise, you're wasting a lot of your money.
Even though I use Garmin sonar, I don't particularly appreciate that the integrated sonar is only compatible with other Garmin electronics.
I would love to see a universal integrated sonar option similar to what's offered on the Motorguide Tour Pro or at least the Xi5.
This exceptional trolling motor not only excels in its advanced capabilities but also enhances the features we've grown to love, such as anchor mode and integrated sonar.
While the sonar compatibility is limited to Garmin electronics, imagine the possibilities with a universal integrated sonar option.
Upgrade your saltwater fishing experience with the unparalleled Garmin Force or Force Kraken for those who need a longer shaft – the ultimate choice for dedicated anglers.
Take action now and propel yourself into a new realm of fishing excellence.
Minn Kota Riptide Ulterra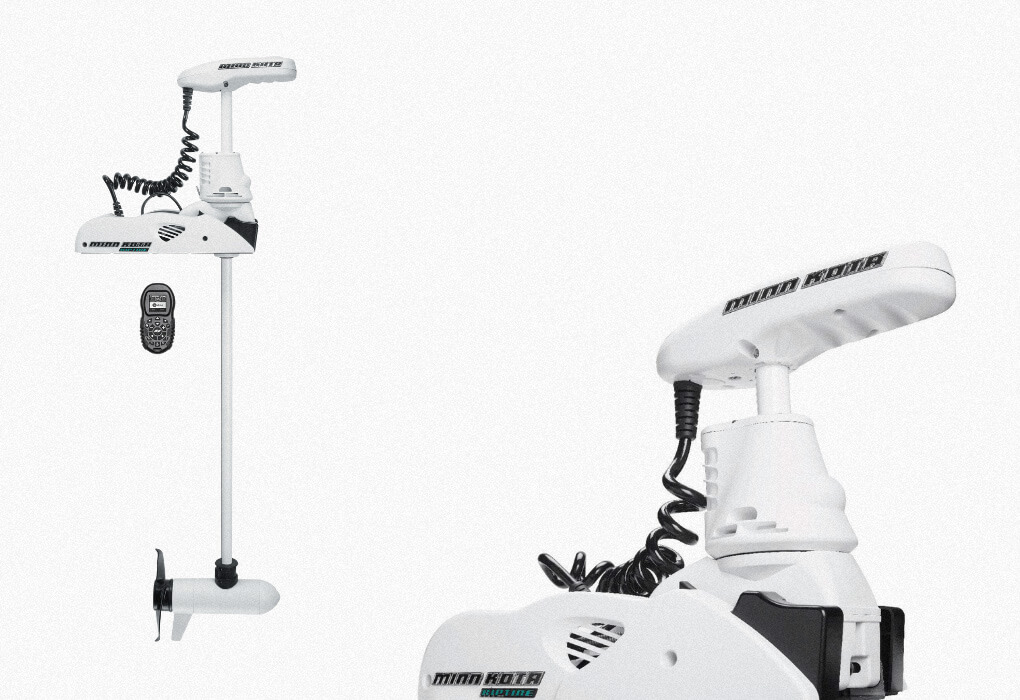 Key Features
Two shaft lengths of 54″ and 60."
24 volts or 36 volts
80 lbs of thrust or 112 lbs of thrust
Bow mount
Why We Chose It
Minn Kota was the leading trolling motor manufacturer at one time. They pioneered the spot-lock or anchor mode technology.
The Ulterra's initial release was met with quite a bit of blowback thanks to a number of spotty features and poor-quality craftsmanship.
However, Minn Kota took the body blows, one by one, as they rolled in. Then re-released the Ulterra, addressing all of the primary and recurring issues reported from the consumer market.
The result is a far more durable Ulterra, with all of the features of the original and a rehashed auto-stow and deploy.
This resulted in a 90% reduction in return rates. As far as original Ulterra owners, Minn Kota honored the warranties and, in many cases, replaced them for free.
Despite the original's performance, the Ulterra was always a technological powerhouse, which is why I named it the best self-deploying saltwater trolling motor.
The multiple control options via smartphone, compatible Humminbird fishfinders, the iPilot Link Remote, and a degree of control with the Heel-Toe Electric Foot Pedal make the Ulterra the ultimate in versatility and personal customization.
The original, indestructible shaft still remains, and Minn Kota guarantees it for life.
The electric components are sealed from saltwater intrusion, and the trolling motor is layered in a specialized, corrosion-resistant paint to fight the elements. All of the metal parts are stainless steel.
I love that the built-in sonar interacts with the Humminbird Helix series, Lowrance Hook, Garmin Striker Plus, Raymarine Dragonfly 4 Pro, and SIMRAD G05 XSE fishfinders.
This means you likely won't have to switch to a different sonar brand to take advantage of some of the features of the Riptide Ulterra.
Even though Minn Kota fixed most of the problems with this unit, there are still a few cons of which you must be made aware.
The biggest is the expense. If you want all these features that most electric motors don't have, then you'll have to pay a hefty price for them.
However, if you can do without the auto-stow and deploy, the Minn Kota Riptide Terrova has several of the high-end features of the Ulterra but at a steeply discounted price.
The other is a lack of shaft length options. The lengths offered, 54" and 60", are good if you've got a boat that sits a little higher off the water or you only fish deep water.
But if you fish in lots of shallow water in a boat that sits close to the water, the trolling motor will get in your way a lot more often than expected.
Despite the cons, the inclusion of iPilot with your GPS system, foot pedal control of stow and deploy and Spot-Lock, and the Digital Maximizer for extended battery life truly set this trolling motor apart.
Don't miss out on this exceptional trolling motor. Upgrade your fishing experience and enjoy the unrivaled precision and customization offered by the Minn Kota Ulterra Riptide.
Take action now and embark on a journey of fishing excellence like never before!
MOST BUDGET-FRIENDLY SALTWATER TROLLING MOTOR
Newport Vessels X Series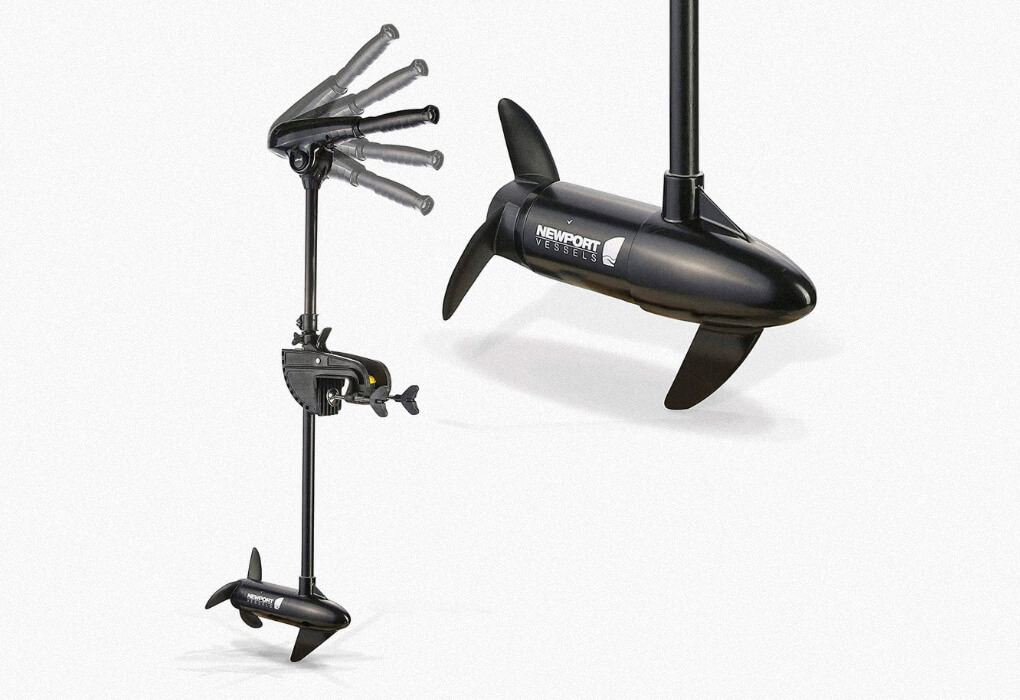 Key Features
36″ shaft
40lb and 55lb thrust
12-volt
Eight speeds
Transom mount
Why We Chose It
I consider the X Series to be Newport Vessels' top-budget trolling motor because it's a little more versatile than the other trolling motors in their lineup found on Amazon. It also works great on their inflatable or Jon boats!
While all of their trolling motors, including the Newport Vessels Kayak Series, which made our Top 10 Best Trolling Motors for Kayaks article, lack the fancy features of high-end trolling motors, they all do precisely what they promise.
They get you from point A to point B; they're dependable and budget-friendly; the X Series is no different.
The X Series stands out from the other inexpensive trolling motors because of the tilting head unit and ten-point LED battery meter, but it doesn't have any heart-stopping features; for that, you'll have to spend A LOT more money.
The telescoping tiller handle with a 30° adjustable head is always a welcome touch on simpler trolling motors. It gives you that extra control and customizability without charging you an extra $1k for a remote control operation.
Newport also prides itself on the X-Series' excellent low-end torque, which helps push larger boats at slow speeds.
For the X-Series, Newport recommends a 50 aH lead-acid or lithium-ion deep-cycle battery. Personally, I like lithium.
Sure, it's a little more on the expensive side, but the X-series will save you a lot of money, and lithium batteries are far more dependable, lightweight, and long-lasting.
Since it's a budget-minded option, there are a few downsides to this electric trolling motor.
Because it's only compatible with 12v batteries, you're limited on the amount of thrust it's capable of producing, so it's not great for big boats in the wind or current.
I'm getting a bit too picky with this con since this electric motor costs less than $300, but it doesn't have near the features of trolling motors like the Motorguide Xi3, Force, or Ulterra.
However, it's also a tenth of the price of the Force and Ulterra and a fourth of the price of the Xi3.
The Newport Vessels X Series is the best saltwater transom mount trolling motor for the money, so if you don't need all the extra features that a high-end bow mount trolling motor offers, I highly recommend the X series.
Elevate your boating experience with the Newport Vessels X-Series Trolling Motor. Experience power, reliability, and precision like never before. Upgrade to the X-Series and take your boating adventures to new heights.
If you're curious about the rest of Newport Vessel's trolling motors, you should read our Honest Newport Vessels Trolling Motor Reviews.
Minn Kota Riptide Fortrex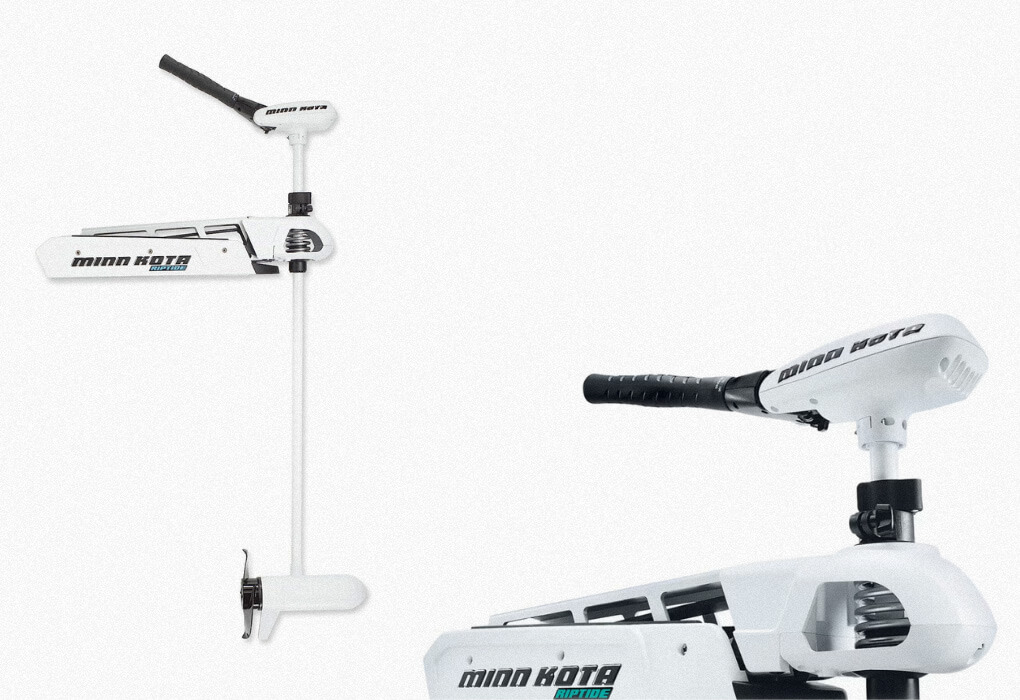 Key Features
Two shaft lengths of 52″ and 62."
24v and 36v respectively with 80lbs thrust and 112lbs
Bow mount
Tiller Handle
Why We Chose It
Despite the disappointment with the Riptide Ulterra, Minn Kota has produced quality trolling motors for years.
The Riptide Fortrex is a terrific example.
I love that instead of everything being made from plastic, Minn Kota used anodized aluminum to strengthen and increase the corrosion resistance of several parts.
If you opt for the 36v 112 Fortrex, do me a favor and go easy on the throttle the first time out. You might be surprised at what this baby will do to you.
G-forces aren't much of a thing on trolling motors, but the difference between sitting on a boat bench and safely restrained in a Corvette are gargantuan.
Don't throw yourself out of the boat because the Fortrex 112 has some serious juice.
The Lift Assist for Stow and Deploy on the Fortrex is not as slick as the Ulterra version, but it gets the job done quickly and efficiently.
I don't like banging my head around the boat trying to struggle with a trolling motor any more than you probably do, so the Lift Assist is perfect for me.
Also, like the Ultrex, the Fortrex includes Digital Maximizer technology, which helps you control how quickly you burn through that 24v or 36v battery setup.
Even though this is a high-end tiller handle trolling motor, it has a few downsides that need to be addressed.
While I would have preferred a longer shaft for this bow-mounted tiller handle, it adjusts, so you don't have to constantly bend over to steer the motor since there is no other way to steer it.
For a trolling motor that costs $1,500 or more, it doesn't have all the features you would expect it to have. I spent less than that on my Xi3, and it has more features than the Fortrex, like PinPoint GPS and a wireless remote.
The Minn Kota Riptide PowerDrive is a slightly less expensive option, plus it has the CoPilot wireless remote.
I would recommend the Riptide Fortrex to anglers who don't like using a foot pedal but want a saltwater bow mount trolling motor.
It's powerful enough to quickly move larger boats and still quiet enough to sneak up on fish without needing to find sunken treasure to pay for it.
While the shaft length could be longer, the adjustable tiller handle allows for more comfortable steering.
Don't settle for less—choose the Riptide Fortrex for a powerful, quiet, and cost-effective saltwater bow mount trolling motor.
Motorguide Xi5 Wireless Saltwater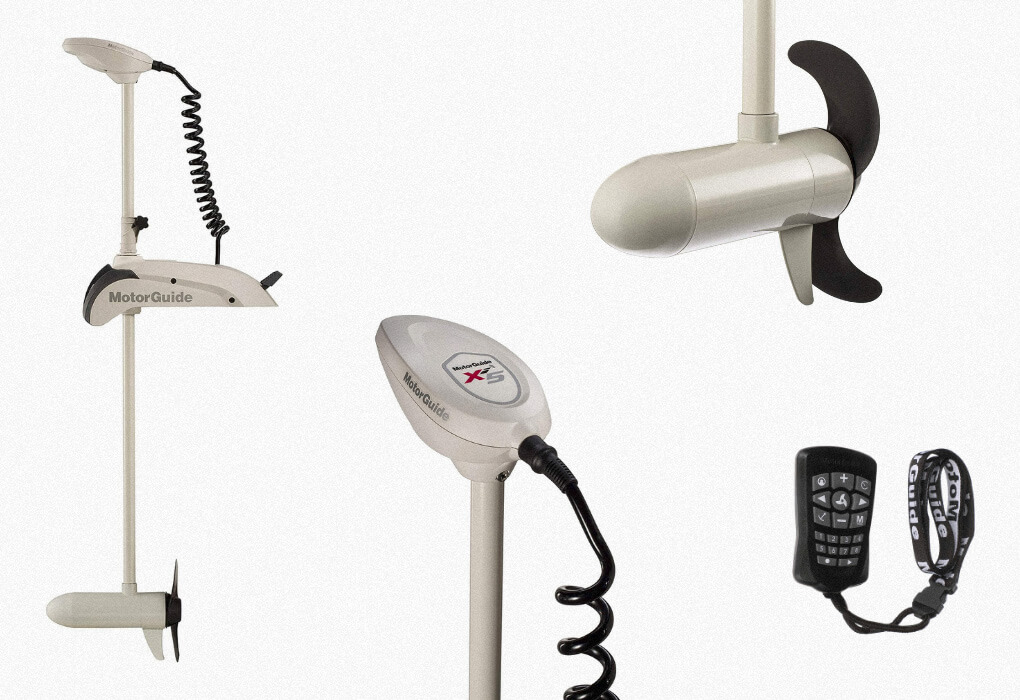 Key Features
48″, 54″, 60″, and 72″ shaft lengths
12v, 24v, and 36v models
55lb, 80lb, and 105lb thrust
Electric steer
Bow mount
Why We Chose It
The Motorguide Xi5 offers a ton of features for a mid-range trolling motor, like pinpoint GPS, wireless remote control, and electric steering. That's why it's rounding out our best saltwater electric trolling motors.
Suffice it to say; this is a fairly traditional trolling motor that sits in between the feature-laden powerhouse Garmin Force and the relative simplicity of the Newport Vessels X-Series.
You still get some technological goodies for a steeper price.
However, you won't have to sell one of your kidneys on the black market to afford it, like the Garmin Force, but it's still up there if you want the 105 lb thrust version with the 75" shaft.
I love that you get wireless control with the included remote. It's super easy to use. I picked up using the remote right away out of the box with little explanation needed.
The Xi5 also has an LED dashboard with key functions and battery status info, so you always know how much battery you have left.
The built-in PinPoint GPS has changed the way I fish because I can now lock into a spot and catch all the fish in that area without having to focus all my attention on staying in the perfect position.
The Three-Blade Machete III Glass-Filled Propeller (that just sounds both weird and amazing at the same time) that comes with it helps cut through vegetation when fishing shallow water and still gives you enough power when fishing deeper water.
Lastly, it's built to last since Motorguide uses a high-tech saltwater-resistant coating on this electric motor so that it will last you years of fishing fun.
The unbreakable composite shaft has a lifetime warranty, but that's expected from a motor in this price range.
Chartplotter integration with Lowrance and Simrad electronics gives you control, which is nice if you own those fish finder brands.
While it does have a ton of beneficial features, there are a few things I'd like to see changed.
With all that power comes great… battery drain. That's right; you must watch your batteries closely because the Xi5 is known to suck the life out of batteries.
It pains me to say it because I own a Motorguide trolling motor, but their customer service has been lacking in recent years.
Hopefully, you won't have problems, but if you do, just be aware that their customer service isn't up to my standards.
The Motorguide Xi5 Wireless Saltwater is a good option if you need a mid-range trolling motor with a few features of a high-end trolling motor. It does have a few shortcomings but not enough to keep it out of our list!
Don't miss out on this game-changing trolling motor – upgrade to the Motorguide Xi5 and conquer the waters with confidence.
For a deeper dive into the features, read my Motorguide Xi5 review.
Buying Guide: Factors to Consider Before Buying a Saltwater Trolling Motor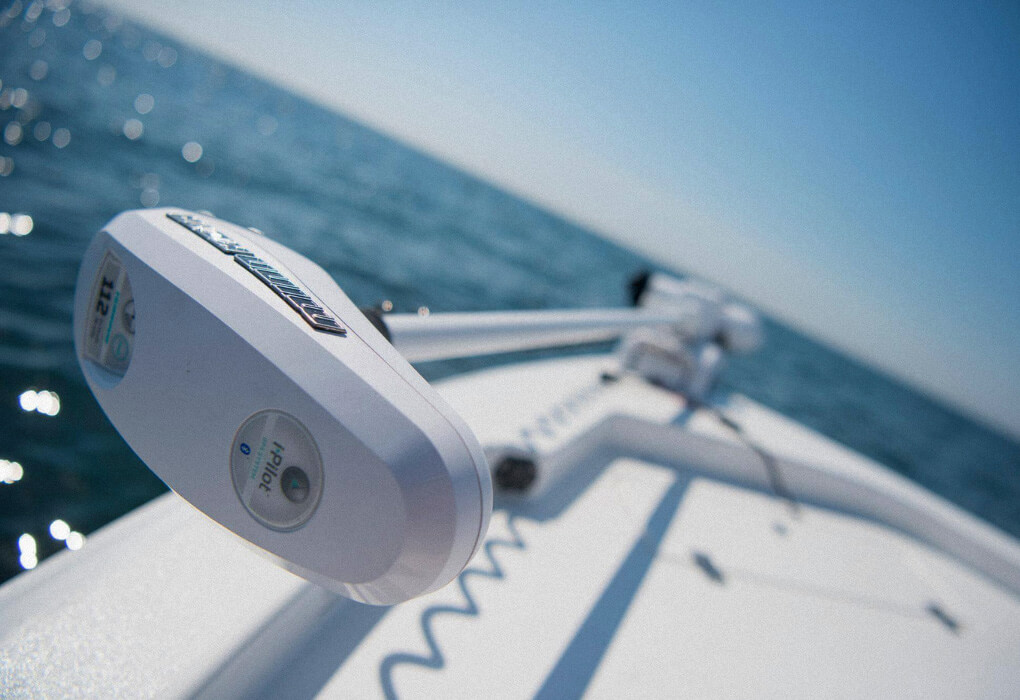 Just like with any other trolling motor purchase, you should be thinking about the
The quietness of the motor
Battery life
Thrust
Power options
Customer service
and standard features
With a saltwater trolling motor, there are a couple of other considerations to keep in mind, like
Corrosion-resistance
Shaft length
With all of these factors in mind, let's dive a little deeper into why they matter.
Quietness of the Motor
If your trolling motor is loud, you're going to spook fish. This is even more important when the water is clear or you're fishing shallow.
The motor noise won't matter as much when you're fishing deep. However, I prefer to be safe rather than sorry, so I go with the quietest motor I can afford.
Battery Life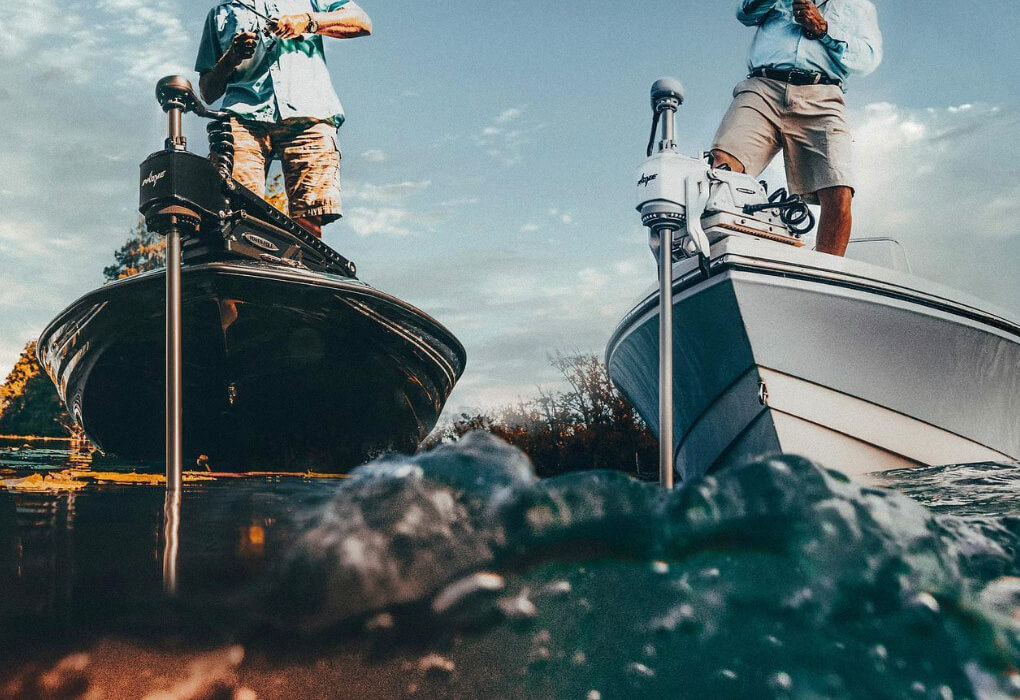 It's impossible to charge your trolling motor batteries unless you carry a solar panel battery charger with you to extend your run time.
Running out of battery juice is an awful way to cut a good day of fishing short, or even a bad day of fishing, for that matter! So buy a trolling motor that conserves as much battery as possible.
Thrust
Whether you're fighting ocean currents and waves or only the weight of your boat, you need a motor with enough thrust to propel you in any direction.
Boats large enough to handle the rough seas need more thrust than your average bass boat because they weigh more.
Power Options
Having options is always best. I like to know that I can make the trolling motor fit my situation instead of trying to fit my situation to the trolling motor.
Most trolling motors will be powered by a 12-volt deep cycle battery, two 12v batteries, one 24-volt marine battery, or three 12v batteries run in series.
Theoretically, the more volts you have, the higher the thrust, but you can max out the motor, so it's best to have a circuit breaker in case of a power surge.
Customer Service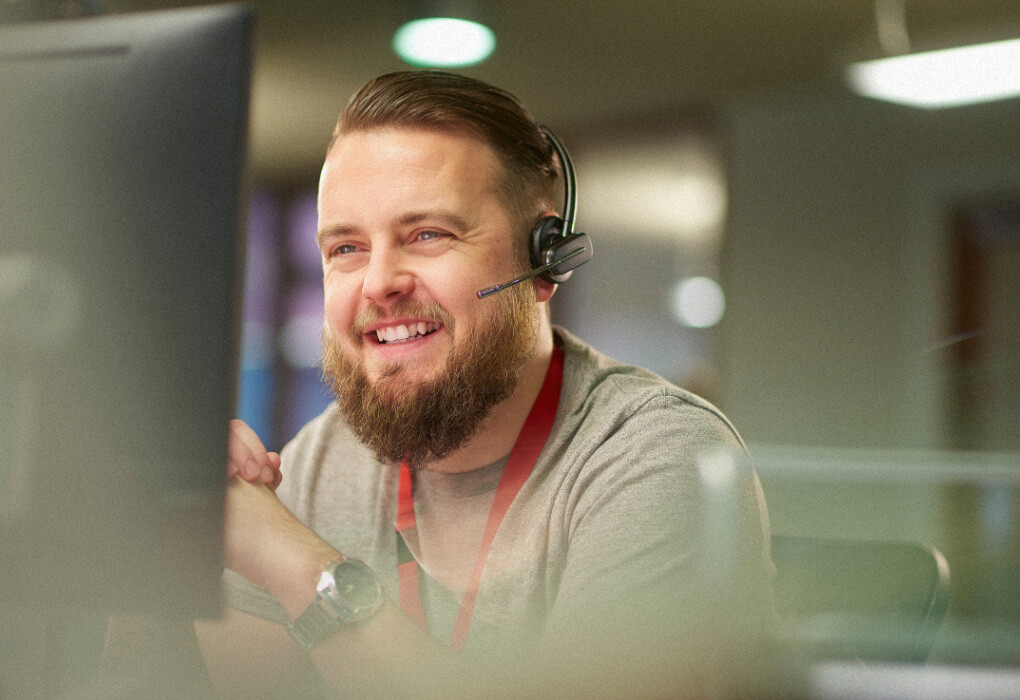 No matter what brand you buy, you will eventually have problems. That's why a warranty is nice, but I prefer doing business with companies that have excellent customer service.
It shouldn't matter if it's a major breakdown or a minor inconvenience; customer service should serve the customer!
Especially if you've spent a significant amount of money with the company.
Standard Features
We had a wide range of standard features on this list because we listed the high-end trolling motors alongside the budget-friendly trolling motors.
You can't pay less and expect to have as many features as more expensive trolling motors. However, you should expect those features to work correctly.
Corrosion-Resistance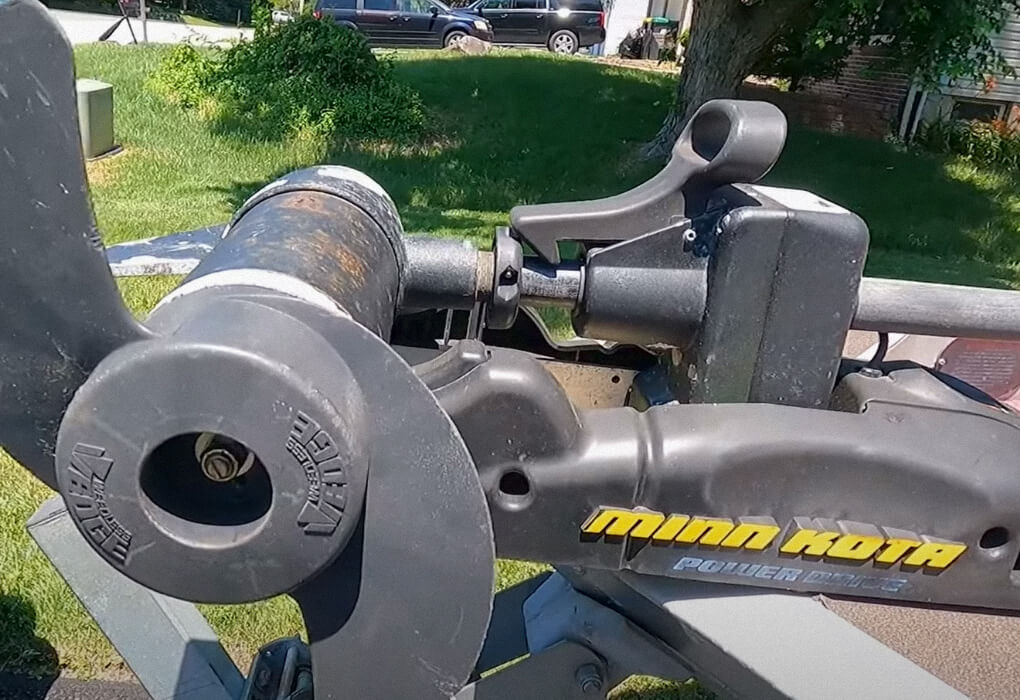 Corrosion isn't such a big deal for freshwater anglers, but brackish water and saltwater are very corrosive; that's why buying a saltwater-specific trolling motor is highly recommended.
Even though you purchase a corrosion-resistant trolling motor, that doesn't mean you shouldn't maintain it after every use.
To prolong the life of your trolling motor, give it a good wash after each trip out and make sure water isn't leaking into places it shouldn't.
Shaft Length
Shaft length is arguably crucial for every fishing boat, especially for saltwater fishing boats. Having a short shaft means the lower unit will break the surface of the water while you're bobbing over waves.
This will cause a loud commotion above and below the water and force your trolling motor to work harder, draining your batteries quicker.
Here's how to know what size trolling motor you need.
Consider Buying Used
If you need a high-end saltwater trolling motor but currently can't afford it, then don't hesitate to check websites like eBay for used and refurbished models.
You do have to be careful not to get scammed into buying a pile of junk, but there are good deals to be found on secondhand websites.
You'll Also Need
Once you've bought your trolling motor, there are a few other essentials you will need.
Trolling Motor Battery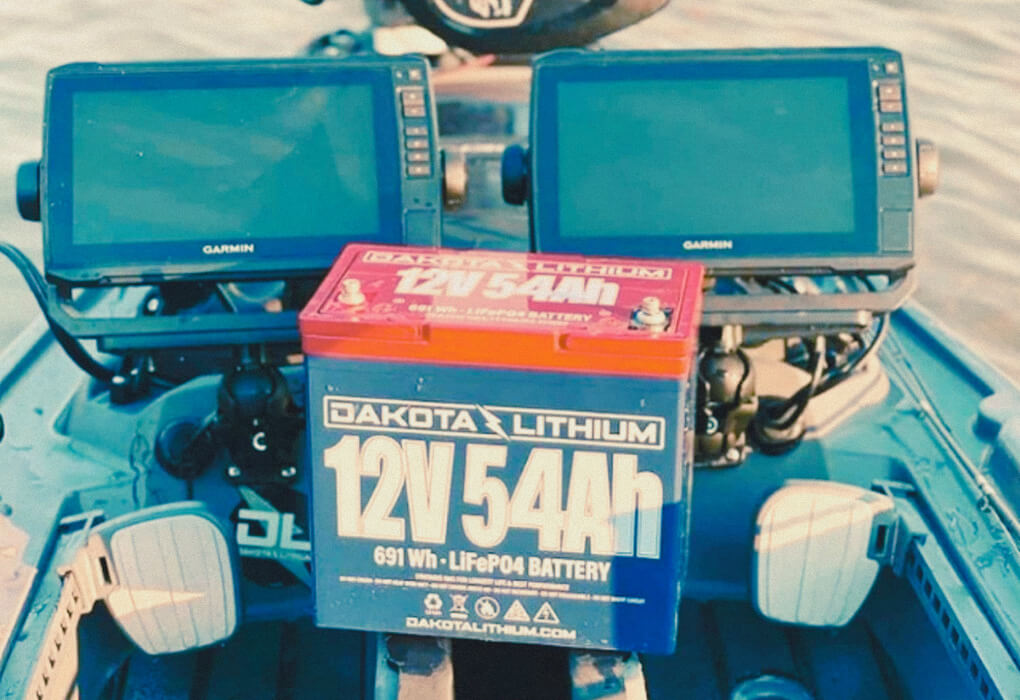 Trolling motors don't work without a battery. You'll need a deep cycle battery or a marine battery. The amount of volts your trolling motor is rated for will determine how many you need.
Most batteries will be 12 volts. However, there are 24v and 36v batteries available. I like lithium batteries because they are lighter and seem to hold a charge better.
Still, some trolling motors are not compatible with lithium batteries, so you must purchase a lead-acid or ACM battery.
Don't skimp on the best trolling motor batteries.
Battery Cable Extensions
You might need longer heavy-duty battery cables if your batteries are too far from your trolling motor.
While wiring in your longer battery cables, you should also consider installing a circuit breaker to keep from overpowering your trolling motor and burning it up.
Battery Box
If you don't have a place for your battery on your boat, then buy a battery box to keep it secured.
The Newport Vessels battery box has several cool features, like a USB port to charge your phone and a battery meter so you can see how much battery you have left.
Extra Prop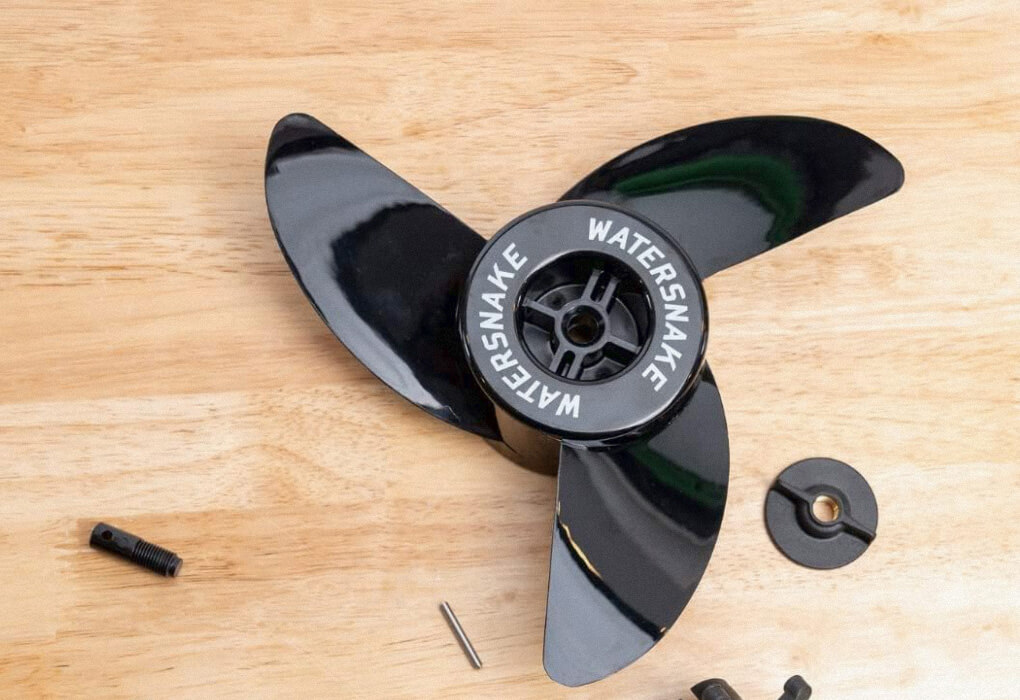 Having at least one extra prop is essential. You will run into rocks or other structures and damage or break your prop, so having a spare 3-blade propeller and the tools needed to replace it onboard will save your day of fishing.
Frequently Asked Questions
Below you'll find some of the most commonly asked questions we receive about saltwater trolling motors.
Do I really need a saltwater trolling motor?
Yes, you really need a saltwater trolling motor. Saltwater is much more corrosive than freshwater, and even though you might clean it after every use, it's impossible to clean it completely.
Saltwater trolling motors are made to withstand corrosive water much better.
Can you use Minn Kota in saltwater?
Yes, you can use Minn Kota in saltwater. Minn Kota has several saltwater models.
What is the difference between a freshwater and saltwater trolling motor?
The difference between a freshwater and saltwater trolling motor is freshwater trolling motors use alloys that will corrode, whereas saltwater trolling motors use stainless steel or other corrosive-resistant materials.
One Last Cast
Step up your fishing game with some of the most powerful and innovative trolling motors on the market, whether it's the high-powered versatility of the Garmin Force or a slimmer but immensely powerful Riptide Fortrex.
No matter which choice you decide to go with, it's time to ditch the paddles and upgrade your fishing experience with a brand-new trolling motor!
If you have any experience with any of the best saltwater trolling motors listed above or think we forgot to include a worthy candidate, don't hesitate to leave a comment below!