When Tommy Biffle makes a pitch, you can bet it will land in the bass' strike zone.
Biffle, 65, is akin to a wily veteran baseball pitcher who still has his stuff.
He popularized fishing's version of pitching— presenting a bait to a distant target with an underhand, pendulum motion -– almost 40 years ago.
He's still doing it, sneaking up on hiding bass and using stealth to drop jigs and plastic baits into their homes.
"I read about some of the fishermen out West who were flipping, and I had to try it here in Oklahoma," said Biffle, who lives near Fort Gibson Lake, Oklahoma.
"At the time, conditions were ideal here for that type of fishing. We had lots of buck brush and flooded willows in the lake."
"I could flip when the water was murky, and the fish would let you get right up on them. But that didn't work in clearer water. The fish would spook."
"So I learned to pitch to targets farther away – 60, 70, 80 feet away – and I started catching big fish."
Partly because he was pioneering a new technique, Biffle found great success with something the bass hadn't seen before.
He won one of the first tournaments he entered on Gibson, catching a whopping one-day total of 5 bass weighing 31 pounds.
Little did he know at the time that was the start of a Hall of Fame career. He went on to fish regional events, then advanced to the big time.
He started on the B.A.S.S. tour, then moved to Major League Fishing's Bass Pro Tour. Over his 38 years as a pro, he has notched 8 wins and 82 top-10 finishes.
In an era when electronics such as forward-facing sonar dominate the conversation, Biffle is old-school.
Yeah, he'll use the modern stuff to catch fish offshore. But he is more confident when he has a flipping stick in his hands and picking apart shallow cover.
Want to be like Tommy? Follow his advice, and you might catch some of the biggest bass of your life.
---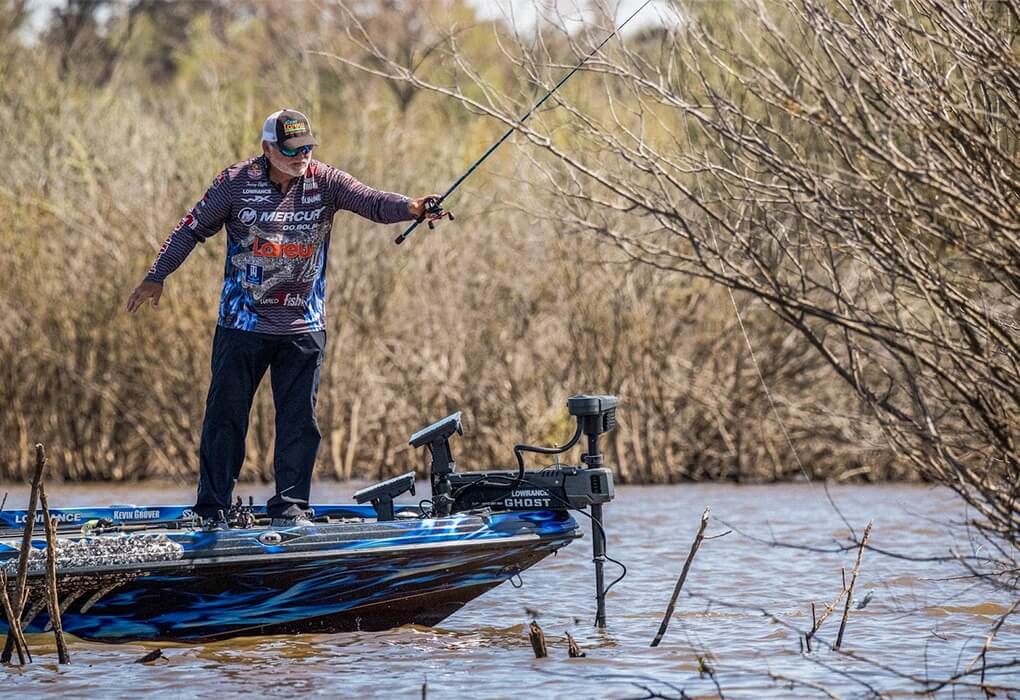 Tommy Biffle uses pitching and flipping to mount a sneak attack on hiding bass (photo by Josh Gassmann/Major League Fishing)
A Pitch for the Pitch
So why is pitching so effective?
It all starts with stealth, Biffle says.
"You let the fish tell you what they will tolerate," Biffle said. "In super muddy water, they'll stay shallow and let you get close. But in clear water, you have to stay back.
"If you see them start to swirl and spook in the bushes, they're telling you that you need to start farther back."
That's where pitching comes in. Biffle uses his flipping stick to swing his baits to long-distance targets in most situations.
The key is getting his lure, either a jig or a soft-plastic bait, into the gnarliest cover he can find without creating a commotion.
He wants his bait to enter the water with hardly a ripple. Impossible, you say?
Listen to Biffle's advice.
"Right before my bait comes to that bush, I'll stop it and lift my rod tip up right before it is going to land," he said. "That way, my jig goes into the water straight up and down, and it won't make a splash.
"Most times, I'm dropping it right on their head, and they just react."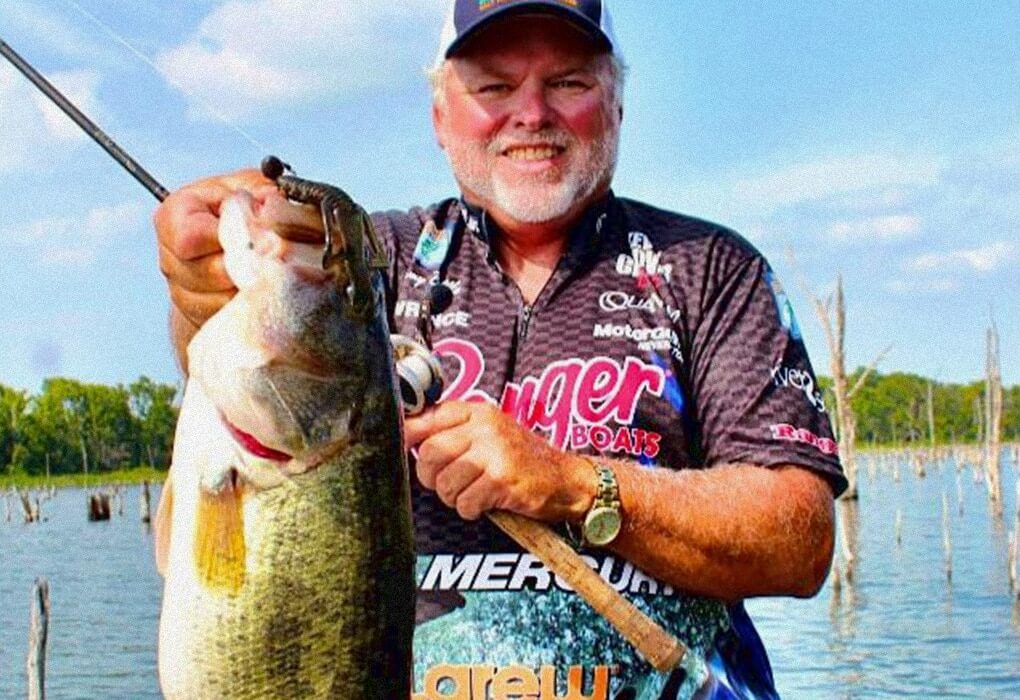 Tommy Biffle knows that pitching can produce some big bites (photo courtesy of Tommy Biffle)
Locating Where They're Hiding
Looking for the king of a local bass population? You have to search in the right neighborhood.
"Look for the gnarliest, nastiest cover in the cove you're fishing," Biffle said. "That's where the biggest bass will be.
"They'll be in places where not many fishermen even try to put their baits. They feel secure there."
Biffle seldom works the edges of the brush pile or flooded willow. He goes straight for the darkest, most tangled center of the cover.
"People ask me, 'How are you going to get him out of there if you get him on?' " Biffle said. "I answer, 'I'll worry about that when I get him on.' "
Then it comes down to equipment. Biffle uses a 7-foot-6-inch flipping stick he designed for Quantum. It's heavy and has lots of backbone.
"When I set the hook, I want those 2-pound bass to come flying out of the water," Biffle joked. "When I get a 5-pounder on, I want to get him out of that bush right away."
Biffle also uses a Quantum reel with a fast gear ratio and 25-pound-test Shooter Sunline fluorocarbon line.
"That line is very abrasive resistant and doesn't have any memory to it," he said. "So it's perfect for flipping and pitching."
Biffle will pitch or flip jigs such as the Tommy Biffle Junkyard Jig that he designed for River2Sea or another of his signature lures, the Biffle Bug.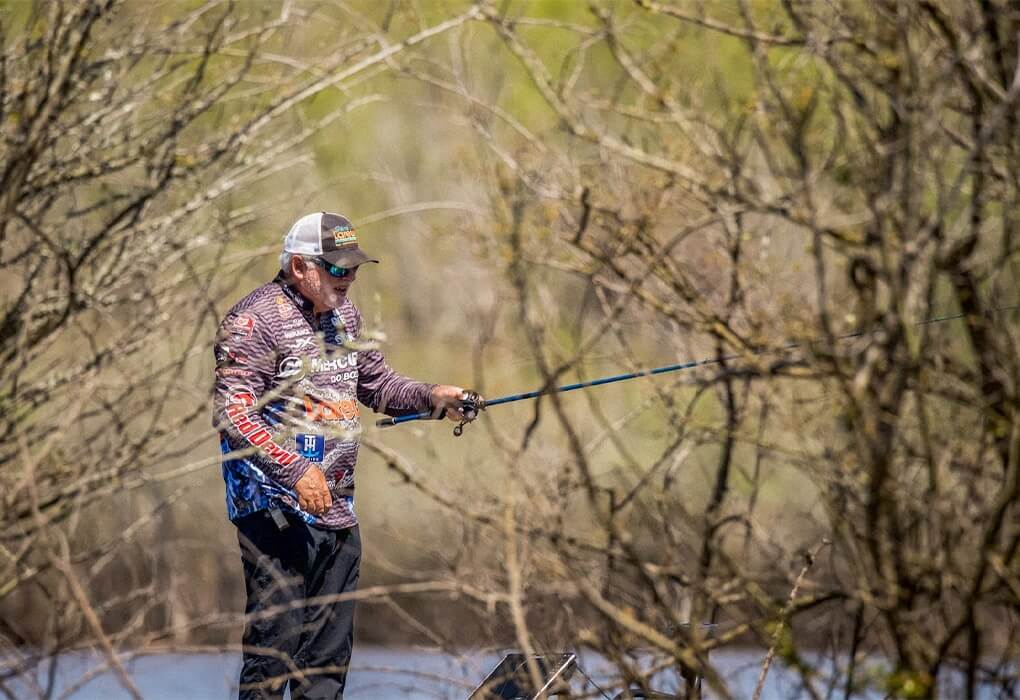 Tommy Biffle often heads for the thickest cover he can find when he is pitching and flipping for bass (photo by Phoenix Moore/Major League Fishing)
An Unimpressive Bite
Fishermen expecting a big bite from a big bass when they are pitching or flipping are often disappointed.
The biggest fish usually produce the least aggressive bite, according to Biffle.
"If you catch 20 bass in a day, I guarantee the biggest one will be the lightest bite," Biffle said. "Maybe something didn't feel quite right, or there was just a little tension on the line, but you decide to set the hook anyway.
"A lot of times, that's a big bass."
Biffle has a theory about why the lunkers are so subtle.
"I think some of those big ones use suction and just inhale those baits," he said. "They're already sitting in the best cover. There's no reason for them to bite and then run off with it.
"They just inhale it and sit there."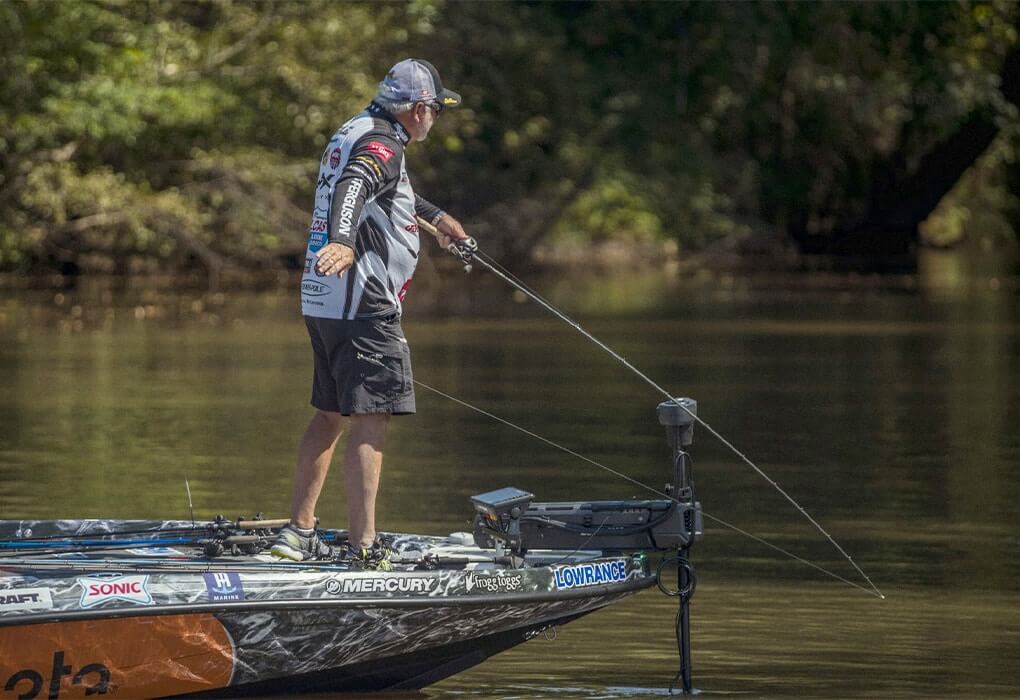 Tommy Biffle searches for a pattern when he is pitching or flipping to shallow cover (photo by Garrick Dixon/Major League Fishing)
A Pitching Game Plan
Biffle doesn't just drop his trolling motor and start indiscriminately flipping to shallow cover.
He looks for cover that sets itself apart – points or indentations in vegetation, stumps, logs, brush piles, flooded willows, etc.
Once he catches more than one bass off a specific cover type, he establishes a pattern and keys in on similar areas.
"If you're flipping or pitching to grass, it's not all the same," he said. "There are pockets, points, little indents, and holes. You have to hit each one of those areas to determine what they want.
"It can differ each day. One day, they might be on stumps; the next day, they might be on laydowns. I don't know how the fish do it, but they all get the same message."
Similarly, bass will establish seasonal patterns, Biffle said.
"In the spring, they seem to like the buck bushes best," he said. "In the summer, they get on the willows best."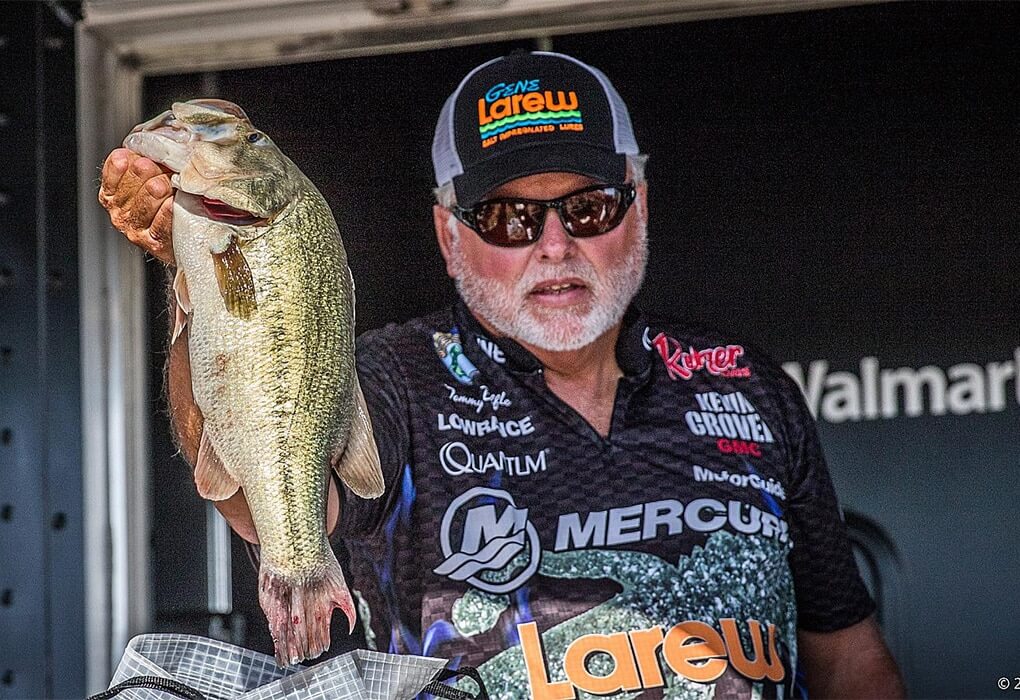 Tommy Biffle is accustomed to bringing big bass to weigh-ins at national tournaments (photo courtesy of Major League Fishing)
Tips for Beginners
"To succeed at pitching, you have to make accurate casts. And that takes lots and lots of practice", Biffle said.
He advises arranging cups or bowls at various distances and taking target practice.
The best place to do it? Inside…under a ceiling fan.
"When you're trying to get your lure under trees or boat docks, you can't raise your flipping stick very high," Biffle said. "If you practice under a ceiling fan, you'll learn in a hurry."
Once you're accurate, you're ready to pitch your bait into the nastiest cover you can find.
"Some fishermen flip around the edges, but they never hit the heart of the buck brush or the willows," Biffle said.
"They might catch some smaller bass that way, but the big ones are in the middle of that cover, and they won't come out to hit a bait."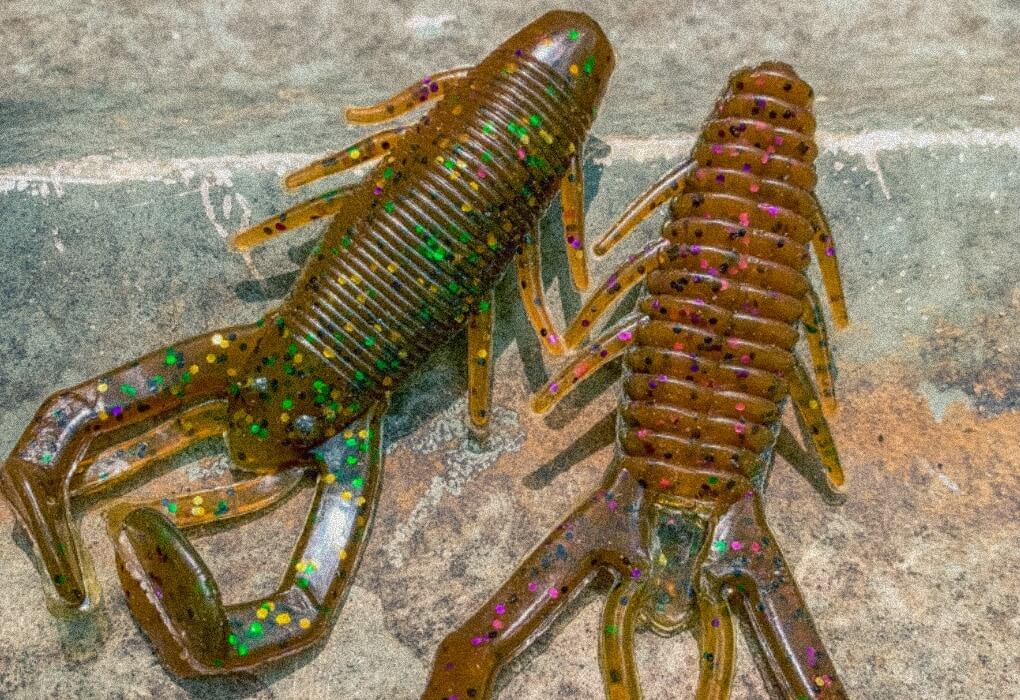 Tommy Biffle's favorite lure is the Biffle Bug that he designed for the Gene Larew Co. (photo courtesy of Tommy Biffle)
A Legendary Bait
When the Gene Larew Co. wanted Biffle to come up with a plastic bait designed for flipping, he came up with the Biffle Bug, a lure destined for greatness.
The plastic creature bait features a sleek profile designed for easy entry into tight cover, sets of legs to give it action, crawdad-type pinchers, and a long concave tail.
It also is hollow so that a rattle or scent can be placed inside.
The Biffle Bug can be used as a stand-alone bait rigged Texas style with a 5/16th-ounce worm weight and a 4/0 or 5/0 hook or as a jig trailer.
Biffle also uses it on a Hardhead jig head and retrieves it quickly along the bottom, making sure it deflects on rocks.
So how effective is the Biffle Bug?
Biffle caught his personal best largemouth (11 pounds) on the bait in Florida. And he uses the smaller size to catch big smallmouths in the northern states.
"It's good because there's not a bad way to fish it," Biffle said. "You can just reel it and bang against rocks, and the fish see it and hear it, or you can flip it into some gnarly places and catch 'em that way, too."
Last Cast
Don't think that Biffle never strays from the bank to catch big bass.
He loves to cast 10-inch plastic worms along ledges in the summertime.
And one of his favorite techniques is retrieving a Biffle Bug quickly across the bottom of sand flats that have scattered clumps of vegetation.
"When you bump some grass, you pull it free, and the fish will hit," Biffle said.
But it's pitching and flipping where Biffle has found his fame.
"From the mid-40s (water temperature) on, there will be fish shallow," Biffle said.
"Even when the water has been cold, if you get three or four days of sun and the water is up in the bushes, the bass will move up for warmth. And they'll be catchable."
Remember that Tommy Biffle recommends when the lakes start warming up this spring, grab your flipping stick and try pitching your lures into thick cover. You might end up with the bass of a lifetime.
That's it for this week. Smile, spring's getting closer.
Let us know in the comments who you would like to hear from next!