So, you're impressed with the number of offshore bass being located and caught by today's pro bass fishermen?
Then you should be even more amazed by the feats of Paul Elias, a grizzled veteran who put up big numbers before modern electronics came on the scene.
When he started on the pro tour, he didn't have GPS, forward-facing sonar, or side-scan. He did things the old-fashioned way.
"I have always been known as an offshore fisherman," said Elias, 71, who lives in Laurel, Miss. "But when I got started, I didn't have all the electronics that we do today."
"I knew there were big bass holding offshore, but I had to work to find them. I would look at lake maps and locate humps, roadbeds, and dropoffs, then match up those areas with channel-marker buoys and go find them."
"Sometimes, it took me a while, but It paid off when I would find big bass there."
Elias started with a simple flasher unit to determine depth, changes in the bottom, and places that would hold fish; then, it was "game on."
Elias had those open-water hot spots in those early days almost to himself. "The majority of the fishermen were still pounding the banks," he said.
That resulted in some spectacular catches for Elias. He will forever be remembered for popularizing the Alabama Rig, which was so effective that it was eventually banned from major tournament competitions.
He also will be remembered for his mastery of deep-running crankbaits and the innovative ways he could get them to run even deeper than advertised.
Elias is still competing on the Major League Fishing Bass Pro Tour, though he no longer dominates as he once did.
With the advance of modern technology, the rest of the field has finally caught up to Elias regarding offshore structure fishing. But that doesn't diminish the way he changed the pro-bass-fishing game.
---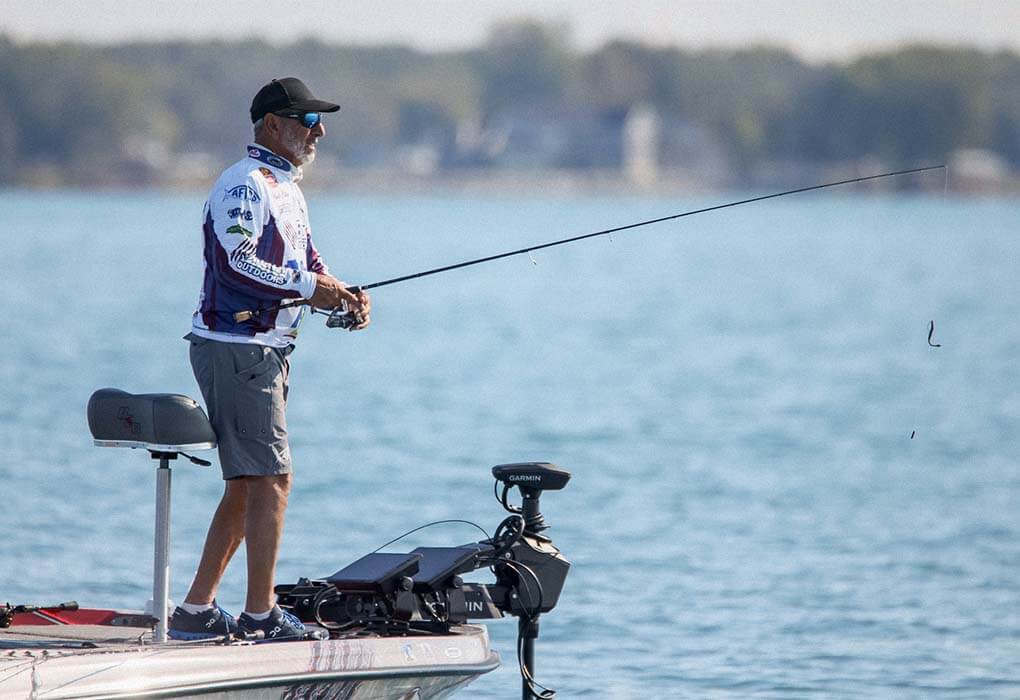 A Structured Approach
Elias learned at an early age that offshore fishing for bass was an undiscovered gold mine.
"When you're beating the bank, you might go along and catch a bass every so often," he said. "But when you work offshore structure, you can find a school of bass on one spot.
"I've had days when I'll catch multiple big ones that way. That will change your way of thinking in a hurry."
Modern electronics such as Garmin LiveScope, which shows real-time movement of fish, confirm what Elias has said all along.
There are more bass roaming open water than many fishermen once imagined. And when those bass school according to size, it's possible to catch multiple big ones in the same area.
Elias proved that when he caught a record 132 pounds, 8 ounces of bass in a four-day tournament on Lake Fork in 2008.
He found bass suspended in deep water and used a Mann's 20+ crankbait to reach them. On the final day, he discovered a key element when changing his casting angle, positioning his boat in shallow water, and making long casts to deeper depths.
"The fish were there," he said. "I just needed to figure out a way to get them to bite."
"Sometimes, you just have to experiment until you find what they want."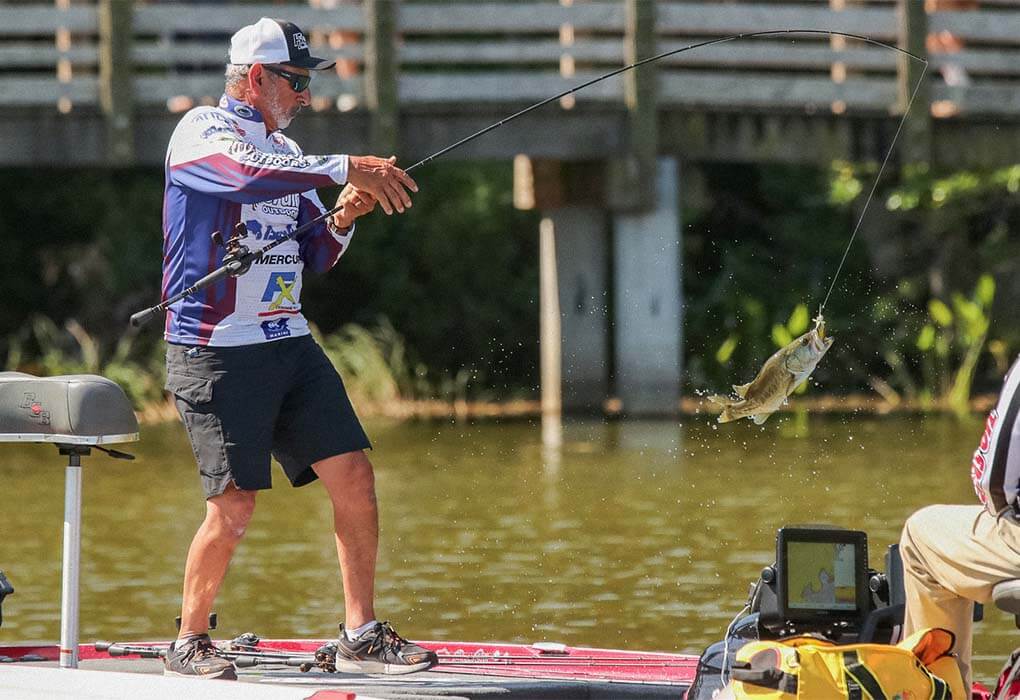 Elias' Guide to Deep Cranking
There's much more to offshore cranking than simply motoring out to deep water and starting casting.
Elias has guidelines he has followed for years to catch the bass others overlook.
Key on main-lake structure that will hold fish. Dropoffs, channel swings, humps, brush piles, rock piles, road beds, ledges, and even slight changes in bottom contour will hold fish.
"Any type of cover will hold fish," Elias said. "I remember catching bass on an old school bus that had been used by a hunting club before the lake was flooded. I would bang crankbaits off that thing and I caught a lot of bass that way. Lost a lot of lures, too."
Use marker buoys to mark areas to target when casting. Drop those buoys when you catch your first fish. Often, there are other fish nearby.
Make long casts. That gives the crankbait more time to reach its desired depth. Longer rods produce longer casts. Elias recommends 7- to 8-foot medium-action baitcasting rods and reels spooled up with 12-pound fluorocarbon line.
Ensure your crankbait is making contact with something so that it deflects off that cover and acts erratically. That includes the top of brush piles in deep water.
Pay attention to your angles. Sometimes the direction from which the lure approaches fish can make a big difference.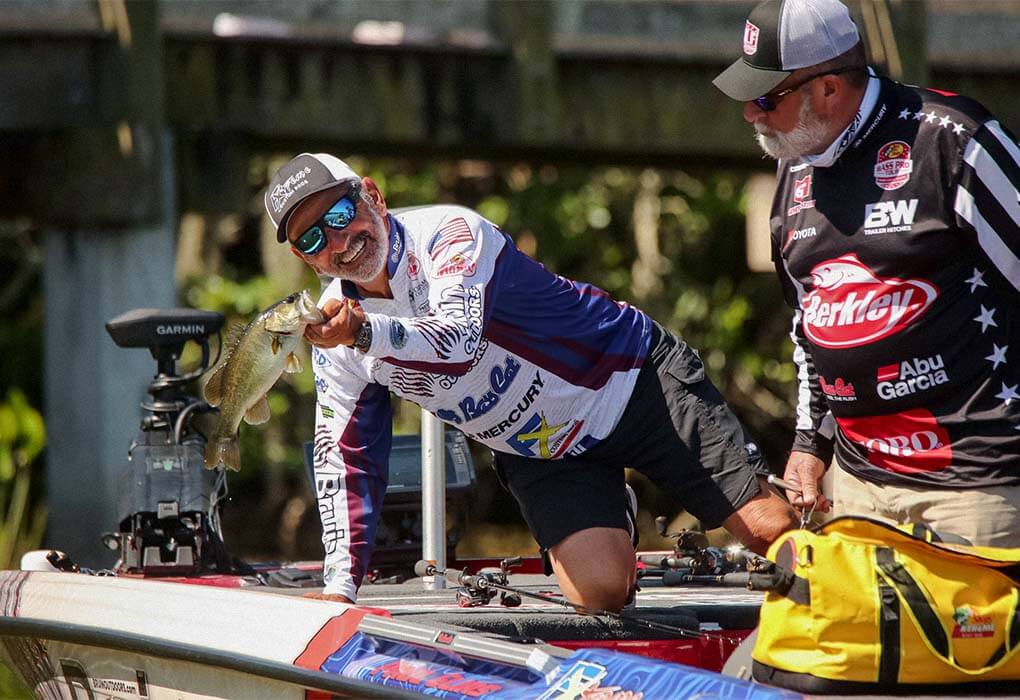 The Good Ol' Days
Elias has been around long enough to witness significant differences in the bass-fishing world.
Consider his first bass boat.
"I had a 15-foot Venture with an 85-horsepower motor and two flasher units," he said. "Back then, that was a pretty big deal."
"My whole boat cost $4,800, and that was considered high. Now, that won't get you much."
Equipment and lures were far less sophisticated, too. Elias had to get innovative when he wanted his crankbaits to run deeper.
"At that time, the deepest-running crankbaits would only go down 10 feet," he said. "That's why I had to come up with my 'kneel-and-reel' technique."
"I found that if I got on my knees and stuck my rod underwater, I could get an extra two feet out of my crankbait.
That might not sound like much, but it was enough to get that bait down to the top of the brush, a blown-out bridge, or other cover."
That technique helped Elias win the 1982 Bassmaster Classic at Lake Montgomery in Alabama. He cast a Bill Norman Deep Little N and a Bagley DB 3 to brush in a river channel bend.
"I needed them to run just a little deeper to reach the top of that brush," he said. "When I used that 'kneel and reel' technique, that did it."
Elias described that year's Classic as "a real lightweight." He won with only 32 pounds in three days. But he doubts he would have caught many of the bass he did bring in if he hadn't reached the desired depth with his crankbaits.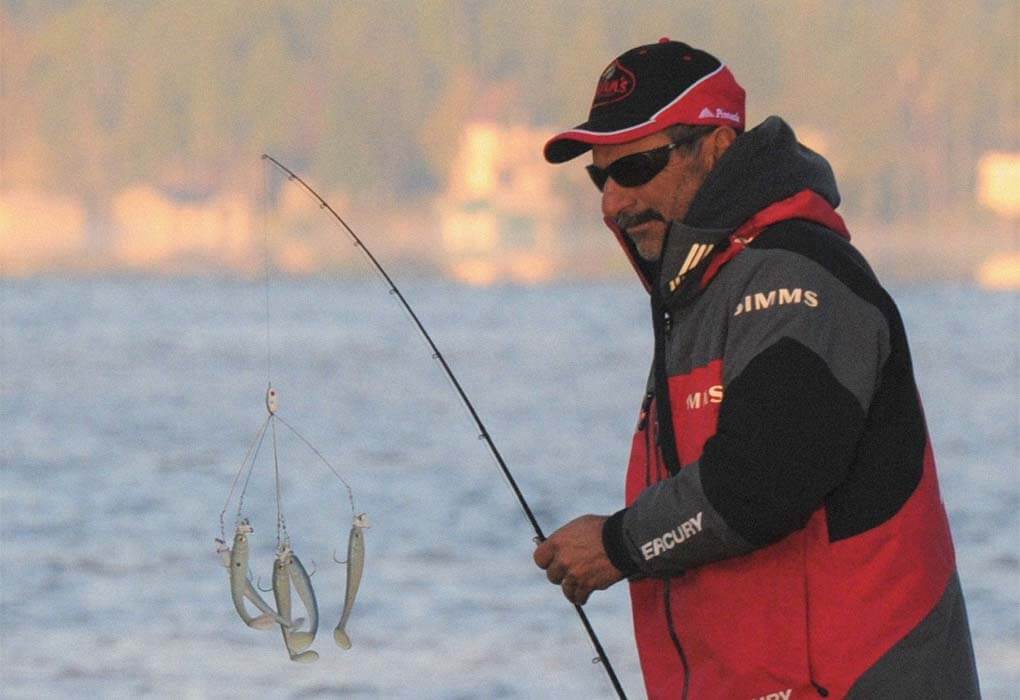 The Legendary Alabama Rig
You know you're onto something when you discover an effective lure that is eventually banned from use in major tournaments.
Such is the case with Elias and the Alabama Rig.
The rig consisted of a solid plastic head with five metal wires extending from it. Swimbaits or grubs could be attached to those extenders to give the rig the appearance of a small school of baitfish.
Elias came across the rig while emceeing a benefit tournament and met the bait's inventor, Andy Poss.
Poss gave Elias a couple of the rigs to try, and the pro cast it a few times in his farm pond but then packed it away.
Elias decided to revisit the bait when he came across promising conditions during an FLW Tour event in October 2011 at Lake Guntersville.
Using a countdown system after each cast, he got the multi-bait rig to the desired depth, then started reeling.
The fish attacked it.
Elias totaled 102 pounds, 8 ounces in the four-day tournament and immediately captured the attention of the bass-fishing world.
The technique performed so well that major tournament circuits eventually banned the use of the Alabama Rig at its highest-level events.
Though its use is still permitted in many lower-level tournaments and for recreational fishermen, the rig's popularity has faded. But it still works, Elias said.
"It still works, but you have to work a whole lot harder to catch them," Elias said. "With forward-facing sonar, you can see how many bass will track it but not hit. It's unbelievable."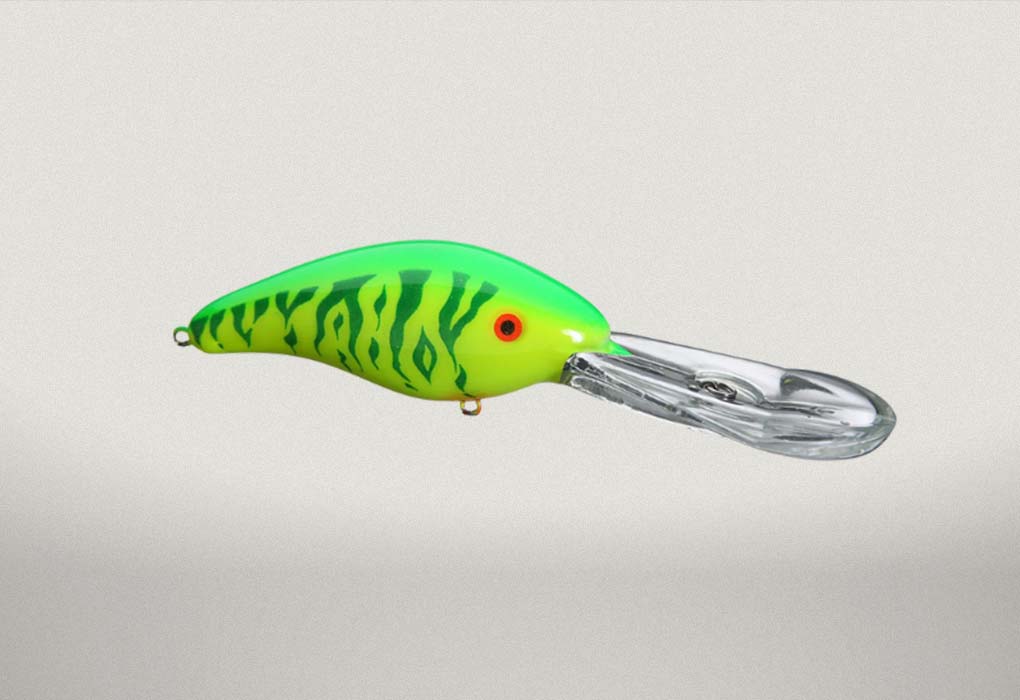 Tips for Beginners
Elias recommends that beginners make one simple decision when they mull over which color of crankbait to buy: Go with something with some chartreuse.
Why? Those baits imitate one of the bass' primary forages, bluegills.
"Most people think shad are the bass' top forage, and in many places, they are," Elias said. "But as a whole, bluegills are more widely found and are a more consistent food for them."
That said, beginners can't go wrong if they try to imitate the bass' three favorite meals: the bluegills mentioned above, shad, and crawfish.
Conclusion
Elias concedes that most anglers are more comfortable fishing the banks than offshore. But he challenges you to follow his tips to fish structure with a deep-diving crankbait on your next trip.
You might be surprised at what awaits.
"The easiest place to get started is a point," he said. "Make sure your crankbait is running deep enough to be banging into something. Then see what it brings."