Mark Daniels Jr. is the picture of success today, one of the top pro bass fishermen in the country.
But it wasn't long ago that he was caught in the web of the inner city, fighting to fulfill a seemingly impossible dream.
He was raised in the San Francisco Bay area, surrounded by poverty, crime, gangs, and drugs. But he resisted the bad influences and turned to fishing instead.
Buoyed by parents who viewed fishing as a lifeline for their son, Daniels Jr. was fishing with his dad every chance he could.
Then when he was only 14, his parents found a way to buy him a brand-new bass boat, no small feat for a couple with limited income.
The boy made that investment pay off, fishing for bass with his dad every weekend and learning at a young age about boat control, bass behavior, and what techniques to use in different situations.
From there, he joined a bass club, advanced to regional competitions, and stair-stepped his way up to the big time.
Today, he is one of the top competitors on the Major League Fishing's Bass Pro Tour and one of the few African-Americans to reach the sport's top rung.
Talk about a story made for Hollywood.
"I know what it's like for a Black kid growing up in the inner city, " said Daniels jr., 41, who now lives in Tuskegee, Ala. "Sometimes, it seems like you don't have any options in life.
"But you can't give up. You must follow your passion and let it lead you to a better life."
That's what Daniels did.
In a telephone interview, he shared his story, a few fishing tips, his perspective of what it takes to make it big on the pro tour, and the importance of good parents.
If you're like me and you always root for the underdog, Mark Daniels Jr. is your guy. In bass fishing, few rags-to-riches stories are more intriguing.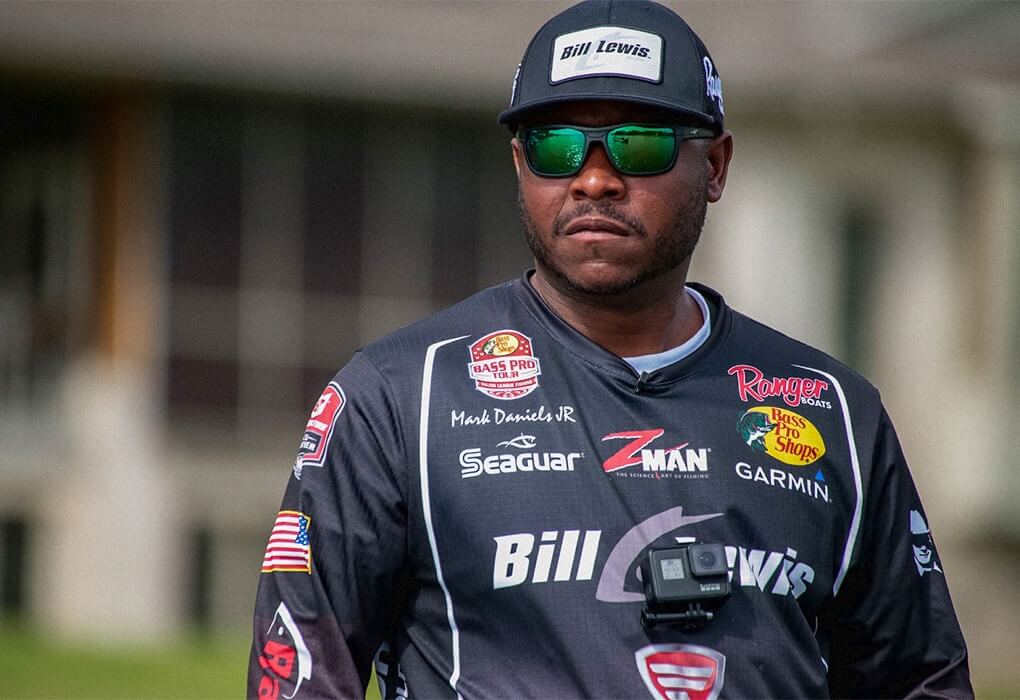 Mark Daniels Jr. is a role model for young fishermen dreaming of going pro. His motto: "Never give up." (Photo by Phoenix Moore/Major League Fishing)
---
Overcoming Adversity
It's a long way from the inner-city of San Francisco to the famous bass lakes of the southeast or north–literally and figuratively.
But Daniels Jr. had one significant advantage–loving parents who cared.
"My story is like a lot of African-Americans," he said. "I grew up in an area that was poverty-stricken and had a lot of crime, drugs, and bad things.
"But I had parents who worked really hard to see that I didn't get caught up in all of that. My dad introduced me to fishing at a young age, and he could see how much I loved it.
"Fishing saved my life from a lot of things I could be doing."
At first, it wasn't about bass. Daniels Sr. and Jr. would fish in the Bay area for anything that would bite. They didn't have a boat, but they still had plenty of options.
They fished for saltwater species from piers, jetties, beaches, and other public areas.
Daniels Jr. discovered freshwater fishing when the family moved north in the Bay area, farther from the ocean.
"I noticed a lot of city parks with ponds or small lakes in them," he said. "I could literally walk or ride my bike to these parks, and I could fish.
"I had watched TV shows like Roland Martin, Bill Dance, and Hank Parker, and they would show techniques for catching bass. I just started trying some of those things, and they worked."
A turning point came a couple of years later when Daniels' parents, Mark Sr. and Sylvia, turned a house fire into a positive.
"The entire top level of our house burned," Daniels Jr. said. "Our family moved in with my grandparents while our place was being re-done.
"My parents took part of that insurance money and bought me a bass boat. It was brand-new right off the showroom floor, a 20-footer with a 200-horsepower motor.
"It was an incredible gesture."
Father and son put that boat to good use. They were on the water every chance they could get, and Daniels Jr. learned things he still puts to use today.
"There's no substitute for time on the water," he said. "One of the biggest things I learned was boat control. If your boat isn't positioned properly, you can't make that cast you want to.
"I also learned about boating, boat repair, what lures to use in certain situations – a lot of things I use today."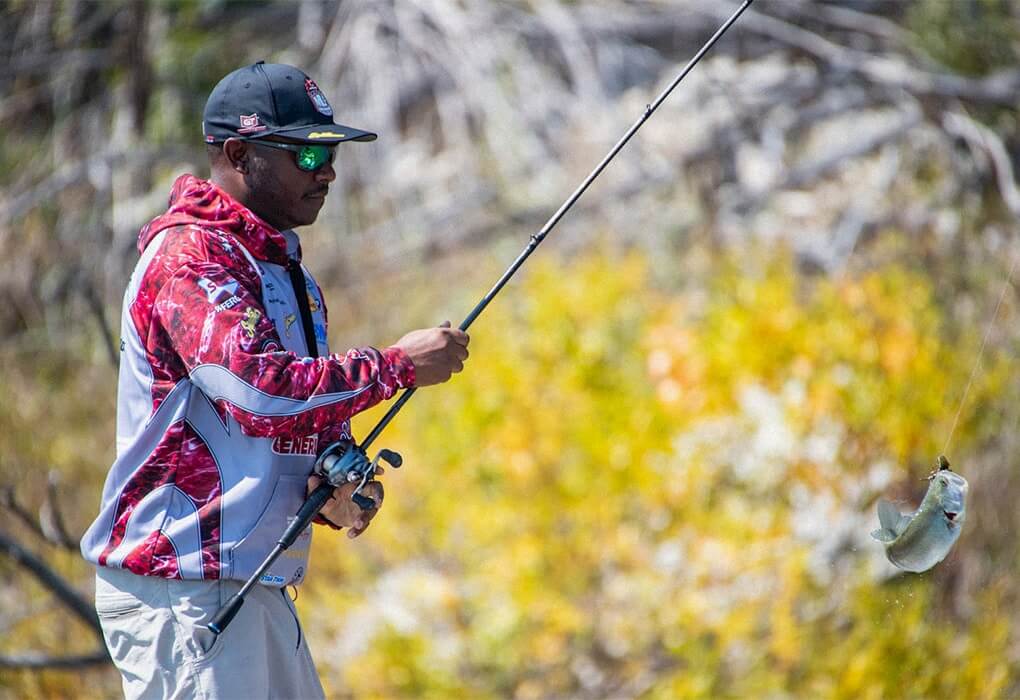 Mark Daniels Jr. learned at a young age how to catch bass (Photo by Phoenix Moore/Major League Fishing)
Becoming a Pro
Daniels got his education in bass fishing on some of the nation's best fisheries, including the California Delta.
"If you were going to have any chance of being a good angler on the Delta, you had to learn how to flip," he said. "And I became very good at it."
Daniels started doing well in tournaments and became widely known. But becoming a pro was still a distant dream.
"It takes a lot of money to become a full-time pro," he said. "And I just didn't have those resources."
Daniels received a college degree in environmental science and worked as an agricultural biologist for six years while fishing on weekends.
A turning point came when Daniels won the TBF (The Bass Federation) national championship in 2013 on Grand Lake in Oklahoma.
The $100,000 prize package included a fully-rigged bass boat and a tow vehicle.
But just as important to Daniels, a berth in the FLW championship event and a spot on the FLW Pro Tour the following year. He received travel expenses, sponsor merchandise, and other prizes.
From there, Daniels decided to go full-time pro, and there was no turning back.
He has won more than $1 million competing on the FLW, Bassmaster, and now the Major League Fishing circuits, and he is considered one of the sport's superstars.
All he needed was a chance.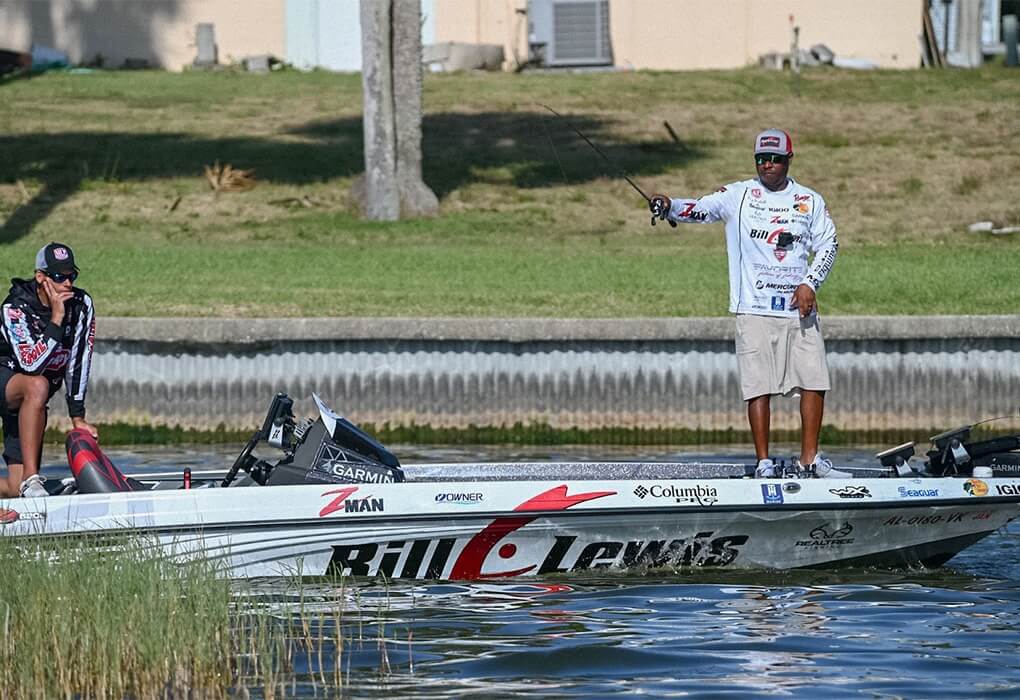 Mark Daniels Jr. loves to punch his baits through thick mats of vegetation to catch big bass (Photo by Jody White/Major League Fishing)
Packing a Punch
Daniels will tell you his fishing career took off when he learned how to throw a punch.
In bass fishing vernacular, punching is a term used for flipping baits on heavy weights so that they will get through thick mats of vegetation.
Daniels is darn good at it. He learned to flip on the California Delta and eventually mastered the art of getting his bait into spots seemingly impenetrable.
"The bass lay under those mats because they have shade, they feel protected, and there's lots of food there," Daniels said. "To me, it's the most exciting way to fish, even more than topwater.
"You pull up to a mat and never know what's under there. It could be a 12-incher or a 12-pounder."
Punching requires specialized equipment. "You go in there with a fishing rod that's too light, and you will get your feelings hurt," Daniels said.
Daniels uses a 7-foot 8-inch heavy action rod he designed for Favorite Fishing. His signature model in the Hex series has the backbone to pull heavy bass out of heavy cover yet is light enough to avoid angler fatigue.
Daniels uses 50-pound test braid on a baitcasting reel. He will use weights from ¾-ounce to 2 ¼ ounces, depending on how thick the cover is.
Various creature baits will work, but Daniels prefers the Googan Bandito Bug Jr.
"It's a reaction strike," Daniels said. "Bass see this bait drop in front of them, and they're going to hit it."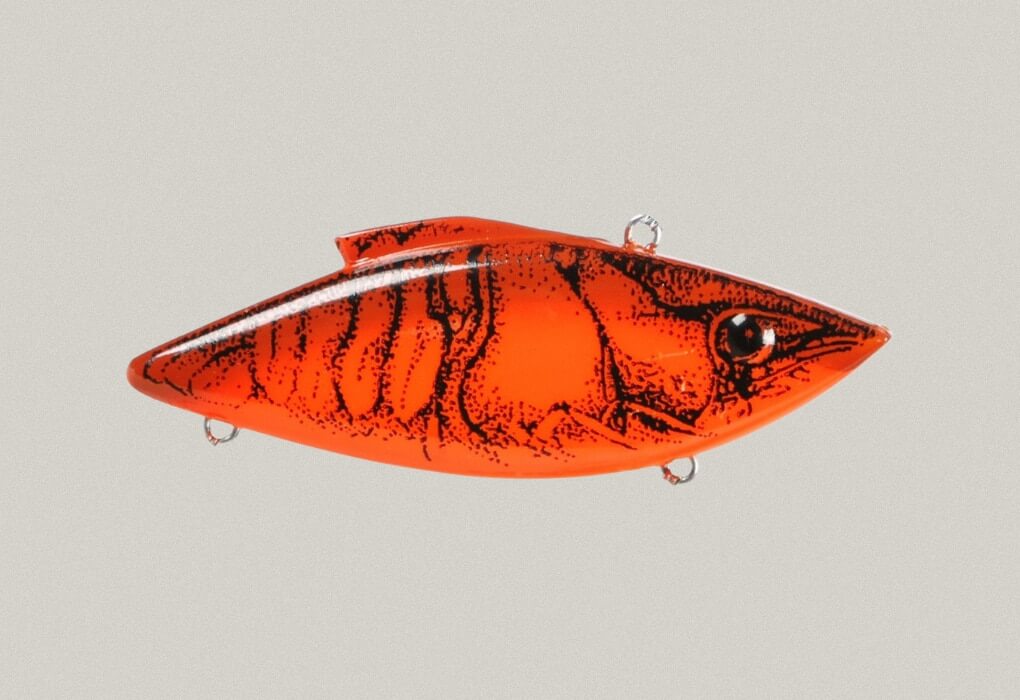 The Bill Lewis Rat-L-Trap
Springing a Trap
If you're looking for an all-season bait that works, Daniels advises beginners to start casting a Bill Lewis Rat-L-Trap.
The rattling lipless crankbait is one of the best-selling lures of all time. With a tight wiggle and a rattling sound chamber, the bait calls in a variety of fish.
Daniels discovered it in his childhood and still uses it today on the pro tour.
"I always have it tied on one of my rods," he said. "It's such a versatile bait.
"You can rip it through the grass; burn it over deep structure; fish it shallow, all kinds of possibilities. And the color selection is so great. Bill Lewis (Co.) has a color to match every kind of forage."
Bill Lewis invented the bait in the 1960s. Today, the company manufactures Rat-L-Traps in more than 350 size and color combinations.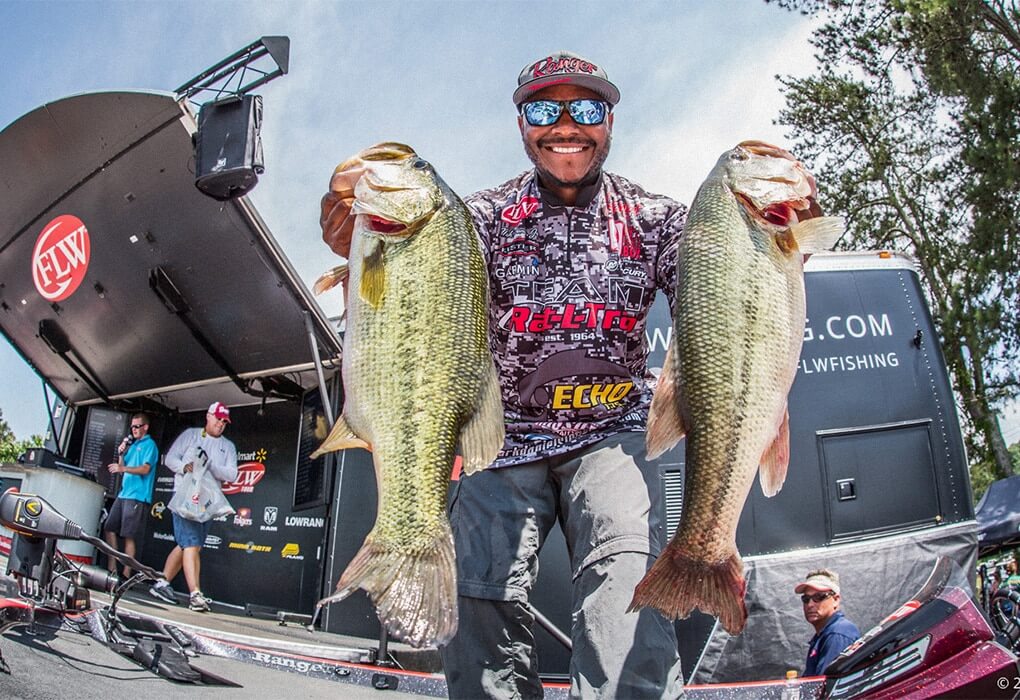 Mark Daniels Jr. uses his electronics to pattern the baitfish the bass are feeding on (Photo by Major League Fishing)
Patterning the Forage
Fishermen get caught up in the complications of using today's modern electronics.
Is more expensive often better? Well, the high-priced units such as forward-facing sonar definitely help.
But they're not a magic pill, Daniels said. Fishermen can still catch bass with simple electronics by following a few guidelines.
"The first thing you have to do is find the bait," he said. "A bass is a predator and will always be close to its food."
"I am looking at my electronics from the time I idle out in the morning, trying to determine what depth the baitfish are using. I can form a pattern that way."
"A lot of times, when I find them at a certain depth, I can go other places and find the baitfish and bass in that same exact range."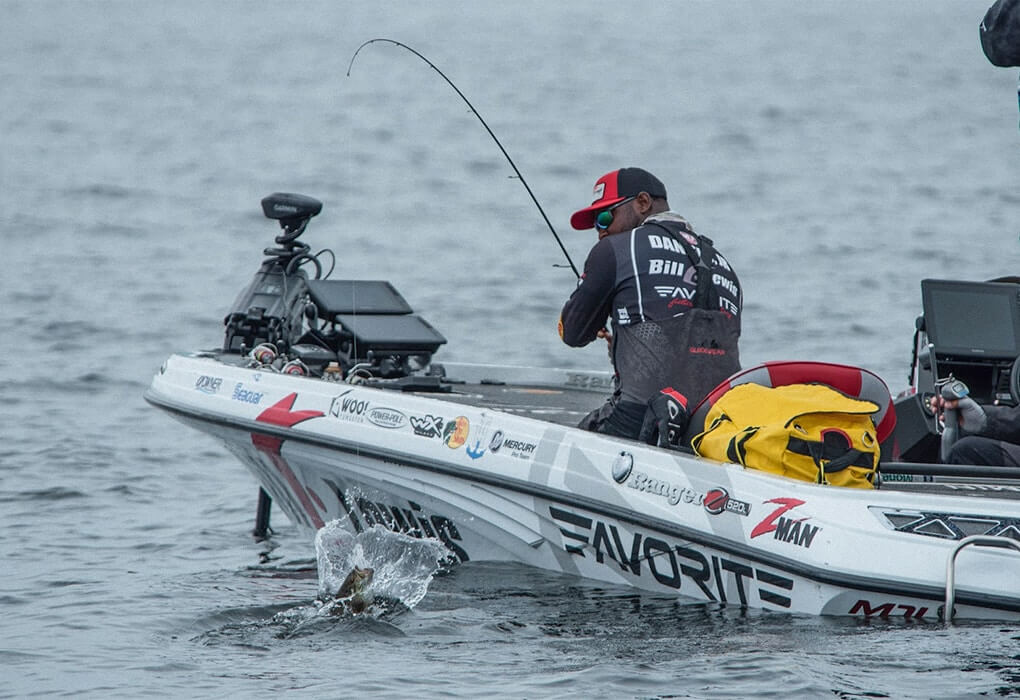 Mark Daniels Jr. often uses spinning gear to catch open-water bass (Photo by Garrick Dixon/Major League Fishing)
The Resurgence of Spinning Gear
For years, bass fishermen were indoctrinated to believe they needed sturdy baitcasting equipment to battle big bass.
But that isn't the case anymore. With modern electronics such as forward-facing sonar, anglers are fishing offshore more than ever.
And spinning tackle is the best way to catch those suspended fish.
"A lot of times, those bass have been pressured," Daniels said. "You must drop down on line size and go to smaller baits that look more natural."
Daniels often starts with an 8-pound-test fluorocarbon line and uses finesse techniques such as a drop-shot rig or a Damiki rig.
"Spinning tackle is perfect for that type of fishing," Daniels said. "You can put your bait right on the bass' nose, and it's more of a subtle approach."
Last Cast
Above all else, Daniels teaches us the mental part of the fishing game.
He took a "never-say-die" attitude when he found he could fish with the best of the pros and overcame obstacles that few are presented with.
Second, Daniels teaches us there is no substitute for time on the water. Now 41, he has been casting for bass since his early teens and is still learning.
Third, if you want to be good at bass fishing, you'd better be versatile. Daniels feels comfortable fishing for big bass, whether with a heavy-duty flipping stick or a light spinning rod.
Get out there and try some of the tactics Daniels talks about. Hopefully, it will result in a big bass at the end of your line.