As the star of the long-running "The Hunt for Big Fish" television show, Larry Dahlberg traveled around the world in search of aquatic monsters.
But he only has to go out his back door to experience some of his favorite type of fishing–for giant smallmouth bass.
Dahlberg lives on a hilltop overlooking the St. Croix River that flows along the Wisconsin-Minnesota line. The riverway stretches 169 miles through some of the Northland's most stunning scenery.
This is home to Dahlberg, an adventurer known for his quest for the biggest, baddest fish in the world and inventing unique lures to catch them.
"I visited some exotic places when I was filming the show, and I got to see the world," he said of his series, which ran from 1992 to 2015. "But I always loved coming home to the St. Croix.
"It's just a magical place."
I recently joined Dahlberg for a day of fishing on his home water. We cast a topwater lure he invented–the Whopper Plopper–and we caught some of the bronze fish that have captivated him since his youth.
But for me, just as enjoyable as the fishing was the opportunity to spend a day with a fishing Hall of Famer and learn what makes him unique.
I toured the workshop where he constantly tinkers with parts to develop new fishing lures. And I listened to his detailed explanation of how those baits were designed based on his observation of fish behavior.
More than anyone I have met, Dahlberg is a student of the species he pursues. He is a professor, mad scientist, precise fisherman, and philosopher, all wrapped into one.
Welcome to the fascinating world of Larry Dahlberg.
---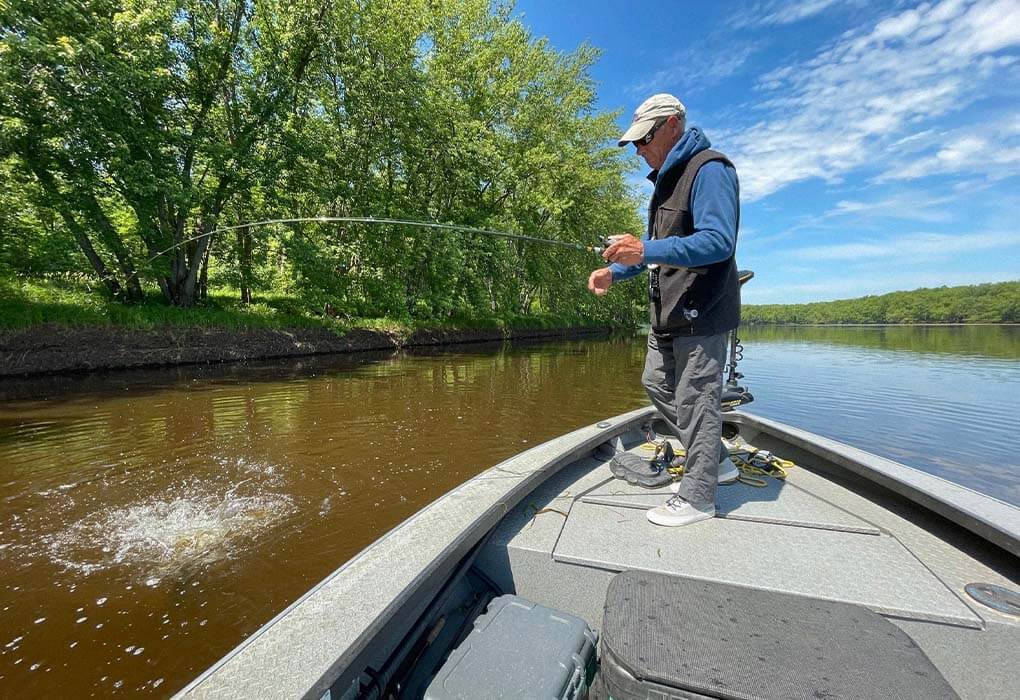 Larry Dahlberg has been tangling with big smallmouth bass since he was a child (photo by Brent Frazee)
Born to Fish
Maybe it's true what people say about how fishing runs in Dahlberg's blood.
When he was just a little guy, he watched his dad come home with giant fish, and he would beg to go along. But his pop decided he would have to pass a test first.
"He told me I had to cast under a swing set and land my lure in a small box 8 out of 10 times before he would take me," Dahlberg reminisced.
"By the time I was 6, I could do that, and my mom came to my defense. She told my dad, 'Bud, you promised.'
"So, I got to go along. Mainly, I was the one doing the rowing. I only got to cast when my dad and his friend took a break."
"I remember one day when my dad told me to bring my lure in because the water was too shallow to hold a fish."
"I started to lift it out of the water, and a big muskie hit."
Dahlberg caught that fish, which weighed almost 20 pounds and was hooked.
From that point on, he became an avid fisherman. His dad would get home from work at 4:30 p.m. each day. By 4:37, they were off on another fishing adventure.
If it wasn't muskies, it was smallmouth bass. The St. Croix had plenty of both. And the Dahlbergs knew how to catch them.
"We spent so much time on the water; we knew where the fish were," Dahlberg said. "It was just a matter of figuring out a way to get them to hit."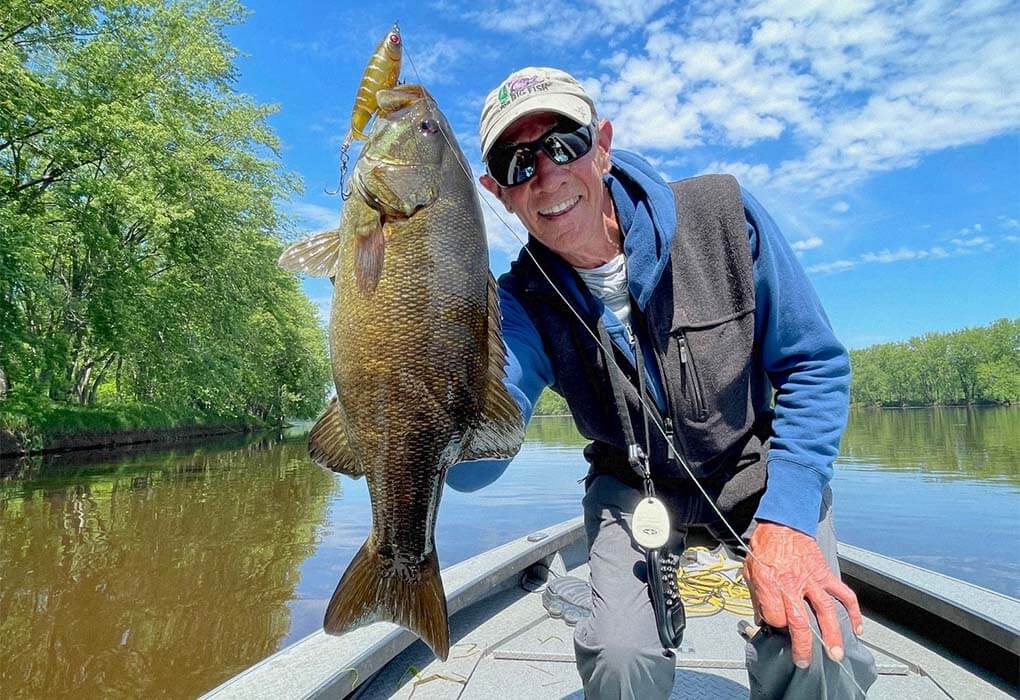 Larry Dahlberg, 72, started guiding on the St. Croix River as a boy (photo by Brent Frazee).
A Youthful Guide
When fishermen ask Dahlberg how old he was when he started guiding, they aren't prepared for the answer they receive.
After all, 11-year-old guides aren't exactly common.
But Dahlberg was already an accomplished angler at that age. And his dad offered his son's services when a smallmouth bass fly-fishing club requested someone to guide one of their wealthy members on the St. Croix.
"This fly-fishing club had members from all across the country. They weren't interested in fly fishing for anything other than smallmouth bass," Dahlberg said.
"Well, I knew where the bass were. By the time I was 9 or 10, my dad would put me on the river on a Wednesday and wouldn't pick me up until Friday."
"When that club asked my dad to guide them, he told them, 'Take the boy. He knows where the smallmouth are.' And I did. I knew the bass by name."
"I remember guiding Mr. Pillsbury (who owned the Pillsbury Co.). I would climb a tree and see where the big smallmouth were holding; then, I would tell him where the cast."
"He thought I was a savant. Every time I would help him, he would catch a big smallmouth."
The fishermen used a crude dry fly that looked like "a Thermos bottle cork with feathers on it," according to Dahlberg.
The smallmouth would rise to the surface and slurp that fly in, making an impression on the young boy.
"There's something special about watching a fish hit on the surface," he said.
Dahlberg's knack for finding smallmouth bass soon became widely known, and the boy landed a full-time summer job.
"I was paid $14 a day, and that was a lot of money to a kid back in those days," he said. "That was more than I could make in three weeks of mowing lawns."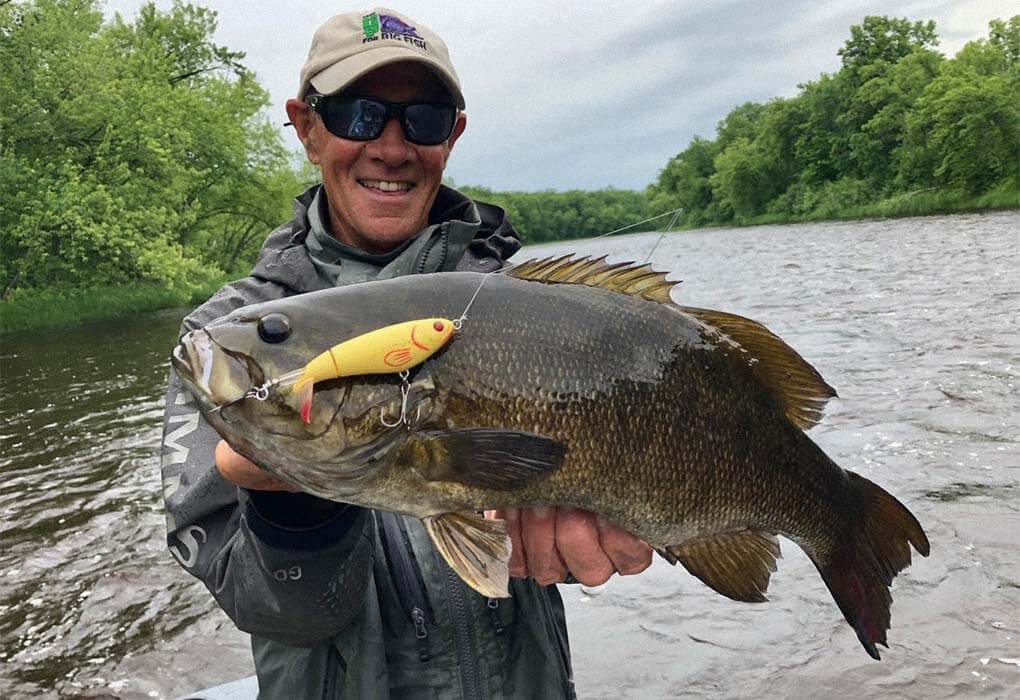 "There's nothing like catching a big smallmouth on a topwater lure," says Larry Dahlberg (photo courtesy of Larry Dahlberg)
A Passion for Smallmouth
From those humble beginnings, a legend was born.
Yeah, Dahlberg was addicted to the muskies that roamed the St. Croix. But he was even more fascinated by the broad-shouldered smallmouth bass.
"I've sampled all the sportfish of the world, but pound for pound, there's nothing like a big smallmouth bass," he said. "Some people might argue, but I think a 5-pound smallmouth is more powerful than a 5-pound peacock bass.
"And when you catch one on top…well, there's nothing like it."
That's why Dahlberg has spent a lifetime in his workshop, developing baits that could fool big smallmouth into hitting.
The first step is observation to get an accurate idea of how the bronze predators operate in certain situations. Then he goes to work to produce something that will imitate nature.
"I don't make lures to get rich off of them," he said. "I make them so I can use them."
He has caught some giants off the baits he designed. He landed and released a 24-inch smallmouth on the Whopper Plopper, a legendary topwater bait he invented.
He caught one even bigger — a fish that measured 25 3/4 inches– on the Clackin' Crayfish bottom-bouncing bait he developed.
Add the big fish he has caught on other lures bearing his trademark — the Dahlberg Diver fly, the Mr. Whiggley swimbait, and other shallow-running baits–and you can see why Dahlberg is recognized as one of the greatest lure designers of all time.
But not all of Dahlberg's inventions hit the market. He remembers one fly he called a " wiggle nymph" that he used to fool some big smallmouth.
"Imagine a little crappie jig with a hook big enough to hold a 5-pound smallmouth," he said. "I would drift and stand up high so I could spot the fish.
"Then I would cast upstream, make mend and let that bait dead drift like an insect. Those big smallmouths were laying down there, and they weren't going to chase. But when you put it right in their face, they would slurp it in."
Dahlberg paused and added, "That little fly was fun, but it was something I came up with to fit a situation."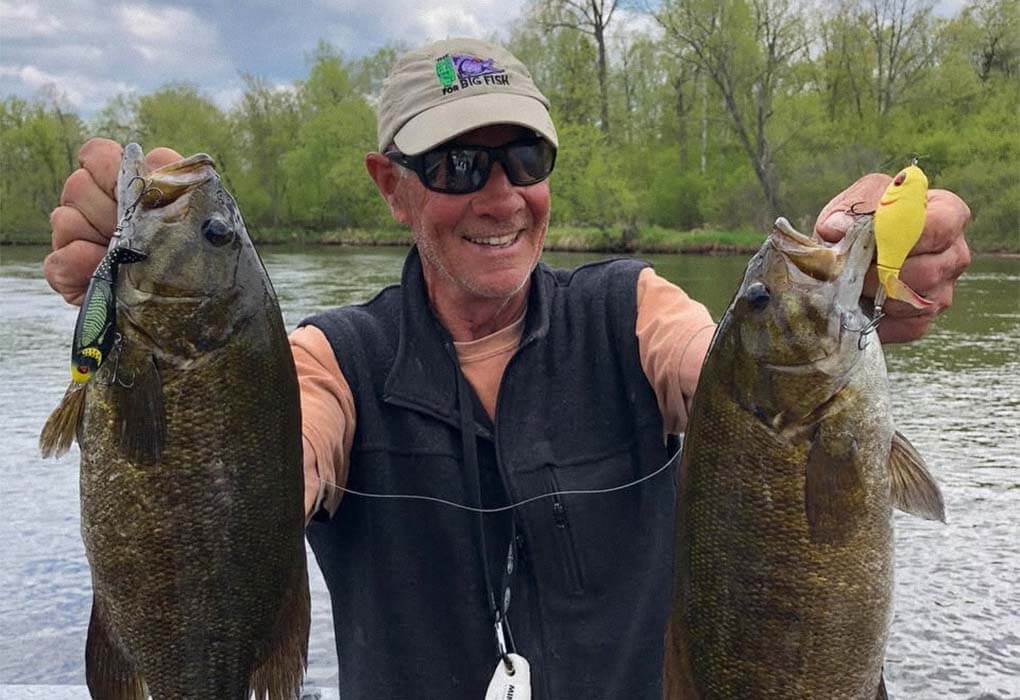 Larry Dahlberg displays the size of smallmouth bass that he fools with the lure he invented, the Whopper Plopper (photo courtesy of Larry Dahlberg)
Catching Whoppers on Ploppers
They say that necessity is the mother of invention.
Dahlberg certainly follows that creed when he is designing baits. Take the Whopper Plopper, for example.
He was using a Mudpuppy, a bait with a hard-metal revolving tail, to catch big muskies. But he couldn't help but believe there was a better way.
"I wanted to find a flexible rubber tail so that it would make a bigger pop," he said.
So he went to his workshop and began tinkering with a prototype. He brought the bait with him on a muskie opener years ago and gave it to well-known guide and friend Josh Stevenson to try out.
Stevenson caught and released several big muskies on it that day and 30 over the next few weeks.
That's all it took for Dahlberg to know that he was onto something big.
He put his new bait to good use, catching numerous muskies, some of which were caught on film for Dahlberg's "The Hunt for Big Fish" television show.
But that was only the start. The large Whopper Plopper also was effective for everything from large to smallmouth bass and other large predators.
Dahlberg teamed with the River2Sea Co. to produce Whopper Ploppers in various sizes. Today, there are baits that are the perfect size to appeal to big smallmouth bass.
Dahlberg prefers the 90 (centimeter) model for big bronzebacks, but he also uses the 60. The size depends on the baitfish he is trying to imitate.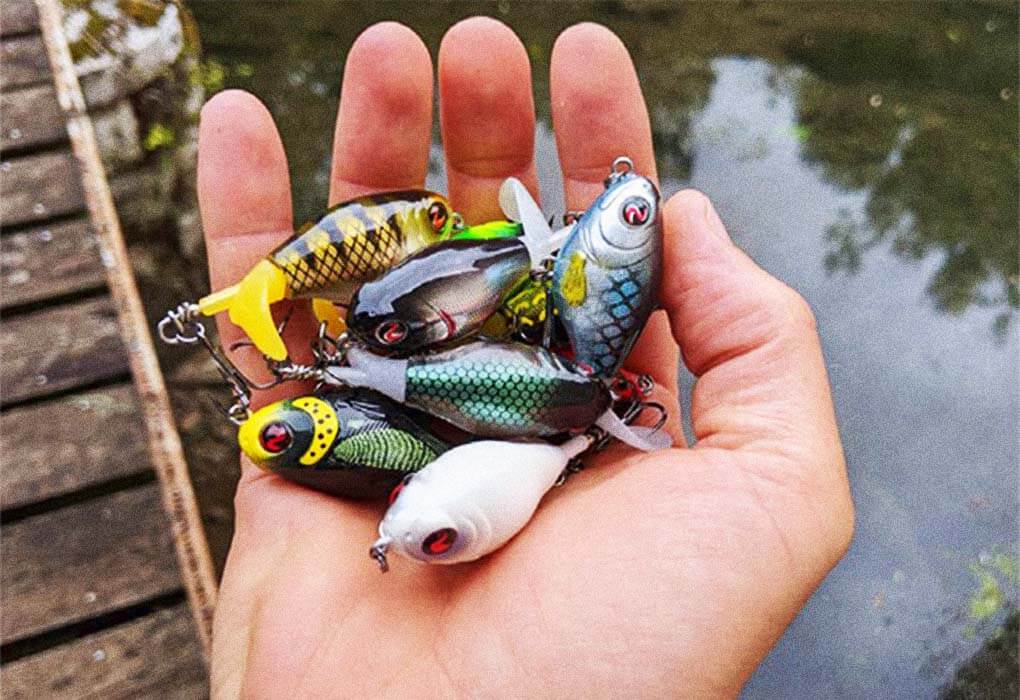 A bite-size meal for a smallmouth bass, the Whopper Plopper 60
A Day of Topwater Fishing
So what does it take to get a big smallmouth to hit a topwater lure on a hot, sunny day? Dahlberg showed the key ingredients on a recent trip.
Standing at the bow of his boat, he fired a cast to an undercut bank and sputtered his Whopper Plopper several feet. Then a fish bomb exploded.
An angry smallmouth bass pounced on the bait and immediately went ballistic. It jumped, then pulled hard as it struggled to throw the hooks.
But Dahlberg soon had the fish in the boat and admired it for a minute before tossing it back.
"When you have a steep bank, that's an edge. And smallmouth relate to edges," Dahlberg said as he launched another cast.
"They'll be right on the bank. If you're a couple of feet off, you won't catch them."
Dahlberg spent the rest of the morning making pinpoint casts to seams in the current, cover in the form of boulders and laydowns, and weed edges.
He caught smallies, though not as many as he would have liked. "Something's off," he grumbled.
Still, he had the type of day that would please other fishermen. He only occasionally put down the rod baited with a Whopper Plopper, and that was to cast a Mr. Whiggley swimbait in a hole that often held muskies.
And he had one follow. But after a few casts, he was back to casting a topwater bait for smallmouth.
"There are more big smallmouth in this river than any time in my lifetime," he said. "A lot of it is the regulations that are in place. But it's also the anglers.
"Most people have learned that smallmouths have more value on the end of your line than on your dinner table."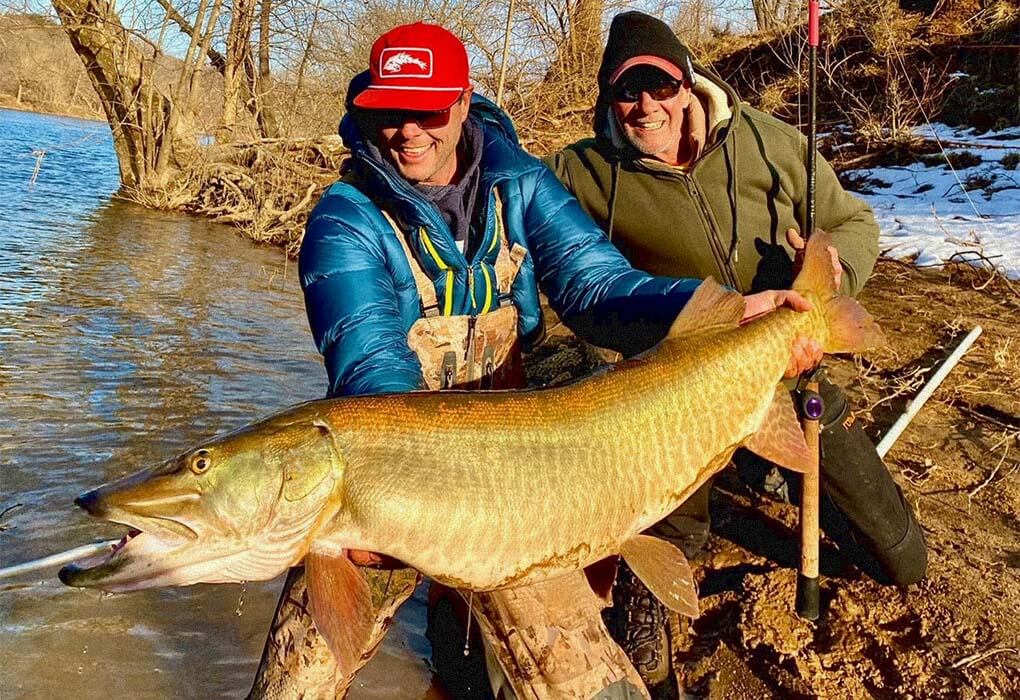 Few fishermen know the ways of giant fish than Larry Dahlberg (right) (photo courtesy of Larry Dahlberg)
The Hunt for Giants
So, what do big fish of any kind have in common? Dahlberg points to where they live.
"The biggest fish always live in the best habitat–someplace undisturbed, hard to reach," he said.
"They are in charge. They rule the water."
For example, Dahlberg relates the time he chased a huge peacock bass.
"We were able to work back into this spot that was very hard to get to," Dahlberg said. "This huge peacock hit, and I fought it for a while bore it got hung up on a stump and broke off.
"A few days later, I snuck in from a different angle, and I got that fish to hit again on a large diver (fly). It hit right at my feet, surprising both my cameraman and me."
"I fought it and fought it and finally had right up to me when he broke my leader."
"But just getting that fish to hit again was a thrill. It showed me that if you can sneak into a place where they feel safe, they'll hit."
Conclusion
Dahlberg isn't big on the new electronics such as forward-facing sonar that some anglers rely on today.
"Fishing isn't a video game," he said. "Electronics certainly can be an aid. But you'll catch more fish by studying their behavior and learning where they will be in certain situations."
In other words, learn seasonal patterns, how fish react to conditions such as dirty or clear water, windy or calm days, etc., and how changes in situations throughout the day can reposition them.
So how do you pick up that knowledge?
By spending plenty of time on the water. By exposing yourself to various conditions, the puzzle will start fitting together.
Good luck with your fishing, and let us know how you do in the comments below!