The River2sea Whopper Plopper is an incredibly successful topwater lure that comes in a variety of colors. It has a propeller tail and it makes a plopping sound as you retrieve it.
Choosing the best Whopper Plopper colors to have in your tackle box is important and I want to help make sure you hit the nail on the head. I've used almost all of these in various conditions.
The best color Whopper Plopper is loon which is black with slight reflective properties. It appeals to most situations and you should definitely start with this one and expand from there. 
If you'd like to know more about the various color options and when to use them, continue reading below. 
---
The Best Color Whopper Ploppers for Bass Fishing
Here's a breakdown of my favorite color choices:
Loon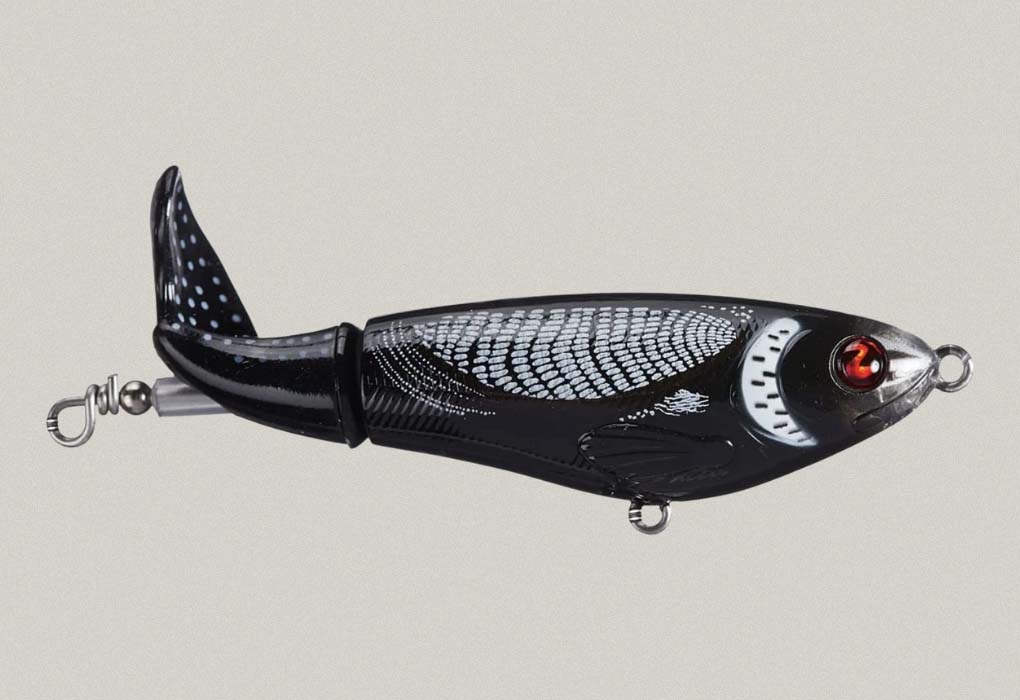 If you ask anyone, they'll tell you that the Whopper Plopper loon is the most popular color. I'd say it's the best Whopper Plopper color for bass because it appeals in situations you'd encounter most frequently. 
Fish it during the early morning, with overcast skies, and if you're trying to imitate dark surroundings.
It's got an eye-catching red eye and the dark profile casts a nice shadow in the water. Pair that with the gurgling and spinning of the tail and you have a nasty bass presentation sure to draw some attention.
Bone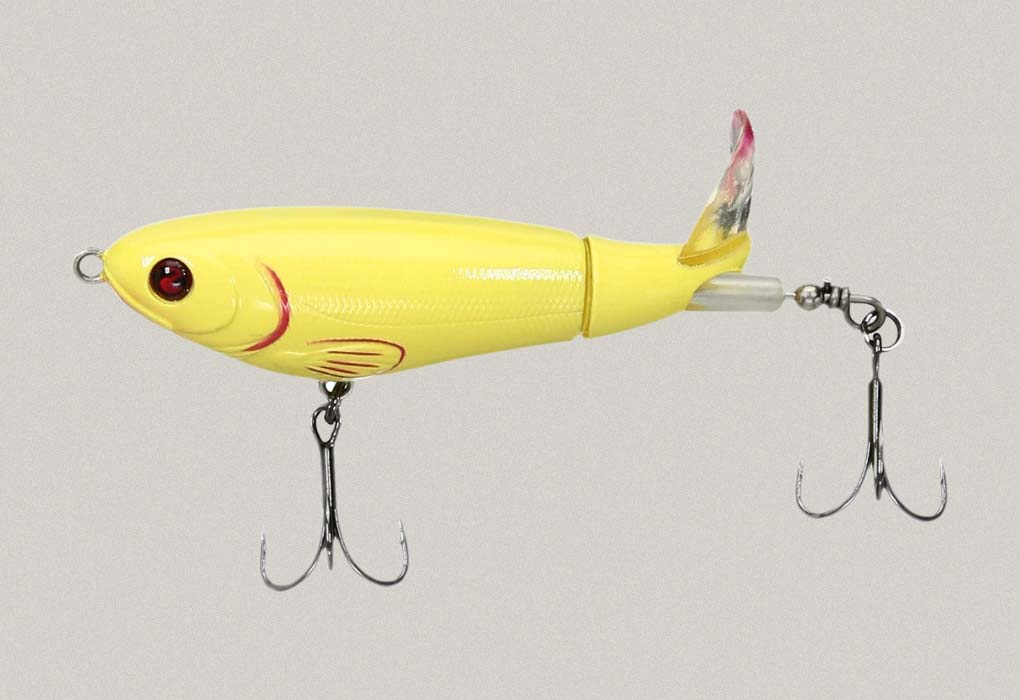 The Whopper Plopper bone color is quite different from the loon. It's more of an off-white almost yellowish color with a lot of red accents.
Anytime you see red on a lure it's usually there to trick the bass into thinking that the fish is hurt. There's a little red on the tail as well.
Since this isn't necessarily a bright or vibrant color and it doesn't have much to reflect, it's best used in clear water situations such as cooler temperatures or dead of Summer heat when there isn't much rain stirring things up.
Monkey Butt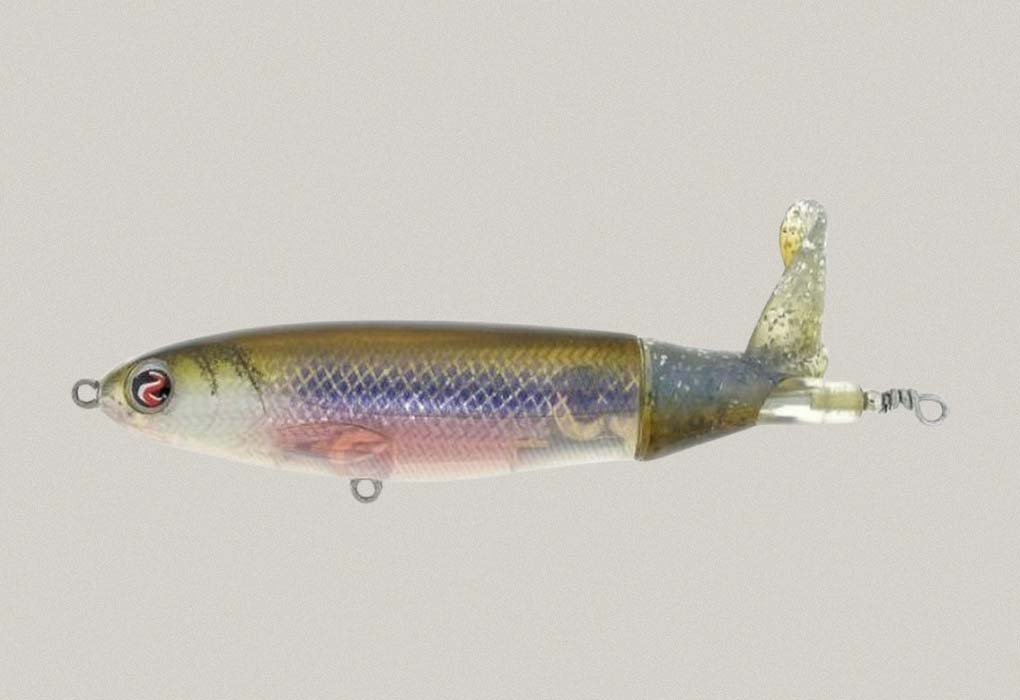 The Monkey Butt Whopper Plopper is a great choice for clear water situations because of its realistic presentation. It's designed to mimic a minnow and it has a translucent bottom that does a great job of it. 
This one comes in a 130/13 size so it's a bit smaller than some of the other options but you can dig around and probably find different sizing choices.
I'd fish this in primarily clear water and I also think it would perform well in rivers and streams. It imitates river baitfish too so it's a great choice for smallmouth.
Blue Blood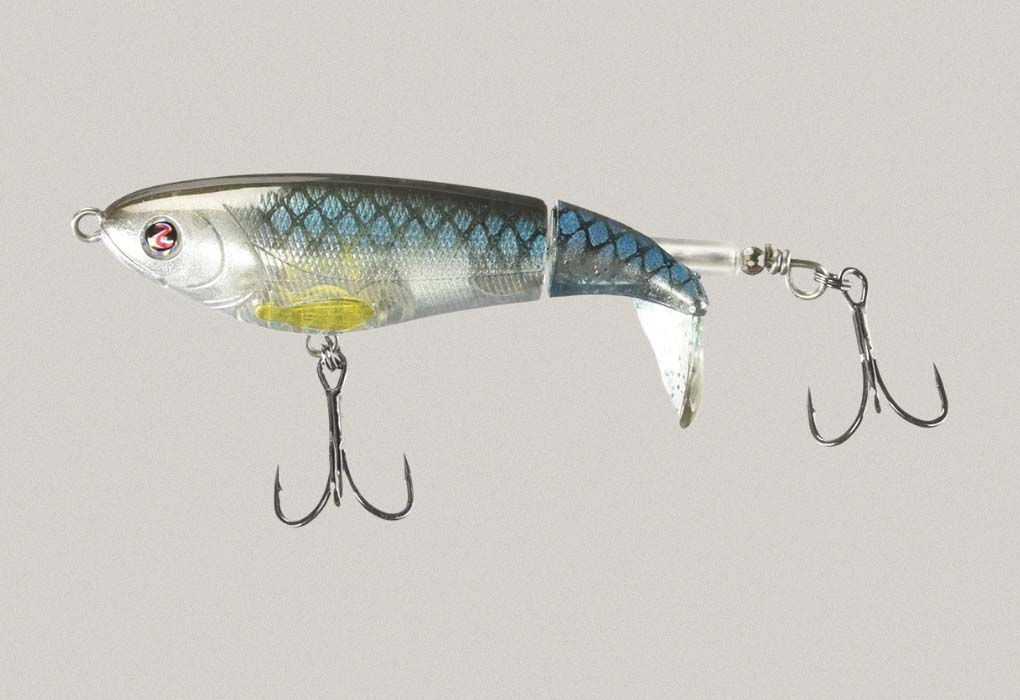 The best color Whopper Plopper for largemouth has to be the Blue Blood. When you're trolling around the shoreline or casting parallel to some weed beds, this is a great choice. 
It's designed to mimic shad with a blue body and clear bottom. This color combo works great on shallow feeding bass looking for shad.
The colors are a little more aggressive than the past two so it'll also reflect a little bit of light and create more of a flash in the water.
Bluegill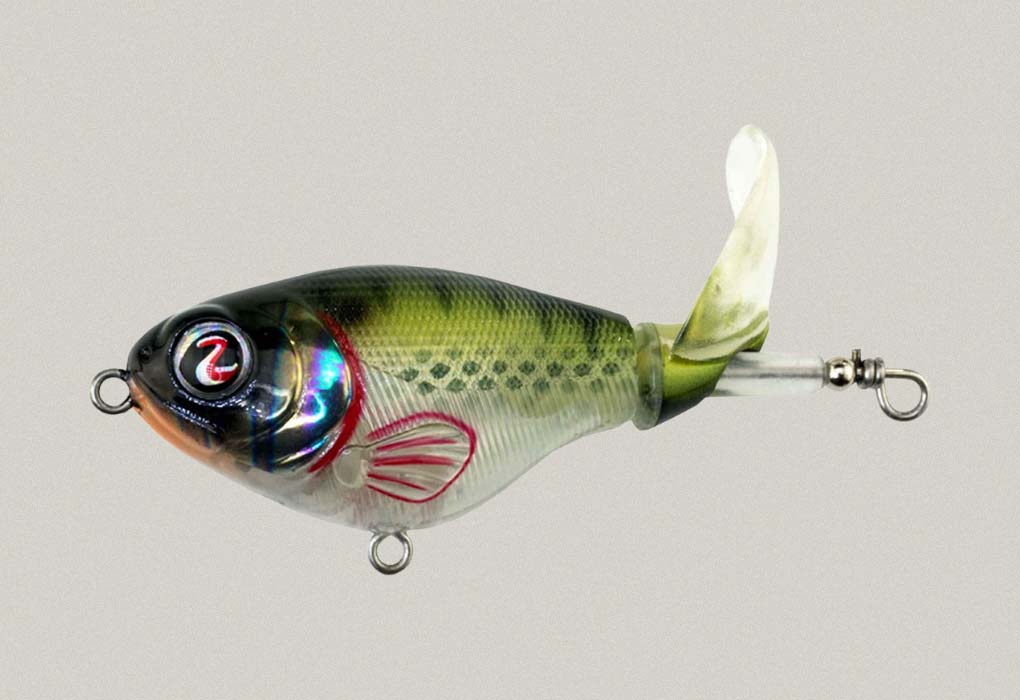 This is a Whopper Plopper 75 design which is a newer option with more realistic coloring and a fatter-bodied design. I like these a lot but they are a lot shorter.
The Bluegill Whopper Plopper is exactly what you think it would be and it generates a ton of surface attention due to the coloring as well as the red accents to make bass think it's injured. 
Why choose this style over the other? I think these will work better in high pressure situations when the bass aren't biting.
The presentation is so realistic and by sizing down the lure, you're creating an easier opportunity for the fish.
Perch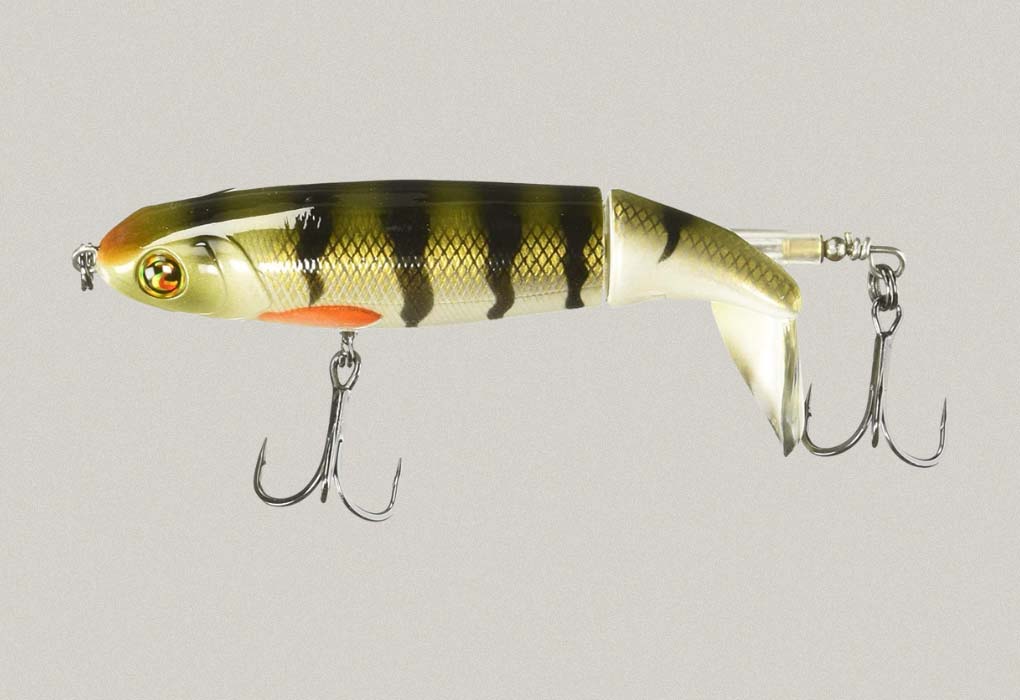 Moving back to the traditional design we have the Whopper Plopper Perch. Similar to the Bluegill, it's designed to imitate an actual fish and has a super realistic presentation with the spinning tail and gurgling sound. 
This color isn't quite as popular as some of the others but I'll tell you why they should be. Bass love to eat perch and they especially love to eat them because they're known to bug them once they increase in size.
As a result, the bass will hammer the perch whenever they have an opportunity so I'd suggest giving this one a try. 
Terminator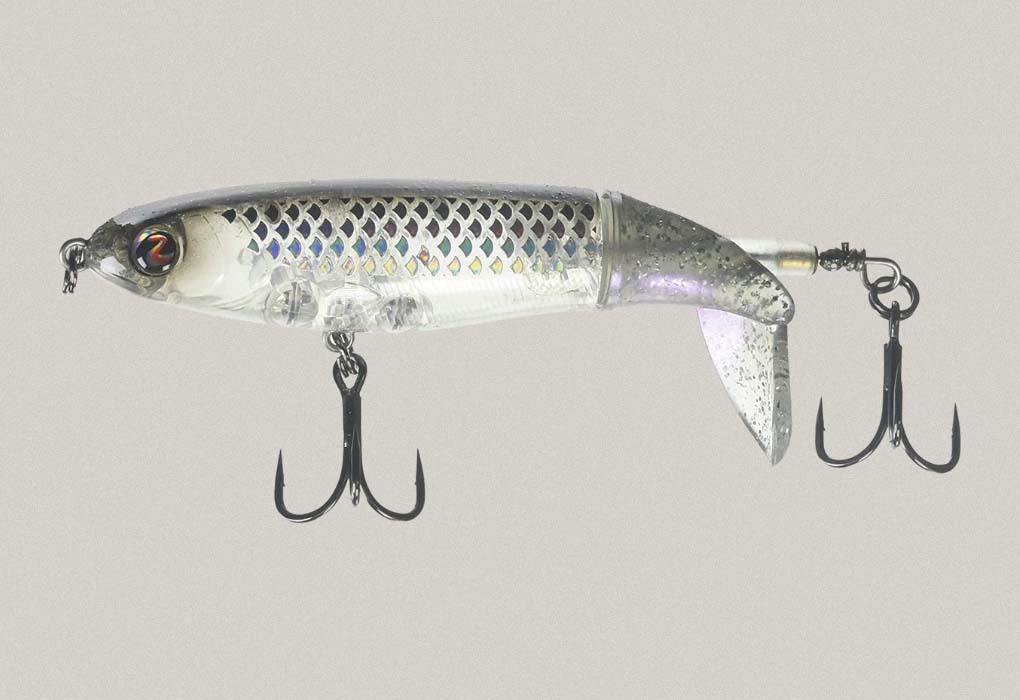 It's a little difficult to tell by the pictures but the Whopper Plopper terminator is actually 99% translucent with reflective scales on the back.
I throw one of these on the end of my baitcaster and clean house. It's a great color for beginners as well because it fits into a lot of conditional situations.
This is hands down one of the best Whopper Plopper colors for bright and sunny days.
Pairing all the features of this lure together with a bright and reflective presentation makes it a nasty choice for cleaning up in all types of conditions. 
The bright nature of this lure can also help grab whatever sunlight is available on low light days as well.
I'd throw this near shoreline structure and anywhere the sun is going to reflect off the water.
Fish it near weed beds or dense vegetation and you're sure to pull some lunkers out. 
White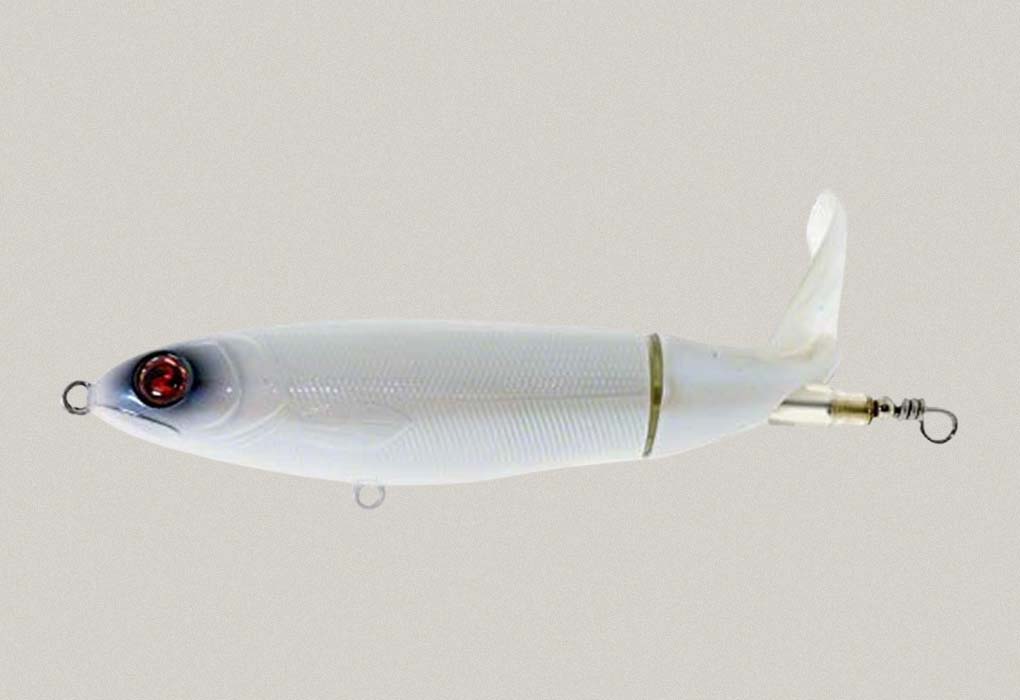 Many believe the best Whopper Plopper color for bass is white and I can understand why. Keep in mind that these are pretty expensive lures with each individual lure costing about $15 just for one.
If nothing else, I'd suggest getting the loon and the white because these two will appeal in most situations and you'll have something that works good in low light and bright light conditions.
Anyway, it's a white Whopper Plopper, what more can I say? It works well in bright situations and even if you're fishing murky water but you have a bit of sunlight breaking through. 
Rainbow Trout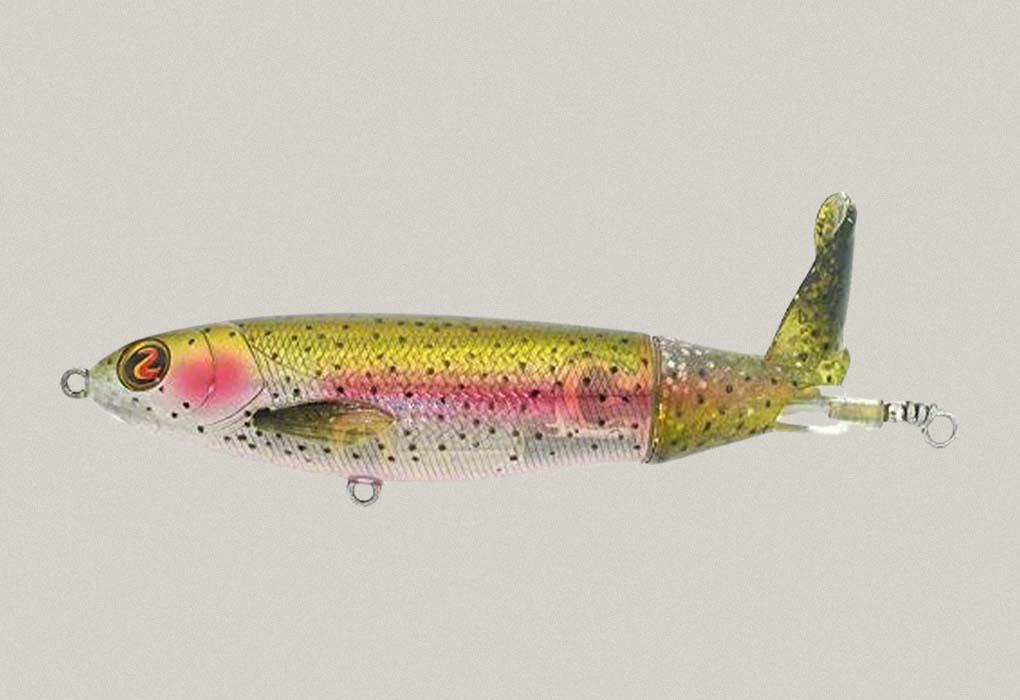 Last but not least, the rainbow trout Whopper Plopper for rivers and streams. Bass in these areas will chase down the rainbows if you naturally have a lot of them. 
It's a bright and reflective colored lure so be sure to fish it when the sun is shining. If you cast downstream and work it back up you'll get a lot of nice gurgling and you'll have the best chance of pulling bass out of their hiding spots.
How to Choose the Best Color Whopper Plopper
These lures clean up, there's no doubting that. But how do you choose 2-3 of them to keep on you at all times?
The Whopper Plopper is like a hybrid between a stickbait, crankbait, and swimbait all in one. The color you choose will have a big impact on your performance.
Whopper Plopper Color Chart
| | | | | | | |
| --- | --- | --- | --- | --- | --- | --- |
| | Low Light + Clear Water | Low Light + Murky Water | Bright + Clear Water | Bright + Murky Water | Rainy Weather | Hot +Midday Sun |
| Best | Loon | Loon | Terminator | Terminator | Loon | Terminator |
| Better | Blue Blood | Terminator | Bone | Bone | Blue Blood | Bone |
| Good | Monkey Butt | Blue Blood | White | Blue Blood | Monkey Butt | White |
Does Whopper Plopper Size Matter?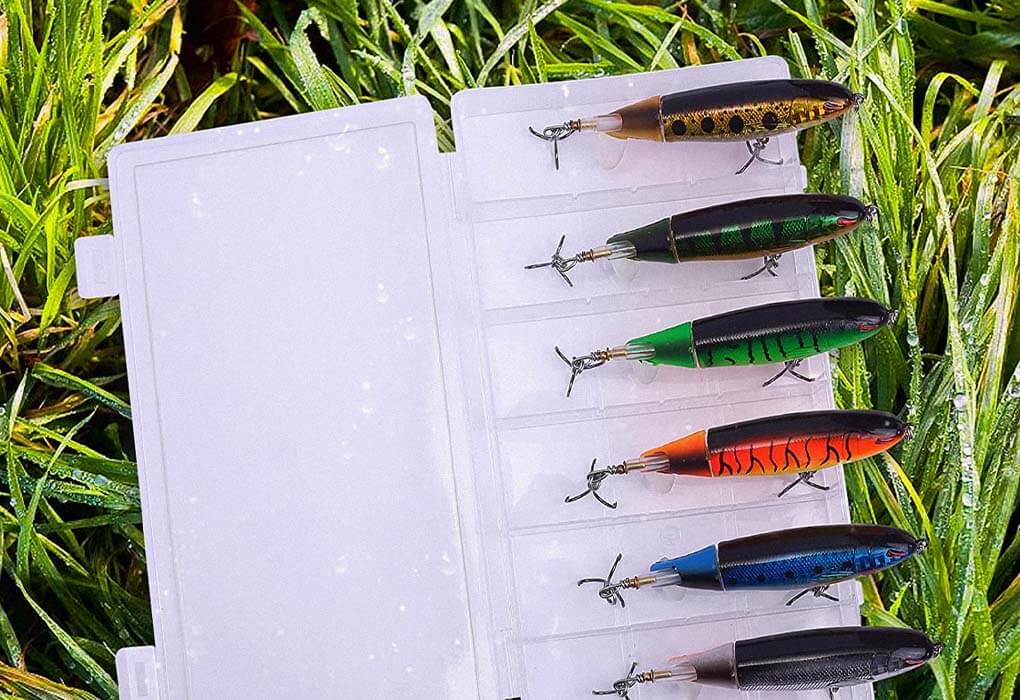 We've focused entirely on colors by this point but Whopper Plopper sizes matter as well. You've got quite a few options ranging from Whopper Plopper 90, to Whopper Plopper 130, and higher.
You need to know what these mean before purchasing one. 
Color and size go hand-in-hand because choosing the right one takes the same amount of thought process.
Think about it this way, when are bass most active?
…In the morning and in the evening right?
So, that's when you'd want to throw the most aggressive lure at them. You'd want to go for a loon or terminator at that time based on the conditions right?
If the bass are super active, would you want to throw something too small at them or something too big?
I'd stray in the direction of big during highly active times because the bass are feeling more aggressive and are actively feeding so they'll go for something that might be more of a challenge.
If there's a lot of fishing pressure and the bass aren't biting what would you do? As anglers, we need to be prepared for everything.
…you'd go for a more subtle color presentation like the blue blood or bone right? At this time, you'd also want to size down to a 90 or 75 to increase the chances of them taking you for an easy meal.
Keep in mind that the bigger the Whopper Plopper, the louder it will be too. It's like a buzzbait. This will create more vibrations in the water and could share away a lot of the tiny panfish you're not looking for.
It's a double edged sword. You're not going to attract the fish you don't want but you also want to make sure you don't scare away the ones you do.
So, what's the best size Whopper Plopper then? I'd go with a Whopper Plopper 110 for topwater fishing whether I'm chasing smallies or largemouth.
They catch fish no matter what so I wouldn't stress it too much. 
Final Thoughts
I truly hope this article was of some value to you, I spent a lot of time researching and putting this together.
This topwater bait is one of the best fishing lures for pulling in big bass in low light conditions, bright conditions, and pretty much any time as long as you have the right color.
I'm a big believer in the little details and something as simple as color can have a huge impact on your performance.
The best color Whopper Plopper is always going to be the loon and that's only because you can use it in the most common situations and conditions.
I would recommend getting three different colors of varying types. My top three choices would be: 
Don't overthink it and if you have experience with these babies, let me know in the comments what color you've had the most luck with. Good luck out there!