OK, I admit it. I don't always have the best attitude when I go fishing.
When the fish aren't hitting, I give up too easily. It isn't long before I lose concentration and start daydreaming or digging into my bag of snacks.
The bass win, and I lose.
I need to take a lesson from Gerald Swindle, a legend on the Bassmaster circuit.
The G-Man, as he is known by his legion of fans, is as well known for his "never-give-up" attitude as he is for his fishing prowess.
After his brother and best friend Tony died of cancer in 2008, Swindle hit a low point. He fell into depression and hopelessness, and it affected his fishing.
He sought help from a sports psychologist, and the advice he received was life-changing.
Now Swindle is the picture of a positive attitude, a guy who uses his experiences to help others.
And to win bass tournaments.
"I think people underestimate the power of their attitude and mindset," he said.
"As pro fishermen, we battle weather, wind, dirty water, rising water, all those scenarios, and sometimes you think, 'I'll just go get a bottle of whiskey and sit on a stump.'
"But we can't. Somebody's going to win. It's the guys who keep grinding and keep positive and never give up who will succeed."
We'll look at how Swindle's attitude has shaped his life, from his success on the water to the way his message has stretched far beyond fishing.
If you think he is just the Alabama "good old boy" you see entertaining crowds with his jokes on stage at bass tournaments and drawling about country life, you're mistaken.
In many ways, he is a role model for those striving to establish a career in fishing's big time.
---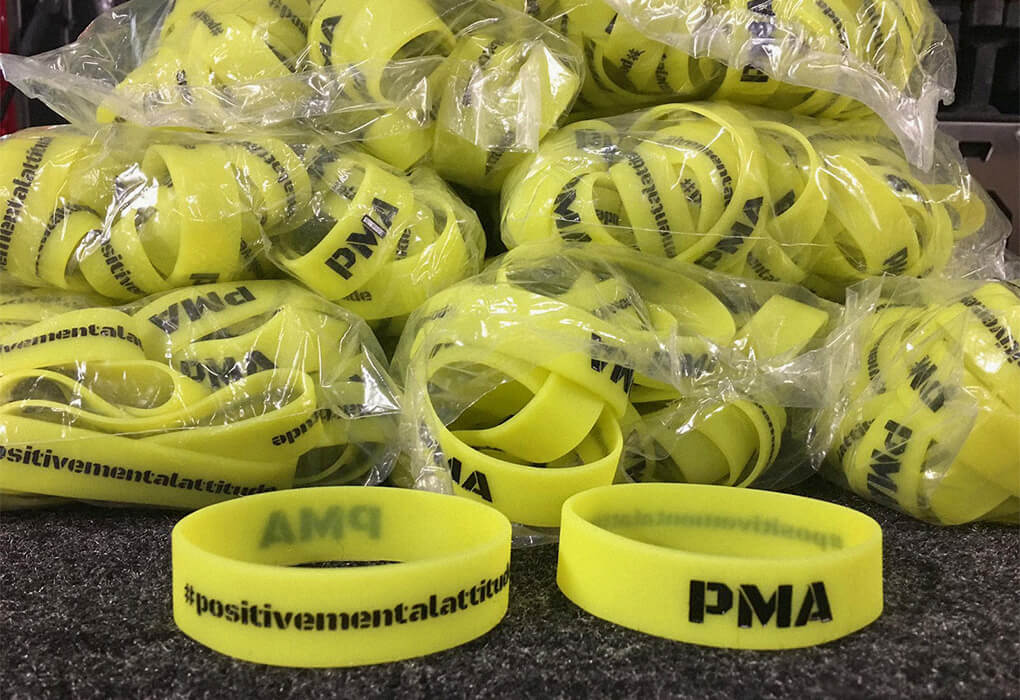 Look at Gerald Swindle during a bass tournament, and you'll see him wearing a yellow plastic bracelet reminding him to stay positive (photo courtesy of Gerald Swindle)
A Positive Fishing Tip
Success on the pro fishing level is about much more than who has the best boat, motor, equipment or knowledge, Swindle said.
Often, it's about who has the best attitude.
"I might practice at some of these places and only get one or two bites the whole day," Swindle said. "What's my attitude going to be on the first day of the tournament?
Do I say, "This is the biggest (bleep)hole I've ever been to?' Or do I say, 'This could be a great day if I keep grinding?'
"In those grinders, it's all about mindset. Anglers become great when nobody is watching. You're out there by yourself, and you just have to keep pushing."
Swindle wears a yellow plastic bracelet with the letters PMA (Positive Mental Attitude) to remind him.
That attitude has helped him more than once in national bass tournaments.
He remembers a Bassmaster Elite Series tournament at Lake Oahe when he caught a keeper bass on one of his first casts, then went several hours without getting another hit.
Time to panic? Give up? No, Swindle kept focused and caught three more keepers in the last hour and was able to cash a check.
"I didn't win, but I was able to cash a check for $10,000 and add to my points total for the year," he said.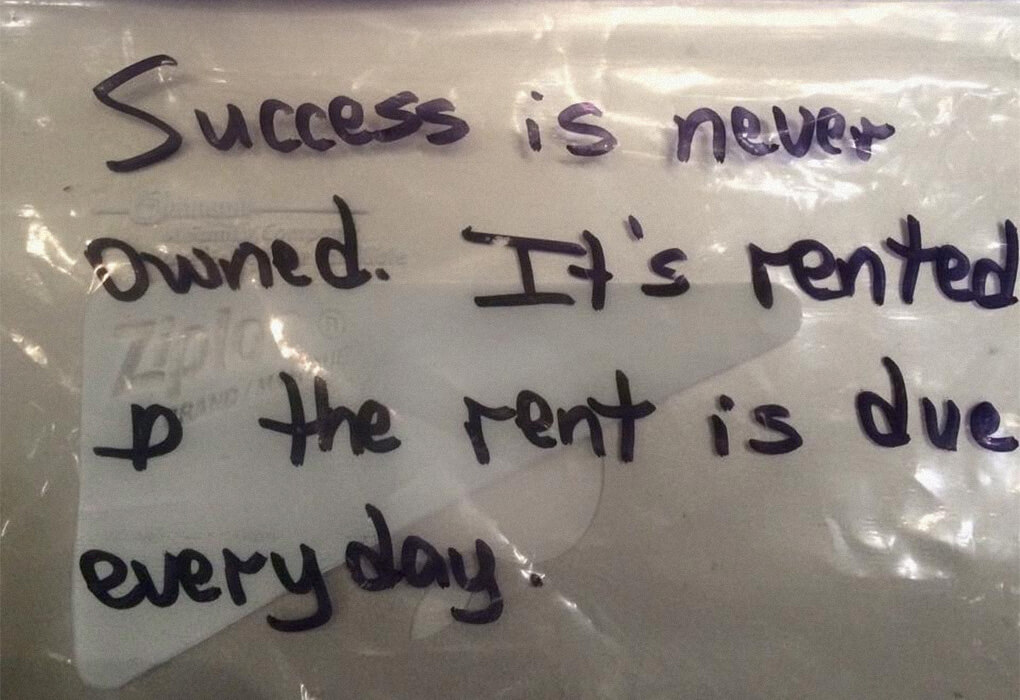 Gerald Swindle's wife, Lulu, writes inspirational messages on his sandwich bags to keep him motivated (photo courtesy of Gerald Swindle)
Love Notes
Whenever Swindle takes a lunch break during a tournament, he gets a motivational message to inspire him to keep going.
His wife, Lulu, uses a marker pen to jot down a reminder on his sandwich bag that he needs to stay positive.
"I read that message, and I'm reminded that someone believes in me," he said. "How powerful is that?

"It's almost like hitting the reset button."
Swindle is amazed that his message has helped others change their lives.
"I had one guy come up to me and hand me a bullet," Swindle said. "He told me he had put that in a gun and was going to kill himself.
"But he watched my video and saw there was a way out, and it changed his life.
"I've had other people tell me that it helped them fight cancer and deal with the grief of burying a loved one.
"I thought, 'How in the world can me talking about my downfalls have that much of an effect on others?'
"Don't get me wrong; I'm not bragging about that. I'm just an average guy trying to pass down how attitude can change your life."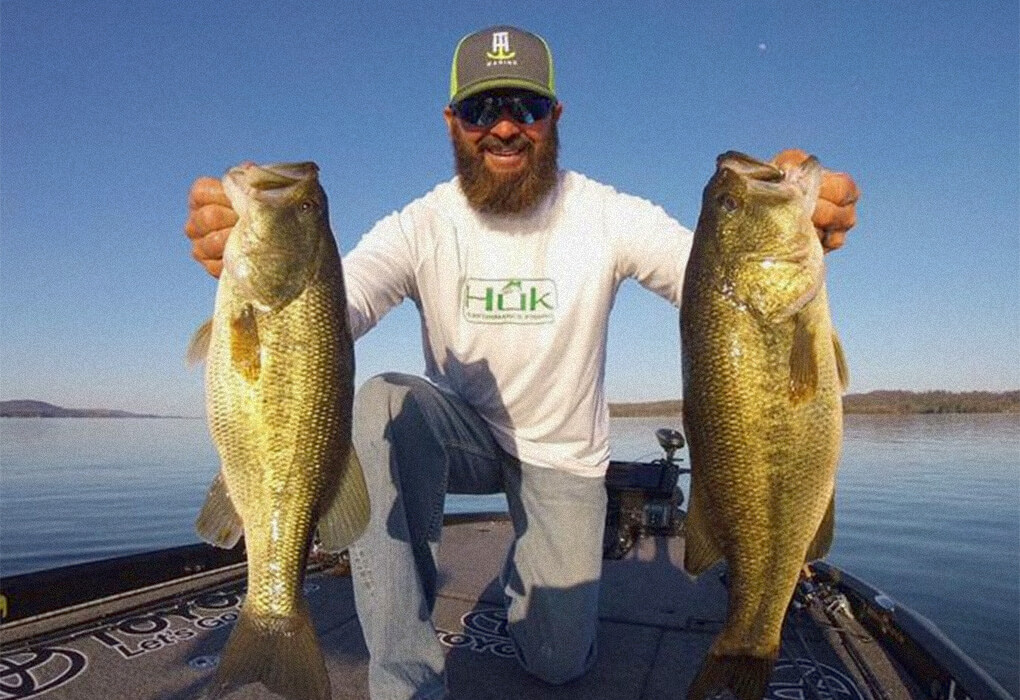 Gerald Swindle knows how to catch the big ones (photo courtesy of Gerald Swindle)
An Unlikely Start
Swindle grew up on a 100-acre farm in Alabama, where the nearest neighbor was a mile away, and the bass were much closer.
"The outdoors was my vacation," he said. "A river ran through our property, and I would be out fishing it whenever I got a day off."
Swindle's family was made up of house framers, and that's what he became when he got out of high school.
He earned $10 an hour and dreamed of becoming something more than a guy who drove a nail with a hammer.
That became a reality when he joined a friend in a Tuesday night bass tournament. Still covered in sawdust from a day's work, Swindle and his friend caught enough bass to win and earn $300.
"I remember telling my friend, 'You mean they're going to pay us good money just to catch bass? We're fixing to get rich.' "
After that, Swindle and his friend entered as many weeknight tournaments as they could find. They won some of them. And they socked away money.
Eventually, Swindle started fishing bigger tournaments and stair-stepped his way up to the big time. His professional career started in the spring of 1998 when he won an FLW event and $150,000 at Beaver Lake in Arkansas.
He has been a full-time pro for 24 years and has two B.A.S.S. Angler of the Year titles to his credit, in addition to 58 top-10 finishes.
His colorful personality has earned him a huge fan base.
"I get to the point where I wonder when the peak is going to hit," said Swindle, 53, who lives in Warrior, Ala. "But every year, the fan base grows and becomes more loyal.
"When I was framing houses, I never thought my life would end up like this."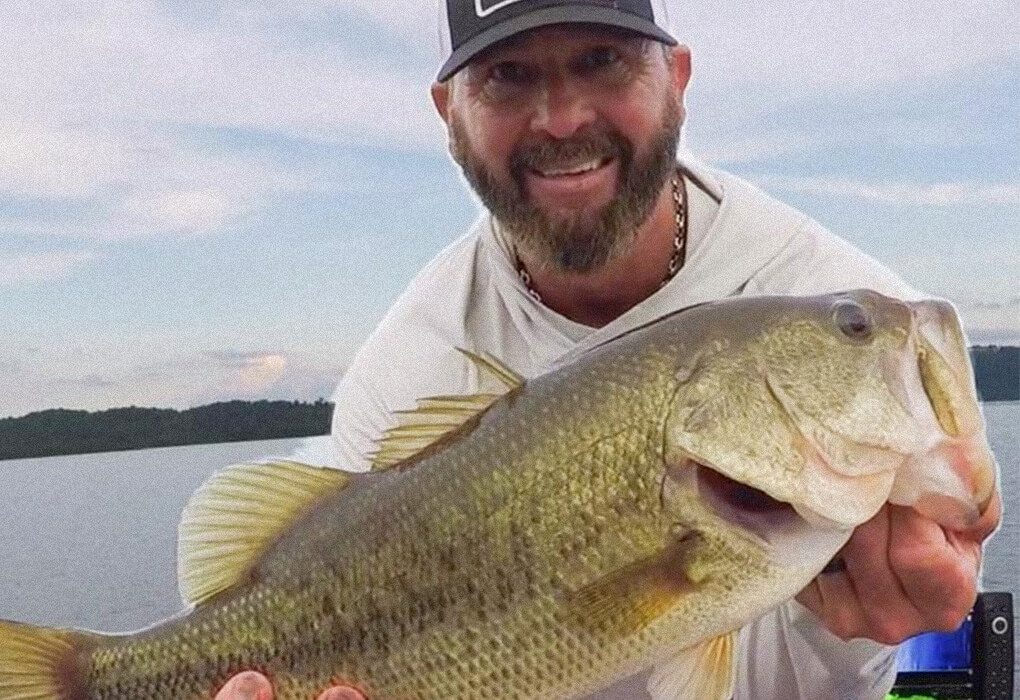 Gerald Swindle is known as one of the most versatile fishermen on the B.A.S.S. Elite Series tour (photo courtesy of Gerald Swindle)
Junk Fishing
One thing you have to say about Gerald Swindle: He knows how to adjust in a bass tournament.
He calls it "junk fishing" and describes it as an ability to catch bass with an array of lures.
"Some people think that's having 40 rods on deck with different lures on them," he said. "Those fishermen are just confused.
"I'm talking about having four or five rods with baits that I have a lot of confidence in. I might have a jig, a shaky head, a drop shot, and a buzzbait, and if I see the right target, I will choose which one to throw.
"I might go to a spinning rod and a small worm to catch one. Then the next thing, I'm throwing a buzzbait to a bank."
Swindle learned that versatility when he was getting started in bass fishing, and he was competing on Smith Lake in Alabama.
Now recognized for its spotted and largemouth bass, the 21,000-acre reservoir was challenging when Swindle was getting his start.
"Nine to 13 pounds would win every tournament," he said. "Sometimes, you were out there just trying to catch a 12- to 13-inch bass.
"So, I had to try different methods just to catch a fish."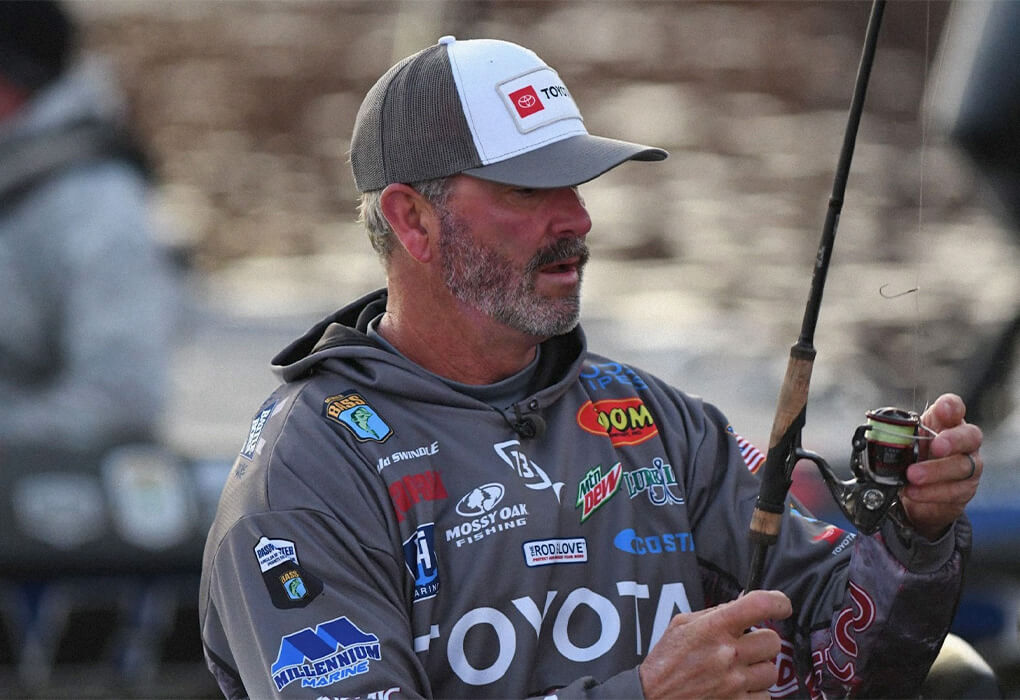 Gerald Swindle knows how to find and catch big bass (photo by Chris Brown/ B.A.S.S.)
An Exciting Way to Catch Them
Ask Swindle about his favorite way to fish, and he comes up with, well, a colorful answer.
"If I could pick one bait that I get excited about–almost like having a pocketful of Viagra–it would be a big jig," he said. "A big old-school flipping jig with a chunk trailer.
"You're fishing for four or five bites a day when you're doing that. But there's a chance they're going to be big ones.
"If I swing five times, you'd better look out. I'm going to bring some weight to the scales."
Swindle's favorite jig? A 3/8th-ounce brown and green G-Man Ballin' Out Jig with a green-pumpkin Zoom Z-Craw Jr. trailer.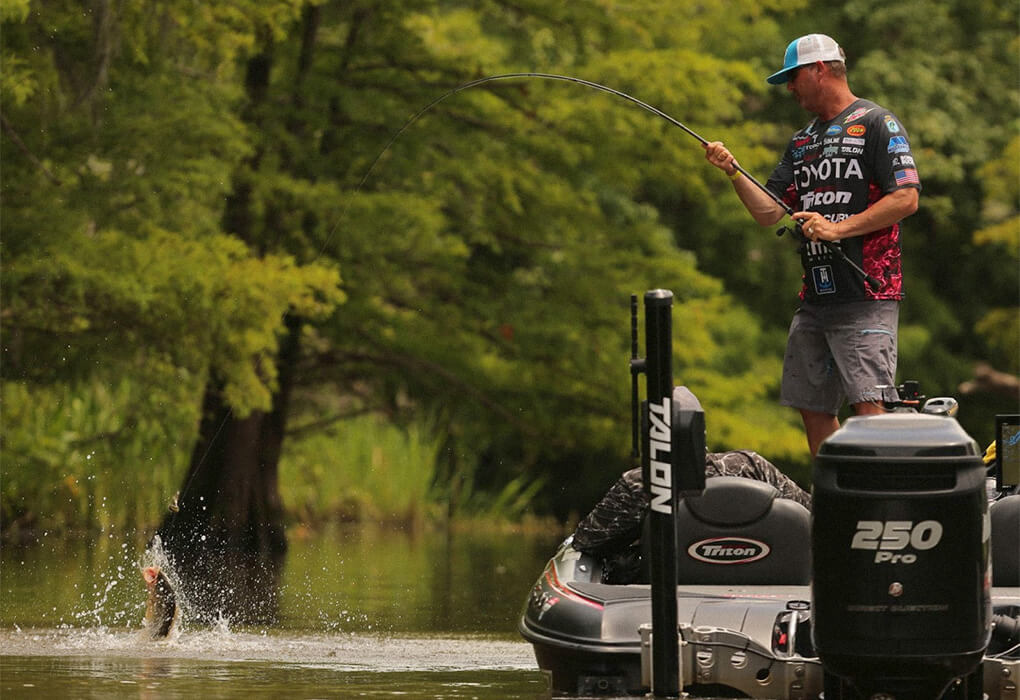 Gerald Swindle has watched bass fishing change during his 20-year-plus career (photo by Seigo Saito/B.A.S.S.)
Changing Times
Swindle admits that forward-facing sonar has changed the face of bass fishing. But it's not an all-encompassing guarantee, he said.
"There are a lot of fish that you just can't catch," he said. "There are fish that you drop down to, and they will just take off.
"A lot of these bass that hadn't seen many lures before are getting pressured now. And I think they're getting smarter."
Because of that, Swindle thinks the pendulum will eventually swing back to favor shallow-water fishing.
"These trends don't last forever," he said. "I think it will make us improve our finesse fishing,"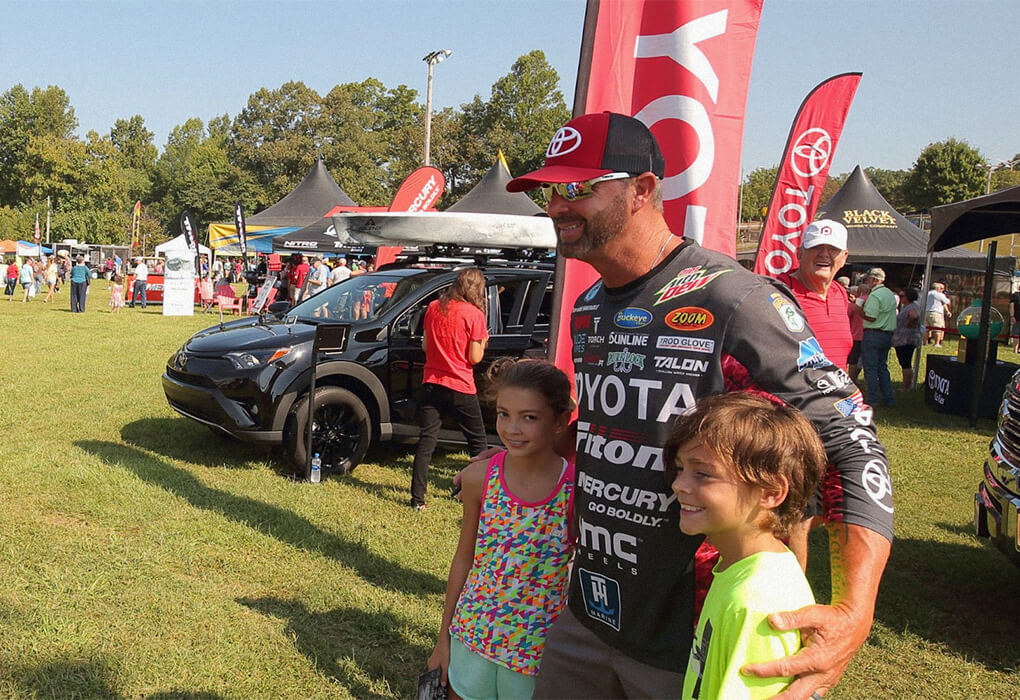 Gerald Swindle posed with two of his young fans during a B.A.S.S. tournament (Photo by Seigo Saito/B.A.S.S.)
A Tip for Beginners
Slow down.
That's Swindle's advice for beginners and intermediates who struggle to get bites.
"I see a lot of people who are just moving their baits way too fast," he said. "I tell them to find a swimming pool and see how their retrieve looks in the water.
"They might not think they're moving that bait too quickly, but they'll be able to see how it moves when they pump their rod and reel too fast.
"You have to slow it down, stay subtle and calm down. I call it 'slow and in control.' "
That's a Wrap
I think a lot of recreational fishermen could learn from Swindle.
We're pretty confident and even a bit cocky when we put together a pattern in the spring and catch some big ones.
But when the bite disappears, and we go long periods without so much as a hit, that's what separates the contenders from the pretenders.
"If you can control your attitude, you can control your destiny," Swindle said. "It's easy to be positive when everything's going great, and you're catching fish.
"But what sets you apart is staying positive even when things aren't going so well. You can't give up."
Whether that means going to junk fishing and trying four or five confidence baits and deciding which will best suit the targets you come across or having the patience to flip a big jig even when it's producing limited bites, it can change a bad day to a good day in a hurry.
It's all about attitude.
I know that Swindle's advice hit home for me. How about you?
Let us know in the comments section below what you think about Swindle's approach.
Until next time, keep those lines tight!