Though Fred Roumbanis uses more specialized reels these days, he credits the Zebco 33 with playing an important role in his bass fishing career.
That legendary push-button model is often referred to as "America's Fishing Reel" because of its reasonable price, ease of use, and durability. Countless youngsters get started with that reel, and Roumbanis was no exception.
"My grandfather, who was a World War II submarine commander, got me a Zebco 33 Classic for my eighth birthday," Roumabnis recalled. "I caught my first bass on that reel, and I used it constantly."
Fast forward to the first Bassmaster Elite Series tournament, Roumbanis competed in. After failing to make the cut in the first round, he was invited to a company picnic for the Lowrance Co.
There, he met the woman he would later marry, and she introduced him to her father, Steve Swisher.
As they made small talk in Swisher's office, Roumbanis glanced at the framed items on the wall. There, he saw a patent for the Zebco 33 Classic.
"I found out that he was an engineer at Zebco at one time and that he designed the 33 Classic," said Roumbanis, 45, who now lives near Lake Dardanelle in Arkansas. "I told him my story about using that reel so much as a kid, and we just hit it off."
Roumbanis also hit it off with Swisher's daughter, Julie. Love at first sight? Maybe love at first cast would be a better way of describing it.
"I always say it was a rod and reel romance," Roumbanis said.
The couple spent many dates outdoors and ended up getting married. Now, they are a successful team on the professional fishing circuit. Fred takes care of the fishing part, and Julie takes care of the business side.
Today, we'll talk about the role that first Zebco reel played in Roumbanis' life, how he has turned his passion for bass fishing into a long-lasting career, and get some fishing tips from a pro who is a master at working swimbaits and topwater frogs.
---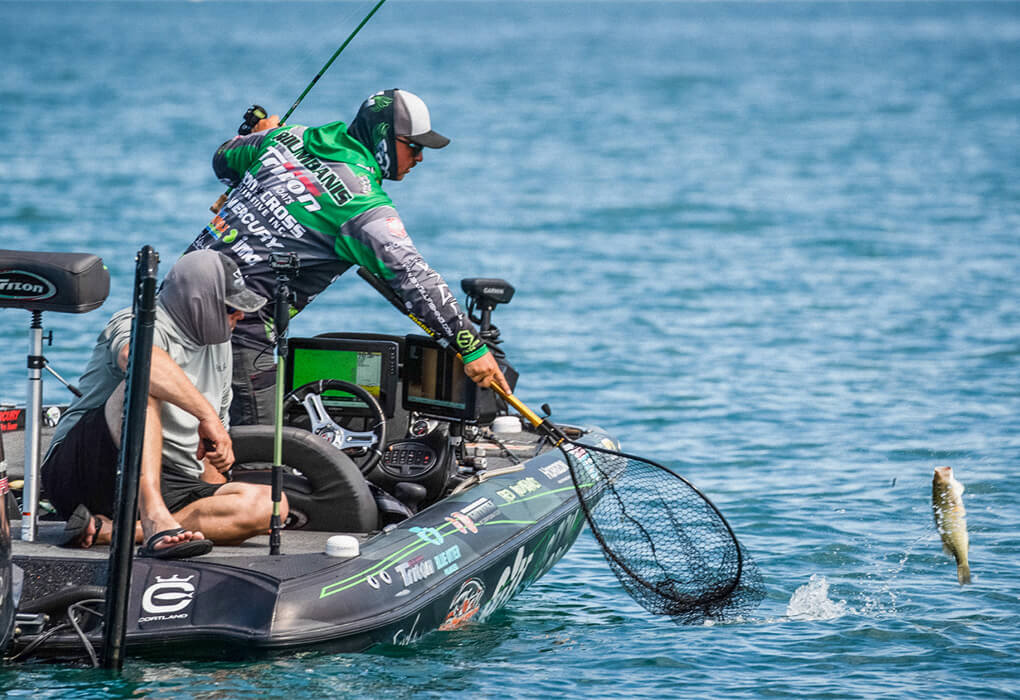 Fred Roumbanis has seen net results from his passion for bass fishing (photo by Major League Fishing)
The Early Days
Growing up in San Francisco, Roumbanis didn't have the same dreams as many city kids.
His heroes were fishing legends, not baseball stars like Willie Mays or Willie McCovey of the Giants.
"I would watch the Bassmasters, Hank Parker, and Jimmy Houston on TV and always wanted to be like them," he said.
Fred Roumbanis would ride his bike two miles to a suburban reservoir almost every day in the summer to go fishing.
He still remembers the first bass he caught on his Zebco 33.
"I didn't know what I was doing," he said. "I just put some split shot and a small hook on my line; then I put some salmon eggs on the hook.
"Instead of letting it just sit there, I started reeling in. I got a big hit, and I was fighting this big fish.
"Pretty soon, the adults were there, cheering me on. Turns out, it was a 2-pound bass, but it looked huge to me.
"It was the first time I really accomplished something in my life, and I was excited."
From that point, Romubanis became a fishing machine. He fished every chance he could get.
When at age 16, his parents wanted him to get a job, he started working for a tackle shop. That gave him the opportunity to talk about fishing when he wasn't on the water.
Though he didn't have a boat, he joined a local bass club and started fishing tournaments out of the back of the boat when he was teamed with boaters.
That taught him lessons that he can relate to today.
"It's not the right strategy to mimic what the guy at the front of the boat is doing," Roumabnis said. "He has a game plan, he gets the first shot at all the good targets, and he knows the angles of his cast.
"The guy at the back should have his own game plan. He should take more spinning rods than baitcasters, and he should go to more finesse types of baits.
"Give the bass a completely different look."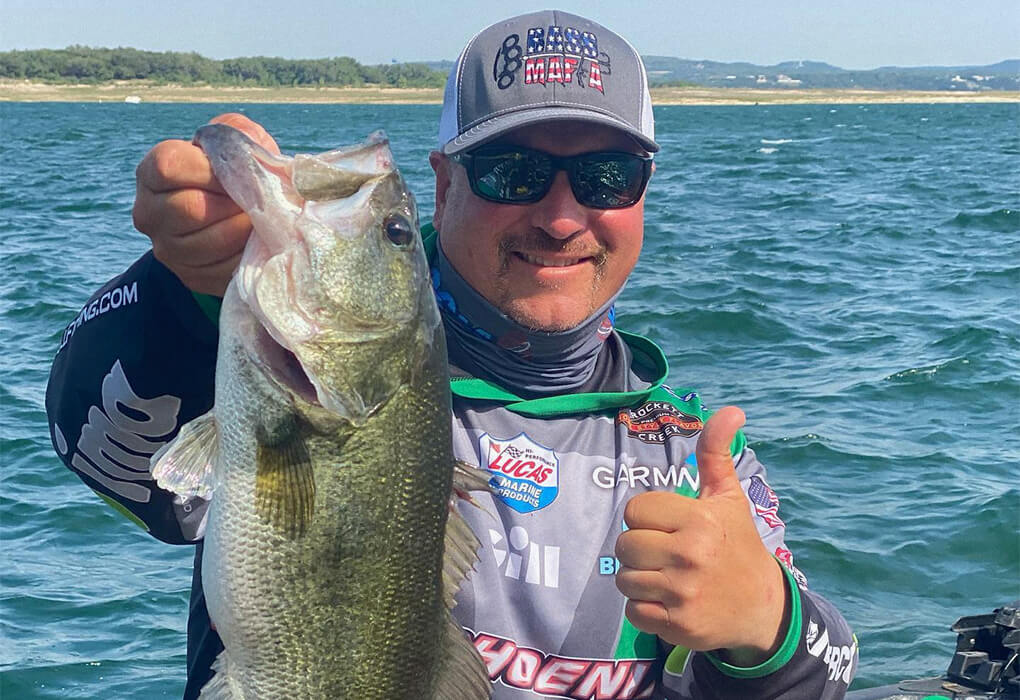 Fred Roumbanis credits lessons learned during his youth for part of his success as a pro angler (photo courtesy of Fred Roumbanis)
No Boat? No Problem
So, you're still saving up for your first boat? Don't get discouraged. You can still catch big bass.
Take it from Fred Roumbanis, who spent most of his early years fishing from the bank.
"I would fish golf-course ponds, small reservoirs, Napa Valley wineries, anything that held water," he said. "I learned a lot about fishing the shallows.
"First, I found that the first one down the bank was the one who caught the aggressive bite. I learned to fish parallel to the bank to keep my lure in the strike zone longer. And I learned about the importance of accurate casting."
"If you could put your lure close to the key cover, you could get bit."
Matching the forage also was important, Roumbanis learned.
"I remember this one small reservoir where they stocked trout at 10 a.m. every Tuesday," he said. "The bass were conditioned by the vibration of that truck rolling down along the dam.
"It was deep water there, but they would come to feed on those small trout once they were stocked. We used to buy the old Fred Arbogast AC Plugs and chunk them out there as far as we could.
"We'd retrieve them through those feeding bass, and we'd catch a lot of 7- and 8-pound fish."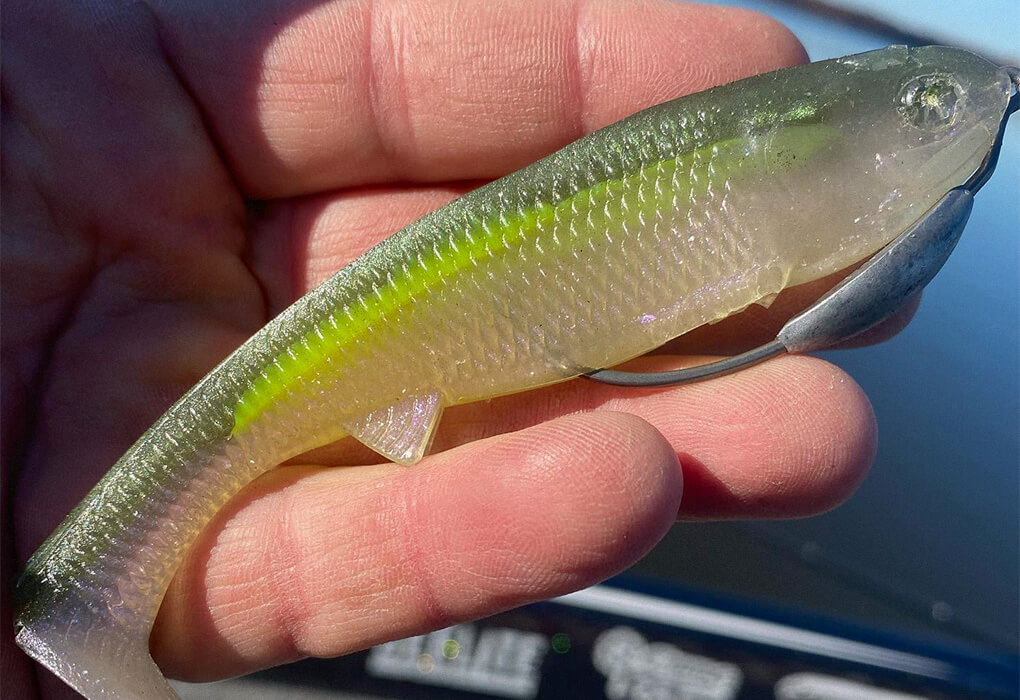 Fred Roumbanis's not-so-secret weapon: the Optimum Baits Boom Boom Swimbait (photo courtesy of Fred Roumbanis)
The Beauty of a Swimbait
Because he spent his childhood shore-bound, Roumbanis became a fan of the swimbait.
He always cast the plastic minnow-type lures to the shallows and learned techniques that triggered strikes.
That has carried over to his adult life. He has won thousands of dollars on swimbaits ("It's paid lots of bills," he said), first on the Bassmaster Elite Series and now on the Major League Fishing Bass Pro Tour.
What started off as child's play has turned into a big boy's confidence lure.
"Fished properly, the swimbait mimics the bass' natural forage better than anything out there," he said. "Bass eat fish. And on a straight retrieve, you can make a swimbait look like a panicked baitfish."
Roumbanis has experimented with different types of swimbaits over the years. Now he has designed his own for Optimum Lures.
The Boom Boom Swimbait combines everything Roumbanis looks for in this type of lure–a vibrating head, a sleek body that has a tight rollover, and a paddletail with plenty of kick to it.
The bait comes in sizes from 4 to 8 inches, allowing fishermen to match the size of the baitfish.
Most fishermen associate swimbaits with shallow fishing, but Roumbanis will fish it in deeper water, too. It's effective, he said, wherever the baitfish are holding.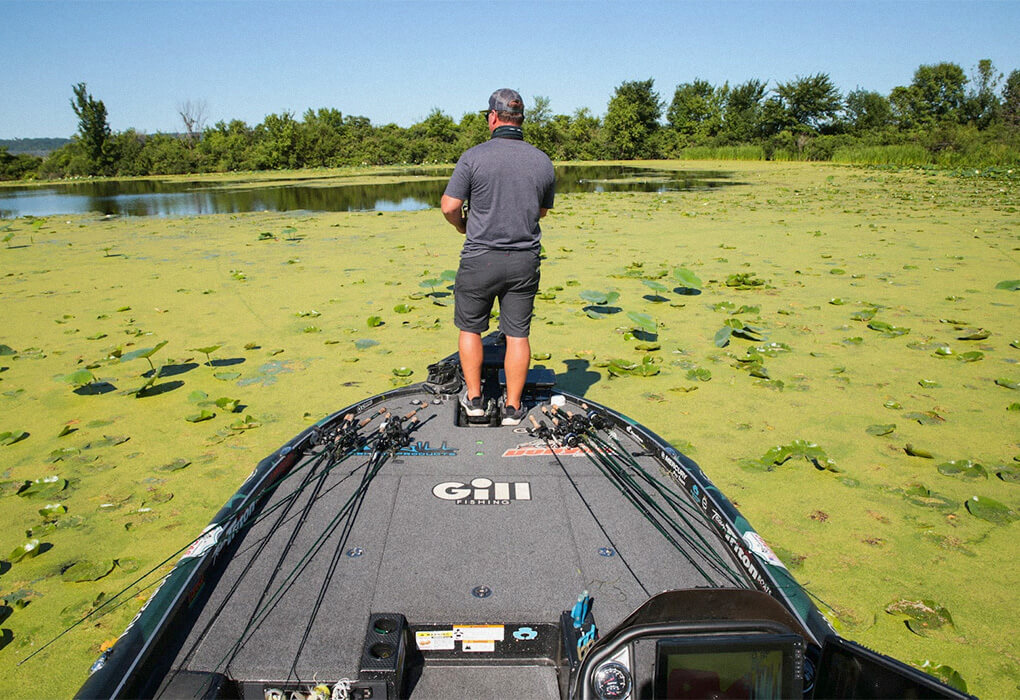 Backwaters covered with algae and vegetation are perfect for using topwater frogs, Fred Roumbanis said (photo by Mason Prince/Major League Fishing)
Getting Froggy
When you pull up to a backwater area covered in slime and vegetation, don't assume it's "unfishable."
Depending on the water depth, there are bass hiding under that mat of green. And there are ways to pull them out.
Roumbanis has long used a weedless topwater frog to get the bass to hit. The lure can be skimmed across the top to draw the fish out of hiding.
The hits can be explosive, and often they are produced by big bass relaxing in the shade.
"It's one of the most exciting ways to fish," Roumbanis said.
He likes frog fishing so much that he designed his own bait, the Boom Boom Frog, for Stanford Baits. The hollow-belly bait includes a material designed to snag the bass' sharp teeth and hold onto the bait longer after striking.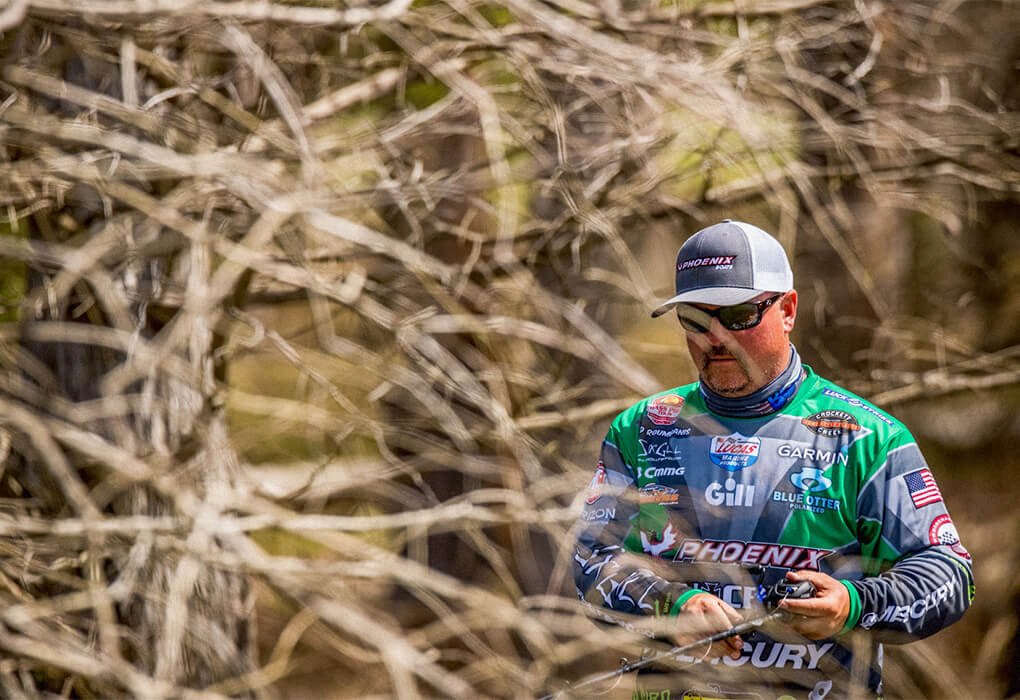 Fred Roumbanis often works thick cover in the shallows to catch hiding bass (photo by Phoenix Moore/Major League Fishing)
About That Nickname…
Fred Roumbanis is better known as Boom Boom in fishing circles.
He picked up the nickname early in his career when media members who cover pro fishing assigned the moniker to him.
After Roumabnis won a national tournament, he was likened to boxer Ray "Boom Boom" Mancini, and the words of a song about him, "Boom Boom, Out Go the Lights," were used.
Roumbanis liked the nickname, and he decided to trademark it.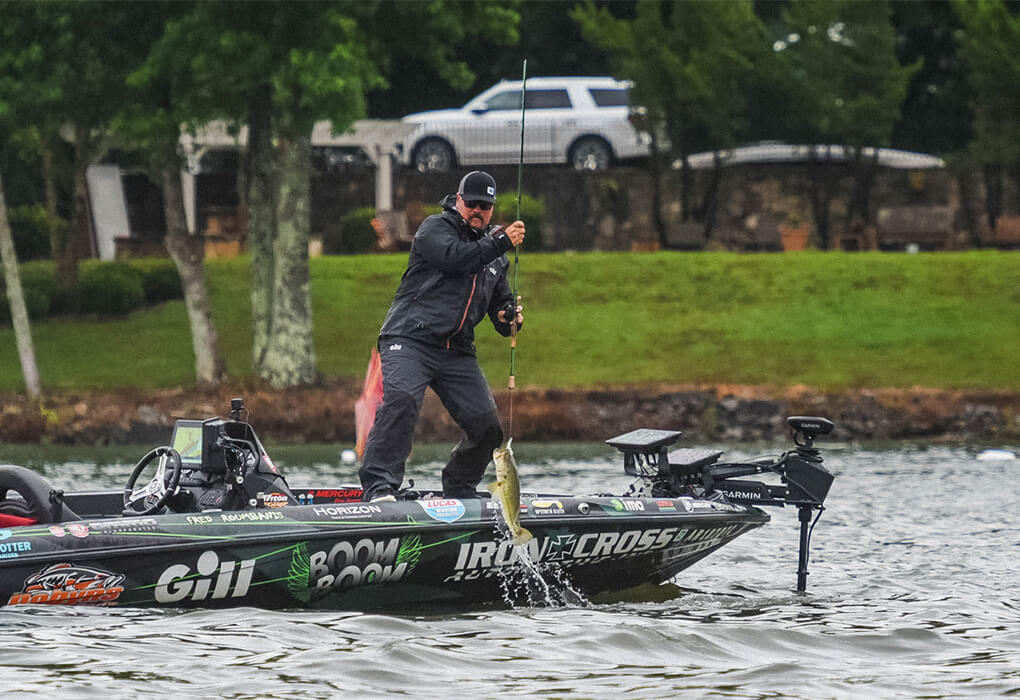 Fred Roumbanis knows there are ways to catch bass on heavily pressured lakes (photo by Charles Waldorf/Major League Fishing)
Feeling the Pressure
So you go to your favorite lakes on a weekend, and it's covered with boats.
What do you do?
"At some lakes that get a ton of fishing pressure during the day, the bass will turn nocturnal. They'll just feed at night," Roumbanis said.
But there are still ways to catch them during the day, he said. One way is to go "old school."
"You can pull out your old Bassmaster magazines and look at some of the techniques and lures that were hot years ago but aren't around anymore," Roumbanis said. "Sometimes, it's like using new lures if the bass haven't seen them before."
Last Cast
Want to become a better bass fisherman? Follow Roumbanis' advice.
Learn to cast accurately, start with small bodies of water such as ponds, and use simple lures like swimbaits.
Study the fish's forage for each body of water and get out at the right time of day, depending on the season.
Before long, you'll catch bass and gain confidence. Then you can apply what you've learned to larger bodies of water.
Sounds like a plan to me. Until next time, keep those lines tight.