When I was a kid (which was a long time ago), I looked forward to writing a letter to Santa.
It was like opening a bottle and watching a genie pop out. I made a wish, and it would usually be granted.
I got lots of great fishing stuff that way–rods and reels, tackle boxes, even a few fishing trips. I suspected my mom and dad had something to do with that, but I wasn't going to say anything. Why ruin a good thing?
Well, I'm 70 now and I'm still writing letters to Santa. I'll share my list with you in this issue and maybe you'll get some ideas for a few last-minute gifts for the anglers on your list.
I'll also share a few deals, let you in on Santa's post-Christmas plans and talk about what to do with your tree once the holidays have passed.
So get your cash and credit cards, and let's head out for one last shopping binge.
– Brent
---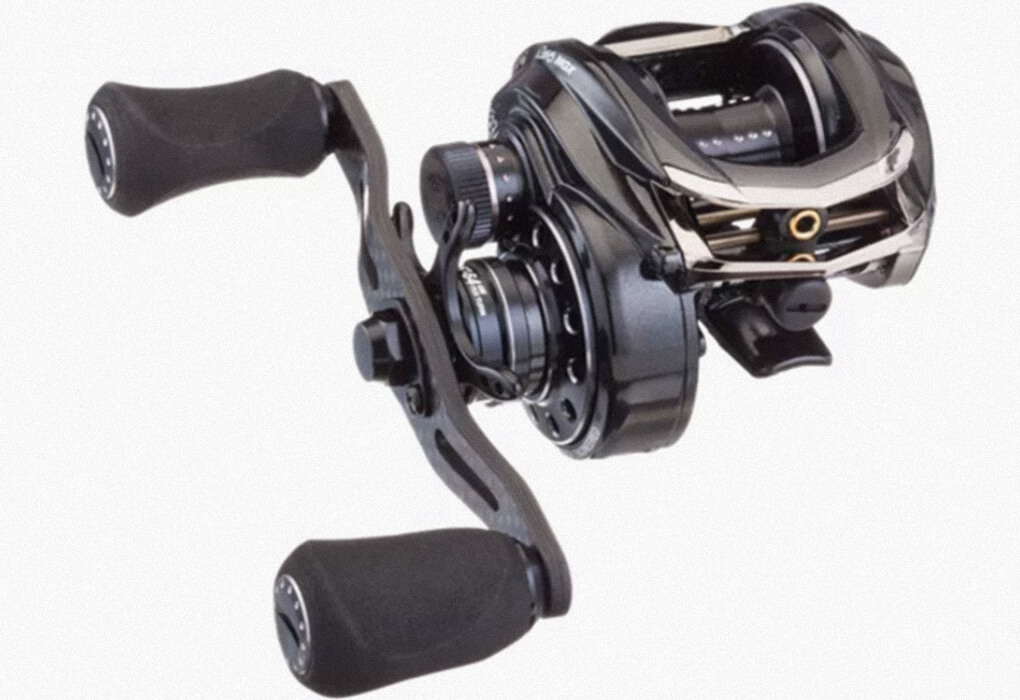 Abu-Garcia Revo MGX baitcasting reel
'Tis The Season To Spend
Forget the three French hens and the partridge in a pear tree.
We have some reels a'singing and bass a'leaping this week.
Companies are putting out their last-minute Christmas deals, and there are some great buys out there.
A steal on a reel: For the serious fisherman on your list who has been extra-nice this year, this deal on a high-end reel might make the perfect gift. Cabela's has the Abu Garcia Revo MGX baitcasting reel on sale for $249.97. That's a big savings from the $369.99 regular price.
For the beginner: Looking for a good entry-level reel? Check out this deal. Midway USA is selling the Zebco Rhino spincast reel for $19.99. Regular price is $39.99.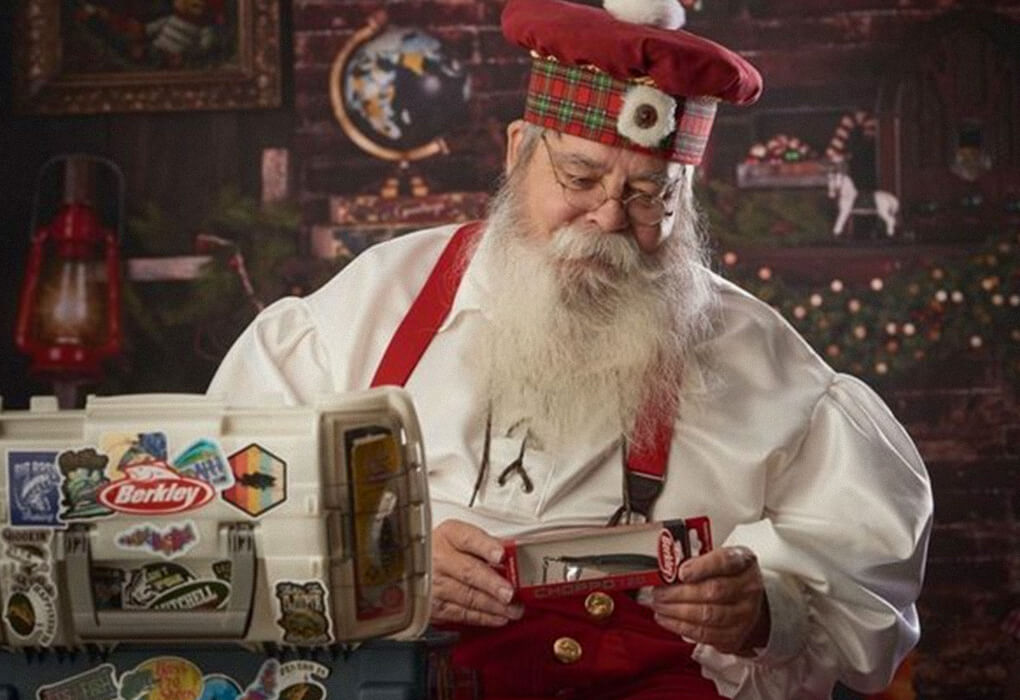 Santa Claus is getting ready to bring the good boys and girls plenty of fishing products. (Photo courtesy of Berkley)
All I Want for Christmas Is…
Dear Santa,
I've been a good boy this year. Well, mostly.
I have to explain about that fishing trip in March when I started cussing. I lost two big bass that day because my fishing partner botched the net job. He just stood there watching as both bass splashed around at the side of the boat.
And that time I slammed the hatch on my SUV and broke my Loomis fishing rod, well, I swore then, too.
And I have to admit that I lied a few times when friends asked me how and where I caught big bass.
But for the most part, I've been good. So I'm asking you for some special gifts this Christmas. My wife says I have enough fishing gear already, but you know what they say about boys and their toys. You can never have enough.
Garmin LiveScope unit: I've held out long enough. I've watched these LiveScope units that show fish swimming around in real-time beneath the boat and it's fascinating. I once thought it was kind of cheating, to pick out a fish on a screen and drop a lure right in front of its face, but I've changed my mind. A few trips of failing to catch fish when you can see them on regular sonar will do that.
Lowrance Ghost trolling motor: I want a trolling motor with spot-lock. After drifting off spots that were holding fish and failing to get back on them again, I'm ready for a change. The Ghost has some great features: It is quiet, powerful, easy to maneuver and efficient. The only drawback? It is expensive. Maybe you can get me a deal, Santa.
KGB swimbait: These giant swimbaits catch giant bass. I've done stories on fishermen who have caught double-digit bass on them. The problem is, they're handmade by a lure designer in Arkansas and they are in high demand. As soon as he drops a few of his high-dollar baits on the market, there is a waiting list of customers wanting to buy them. See if you can pull some strings for me, Santa.
Berkley lures: OK, enough of the high-dollar stuff. If I haven't warranted the expensive equipment, please bring me an assortment of Berkley's new offerings. I've been wanting to try the Stunna, the company's new jerkbait that Hank Cherry used to win the Bassmaster Classic. I'm also intrigued by Berkley's new PowerBait bass jigs. And a couple of the Gilly plastic baits that won Best of Show in the this year's ICAST show would be great, too.
Duckett Fishing Jacob Wheeler Signature Series baitcasting rod: The older I get, the more fatigued I get with using a heavy casting rod and reel. The Duckett Fishing Jacob Wheeler rods are known for being lightweight, yet powerful. Not a bad price (about $150), especially for a good rod that will last.
Megabass Vision jerkbaits: These suspending jerkbaits are high-dollar (about $25), but they are worth it. I've found more success with these Megabass Vision baits than any other jerkbaits on the market. They run true out of the box and cast farther than most other jerkbaits I've used.
Costa sunglasses: I need some good polarized sunglasses for fishing. I often buy the cheapies, and they're worth that I pay for them. I've had friends with polarized glasses point out a bass lazing in the shadows, and I can't see it. I need some good Costa sunglasses.
Daiwa baitcasting reels: I'll give you your choice on this one. The high-end reel that everyone is talking about is the Daiwa Zillion, which won Best of Freshwater Casting Reels in this year's ICAST show. It has lots of high-tech features which makes it tough and durable, yet light. But it's not cheap. It sells for about $350. I also like Daiwa's Tatula 100 casting reels that are known for their lightweight construction and long casting properties.
Bubba Lithium Ion Cordless fillet knife: First, I don't want this to carve up the bass I catch. They get thrown back. But I fish for crappies, walleyes, white bass and catfish, too, and it would be nice to have a Bubba to fillet my fish effortlessly.
Plano E-Series Tackle Backpack: This backpack has plenty of room for tackle trays and other gear. It's perfect for hiking to a secluded river bank or a farm pond.
Santa Is Going fishing
Ever wonder what Santa does to recuperate from a busy Christmas Eve? He goes fishing, according to the folks at Berkley.
They held a special promotion this year, asking their customers to submit communities that would want Santa to visit, bring presents for the children of the community, and deliver Berkley's biggest gift of all – a donation to a local conservation project.
The list was narrowed to five finalists: Long Beach,Calif.; Huntsville, Ga.; Panama City, Fla.; Hartwell, Ga.; and Springfield, Ill.
Long Beach received the most votes and will host Santa on Dec. 27. Berkley will present a big check to Partners of the Park to help with renovations of El Dorado Regional Park, which is celebrating its 50th birthday this year.
The lake in the park is a popular fishing spot, the site of many youth events. But the park is in need of improvements, and that's where Berkley enters the picture.
The money donated will help improve youth program and a campground used by scouts and other youth groups fishing the lakes, enhance education programs, and provide new trash cans and fishing line disposal bins.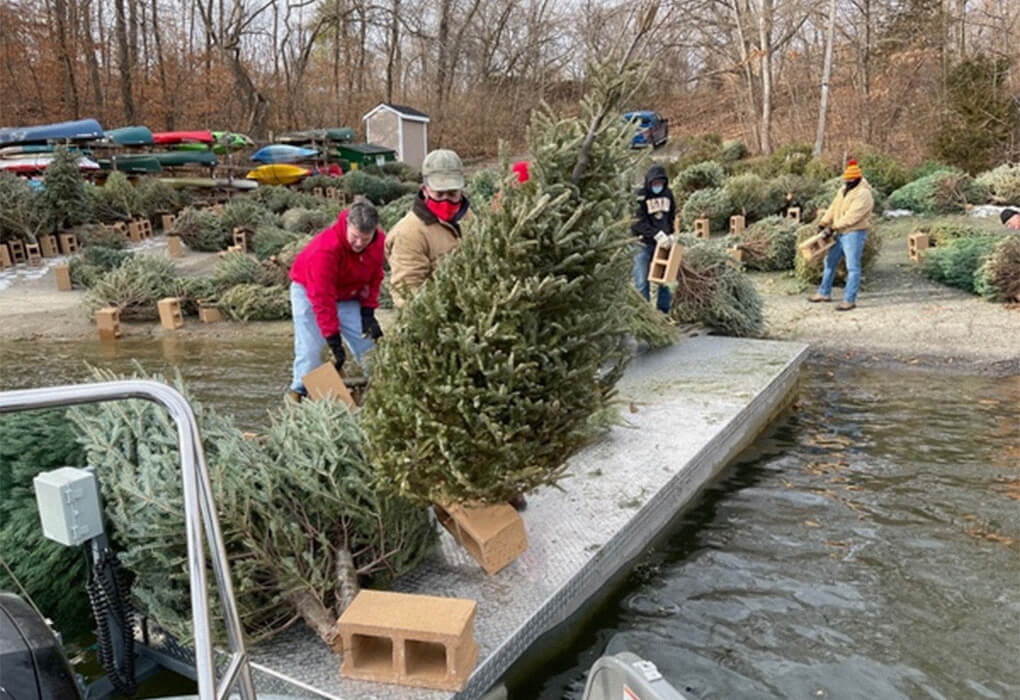 Recycled Christmas trees can make great fish cover. (Photo by Brent Frazee)
Turn Your Christmas Trees Into Fish Homes
Every January, our fishing club celebrates one last holiday tradition.
We gather at the boat ramp on our private lake near Kansas City and work to turn Christmas trees into brush piles.
We start by establishing a tree dropoff site right after the holidays, then purchase concrete blocks and wire. By the day we are sinking the trees, we have an assembly line of volunteers drilling holes in the trunks of the trees, wiring concrete blocks to the trees, and hauling them to a barge.
We sink as many as 250 trees in 12 sites and we have great places to fish throughout the year.
True, Christmas trees break down quicker than branches from hardwood trees. But we freshen the piles each year, plus add some new ones, so the spots continue to produce.
There is a method to our madness. We try to sink most of the trees at the edge of a dropoff. But on some points, we sink cover at variables from shallow to about 20 feet of water so that we have cover to accommodate fishing anytime from spring to the heat of summer.
Curiously, some brush piles are more consistent producers than others. But they all will hold crappies and bass from time to time.
We sink the trees with the needles still on their branches. But they still attract fish within days.
I remember using an Aqua-Vu to look at trees we sunk at our boat dock. Fish were suspended over the Christmas trees just a few days after they were put in.
You might want to try it this year. Even if you are on your own, you can build a large brush pile by sinking five or six Christmas trees in one spot in a pond.
If you plan to sink them in a reservoir, make sure you don't need a permit first.
The branches will grow algae, then baitfish will move in to feed. As the needles fall off, gamefish will be able to suspend in the branches.
That's when the fun starts. That's it for this week.