Bernie Schultz won't forget the lessons he learned in his first bass tournament.
In a club event years ago, he was paired with Shaw Grigsby, who became a bass-fishing legend. And Schultz, a student at the University of Florida, was eager to put his fishing skills to the test.
Instead, he received the equivalent of a bass-fishing seminar that eventually helped him launch his professional career.
---
"We were on Lake Kerr in the Ocala National Forest (in Florida), and the water was very clear," said Schultz, 68, who has fished professionally for almost 40 years.
"There was a topwater bite all night long, and Shaw just crushed them. He was using a buzzbait with trailer hooks, which made all the difference in the world.
"I had big fish short-strike me, but I didn't hook them. Shaw caught his. I remember him catching a 6-pound bass on the second trailer hook he had attached to his buzzbait."
Welcome to tournament fishing, kid.
Schultz joined the club at the suggestion of one of his college professors, who was a member.
"We figured out pretty quickly that we both fished because we both wore T-shirts with fishing logos on them," Schultz said with a laugh.
"We started fishing together, and one thing led to another."
Schultz never dreamed at the time that fishing would become his career. He went to school to become an artist, a professional illustrator, to be exact.
But the more success he had in tournaments, the more he was encouraged to establish a career in the cast-for-cash game.
Today, he still competes on Bassmaster's top level, the Elite Series, after a long and successful journey.
In many ways, Schultz is the consummate pro—a guy who figured out how to turn bass fishing into a full-time job and is still finding success well beyond the point where many retire.
"The drive is still there," he said. "I've been bass fishing most of my life, but I still love it."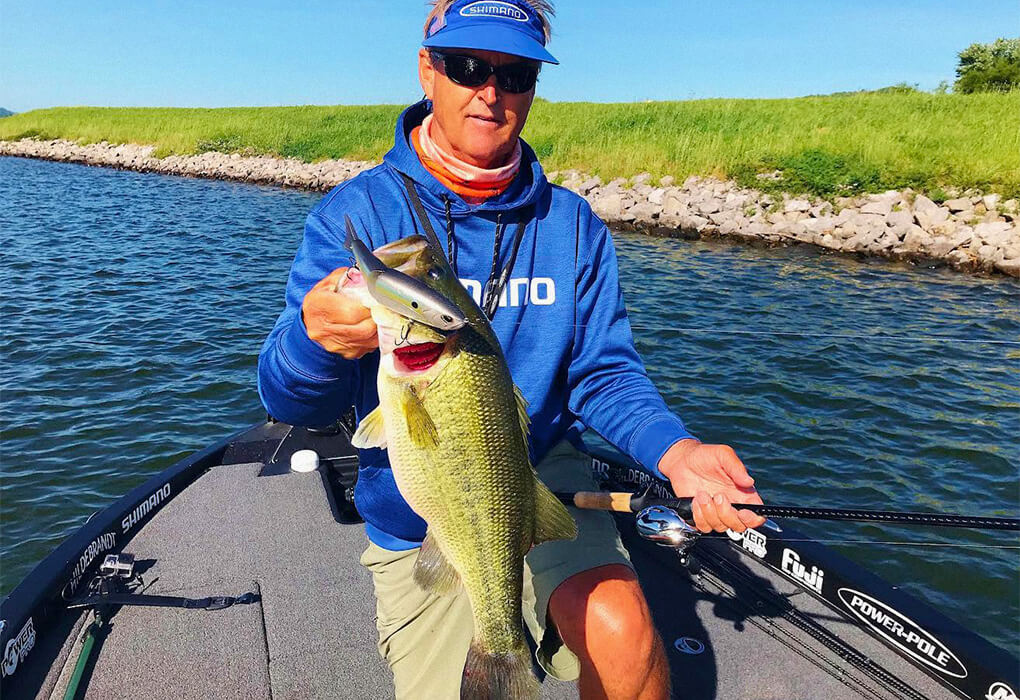 Few of the Bassmaster Elite Tour pros have been fishing as long as Bernie Schultz (photo courtesy of Bernie Schultz)
The Early Days
Some people say Bernie Schultz was born to be a fisherman.
He was brought up in east-central Florida, surrounded by bass water. His family lived on Lake Markham, but he didn't have to travel far to fish the Wekiva River and the famous St. Johns River.
"My playground was the lakes, rivers, and ponds in the area," Schultz said. "I didn't have a lot of friends, so I was out fishing every chance I got.
"I remember how my grandfather, who lived across the lake, would catch big bass. And a friend of his–his name was Tug–was known for catching monster bass.
"They would use live shiners and bream, plus plastic worms, and the size of the fish they caught really made an impression on me."
Schultz's father didn't fish but supported his son's passion for bass. He ensured his son had the equipment he needed to pursue his hobby.
When Schultz was in high school, his family moved to the Miami area and lived on a canal that held big largemouth bass.
But he wasn't far from saltwater, where he could use bass tackle to catch species such as redfish and snook.
"I catch big snook on the lures I use to catch big bass," he said. "Snook will hit jerkbaits, topwater walking baits, poppers, Fluke-type baits just like a bass will."
That dual interest in fresh and saltwater fishing led him to compete in light-tackle saltwater tournaments and bass competitions.
He graduated from the University of Florida in 1979 with an art degree and planned to make that his full-time occupation.
But his aspirations changed when he did well in a B.A.S.S. tournament on the St. Johns River and caught the eye of Nina Wood, who helped her husband, Forrest run Ranger Boats.
"She came up to me and told me that Ranger wanted to sponsor me," Schultz said. "I couldn't turn that down."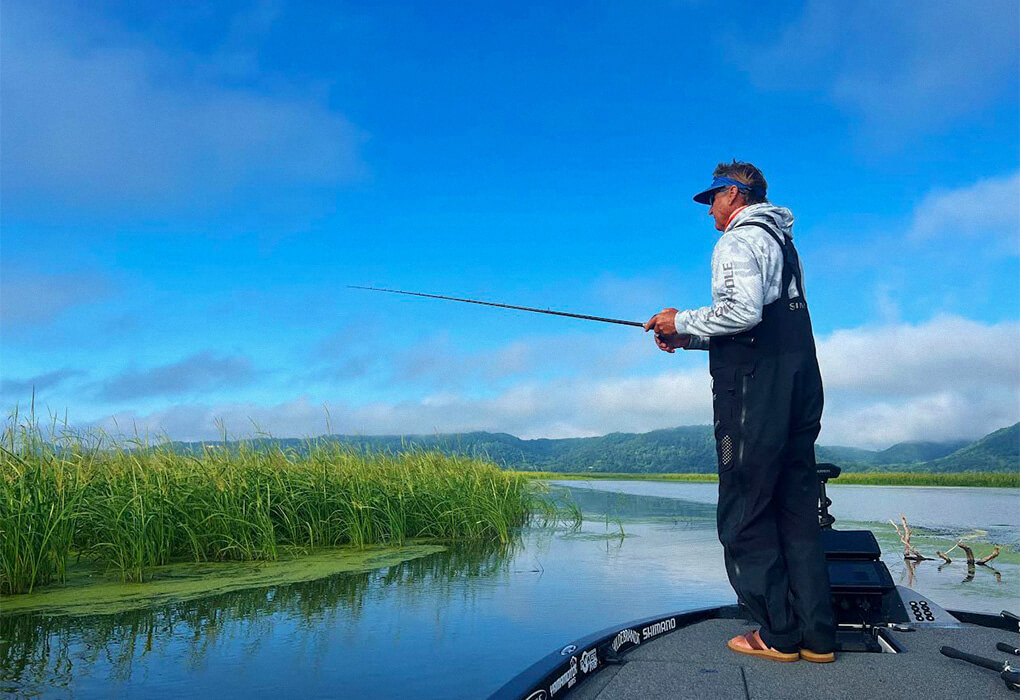 Bernie Schiltz is at home fishing shallow water for bass (photo by B.A.S.S.)
Cracking the Shallow Code
It's no surprise that Schultz is considered one of the tour's best shallow-water fishermen.
He grew up in Florida, where there isn't a lot of deep water. Some of the best lakes are choked with a maze of shallow vegetation, often confusing visiting anglers.
But they can take shortcuts to find some of the hefty bass that have made Florida famous.
"When anglers come to Florida, they're often overwhelmed because some of our lakes look all the same," he said.
"But if you fish our lakes long enough, you notice the subtle differences, and that's often where the fish position themselves.
"Imagine a duck blind in a field of hydrilla. The bass will relate to that one object that sticks out. Often, that's where the biggest bass will be."
Schultz is constantly searching for cover that stands out. It might be a mix of two types of vegetation or weeds with woody cover. Or it might be a weed edge, sometimes in surprisingly shallow water.
"Sometimes, you'll have a grass line, and between that grass and shore, there is a strip of open water," Schultz said. "There might be no more than a foot of water, but sometimes that inside edge will hold bass."
Schultz has caught many big bass on topwater lures in that vegetation. A topwater prop bait can be deadly. So can buzzbaits.
One of Schultz's favorites is the Headbanger, a lure he designed for Hildebrandt, one of his sponsors.
He also enjoys flipping grass lines and specific cover such as rocks or laydowns interspersed with vegetation.
"My strength is shallow water," he said. "My comfort level is 10 feet or less.
"But when you fish professionally, you have to be adaptable. When drop-shotting came along, I embraced it. And now I embrace LiveScope, which is the latest thing.
"I've had some of my best days of fishing using forward-facing sonars on some of the waters up north like the St. Lawrence River."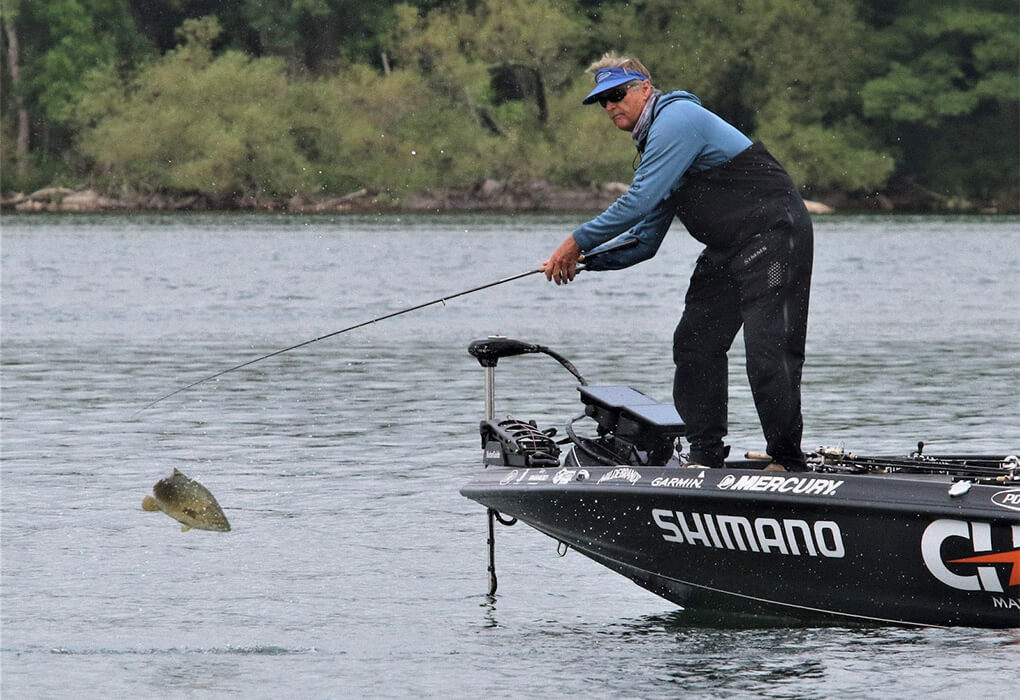 Bernie Schultz says fishing pressure can affect the bite, but there are ways to deal with it and catch fish. (Photo by Steve Bowman/B.A.S.S.)
Dealing With Fishing Pressure
So, you go to your favorite lake and are greeted by the disappointing sight of lots of boats and fishermen casting to some of your supposedly secret spots.
What do you do?
Don't give up. If you make a few adjustments, Schultz said there are still ways to catch bass.
"The best way to deal with fishing pressure is to downsize–line size, tackle, lures, everything," he said.
"Then go to baits that you can work slowly. A wacky rigged Senko, a jerkbait, a suspending bait, and a popper that you can work super slowly are all excellent choices."
"You want something you can put right in that bass' face and provoke them."
The bottom line? Do something the other fishermen aren't doing.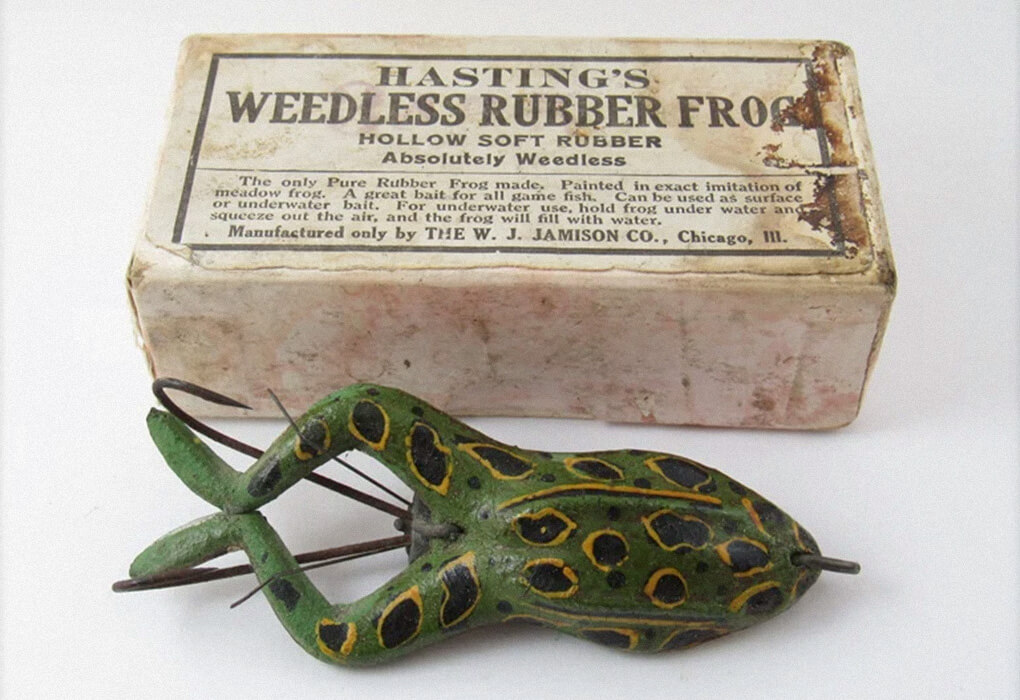 Soft-plastic frogs are nothing new. One of the first ones was manufactured in 1895 (Photo source)
The More Things Change, the More They Stay the Same
Topwater soft-plastic frogs are the rage these days in bass fishing. But I don't think they are necessarily a modern-day innovations.
Though companies have made refinements to the lures, they are nothing new. James Hastings of Chicago came out with the first hollow-body frog in 1895.
"Once water leaked into the cavity, you would squeeze it to drain it," Schultz said. "Then you were ready to go again."
An avid collector of vintage tackle, Schultz has seen many other examples of how modern lures are just a refinement of baits used decades ago.
"There were popping and chugging style topwater lures in the 1920s," he said. "And the first crankbait with a diving lip came around in 1915.
"There have been a lot of refinements since then, but the basic profiles of these lures are pretty much the same."
Schultz's interest in vintage lures began in his childhood when he would tag along with his mom and his grandmother to flea markets, estate sales, and garage sales.
His grandmother was an antique dealer, and she was searching for glassware, china, and other items. But Schultz found vintage lures, and he began collecting.
"Lures were my toys," he said. "I used to get into my grandfather's tackle, and I was just fascinated.
"I learned a lot about the history of fishing that way."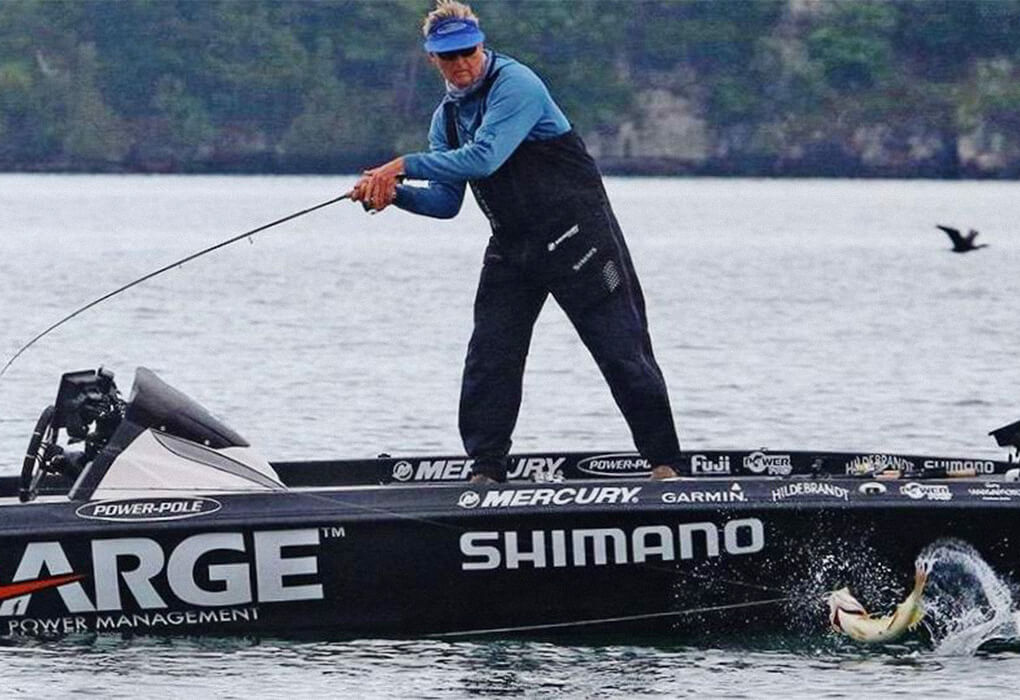 Bernie Schultz has learned a few tricks to trigger bass to strike over the years (Photo by B.A.S.S.)
Bernie is Burning
Let's start with a basic premise: Most fishermen think that if you reel a lure too fast, a bass can't catch it.
Wrong, says Schultz. He has proven it in the boat.
"I was fishing a B.A.S.S. tournament on the Potomac River, and I had a big fish blow up on a buzzbait," Schultz said.
"I was reeling in as fast as I could to get another cast, and right at the trolling motor, a 6-pounder just engulfed that bait."
"That opened my eyes to something. I started retrieving that buzzbait as fast as possible, and it paid off. That turned into a pattern."
"The bass were hitting that fast-moving bait so hard that I had to dig the hooks out of their throat."
Schultz has seen other times that burning a bait will result in reaction strikes from active bass.
"I guess they don't have time to think," Schultz said. "They see this bait flying past them, and they just react."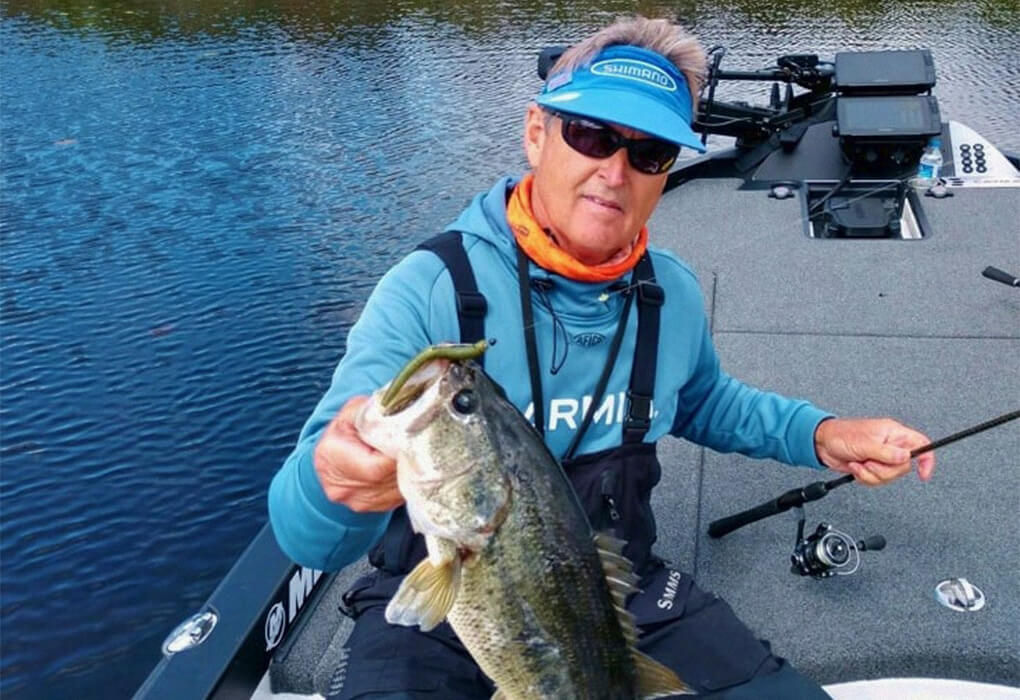 Bernie Schultz's advice to beginners: Keep it simple (Photo courtesy of Bernie Schultz)
Fishing Tips for Beginners
You don't need a boat full of lures to succeed at bass fishing.
Schultz advises beginners to keep it simple when starting out.
"You don't need 20 bags of different colored worms," he said.
"Start with five different colors in four body styles. Pay attention to the bass' natural forage. Buy basic colors like green pumpkin, Junebug, and shad-matching patterns."
"Same thing with crankbaits. You don't need 100 baits. Buy crankbaits that address a certain depth in the water column and start there."
Take those basic lures and put them to the test in different conditions. The most important factor? Time spent on the water.
"Spend as much time on the water as you can," Schultz said. "That's the best way to learn."
Conclusion
Schultz has finished in the top 20 in about 60 of the professional tournaments he has fished. That speaks well to his versatility.
He has an uncanny sense of knowing where the bass will be and what it takes to get them to bite.
You, too, can up your game by paying attention to detail. Look for objects that stand out–a rock or brush in the middle of a grass bed, a slight dropoff, a place where two types of vegetation intersect, etc.
Pay attention to the forage the bass are feeding on and observe their habits. When the fish aren't hitting, don't be reluctant to experiment.
Downsize and try fishing slow-moving baits. If that doesn't work, try burning your baits to see if you can elicit a few reaction strikes.
In other words, don't fall into the trap of being a robot out there. Pay attention to your surroundings and what objects stand out.
By following Schultz's lead, you might attract more bass to your hooks.
Good luck with your fishing. Let us know how you do in the comments below!