Alton Jones would like nothing better than to see his son, Alton Jr., follow in his footsteps in the family business.
Jones is a legend in the pro bass fishing game, a veteran who has won about every honor the sport offers. Junior is on the fast track to blazing his own path to greatness.
"Every event I fish, I feel like I have two chances to win," Alton Sr. said. "If I can't win, I'm rooting for him to do it."
"I'm a proud papa. But when we go up against each other, we're very competitive. We're both after blood."
It's rare for a father and son to both compete at bass fishing's highest level. But check out the results after any Bass Pro Tour event, and you'll see that Alton Sr. and Little Alton, as he is called, are making it happen.
Keep reading to look at the Jones' special relationship, Alton Sr.'s rise to the top, and get some fishing tips from the Texas fisherman.
---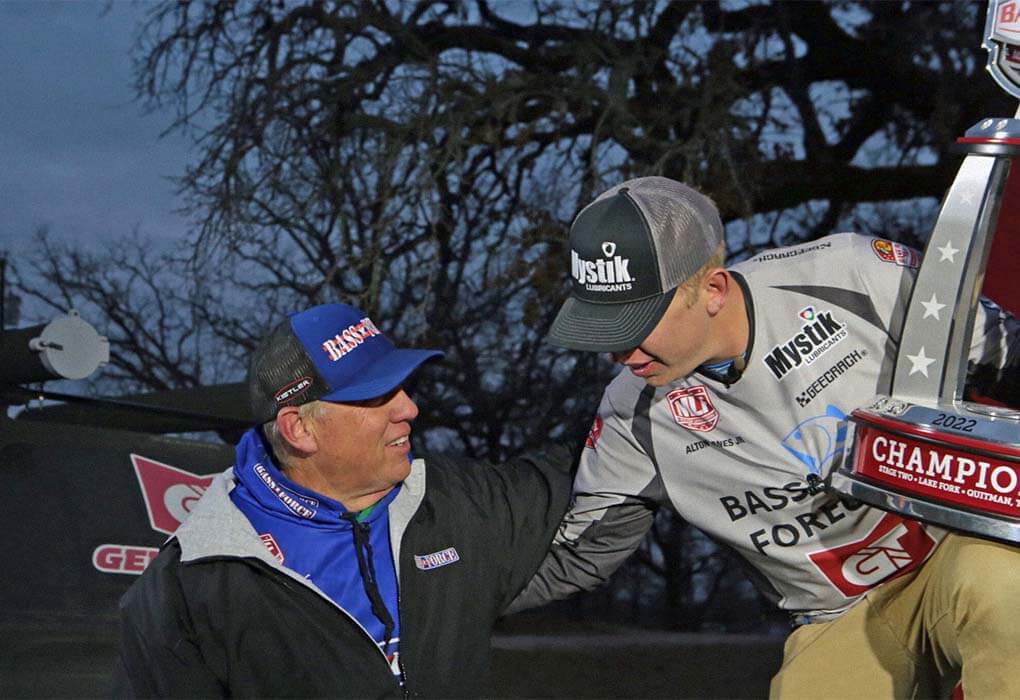 A Primer for Introducing Your Son to Fishing
Alton Sr. had a plan when he set out to turn his son into his fishing partner.
The first rule: Don't force it on him.
"I had a passion for bass fishing; I just couldn't get enough," said Alton Sr., 59, who lives in Lorena, Texas. "I had Alton Jr. out in a boat before he could even walk."
"But I decided early on that I wouldn't make him fish. It had to be his passion, his desire, not mine."
With that in mind, dad made the fishing trips as enjoyable as possible for his young son.
"When he was young, I wouldn't take him out unless there was a good chance of getting some action, whether bream or anything else," Alton Sr. said. "And I kept the trips short. Even when we were catching fish, I would always cut them off."
"That left him wanting more."
Dad also made sure there was live bait in the boat.
"I wanted something for him to play with, to get his hands slimy," Alton Sr. said. "And even if we weren't going to eat fish that day, I would throw one or two keepers in the live well for him to play with."
It must have worked.
Junior begged him to go along on practice days when Alton Sr. competed on the Bassmaster tour.
Dad even removed the hooks from the lures so that the bass wouldn't get stung before the actual tournament and shy away from the baits they associated with a negative experience on competition days.
But Alton Jr. didn't mind. He learned how to get bass to bite, put together patterns, and other intricacies of tournament fishing. He also learned what it took to win.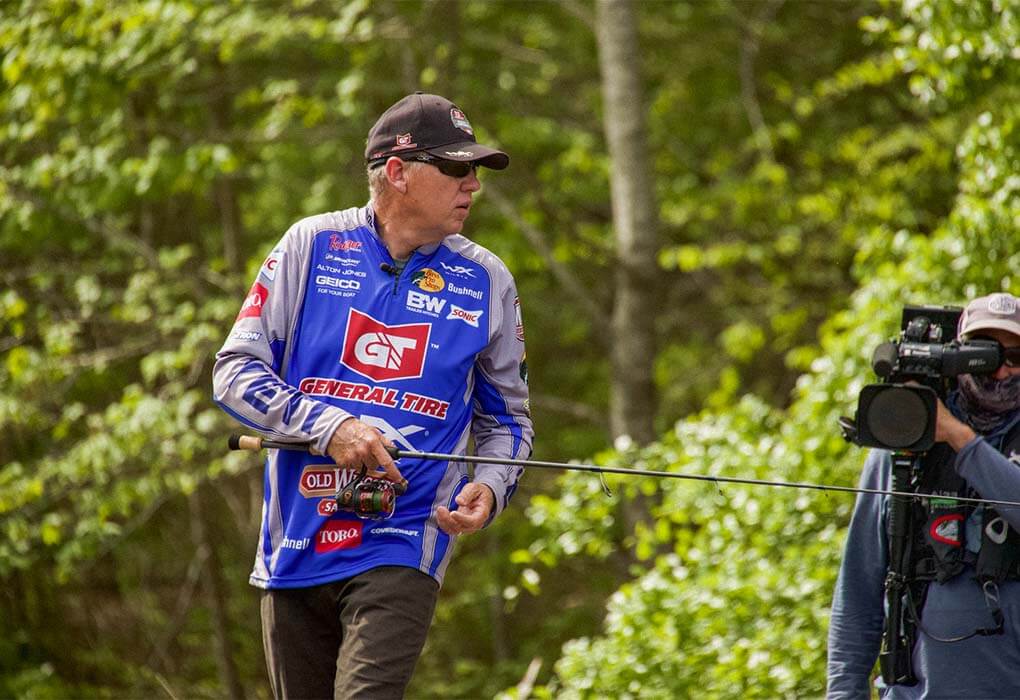 Dad Followed a Tougher Path
It wasn't that easy when Alton Sr. set out to become a bass fisherman.
His dad didn't fish, and his grandfather was primarily a crappie fisherman. But Alton Sr. credits his grandpa for at least inspiring a passion for fishing.
"He did some bass fishing, but he threw only one lure–a Heddon Tiny Chugger," he said. "He used that bait no matter what time of the year it was. If they weren't going to hit that topwater lure, he didn't want to catch them."
Alton Sr. was primarily self-taught as a bass fisherman. He would watch Bill Dance or Jimmy Houston on television, then go out to Texas lakes and try to duplicate some of their techniques."I learned from my mistakes," Alton Sr. said.
When Alton Sr. enrolled at Baylor University near his home in Waco, Texas, he got his first bass boat and joined a bass club. He still remembers his first tournament. "I zeroed," he said.
But that just inspired him even more. He dedicated himself to learning how to fish public lakes in Texas, and he became good at it.
He dropped all of his classes during one semester in his senior year to go fishing. He never went back and didn't graduate.He opened a computer business instead, and he found success at first. But again, his fishing got in the way.
"I set my hours as noon to 6 (p.m.) so that I could be on the water at first light," he recalled. "By the time I'd open, I would have a line of customers."
"But I basically just fished that business into the ground. I wanted to be on the water, fishing tournaments."
After Alton Sr. started doing well in local and regional tournaments, he broke into the Bassmaster pro ranks in 1990. He was a rookie along with another fisherman you might recognize, Kevin VanDam.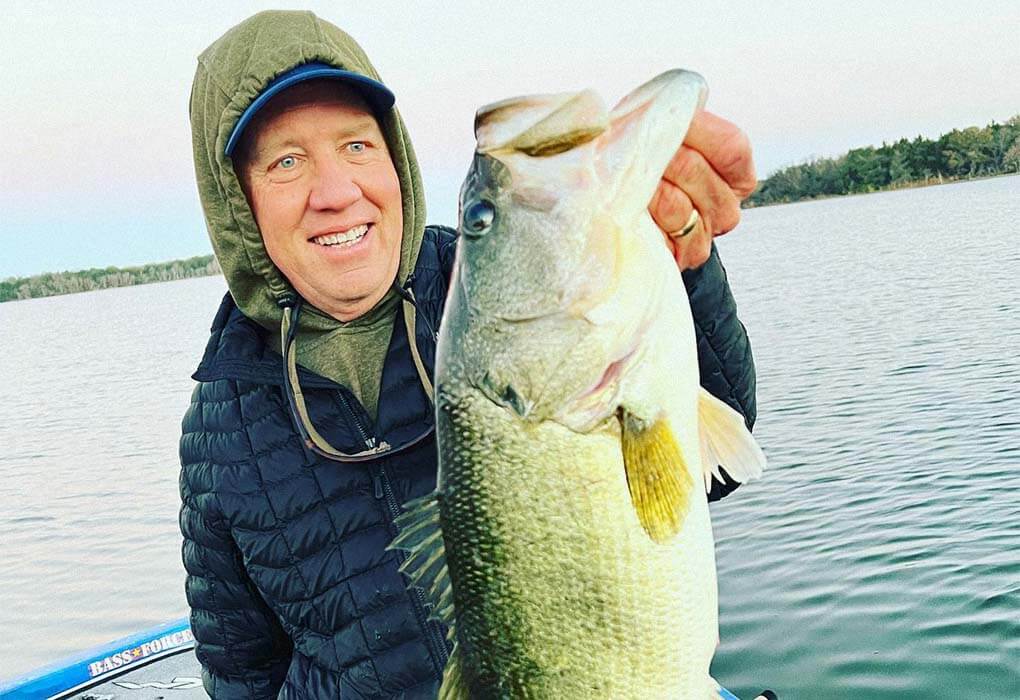 Go Shallow for the Big Ones
Late winter and early spring are Alton Jones' favorite times of the year.
That's when the sow bass are shallow, either spawning or feeding, And that's when Jones feels most comfortable fishing for them.
"My confidence techniques are sight fishing when they're on the beds or junk fishing targeting visible cover," he said. " That's how I've won most of my tournaments and caught most of my big fish."
That includes the 11-pound, 2-ounce bass he landed in February at Lake Fork's Bass Pro Tour event.
That fish is the third-largest ever caught on the Major League Fishing circuit and a testament to Jones' ability to lure the big ones.
"I caught it between two shallow trees," he said. "I shook off a big one there in practice, so I decided to go back during the tournament.
"I had a hit on my first cast, but I missed it. I threw back in there and caught a 6-5. When I was fighting that fish, I thought I saw a bigger one following. So I made another cast and caught that 11-2.
"It was just an unbelievable experience. But good things can happen in the spring when the fish are shallow."
Jones caught those bass on a Rapala Ott's Garage Slim 6 crankbait. But he relies on various other baits to pull bass out of shallow cover.
He calls it "junk fishing," where he flips, pitches, or casts lures to hit visible targets.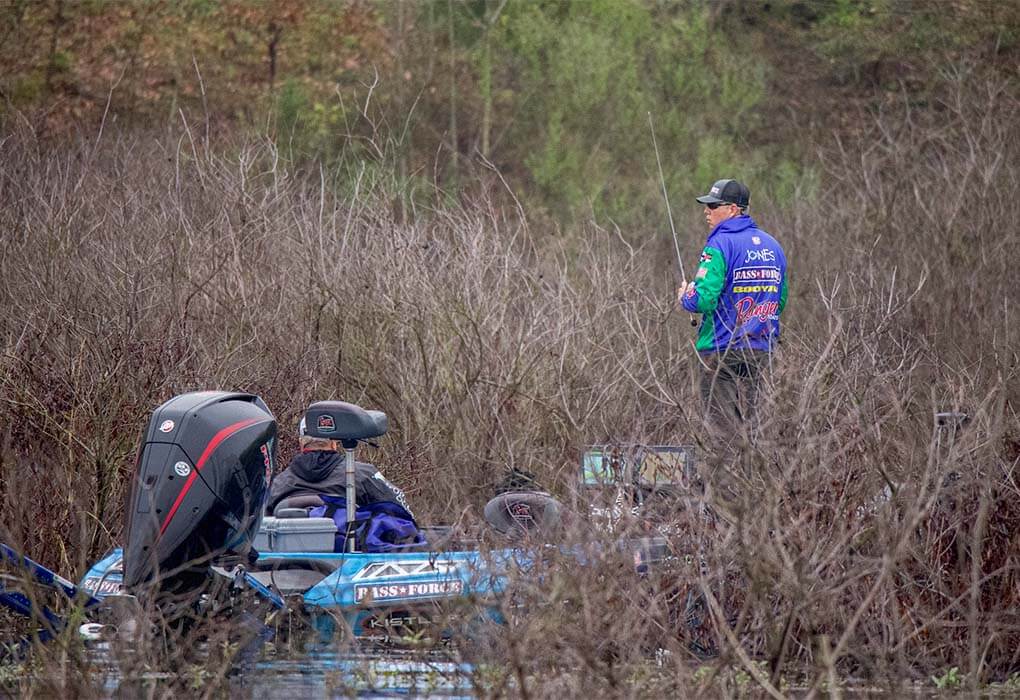 Relying on Sight
Bass aren't safe when they retreat to a quiet, out-of-the-way spot to spawn. Not when Alton Jones Sr. is on their trail.
He specializes in finding those fish and determining ways to get them to hit. Jones is recognized as one of the best sight-fishermen on the Bass Pro Tour.
"I love spotting a big bass on a nest and figuring out a way to get her to hit," Jones said. "I look at each fish as an individual. I see how she is acting and if it looks like she will hit."
"They're not all the same. What will get one bass all fired up won't necessarily work for another one."
Jones likes to flip a tube past the nest so it doesn't make much of a splash, then reels it across the surface and drops it on the nest.
That way, he can use the element of surprise to get the bass to make a reaction strike. Some pros like to use bright colors to see from a distance when the bass inhale the bait.
Not Jones.
He tries to imitate the natural forage.
His favorite bait? A green pumpkin with purple metal flake tube bait rigged Texas-style.
"If you were to restrict me to one bait, that's what I would choose," Jones said. "I can usually make them eat that bait."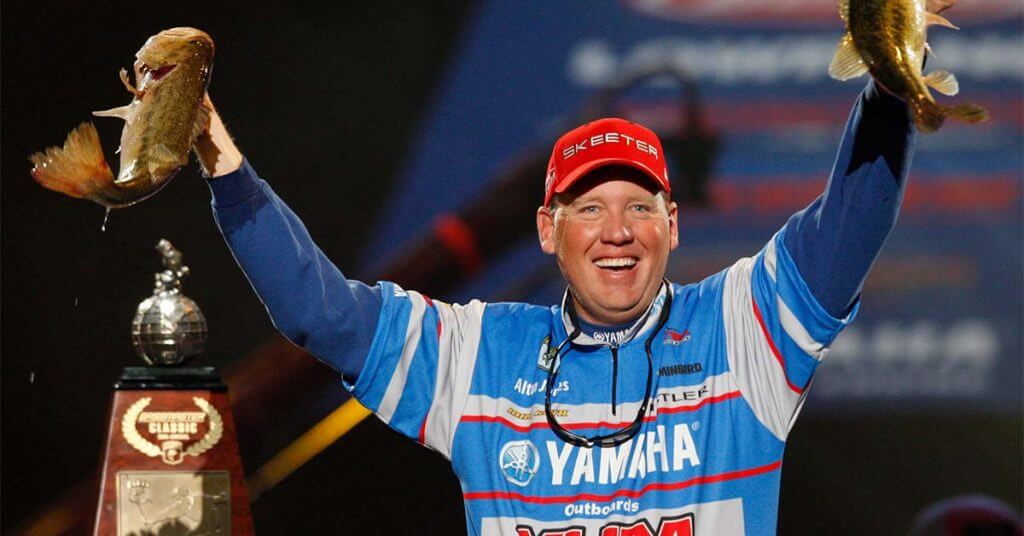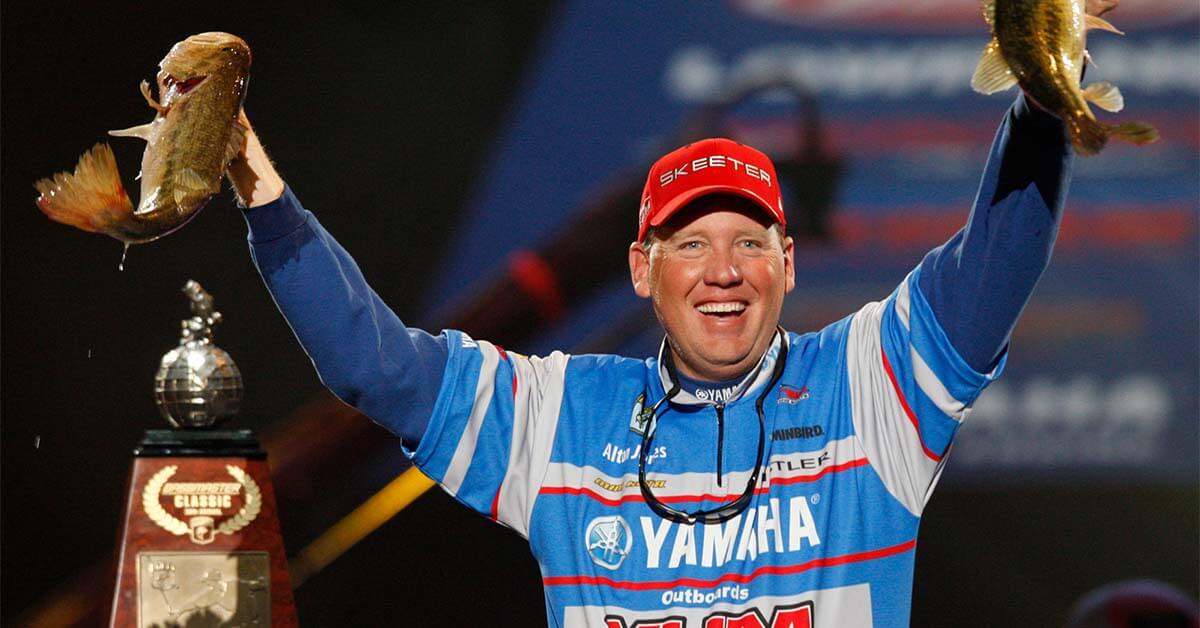 Staying Versatile is Key
Jones is known as one of the best shallow-water fishermen in the pro game. But he'll do whatever it takes to put bass on the scales.
"You have to be versatile at this level," he said. "There aren't too many specialists who can dominate anymore."
Jones takes pride in his ability to adjust. Consider the 2008 Bassmaster Classic, which he won.Fishing on Lake Hartwell in late February, he couldn't find bass shallow during practice, so he relied on his electronics to locate fish on deep structure.
He keyed on the edge of deep timber and used bass jigs to catch most of his fish.
"The fish were on the bottom in anywhere from 35 to 55 feet of water," he said. "From the surface, you couldn't see a lot of cover. But when I used my electronics, I could see a lot of deep standing timber."
"I would follow the drains and ditches that would intersect with that timber, and that's where the bass were."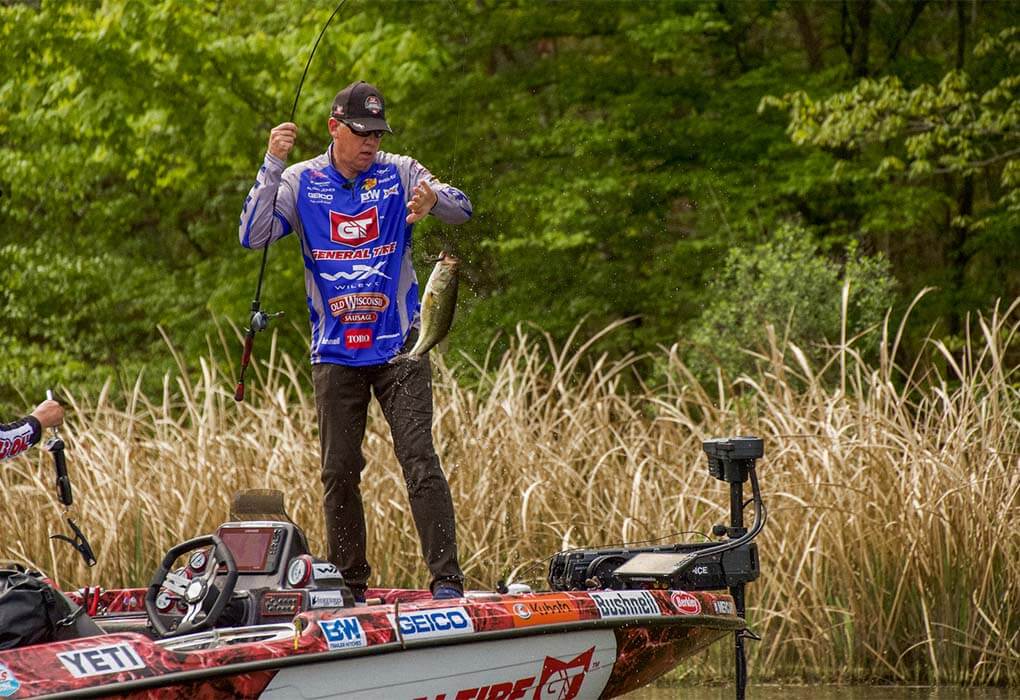 No Sponsor? No Problem
When you have a lure sponsor, you have obligations. You have to tell the world how great that company's product is and avoid talking about the competition's baits.
Well, Jones got tired of that routine. So he decided to go without a lure sponsor starting last year, freeing him to use a wide range of baits.
"There's not a company that makes the perfect crankbait for every situation," Jones said. "I just decided that I wanted to fish with whatever I wanted when I wanted."
"It's made me a more versatile fisherman. I've picked up some new favorite lures that I wasn't able to fish before."
One is the Strike King KVD 300 Deep Jerkbait. Another is the Berkley Stunna.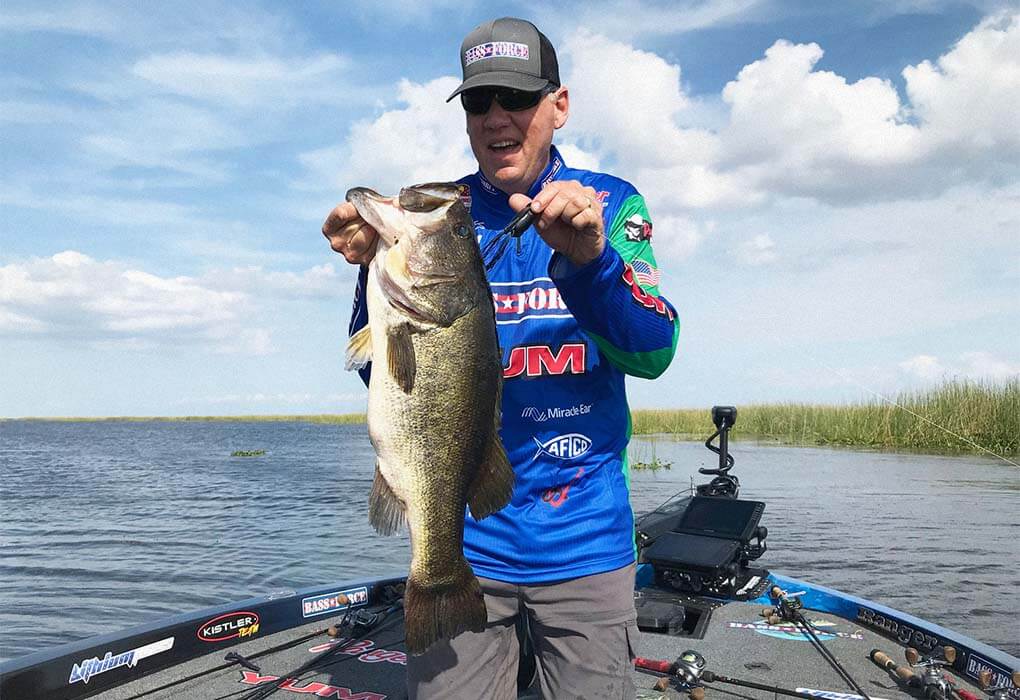 Fishing Tips for Beginners
So, you're just getting started in bass fishing and you're feeling lost.
What lure do you use? Where do you fish? What type of retrieve should you use?There's an app to help you, advises Alton Jones Sr.
He and a team of other top pros have collaborated to provide information for the BassForce app that can be accessed on a cell phone while an angler is out on the water. You provide the data about the conditions, and the pros advise on the lures they would use.
The app offers some great fishing tips with pros such as Jones, Jacob Wheeler, Kevin VanDam, Edwin Evers, and five others providing information.
There is a free and paid version, but many fishermen agree that it's worth the price.
Conclusion
Alton Jones is one of bass fishing's all-time leading money winners. He passed the $3 million mark this year, and he's still going.
Now that his son, Alton Jr., is on the Bass Pro Tour, too, he is all that more motivated to continue casting for bass.
Follow some of his shallow-water fishing tips, and you might be able to put more fish in the live well.
Let us know how his tips have helped you land more fish in the comments!