Most people think of Austin as an oasis of great food, famous nightlife, vibrant arts scene, and, of course, the Capitol of a state that prides itself in the slogan "Don't Mess With Texas"
Most would not associate Austin with bass fishing, but all around Austin, TX, are ponds, lakes, and rivers that produce trophy smallmouth and largemouth bass.
The following is a rundown of some of the most popular Austin bass fishing lakes and ponds, fishing reports from each, and general information to help you find the best places to fish in Austin.
Going fishing in Texas? Then give a read to our Texas Fishing License guide.
---
Best Austin Bass Fishing: Top 10
Here, in no particular order, are 10 fishing locations known for producing massive bass or having a population rivaling just about anywhere in the USA.
Stillhouse Hollow Reservoir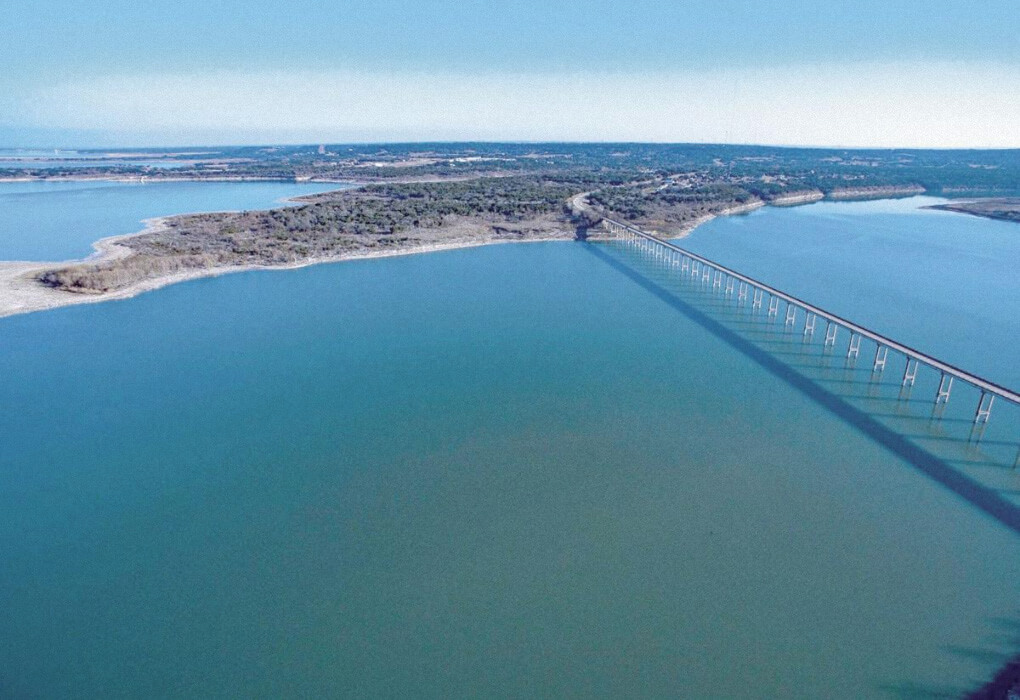 Stillhouse Hollow Reservoir is an hour north of Austin in the hill country. It is renowned for producing great numbers of bass and record catches.
The reservoir runs colder, so fishing is better during the hotter months than in most lakes or ponds.
The lake boasts a lot of largemouth and smallmouth bass, a combination that is hard to find in central Texas.
Water clarity is excellent, and the lake has several deep sections. Hydrilla thrives in the lower lake, and bass anglers should select baits and lures accordingly.
Creature baits and plastic worms work well throughout the lake.
The US Corps of Engineers manage six access points, so you'll have plenty of opportunities to find a fishing spot.
Lake Austin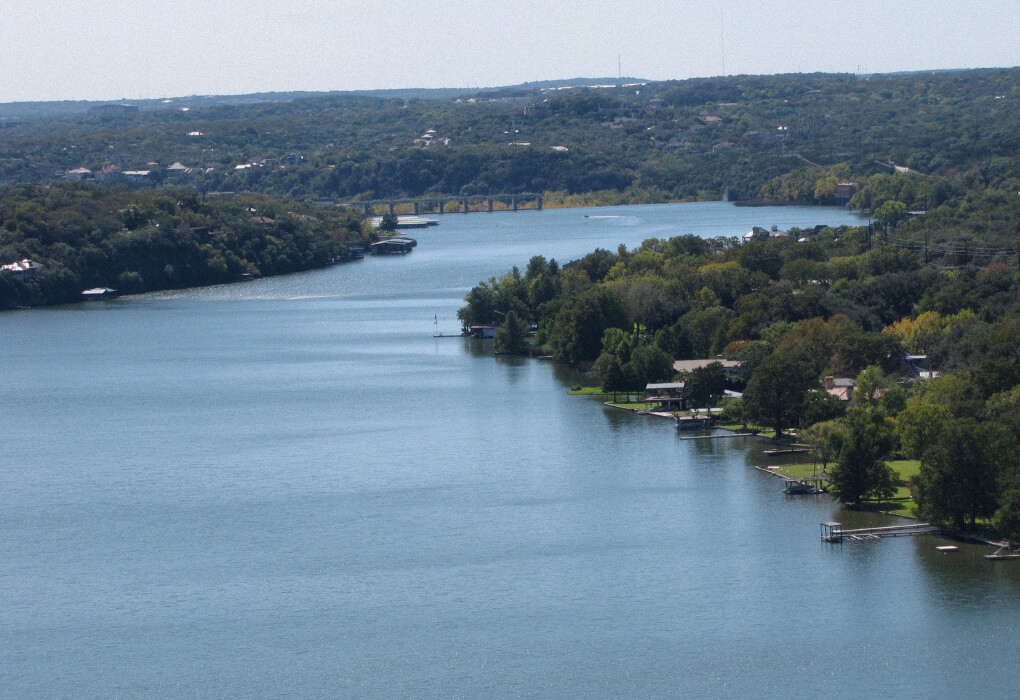 Lake Austin lies within the city limits and is part of the Colorado River reservoir system.
Known for producing monster bass, it is not unheard of for anglers bass fishing Lake Austin to catch largemouths over 10 pounds. The lake record is an astounding 16.03 pounds.
Additionally, the lake covers just shy of 1,600 acres, and most who fish it say that it behaves like a sluggish river.
Because the lake is narrow, the traffic from boats can be a Lake Austin bass fishing drawback, so you need to plan on doing a half day very early or late to avoid the rush.
The bass spawn happens between February and April. Spawning season is lengthy because water released from Lake Travis makes the lake's northern end significantly cooler.
Target bass along grass lines with topwater baits and plastic worms.
Lipless cranks also work well because there is a lot of sunfish and shad throughout the lake.
There are numerous docks at this location, as well as access points and bank fishing.
Lake Lyndon B. Johnson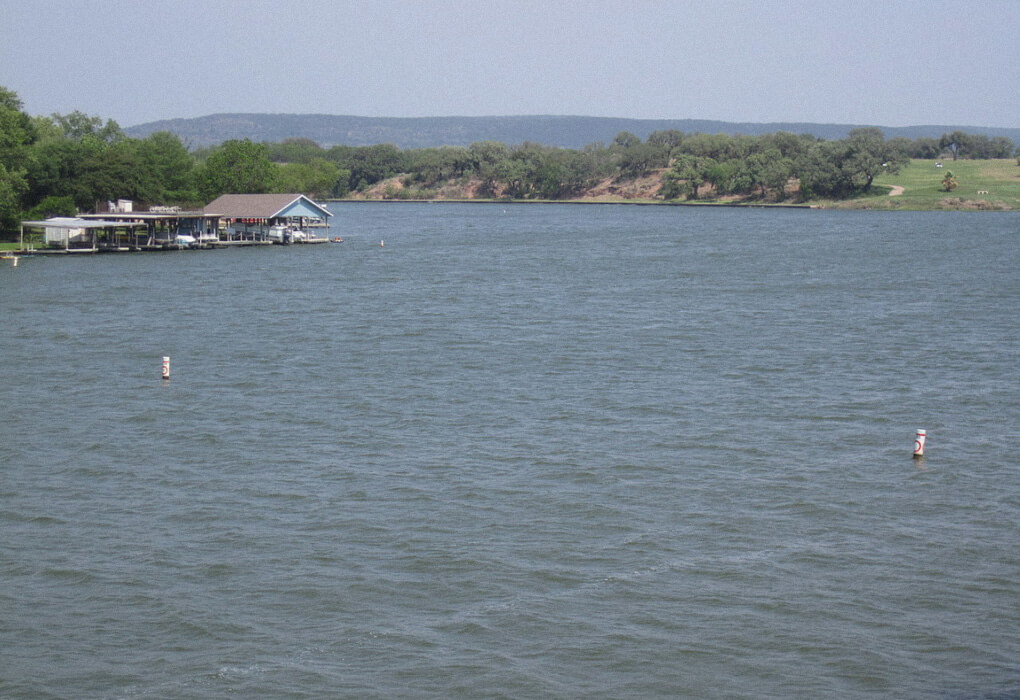 Lake LBJ is known for consistently good fishing. The fishing is so stellar that the lake made the Top 10 in "100 Best Bass Lakes" by Bassmaster Magazine several times.
Lake Lyndon B. Johnson is small for Texas standards at a little more than 6,400 acres, but the fishing is superb from pre-spawn in February through the end of May.
An impoundment, the lake has a lot of coves, inlets from creeks, and canal openings.
In spring, flooding swells the creeks, and bass hang out in shallows and go after plastic baits and jigs. While the bite is generally shallow, crankbaits work well off rock outcroppings and ledges.
Another attribute of Lake Lyndon B. Johnson is the power plant on Horseshoe Bay, which discharges warm water and creates a haven for fish in the winter.
Water levels are consistent pretty much year-round.
The water is clear, and the bottom ranges from sandy to rocky throughout. There are two public boat ramps.
Lake Bastrop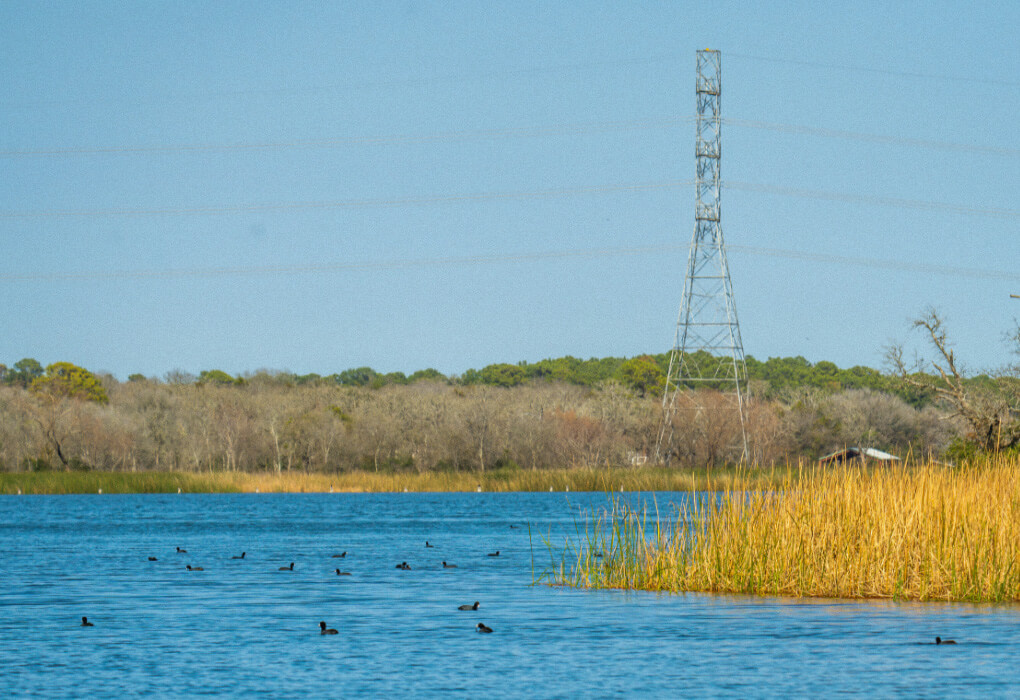 Another hour's drive out of Austin, Lake Bastrop has a reputation for producing an abundance of smaller largemouth in the 2 to 4-pound range.
The lake is an almost 1,000-acre reservoir on Spicer Creek, and it is known as a friendly body of water, making it an ideal destination for people just starting out learning to bass fish.
The lake has a very distinctive creek channel, stumps, and other structures usually found in bass lakes.
There is a lot of vegetation, so working weed beds and bed lines is highly productive.
The lake warms early because of power production on the lake. Two access points with boat docks give anglers of all skill levels an opportunity to land a few fish.
Jigs and wacky worms work well all year, although the lake gets taken over by weeds in summer, making weedless baits popular.
During the colder months, when the vegetation dies down, crankbaits, jerkbaits, and Carolina rigs along the creek channel are productive.
Belton Lake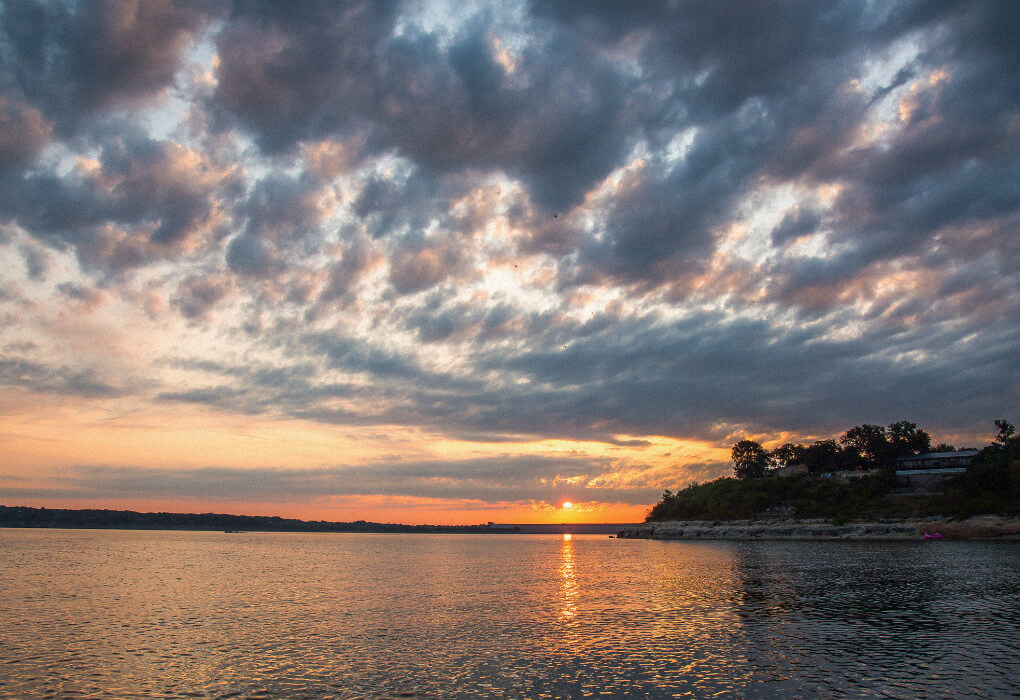 Belton Lake is 12,000 acres when it is full and is known as the premier smallmouth bass lake in central Texas.
Part of the Brazos River basin on the Leon River, visitors will find little timber structure, but plenty of rocks and aquatic vegetation.
The water is cooler than on most lakes, which makes it ideal for smallies.
Fish the lake shallow in early spring and then again once things cool down.
Crankbaits and drop shots work best when the bass go deep into cooler water. Plastics work best in early spring through May and then from late fall through winter.
You should not overlook the largemouth in Lake Belton.
While the lake doesn't have many monsters, it has a healthy population. Jerkbaits and plastic baits work best. The largemouth fishing is consistent except for the very hot months.
Lake Buchanan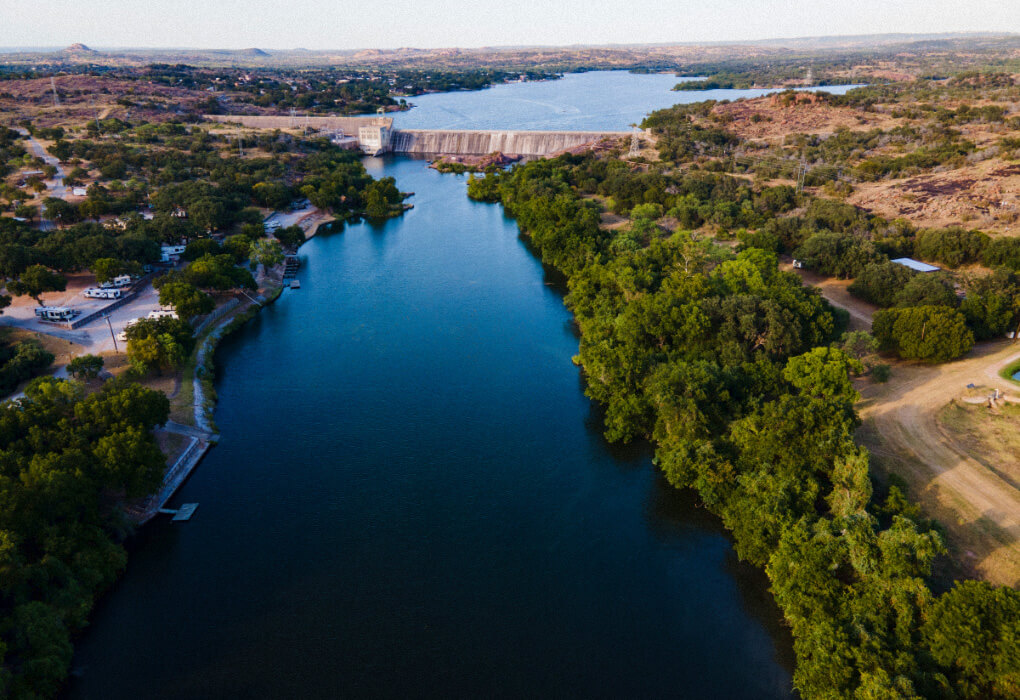 Lake Buchanan is massive at 22,000 acres. It is the most significant reservoir in the area, far exceeding most other lakes at about 12 miles long and 6 miles at its widest point.
This lake is part of the Colorado River system and holds largemouth, smallmouth, and white and striped bass. Guadalupe bass also call Buchanan home.
The typical-sized bass you can expect to catch on Buchanan is about 2 to 5 pounds.
Spring and fall are the times to visit. April into May produces a lot of action with topwaters and shallow running cranks, buzzbaits, and spinnerbaits.
The local favorite is the purple plastic worm, fished as part of a rig or fished weightless.
The water tends to be stained at the upper end and clear towards the dam.
Buchanan is also one of the best fishing spots in Austin to catch catfish and carp.
There are two access points on the lake with free launch facilities.
Lake Travis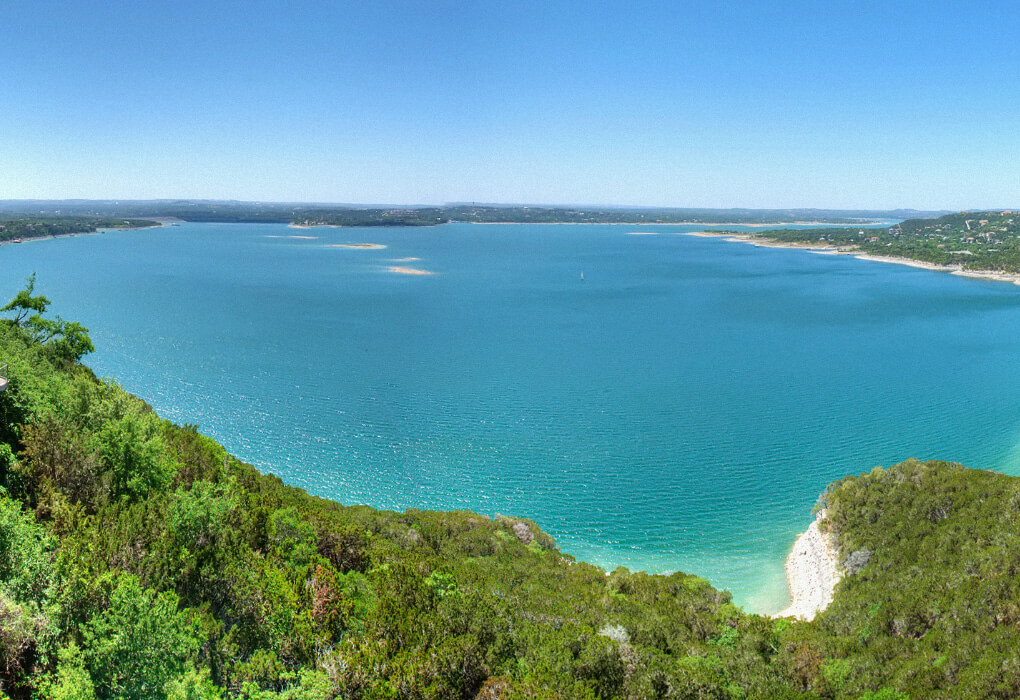 Another sprawling location, Lake Travis spans over 18,000 acres and sits west of Austin.
The lake record for largemouth is over 15 pounds, although it is best known for producing smaller to medium-sized bass.
With many bluffs, steep drop-offs, deep pools, and a narrow central channel, the lake is another reservoir of the Colorado river.
As the lake water runs a little cooler, the season often expands into June.
On the lower end of the lake, bass hang out under the many floating boat docks, so if skipping is your game, Travis will keep you entertained.
The topography of the lake is diverse.
Travis has a lot of smaller inlets and creeks that hold baitfish and attract the bass.
Shallows, grass beds, bluffs, ledges, steep drop-offs, and flat sections exist. Just about any bait you throw will work, with plastics, jerkbaits, cranks, spinners, and buzzbaits being popular choices.
The lake is so diverse that you can find a place to fish just about anything in your tackle box.
Like its inlets, access to the lake is plentiful. Several parks provide fishing access, marina facilities, and public boat launches.
Lake Travis is extremely popular, especially in the summer. Boat traffic is heavy so getting out early is a must. You can hire a fishing guide if you want to get the most out of a trip.
Lake Walter E. Long
Lake Walter E. Long is as close to a town lake while still being a major bass haven as you can find.
Although small at 1,200 acres, it has a lot of bass and is perfect for kayak anglers that don't want to deal with larger waters. For comparison in size, the lake is slightly larger than Lady Bird Lake.
The lake has a lot of diverse vegetation. Hydrilla is the most prevalent, but the lake does have a lot of pondweed and fair amounts of bulrush and coontail.
One strategy to catch bass is to target the edges of weed beds and run your baits down the side of them.
Productive baits include soft plastics, weedless lures, such as chatterbaits, and topwaters. There is some bottom structure, so you must be careful if you run deep diving crankbaits or jigs. Lipless crankbaits work well along the weed bed edges.
The ideal time to visit is early spring or late fall. A power plant discharges into the lake, becoming a soup in the summer through mid-fall.
There are public boat facilities, and the lakeshore is almost exclusively park, providing some of the best bank fishing in Austin.
Canyon Lake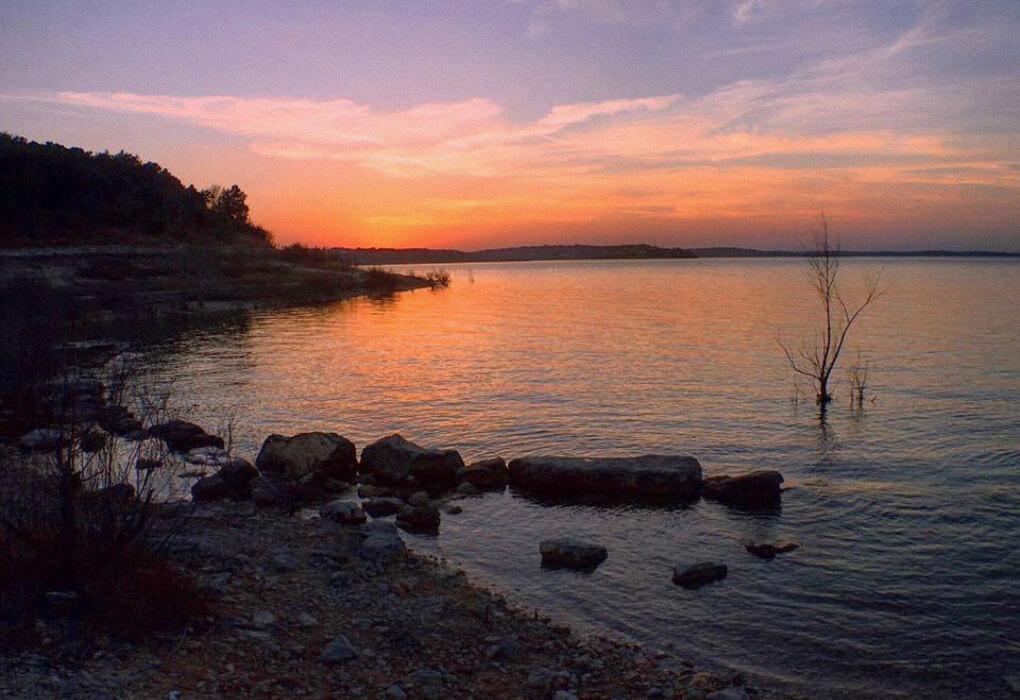 Canyon Lake gets on this list for the best Austin bass fishing spots because smallmouth thrive here.
The lake is also a depository for rainbow trout, and the Guadalupe River is cool enough to let the trout survive.
That means its temperature is right in the wheelhouse of most smallies, except for a month or two in the summer.
Spring and fall yield plentiful largemouth. Watching the water temperature is a must, though, as the cooler waters can stifle the bite in late fall through the winter and into early spring.
Senkos and swimbaits work well in this lake.
The structure in the lake includes sunken timber, ledge, and rock piles.
There is public access and a few marinas to access the lake.
Pedernales Falls State Park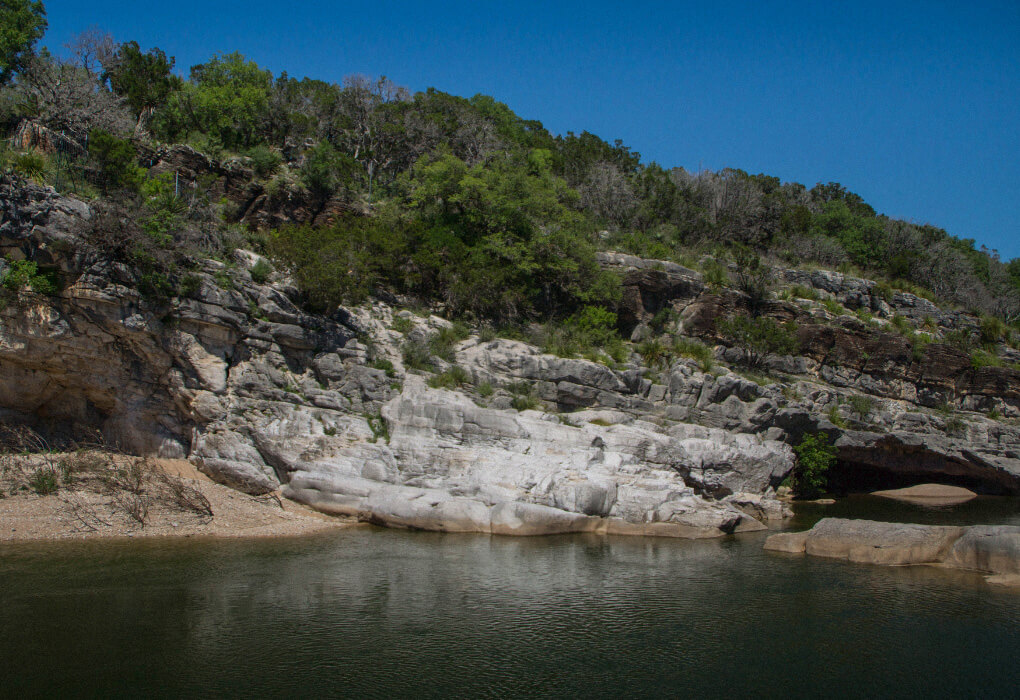 Pedernales Falls State Park is the final bass fishing lake, Austin entry.
It's considered a highland lake and has multiple miles of river fishing, including several areas that are flathead catfish hideaways.
Largies and smallies call the lake home, and the area is primarily natural rock piles, ledges, and sandy flats.
The best time to fish for bass on Pedernales is early spring through late spring and then again in late fall.
There are several access points, and as a bonus, you do not need a separate fishing license if you are a resident.
Frequently Asked Questions
The following are frequently asked questions about Lone Star State bass fishing.
What month is best for bass fishing in Texas?
March is the best month for bass fishing in Texas. Texas Parks & Wildlife point out that spring is the best season for bass, starting in February and running through the beginning of May. 
One study by Parks & Wildlife lists March as the best month, with 44 percent of large catches made then, followed by 26 percent in February, and 13 percent in April.
What part of Texas has the best bass fishing?
The southern part of Texas has the best bass fishing if you're looking to catch giants. The state is so large that each region has great smallmouth and largemouth fishing for at least part of the year. 
Austin is recognized as a great place to first for bass because it is central, has easy access to dozens of fishing locations, and is tourist friendly.
In addition, the Austin area has a Guadalupe bass population, which makes it a specialty fishing location.
However, other anglers from other parts of the state insist that their location has the best bass fishing in Texas, so you might want to research the topic a bit.
Is bass fishing good in Texas?
Yes, bass fishing is good in Texas. Bass fisheries throughout the state are known, from pre-spawn through the end of spring, fall, and winter, as excellent places to fish and catch bass. 
The only time the fishing for bass is difficult is during the summer through early fall.
At that point, soaring temperatures turn most lakes and ponds into bathtubs, and bass hunker down wherever they can get cool.
Last Cast
If you are into catching big bass and find yourself in Texas, you owe it to yourself to check out a few of the fisheries on this list.
The fishing in these lakes and ponds is so good that you might even want to make the Austin area a destination for your next big fishing adventure.
Not only do you get world-class Austin bass fishing, but you also get all that this incredible city has to offer, which is worth the trip in and of itself.
Let me know your favorite lake to fish around Austin in the comments.