There are tons of great lakes and ponds in Kentucky to fish in. In fact, the issue usually becomes choosing a singular one to go fishing in. There is only so much time in the world, after all.
Below, we'll take a look at some of the best fishing spots in Kentucky, allowing you to choose which option excites you the most. 
Going fishing in Kentucky? Then give a read to our Kentucky Fishing License guide.
---
1. Kentucky (and Barkley) Lake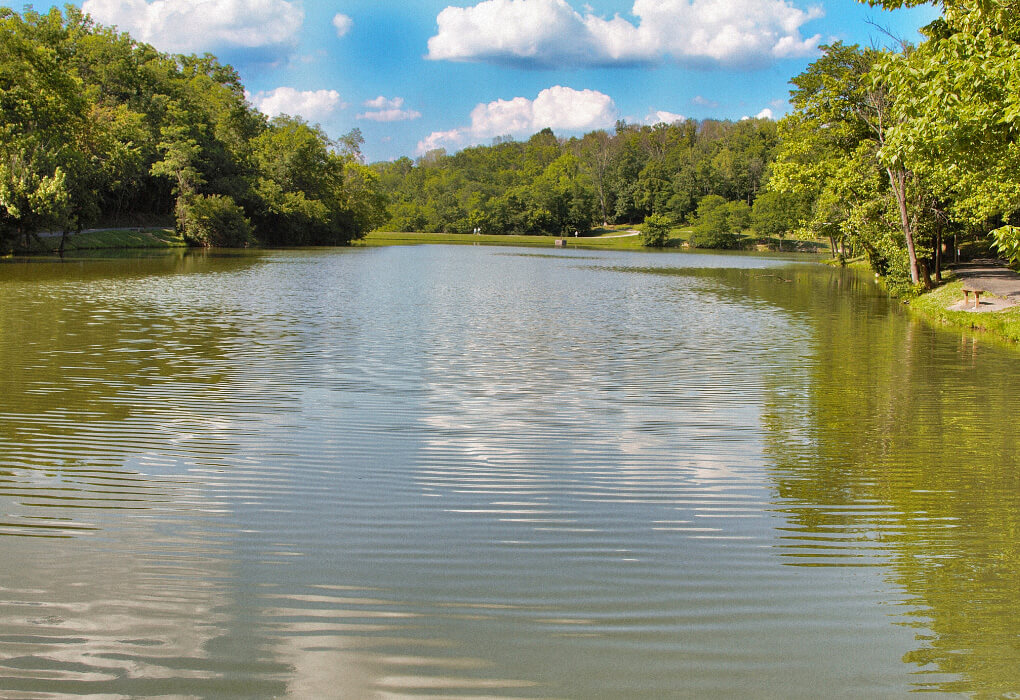 Kentucky Lake and Lake Barkley are technically connected, which is why we have grouped them together. Both of these lakes are rather large.
Kentucky Lake is over 160,000 acres, and Barkley is over 58,000 acres.
Both of these lakes have been utilized for fishing competitions. However, sadly, they have had their fight with invasive fish species over the past few years. Asian carp have damaged these lakes, in particular.
Still, they are home to a sizable bass population. Largemouth bass are the dominant species, though smallmouth bass also show up in smaller numbers.
In fact, smallmouth bass have gained in size in recent years, producing come tournament-winning fish.
For instance, Richard Meuth won the MLF Phoenix Bass Fishing League by catching ten 30-pound bass in the lake.
Largemouth bass in the lake largely feed on gizzard shad and threadfin.
While this lake is very popular year-round, bass fishing can be a bit difficult during spawn in the spring months. To increase your chances, use spinnerbaits and lipless crankbaits during these months.
Chartreuse and blue crankbaits work best in muddy waters along the shore. Choosing the right bass fishing lures is essential to success.
2. Dale Hollow Lake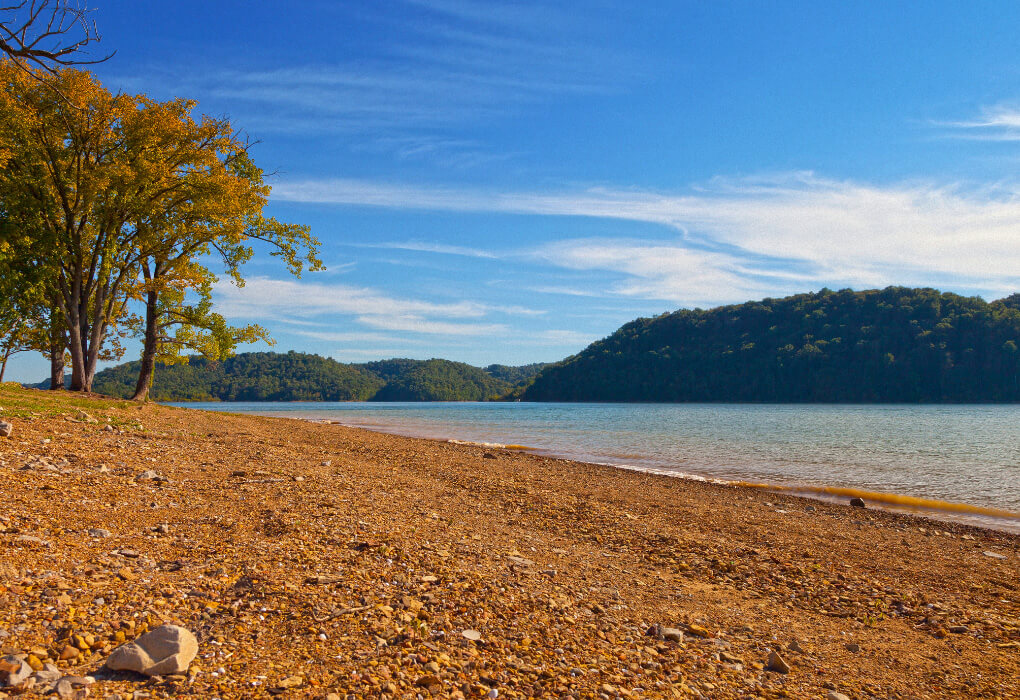 Dale Hollow has always been home to larger bass. In 1955, a smallmouth bass was caught that broke the world record at 11 pounds, 15 ounces. You can still find many big bass today.
This lake is located in both Tennessee and Kentucky. It sits on the border, so be sure to double-check fishing laws. There are lots of rocks, bluffs, and grasses in this lake, which supports a large fish population.
In fact, many anglers claim that this lake is easily the best in Kentucky. Use crankbaits in the shallow portion for the best chance of success.
However, this lake does have some different bag limits and regulations. These extra restrictions help keep the lake as one of the top smallmouth bass fisheries.
Using a fish finder can be extra helpful when fishing in this area, as it is so large.
3. Green River Lake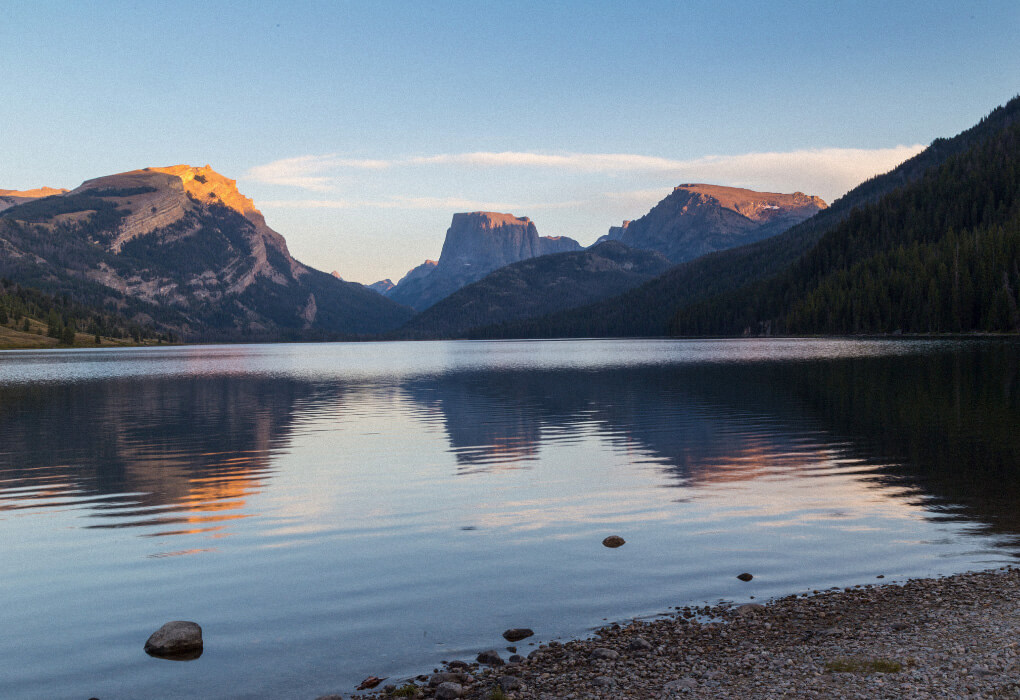 At around 8,000 acres, this lake is home to both largemouth and smallmouth bass. It is smaller than most lakes on this list. However, there is a lot of nice fish habitat, allowing it to support a large population.
There are a variety of different environments, which allows you to catch fish in a variety of ways. For instance, you can use jigs in the deeper waters and around ledges.
Use top water lures where it is shallow. For this reason, many anglers love this lake. It keeps things from getting boring.
Furthermore, this lake also produces multiple tournament-winning fish for bass anglers.
4. Lake Cumberland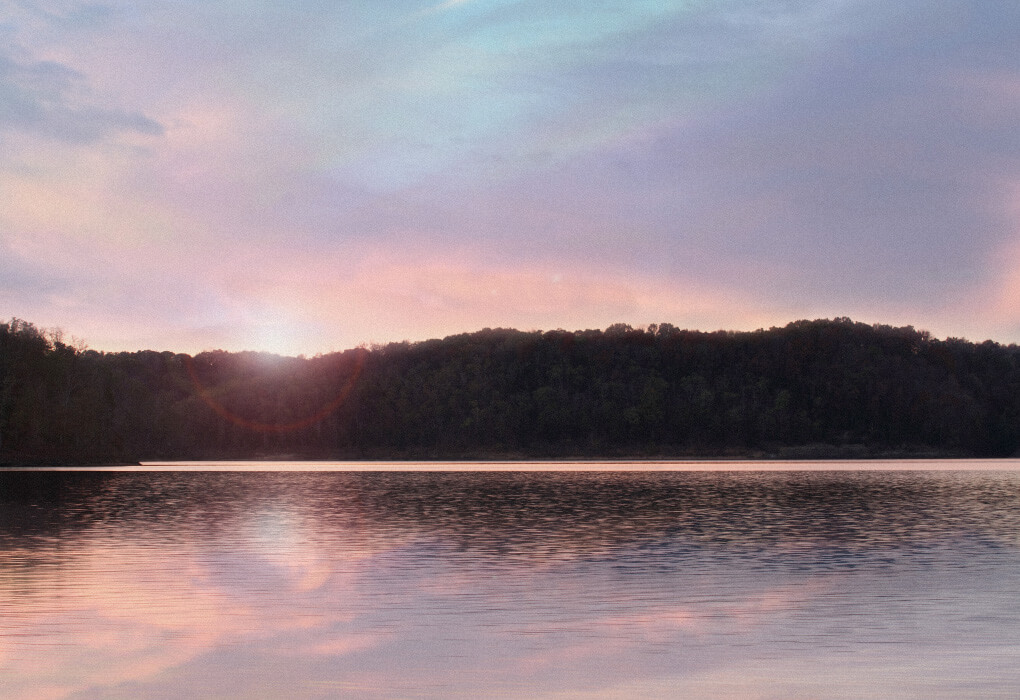 This reservoir is around 65,000 acres. It is smaller than some of the much larger lakes. However, it is home to all three major bass species.
The lake has several different habitats, allowing it to support all of these species.
You can find smallmouth bass in the main lake area, as well as the bluffs and points. The largemouth bass prefer the shallow water around the outside.
You can find spotted bass somewhere in the middle.
This reservoir was built in 1952 and largely helps control floods. Therefore, it isn't odd for the shore of the lake to vary a bit as the rainfall varies.
5. Cedar Creek Lake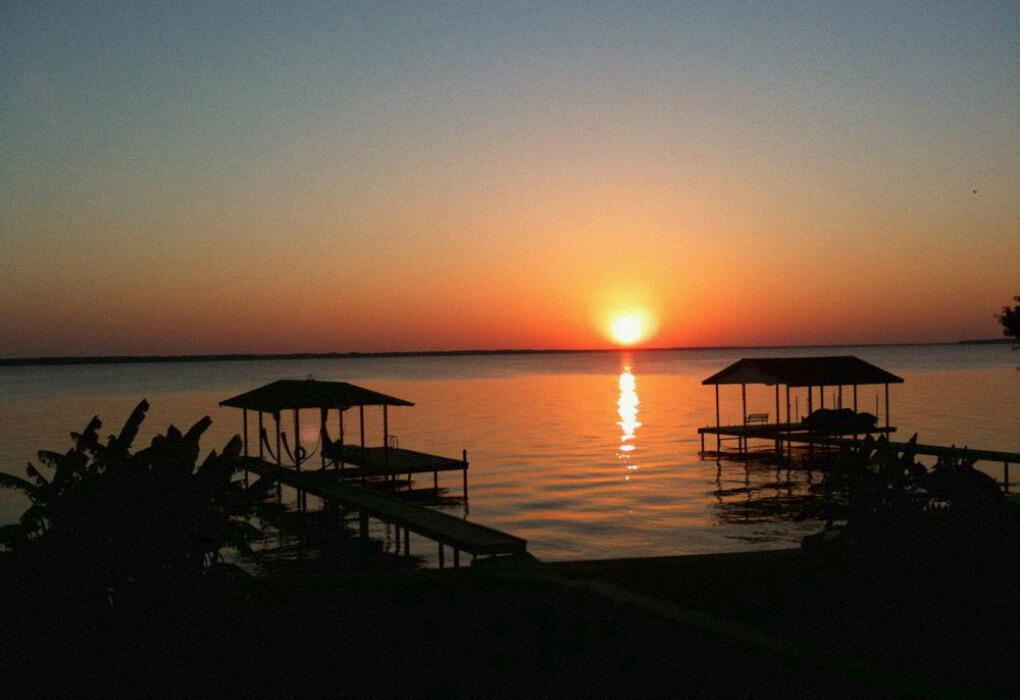 This lake is relatively new and small. It is only 784 acres, and it was first opened in 2003. The lake was developed specifically for fishing, which means that it supports a large population.
All the trees below were left when the lake was flooded, providing plenty of cover for bass.
However, this lake does have some size limits for fish. These limits help ensure the fish stick around for all to enjoy, but they are important to know before you start fishing.
Biologists work to ensure that the population can survive fishing by implementing new limits (or raising old ones).
While bass are very popular in this lake, you can also find catfish and crappie.
6. Barren River Lake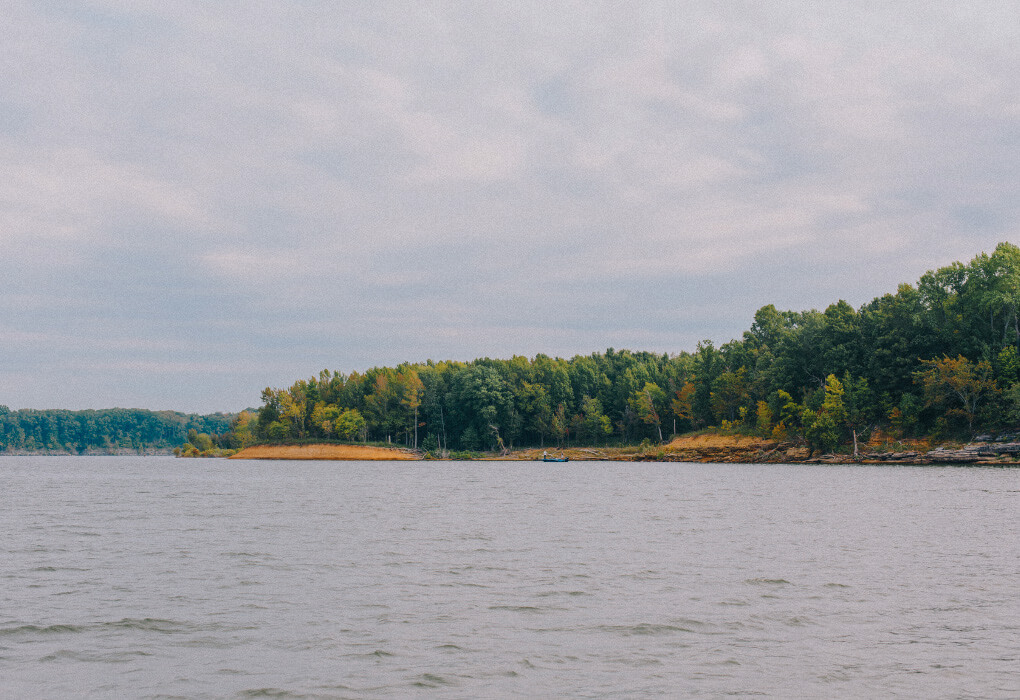 Barren River Lake isn't the most popular fishing spot in Kentucky. However, it is home to both largemouth and smallmouth bass.
For this reason, this lake is often utilized for fishing tournaments. It has about 10,000 surface acres, making it one of the smaller lakes in the state.
Furthermore, this lake has a lot of amenities. For instance, there is a marina, boat rentals, and campgrounds available.
It makes for a very relaxing fishing experience. Plus, if you want to disappear for a few days to fish, this lake is probably one of the best options.
7. Grayson Lake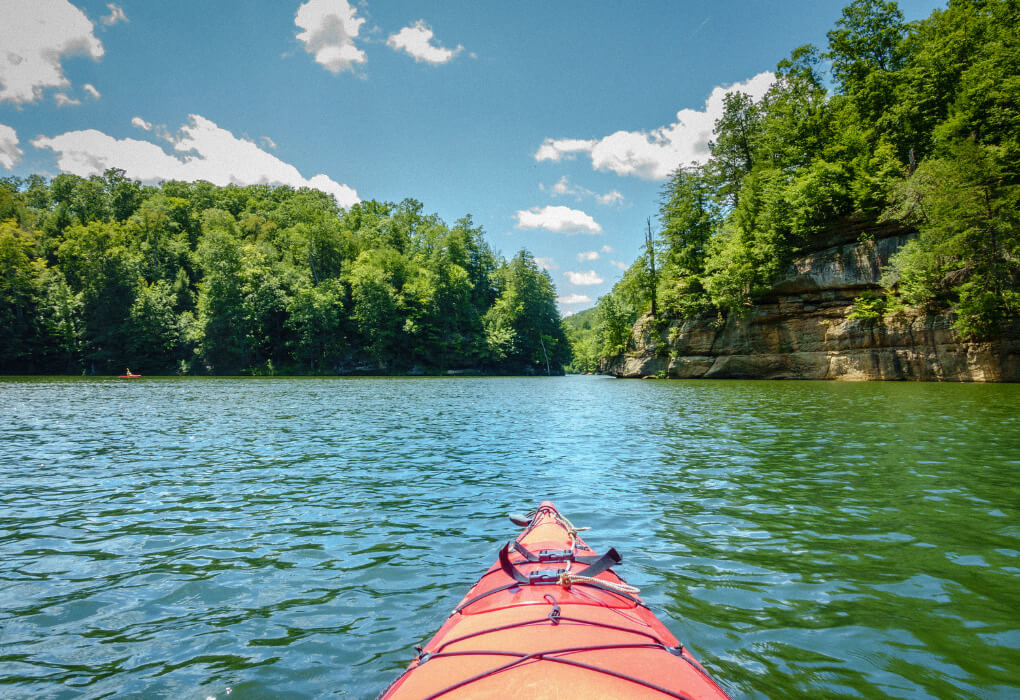 Grayson Lake is very popular for bass fishing, despite being only 1,500 acres. It is home to both largemouth bass, smallmouth bass, and hybrid striped bass. These fish do grow to a pretty decent size, as well.
The marina on the lake offers boat rentals, as well as bait and other typical services. There are also areas for camping, as well as RV hookups.
Therefore, if you're looking for a nice place to disappear and fish, this lake may be a solid option.
Because this lake is smaller, it doesn't tend to be as popular. Therefore, if you're looking for a quieter fishing trip, this lake may be the best option.
8. Buckhorn Lake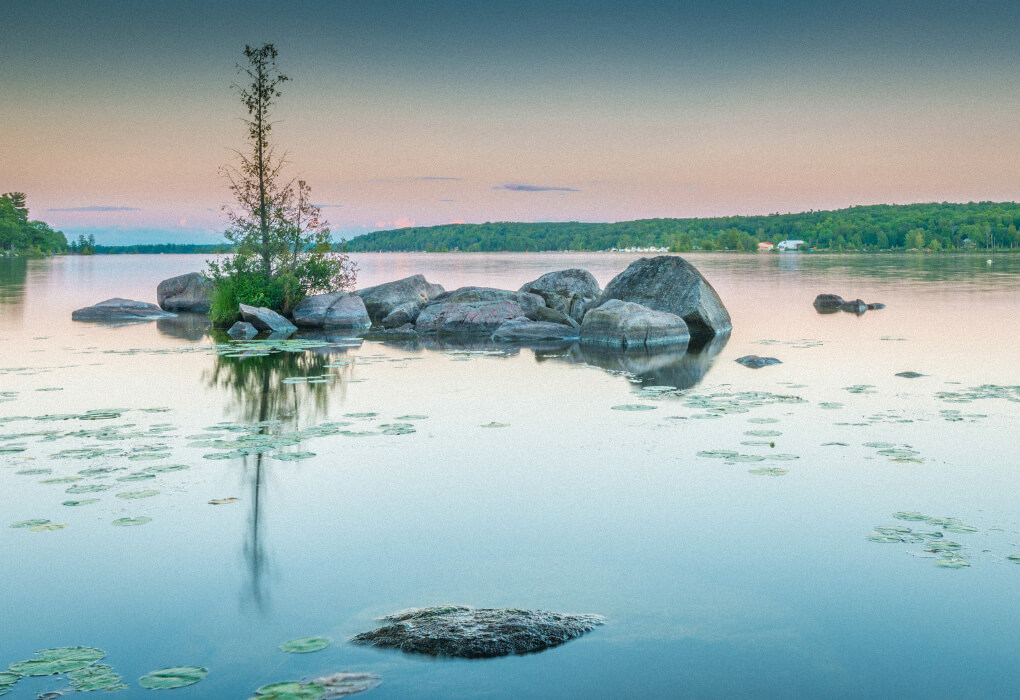 Many anglers like Buckhorn Lake because of the scenery. This lake is nestled in the Appalachian foothills, and much of the shoreline is undeveloped.
Therefore, it is a great place to fish if you want to enjoy the view while you're doing so.
However, the undeveloped shoreline also means you're cut off from bait stores and similar amenities.
The lake is relatively small at only 1,230 acres. However, it isn't often crowded because of its smaller size.
This lake does have many amenities. For instance, it has a bait shop, restaurants, and lodging options. It makes a great option for those who want a relaxing experience.
9. Dewey Lake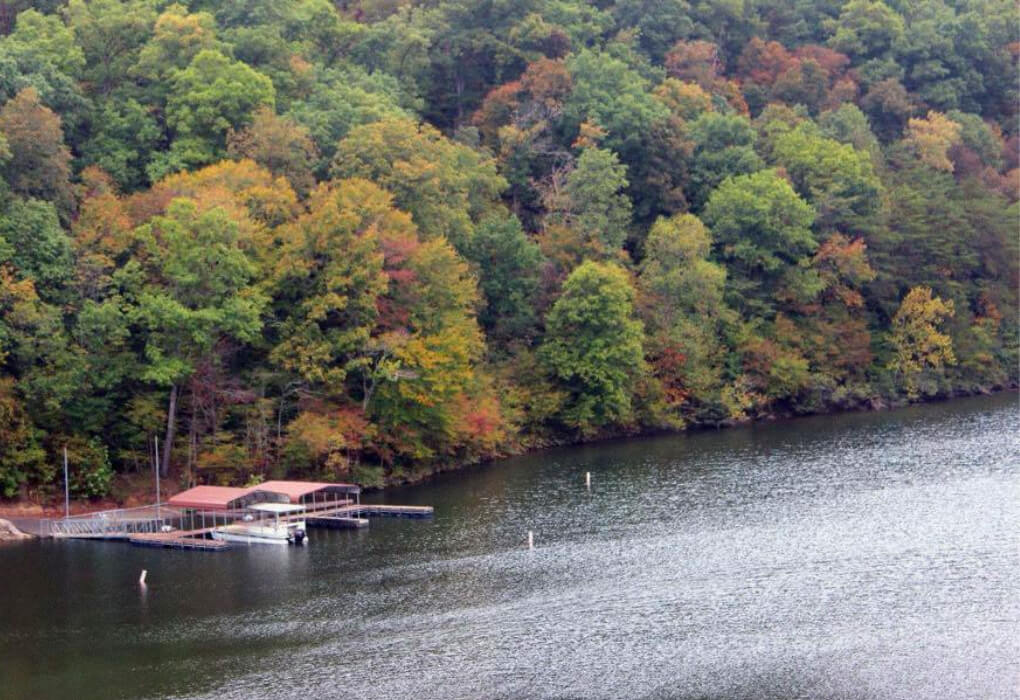 (Photo Credit: Greta Frasure)
This lake contains around 1,100 acres, making it smaller than most on this list. It has around 50 miles of shoreline. Much of the area around the lake is undeveloped, so it is very scenic.
It's a great option for those wanting a quieter fishing experience.
This isn't a premier bass lake. However, you will find both largemouth and smallmouth bass. White bass and hybrid striped bass also show up in slightly smaller amounts.
Most anglers target muskies on this lake, which tend to get quite large.
There are several boat launches in the area, as well as plenty of amenities.
10. Herrington Lake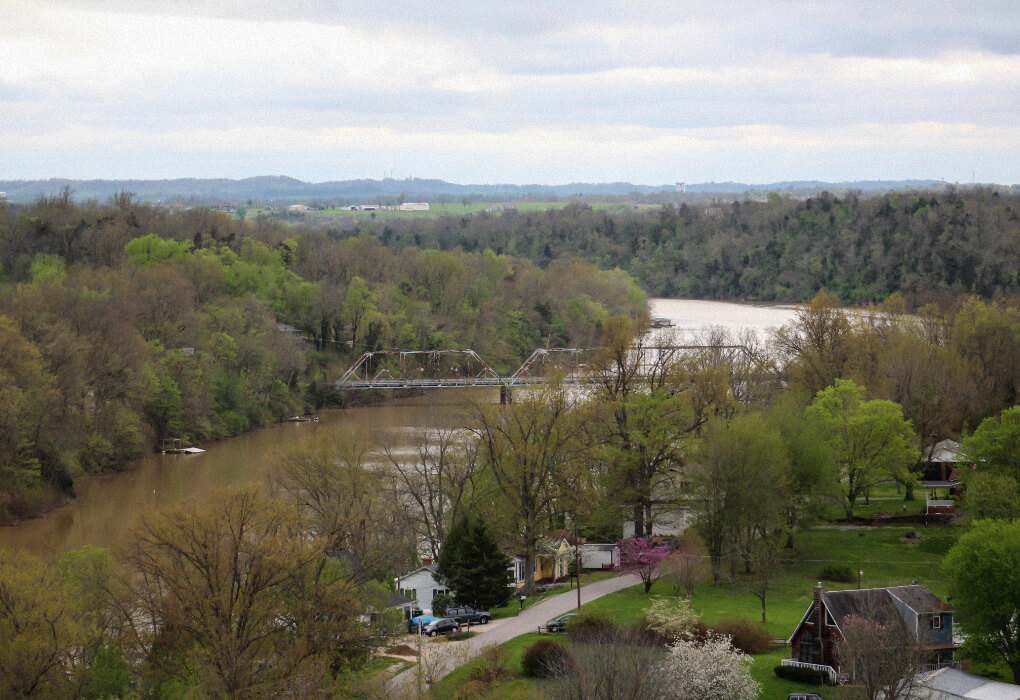 This lake is home to all three of the major bass species, including largemouth bass, smallmouth bass, and spotted bass. You'll also find hybrid striped bass, though at a lesser amount.
Herrington Lake is about 2,300 acres with 325 acres along the shoreline. It's a pretty scenic place to fish. Furthermore, there are plenty of boat ramps, rental options, and a marina offering the usual services.
Many locals also love the nature preserve nearby. There is even a kayak rental nearby.
Many anglers also like trout fishing in Herrington lake. However, crappie fishing is also popular.
FAQ
Does Kentucky have good bass fishing?
Yes, Kentucky has good bass fishing opportunities. Dale Hollow Reservoir actually holds the largest smallmouth bass world record. 
What is the nicest lake in Kentucky?
The nicest lake in Kentucky is Kentucky Lake. It is also one of the biggest and most popular. Bass fishing is popular around the lake, but this may be largely because the lake is just so popular. 
What is the cleanest lake in Kentucky?
The cleanest lake in Kentucky is Laurel River Lake. It is also one of the deepest lakes. It's clear water is one of the reasons it is so popular.
This clean water also makes it a great place to catch bluegill and walleye.
Final Thoughts
Kentucky is home to lots of great bass fishing lakes. The state actually holds the record for the largest smallmouth bass, which was caught in Dale Hollow Reservoir in 1955.
Therefore, you won't be wanting for bass fishing spots in your area.
There are lots of different options for bass fishing in Kentucky. Most major species can be found in Kentucky – many in the same lake.
Therefore, you can find just about every species of bass you're interested in. For other states, you can also look at our fishing guide for Georgia and Tennessee.