We independently research, test, and recommend the best products; you can learn more about our review process here.
The best trout rod matches superior sensitivity with the highest-quality materials in the game. When shopping for a trout fishing pole, you need to deploy a new way of thinking. It's not all durability and strength now; instead, it's about feel, touch, and technique.
I love this style of fishing. It's what made me fall in love with the sport and it's what keeps me coming back year after year.
In this article, you'll find my top five picks for the best trout rods. You'll also find some of my methodology behind these choices, why I picked them, and factors you need to consider before purchasing a trout fishing rod.
Comparison Table – Best Trout Fishing Rods
Image
Product
Rating
Price

Best Overall

Material: Carbon Fiber
Length: 6.0'
Action: Fast
Power: Light

Amazon

Best Budget

Material: Graphite
Length: 5'6"
Action: Moderate
Power: Ultralight



Amazon

Best Ultralight Spinning Rod For Trout

Material: Graphite
Length: 5'6"
Action: Moderate
Power: Ultralight

Amazon

Editors Pick

Material: Hybrid
Length: 7.0'
Action: Fast
Power: Light



Amazon

Best Trout Rod For Beginners

Material: Fiberglass/Graphite
Length: 6'6"
Action: Ultralight
Power: Varies



Amazon

In-Depth Reviews of Our Favorite Trout Fishing Rods
St. Croix Triumph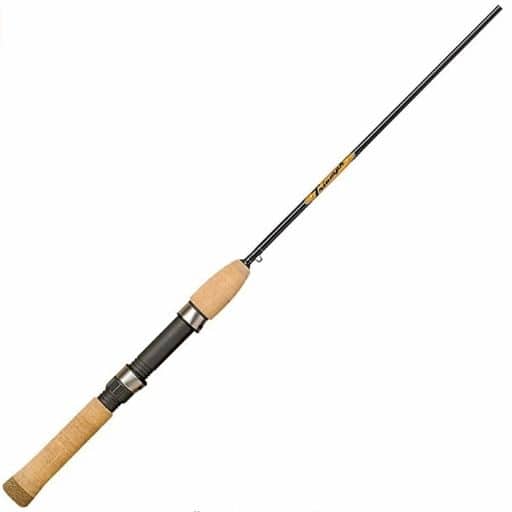 Material: Carbon Fiber
Length: 6.0'
Action: Fast
Power: Light
Pros
Sensitive graphite material
Light/Fast action perfect for trout
St. Croix reputation
One-piece
Cons
Not for heavier applications


Why We Chose It

St. Croix is known for producing high-quality light reels for small freshwater applications like trout. When you're choosing spinning rods for trout fishing, one of the most important features you look for is superior sensitivity and you'll get that with the St. Croix Triumph spinning rod.
My favorite feature is the construction of the rod itself. It's a one-piece SCIII carbon construction which means that you won't have a joint in the middle of the blank soaking up some of your sensitivity. While one-piece rods might be a bit more difficult to transport, that one-piece construction will help dramatically in ensuring you feel all the slight nibbles you'll get from trout and panfish. While trout may not put up the biggest fight in the water, you still want a secure grip, handle, and butt to keep a firm grasp on the rod as you get the fish to the boat or shore.
This trout pole uses a contoured cork handle to help you maintain a firm grasp on the rod at all times. Lastly, this is a light powered fast action rod which means that the end of the rod blank is a little stiff which is exactly what you want for a trout spinning rod. It'll help you feel every bite and the stiffness will help you get a solid hookset without ripping the hook out of the fish's mouth.
Areas of Improvement

While I see nothing necessarily "wrong" with this rod, it gets a bad reputation when people misuse it. All anglers should understand that you're purchasing this as a trout fishing pole and you should use it that way. Don't intend on bulking it up with a heavy spinning reel and braided line, it's not meant for that.
When people complain that the reel snapped or it lacks durability, I immediately ask them what they were doing when it snapped. Most of the time they were trying to pull a snagged lure out of a tree or they were putting more weight on the line than it's intended for.

Every rod has a purpose and this is a light rod intended for finesse fishing in rivers and streams for trout. You can use it for panfish as well but don't expect to have an easy time bringing in anything heavier than a pound or two.


Fenwick Eagle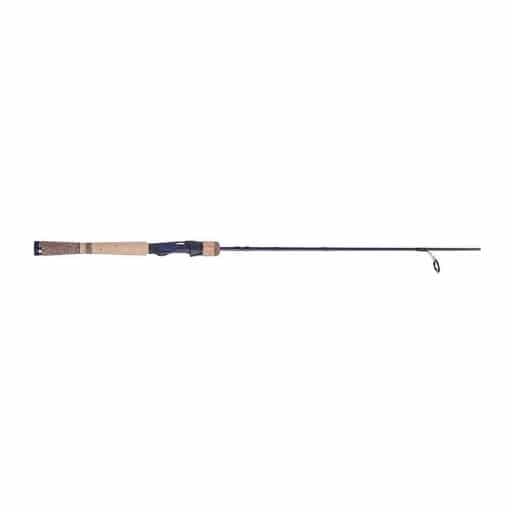 Material: Graphite
Length: 5'6"
Action: Moderate
Power: Ultralight
Pros
Superior sensitivity
Graphite blank
Budget-friendly
Ultralight
Cons

Why We Chose It

When you need a rod sensitive enough to feel bubbles in the water, you go for a Fenwick. This is a lightweight 5.6 foot rod with ultralight power and moderate action. You get the stiff tip which will help you set the hook quickly and efficiently plus the graphite material which is ideal for these types of rods. The best trout fishing rod is made with graphite, hands down.
It's the most sensitive material because it's able to better translate vibrations from the water to your hands. As a result you can feel what is happening in the water beneath you as it's happening. Of course, every angler has their opinions but I find this one hard to argue. If you compare graphite to fiberglass or even carbon fiber, there's no comparison.
The rod has a moderate action which means it will bend somewhat far down the blank making it a bit more of a challenge to control a larger fish but I only recommend this rod for rivers and streams.
Areas of Improvement

The only thing they could do to improve the quality of this rod is find a way to make it more durable at the tip. Even when using an ultralight rod and not abusing it in any way, things go wrong. No matter what, you're bound to get hung up on a rock or cast into a low hanging tree, it's going to happen. You need to be extremely careful with this rod because it is fragile. But, as most trout anglers know, that's the name of the game. It's a risk you take in exchange for superior sensitivity. Expect to clean up with this baby.

Okuma Celilo 562UL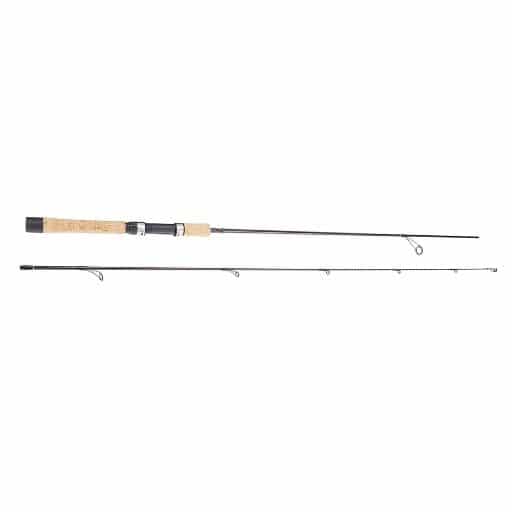 BEST ULTRALIGHT SPINNING ROD FOR TROUT

Specs
Material: Graphite
Length: 5'6"
Action: Moderate
Power: Ultralight
Pros
Graphite material
Incredible sensitivity
Thru-blank for added durability
Budget-friendly
Cons

Why We Chose It

The Okuma Celilo is an ultralight rod with moderate action made of graphite. They use high-quality graphite which reduces the overall weight of the rod to a measly 3.4 ounces. It barely feels like you're holding anything and if you pair it with the proper light-duty reel, you'll have an easy time presenting to trout all day. The rod features five aluminum oxide guides plus a tip guide to help guide the line smoothly as you cast and retrieve.
This an important note as well because it will offer you more control over your cast and allow you to pinpoint where you want to drop your bait. The graphite material also provides a lot of balance which improves your overall presentation and entices the trout better than some other options. That's the reason why people turn to materials like graphite and carbon fiber because the sensitivity not only helps you on the hookset and retrieval but it makes a difference with your presentation as well.
Another feature that stands out to me is the thru-blank design which is something you don't see on a rod of this price. (keep in mind you can walk away with this rod for less than $50 in most cases) The thru-blank feature means that the blank of the rod runs all the way from tip to butt. Some cheap rods will end the blank at the handle which requires the manufacturer to bond the two together and reduce the durability of the rod as a whole.
Areas of Improvement

The only improvement I can see here is if they made the rod a one-piece. I understand that manufacturers want to make it simple for anglers to transport the rods but it would be nice for them to offer more options for one-piece rods. To get that you need to size down under five feet which is something I wouldn't recommend doing unless it's for a child or smaller individual.
G.Loomis Classic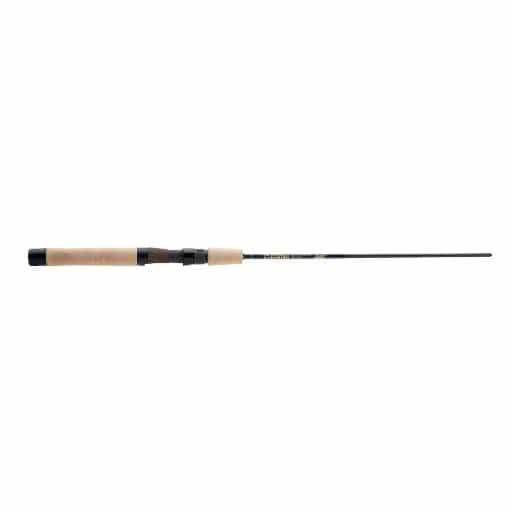 EDITORS PICK
Specs
Material: Hybrid
Length: 7.0'
Action: Fast
Power: Light
Pros
Unmatched quality and craftsmanship
G.Loomis American made
Perfect design for trout
Cons

Why We Chose It

For my personal pick I chose the G.Loomis Classic Trout and Panfish rod. This rod is cool because it's actually a hybrid which means it contains a unique blend of three different materials in the blank. It uses a fiberglass backing with a graphite and carbon fiber coating. What this does is improves the sensitivity of the rod without sacrificing anything in terms of durability.
This rod is a trout fishing competition rod so you can use it to battle larger fish while still maintaining the sensitivity necessary to hook a skittish trout. The G.Loomis also contains a unique design called "multi-taper." This means that the taper of the rod from butt to tip is more gradual rather than sharp which creates less breaking points in the blank.
They're then able to take extra carbon and graphite material and use it at those breaking points without increasing the overall weight of the rod. This is the Rolls Royce of trout rods and it's also priced based on that. Expect to pull out your wallet for this one but trust me, it's worth it. The rods are American made and individually handcrafted.
Areas of Improvement

The only improvement here is the price. This rod is perfect in every way, shape, and form but the problem is; it's out of many peoples budgets. I've only ever fished this rod when it was sponsored and I was testing it out but many people refer to it as a "magic wand."
Shakespeare Ugly Stik Elite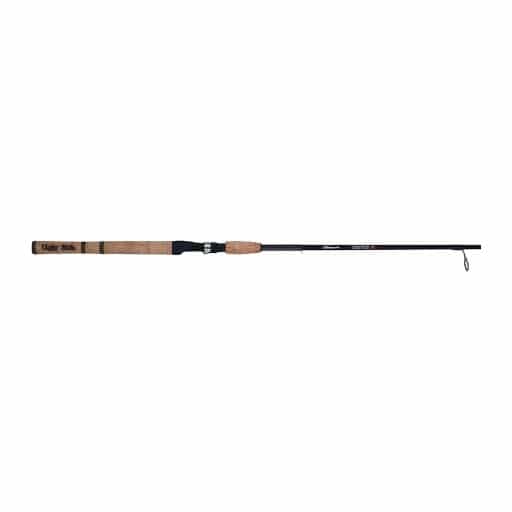 BEST TROUT ROD FOR BEGINNERS

Specs
Material: Fiberglass/Graphite
Length: 6'6"
Action: Ultralight
Power: Varies
Pros
Hybrid construction
Glass tip
Cheap
Cons

Why We Chose It

If you're not looking to spend a ton of money and you want something that is more versatile and durable for beginner fishing, the Ugly Stik is the way to go. It's one of the best spinning rods for trout fishing because it's ultralight, has great sensitivity, and is surprisingly durable for something so cheap.
For years anglers have been calling out to Shakespeare to do something about the quality of their rods. I always considered the Ugly Stik a "throw away" rod meaning I'd get it and keep it as an emergency backup or have it laying around for when I took a friend out who didn't have a rod. That's not the case anymore. The Elite actually uses a graphite and fiberglass blend in their rods to help improve the overall sensitivity while maintaining enough strength to handle fish like bass.
My favorite feature which is well-known to Ugly Stik users is the glass tip which is perfect for trout fishing. Most of the sensitivity from the best trout rod comes at the tip because this is where the first transfer of energy comes. In that split second when a fish nibbles on the lure, the tip needs to translate that energy into a vibration that you feel all the way back at the handle.
The rod also comes with one-piece stainless steel guides which means they're essentially built into the blank rather than welded on. This is usually a good thing but there's still some faults which I'll touch on next.
Areas of Improvement

The rod lacks durability, plain and simple. It's not a strong rod and the point of recommending this for beginners is that it will offer a little more strength to compensate for a lack of experience. While it can take a beating better than the Fenwick it leaves a lot to be desired. But, that's why I recommend this choice for beginners and occasional anglers who are fishing for trout and panfish.
Choosing the Best Trout Rod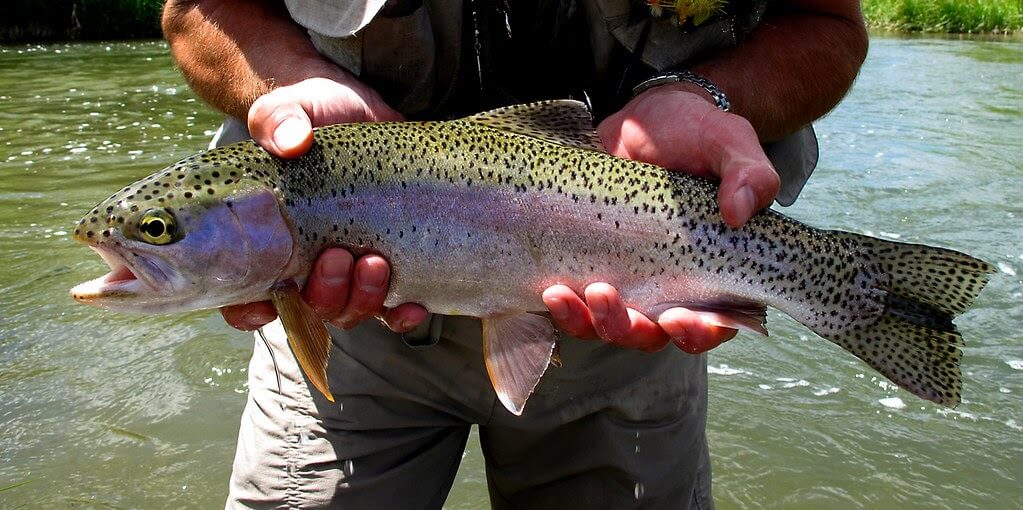 Let me explain some of the methodology and thought-process behind these decisions. We have five great rods above and they're all incredible for trout fishing but they each have their own unique pros and cons. As you go through those reviews, refer back here to determine which one you should choose for your individual fishing style and technique.
Sensitivity
The first and most important aspect of a trout pole is sensitivity. You'll hear me say it over and over that you need a rod with superior sensitivity if you want to catch trout. They're skittish, they don't stick around long, and they don't strike hard like bass.
When a bass decides that they want to bite something, they stalk it and swoop in like a bat outta hell. Because of this, it's much easier to feel a bass biting the lure than it is trout and panfish.
These guys will come along, look at the lure, give it a nibble, back up, give it another nibble, and repeat this.
Since they don't strike the lure, you'll have a harder time setting the hook. It requires a lightning fast reaction and you can't second guess yourself. If you jerk too soon you'll pull the hook right out of their mouth and if you jerk too late you'll reel the hook in and find out that the trout took your bait.
Certain things will improve the sensitivity of the rod. First, it's material which I'll cover in more detail in the next section. Second, it's unique features from each manufacturer. Some use glass tips, one-piece blanks, graphite joints, and so on.
Material
This point goes hand-in-hand with the previous one. To reach the maximum sensitivity in a rod you need a material that flexes in a way that translates vibration quickly. Graphite is the best material for this and fiberglass is the worst. This is the reason why you only find graphite in these types of ultralight rods.
Graphite is fragile which makes it the best material for transferring vibrations up and down the rod. What is the result of this?
The result is that every single nibble you feel from a small trout or panfish is the result of superior material and craftsmanship. This material also comes at a premium cost and most rod manufacturers can't economically produce rods entirely of graphite. Some do and that's what makes their rods so expensive and their brands so premium. Fenwick, G.Loomis, and Lamiglas are some examples.
Keep in mind the importance of having the right ultralight spinning reel to pair with your rod. For beginners, I suggest getting a rod and reel combo because you won't have to worry about pairing the right reel to fit the reel seat.
Action/Power
The action and power of your rod is something you need to pay attention to as well. The action refers to the amount of flexibility in the blank. A light action rod will not bend very much at all which is ideal for small fish because it will transfer those vibrations better. If the rod bends far down the blank, it will require a lot more weight on the hook for you to feel anything.
Power refers to the amount of pressure necessary to bend the rod. Much of the time these two factors are interchangeable and very few actually know the difference between them. Typically when you purchase an ultralight rod it will come with fast or moderate action.
You'll find that all the spinning rods recommended above are at least moderate action light rods. This means that they won't bend much too much at the tip and they won't require too much weight to flex. This is perfect for light fishing applications like trout and panfish because you're using light fishing lines and light lures.
Weight
If you choose any of the rods above from Amazon I suggest going for something weighing in the 2.5-4.0 ounce range. Anything heavier than that and you're overcompensating. Fishing for trout in rivers and small streams requires a lot of hands-on presenting. You'll be reeling and casting a lot, moving the lure around, and clutching tight onto the cork grip to make sure you feel everything.
When you're standing there with a 7.5 foot, 10 ounce rod, you're going to tire yourself out and put unnecessary strain on your body. As you do this across a few hours you'll find the fatigue weighing down on your ability to focus. When this happens you're decreasing your chances of catching the fish you want because you've tired yourself out. The lighter the better in most cases with the best trout rod.
Ideal Components of the Best Spinning Rod for Trout Fishing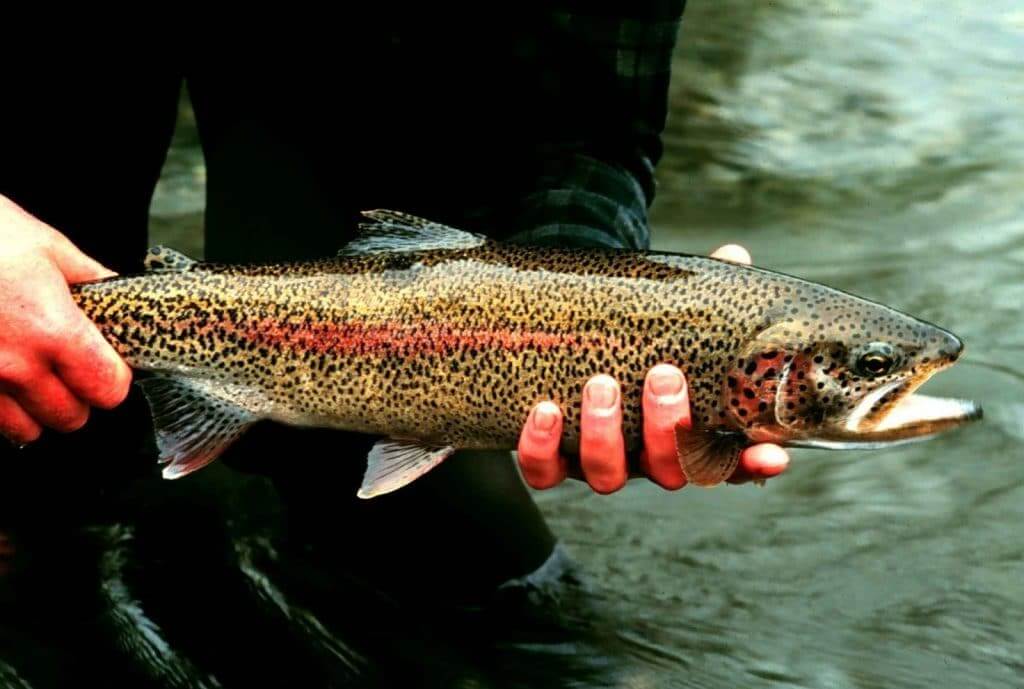 Now let's talk about the ideal components of my best trout rod. If I was to build my own rod perfectly dedicated for lightweight trout fishing, here's what I would like to have.
Graphite Blank – You want a graphite rod or at least a graphite composite hybrid because it offers unmatched sensitivity and rods made with this material are usually superior in terms of their overall craftsmanship.
5-6 Feet in Length – This rod length is ideal for trout because you need something long enough to give you the casting distance you want but you also need to have control over your fatigue. As you increase in length you'll likely increase in weight as well.
Thru-Blank – The thru-blank design means that the blank runs all the way down to the butt of the rod. This will improve the durability and decrease the chances of something bad happening.
One-Piece Design – I like one-piece rods for trout fishing because that little union where you connect the two pieces causes you to lose a little sensitivity. This is a difference that only the most experienced anglers will notice so don't make or break a deal over it but it's something to consider.
Final Thoughts
Whether you're fly fishing or baiting, choosing the best trout rod is all about understanding and respecting the limitations of your gear. Trout fishing rods are fragile on purpose, they're sensitive, and they require special care. Make sure to pair them up with the best trout lures and flies for the ultimate presentation and performance.
But, if you know how to handle them and how to use them properly – you'll find yourself in the best position to catch more trout than the dude who has been hugging your spot for hours. Be smart, be safe, and enjoy the hunt. Good luck out there!