---
We independently research, test, and recommend the best products; you can learn more about our review process here.
Ask anyone and they'll probably tell you that trout fishing is in a different category when it comes to what rod you use.
I remember visiting Missouri and fishing Table Rock Lake, Lake Taneycomo along with a ton of other creeks where I caught Rainbows and Browns as a kid.
Now I am an adult (although my wife would beg to differ) and while it took several years to learn how to hone in on these fish, I now have the experience to point anyone who's in the market for a rod to the best trout rod to fit their needs.
I've taken that experience, combined with my years of knowledge dealing as an industry insider, to come up with what are the best trout rods on the market today!
But I've gone a step further in this guide.
I've taken those rods and personally tested them on Blue Springs Creek which is a Blue Ribbon Area in Missouri.
The creek isn't very deep and is narrow enough to jump across in some places, however it has a good population of large rainbow trout because of the 18-inch minimum size limit that's enforced.
During my weekend fishing to Blue Springs Creek I looked at important qualities like strength, feedback, rod material, grip, and sensitivity, to come up with this guide to help you choose the best trout rod.
Top 3 Trout Rods on the Market
If you're in a hurry you can take a look at my top three choices for the best trout rods.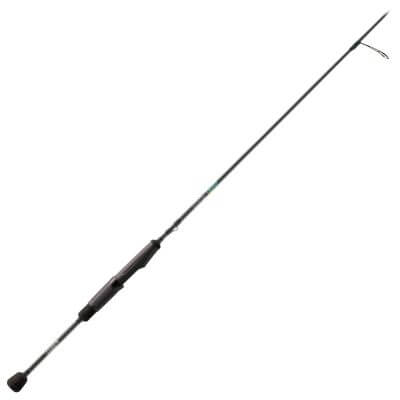 St. Croix Trout Series Spinning Rod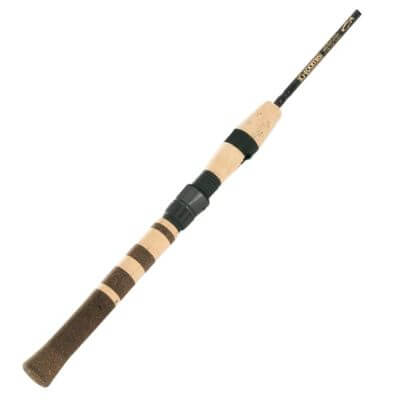 G. Loomis Trout Series Rod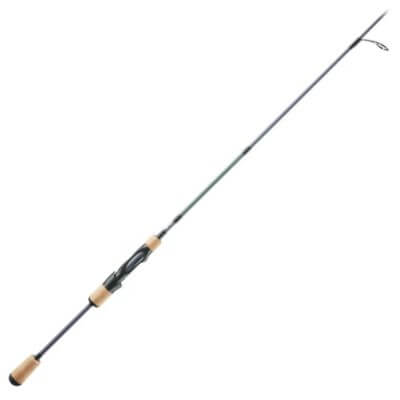 Bass Pro Shops Micro Lite Graphite Rod
---
Methodology 
It's taken much trial and error over my fishing career to be able to know what to look for in a trout rod.
I've taken that knowledge and experience, and combined it with a weekend's worth of rod testing in the northern section of Blue Springs Creek towards Camp Mihaska.
During the two days wading the creek I threw various types of trout lures and painstakingly looked at several rod qualities that make a great trout rod.
During the test I was able to fish different types of river features like eddy's, white water, small shut-ins, and deep holes in order to test 17 of the top selling trout rods.
Here are some parameters that we used to come up with our guide to choosing the best trout rods:
Sensitivity: Trout aren't exactly known for their punishing strikes when inhaling your lure. It's often that they gently take the lure on their mouth which can make for a very subtle bite.

Because if this, sensitivity is really important in selecting a trout rod
Action: Rod action is crucial when it comes to trout fishing. Does it have enough load to sling small spinners? Is it fast enough to set the hook quickly on a subtle trout bite?

In my years of trout fishing, I've learned that fishing with a rod with the wrong action can severely hurt your chances of catching trout.
Weight: Rod weight is important when it comes to trout fishing because it often enhances the rods sensitivity. But let's face it, a light rod comes in handy when hiking the creeks and rivers which is often the case when trout fishing. 
Casting Accuracy: Great casting control is a plus in trout fishing. A properly placed lure next to an unsuspecting trout can mean an immediate strike!

It's important to choose a rod that excels in throwing small, lightweight trout lures into the exact spot needed.  
Hookup Percentage: Trout are known for the headshaking battle that ensues after the hook-set. A rod that's too slow will often allow the lure to be thrown, while a rod that's too fast can rip the hook out of the trout's mouth.

The hookup percentage will tell the story!
Best Trout Rod Overall
St. Croix Trout Series Spinning Rod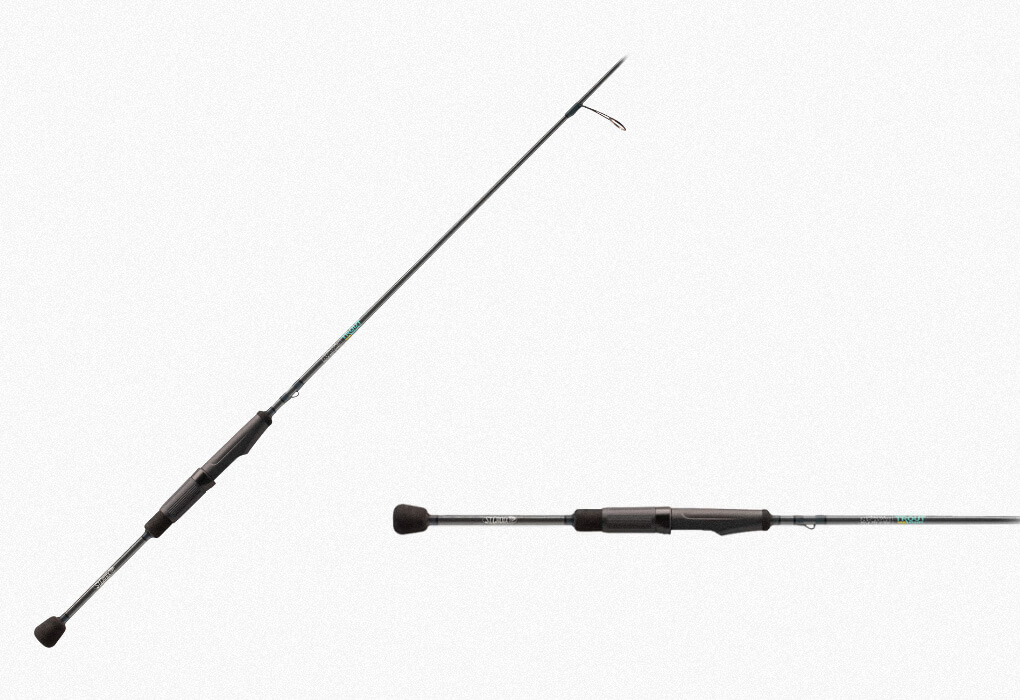 Specs
Rod Length: 6.4, 6.6, 6.9, 7
Rod Material: Carbon Fiber
Type: Casting 
Power/Action: Med/Extra Fast
Why We Chose It
The St. Croix Trout Series Spinning Rod comes in four sizes: 6.4, 6.6, 6.9, and 7.
The rod is a single-piece rod that is made of SCll Carbon Fiber.
Once again St. Croix has figured out a way to make a carbon fiber rod feel like a graphite rod.
The lightweight feel and sensitivity when using this rod was un-matched in my testing. The rod is so lightweight that it felt like I was using an ultralight but it was a 7-foot full fledged trout rod.
The EVA split-grip handle was very comfortable in my hand and I was able to make really long castes upstream in the creek.
Another thing about this rod that I noticed right off the bat was how balanced it was. The rod wasn't tip heavy which is a good thing when throwing spinners for trout.
I was using the 7-foot medium/extra fast rod and was able to land four trout off of four bites so the hook-up percentage was perfect.
My largest trout was only a little over a pound so I wasn't able to test the overall strength on this rod but I have no doubt that the extra two layers of flex coat added to the SCll Carbon Fiber blank is more than enough to haul in trout up to three pounds.
This rod is very similar to the St. Croix's Victory Casting Rod but it's specifically customized for trout fishing. Think of it as a lighter, more sensitive Victory Rod. 
One thing to remember with this rod: It is specifically dialed down to be a trout fishing rod so it's not going to be able to serve as a crossover rod for bass fishing or inshore saltwater fishing.
Another thing about this rod is that while it is made of high quality materials it's not durable when coming into contact with hard surfaces. A lot of the ratings for this rod I believe come from non-fishing related contact.
But if you're targeting cutthroats, rainbows, or browns, this is the perfect rod to add to your arsenal. It led the pack as far as sensitivity, weight, and parabolicity. 
It really is an exciting rod that left a lasting impression during my test. 
Best Premium Trout Rod
G. Loomis Trout Series Rod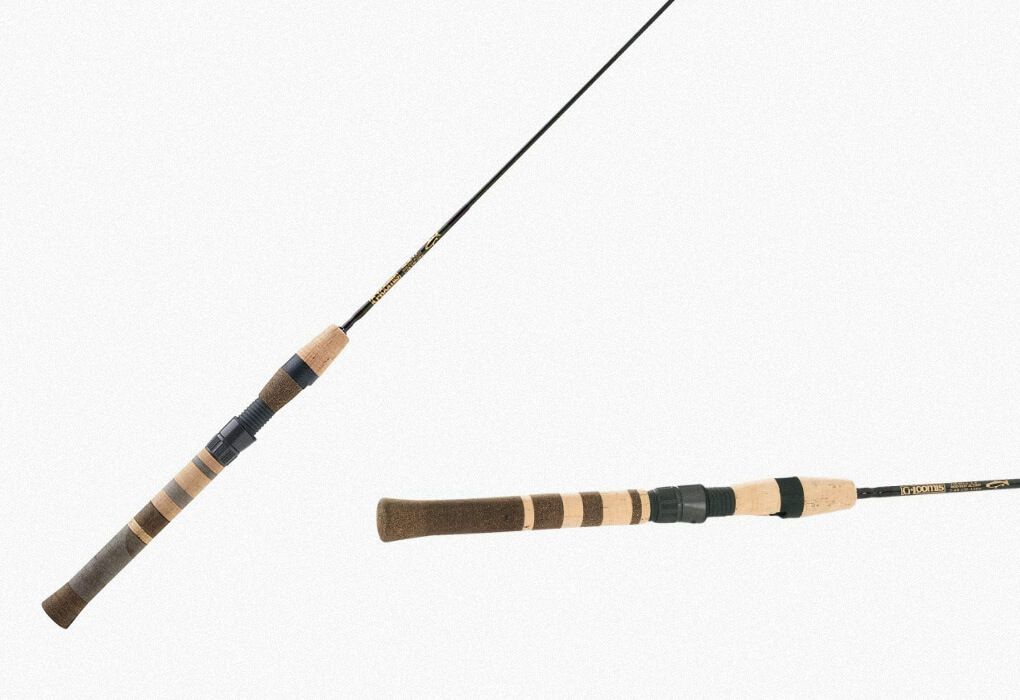 Specs
Rod Length: 5.9
Rod Material: Graphite
Type: Casting 
Power/Action: Ultralight/Moderate Fast
Why We Chose It
The  G. Loomis Trout Series Rod is a one-piece rod that measures 5.9.
It's made of what G. Loomis calls "GLX Proprietary Blank Materials" which translates to "Graphite Luxury Materials."
I can vouch for it being luxury because this rod felt like a million bucks when I was using it at Blue Springs Creek.
The GLX Rod is made from a combination of graphite and resin, making it very strong and more than capable of throwing heavier spinners and reeling in larger trout.
Everything felt good on this rod including the guides as I noticed my line flowing through seamlessly when I casted.
The line whip was virtually silent because of the Fuji Alconite guides.
The rod was able to make really long casts and my hook-up percentage was 100%, which is not often the case when I trout fish!
The highlight of my trip came when I made a long cast up-river and let a Kalin's Marabou Jig drop from a section of water that was about a foot deep, to a 3-foot hole where I felt a trout latch on. 
I set the hook and reeled in a 18-inch rainbow which the rod handled stellar. I was able to back out the creek and drag him up to dry land without using a net.
One thing to note about the material makeup of the G. Loomis Rod; its extremely high grade graphite blank is a bit brittle when it comes to any contact outside the scope of casting and reeling in fish. 
This means you run the risk of it breaking if you drop it bang it into a tree or some other hard surface.
Overall this rod is what it claims to be; a high-end trout rod that is specifically tapered to catch trout.
If you've never experienced fishing for trout with this rod you are missing out on something special.
I guarantee it will  bring your trout fishing experience to the next level and put your other trout fishing rods to shame. Get this rod and don't look back!
Best Ultralight Trout
Bass Pro Shops Micro Lite Graphite Rod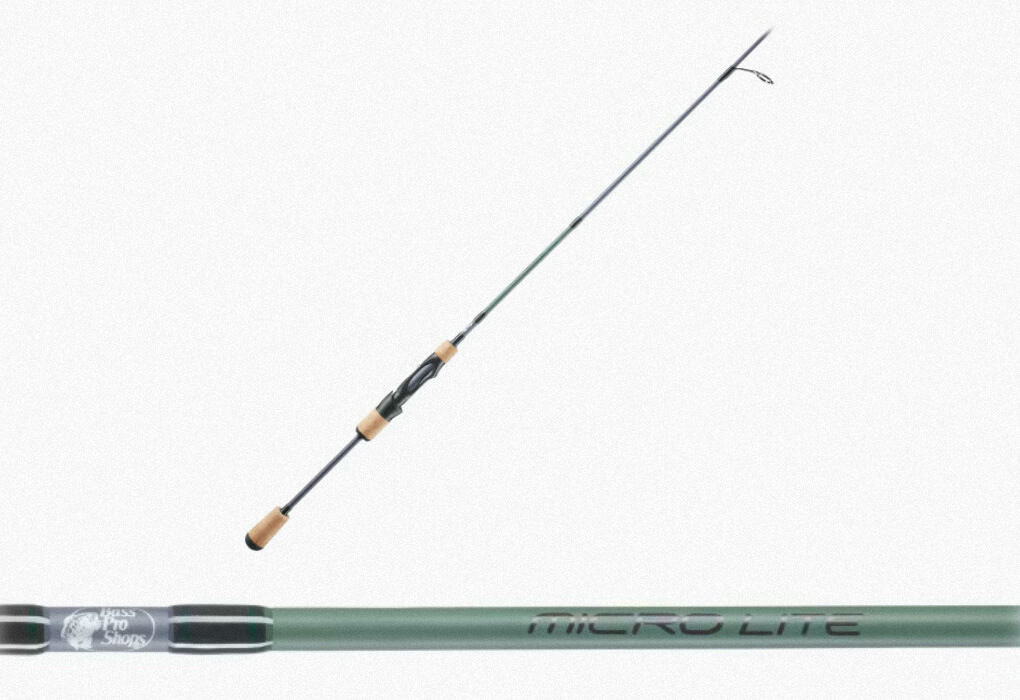 Specs
Rod Length: 4.6, 5.6, 6
Rod Material: Graphite 
Type: Casting 
Power/Action: Ultralight/Fast
Why We Chose It
The Bass Pro Shops Micro Lite Graphite Rod comes in four sizes: 4.6, 5.6, and 6.
The rod is a single-piece rod that is made of IM6 Graphite. As I unpacked the rod that I ordered, I noticed a bit of a crossweave pattern on the rod which turns out to be an added feature.
The pattern is what's called Bass Pro's fiber layering pattern which provides overlapping strength to the blank.
It's always nice to see a company go the extra mile as far as making their rods stronger and more sensitive.
This rod was very similar in weight to the G. Loomis Trout Series Rod when it comes to weight. 
This rod is very, very light and I thoroughly enjoyed using it on the creek.
I paired this rod with a Daiwa Regal LT Spinning Reel and felt like a predator wading through the creek. 
I was throwing a 1/16 oz rooster-tail in tight spots and ended up catching the most fish out of my entire trip; five rainbows and two browns!
Did I mention this rod was sensitive?
It turns out the rod has a graphite reel seat which allows the sensitivity from the rod to transfer through the reel.
There were some bites where I felt the trout hit the rooster-tail through the handle.
The rod made really smooth casts and smooth retrieves due to the titanium oxide rings inside the guides as well.
As far as strength, my biggest trout was a 14-inch rainbow and the rod held up really well during the battle.
I had to fight the fish a little longer than normal due to the rod being an ultralight but I enjoyed that!
The downside is the rod's cork handle seems to be made of only average cork and not premium Portuguese cork but that's minor when it comes to ultralights because they are easy on the hands already with the rod being feather lite
If you're looking for an ultralight rod to target trout, this is the rod for you! It's a great option when fishing tight spaces and overgrown creeks where large rods just won't work.
Best Trout Rod and Reel Combo
Pflueger President/Fenwick Eagle Spinning Combo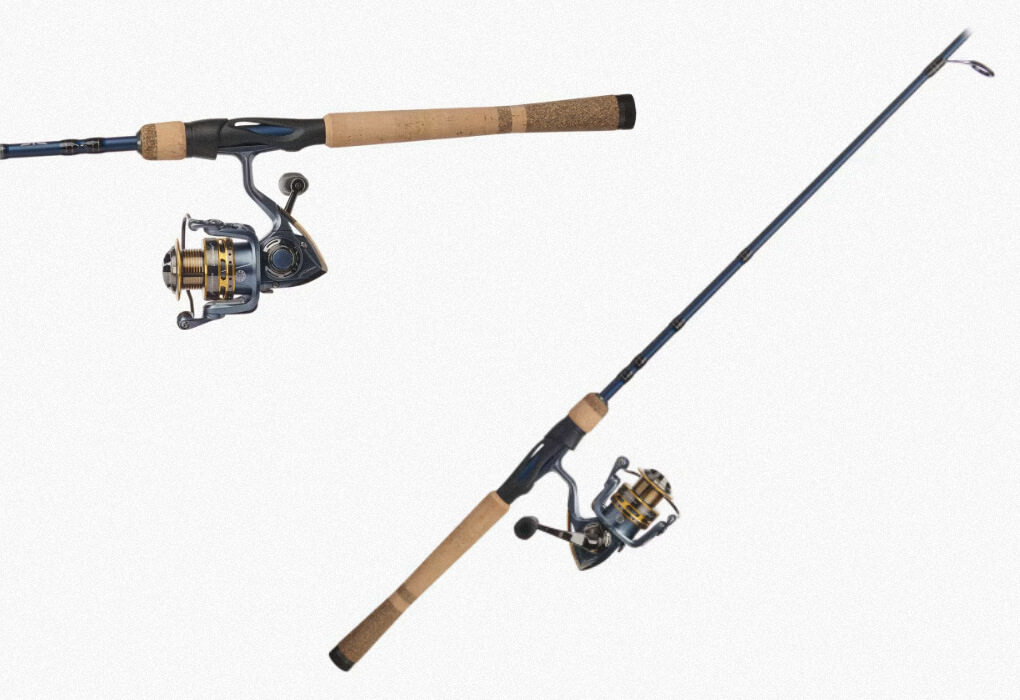 Specs
Rod Length: 4.6, 5.6, 6
Rod Material: Graphite 
Type: Casting 
Power/Action: Ultralight/Fast
Why We Chose It
The Pflueger President/Fenwick Eagle Spinning Combo comes with a Fenwick Eagle Spinning Rod that measures 5.6.
The rod is made of a mixture of graphite and fiberglass. The graphite is 24-ton so it is in that upper echelon of graphite when it comes to strength.
The reel is a Pflueger President spinning reel. The body of the reel is made of graphite with the components and main shaft being made of stainless steel.
If you haven't used a Pflueger reel you're really missing out! I feel it's the reel that carries this combo!
The first thing and most noticeable is the 9 stainless steel ball bearings in the reel! Wow!
When trying out this combo on the creek it made incredibly smooth casts and retrieved line without making a noise. It was unbelievably quiet!
My casts were smooth which seems to be the case with all rods with aluminum oxide inserts.
I used this combo to catch three rainbows on two strikes with the largest being 13 inches.
One of the fish came on a dry fly that I whipped out into a shallow section of the creek so that's an option with this pole although ideally dry flies work better with a fly-rod.
This rod and reel is perfectly paired to target trout and I thoroughly enjoyed fishing with it.
It didn't seem to have any flaws that were glaring however, the rod was slightly butt heavy. Maybe that's due to the full cork handle and the reel being a little heavy.
At the end of the day the Pflueger President/Fenwick Eagle Spinning Combo truly shined as a trout fishing combo.
It was the best combo I've fished with in a while and it's the next trout fishing tool that I'm adding to my warchest ASAP. 
Best Steelhead Trout Rod 
Okuma SST Trout Spinning Rod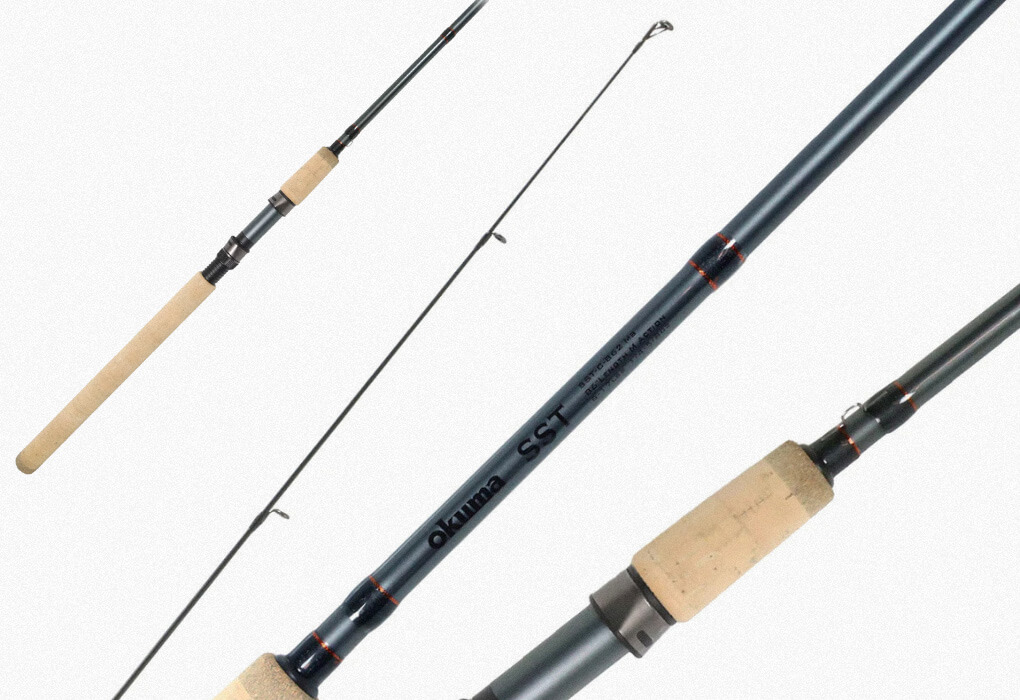 Specs
Rod Length: 7.6
Rod Material: Carbon
Type: Casting 
Power/Action: light/Moderate
Why We Chose It
The Okuma SST Trout Spinning Rod is a 2-piece rod that measures 7.6.
The rod is made of 30-ton carbon fiber so it can handle larger rainbow steelheads.
FYI..I consider steelheads to be over 26 inches.
Out of all the rods I used, this one casted the farthest which is one of the reasons why it was selected as best steelhead rod.
It's a moderate action rod which lets the rod do the work. While the rod made long casts, it lacked accuracy which is expected with moderate action rods.
The rod has guides with zirconium inserts which help with the casting distance and also provides less line-whip due to the smooth finish.
The rod is also great for float fishing which I tried on the creek and was able to set the hook on four out of six fish.
And while these weren't rainbows of the steelhead size, they were decent sized which allowed me to let the rod do what it does best – fight the fish.
The rod was really parabolic and flexible which allowed it to wear out the fish while saving my arms.
If you're looking for a cheaper rod in price but of comparable quality, the Ugly Stik Elite Spinning Rod 7' medium-light/moderate-fast was the closest rival to the Okuma SST Trout Rod. 
Both rods are great rods for steelhead but the Okuma led the pack as far as things that I look for that make the perfect steelhead rod.
If you are in the market for a heavier, longer rod to use for grownup rainbows AKA steelheads, this is the rod to add to your arsenal! Get it and reap the rewards!
Choosing the Best Trout Rod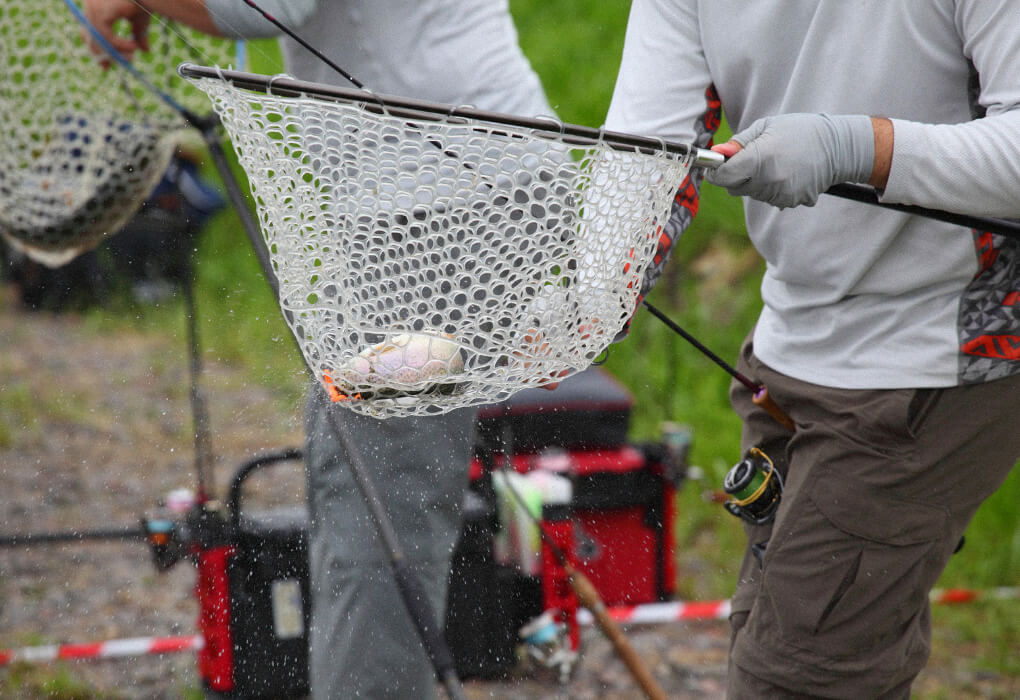 Here is a quick guide to help point you in the right direction when choosing the right trout rod. Remember, it's important to know what kind of tributaries you're going to be fishing when choosing your rod. 
Also the size of the trout will play a big part in what rod you choose. Let's take a look at some of the features that you should pay attention to when deciding on what trout rod to guy.
Material 
The makeup of the rod blank is important when selecting a baitcasting rod.
Graphite 
In the trout fishing world, graphite rods are worth their weight in gold!
The reason for this is that trout are subtle eaters. (Think the opposite of a bass or redfish) When a trout bites your lure it can be awfully hard to feel, so having the most sensitive rod possible is your #1 concern.
Some trout rods can be composite which is a mixture of graphite with fiberglass but I would only recommend these rods when chasing larger trout like steelheads, speckled trout, and lake trout where the added strength is needed.
Rod Action & Power
Action on a trout rod refers to the location on the blank at which the rod bends. For example, a fast action rod will bend about 15% down the blank from the tip.
This makes the rod more sensitive for smaller trout, but more liable to break for larger fish.
The amount of pressure you need to apply to make the rod bend is called "Power." So for example, a heavy power rod will require a lot of pressure from a heavy fish to bend the rod.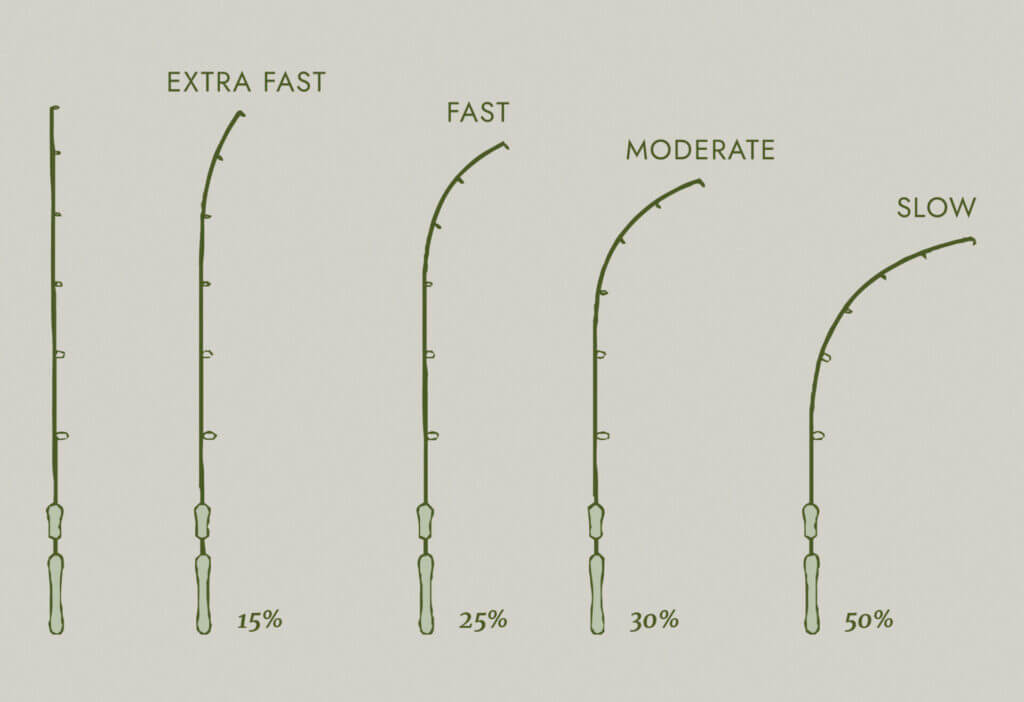 With that knowledge in mind, medium power with an extra fast action rods are ideal for trout in my opinion.
You don't need to get too carried away with the power of your rod but fast action is always a good way to go in order to set the hook fast on these subtle biters.
Length 
The length of your rod is important when determining what kind of water you will be fishing.
If you plan on fishing small creeks or rivers that run through the woods, you'll want a shorter rod that won't hang up in the trees.
Also remember that shorter rods are more accurate when casting.
As a quick and dirty tip to figuring out how long your rod needs to be, ask yourself two questions: How big is the area that I'm fishing? And how big are the fish in the river? The bigger the space the longer your casts will need to be.
The bigger the fish, the longer the rod will need to be in order to get the fish in.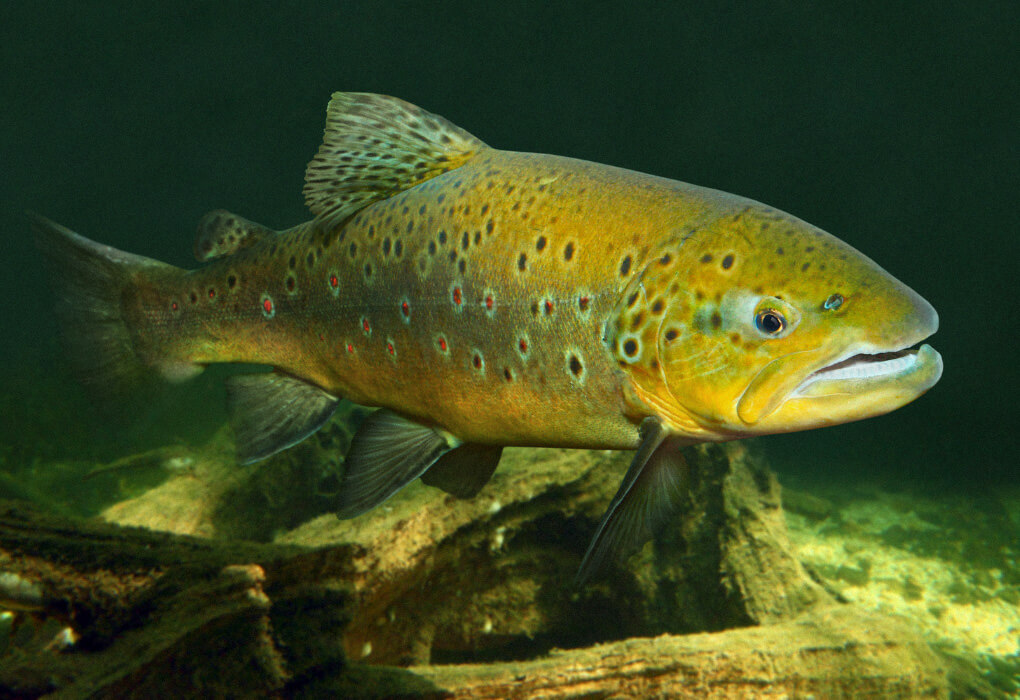 Final Thoughts
Although I brought a ton of knowledge about trout rods into this creek test, I was able to learn even more by trying out each trout rod.
During my test I learned a ton about some really good trout rods and can honestly say that there were some hard choices that I had to make.
So let's review our top pick!
For the best trout rod overall, I choose the St. Croix Trout Series Spinning Rod. It was a real treat to fish with and I was able to put a lot of trout in the net with it! 
While the St. Croix Victory won overall, you really can't go wrong with all the rods mentioned in this Best Trout Rod Guide that I've put together. 
Give them a try and tell us what you think! We'd love to hear from you!