Berkely has certainly come a long way from creating their fist bass lure in 1937 – The Berkley Fly. Through the years the company has risen to the top as one of the top sellers of soft plastic bass lures on the market.
When I think back to the early days when I was a youngster, I recall sneaking into a golf course (when it was raining of course) and fishing the ponds for largemouth bass.
Back then I carried a wide variety of spray-on fish attractants that helped me catch more fish.
The only problem was that the oil-based liquid was messy and only lasted a few casts before I had to spray my lure again.
In 1980 The folks at Berkley figured out a way to create soft plastic fishing lures with the scent permanently infused in the material that makes up the lure – PowerBait.
Fast forward to today – Berkley PowerBait has evolved into an absolute beast of a brand earning millions of dollars for the company and providing anglers with the simple assurance that when a fish strikes the lure, they're going to hold on longer.
Let's take a look at some of the best PowerBait for bass.
---
What is PowerBait?
I can get into all the specifics about binding agents and polyvinyl synthetics, but I'll spare you.
To put it simply, PowerBait is a type of doughy substance made of flour, cornmeal and different flavor additives that mimic shad, crawfish, shrimp, and other popular prey of fish.
Crappie and bluegill fishermen were the first to use PowerBait as Berkley produced small jars of the scented crappie bait called Crappie Nibbles.
The baits are extremely durable even though they smell, taste and feel of a perishable bait. These baits are even beating out top rated traditional bass fish lures.
Why use it?
Let's face it, there's no better bait than live bait. I like to describe PowerBait as the next best thing to live bait because, well, it is!
First, PowerBait has been studied to leave a scent trail underwater and this is important in helping the fish find the bait. This is especially important when fishing muddy water.
Second, after the fish strikes the lure, scientists with Berkley Lures have determined that the fish hold on longer than they do with non-scented plastics.
Think about how many fish you've missed because you set the hook on too late?
Finding The Best PowerBait For Bass
Having been involved in the fishing lure market for over a decade and marketing my own brand of bass lures, Shu-Shu Lures, I have done quite a bit of research throughout the years in order to find the top bass lures and how they perform in the market.
The following list is the result of numerous conversations with tackle shops, data tallied from Amazon purchases, and an informal poll taken that asked 758 anglers what Berkley Lures they've purchased within the past year.
As I go through the top 5 selling Berkley Powerbaits on the market, I'll share my personal opinion of each lure as well.
1. The 7" Berkley Power Worm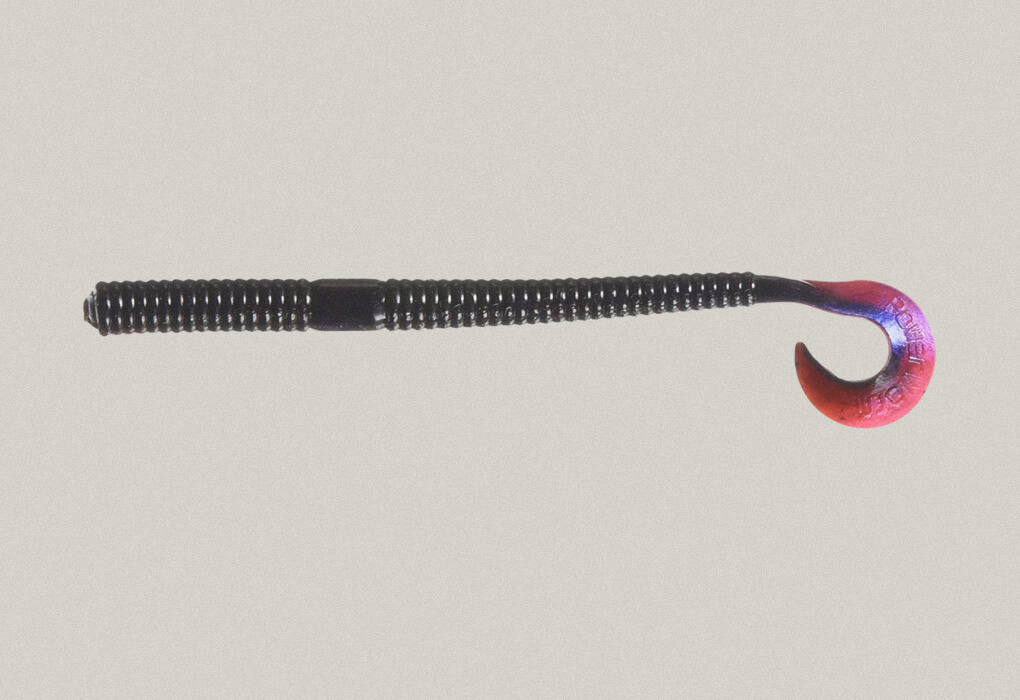 Let's start out with Berkley's top selling PowerBait lure The 7" Power Worm.
I'd venture to say that most bass fisherman have at least 50 different types of plastic worms in their tackle boxes and it's for a good reason.
Plastic worms are simple and can be rigged in various ways to catch bass, like Texas-rigged, on drop-shot, Carolina-rigged, weightless, wacky-rigged and weedless.
So it's no surprise that the number one selling type of PowerBait is the classic worm.
As PowerBait continues to make different colors, the Power Worm should continue to be the top-selling product in the PowerBait arsenal of lures.
Personally, I don't fish with any other type of worm because my style of finesse fishing is with a bullet weight on the bottom like you would fish a craw. My favorite color is Power Worm in Tequila Sunrise.
When I'm finesse fishing on the bottom I'm not able to see the strike, I have to feel it. This means that my reaction to the strike will be slower than, let's say, a bass striking a top-water frog or a darting shad lure.
So there's no surprise that the Power Worm is their top-selling bait.
2. The 5" MaxScent "The General"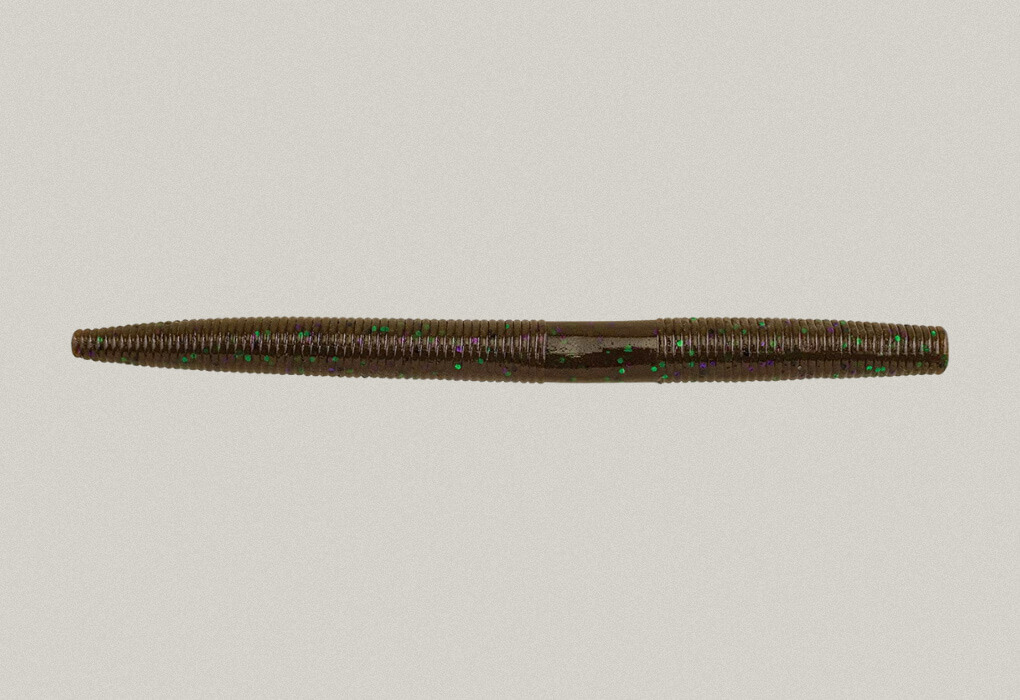 A favorite among bass anglers, the stick bait is versatile just like the worm and that's why it ranks as the second most sold PowerBait in Berkley's line of lures.
The lure can be rigged numerous ways to catch bass, but one way that is gaining popularity is the wacky-rig where the hook is inserted through the center which leaves both ends dangling freely.
The General stick bait is infused with a new technology that can be described as a more potent scent that is released when the fish strikes. Basically it's a stronger smelling version of the original PowerBait.
Stick baits make up a huge section of my freshwater tackle box and I have tried the original "The General" PowerBait and I have tried the newer Berkley PowerBait MaxScent version in Green Pumpkin, and while I haven't noticed a difference I'll opt for the "more is better" approach as far as scent goes.
3. The 5" MaxScent Flatworm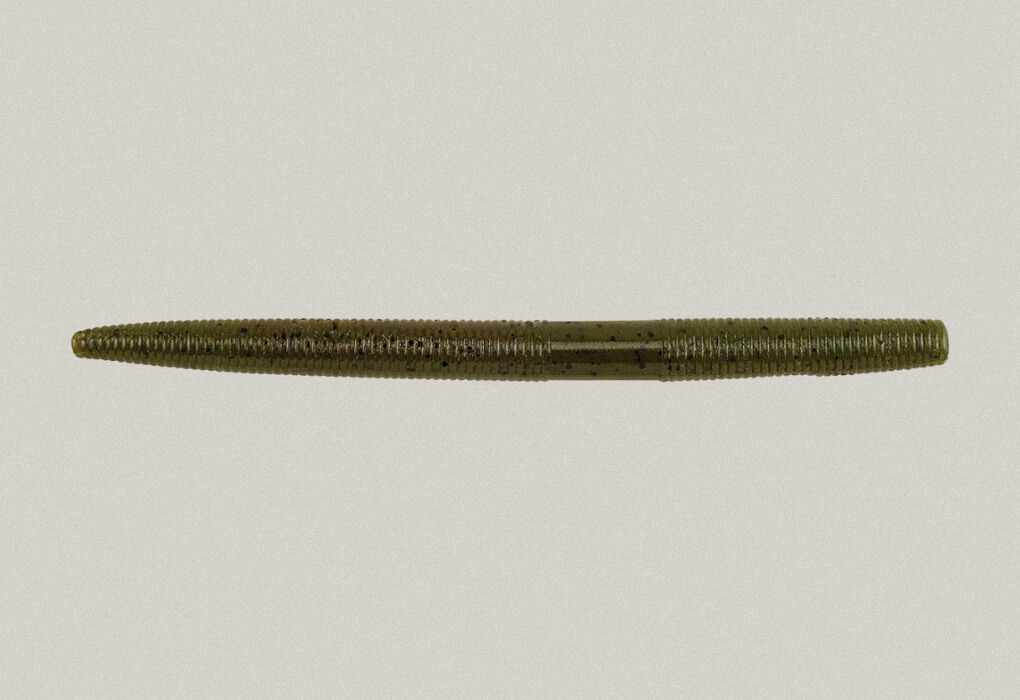 The third top selling product of PowerBait is the Berkley PowerBait MaxScent Flatworm.
Once again Berkely's new, more potent, scented bait is at the top of the list. While most anglers use a flatworm on a drop-shot rig, there are other options for rigging it such as on a jighead or Texas-rigged.
The bait resembles a leach which is common in ponds and stillwater lakes so choose wisely as to what kind of water you are fishing with this bass lure.
Personally, I was a bit surprised to see a flatworm near the top of the list being that I rarely use one for bass fishing. But then again, I hardly ever use a drop-shot rig so I understand my reluctance to purchase any type of flatworm.
I'll have to put this on my list of baits to try in the future and force myself out of my comfort zone when it comes to drop-shotting.
4. The 3" Power Grub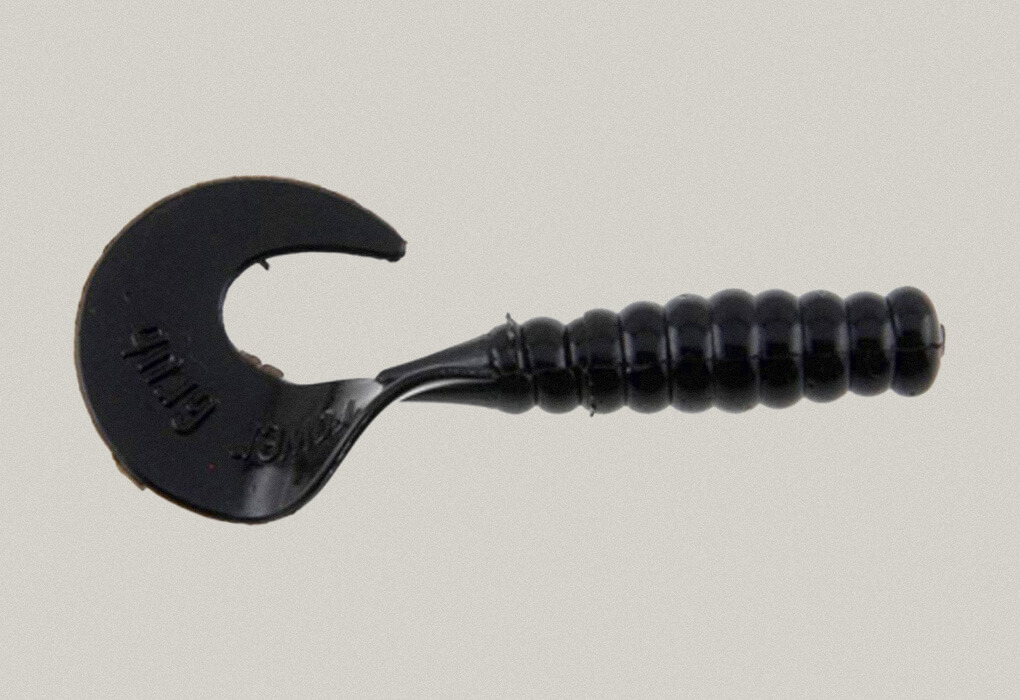 It's no surprise to see the Power Grub at the top of the list of bass fisherman. These grubs are the perfect size to use as a trailer for bass anglers who like to use skirted spinnerbaits.
They add a little more bulk to a spinnerbait and can often induce strikes from larger bass who tend to feed less but eat larger prey.
These grubs can be fished a variety of ways but are most deadly when paired with an elbow spinner similar to the kind attached to a Johnson's Beetle Spin.
Once again I fall in line with the majority of fishermen when it comes to the Power Grub.
Being in Louisiana, I also use the grubs for saltwater fishing as well and have used the chartreuse and green pumpkin Power Grubs to catch flounder, redfish, and speckled trout using the lure as more of a minnow swimbait.
I use the lighter-colored ones to replicate shad and baitfish in clear water.
For bass fishing my favorite way to rig them is a little unconventional as I don't use any weight and use a weedless hook to burn it through top water brass mats and lilies as if it was a swimbait trying to imitate baitfish or minnows.
5. The 4" Power Hawg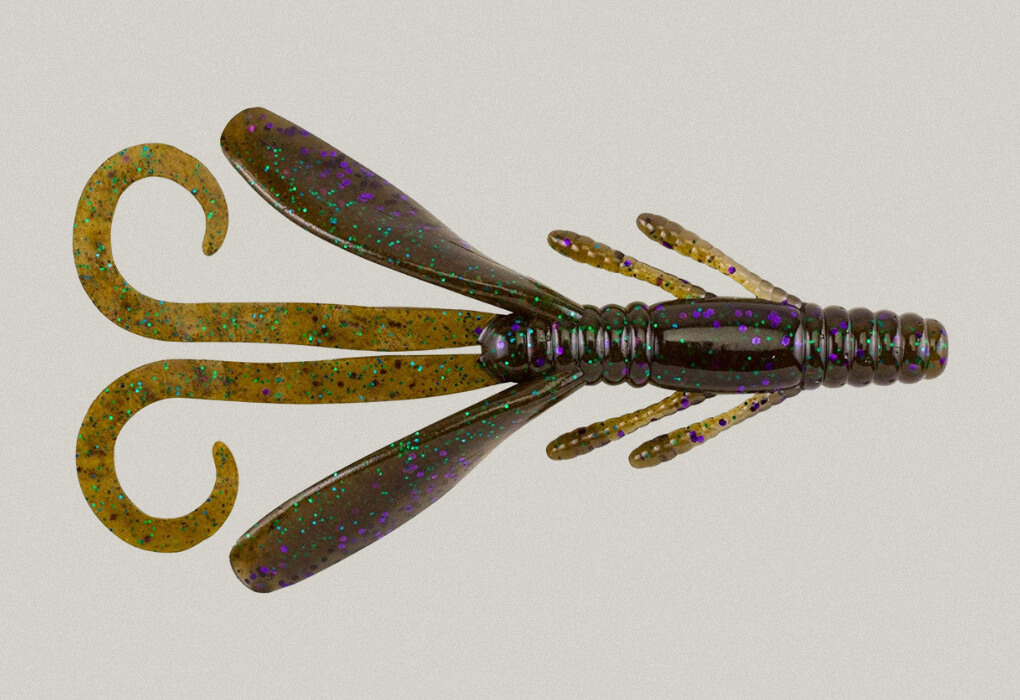 The 4" Power Hawg comes in at number five and is the top choice for anglers who are fishing bass with a creature bait.
These baits are a staple among the bass fisherman who jig as they are the perfect bait to flip into structure. They are very versatile and can be used to imitate lizards or craws.
The most popular way to fish the Power Hawg is Texas-rigged with a worm weight that allows the angler to jig the bait through structure where the big bass are without it getting hung up.
In my opinion the Power Hawg jig ranks right up there with the best of creature baits. And what a name huh?
I can just picture Tim Allen holding it up and with his patented cave-man voice saying – "THE POWER HAWG" – then grunting.
In all seriousness though, this bait is a sure thing when it comes to catching bass by jigging, especially in structure. My favorite color to use is the black one with red flecks in the spring as it resembles a crawfish perfectly.
I primarily use it to target pre-spawn bass that are staging
Frequently Asked Questions
What type of PowerBait is best?
It's difficult to answer the question because this depends on what area of the country and what time you are fishing.
Air temperature, season, and what type of water you are fishing factor into the answer but the PowerBait that covers all the bases for me is the 7" Power Worm in the Tequila Sunrise color.  
Is Powerbait better than live bait?
While PowerBait is the best artificial bait on the market, there is still nothing that top live bait in my opinion. 
Do attractants really work?
Without a doubt attractants do work whether they are of the spray on type or impregnated into the lure. I even cut up a Power Worm into small pieces and caught bluegill and panfish under a cork. 
It's been proven that a bass' most powerful sense is its sense of smell and being a bass fisherman I can honestly say the PowerBait brand of lures can back up their claim of fish holding on 18 times longer!
Final Thoughts
PowerBait has come a long way in the world of bass fishing and as Berkley continues to add various sizes, colors, and scents to their bass PowerBait line, making them even easier to choose as my bait of choice.
But you don't have to take my word for it, check out some reviews from other anglers on the best powerbait for bass.
If you're on the fence about trying PowerBait, I'll close with this. Presently there are numerous bass organizations that are debating whether or not to ban Powerbait MaxScent from competition. There's a reason for that!