Have we got a deal for you.
We're starting a new feature this week called "Deals of the Week." We'll list three deals from websites and help you save money.
Because this newsletter has no sponsors, we won't be biased in our choices. We'll just peruse what's out there and include links to where you can go to spend your money.
Meanwhile, we'll highlight some great smallmouth bass fishing, give you tips on how to catch them, and tell you where to go.
Remember to share your brag photos of big fish you have caught. Hit reply to this email and we'll get them.
Have a great Fourth of July weekend and be safe. Celebrate by catching a big one.
---
Deals of the Week
Everyone loves a deal. Especially fishermen.
Here are three hot buys we have picked out for you:
Lowrance Split-Shot Hook 7 depthfinder: Through Scheel's website, this simple-to-use sonar unit is on sale for $299.99,
P-Line fluorocarbon line: Fish USA is offering a buy one spool, get one free offer through the end of July. Check it out at Fish USA's website.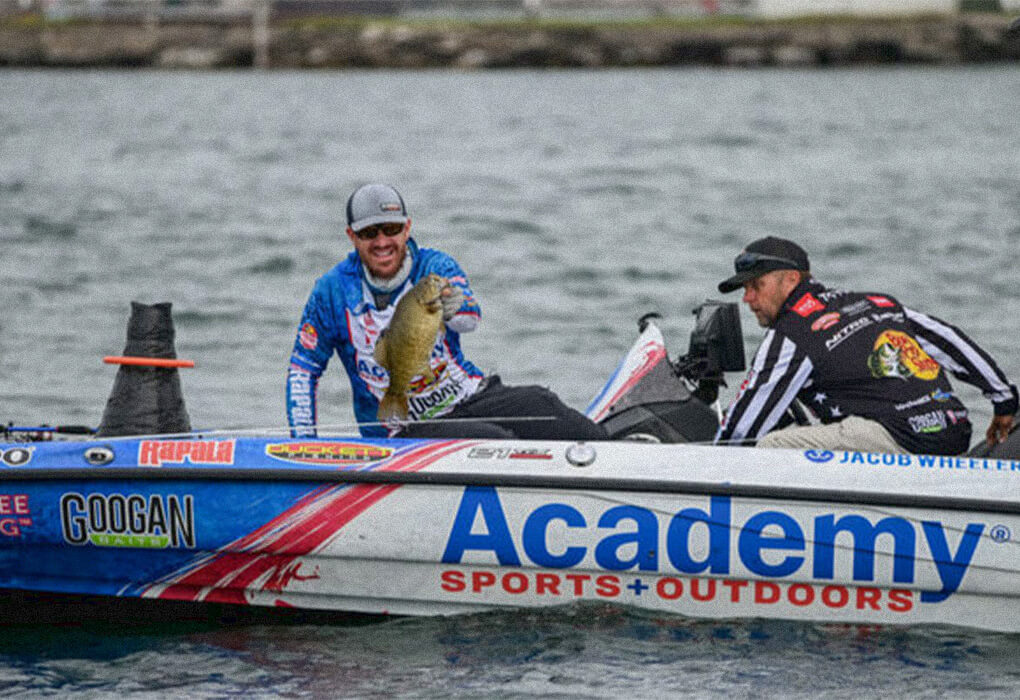 Jacob Wheeler displayed one of many smallmouth bass he caught on the St. Lawrence River en route to a championship in the Bass Pro Tour event this week. (Photo by Garrick Dixon/Major League Fishing)
Trophy Smallmouth Territory
The St. Lawrence River in upstate New York has always been known as a dream destination for fishermen pursuing giant smallmouth bass.
But after this week, that reputation has grown exponentially.
Major League Fishing's Bass Pro Tour hit a scheduling home run when it set one of its major tournaments for late June in Massena, N.Y. The big smallmouths were chewing, and the pros enjoyed record-breaking fishing.
The winner, Jacob Wheeler of Harrison, Tenn., caught 35 scorable smallies weighing 129 pounds in the championship round Wednesday—both records for the Bass Pro Tour. Included was a 6-pound, 6-ounce smallmouth that was big fish for the championship round.
"The amount of 4- and 5-pound smallmouth bass in this place is unbelievable," Wheeler said on stage after his win. "There's no place like it. It has absolute giants."
Wheeler landed lots of those giants during the Bass Pro Tour event June 25-30.. He set a circuit record for a single-day weight when he landed 165 pounds, 1 ounce of bass in Round 1. He added another record when he had a two-day qualifying round weight of 222 pounds, 1 ounce.
So what was the key? Wheeler credited his ability to find "fresh" fish—smallmouths that were just moving up and hadn't been exposed to heavy fishing pressure yet.
His strategy on the final day was to fish the wind—off-shore areas getting pounded by waves.
"I knew that a lot of the other fishermen wouldn't want to fish that rough water," he said. "There were fish there; so I just rode it out."
Wheeler relied on heavy line and a Ned Rig and a Googan Squad Bandito Bug on a Tokyo Rig to catch the big bass, which were in various stages of the spawn.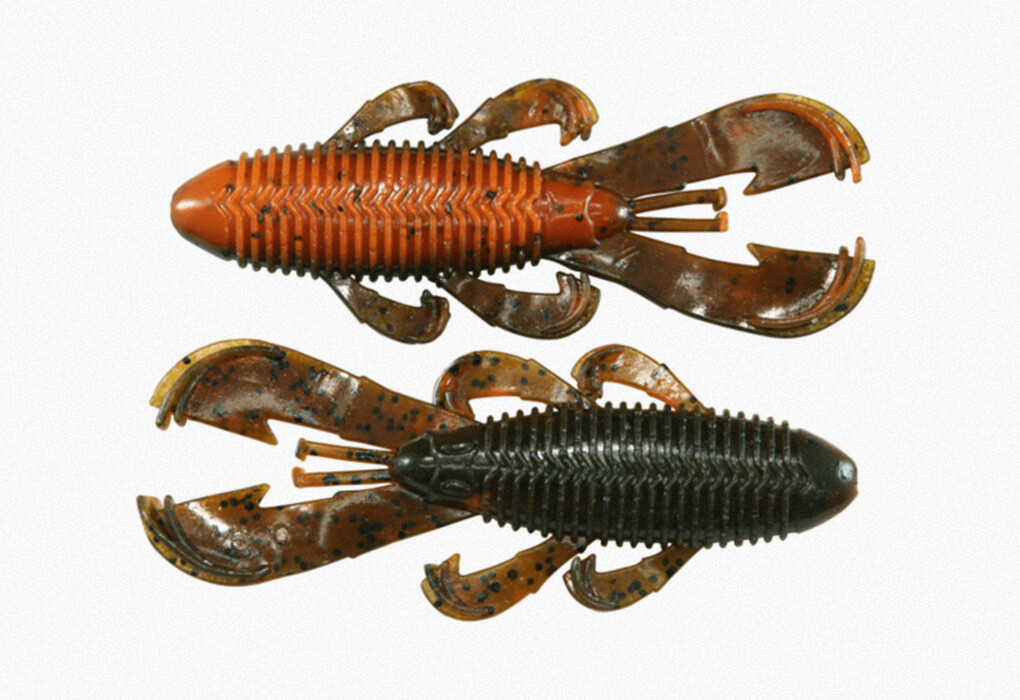 The Googan Squad Bandito Bug is a hot lure for smallmouth bass
Lure of the Week
Want to catch a big smallmouth? Try the Googan Squad Bandito Bug.
With its small profile and multiple appendages, it looks like a swimming crayfish. When paused, its infused "Slaunch Sauce" gives off a scent designed to attract bass.
It can be used in a Ned Rig setup or as a Texas-rigged offering. Either way, it can attract big smallmouths.
And after Jacob Wheeler used the bait to win the Bass Pro Tour event on the St. Lawrence River, you can bet sales are going to soar.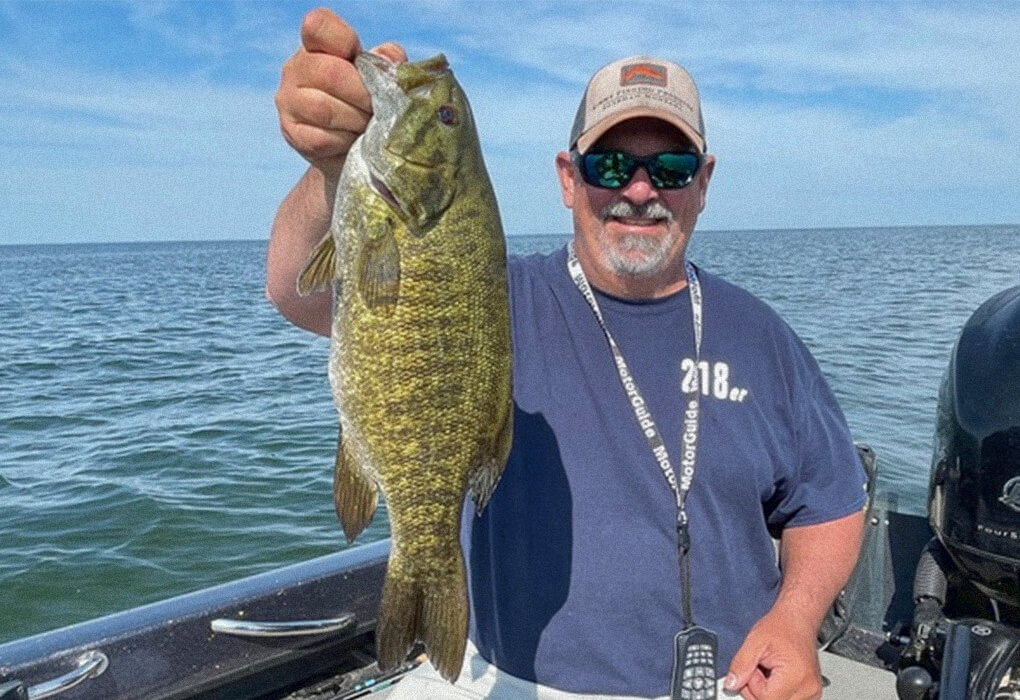 Dan McGannon showed off a big smallmouth caught at Mille Lacs Lake. (Photo by Brent Frazee)
Another Smallmouth Paradise
Dan McGannon stopped his boat in the middle of massive Mille Lacs Lake and surveyed his surroundings.
He was so far off shore that he could barely see the nearest cabins. That's not exactly a place most smallmouth-bass fishermen would identify as a hot spot.
But McGannon knew better. He was fishing one of the rocky spines that wind through the mid-lake, a spot that is hidden from fishermen without good electronics on their boat.
From the surface, this stretch of water looked no different than any other place on the 132,516-acre lake in central Minnesota. But McGannon's electronic sonar units etched out a picture of a smallmouth paradise.
"They'll spawn out here way off shore," said McGannon, a manufacturer's representative for outdoors products. "These rocky spines out here are like little roads for these smallmouths.
"They'll use them to travel and they'll spawn here. This off-shore structure has everything the smallmouths need—good, rocky habitat, food, and a protected environment."
McGannon cast a Ned Rig to the edge of one of those rocky highways and immediately got a hit. He set the hook hard and a bronze missile rocketed out of the water. The fish pulled hard and didn't give up until it was boatside. Then McGannon scooped up the smallmouth in a net and measured his catch.
"Nineteen and a half inches," he said as he dropped the smallmouth back into the clear water. "That's a good fish."
No surprise there. Mille Lacs Lake is considered one of the best smallmouth lakes in the country. Fish in the 2 to 4-pound range aren't uncommon here.
About 20 years ago, that fishing was largely overshadowed by Mille Lacs' walleye fishing. But as the marble-eye fishing went down, fishermen turned to the smallmouth bass.
"Now. I think smallmouth get more fishing pressure for smallmouth than walleyes," McGannon said.
That heavy pressure has had an effect, McGannon said. The fishing is still good, but not as good as it was before it was discovered about 25 years ago. Possessing good electronics and knowing how to locate the rocky spines that wind through off-shore environs can still lead to some good days.
The water is so clear, fishermen often can see the smallmouths swimming around over the rocky habitat. They also can spot the fanned-out nests at scattered locations on the rocky bottom.
McGannon likes to fish in 10 to 12 feet of water and cast to the edge of those rocky areas. He uses small swimbaits, drop-shot rigs and Ned Rigs to catch most of his fish.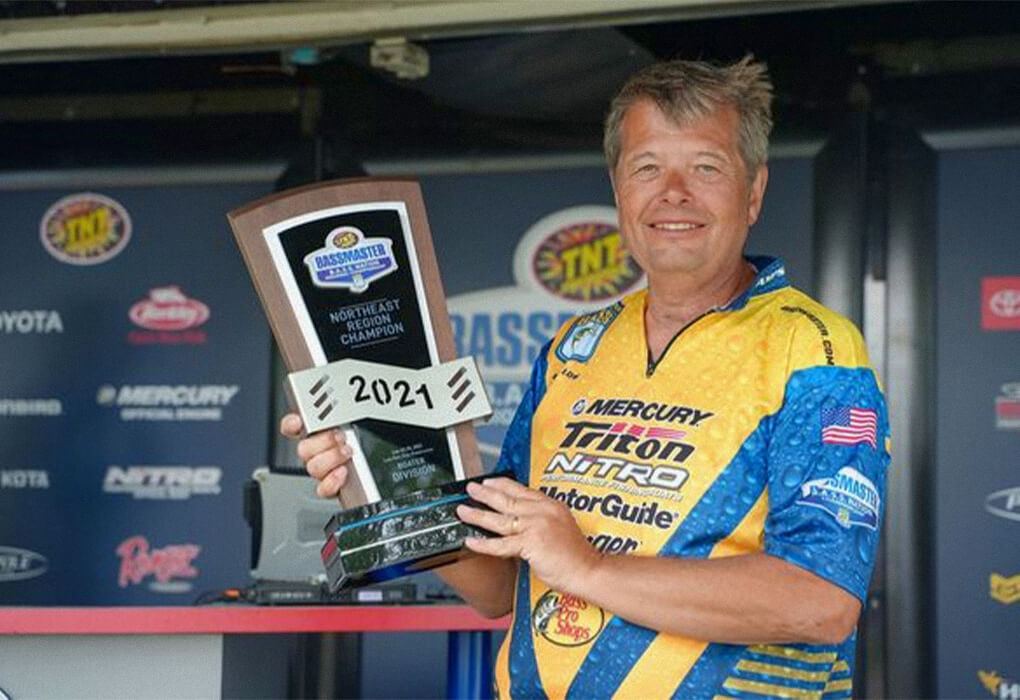 Eric Low went old-school to catch bass and win a B.A.S.S. Nation Regional championship on Lake Erie. (Photo by Kyle Jessie/B.A.S.S.)
Going Old-School
I am big fan of the underdog.
It's always fun to read about a fisherman who comes out of nowhere to beat highly regarded foes.
That's why I enjoyed a B.A.S.S. press release about Eric Low of Buxton, Maine.
Competing in the B.A.S.S. Nation Northeast Regional on Lake Erie, Low went old-school to take the championship.
"I don't have a lot of fancy electronics on my boat, so I just used my football jig to drag the bottom," he said.
Low basically used his lure as a depthfinder. That's how he found cover, drop-offs and eventually, fish.
"If it was 'sticky,' that was good," he said. "If it was sticky, then soft, then sticky again, that was really good."
Using that unscientific strategy, Low caught a three-day total of 48 pounds, 8 ounces and win the tournament. He used a heavy Do-It Molds jig with a Keitech Swing Impact swimbait, and a drop shot with a Berkley MaxScent Flat Worm to catch most of his fish.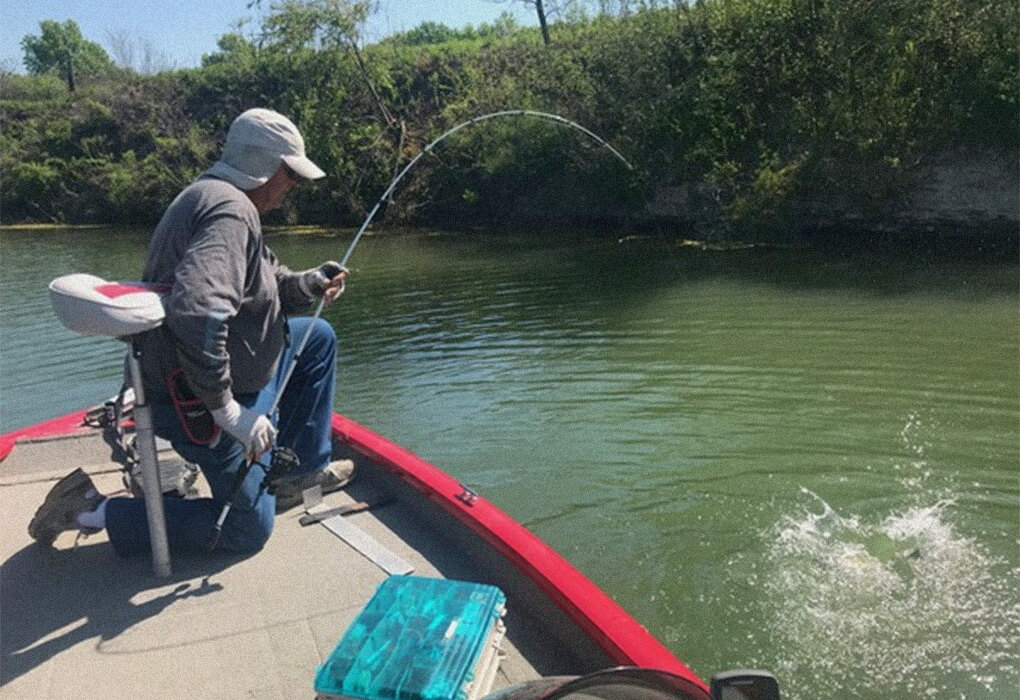 Fishing is Booming
The interest in fishing continues to grow, according to a recently released special report by the Recreational Boating and Fishing Foundation.
Nearly 55 million people, including 4.4 million first-timers, participated in the sport in 2020. And conservation leaders are encouraged by several trends.
Female participation increased by 10 percent from 2019 to 19.7 million.
Hispanic participation reached an all-time high, with 4.8 million fishing.
African-American participation also rose by 14.6 percent over the previous year. In 2020, Blacks comprised 7.7 percent of all anglers.
13.5 million youth from ages 6 to 17 fished in 2020.
That's all for now. I have to go. The water is calling.