One of the many things I love about largemouth bass is that they are an equal-opportunity provider.
The record books contain plenty of everyday people who caught huge bass and unexpectedly found themselves in the spotlight.
I remember writing a story years ago on a 14 year old boy who landed an 11-pound, 12.8-ounce bass from a strip pit and broke a Kansas state record that stood for 31 years.
"Some people spend their whole life trying to catch an 8- or 9-pound bass," Tyson Hallam told me. "Then I come along and catch something like this.
"I was just lucky."
I love chronicling the feats of those underdogs and giving hope to common anglers who dream of catching the big one.
This week we'll talk to a couple of fishermen–one experienced, the other a beginner–about their unexpected date with fate.
We'll also get a few fishing tips from the pros, look at a successful fall lure and tell you about a contest for kids.
So get your fishing gear and hop into the boat. I've heard the bass are hitting.
–
P.S. Don't forget to rate the newsletter at the bottom and forward this on to a fellow angler if you like what you read.
---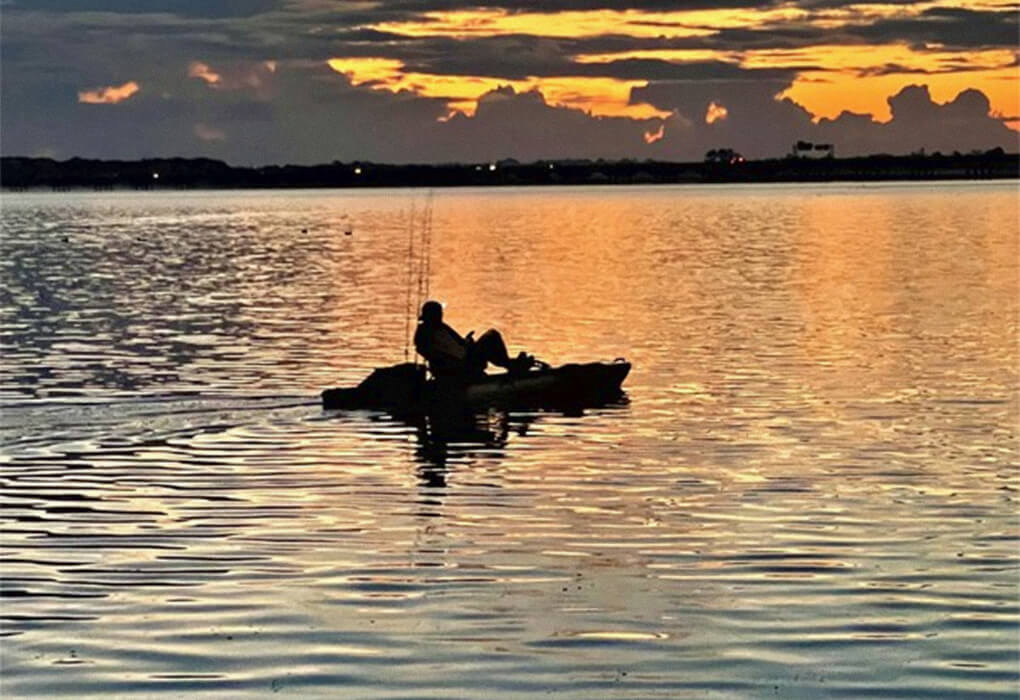 It's time for fishermen to gear up for fall fishing. We have some deals for you to consider. (Photo y Brent Frazee)
Casting for a Few Deals
Everybody loves a deal. So we study the web each week for some discounts that will save fishermen a few bucks.
The nice thing about this feature is that we are not beholden to advertisers. We're unbiased in our approach, picking out three deals that catch our eye.
Hack Attack: Looking for a good casting rod that won't break the bank? Academy is selling the Hack Attack Casting Rod for $79.99, a savings of $20.
Rain gear: For the serious fisherman, good rain gear is a must. Check out the sale Cabela's and Bass Pro Shops are offering on their 100 Miles Per Hour Gore-Tex Rain jackets. They're still not cheap, but they're 25 percent off regular price.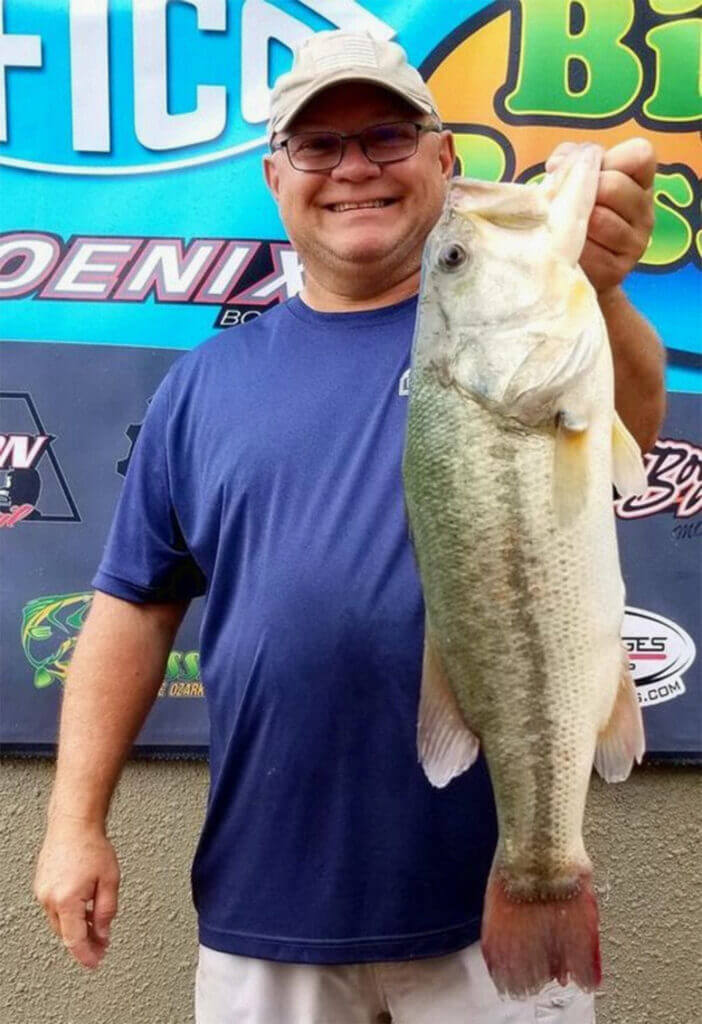 Jim Morrison posed with the 7.11-pound bass that brought him local fame and fortune. (Photo courtesy of Big Bass Bash)
It Was His Time
Jim Morrison picked a great time to catch his biggest bass ever.
Fishing in the Big Bass Bash at Lake of the Ozarks, he landed a 7.11-pound largemouth in the third hour of the two-day event. Then he watched nervously as a parade of other big ones were weighed in during the next day and a half.
Nothing really came close to Morrison's fish, though, and he went home with a first-place check for $100,000.
"I've been fishing Lake of the Ozarks for 10 years and I've caught some nice bass there, but nothing like this," said Morrison, 57, who lives in O'Fallon, Ill. "When I was fighting this fish, I could see a side-profile of what I had on and I told myself, 'This could be the one.'
"Looking back, it seems that everything was going in slow motion."
A series of factors worked in Morrison's favor that Oct. 2 morning. He planned to make a four-mile run to a part of the lake where he caught bass before. But when he woke up, it was storming, so he decided to stay near his lake home in the Bagnell Dam area.
He started casting a 6-inch-long Pencil Popper to docks when the big one hit.
"I was fishing a dock that I can see from my house," he said. "I hadn't fished it for four or five years. I was just working most of the docks in that area in case I had to make a dash back home if the weather got worse."
Morrison, who runs a plumbing, heating and cooling business, gets together with friends to fish the Big Bass Bash every year. Though he fishes small tournaments, he has never won a big paycheck.
"There are a lot of hammers down there," he said. "I can't come close to matching them."
The Big Bass Bash, though, is restricted to amateur bass anglers. It is a biggest-fish-takes-all tournament. That evens out the competition, and that concept has proved enormously successful. The Bash attracted 3,200 fishermen from 37 states this fall.
Morrison is uncertain how he will spend the money. The big thing is that he won, he said.
"Winning a tournament like this is a huge deal," he said. "I'm just excited it was my time."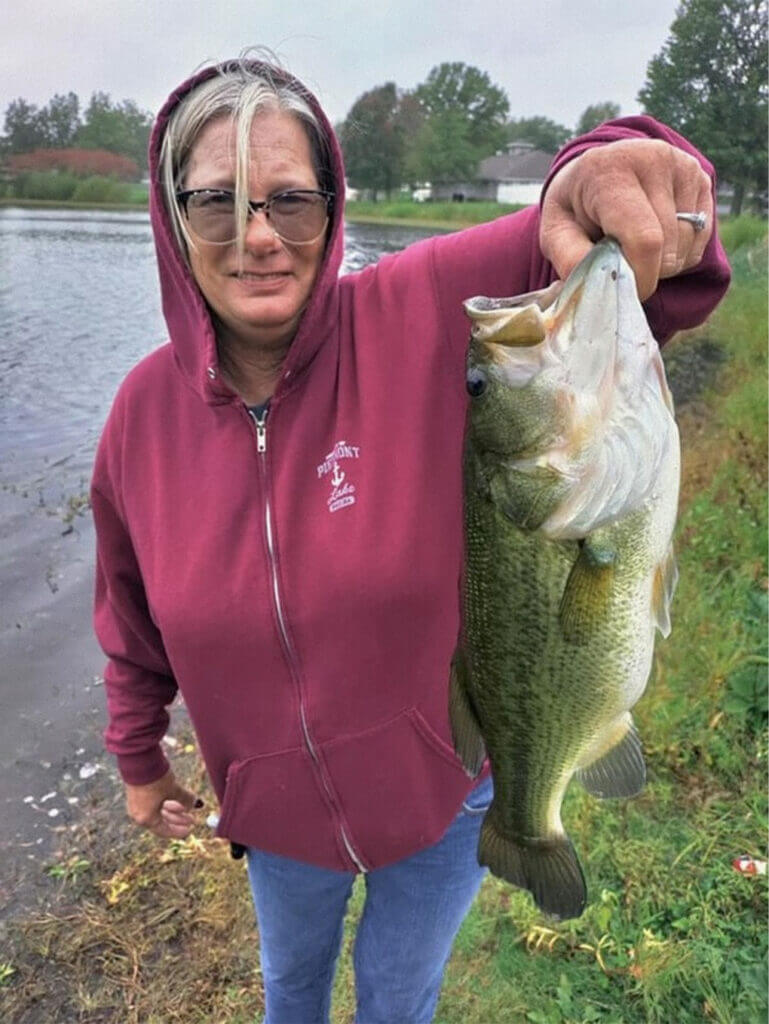 Tami Reed posed with one of the big bass she caught Tuesday on a subdivision lake in central Indiana. (photo courtesy of John Reed)
A Day to Remember
When the biggest bass you've ever caught measured 8 inches, you don't go into a fishing trip with high expectations.
Such it was for Tami Reed. On a cold, misty morning Tuesday, she got the urge to go fishing.
"I didn't expect to catch much," she said. "I just wanted to relax."
So she talked her husband John, an experienced fisherman, into traveling to a subdivision lake in central Indiana where their daughter lives.
Three casts into the day, it became apparent the bass weren't in a relaxed mood. First, Tami caught a big one on a plastic worm. A cast later, she caught one even bigger.
The couple didn't have a scale, so they don't know for sure how much the fish weighed. But John, a retired charter captain, estimates the biggest one weighed at least five pounds.
"I've fished these ponds since I was 9, and I've never seen a bass that big come out of them," he said.
Both bass put up quite a fight, but Tami handled them like an experienced angler, John said.
"They were down in the weeds, and the line was going all over the place," Tami said. "But I got them in."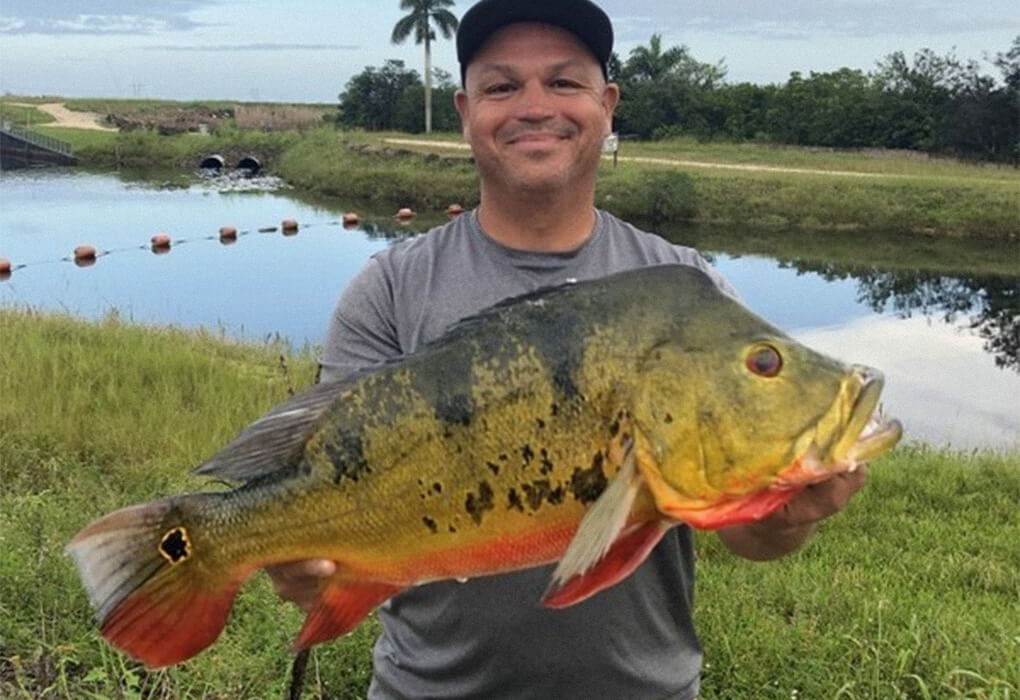 Felipe Frieto displayed the 9.11-pound butterfly peacock bass he caught in a Florida canal. (Photo courtesy of the Florida Fish and Wildlife Conservation Commission)
A Fish for the Record Books
What start as a leisurely after-work fishing trip ended as a record-breaking day for Felipe Frieto of Hialeah, Fla.
Using live bait, he caught a 9.11-pound butterfly peacock bass, a Florida state record.
His catch barely broke a mark that stood for almost 30 years. The former record weighed 9.08 ounces.
Frieto was fishing in a lake in Broward County when he caught the fish.
The Florida Fish and Wildlife Conservation Commission first stocked peacock bass in 1984 to help control unwanted exotic fish. They have thrived ever since.
However, their range is limited. Native to South America, they thrive in warm water. That limits their home in Florida to mostly waters of Broward and Miami-Dade counties.
Because of their hard-fighting nature, they have become a popular game fish in southern Florida. Frieto's catch is impressive, but his state record may not stand.
Florida fisheries biologist have documented even larger peacock bass.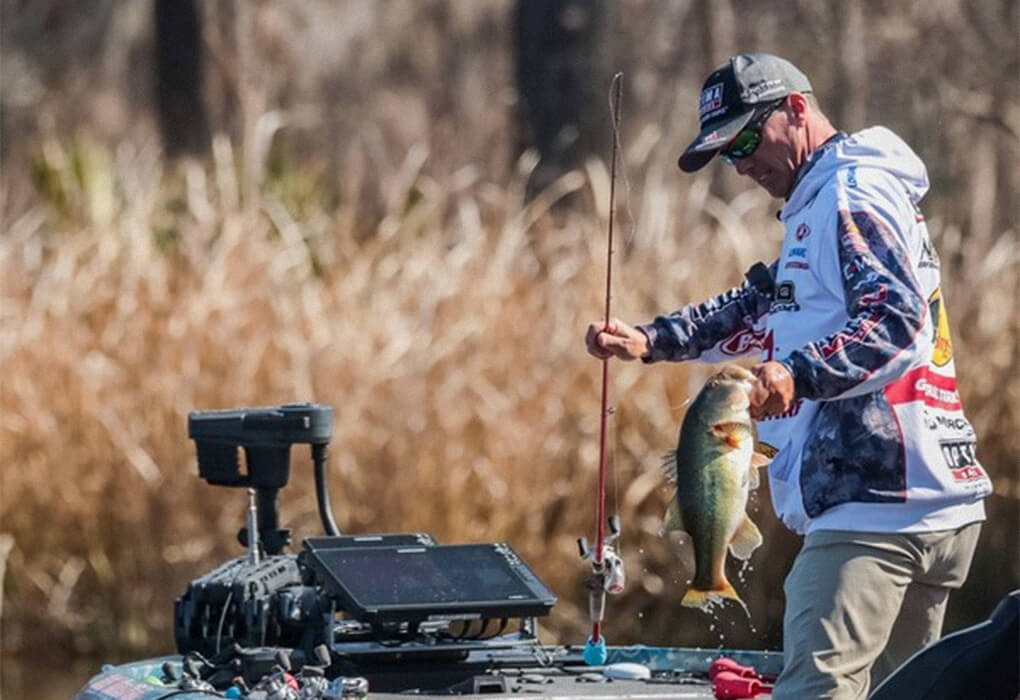 Edwin Evers recommends that beginning fishermen consider what the bass are eating and try to duplicate it. (Photo by Josh Gassmann/Major League Fishing
What's for Breakfast?
Pro bass fisherman Edwin Evers advises beginners to start by considering what the bass are eating on the body of water they visit.
"In most of the lakes we fish, the bass only eat three things–shad, bluegills and crayfish," Evers said. "I break that down by season.
"I try to imitate crayfish in the winter and early spring, bluegills around the spawn, and shad in summer and fall."
By examining the forage at those times of the year, he knows which size and colors to use.
If he is fishing ponds, he tries to narrow his choices to frog and bluegill imitations.
Then comes the important part–casting those imitations where the bass will be hiding.
"A lot of fishermen would catch more bass if they could put their lure closer to what the fish are relating to," Evers said. "Casting accuracy plays a big part."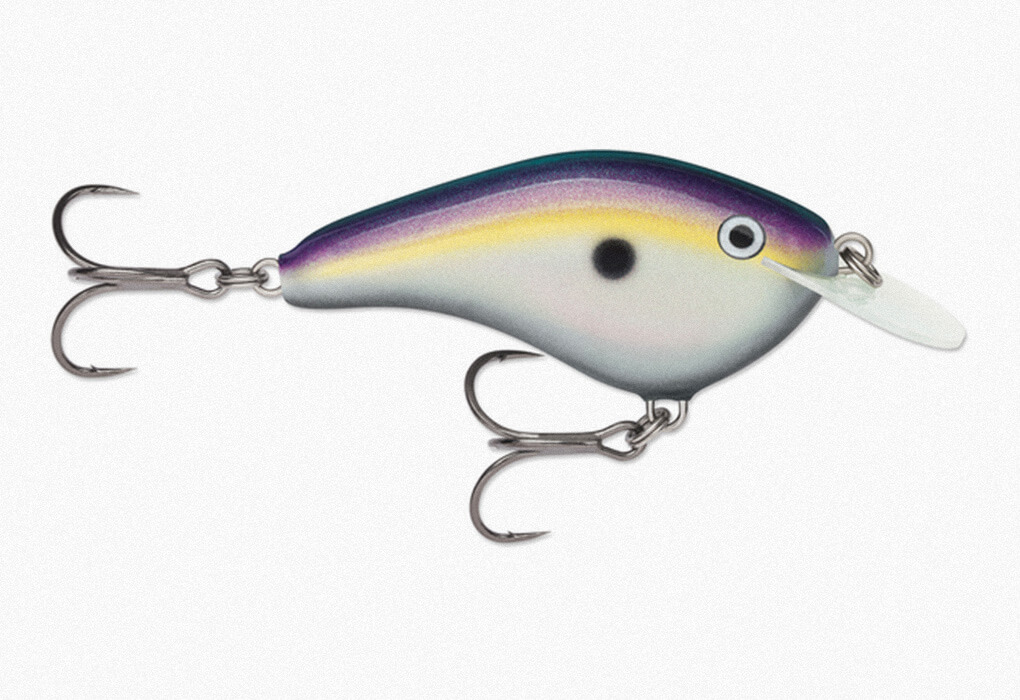 Rapala's Ott's Garage Slim crankbait
Lure of the Week
Balsa crankbaits have long been a staple of fishermen once the water cools in the fall. That's why Rapala's OG Slim was chosen this week.
The crankbait, designed by pro Ott DeFoe in his garage (thus the OG), once was his secret bait before the word got out.
Now Rapala manufactures the lures, and they have become big sellers. The flat-sided balsa bait is a medium runner with a tight side-to-side wobble that easily deflects off cover, triggering strikes.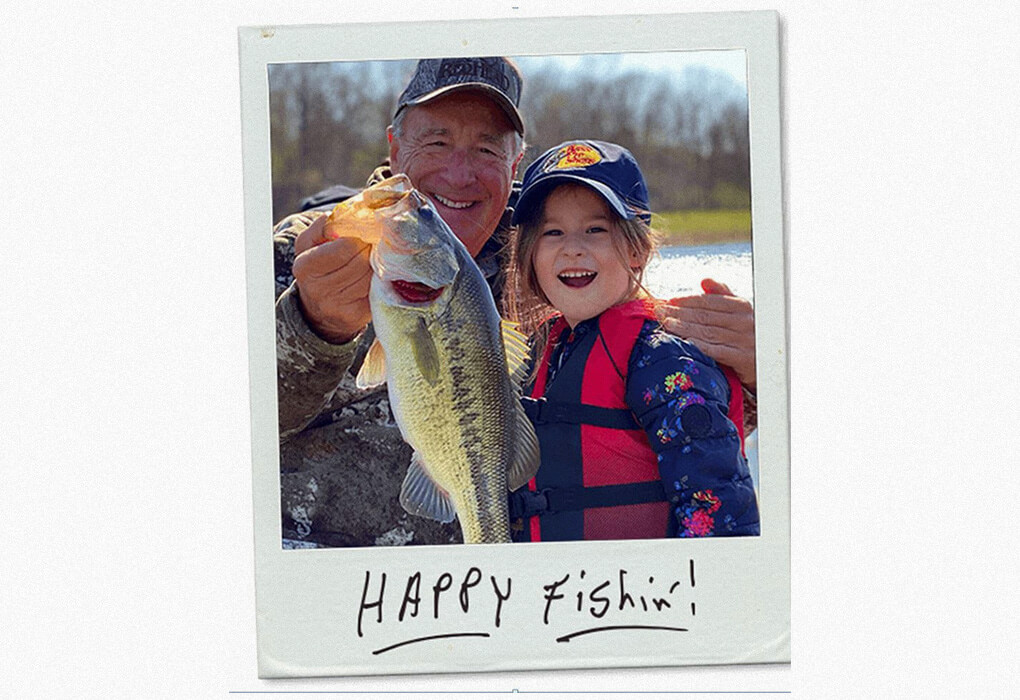 Bass Pro Shops legend Johnny Morris hopes to hook kid on fishing with a special promotion. (Photo by Bass Pro Shops)
Lights, Action, Camera!
Hey, kids, you'd better get dad or mom to take you fishing soon. Videotape your trip and you could win a whopper of a prize—a new Bass Tracker Classic boat, motor, and trailer.
We're talking about the Johnny Morris Happy Fishin' Contest, sponsored by Bass Pro Shops and its legendary founder and owner.
Here's how it works:
 Children ages 17 and under enter a video of two minutes or less that shows their passion for fishing. Adults can do the filming, but the children must be on camera. They should wear their Bass Pro Shops cap for the video.
 Videos and a completed entry form must be submitted to www.basspro.com/KidsFishing by Oct. 24. Entry forms are available at that web address.
A panel of celebrity judges will review the videos and select 10 winners on Nov. 2.
 Each of the 10 winners will receive a Bass Tracker Classic boat, motor, and trailer, plus a prize package including a $500 gift card to Bass Pro Shops, and full lodging and travel expenses to Big Cedar Lodge for the child and a guardian.
The contest, which will be presented in partnership with the Missouri Division of Tourism, was the brainchild of Morris. He was inspired by viewing a video of young Ke'Mari Cooper, who caught a 7.1-pound bass and celebrated excitedly before carefully releasing his catch.
"We're looking for some of the most passionate and enthusiastic youngsters out there to help inspire others to get out and enjoy the outdoors," Morris said in a press release.
Sounds like a great opportunity to me.
That's it for this week. Get out and go fishing. Fall is a great time to catch a big one.