An entry in James Watson's high-school yearbook tells a lot about him.
When asked to reveal his goal for future employment, Watson answered, "Professional bass fisherman."
So did fellow students give him a hard time about that? No, they didn't dare.
"I was a fat little chubby kid growing up," said Watson, who competes on the Major League Fishing Bass Pro Tour. "But by the time I got to high school, I leaned out and I was a pretty good football player.
"No one was going to give me a hard time about anything."
Pure Watson. Tough guy. Funny guy. Goal-oriented. Take-no-crap from- anyone guy.
That sums up the character from the Missouri Ozarks who has followed a long, unique road to get to bass fishing's big leagues.
We'll talk about that his career path, starting from scratch to earn enough money to pursue his dreams, get a few fishing tips, learn how he got his nickname Worldwide, and focus on some of the lures he has helped design.
Keep reading. You're going to like getting to know James Watson, one of the most colorful fishermen in pro fishing today.
– Brent
---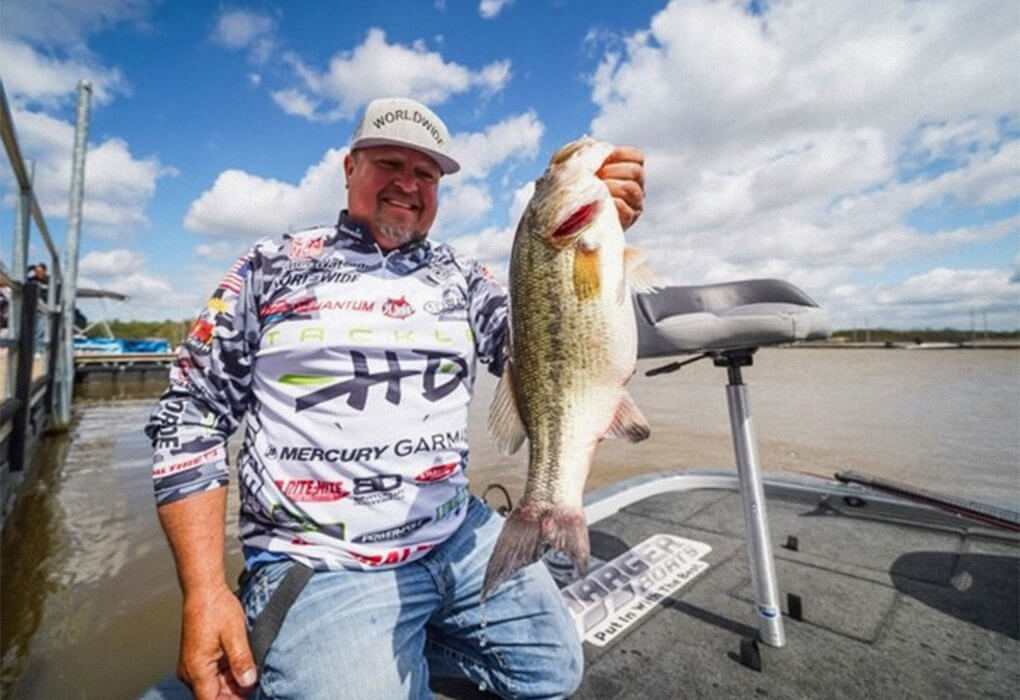 James Watson learned how to catch big bass from his father at a young age.. (Photo by Tanner Lyons/Major League Fishing)
An Unbeatable Father-Son Team
Watson's entry in his high-school yearbook wasn't just a wild dream.
By the time he got to his senior year, he was already a seasoned angler. He competed in his first bass tournament when he was only 9, teaming with his dad in a local tournament on Table Rock Lake in the Missouri Ozarks.
"My dad and I were putting in at Shell Knob Bridge and we ran across a bass club that I was having a tournament," said Watson, 49, who now lives in Lampe, Mo. "We asked if we could get in, and they let us.
"We ended up cleaning house. We caught a limit on big chartreuse spinnerbaits and we took it all."
That didn't come as a surprise to those who knew Watson's father, Bill. He was a veteran tournament bass fisherman who lived on Table Rock and regularly did well.
At the time, James lived in Miller, Mo., with his mom and stepdad. But on weekends, he would go the Table Rock to be with his dad. Their idea of bonding was to go fishing, usually in tournaments.
They continued to fish together for years until Bill came down with cancer and slowly started to digress. He died in February and left a hole in James' life.
"I watched him wither away to nothing, and it really impacted me more than I thought it would," Watson said. "But I know he would want to me to just keep going and enjoy the ride."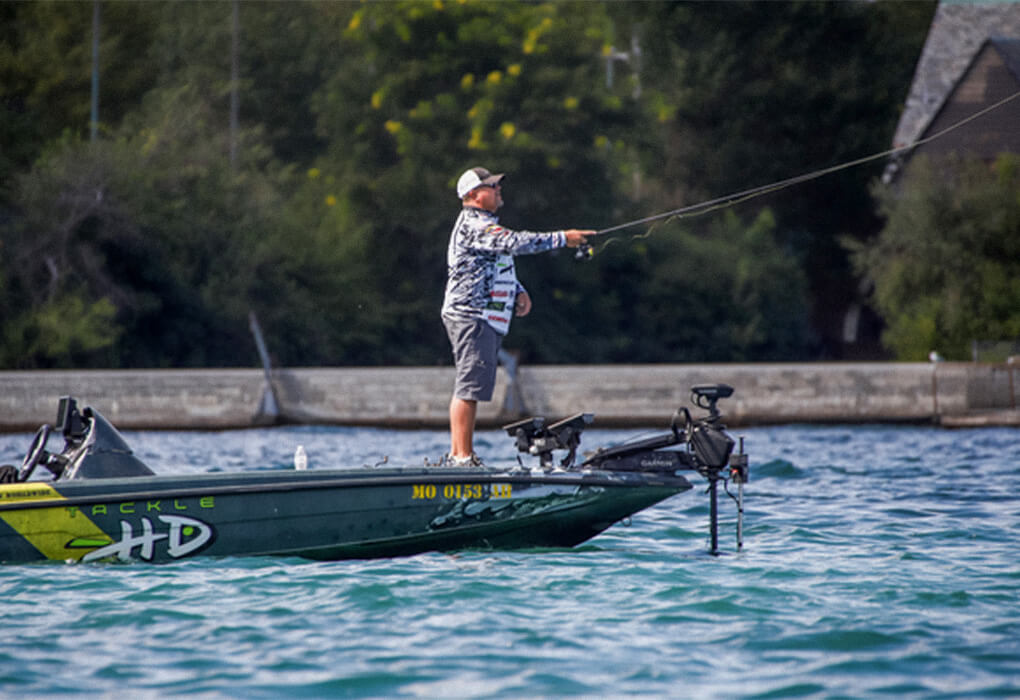 Climbing to the major leagues of bass fishing was no easy task for James Watson. (Photo by Phoenix Moore/Major League Fishing)
Atten-Hut!
Can you picture James Watson as an Army drill sergeant? You should.
After graduating from high school, he took several jobs but he was "basically broke," he said.
"I was tired of not doing anything with my life," he said. "So I went to see an Army recruiter.
"Within a month, I was gone."
Watson enjoyed the structure of Army life, and he quickly climbed the ranks. Before long, he was promoted to a sergeant first class drill instructor.
So, was he the stereotypical hard ass?
"I had a buddy who was a drill sergeant with me," Watson explained. "We played 'good cop, bad cop.' They feared him more than me.
"But let's just say there weren't a lot of men who wanted to test me."
Watson continued to fish on weekends during his time in the Army. He bought his first bass boat and fished when he was stationed in Kentucky and New York state.
He learned a lot by fishing in other parts of the country and was more dedicated than ever to making it big in professional fishing.
When he left the Army, he started a successful lawn-care business, then moved on to real estate. He was an immediate success. In his first week, he had six listings and he sold one of those houses.
He went on to purchase his own real-estate business and made the money he needed to embark on a pro fishing career.
When he teamed with Corey Eutsler to win an Anglers In Action team championship tournament, he knew it was time to go pro.
"It takes a lot of money to compete on that level," Watson said. "You have to be on the road constantly, and that can get expensive.
"Once I started doing well financially, I knew could afford to fish fulltime."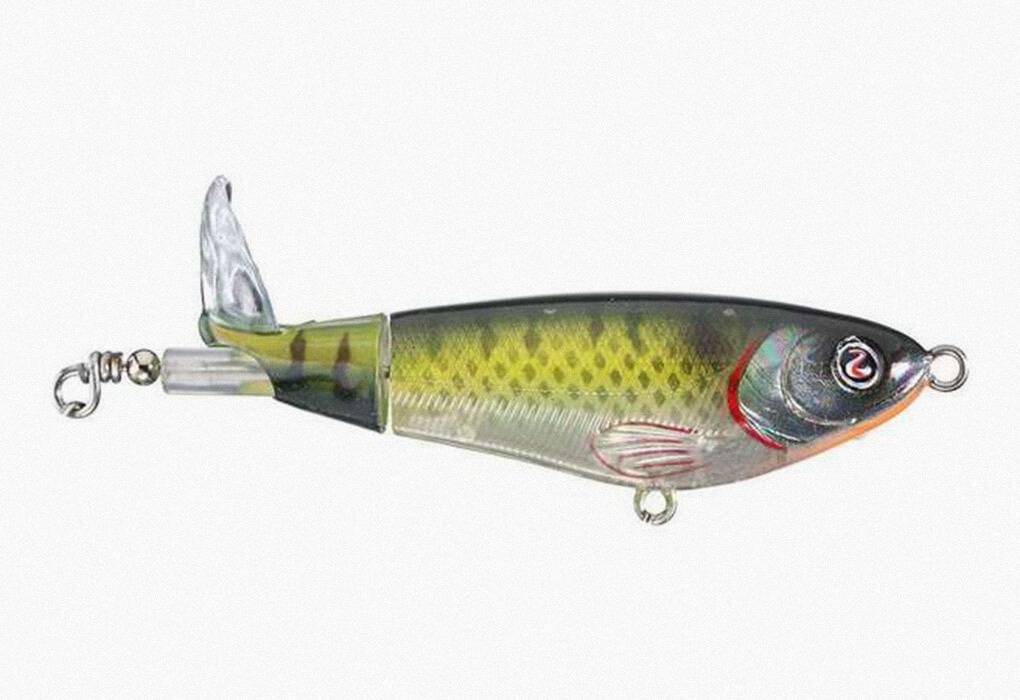 The River2Sea Whopper Plopper
A Whopper of A Lure
More than anything, an obscure topwater lure carried Watson to the national scene.
He first spotted the Whopper Plopper when he was visiting with fellow pro Ish Monroe.
"He had his topwater box open, and I saw that bait and I was interested," Watson said. "I asked him if he caught anything on it, and he told me he did real well with the Whopper Plopper on the (California) Delta.
"But it was still kind of a secret. It had been on the shelves for four years gathering dust."
The Whopper Plopper was originally designed by the legendary angler Larry Dahlberg for muskie fishing. It features a hard body with a rotating tail section that churns the water like a buzzbait.
Monroe gave Watson a couple of baits, and he later tried one of them at Lake of the Ozarks and caught a big bag of bass on it.
"I was impressed, but I kind of forgot about it," Watson said.
He remembered the bait in 2015. First, he and buddy Robbie Dodson used the topwater bait to catch a big bag of fish on Table Rock.
A couple months later, Watson used the Whopper Plopper and another topwater bait to win the Bassmaster Central Open at Table Rock.
That brought national attention to the bait. Today, it is popular and widely used by bass fishermen. Some anglers say its effectiveness has declined because it is overexposed.
But Watson continues to catch bass on the Whopper Plopper and another topwater bait he helped design, the Tackle HD Worldwide Buzzer.
"It (the Whopper Plopper) is especially effective when big gizzard shad are in the shallows," he said. "It's one of my favorite fall baits."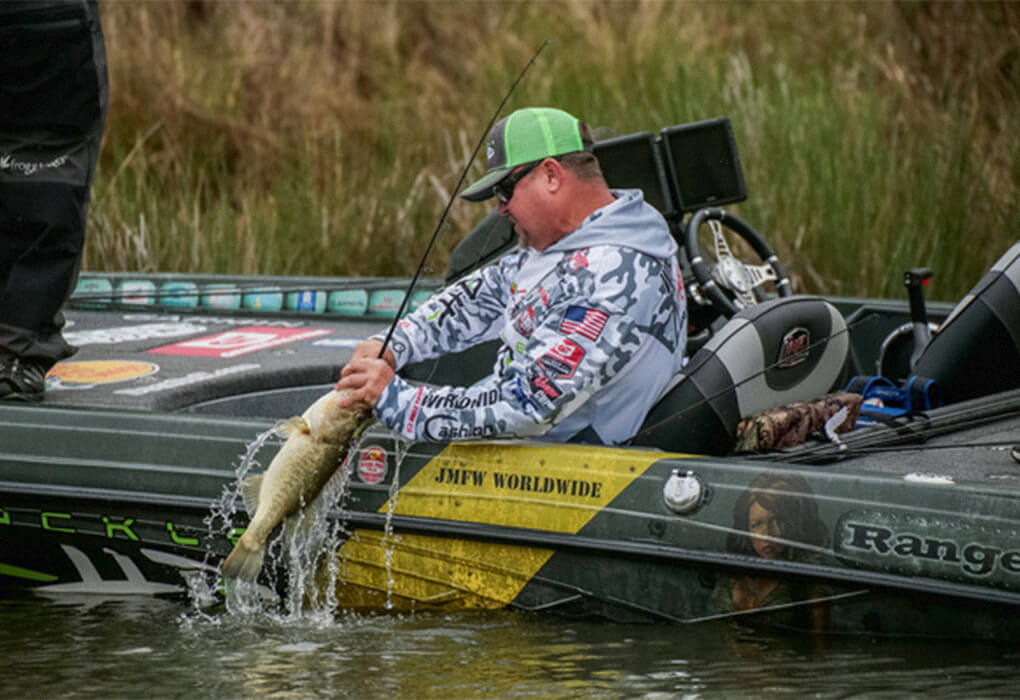 Now competing in Major League Fishing's top division, the Bass Pro Tour, James Watson proudly owns his nickname, Worldwide. (Photo by Phoenix Moore/Major League Fishing)
About That Nickname
So how did Watson go Worldwide?
The name can be traced back to a tournament when a fellow pro came across Watson in the water and said, "Well, if it isn't James (bleep) Watson?
And Watson answered, "That's right. Worldwide."
And it stuck. So has Watson's reputation as a comedian.
Check out his description on Major League Fishing's website.
Under the Did You Know? section of his bio, Watson revealed some of his favorite hobbies as mowing his yard and attending slumber parties at Gerald Swindle's (a fellow pro) house.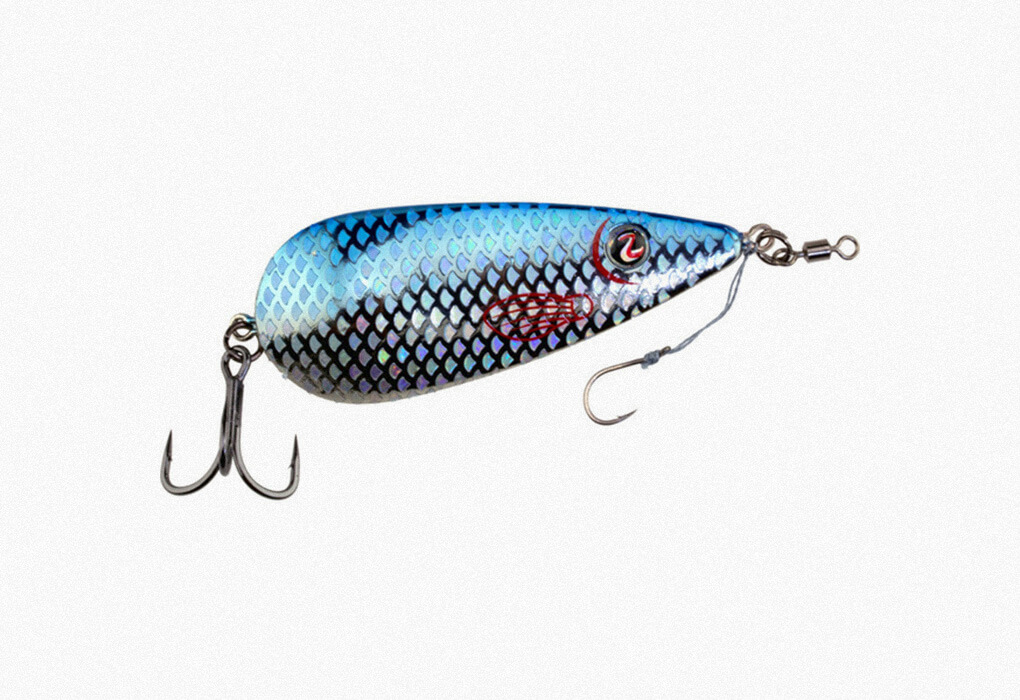 The River2Sea Worldwide Spoon
Spoon-Feeding Bass
James Watson calls it "spoon jacking."
It involves pitching a flutter spoon to the shade of boat docks and getting the bait to swim backwards to where the bass are hiding.
Watson helped River2Sea design a bait that is perfect for that technique. The Worldwide Flutter Spoon is back-weighted so that it will swim backward when jigged.
"That allows me to get back under docks where the bass will get back in the shade," Watson said.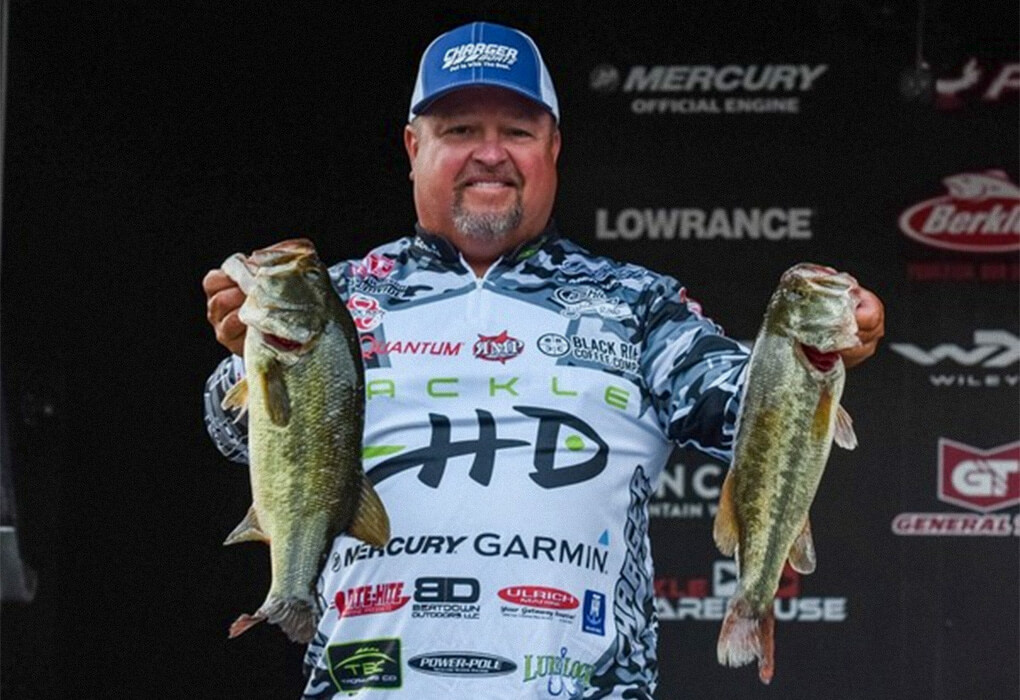 James Watson still strives to be one of the best at the pro game. (Photo by Major League Fishing)
The Challenge of Being A Pro
Fishing professionally isn't as easy as it looks.
It takes money, being versatile, conquering life on the road and confidence. And that's just the fishing part. It also takes the business side of representing sponsors, giving seminars, and being available for appearances and media interviews, Watson said.
"The hardest adjustment for me was being able to adjust to fishing multiple kinds of water," Watson said. "I'm used to fishing the deep, clear water of the Ozarks.
On the tour, I'm fishing the current of the St. Lawrence River, the shallow, weedy lakes like Okeechobee (in Florida) and some of the smallmouth lakes.
"In some of the northern fisheries, the smallmouths get wider, shorter and fatter than we see in the Ozarks. I was throwing the Whopper Plopper up there and I was getting all kinds of blowups. But my hookup ratio was terrible.
"With their small mouths, they just weren't getting the hook and I didn't adjust."
But Watson is learning. And he looks forward to the day when he is one of the sport's elites.
"I am not one of bass fishing's 'five percenters,' " he said, referring to the top layer of fishermen on the tour. "I still get my butt handed to me by the top pros.
"The top guys like Wheeler and Ott (DeFoe) are consistent. But I keep getting better and better."