Here in Missouri, summer is turning up the heat.
The air temperature is supposed to push 100 degrees today, and the water temp is in the mid-80s.
A good time to retreat to the air conditioning, right? Well, not necessarily.
Granted, the bites don't come as easily as they did in spring. But bass can still be caught.
Today, Seth Feider, Angler of the Year on the B.A.S.S. Elite Series, gives us some great tips on how to coax a big bite in the summer heat. We'll also look at some hot lures, how the heat and drought are affecting fisheries in the West, and more.
So, get your cooler and sunscreen and hop into the boat.
It's time to go fishing.
P.S. Don't forget to rate this newsletter at the bottom! Helps me learn what stories you all like (and dislike).
---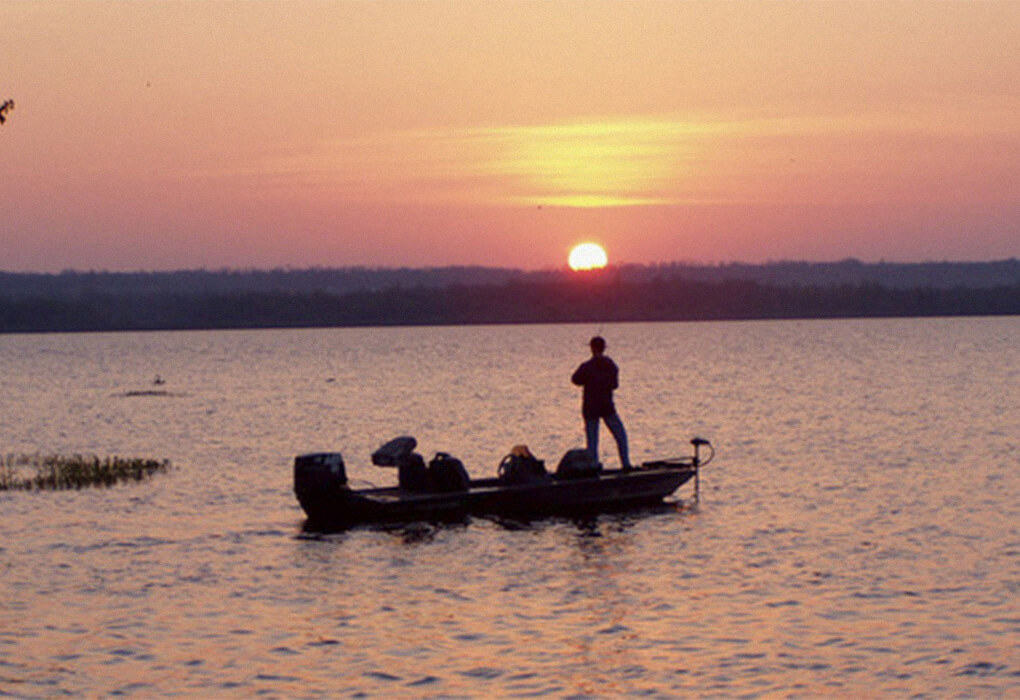 Deals of the Week
If you don't want to get out in this heat, you can at least buy some equipment you can use once the weather cools.
Here are three deals you might want to consider. (Man, I'm good at spending other people's money.)
Rod and reel combo: Looking for a rod and reel combo that won't break the bank? Try the Pflueger President combo on sale at Scheel's. I have several President spinning reels and I love them. They're reasonably priced, yet are lightweight, have reliable drag systems, and can handle big fish.
Sun protection hoodie: If you plan on fishing in the heat of the day, you need protection from the sun. A good option is the Columbia PFG Terminal Tackle Hoodie. I have one of the long-sleeve shirts and I can vouch for its comfortable fit and sunblock. At $16.26 through Amazon.com, this is a steal. I'm sorry to say, I paid a lot more for my shirt.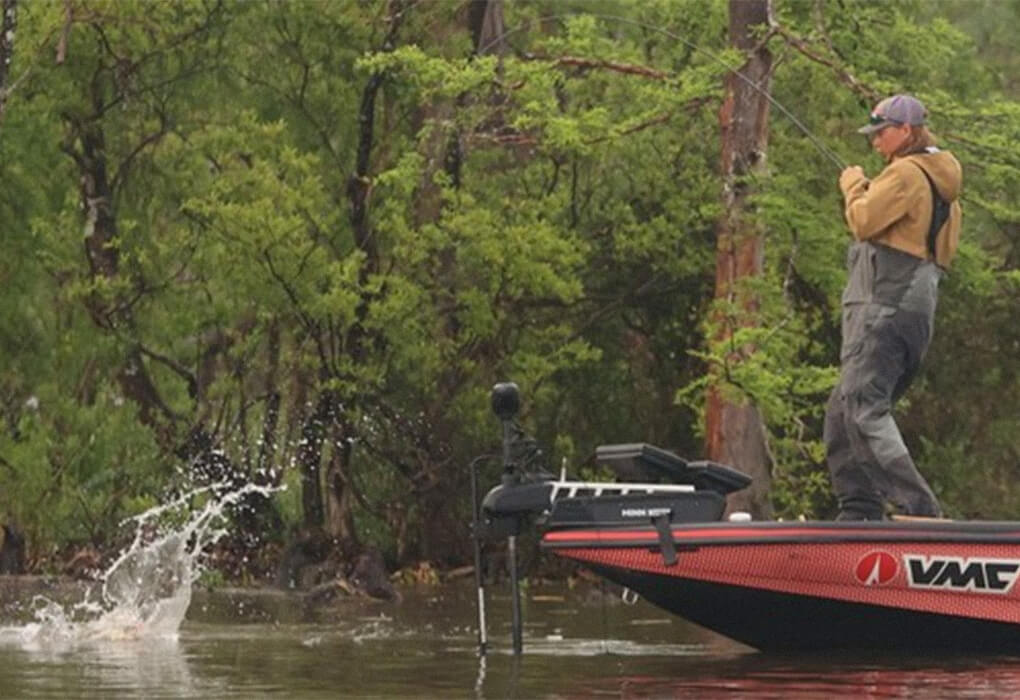 Seth Feider, this year's Bassmaster Angler of the Year, knows that bass can be caught in the heat of summer. (Photo by B.A.S.S.)
Seth's World, Northern Version
Looking for a region where the bass fishing is still good in the heat of the summer? Head north.
In the clear lakes of central and southern Minnesota, the weeds often grow thick in July and August. And that can produce some of the best largemouth bass fishing of the year.
"We don't have huge bass up here. You won't catch a 10-pound largemouth in Minnesota," said Feider who lives in New Market, Minn. "But when it comes to 3- to 5-pound fish, we're second to none.
"A lot of people think of smallmouths when they think of Minnesota. But we have some great largemouth fishing, too."
And this is the time to catch them, he said.
When the milfoil and coontail grow thick and provide the bass with plenty of cover, Feider is in heaven.
"If I could flip a jig in milfoil every day for the rest of my life, I'd be happy," he told Your Bass Guy in a telephone interview.
Feider often goes to work in 8 to 12 feet of water along the outside edge of weedbeds. He makes short flips or pitches rather than long casts.
"With a long cast, you'd have a hard time getting a bass out of those thick weeds," he said.
He prefers a 3/8th to a ¾-ounce bass jig with a plastic trailer that has lots of action.
The bass often suspend under the canopy of weeds where it is cooler and wait to ambush their prey. Feider will target slight depressions ("Sometimes, they're just barely noticeable on your graph," he said) or isolated clumps of grass.
Whatever the case, Feider often catches and releases limits of largemouths at this time of the year.
"Our water temperature might get up into the low 80s,but it generally stays in the mid to upper 70s in summer," he said. "The bass are still active."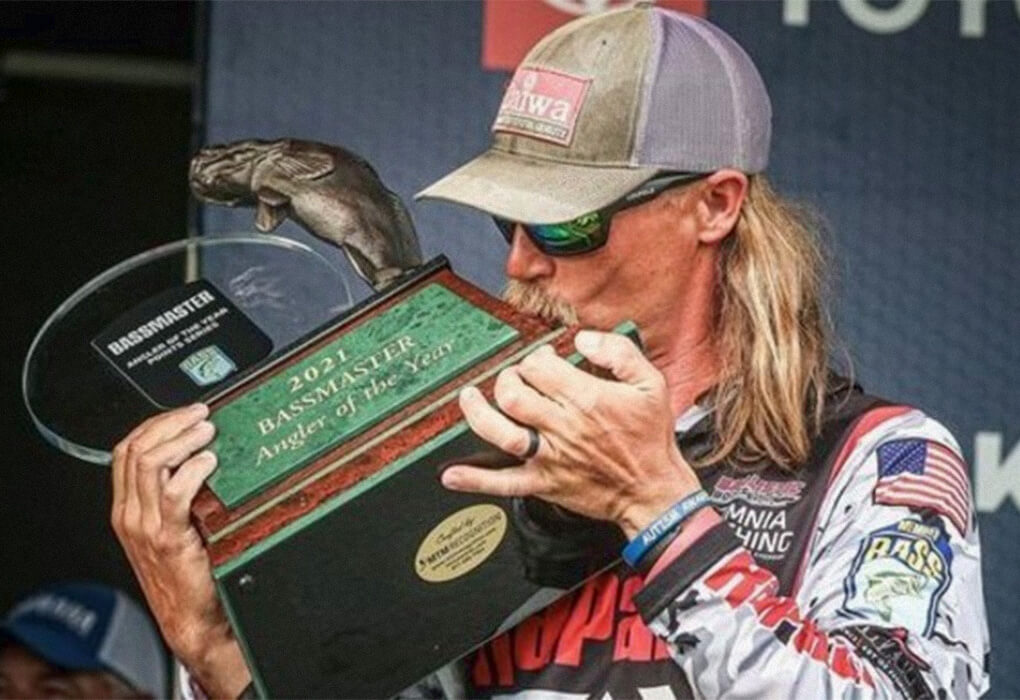 Seth Feider kissed the Bassmaster Angler of the Year trophy after clinching the points race in a tournament on July 16 on the St. Lawrence River (photo by Seigo Saito/B.A.S.S.)
Seth's World, Southern Version
Don't tell Feider that largemouth bass act the same no matter where they are found.
There is a world of difference between fishing on northern lakes and southern reservoirs, he said.
"Down south, the structure and forage are different," Feider said. "The bass mostly feed on shad in the south, and use rock and wood for their habitat. There's also current in a lot of these big reservoirs.
"I think the bass move more in the southern reservoirs. You have to fish patterns rather than specific spots."
Bass fishing gets tougher in the heat of summer on southern reservoirs. But that doesn't mean bass can't be caught.
Feider still catches largemouths surprisingly shallow in the dog days of July and August.
"There will still be wolfpacks of bass feeding in the shallows," he said. "I'll find them even in the backs of creeks, especially the ones where there is inflow.
"The bass will be cruising the bank, not necessarily holding on cover. A lot of times they'll be in the shade. If there's a tree hanging over the water, there might be a 10-foot stretch of shade and they'll be there.
"I like to use a buzzbait, a Pop-R or a frog when they're shallow like that."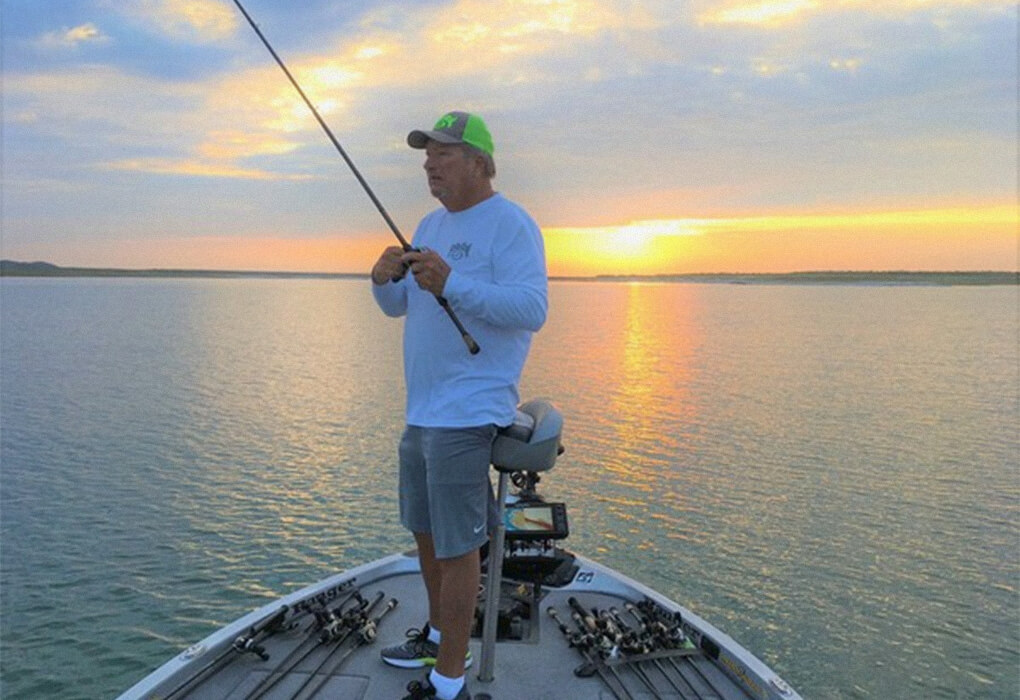 Bass-fishing great Denny Brauer knows that some largemouths will remain shallow in the heat of summer, especially if there is plenty of shade. (photo courtesy of Denny Brauer).
They Don't All Move Deep
Denny Brauer, one of the all-time greats in professional bass fishing, has been on a great deep-water pattern on his home water, Lake Amistad in Texas.
But he is convinced that not all bass move deep in the heat of summer.
If there is adequate cover and ready food, some of them will stay shallow.
"They're going to be where the groceries are," Brauer told Your Bass Guy. "At many lakes, you look what's around the docks. You'll see a lot of little bluegills, shad, and minnows around the brush piles. Plus, the docks provide a lot of shade.
"The bass get in those dark areas for ambush spots."
Even on Lake Amistad, where many of the largest bass go deep in the heat of summer, some stay shallow.
"I've been fishing a frog over the clumps of pond weed, which grows even shallower than hydrilla, and I've caught some big fish," he said. "The bass will hang in the shallows under those thick clumps and they're comfortable."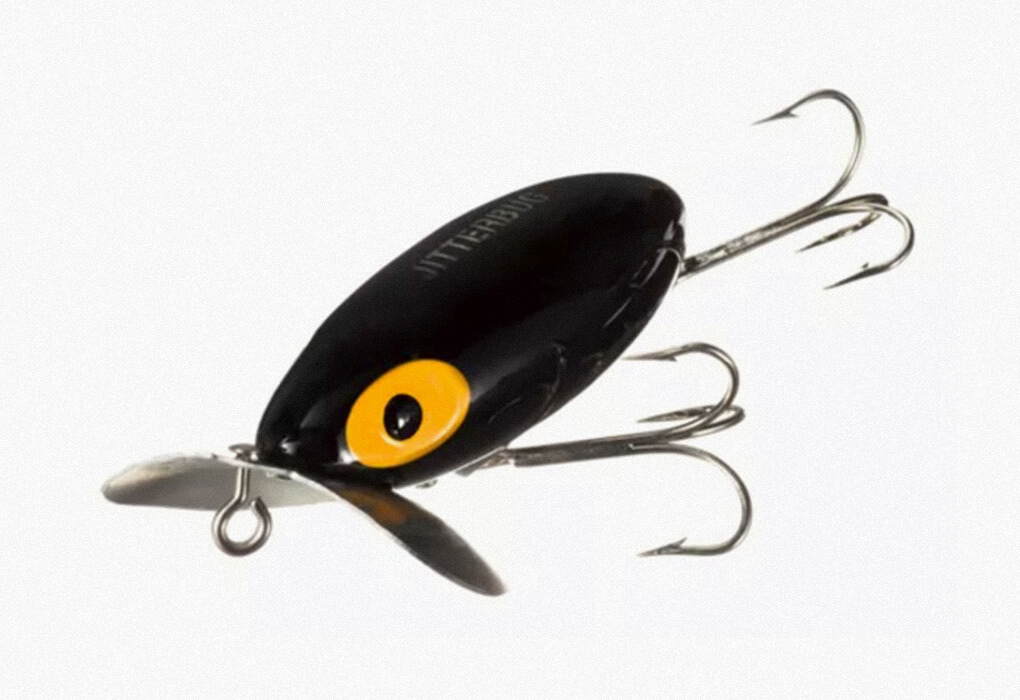 The Arbogast Jitterbug is an old-time topwater bait that still works
Lure of the Week
For an oldtimer, the Jitterbug is still doing remarkably well.
The topwater lure was invented in the 1930s by Fred Arbogast, a famous lure designer. The original version was made of wood, with a double-cupped metal plate that caused the bait to wobble across the surface.
It later was changed to plastic, but its function remains the same.
Because of the commotion it creates, it is known as one of the best nighttime topwater lures. It is especially popular with fishermen who specialize in pond and stream fishing.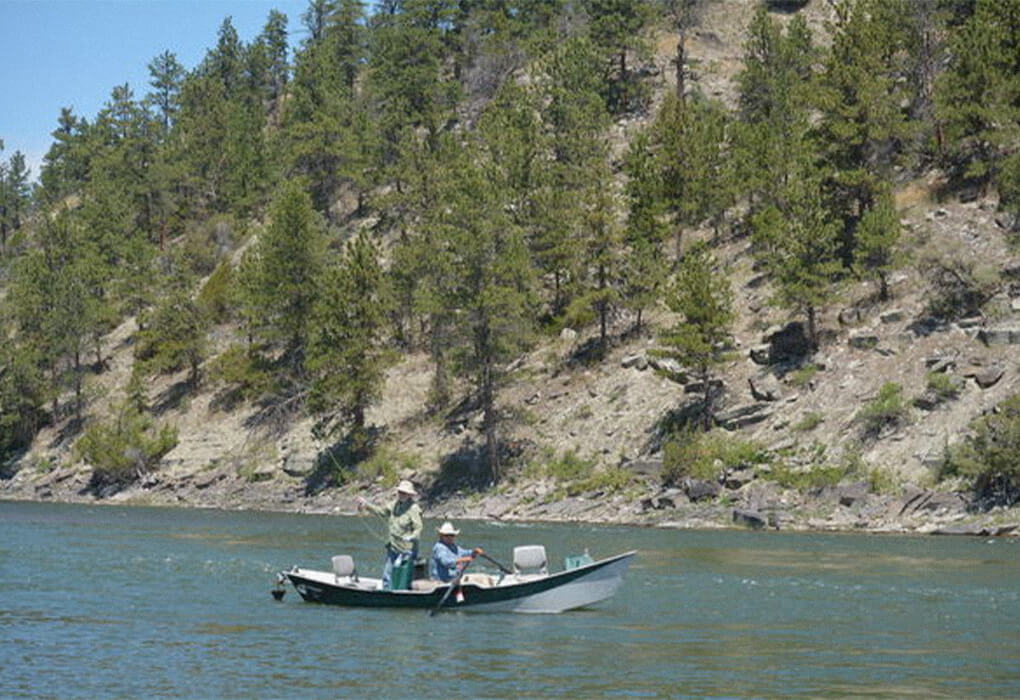 The Yellowstone River, shown here during normal times, is one of many Western rivers suffering from drought and heat this summer. (Photo by Brent Frazee)
Western Trout Waters Ravaged by Drought, Heat
Trout thrive in the cool, running water Western states such as Montana, Wyoming, and Utah are known for.
But a drought and unusually high temperatures are taking a toll this summer.
Famous trout rivers such as the Yellowstone, Big Hole, Jefferson, and Gallatin in Montana as well as others in Wyoming and Utah are feeling the stress of the summer of 2021.
Some stretches of rivers have been closed to fishing, while others are under hoot owl restrictions, which prohibits fishing from 2 p.m. until midnight.
In Utah, the Division of Wildlife Resources announced Wednesday that it is increasing limits on some drought-stricken waters in an attempt to give anglers a chance to catch more trout before fish kills take place.
Not a good situation.
That's a wrap for this week. Stay cool and hydrated if you plan to get out.