Talk about a great storyline.
A couple of Auburn University fishermen decide at the last minute to travel through the night from Alabama to Bull Shoals Lake in the Ozarks to compete in a last-chance qualifying tournament for the Johnny Morris Bass Pro Shops U.S. Open.
They qualify and get a half-day to practice on Table Rock Lake, a body of water they had never seen before.
They guess correctly that the bass would be suspended in deep water, chasing shad. They catch a limit of bass and win the tournament by less than one pound.
As confetti rains down, they hoist huge trophies and get checks splitting the $1 million first prize, the highest payoff in the history of bass fishing. Plus, they each receive a Nitro bass boat and a Toyota Tundra truck.
Welcome to the world of Tucker Smith and Logan Parks, bass fishing's newest heroes.
When they won the Johnny Morris U.S. Open National Bass Fishing Amateur Team Championship on Nov. 21, they experienced a dream moment no fishermen, pro or amateur, had ever experienced.
They became Team Millionaire after just a week of fishing.
This week, we'll talk to them about this unique tournament, how Parks and Smith caught the winning bass by fishing deeper than they ever had, and how the advice of a bass-fishing legend played a part.
So, don't stop reading. We're going to take a fun ride on bass fishing's equivalent of a Field of Dreams.
Don't forget to take our survey and let us know how we doing. And send us you brag photos and some info about your idea of the best bass waters in the nation. Just hit reply to this email, and I'll get them.
– Brent
---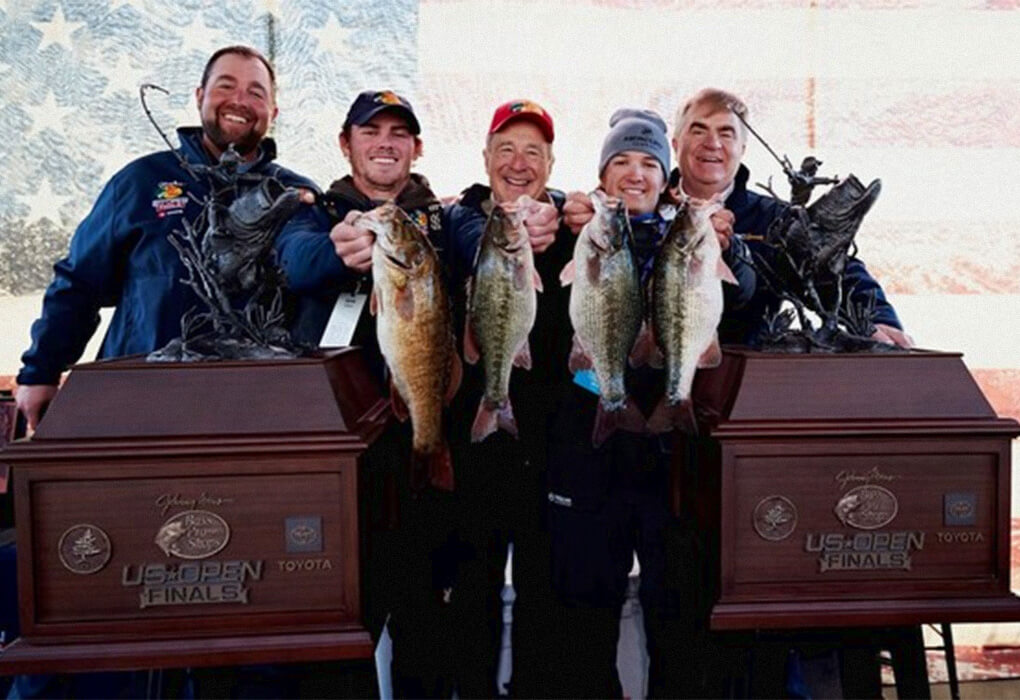 Johnny Morris (center) celebrated with U.S. Open champions Logan Parks (second fro m left) and Tucker Smith (second from right) and Morris' son, John Paul (far left) and one of the tournament's main sponsors, Toyota's Bob Carter (far right). (Photo by Bass Pro Shops)
A Special Golden Anniversary
You have to hand it to Johnny Morris, founder and owner of Bass Pro Shops. He definitely knows how to throw a party.
In recognition of the Bass Pro's 50th anniversary, he came up with an event the likes of which bass fishing has never seen before.
His goal was to recognize the grassroots fishermen of the sport, not the pros. It was the ultimate owner's appreciation tournament, featuring fishermen who purchased boats from Morris' White River Marine group.
The winners of the championship event split a $1 million prize–the highest in bass fishing history. But they weren't the only ones treated like royalty. The total purse in the event was $4.38 million.
Morris awarded boats to 13 youngsters ages 17 and under who submitted videos to Bass Pro Shops on why they liked to fish. Once the kids and their parents received the keys to their new rides, they were guided by bass-fishing legends such as Bill Dance, Kevin VanDam, Hank Parker, Jimmy Houston, and Roland Martin in their new boats.
Morris and Bass Pro Shops also recognized Missouri veterans and others who helped make Bass Pro Shops a household name among fishermen and hunters.
"This tournament is our way of saluting and rewarding our customers with the chance to land the catch of a lifetime," Morris said. "It was exciting …to celebrate 50 years of heritage, advance important conservation initiatives, and have some big fun with people who love fishing as much as we do."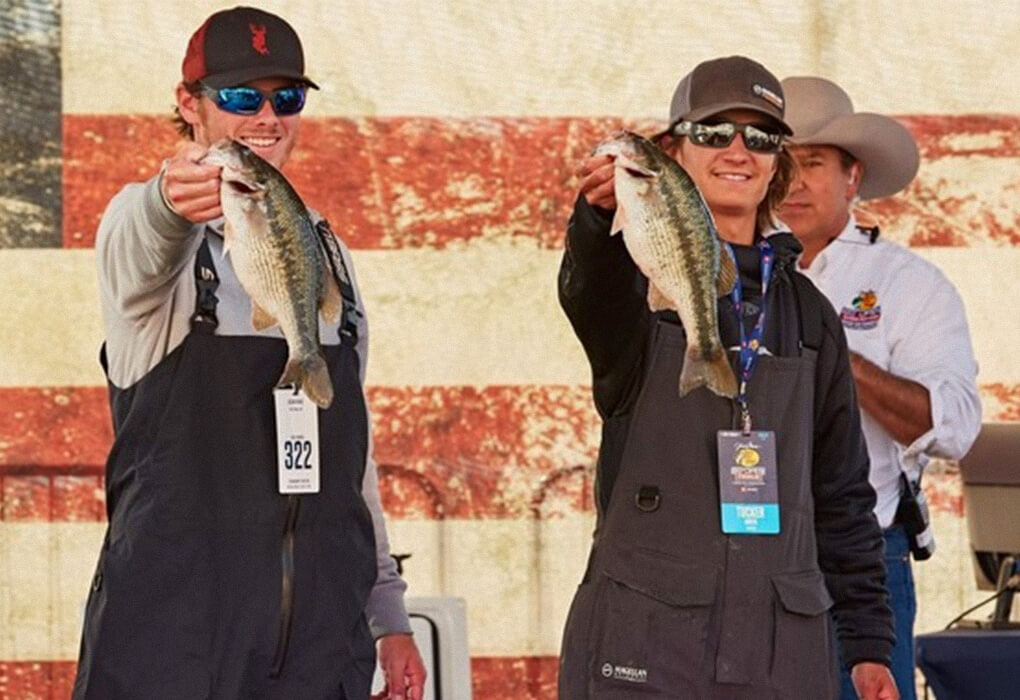 Logan Parks (left) and Tucker Smith displayed some of their winning fish in the Johnny Morris Bass Pro Shops U.S. Open. (Photo by Bass Pro Shops)
Casting Outside of The Box
Parks and Smith aren't accustomed to fishing the deep, clear water of the Missouri Ozarks.
Back home in Alabama, they often encounter off-color water and big bass that will relate to shallow cover.
But the teammates on Auburn's fishing team knew they had to change it up and fish deep if they were to stand a chance of winning.
"This time of the year, the bass are usually chasing baitfish," Smith told Your Bass Guy. "We knew that if we could find an off-shore bite, it would be more consistent."
But Parks and Smith didn't have a lot of experience with that type of fishing to draw on.
"I had never caught bass suspended in 100 feet of water before," Parks said. "I had fished in 50 feet of water on Lake Hartwell, but nothing like this."
Still, that proved to be the winning formula at Table Rock Lake. As the fishermen were traveling to a point they planned to fish, they noticed a large flock of gulls diving down on the surface, feeding on shad.
They pulled over, turned on their LiveScope unit that showed real-time activity of gamefish, and hit the jackpot.
"There were big schools of baitfish and the bass were right underneath them," Smith said. "We could watch on LiveScope how the bass would react to our baits.
"Some were just curious. They would come up to a bait and then just turn away. The ones who came racing up to our baits, those are the ones we wanted."
With the water so clear, the fishermen cast their baits a fairly long distance, then watched on the screen as they swung down.
"We threw to 200 to 300 fish that final day," Parks said. "If they wouldn't swim at it hard, we'd just reel up and cast to another fish.
"We were looking for reaction strikes. If they got a good look at that bait, they wouldn't hit."
Most of the bass they caught were only 20 to 30 feet down in 100 feet of water. Parks and Smith caught fish on a Damiki Rig (a jig with a minnow-type plastic bait), a Berkley PowerBait MaxScent Flatnose Minnow, and other plastics.
"Before we pulled up to that spot, we only had one 15-inch fish," Parks said. "But once we found that place, we caught 15 pounds of bass in about 30 minutes."
That was enough to boost their winning total to five bass weighing 16.48 pounds, barely edging second place-finishers Joseph Nicholson and Gary Sterkel, who had 16.18 pounds.
It wasn't the first time Parks and Logan have found success. They were Bassmaster's College Team of the Year in 2021. And both have done well in individual tournaments.
Winning the U.S. Open with its huge payback was life-changing.
"Winning a tournament of this caliber gives you the financial backing you need," Smith said. "We both want to go pro, and that's expensive. You have to travel, pay expenses, gas, meals, everything.
"This will definitely help us get started."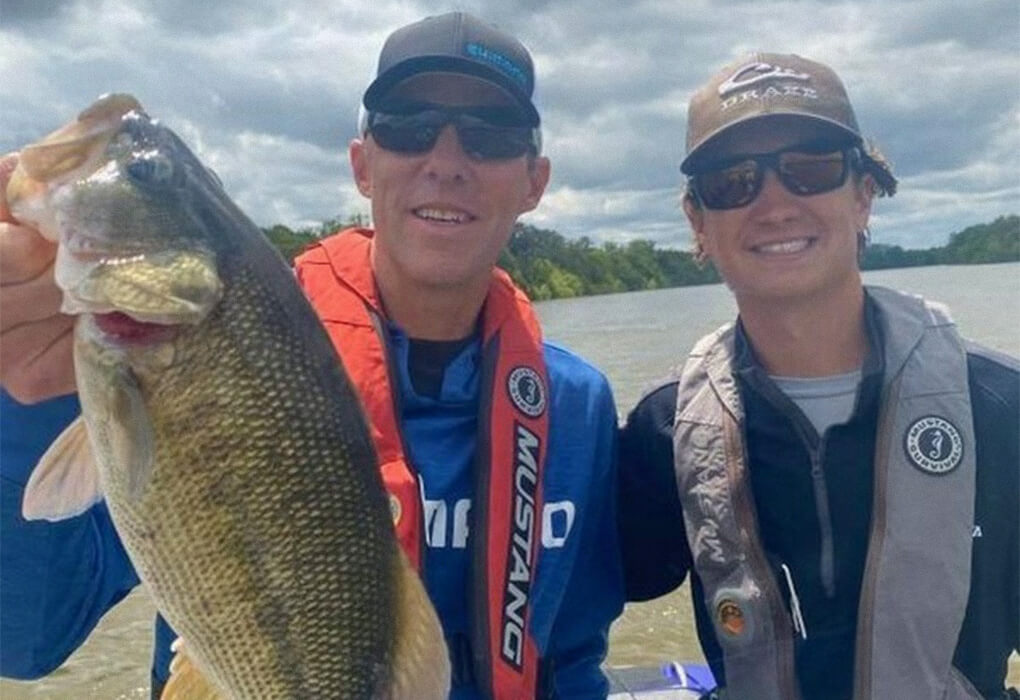 Tucker Smith (right) considered legendary bass fisherman Aaron Martens his mentor. Martens passed away recently after a battle with brain cancer, but Smith still uses the tips he imparted to catch bass
Divine Intervention?
Though Aaron Martens passed away Nov. 4, Tucker Smith could still feel his presence during the Johnny Morris Bass Pro Shops U.S. Open at Table Rock Lake.
"Aaron won his last national tournament at Table Rock," Smith said. "When we started catching fish, I felt like he was there with us. I even used one of the reels he gave me.
"It made me tear up."
Martens took Smith under his wing, teaching him the subtle nuances of the bass-fishing game.
"One of the biggest things he taught me is how to read a graph and see how the bass were positioned and how they were reacting to a bait," Smith said. "He would show me the little adjustments you had to make to get one of those bass to hit."
Martens also emphasized versatility.
"He always told me not to get stuck on one technique," Smith said. "He encouraged me to master everything I could so that I had a big arsenal going into a tournament."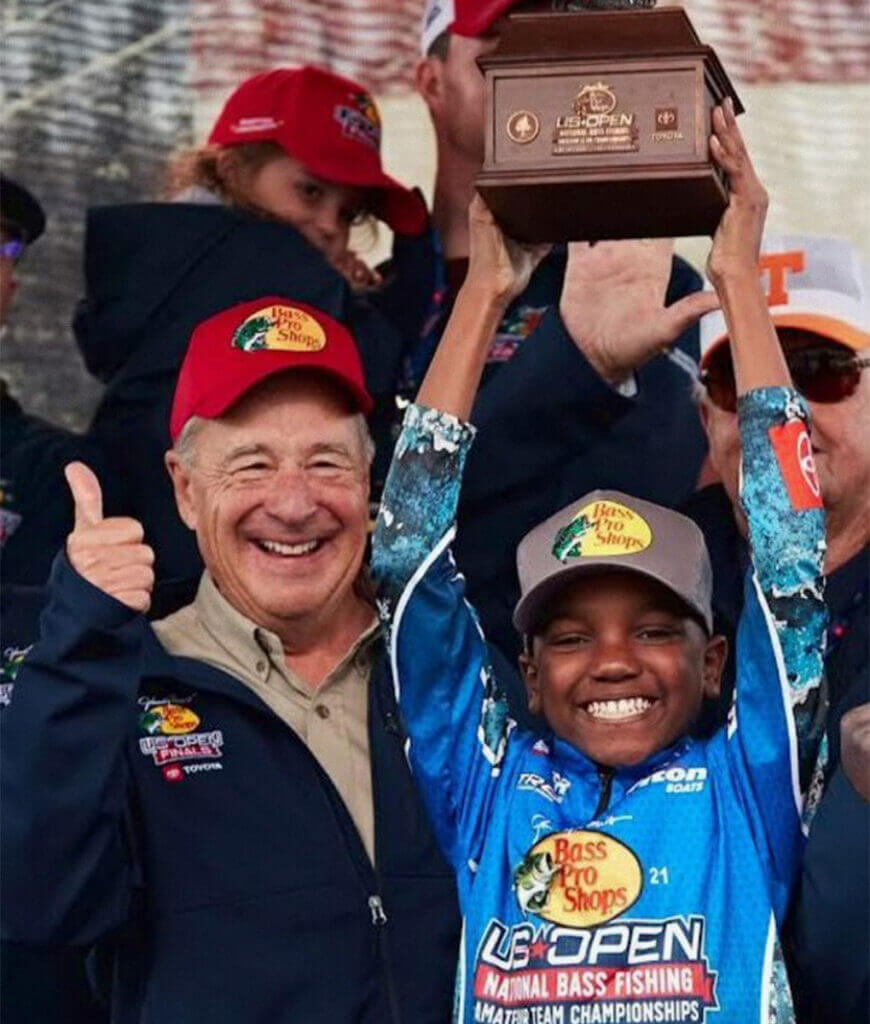 Bass Pro Shops legend Johnny Morris and Ke'Mari Cooper shared a moment after Cooper won the youth division of the U.S. Open that Morris sponsored. (Photo by Bass Pro Shops)
Inspiring Kids to Fish
When a video of 10-year-old Ke'Mari Cooper catching a 7-pound bass went viral, in 2019 Johnny Morris was watching.
It wasn't so much the size of the bass that impressed him. It was the emotion that the boy displayed as he reeled in the fish.
"Let's put this baby back in the water. My personal best. … I hope you go back and be better. One day we're going to meet back again. I'll see you later," he said as the bass slowly swam away.
That video inspired Morris to establish a Happy Fishin' video contest in conjunction with the U.S. Open. In the competition, youngsters 17 and under submitted videos showing their passion for fishing. The top finishers won bass boats and got to meet some of the sport's legends.
They also competed in a tournament of their own in their new bass boats, piloted by those celebrities.
So, who won? Cooper, of course. He caught a 3.06-pound bass and received $5,000 a pound for his catch.
That's it for now. We'll see you on the water…or on the ice.