A special bond develops when a father takes a son fishing.
Life slows down, the tension of the "real" world drains out of dad, and son has the undivided attention of dad.
That's how it was in my world. My dad is gone now, but when I reminisce about him, I always look back at the father-son fishing trips we took to Canada.
That was always our time, with no distractions, good talks, and lessons about nature, fish and even what the shack in back of the cabin with the half-moon on it was for.
Many others, including Major League Fishing star Brent Chapman, have similar memories of great times with dad in a fishing boat. We'll take a look at Chapman's relationship with his dad and now with his son, who wants to follow in his footsteps.
We'll also toss out some tips from Chapman, a few deals, and some tips on how to catch the big ones in fall.
Come along for the ride. The bass are biting.
Brent
P.S. Before you go on, please let me know which part of the newsletter is your favorite by clicking on the relevant link below. It helps me know what you all like (and don't like)!
What Is Your Favorite Part of the Newsletter?
---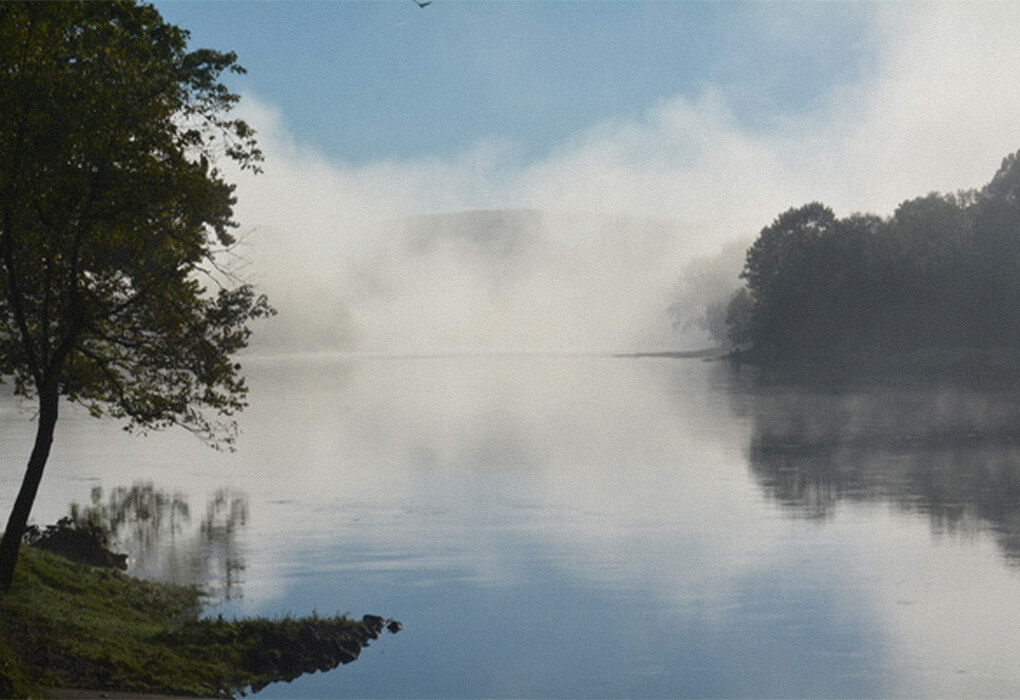 It's time to go fishing. You'd better gear up. (Photo by Brent Frazee)
Deals of the Week
Funny thing about fishing lures. What once were the hottest and most in-demand baits out there are now on the clearance rack.
Take a look at these deals on lures that once were the talk of the fishing world.
Other deals: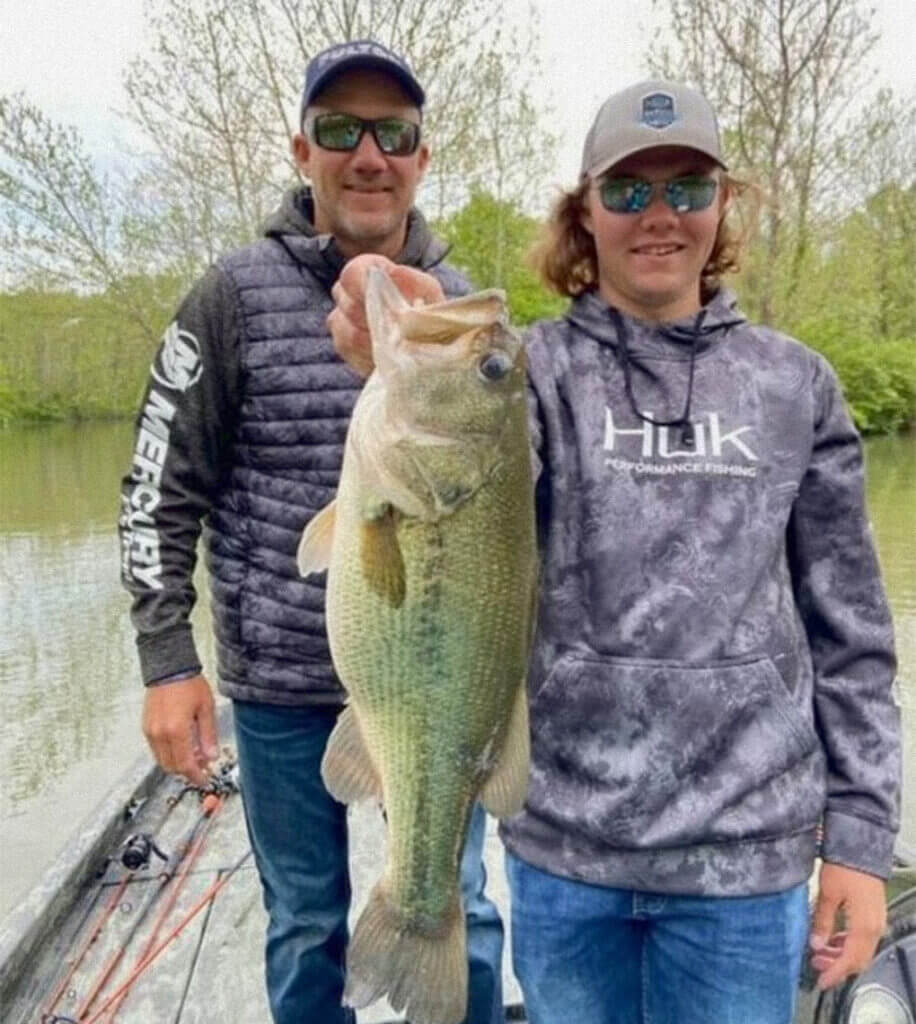 Mason Chapman is striving to follow in the footsteps of his dad, Major League Fishing star Brent Chapman. With 5 1/2-pound bass suc as the he caught at Lake Quivira in Kansas this spring, he appears to be on the right track. (Photo courtesy of Brent Chapman)
Like Father, Like Son
Brent Chapman has won countless honors in his 20-year professional bass fishing career. But he doesn't even hold big-bass honors in his own household.
His son, Mason, holds that distinction with a 12.52-pound bass he caught about five years ago.
"My dad was filming one of his Pro Vs. Joe shows on a lake in Alabama, and one of the guys who was helping us took me out fishing on the other end of the lake just to kill some time," said Mason, who is now 18. "I made a couple casts with a Ned Rig and I hooked into something big.
"I couldn't believe it when I saw how big it was."
Dad couldn't either.
"That guy who was helping Mason called me when we were filming and said, 'Your son just caught a 12 ½-pound bass,' " Chapman said. "Well, I thought, 'No way.' But they brought it over and the second they opened the livewell, I knew it was true.
"I weighed it on one of my Major League Fishing scales and it was over 12 pounds.
"That's a lot bigger than anything I've ever caught."
For Mason, that catch just furthered his passion for bass fishing. From the time he was old enough to hold a fishing rod, he's been hitting the water with dad.
The Chapman family lived for years on Lake Quivira, a Kansas City suburb, and Mason was able to learn to fish there, just as his dad did.
He is fishing tournaments already and has his share of trophies to attest to his ability. Not only have he and his longtime fishing partner, Ryder Mains, won youth buddy events, Mason also has done well enough on the co-angler side of the Major League Fishing Toyota Series that he has qualified for the championship tournament two years in a row.
Next year, it's on to Drury University, where he was recruited to be part of the Missouri school's nationally known fishing team. And after that? Well, he hopes to embark on a professional fishing career just like his dad.
"He has taught me so much," Mason said. "I've been around fishing my entire life, and I just can't get enough if it.
"I'll go into it with my eyes wide open. I've seen what the business side is like, and all of the challenges involved.
"But it's something I really want do."
Dad might be a bit biased, but he thinks Mason can succeed.
"He still has a lot to learn," Chapman said. "But he's already a good fisherman, and he's a fast learner.
"He will learn about a tactic or lure on YouTube, then go out and apply it. It's gotten to the point where he teaches me things now."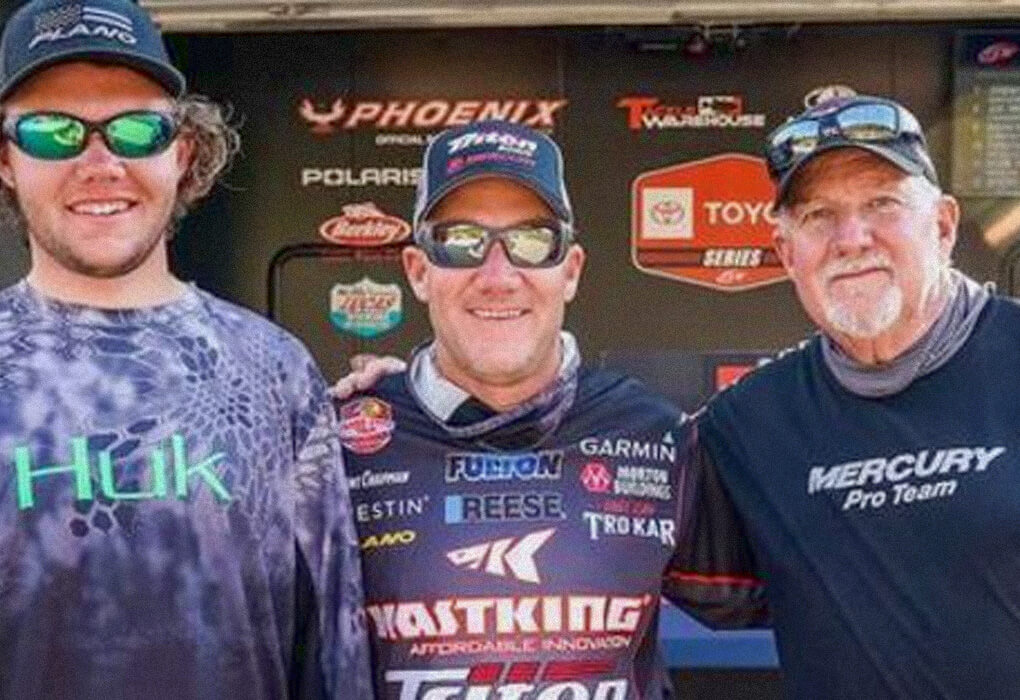 Three generations of Chapmans are involved in competitive bass fishing–Brent (center), his dad Ron (right) and his son Mason. (Phot courtesy of Brent Chapman)
Like Father, Like Son Part II
A video by Major League Fishing asking top pros about their role models tells a lot about Brent Chapman.
The other fishermen credited bass legends such as Jimmy Houston, Denny Brauer and Aaron Martens. When it was Chapman's turn, he answered, "My dad."
"He instilled the love of fishing in me," Chapman said. "That's what created the passion that makes me want to succeed in professional bass fishing today."
Chapman's fishing career had humble beginnings. He remembers fishing with his dad from the bank on the Spring River in Missouri. A fishermen came by in a shiny bass boat and Chapman recalls asking him if he had caught anything.
With that, the fishermen reached into his livewell and pulled out two big bass. The man asked the boy if he wanted one of them. Chapman cast his crankbait out and the fisherman hooked one of the bass on, and let the boy fight it.
Not long after, Chapman returned to the same place, cast out his Rebel crankbait and caught a 3-pound bass on his own.
That's how it started. Ron Chapman eventually bought a bass boat and he and his son were out on their home water, Lake Quivira, every chance they got.
Brent became hooked. He had a subscription to Bassmaster Magazine and he would read about different methods and lures, then try them out at Quivira.
Along the way, dad became a better bass fisherman, too, though he never aspired to tournament fishing as his son did.
He was content to live in the background as Brent's biggest fan. He sponsored his son in Brent's early days and even fishes as a co-angler in some Major League Fishing events today, though not in the same boat with his son.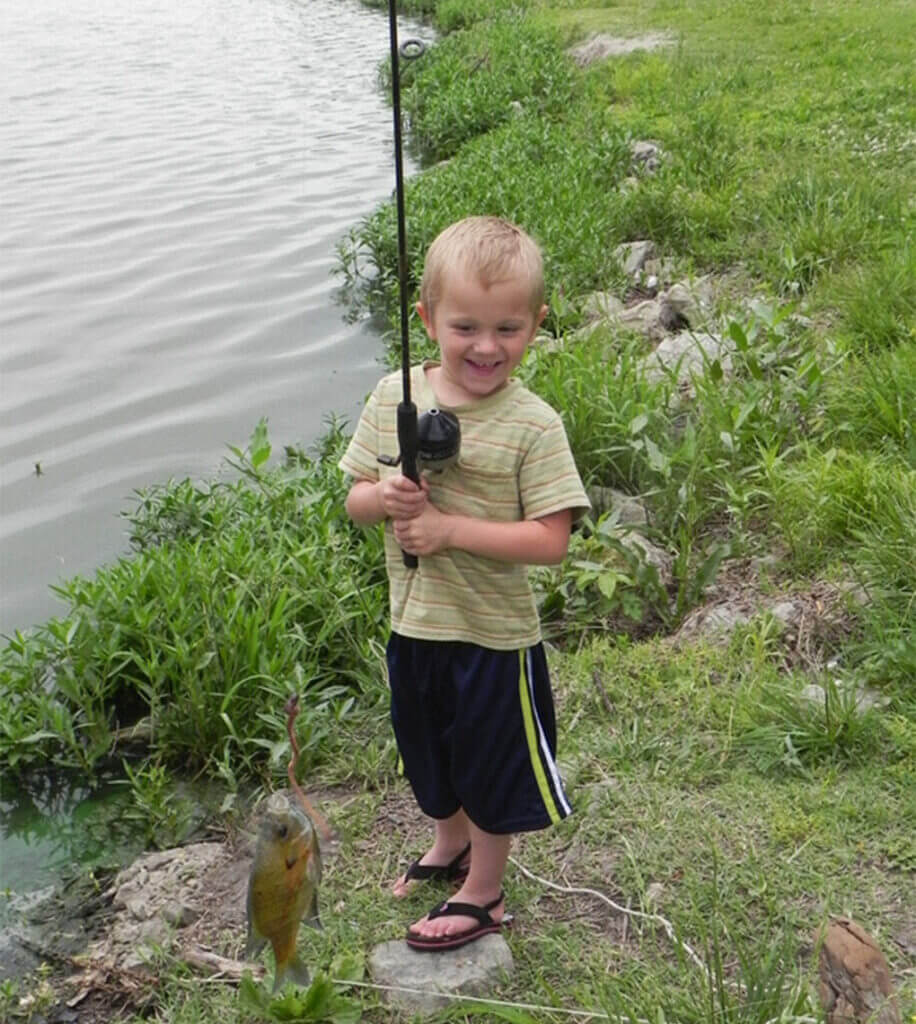 If you want a fishing partner for life, start them young. (Photo by Brent Frazee)
Get Your Kids Hooked Early
So, you want to introduce your son or daughter to bass fishing early? Sounds easy, but there are some do's and don'ts.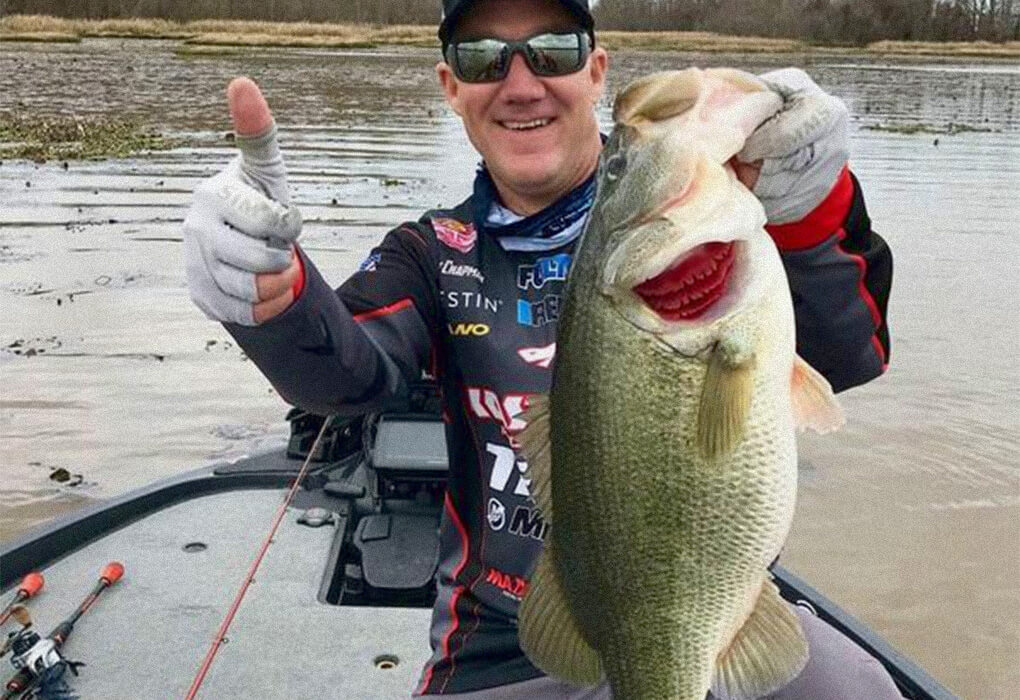 Brent Chapman knows that late fall can be a great time to target big bass. (Photo courtesy of Brent Chapman)
Fall Fishing
Chapman is waiting for the big cooldown.
Enough of this rollercoaster weather of September and early October. When the water temperature drops into the 50s, the bass will be chomping.
"When people are sitting in a treestand, waiting for deer, the bass fishing can be phenomenal," the Kansas pro said. "That's when the bass get that urgency to feed up for winter.
"Some of the best days I've had have been when it was snowing. The bass were hitting topwater."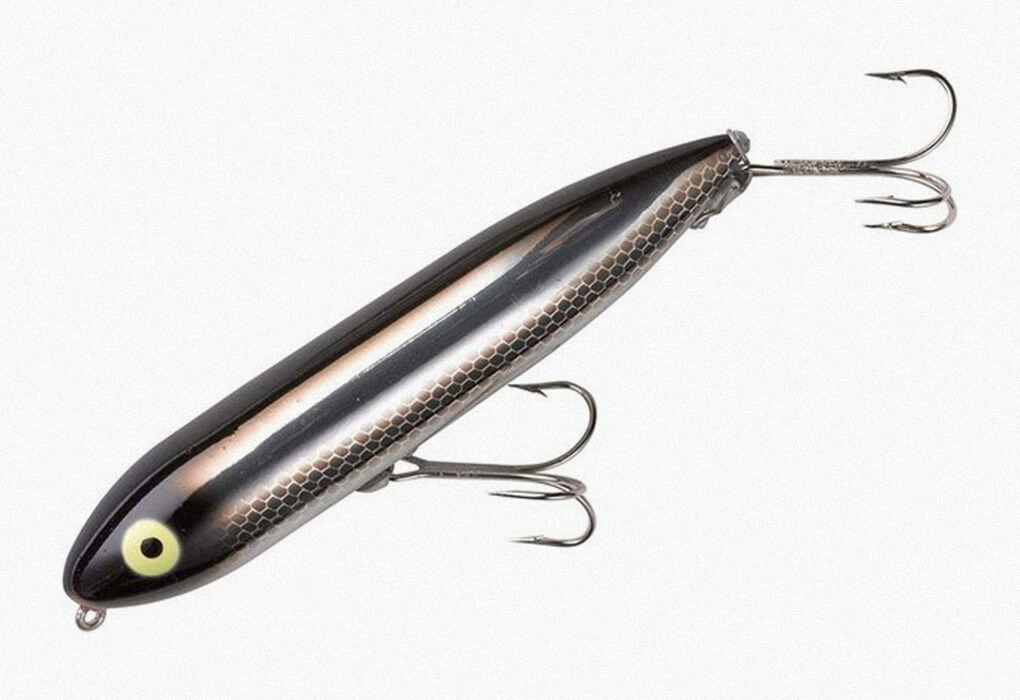 The Heddon Zara Spook
Lure of the Week
Fall is topwater time for bass fishermen. And that means it's time to walk the dog.
That's fishermen's slang for zigzagging a topwater bait across the surface to imitate a struggling shad.
For many, there's no better walking bait than the Heddon Zara Spook. The old-time bait has caught thousands of bass over the years, and many big ones. It has been often copied by other companies, but it's still tough to beat the original.
The lure is especially effective in the fall, when the shad move shallow and the bass follow them there. Look for baitfish activity in the back of coves and creeks, in pockets and off secondary points.
Experiment with retrieve cadence until you find what the bass want. Then hold on.
The bass can get mean when they are feeding up for winter.
That's it for now. Remember to email us your fish photos or tips by replying to this email. And give us some feedback and let us know what you would like to see. We'll do our best bring it to you.
Tight lines.