Takahiro Omori has come a long way since his dad kicked him out of the house for daring to announce that his goal in life was to become a professional bass fisherman.
Today, he is a legend in the cast-for-cash game, a multi-time winner on the Bassmaster and Major League Fishing circuits who has almost $3 million in tournament winnings.
But he continues to be humbled by the days when he was homeless as he pursued his dream.
"My father thought the best way to get a good job was to go to college," said Omori, 52, who grew up near Tokyo, Japan but now lives in Emory, Texas.
"My brother and sister both went to good schools, and I was supposed to, too. But I wanted to become a professional fisherman.
"My father wasn't happy with that, and he told me I couldn't stay in their home as long as I had those plans. So I stayed in a tent on an island on Lake Kawaguchi and fished every day."
All the while, Omori dreamed of traveling to America and becoming a bass pro.
An unlikely dream? Well, yeah, the odds were stacked against him. But Omori's passion for bass fishing and refusal to give up made him one of the top competitors on the circuit.
We'll look at Omori's awesome journey from a dreamer to a champion, examine Japanese bass fishing, and get some fishing tips from this legend.
After interviewing him, I was impressed by his passion for bass fishing and humble nature. Few pros on tour have overcome more obstacles.
---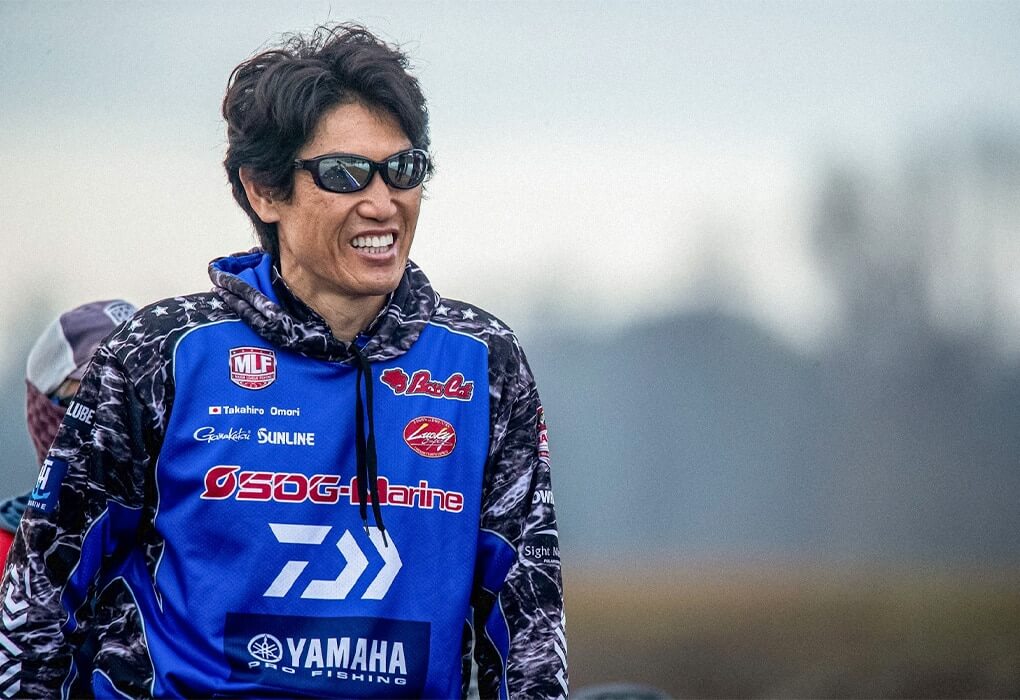 Takahiro Omori grew up near Tokyo, Japan, but dreamed of moving to America (photo by Josh Gassmann/Major League Fishing)
The Early Days in Japan
Omori's story began when his family moved to the country outside Tokyo.
He started fishing farm ponds and immediately became hooked on bass. That was before Florida-strain largemouths were introduced to Japan, so the fish weren't that big. But Omori still had big-time dreams.
He followed American bass fishing and the big stars of the professional circuits.
He read Japanese magazines about U.S. fishing and studied everything he could find to learn about techniques, lures, seasonal patterns, and bass behavior.
Meanwhile, he worked as a waiter, hotel bellhop, and dishwasher to survive.
He fished Japanese bass tournaments as a co-angler but spent most of his time fishing from shore.
"I couldn't afford a bass boat," he said. "I fished mainly from the bank, but I still caught fish.
"Japan has a lot of small lakes and ponds, and not many people own big bass boats."
It wasn't until Omori moved to the United States that Florida-strain bass were introduced to Japan, and eye-opening catches were reported.
In 2009, Japanese fisherman Manubu Kurita caught a 22-pound, 4-ounce bass, which tied the world record set in the U.S. decades earlier.
When Omori was honing his craft, the northern strain bass in Japanese waters were much smaller.
"In Japan, if I caught 10 to 12 pounds a day, I would win the tournament," he said. "When I first came to the United States, winning totals were almost double that.
Big fish. Big fish."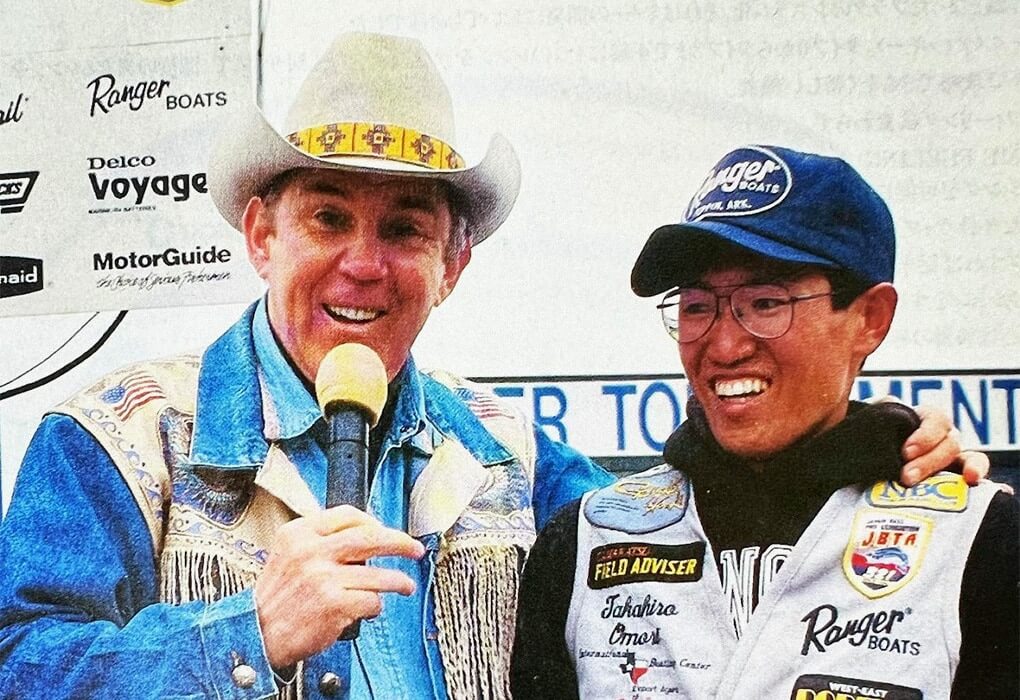 When Takahiro Omori first competed in American tournaments, he was a favorite of B.A.S.S. founder Ray Scott (photo by B.A.S.S.)
The Americanization of a Japanese Angler
When Omori decided to follow his dream and move to the United States to compete as a non-boater in B.A.S.S. Opens, it was a giant leap of faith.
He carried only a small duffel bag with most of his belongings, six rod and reel combos, a tackle box, and a temporary visa.
"I couldn't speak English, and I didn't have a place to stay," he said. "I communicated through gestures.
"I didn't know much about American culture or American reservoirs. It was a real adjustment.
"But I had the passion. I had to succeed. I wasn't going to return to Japan as a failure."
He started his career by sleeping in the back of an old Suburban and making his meals. He started slowly in tournaments, failing to finish in the money for nine years.
His breakthrough year came in 2001 when he qualified for his first Bassmaster Classic. He was proud to finish 26th in that event. But he was even prouder of who attended–his parents.
Three days after they returned to Japan, his dad died of a heart attack; Omori mourned the loss but thought there was some deeper meaning in the timing.
"My father got to see what I did for a living, and I hope he was pleased," Omori said.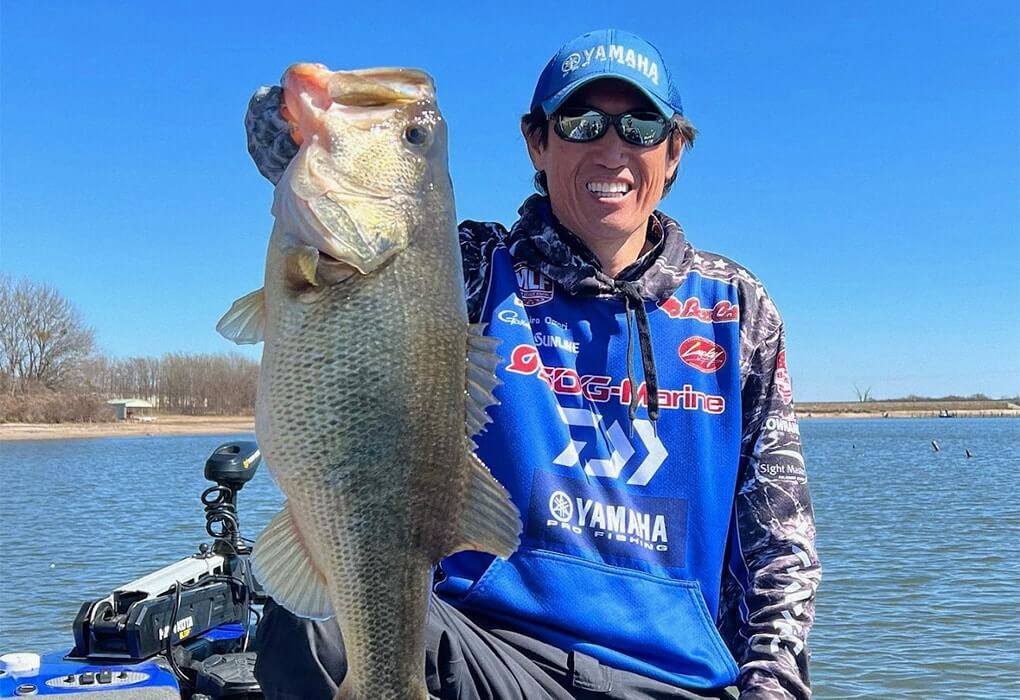 A passion for catching big bass is what brought Takahiro Omori to America (photo by Major League Fishing)
A Learning Process
When Omori arrived in America, one of the first lakes he fished was Lake Fork in Texas.
"I had heard about all the big bass that lake had, and I wanted to fish it," he said. "I just fished from the bank, but I caught a lot of 4, 5, and 6-pounders."
Omori was so impressed with the lake that he eventually moved there. After he got a boat, he started guiding on Fork with the help of Joe and Toshiko Axton, owners of Bass City Marina.
The Axtons made a business out of hosting Japanese fishermen who wanted to fish Fork. It helped that Omori was able to communicate with Toshiko, who also was from Japan.
Omori started guiding for the marina, and word of his success spread quickly. He excelled at power fishing shallow cover, and Fork had plenty of targets to cast to.
With its maze of flooded timber and brush, Omori learned to catch fish with squarebill crankbaits, spinnerbaits, bass jigs, creature baits and topwater frogs.
That shaped his fishing style, which led to greatness. Over his career, he has become known as a shallow-water power fisherman.
He throws big lures to shallow targets such as flooded bushes, laydown trees, boat docks, hydrilla, lily pads, and other cover to catch ambushing bass.
He saved his money and eventually bought a small house with a swimming pool on Lake Fork. But he didn't use the pool for recreation. It became his test laboratory.
He would go underwater to see how a variety of lures would look and sound. That played a big part in his choice of baits to use.
Omori still lives on Lake Fork, though he seldom gets to fish it anymore. He is too busy fishing the Major League Fishing Bass Pro Tour.
But he continues to tout Lake Fork as one of the best bass fisheries in the nation.
"It's a great place because you can fish almost year-round," he said. "It's a great place to learn."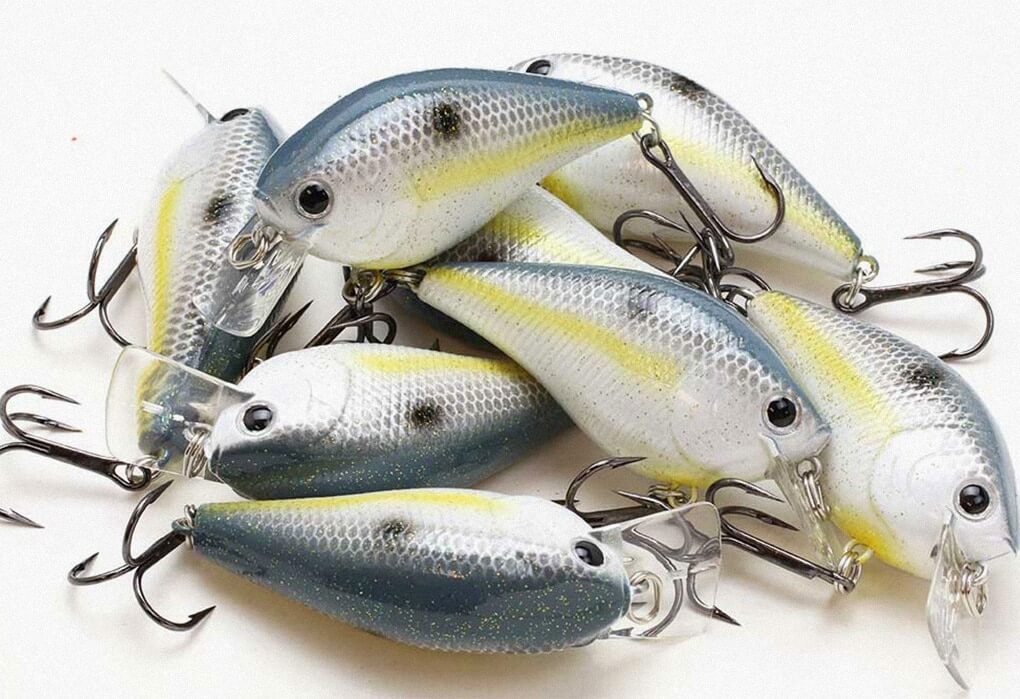 The Lucky Craft Squarebill Crankbait is one of Takahiro Omori's not-so-secret weapons (photo courtesy of Lucky Craft)
The Crankin' Life
Omori learned early that squarebill crankbaits were deadly in shallow cover. Part of that might have been because of his roots as a bank fisherman.
Whatever the case, he is known for his shallow cranking techniques.
He used Bagley Balsa B2 squarebills to catch three big bass in the closing minutes of the 2004 Bassmaster Classic and win his first championship. That did wonders for the sale and popularity of shallow-running crankbaits.
Today, he is sponsored by Lucky Craft, a Japanese company that fashions beautiful squarebill crankbaits. The bait manufacturer sells an LC Series of squarebills,  and Omori uses the bait to catch big bass.
It's fast-paced fishing and allows Omori to cover plenty of water. He generally moves down a bank with his trolling motor and fires at any type of cover he encounters.
He reels fast and tries to get the crankbait to deflect off the cover. He will often pause his retrieve when contact is made, and that's usually when the bass strike.
"Sometimes, you won't even feel the bass hit. The line just gets heavy," Omori said.
Equipment is key to Omori's style of fishing. He has designed what he considers the ideal type of rod for shallow cranking, the Daiwa Signature Series Tatula Elite rod.
It's a 7-foot medium-heavy rod that allows for rapid underhanded casting and pinpoint accuracy. He pairs that with a 9:0.1 Daiwa Zillion reel, a fast-gear model to accommodate his run and gun-style fishing.
If there's cover around, Omori is going to hit it.
"The more casts I make, the better my chances," Omori said.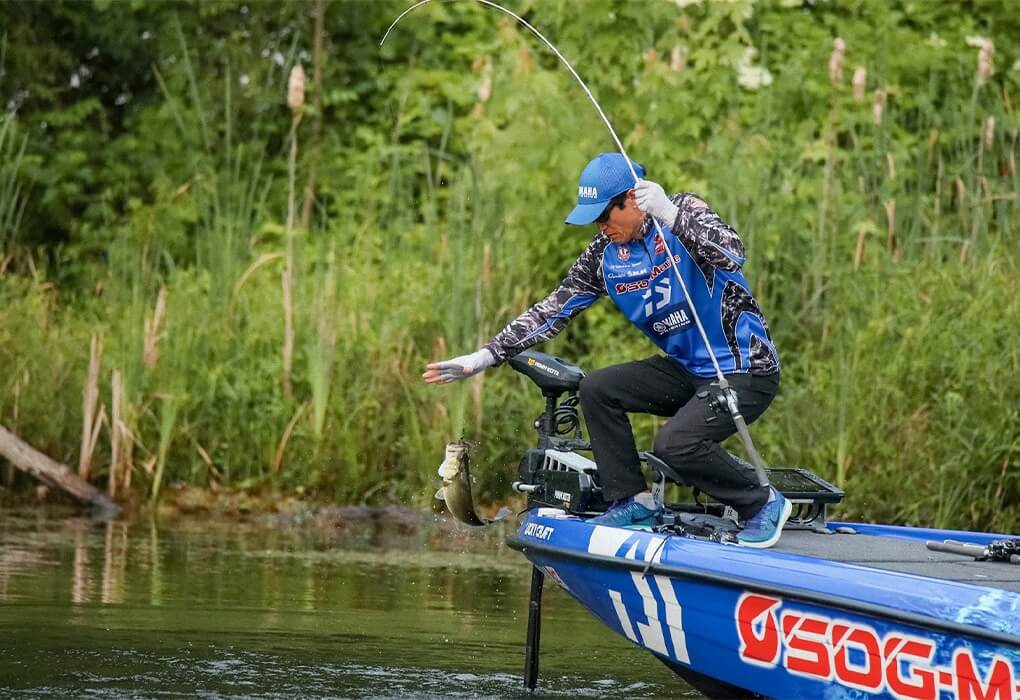 Takahiro Omori uses a variety of shallow-water tactics to catch bass (photo by Josh Gassmann/Major League Fishing)
Other Shallow-Water Tactics
Despite his love of squarebill crankbaits, Omori isn't a one-trick fisherman.
"The only reason I have lasted as long as I have is that I've been able to adjust," he said. "If I were hard-headed, I'd be out of business by now."
Omori listed the Evergreen Jack Hammer as one of his other favorite baits.
It is a Chatterbait on steroids. Designed by pro Brett Hite and legendary Japanese lure manufacturer Evergreen International and marketed by Z-Man,  the bait vibrates as soon as it is retrieved and has a side-to-side movement that imitates a frenzied shad. Its profile easily deflects off wood and can be skipped under boat docks and other hard-to-reach spots. 
Omori also flips and pitches his homemade jigs to shallow cover, casts topwater frogs, and uses big swimbaits when searching for a big bite.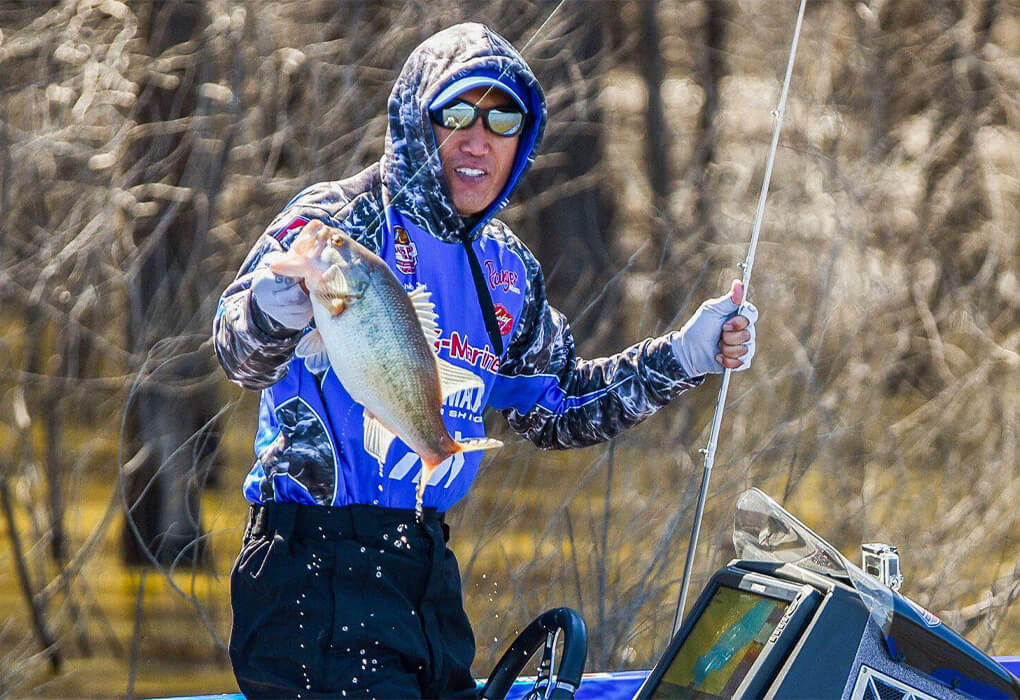 Takahiro Omori had a business plan when he came to the United States from Japan, and it has worked out nicely (photo by Major League Fishing)
A Man with a Plan
Shortly after Omori arrived in the United States in 1992; he made a 15-year plan.
He set a timeline for accomplishing specific goals and dedicated himself to making those happen.
For example, he thought it would take 10 years to qualify for his first Bassmaster Classic. That was a realistic goal, and he made it happen in 2001.
He also set a goal of winning a Bassmaster Classic within that timespan. He accomplished that goal in 2004.
About the only goal that still needs to be fulfilled is winning Angler of the Year honors.
"I had a goal of winning Angler of the Year by 2005, but that didn't happen," Omori said. "That still drives me."
That's a Wrap
In the course of my interview, I asked Omori if he uses any of the lures or methods he learned in Japan to find success in the United States.
He laughed and said, "Everything I have learned about bass fishing came here in the United States."
Still, Omori has strong ties to Japanese bass fishing. Many of his best sponsors–Daiwa, Yamaha, Lucky Craft, Gamakatsu hooks, Sunline, and Evergreen–are based in Japan.
He is proud of his heritage, yet he is also proud of all he has accomplished in America.
But good luck getting him to show the slightest bit of ego.
"I don't think I am that big of a deal or that I've made it," he said. "I just want to keep working hard and learning.
"It's just a dream to fish against some of my heroes."
So what has Omori taught us?
You have to follow your dreams, no matter how difficult the obstacles, that the hardest workers are often rewarded with success, and that shallow-water power fishing, especially with squarebill crankbaits, can pay off.
I don't know about you, but Omori's story is highly inspirational.
Until next time, keep those lines tight. And feel free to share your thoughts on who you would like to see us feature in upcoming "Tips from the Pros" articles.