July is supposed to be a slow month for bass fishermen, but there are lots of storylines this week.
Read about Taku Ito's unlikely rise in the pro bass world, a South Dakota fisherman's excellent week, a sneak preview of next year's lures, and more.
So hop into the boat. We're ready to take off.
P.S. Don't forget to rate this newsletter at the bottom so I can tailor future newsletters to your likings!
P.P.S. If you're feeling awfully kind today, please consider forwarding this email to a fellow angler(s) who would enjoy my readings and writings each week. The more the merrier!
---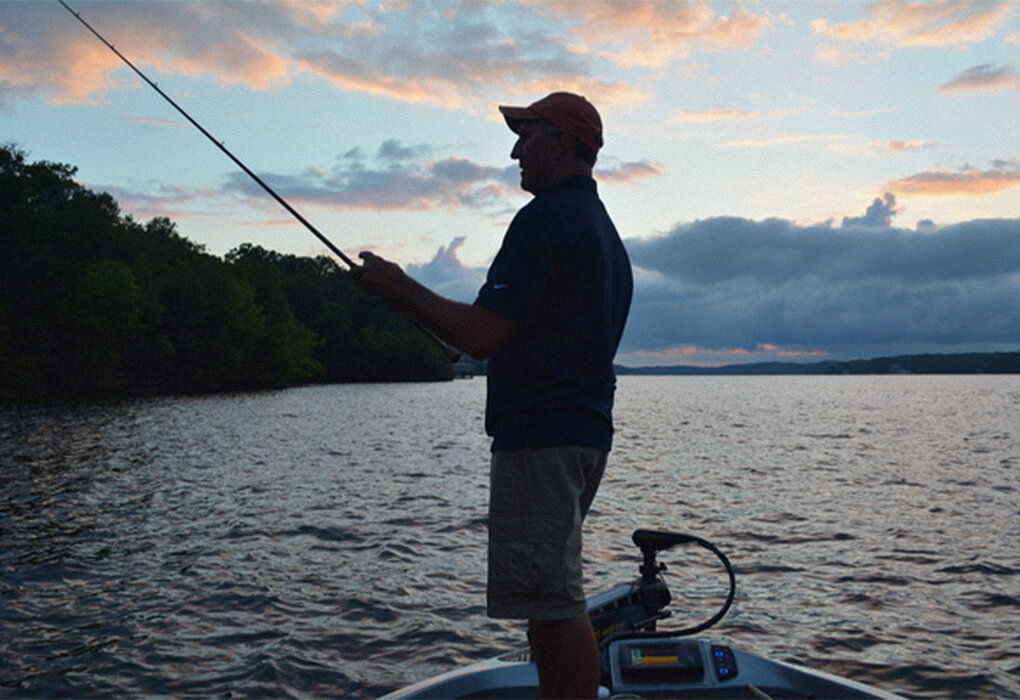 Deals of the Week
Time to spend some money. Here are a few sales that might get you to open your wallet.
Bass Pro Shops is offering big savings on three of my favorite crankbaits: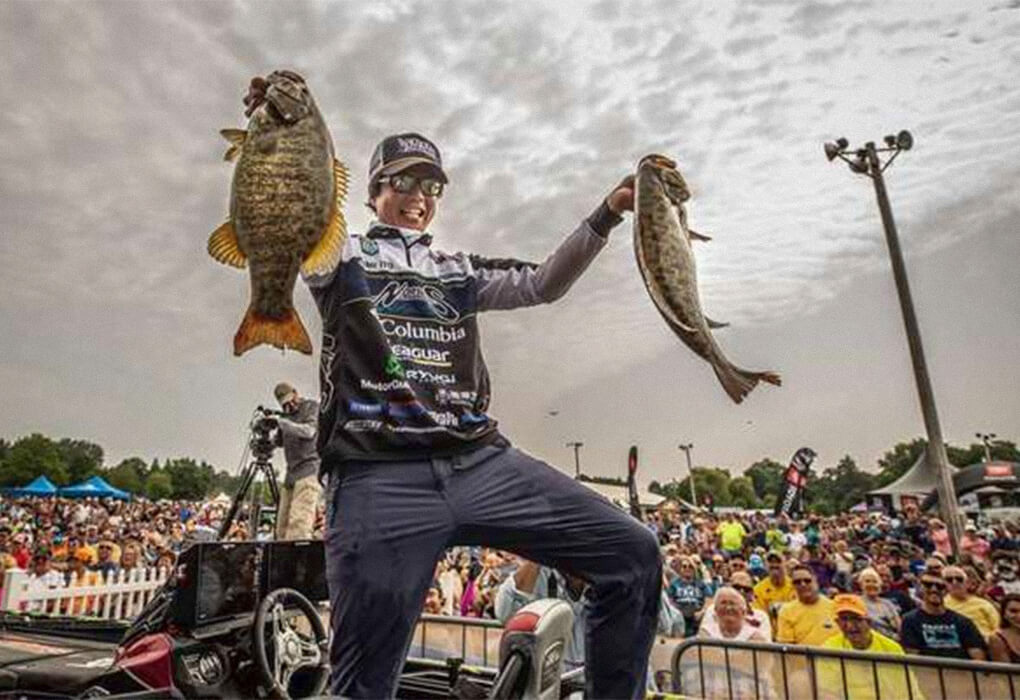 Taku Ito of Japan was all smiles after winning the Bass Elite Series tournament on the St. Lawrence River. (Photo by Shane Durrance/B.A.S.S.)
Livin' the Dream
This was the week of Taku in the world of bass fishing.
Consider this storyline: A young Japanese fisherman comes to the United States in search of fame in professional bass fishing, and against all odds, becomes an overnight sensation by taking the championship in one of Bassmaster's major events.
But wait, there's more. After his wild celebration, he talks about learning to bass fish when he was 8 by playing a video game his father bought him. He also credits his stunning victory to tactics he learned while carp fishing in Japan.
That's Taku Ito's story. When he won the Bassmaster Elite tournament on the St. Lawrence River with a four-day total of 90 pounds, he set the hook on the underdog story of the year.
"When I was 8 years old, I won a video game, and now, on the St. Lawrence River, I won the Bassmaster Elite Series," an overjoyed Ito said on stage Sunday. "Big bass, Big stage. Big dreams. Bassmaster!"
Ito fashioned his victory when he found a spot loaded with big smallmouth bass, a place on Lake Ontario he labeled "Taku Disneyland."
"I was driving about two hours each way and I had about two hours and 30 minutes of fishing time," he said.
He made the most out of his scant fishing time. He found big smallmouths suspended off the bottom and he worked them over.
He caught some of his bass on a drop-shot rig with a four-inch Ecogear Aqua Swim Shrimp, not exactly a mainstream bait on the pro tour. He also caught fish on a Neko-rigged Nories Latterie straight worm and a Berkley Hit Worm.
Ito won big bass honors on both the third and fourth day of the tournament with 6-pound smallmouths. He earned $100,000 for the championship and $2,000 for the big bass honors.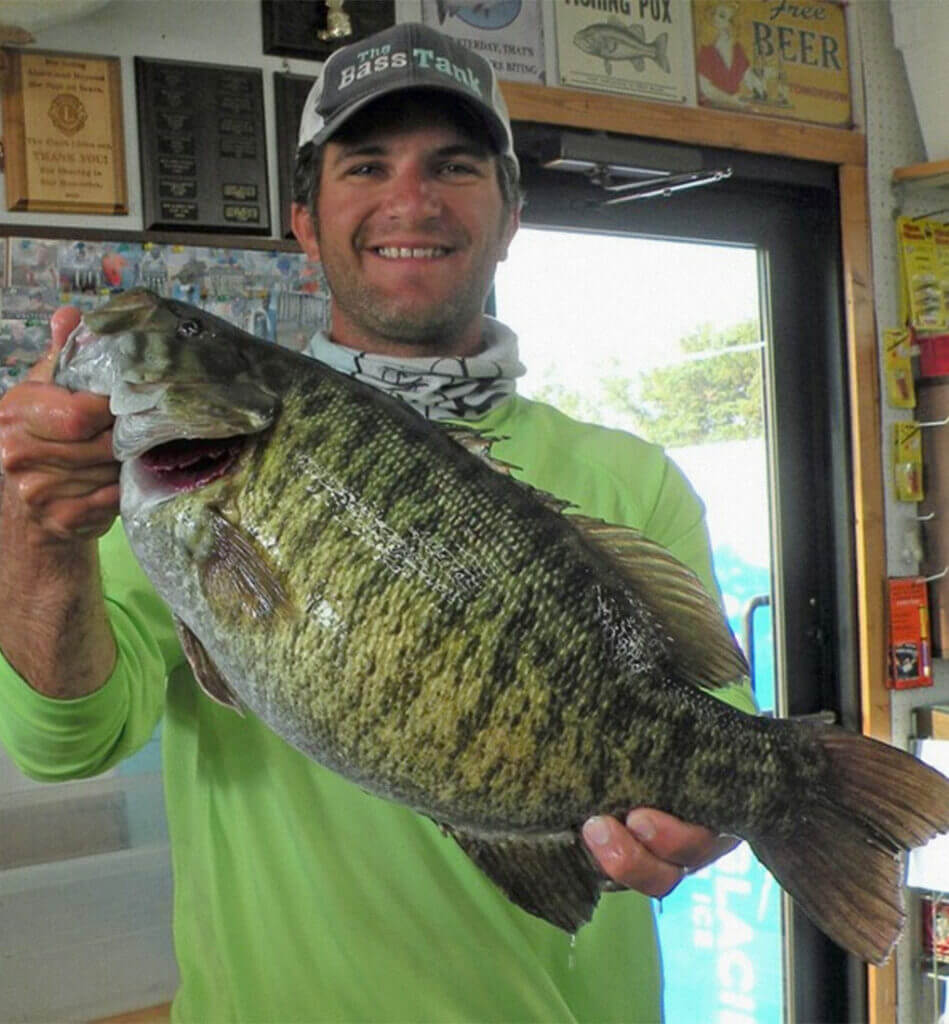 Troy Diede displayed his South Dakota state-record smallmouth bass. (Photo courtesy of South Whitlock Resort)
A Couple Days to Remember
Troy Diede thought he had reached the pinnacle when he landed a 6.39-pound smallmouth bass on July 15 at Lake Oahe in South Dakota.
Turns out, he was wrong. He caught a 7.29-pound smallmouth the next day, a fish that now stands as the state record.
"After I caught that first fish, my friends said, 'That may be the biggest smallmouth you'll ever catch,' " said Diede, who lives in Sioux Falls, S.D. "And I thought they might be right.
"I was actually a little disappointed. I was trying to break my dad's personal best, which weighed 6.41, and I came close. But I was still a little short."
Not after the second day. He returned to the same place where he caught the first fish at dusk the day before and landed a smallmouth even bigger.
Diede didn't release many details about how he enticed the huge smallmouths other than to say that he used a finesse bait on off-shore structure.
"I didn't make 10 casts and that fish hit," Diede told me. "When I was fighting it, I thought it felt eerily similar to the first one I caught.
"I was using only 7-pound test, so I just took my time fighting it. It just wouldn't give up."
Diede was practicing for the South Dakota Bass Federation state tournament when he caught the two trophy smallmouths, which he released. The big ones didn't show up for tournament day though. Diede ended up finishing second in the overall standings, which included the points from one other tournament.
Diede has fished Oahe for 13 years and he has watched the huge South Dakota reservoir develop into a quality smallmouth fishery.
"Since the flood in 2011, it's steadily been getting better," he said. "The baitfish are flourishing, and the gamefish are benefitting."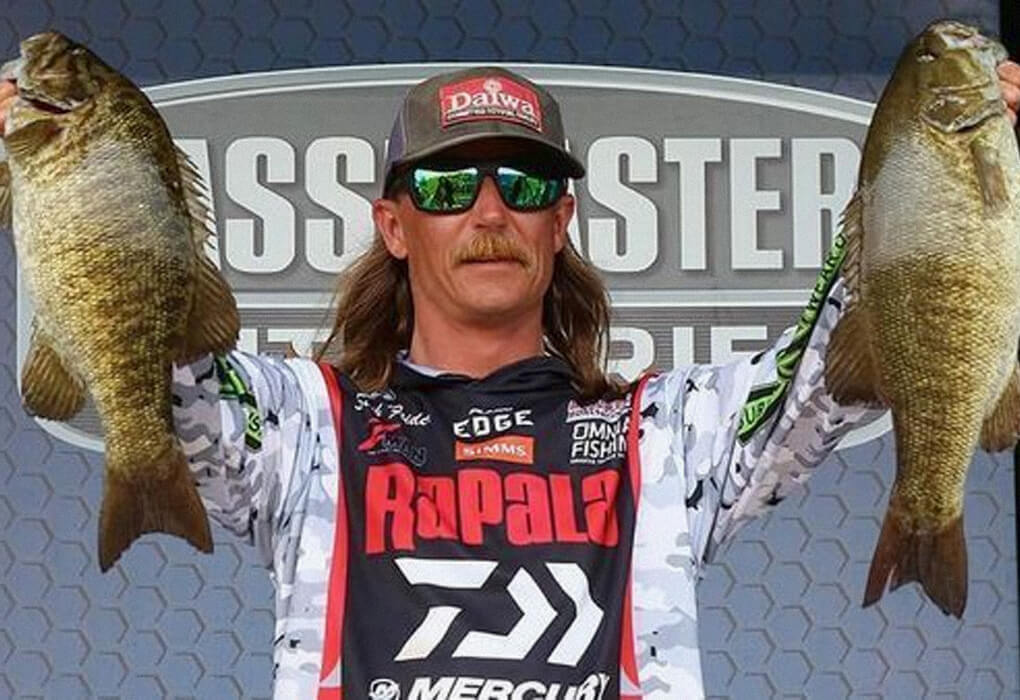 Seth Feider of New Market, Minn., won the Bassmaster Angler of the Year award. (Photo by B.A.S.S.)
King of the Hill
A Yankee has won one of professional bass fishing's most coveted awards–the Bassmaster Angler of the Year honors.
Seth Feider of New Market, Minn., clinched the points race at the Elite Series tournament in the St. Lawrence River and became one of the few northern fisherman to ever win the award.
Feider was consistent this year, finishing in the top 10 in four tournaments. His highest finish was third on the St. Johns River in Florida.
Feider grew up fishing for smallmouth bass in Minnesota, but he has proven that he can catch largemouths in the murky water of the south, too.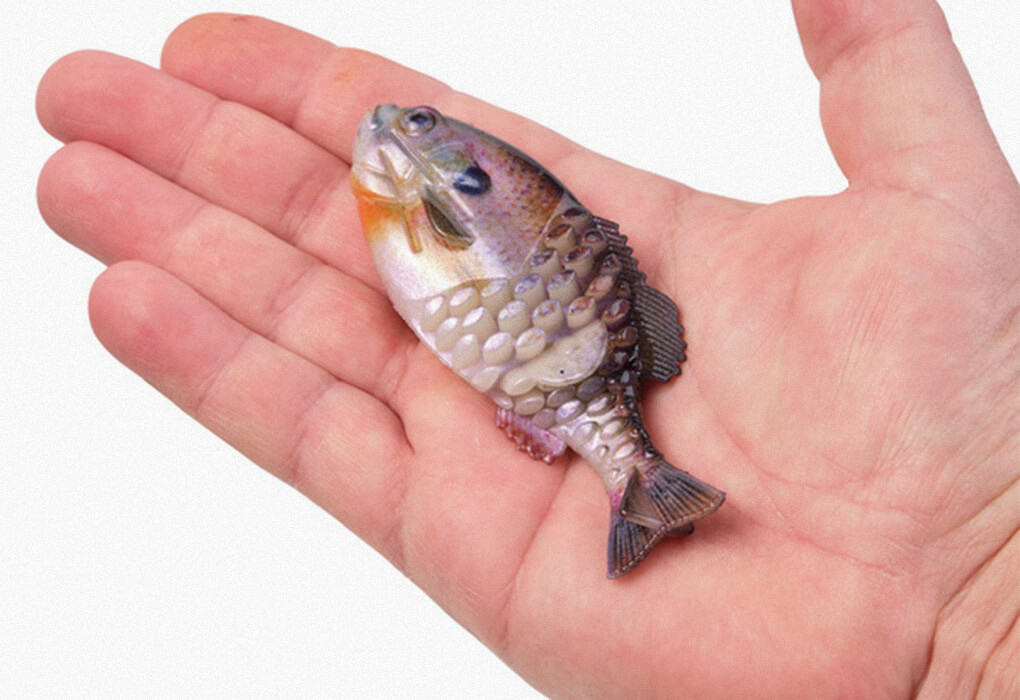 Berkley's PowerBait Gilly is one of the lures that was a hit at the ICAST Show, which previews new fishing equipment
What's New?
Fishing had its annual debut party, the ICAST Show, this week, and as usual, there are plenty of new lures, rods and reels, electronics units and other equipment being labeled as the latest and greatest.
I didn't see a lot of things that I just have to buy, but there are some items I will probably spend some money on.
The Gilly: The Berkley PowerBait Gilly is a soft-plastic swimbait designed to look like a bluegill. It is infused with Berkley's famous PowerBait ingredient and swims with life-like action. The Gilly won the prestigious Best of Show award in the ICAST event, one more reason I can't wait to try it.
The Stunna: Another Berkley product, the Stunna is a jerkbait that Hank Cherry used to win the Bassmaster Classic. It sinks slowly and is weighted to accommodate long casts.
Lunkerhunt Pond Pack: This pack is aimed at beginners who like to fish farm ponds. It includes pre-rigged finesse spinnerbaits with four bait options.
Z-Man Big Blade ChatterBait: I love fishing with ChatterBaits. That's why I'm intrigued by this new lure, which has a blade that is advertised as 70 percent larger than that found in the original ChatterBaits.
The Daiwa Zillion SV TW reel: This baitcasting reel won honors in the Freshwater Reel category. It's high-dollar, but its lightweight, durable construction, unique braking system, and casting system make it appealing for serious fishermen.
I'll talk more in future newsletters about other new fishing equipment that will soon be on the market.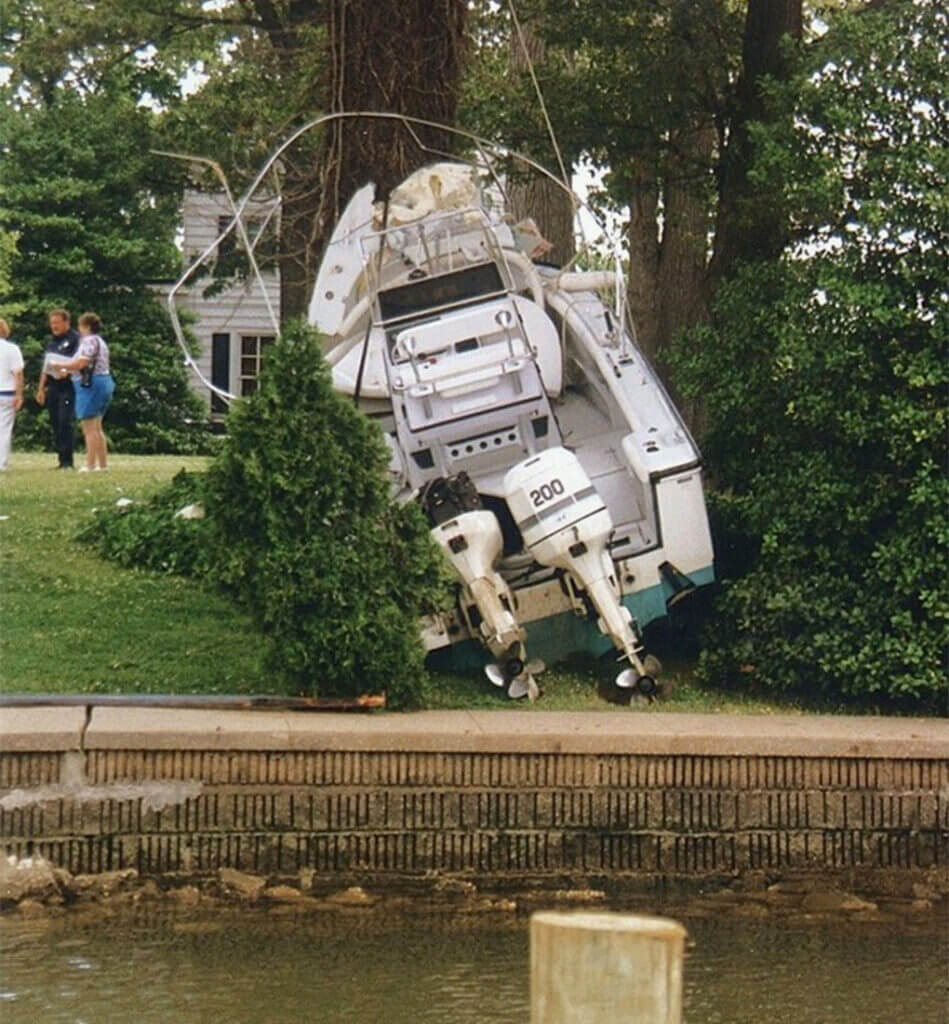 Boating accidents were up significantly in 2020, possibly because of inexperienced operators at the wheel, the U.S. Coast Guard says
Crowded Waterways, More Accidents
The good news about the pandemic? More people went boating than in recent years.
The bad news? That led to more accidents.
In its annual report, the U.S. Coast Guard noted 5,265 boating accidents, 767 deaths, and 3,191 injuries nationally in 2020. Those totals were up 25 percent from 2019.
The top five reasons cited in the report were 1. operator inattention, 2. operator inexperience, 3. improper lookout, 4. excessive speed, and 5. machinery failure.
Boating officials blamed a lack of experience for many of the problems.
"One could reasonably assume that first-time boat owners are understandably inexperienced in boat maintenance, and some boat owners likely had difficulty getting service during the pandemic," said Chris Edmonston, president of the BoatUS Foundation, a non-profit that promotes safe boating.
"With the limited supply of new boats available, some older, less seaworthy boats were probably on the water that otherwise would not have been."
Not only did boaters spend more time on the water, they also had more passengers aboard, Edmonston said.
He encouraged beginners to take boating safety courses.
That's it for now. See you on the water.