I hate to be a namedropper, but here it goes: I'm friends with bass-fishing legend Denny Brauer.
We go way back to the days when I was a cub reporter at The Kansas City Star and Denny was just getting started in pro bass fishing.
He lived at Lake of the Ozarks in those days and he went on to dominate the B.A.S.S. circuit. I followed him on his way to greatness, reporting on his many victories, and we became friends–casual friends, but friends nonetheless.
He has moved to south Texas now, and he is catching huge bass at Lake Amistad.
In this newsletter, he's going to tell us how. We'll also talk about hot deals, Ned Kehde's finesse tips, and how to catch that goldfish of your dreams (or nightmares).
So hop into the boat. The fish are waiting.
P.S. Make sure to give the newsletter a rating at the bottom so we can learn what you like/dislike!
---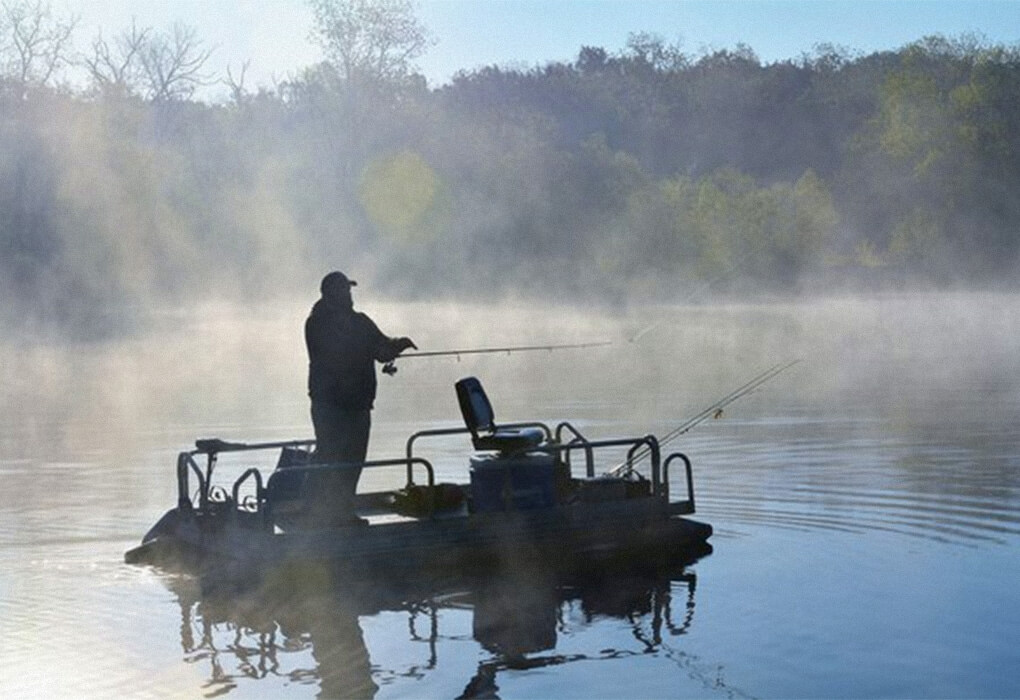 Deals of the Week
If you're like me, you're always looking for a deal.
Fishing tackle is getting expensive these days. Ask my wife after she reviews our credit card statements.
But there are some deals out there. Check these out.
For starters: So, you're just getting started and you don't want to invest a lot in fishing tackle before you know whether or not you like it. Walmart is offering a great deal on a Zebco 404 rod and reel combo, a popular starter set.
Brauer's Quest For Big Bass
When you're fishing in professional tournaments, you don't have time to target the biggest bass in the lake.
That strategy is filled with risks and can lead to failure in high-stakes competition. But when you're fishing recreationally, you can afford to slow down and target the giants.
That's Denny Brauer's life now. After years of competing professionally, he no longer is content with catching small keepers. Fishing at Lake Amistad in southern Texas, he has upgraded his goals.
"I'm out here fishing for fun now and I'm targeting the biggest bass in the lake," said Brauer, who lives near Del Rio, Texas. "We have a lot of 10- to 12-pound bass in here, and those are the fish I'm trying to catch."
That's no idle goal. Brauer has landed one bass that bottomed out a handheld scale at 15 pounds. He landed two others that weighed 12 pounds, 12 ounces, and many in the 10- to 11-pound range.
How? By utilizing a lure that Brauer used to win thousands of dollars on the professional tournament circuit: a jig.
"I just think I have a better chance of getting a big bite on a jig than on a plastic worm or anything else," he said. "There's a lot of crayfish in here, and bass are feeding on them all year long."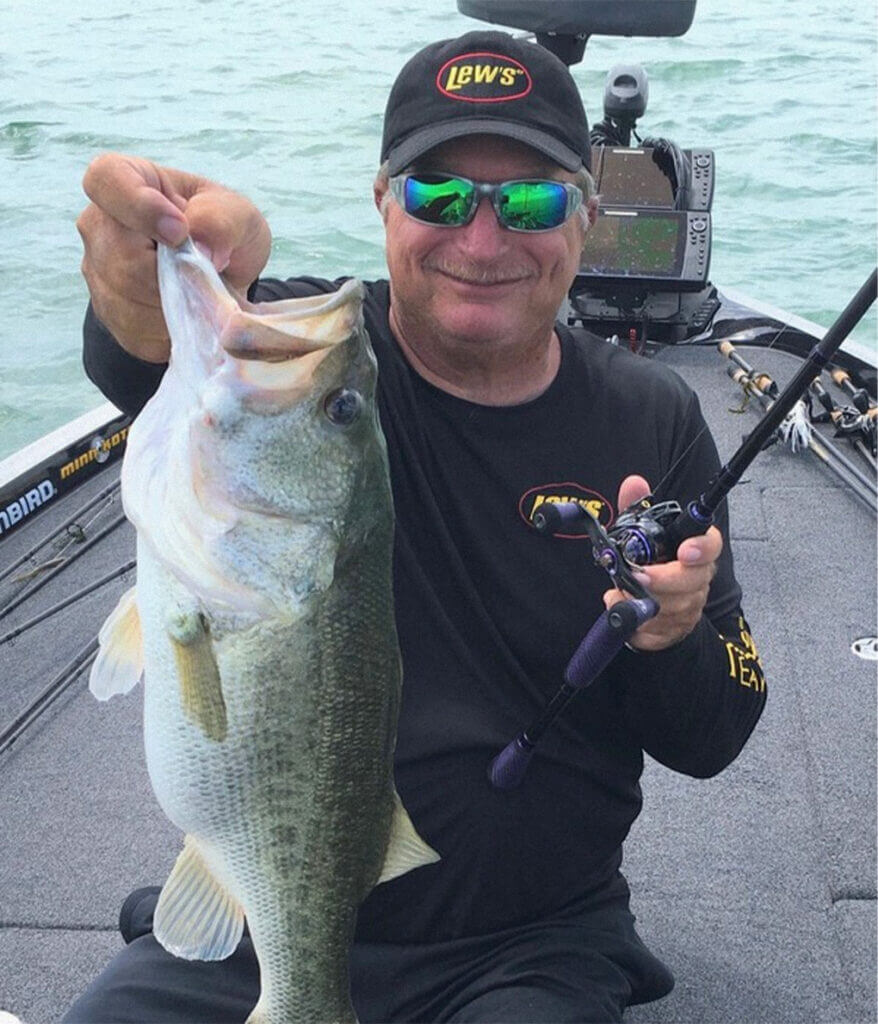 Denny Brauer uses a structure jig that he designed for Strike King to catch monstrous bass. (Photo courtesy of Denny Brauer)
Brauer's Strategy
By the heat of summer, the biggest bass in Lake Amistad have moved to the main lake structure.
Brauer targets dropoffs of 20 to 30 feet of water along ledges.
"The one constant is that they are near deep water," he said. "One of the places I fish is a ledge that drops off into 100 feet of water."
"Those big bass like the security of having deep water nearby."
Because Amistad's water is clear, Brauer makes long casts with a three-quarter-ounce Strike King Denny Brauer Structure Jig with a Strike King Rage Craw trailer.
He targets areas where the ledges drop off quickly.
"Obviously, if there's anything irregular on that ledge like a little point or where the hydrilla grows close to the dropoff, all the better," Brauer said. "Sometimes, that might be off a point, but you can't just go point-hopping.
"Some of the flat points aren't nearly as good."
Brauer uses 15-pound test Seaguar fluorocarbon line because of its fall rate. He lets the jig fall on a slack line, keeping his eye on the line as it flutters down.
"A lot of my hits come on the fall," he said. "In this clear water, they can see it coming and won't even let it get to the bottom.
"If my line jumps, I'm setting the hook."
Lure of the Week
The Strike King Denny Brauer Structure Jig was designed to overcome one of a bass fisherman's biggest problems–getting hung up.
Long casts to structure often lead to those frustrations, but the jig Brauer helped design reduces that trouble.
With a well-positioned line tie and a cobra head, the jig tracks well and increases the feel of the bottom.
Catching a Pet
Jeremy Fortner of Chesterfield, Va., made national news recently when he landed a giant goldfish while bow fishing on Hunting Creek, a tributary of the Potomac River.
The fish weighed 3 pounds, 9 ounces, was 16 inches long and had a girth of almost 15 inches. Talk about a goldfish on steroids.
Fortner's catch was verified as a Virginia archery state record for goldfish. But that's not the biggest goldfish that's been caught.
While fishing for carp, a Texas fisherman landed a goldfish that weighed almost 9 pounds.
Fisheries officials confirmed that both catches were goldfish, not koi, their golden counterparts that grow to large sizes in decorative landscape pools.
Biologists say the goldfish were undoubtedly pets that were released by owners who kept them in aquariums. They discouraged people from releasing the fish into the wild, saying they could disrupt natural fish populations.
But it appears the pets don't do too badly in their wild setting.
A Perfect Bait for Inexperienced Anglers
Ned Kehde, who popularized the wildly popular Ned ig, uses a recent week of fishing with his grandchildren as an example of how effective finesse baits can be for inexperienced anglers.
He, his daughter, and four grandsons got together for five short trips from July 6-10. Those trips totaled only 7 hours and 58 minutes, yet the group caught and released 104 bass.
"All of them are novice anglers, who fish infrequently," said Kehde, who lives in Lawrence, Kansas. "Like most novice anglers, it is difficult and tiring for them to fish intensely for more than two hours.
"But they proved once again that novice anglers can inveigle a goodly number of largemouth bass in a short time by employing Midwest finesse rigs."
Fishing small community lakes in northeast Kansas, the group had its best luck on four Z-Man baits–a shortened junebug-colored Finesse WormZ, a Finesse ShadZ, a TRD Bugz, and a Slim Swim ShadZ.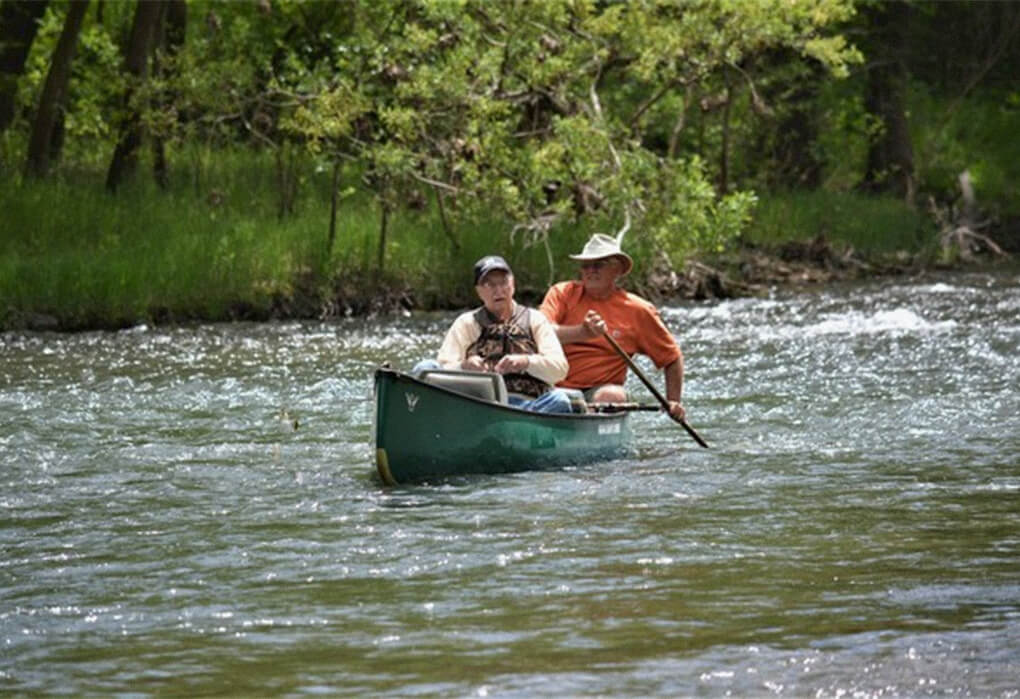 Thayne Smith (left) and guide Dennis Whiteside enjoyed a perfect spring day on an Ozarks float stream. (Photo by Brent Frazee)
A Tribute to a Fishing Buddy
When I heard that my friend Thayne Smith passed away this week, I immediately thought back to a gorgeous spring day on an Ozarks float stream.
Thayne and I were being guided down the river by our mutual friend, Dennis Whiteside, and it was one of those days to remember.
Using small spinnerbaits, we caught and released many smallmouth bass. All of them, even the small ones, were in a bad mood. They fought like crazy and dazzled us with their acrobatics.
The three of us became friends that day, a bond that lasted until Thayne's final days. Thayne was a nationally known outdoors communicator, one of those guys who did it all. He was a newspaper columnist, a public relations specialist for Lowrance and Jayco RVs, a media representative for the Kansas Fish and Game Commission, and a respected member of many outdoor communicator groups.
He knew how to work the business. My fellow outdoors writers and I laugh about the days when he was at Lowrance and he organized a fleet of boats equipped with the company's fishfinders to search for the Loch Ness Monster.
They didn't find Nessie, but the venture got national attention.
I fished and hunted with Thayne several times at outdoor communicator events and I was always impressed with his soft-spoken, friendly demeanor. He was one of those guys who would do anything for you.
Even in bad health, he carried on a campaign to get Whiteside into the National Freshwater Fishing Hall of Fame. He called and asked if I would join him, and I gladly jumped in.
Sadly, we never met that goal before Thayne passed away at age 92.
"We will miss our friend Thayne," Whiteside said. "He was as fine as they come."
That's it for now. Remember to email me photos of the big ones you catch. Just hit reply to this email.
See you on the water.