At age 83, Roland Martin isn't ready for the rocking chair.
Nah, that's for old guys. Martin is still young at heart when it comes to the outdoors.
Martin, nicknamed the Great American Fisherman, is a living legend. Bass fishing champion, television star, highly sought guide, author, lure innovator–he checks all the boxes.
And he isn't ready to slow down. The guy who took the bass-fishing world by storm more than 50 years ago, still leads a lifestyle that would exhaust anglers half his age.
"There have been times here in the last couple months when I have guided 10 days in a row," said Martin, who guides in Florida. "I get up at 4, I meet my party at 6, and we'll stay out until about 4 o'clock.
"I still have a passion for catching giant bass. I might have to pace myself more than I did in the past, but I can still get after it."
Spoken like a champ. Martin has long been one of fishing's most charismatic figures. For years, his name has been synonymous with bass fishing.
Whether he was winning a tournament on the B.A.S.S. pro circuit or shouting "Son!" after catching a big bass on his long-running "Fishing with Roland Martin" television show, he was in the public eye.
These days, he hasn't slowed down a lot. He hunted turkeys in three states this spring, guides at least four times a week at Headwaters Lake and Lake Okeechobee, and still reels in big fish while the cameras are rolling for his YouTube fishing show.
Ageless. That's Roland Martin.
"I'm in pretty good health, except for my knees," he said. "I'm not ready to give up fishing and hunting."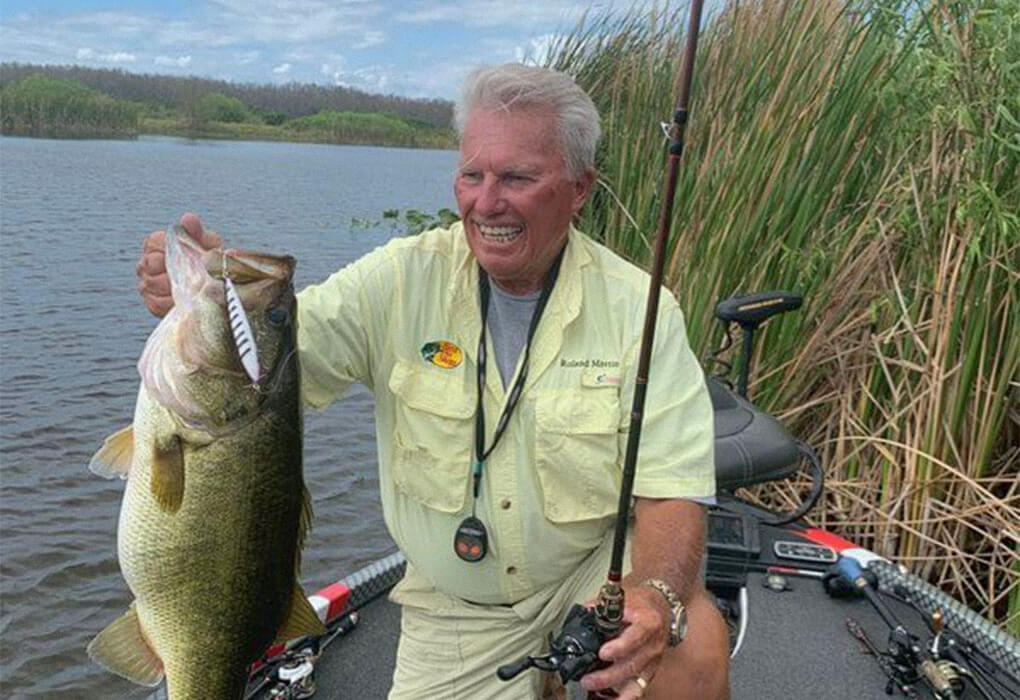 "Son," that's a big bass. Roland Martin can still catch 'em in Florida, whether he's using shiners or topwater baits such as the Devil's Horse (photo courtesy of Walt Reynolds)
---
Florida's Enduring Lure
No one has done more to publicize the big bass living in Florida than Martin.
He moved to the Sunshine State in 1980 after visiting numerous times while filming his television show and competing in national tournaments.
He was lured by the state's untapped population of giant bass. And he soon decided he made the right decision.
"At the time, Lake Okeechobee was an absolute jewel," he said. "It was full of big bass.
"It's gone downhill because of issues with weed control and other problems. It still has some big ones, but the overall fishing is nowhere near what it used to be."
The new king? Headwaters Lake in east-central Florida.
That's where Martin spends most of his time guiding, putting customers on the fish of a lifetime.
Last year, his customers caught 17 bass weighing more than 10 pounds. So far this year, five bass exceeding that mark have been landed.
"What keeps me going is when a customer says, 'That's the biggest bass I've ever caught' or 'That's the best day of bass fishing I've ever had,' " Martin said.
So what makes Headwaters so special? It's a man-made reservoir that was constructed by flooding a large agricultural complex, Martin said.
Canals and ditches that were used for irrigation criss-cross the underwater environment. Islands with cypress trees dot the lake and thick hydrilla and deep holes can be found in many locations.
Add it up and you have plenty of structure in the way of dropoffs, weedlines and ditches that hold bass.
Martin fishes that structure with either live shiners or a variety of lures including topwater lures such as Devil's Horse baits, Spro Frogs, poppers or Zara Spooks, or plastic worms.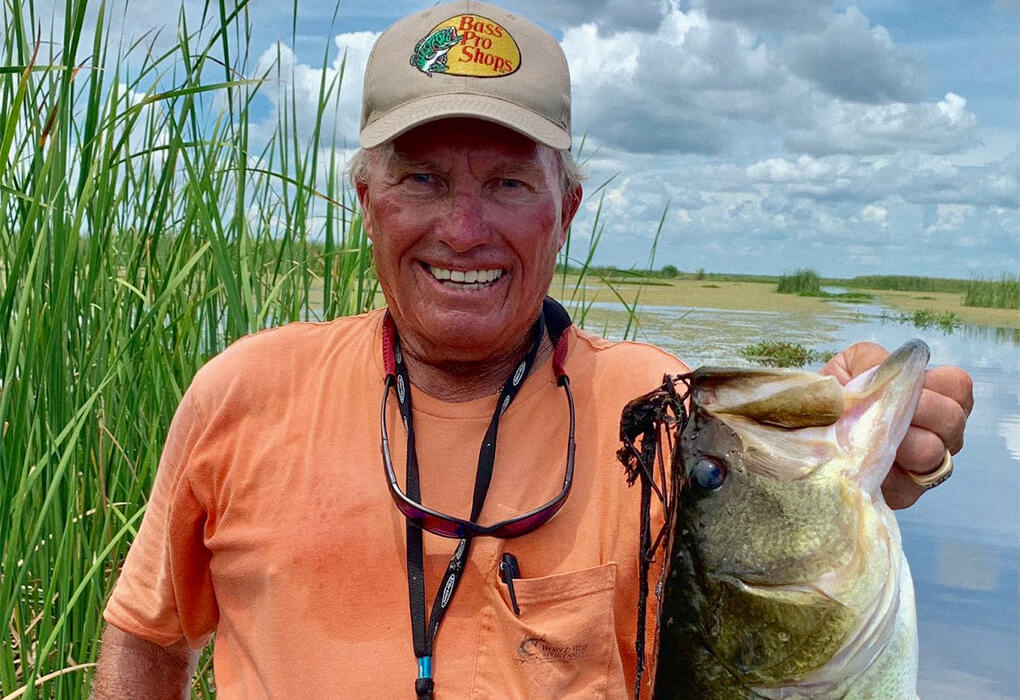 Roland Martin knows how to pull big bass out of Florida's thick grass (photo by Roland Martin Productions)
In Search of a Giant
Big bait, big fish, right? Well, not all the time.
"A lot of fishermen think you need a super big shiner to catch a big bass," Martin said. "But that's not true.
"When I get those great big shiners in my throw net, I throw them back. I'd rather use a 6-inch shiner.
"That's the size most of our big fish have come on. You'll catch some smaller bass,, but the big ones will eat them, too."
With lures, size matters. Flipping a big bass jig is one of Martin's favorite ways to catch a big bass.
"That might not be the best way to catch a lot of bass," Martin said. "But if I'm just trying to catch a big one, it's a great bait."
The same is true with spinnerbaits, he said.
"If I'm looking for a big fish, I'll go to a spinnerbait with big willow leaf or Colorado blades," he said. "Especially in muddy water, I'll throw a big, noisy spinnerbait with a lot of color to it."
But not all lakes are created equal. Many bodies of water have their own signature. That's why Martin plays close attention to the main forage in a body of water.
"Some lakes have a good population of blueback herring," Martin said. "Others have loads of crawdads.
"That's where that 'match the hatch' deal comes into play. You have to try to imitate what they're eating."
And you have to be on the right lake. Martin has fond memories of guiding on Santee Cooper when it was in its prime.
He developed a technique that produced explosive hits. He would take a Johnson's Weedless Spoon and tip it with a plastic worm, then retrieve it over the top of the vegetation.
He and his customers caught some monster bass that way, and Martin's reputation grew.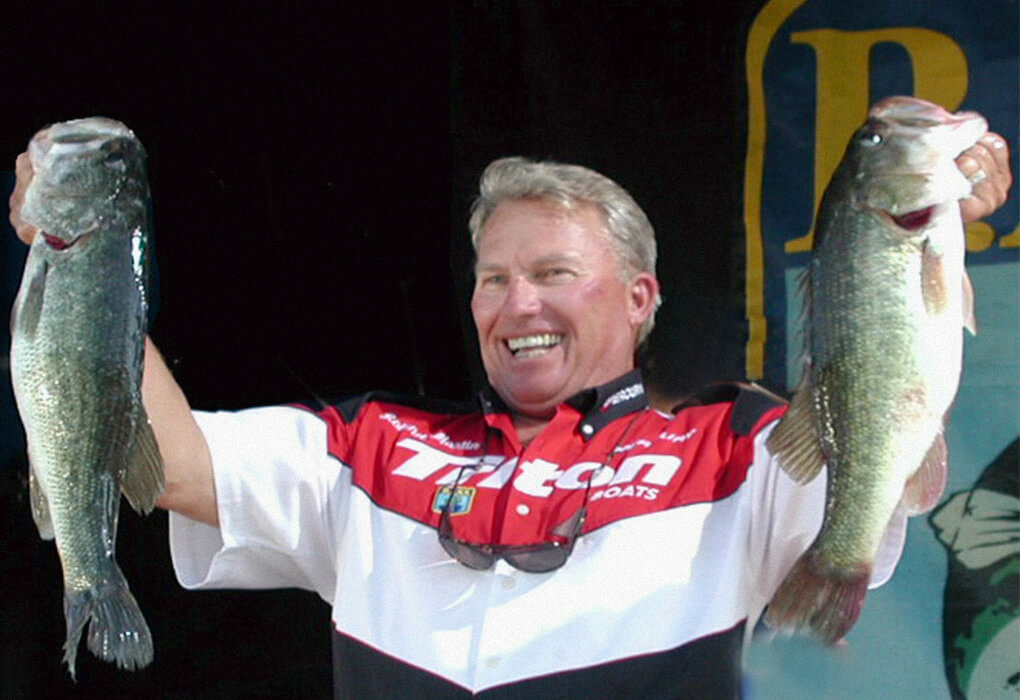 Roland Martin found success on the B.A.S.S. circuit by figuring out the science behind bass behavior (photo by B.A.S.S.)
A Pattern for Success
Want to get serious about targeting big bass? Follow Martin's lead.
When he was a hot-shot guide at Santee-Cooper Lake in the mid-1960s, he developed a technique that eventually played a big part in his rise to stardom.
He established pattern fishing.
"I found that if I started catching bass at one spot, I could look for similar spots on a reservoir and catch fish there, too," he said. "For example, if I found them on stumps off a main-lake point, I could go to other spots like that and catch them there, too.
"Of course, the water temperature and the clarity had to be similar. But if they were, I could establish a pattern.
"Instead of being limited to one spot, I had several places where I could catch fish."
Knowing where to start was seldom a problem for Martin. He would get contour maps of the lakes he would fish and would pinpoint where the fish should be even before he launched his boat.
"I could find house foundations, bridge abutments, dropoffs that people never knew about," he said. "Now, fishermen have all kinds of technology to help them with that."
But even back when Martin got his start, there was budding technology to assist fishermen.
When Martin worked with Lowrance in the 1970s, he studied how the early depth finders worked.
"I could tell by the signals they gave off whether it was a hard bottom or a soft bottom," he said. "They also showed me how fish relate to weed lines and different structure."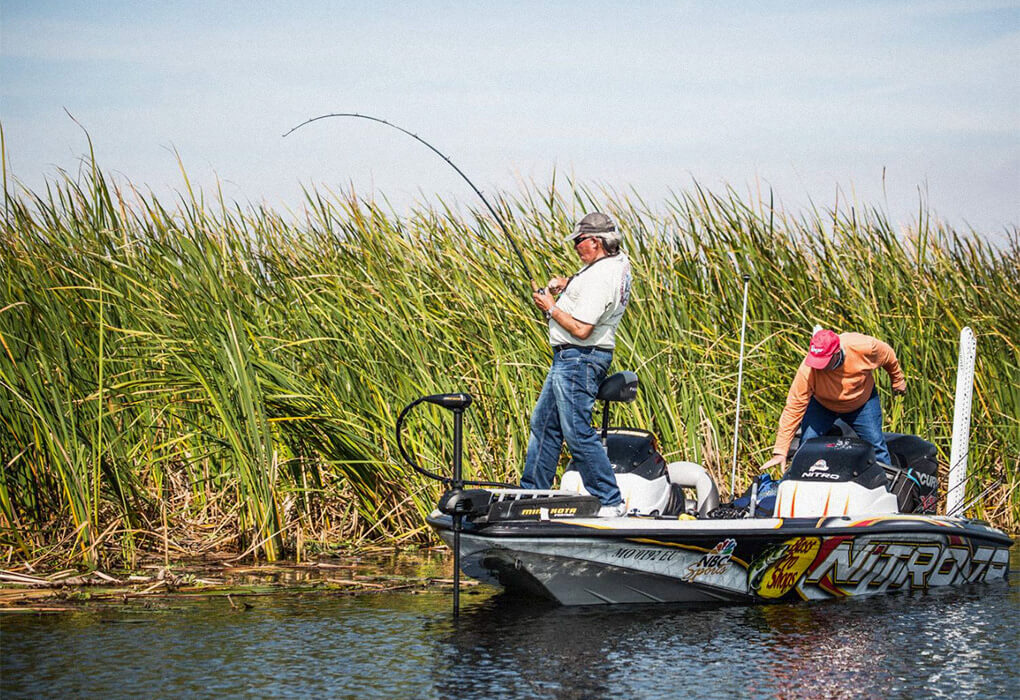 Roland Martin often fishes heavy cover when he searches for giant Florida bass (photo courtesy of Roland Martin)
Taking a Lake's Temperature
Water temperature is crucial for catching big bass. But temperature trends are even more important, Martin says.
"If the water is slowly rising into the 60s, say, the fishing can be great," he said. "But if a cold front moves in and it drops from the low 70s into the 60s, it can turn the bite off.
"Whether the water temperature is rising or falling can play a big part in the fishing."
What the bass are accustomed to also can play a part.
"In some states where bass are used to cooler water, they'll bite when the water gets in the 50s," he said. "But in Florida, where bass are accustomed to warm water, if the water temperature drops into the 50s, you won't catch a thing."
Sometimes, there can be drastic differences in the water temperature even in one large reservoir.
"When a warm front comes in during the spring, a southern wind will pile up warmer weather on the north shore," he said. "The water might be 10 degrees cooler in the southern part of the lake."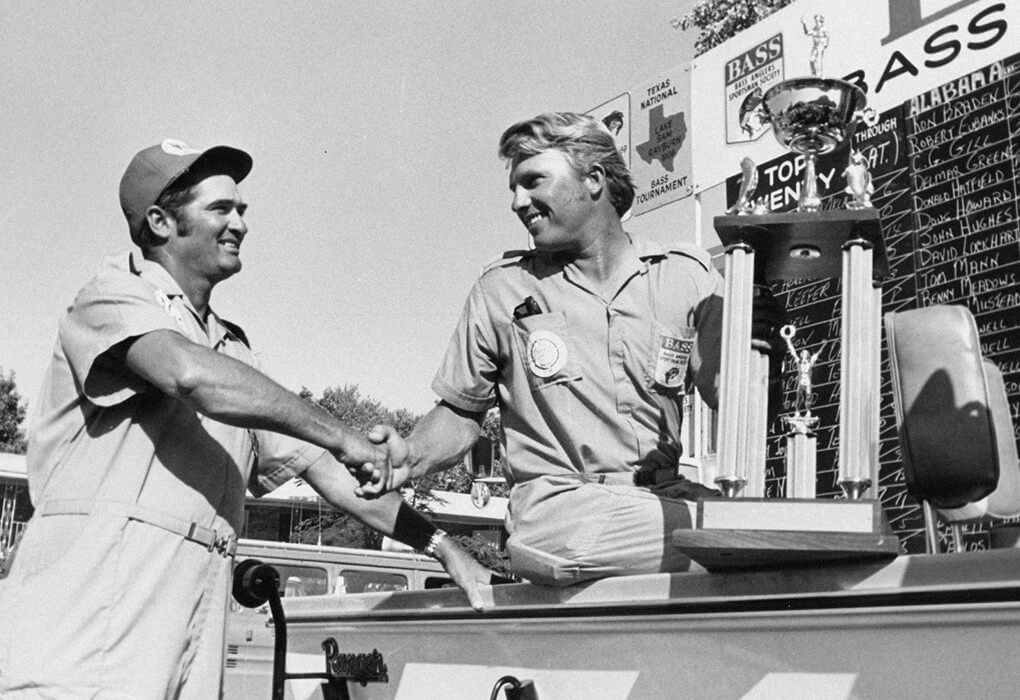 Roland Martin (right) was congratulated by fellow pro Tom Mann after winning a B.A.S.S. tournament (photo by B.A.S.S.)
Reflecting on the Good Old Days
When Ray Scott founded B.A.S.S. in the late 1960s, he recruited the nation's best bass fishermen. Martin was one of them.
But the blond bomber didn't take the bait at first.
"At the time, I was a guide for trophy bass on Santee Cooper Lake," he said. "My goal was to put people on an 8-pound bass.
""I really didn't want to fish lakes that only produced smaller fish."
But Martin eventually gave in, and now admits it was the best decision he ever made.
He ended up winning 19 national tournaments with B.A.S.S., a record that still stands. He also won 9 Angler of the Year titles and qualified for 25 Bassmaster Classics.
"For me, it was a springboard for opportunity," he said. "It helped me with my guiding, I got sponsored by Lowrance, I started doing television and I became known."
Last Cast
Martin no longer competes in national tournaments. He doubts he could withstand the grind of being on the road, practicing, and fishing hard for several days in a high-stakes event.
Still, he isn't done. He continues to lead his clients to big bass and instruct others how to reel them in.
It's obvious that luck had little to do with his success. He was a pioneer in the use of contour maps, establishing patterns and determining where the bass would be.
Want to be like Roland? The next time you go fishing, do your homework. Get a contour map and determine where the fish would be at a certain time of the year. Find out the main forage for that body of water. And get some local information on what lures have been working best.
You could even get some info by watching Martin's videos on YouTube ( Roland Martin Outdoors) or going to his website, fishingwithrolandmartin.com.