When you're a writer, you appreciate athletes who aren't afraid to voice their opinions.
The world is full of coaches who get on the podium a few days before a game and say something to the effect, "We look forward to the challenge of playing (fill in the blank) this weekend," even though that team is the 98-pound weakling of the league.
Yawn.
But if someone goes before the media and shares a rant or says something controversial, I wake up.
Maybe that's why I like Randy Blaukat, a longtime professional bass fisherman. He speaks his mind, no matter how many feathers he ruffles.
We'll share some of Randy's thoughts about pro bass fishing in this edition, as well as get a few of his tips on how to catch fall bass. We'll also talk about an unusual combine and spotlight some deals.
So get your hoodie, your life vest and your cooler, it's time to get on the water.
Brent
P.S. Don't forget to forward this email to a fellow angler if you enjoy this edition.
---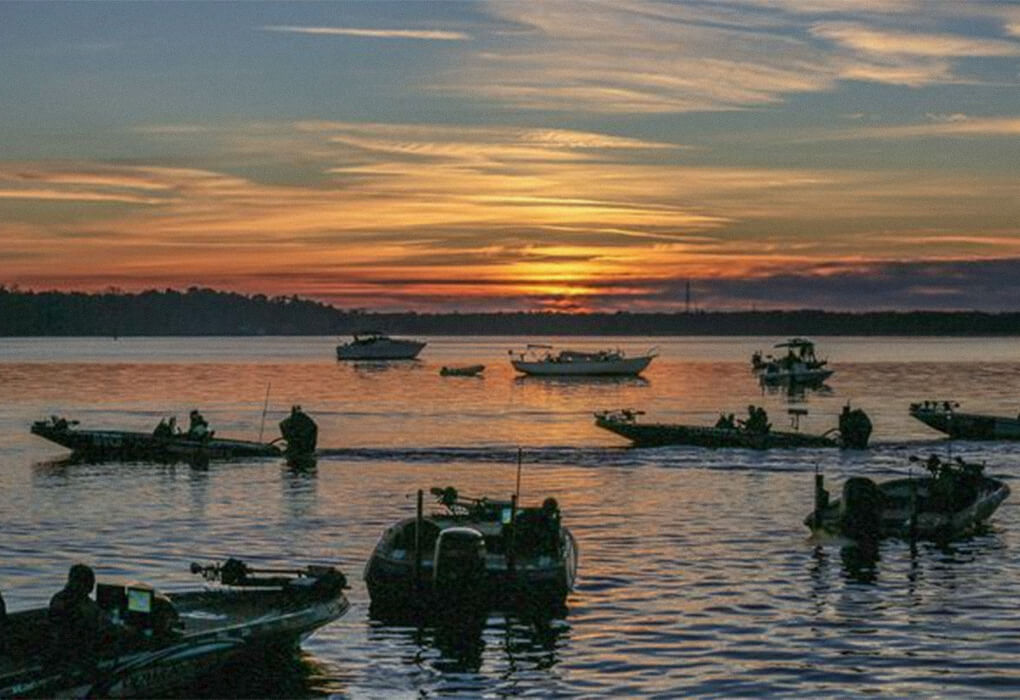 Deals await for the tournament bass fishermen planning to get on the water. (Photo by James Overstreet/B.A.S.S.)
Deals of the Week
Have we got a deal for you. Three of them actually.
Each week, we review the Internet for deals that catch our eye. Because we are not beholden to sponsors, we can offer you deals from a variety of companies. We also try to point out bargains that appeal to different skill levels.
A quality casting rod: G. Loomis fishing rods rank near the top in terms of sensitivity and strength. The only problem? They're expensive. Sportsman's Warehouse is offering a discount on the Loomis E6x Mag casting rod this week. It's selling for $149.97, almost $70 less than regular price.
Fillet away: Looking for a great fillet knife for those crappies and walleyes you catch? Bass Pro Shops is selling the hottest knife out there–the Bubba cordless lithium model–for $113.99. Regular price is $169.99.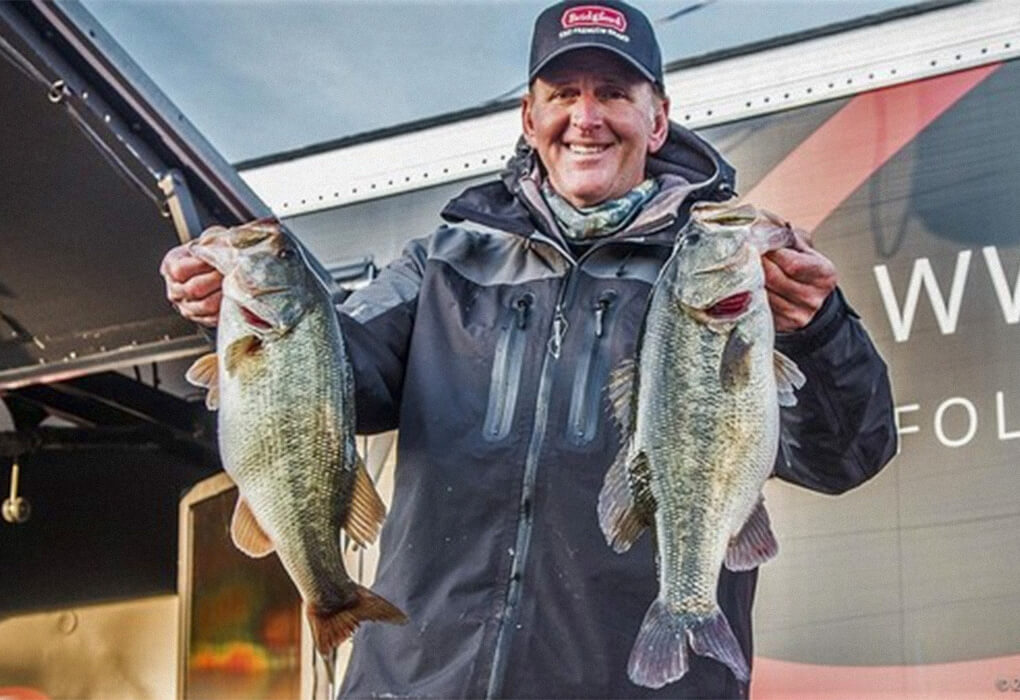 Randy Blaukat is concerned that pro bass fishing is becoming plagued by income disparities. (Photo by Sean Ostruska/Major League Fishing)
Bass Fishing's Troubling Evolution
So, you dream of making it big in professional fishing? Well, you'd better start saving your money.
Big-time bass fishing has become an expensive sport. And that troubles longtime pro Randy Blaukat, who competes on both the Bassmaster and Major League Fishing circuits.
"The biggest problem I have with professional fishing today is that not only are we losing touch of why people fish – the therapeutic and healing properties–but it's also becoming an elitist sport," said Blaukat, 59, who has fished Bassmaster events since 1986.
"It costs a lot of money to be competitive today. We're talking about season entry fees of $50,000, fully rigged boats that cost close to $100,000, expensive tow vehicles, expenses for travel…
"It's creating this income disparity that discriminates against people who don't have much money."
Blaukat remembers a time when things were much different.
"When I started fishing Bassmaster in 1986, it was the only circuit out there," he said. "There were six tournaments and entry fees were $600 apiece.
"I was able to work a part-time job to pay for my entry fees. And back then, I could buy a fully rigged boat for $12,000."
Now, pro fishermen use high-tech electronics, expensive fiberglass boats, huge motors and powerful trucks to tow it around. And that costs money. Lots of money.
That creates an uneven playing field in Blaukat's mind. Those pros who can spend the most have an unfair advantage, he said.
Bass can be still be caught without all the modern bells and whistles. Blaukat proved it when he fished half of the season last year in the Bassmaster Opens in an aluminum boat without much in the way of electronics.
He went on to finish 13th out of 200 fishermen in the points race by using old-school tactics.
"I wanted to send a message–that you didn't have to spend a fortune to be competitive," Blaukat said. "I fished half of the opens in that aluminum boat and I was in third place in points at that point
"Then I lost my sponsorship and I had to go back to a fiberglass boat (a Skeeter, his new sponsor)."
Blaukat bought that aluminum boat used for $20,000. It wasn't the prettiest boat out there on tournament day, but it had its advantages.
"Because it's lighter than a big fiberglass boat, I was able to get in some shallower water that others couldn't reach," Blaukat said. "I finished 11th in the Bassmaster Open on the Arkansas River, and a lot of the bass I caught were in areas I couldn't have gotten to without an aluminum boat."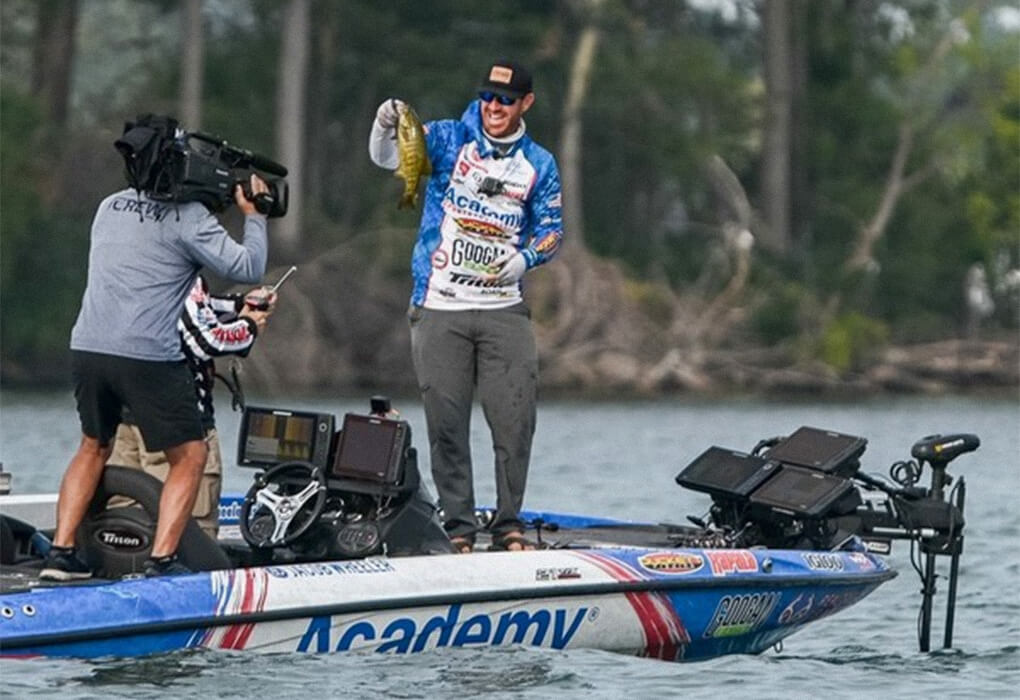 Jacob Wheeler, Angler of the Year on the Bass Pro Tour, uses electronics extensively. He has up to five units on his boat to help him locate fish. (Photo by Garrick Dixon, Major League Fishing)
The Pros and Cons of High-Tech Fishing
Randy Blaukat and Jacob Wheeler differ strongly on the trend toward using high-tech electronics in professional bass fishing.
Blaukat's take: "The technology we have today is taking away the very reason people want to fish–the mystique and mystery behind it. It's a guessing game. You have to go through a series of steps to find the bass. But with all this technology, that mystery is being removed."
Wheeler's take: "Electronics have definitely helped my game. But there is a lot more to it than meets the eye. There are no guarantees. You still have to know where to look, and even when you find the bass, you have to figure out how to get them to hit."
Wheeler has definitely mastered the electronics approach, using everything from forward-facing sonar to lake maps to side and down scan to find bass. That led him to three titles in Bass Pro Tour events this year and Angler of the Year honors on the circuit.
Blaukat, who fished both the Major League Fishing's Toyota Series and the Bassmaster Central Opens, isn't so enamored by the modern electronics.
Though he uses some to find bass at certain times of the year, he believes the use of electronics has gotten carried away.
"I know a lot of guys who fish Lake of the Ozarks who use LiveScope (which shows the real-time movement of fish) and will move into a cove, point it under a dock and just keep moving until they find fish," Blaukat said. "In my mind, that takes away some of the mystery and excitement of fishing.
"Instead of using your experience and expertise to guess where a fish will be, you're skipping a step."
Blaukat would like major tournament circuits to ban the use of forward-facing sonar that provides fishermen with a live picture of what the bass are doing.
It's been done before. The top pro tournament organizations outlawed the use of Alabama rigs, which feature multiple swimbaits from one main frame.
But banning some type of electronics is highly unlikely.
"At one point, I went to Ranger and discussed the possibility of going to more affordable boats with smaller horsepower motors that could become standard in pro bass tournaments," Blaukat said. "But they didn't like that idea. They would be losing a lot of money."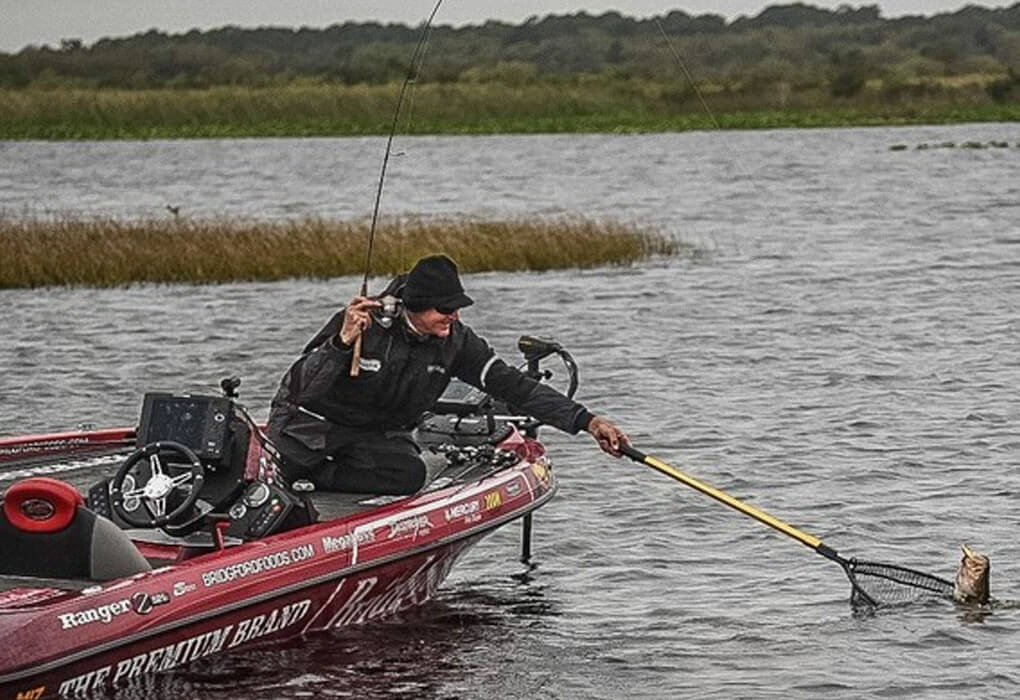 Randy Blaukat's YouTube channel, Intuitive Angling With Randy Blaukat, features his often outspoken view of the bass fishing world. (Photo by Rob Newell/B.A.S.S.)
It's Showtime for Randy
Blaukat will tell you that the real gold in professional bass fishing today isn't through tournament paybacks.
It's through social media.
"If you don't have a big social media following, you aren't worth much to a sponsor," Blaukat said. "I've seen young guys who have YouTube programs just showing how to fish a farm pond or a small body of water who have a good presence and build a big following.
"Then there are top pros who don't do much social media and even though they're great fishermen, they don't have much of a following."
That's why Blaukat decided to start his own YouTube channel, Intuitive Angling with Randy Blaukat. It's pretty much bare bones–no slow-motion video, music, drone shots, etc. But Blaukat has built a following by his characteristic outspoken views on many aspects of bass fishing.
Look at the teasers for some of his videos: "Don't fall for the BS in your area's lake and fishing guide reports," "How the increase in tournament organizations is hurting our sport," The two reasons female pro anglers are rare," and so on.
Blaukat also gives tips on some of his favorite lures, how to catch bass at certain times of the year and baits that are overlooked.
It must be working. Blaukat has almost 44,000 subscribers.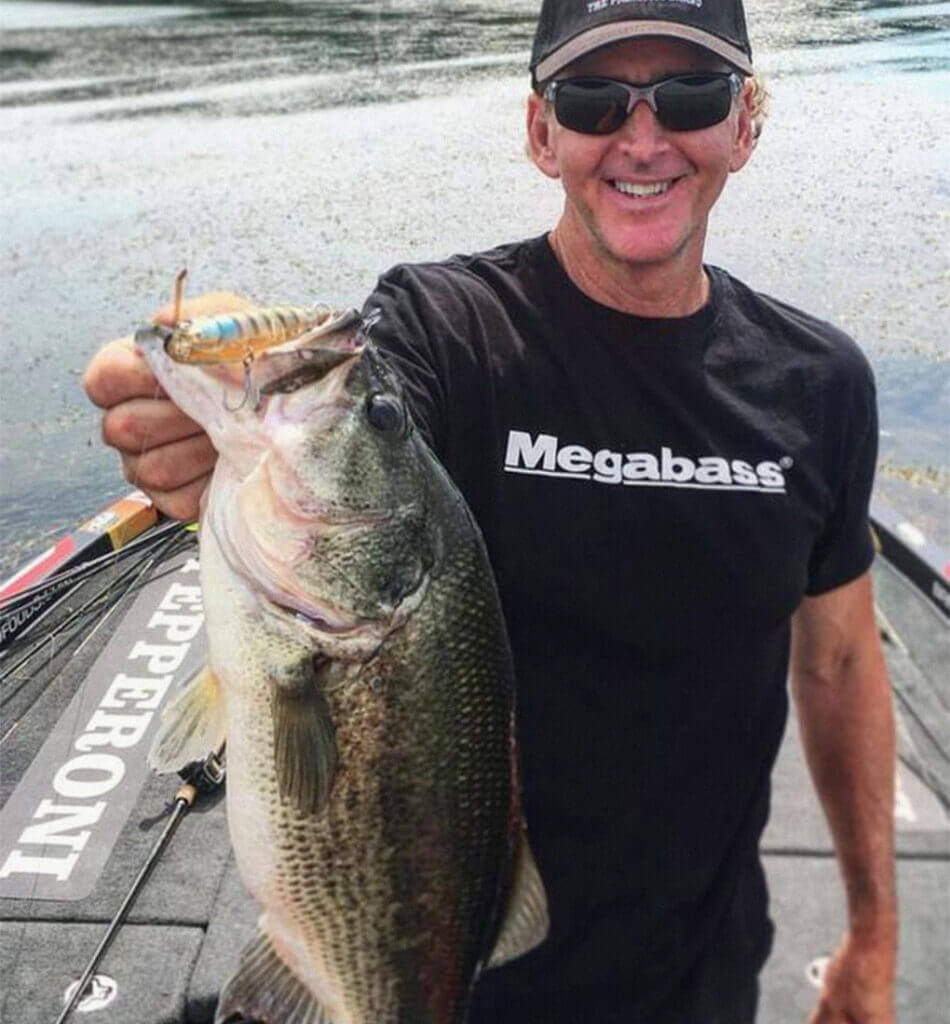 Fall is topwater time for pro fisherman Randy Blaukat. (photo courtesy of Randy Blaukat)
A time for Topwater
Looking for some advice on how to catch a big bass in the fall? Commit to topwater baits.
"From September to early November, topwater is my No. 1 presentation," Blaukat said. "You have commit to it and use it all day long.
"A lot of fishermen use it early, then move onto something else. But in the fall, sometimes your biggest bass come during the day."
Blaukat prefers a buzzbait or a walking bait. He targets areas such as the back of coves, secondary points and the shallows where bass can trap their prey.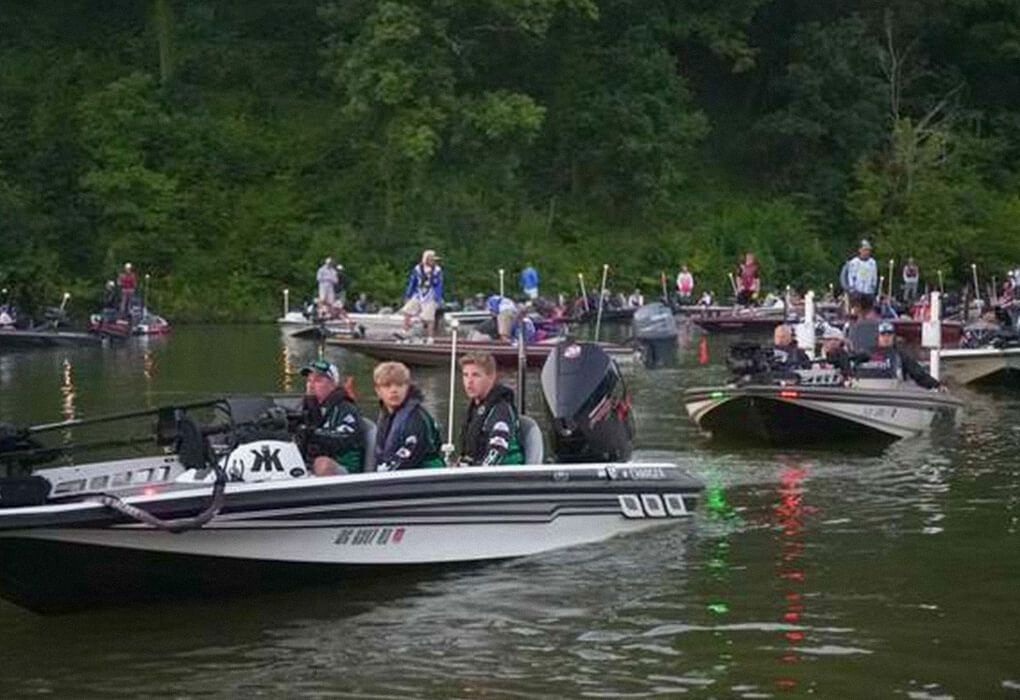 High-school bass fishermen will be showcased during a combine in front of college coaches. (Photo by Emily Hand/B.A/S.S.)
A Recruiting Combine
Most sports fans have heard of combines in sports such as football and basketball. But fishing?
However unlikely that might sound, it will happen in mid-October when Abu Garcia and B.A.S.S. team up to hold the first combine for high-school anglers.
Eighty-five participants from 28 states have been invited to showcase their talent in front of a number of college coaches. The three-day combine will take place on Wheeler Lake in Decatur, Ala.
At the event, anglers will be judged on individual skills, their knowledge of the sport, and their character. Those who stand out will win the recruiting war, according to an article on Bassmaster.com.
"To me, there is no magic equation for an angler to present, but experienced, well-rounded anglers and students who are interested in an opportunity to compete are easier to spot than one might think," said Coach Seth Borton of Adrian College, which claimed its first Bassmaster College Series National Championship earlier this summer.
"For me, it's all about face-to-face interaction. Usually a few questions and a couple of fishing stories later the picture doesn't take long to paint."
That's it for now. I hope to see you on the water.
Tight lines.