We're back.
Today, we'll continue to follow Ott DeFoe's career and how a little Tennessee home cooking lifted him to national fame in the 2019 Bassmaster Classic.
---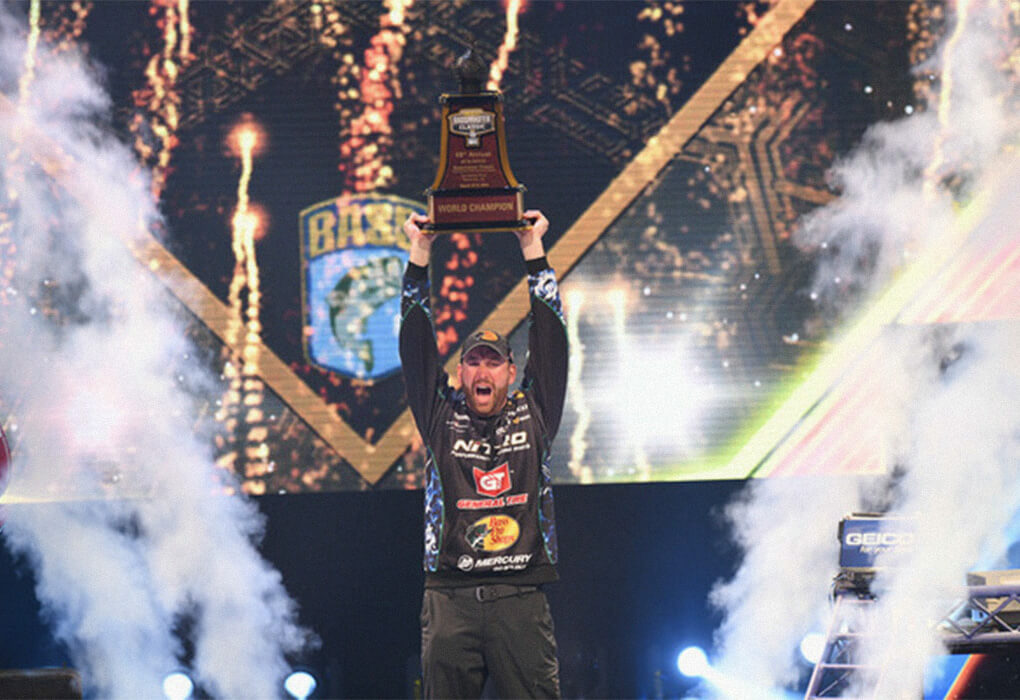 Ott DeFoe celebrated after winning the 2019 Bassmaster Classic on his home waters. (photo by B.A.S.S.)
Ott's Garage
When DeFoe was in high school, he started tinkering in his garage to make balsa-wood crankbaits.
"Eastern Tennessee and balsa-wood crankbaits go hand in hand," he said. "A lot of people use them and they catch a lot of bass."
DeFoe had a head-start in his lure designs. His friend's dad made popular balsa crankbaits and he showed Ott how to turn a chunk of balsa wood into an attractive crankbait.
DeFoe remembers one of his first efforts.
"We went out and used it in a tournament and three of the five bass we weighed in were caught on that bait," DeFoe said.
For a while that flat-sided bait was his secret weapon. But eventually word got out and his balsa-wood crankbaits were in demand.
Today, DeFoe's inventions are mass-produced by Rapala as part of their OG (Ott's Garage) line. The OG Slim 6 and the OG Tiny are thin, flat-sided baits known for their tight side to side action and a thin bill that provides a sensitive feel of bottom structure.
DeFoe takes pride in the designs that he has come up with, but he takes no credit for the paint job they bear.
"I'm no artist," he said with a laugh. "Even when I was making my own baits, I would have someone else paint them."
Reppin' Tennessee
When DeFoe learned the Bassmaster Classic was coming to his hometown of Knoxville in 2019, he felt like he had been handed a big gift.
By then, DeFoe was at the top of his game in the Bassmaster Elite series, having won five major tournaments and having finished in the top 20 of more than half of the events he fished in eight years.
But there was still unfinished business: to win the prestigious Bassmaster Classic.
"I knew I had a good chance when they announced the Classic would be on my home water," he said.
That "good chance" turned into a title and $300,00 in winnings.
Fishing some of his old haunts, he used a Storm Arashi Vibe crankbait, a Rapala DT4 crankbait and a blade bait to pull out the win.
He caught a three-day total of 49 pounds, 3 ounces to take the honors. Second-place finisher Jacob Wheeler had 45 pounds, 5 ounces.
Check out this video to see how DeFoe caught his fish.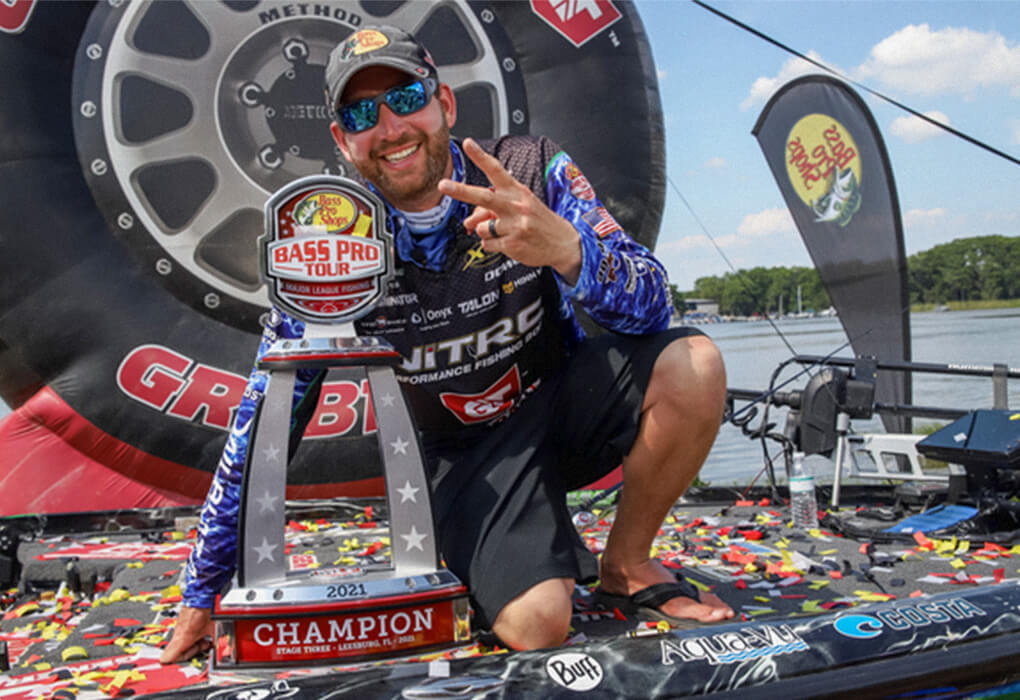 Moving On
DeFoe left B.A.S.S. and moved on to the new Bass Pro Tour, part of the Major League Fishing circuit. But he has taken up where he left off.
Since joining Major League Fishing in 2020, he already has scored four major titles.
"A lot of it is just spending so much time on the water," he said. "I've learned by experience how to react in different situations."
That's it for this week. Stay tuned for Friday when Crankbait tips from a pro – Ott DeFoe.