Few professional bass anglers have made as many casts as Mark Davis has.
Like many top pros, he got his start in grade school. But once he got hooked, he was on the water almost as much as he was on land.
"My dad would pick me up at the school house with boat in tow, and we'd go straight to the lake," said Davis, 59, who grew up in the Hot Springs, Ark., area. "I just couldn't get enough of it."
Some kids mow lawns or run errands for spending money. Not Davis. He became a fishing guide long before he could even drive a car.
"One of the old guides on Lake Hamilton, where my dad kept his boat, saw what I was catching, and he told me I should become a guide," Davis said. "I was only 14, but I was a big kid and looked much older.
"I'll never forget my first trip. I took a retired couple out, and we caught a bunch of crappies. It was spring, and the fish were spawning, and I knew right where they were.
"We only charged $40 for a trip back in those days, and after I had cleaned the fish, this guy handed me a wad of cash. I counted it out and told him he had overpaid me.
He said, 'No, son, that's your tip.' I thought that was the greatest thing in the world, getting paid to go fishing."
Some 45 years later, Davis is still getting paid to go fishing. He is a Hall of Fame fisherman, having won every major award bass fishing bestows.
His trophy room includes honors for winning the Bassmaster Classic, three Angler of the Year awards, and many others for either winning or placing high in regular-season tournaments on the B.A.S.S. circuit and now on the Major League Fishing Bass Pro Tour.
That adds up to a lot of casts…and a lot of cash. From the days when Davis got paid $80 to go fishing, he is now one of the top all-time money winners on the pro circuit.
Not everyone is a Mark Davis. But the average person can learn much from him about becoming a better angler.
"Time on the water is a great teacher," he said.
"You can read all you want to about different lures and techniques, but you have to apply them once you get out on the water; to see what works in different conditions and what doesn't."
We'll dive into what more than 50 years on the water have taught Davis and how you can apply that to your own fishing. So keep reading.
---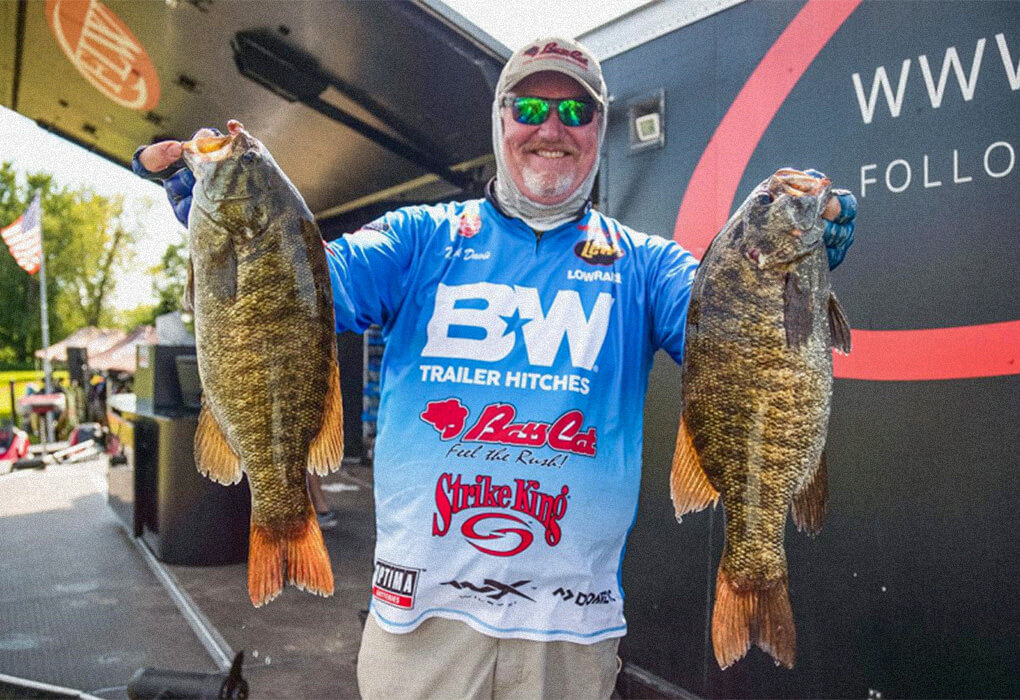 Mark Davis uses the experience gained from years of guiding to excel at the pro level (photo by Cobi Pellerito/Major League Fishing)
The Guide Life
When you guide for a living, you learn to find fish in whatever Mother Nature gives you.
Cold fronts, heat waves, sudden rises in water level, heavy rain– they all are part of the job.
"You have to learn to catch fish in various conditions," Davis said. "You can't just rely on one lure or one technique."
Davis started guiding on Lake Hamilton in the early 1980s, taking customers fishing in his dad's Allison bass boat, which was tricked out with a 115-horsepower motor and two flasher fish finders.
"That was a top-of-the-line fishing boat at the time," Davis said.
Later, when he could drive, he started guiding out of nearby Lake Ouachita, which had a better reputation for bass fishing.
"I started by taking people out for whatever was biting best," he said. "But I eventually became mostly a bass guide."
At Ouachita, known for its deep, clear water, he learned to fish offshore structure. With primitive electronics (at least, compared to today's technology), it wasn't easy.
"I would look for anything different," he said. "Maybe it was some type of isolated cover, a steep dropoff, a hump, a roadbed…anything that was out of the ordinary.
"I had to put in a lot of work to find those spots; then I would triangulate with places on shore to get back to them. Now we have GPS, waypoints, and electronics with a map chip to find those places.
"I did a lot of my early exploring with a flasher unit, a rod, reel, and a lure."
That hard work paid big dividends, though. Davis was a pioneer in offshore fishing, bringing him success as a guide and a tournament fisherman.
His career came to a crossroads in 1994 when he decided to give up guiding and become a full-time pro.
"When I was guiding, I just didn't have enough time to practice for these national tournaments," he said. "I needed to commit and put my all into it."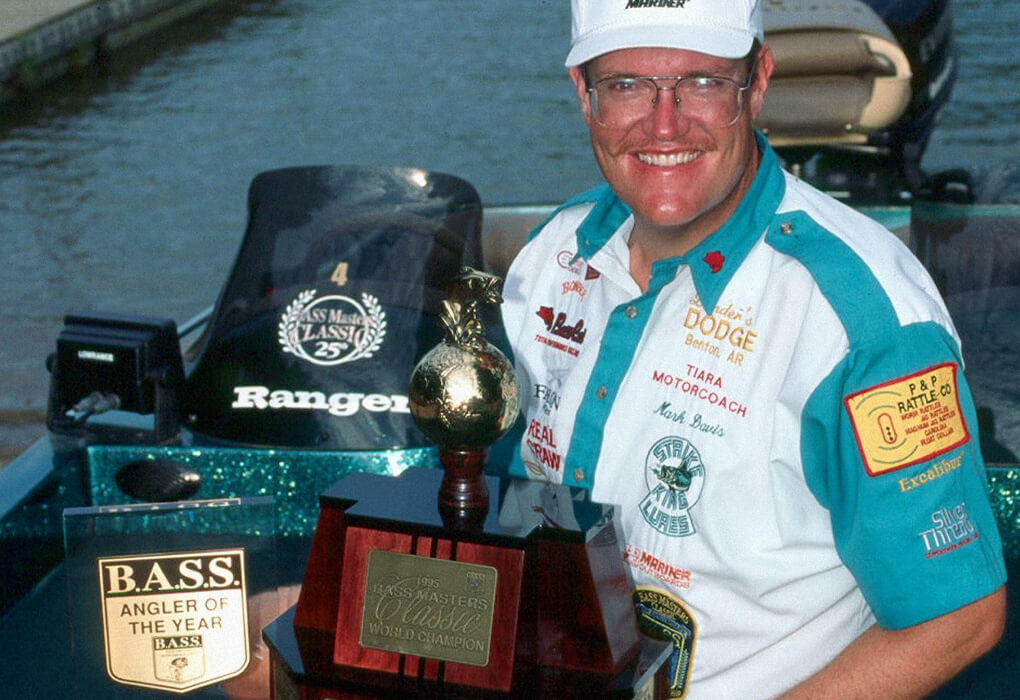 Mark Davis had a dream season in 1995, his first year as a full-time pro (photo by B.A.S.S.)
A Classic Moment
Davis didn't have to wait long to find out whether or not he had made the right decision to become a full-time pro.
He became an immediate success on tour in 1995. He became one of the few pros in history to win the Bassmaster Classic and the Angler of the Year title in the same year.
Adding to that storybook season was the way he won the Classic. He was in a tight battle for the championship on High Rock Lake in North Carolina and decided to return to some deep brush he had located in practice.
He cast a crankbait over the top of one of the piles and felt a strike from what appeared to be a sizable fish.
When he got his catch to the surface, he discovered that he had two keeper bass on the same lure–one on the front set of treble hooks, the other on the back.
He tried to flip the fish into the boat, but they both got off In mid-air. One of the fish bounced off the boat's gunnel and splashed into the water.
The other landed in the boat and was a crucial catch in Davis' winning total.
"The bigger one–the one that landed in the boat—weighed 4 pounds, so I got lucky," Davis said. "If I hadn't caught that fish, I wouldn't have won."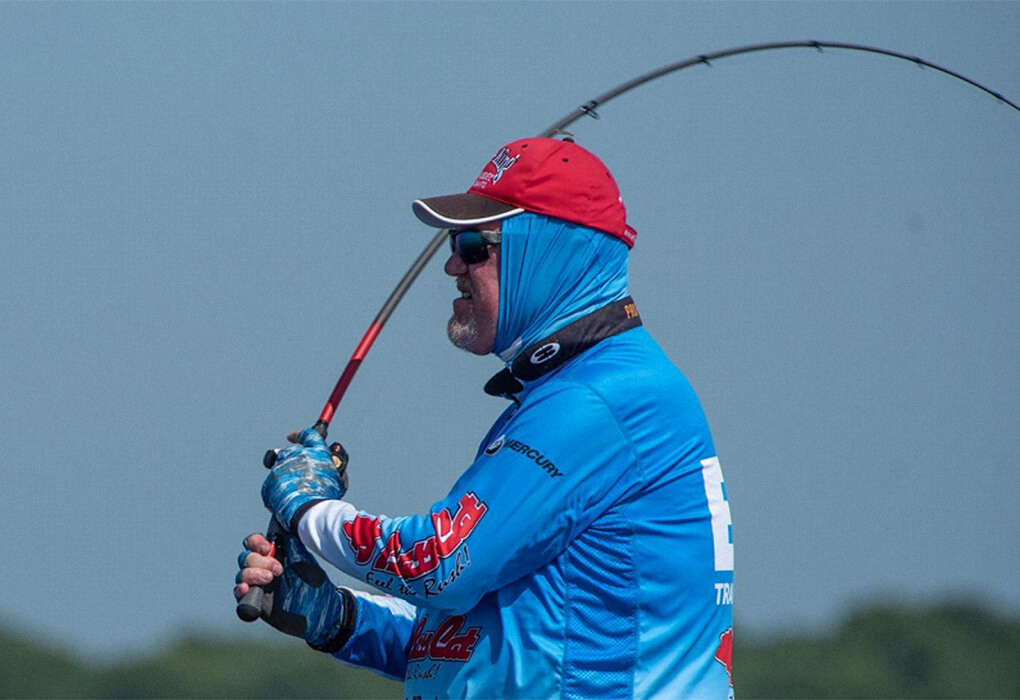 Mark Davis isn't intimidated by fishing clear water as some pros are (photo by Major League Fishing)
A Clear Strategy
Many bass pros prefer fishing in murky water, where the bass tend to move shallower and are less skittish.
But Davis knows there are ways to catch big bass in gin-clear water. After learning to fish at Lake Ouachita in Arkansas, known for its excellent water clarity, he has developed some tried and true ways to catch them deep.
"In clear water, they'll spawn in some places you wouldn't even think of," he said.
"They'll lay their eggs on the limb of a tree in deep water, on a cable, on the supports of a dock at the edge of deep water, and the deep part of a weed line.
"Those spots may only be 10, 15, 20 feet down over deep water, but they'll spawn on some of those suspended hard surfaces."
Davis often uses a drop-shot rig to target those deep spawners. But he will also use Carolina rigs along weed lines and even go fishing at night to entice the big, late spawners.
His personal-best largemouth–a fish that weighed 12 pounds, 3 ounces–was caught on a black spinnerbait at night in 2001 on Lake Ouachita.
"That fish was caught in June," Davis said. "A lot of the big ones will be late spawners."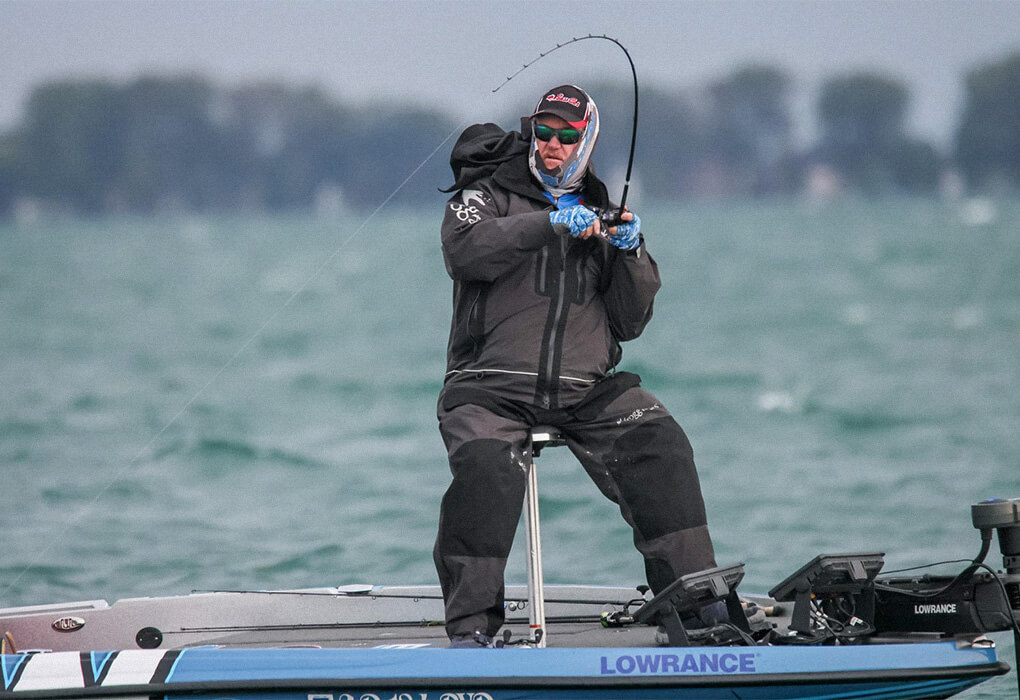 Mark Davis often targets offshore bass when he competes on the Bass Pro Tour (photo by Josh Gassmann/Major League Fishing)
Try These Techniques, Too
After the bass spawn, Davis often heads offshore to target big bass.
He catches them on traditional baits such as crankbaits, plastic worms, and jigs. But he also uses a few tricks to entice the fish to hit.
Swim jigs: Some fishermen think of them as only shallow-water lures, but Davis also uses them for deeper applications.
"The key is making long casts," he said. "And you must use jigs at least three-quarters of an ounce to get them down.
"I'll use them like a crankbait. I throw them a long way, then swim them near the bottom."
Davis uses Strike King jigs with Menace twin-tail grubs as trailers.
Carolina rigs: This is one of Davis' go-to techniques when the bass get picky.
"You can't fish it too slowly," Davis said. "It's a finesse technique, but you're not using light line. I usually fish it on a 20-pound test line."
The Carolina rig features a heavy weight positioned above a swivel and a leader with a light-wire hook attached to it. The weight drags the bottom and stirs up silt, and attracts bass to the weightless lure that trails.
Davis uses a variety of Strike King plastics, such as the Game Hawg and one of the baits in the Rage series.
He makes a long cast, lets it sink, then retrieves it by sweeping it near the bottom and letting it fall on a slack line.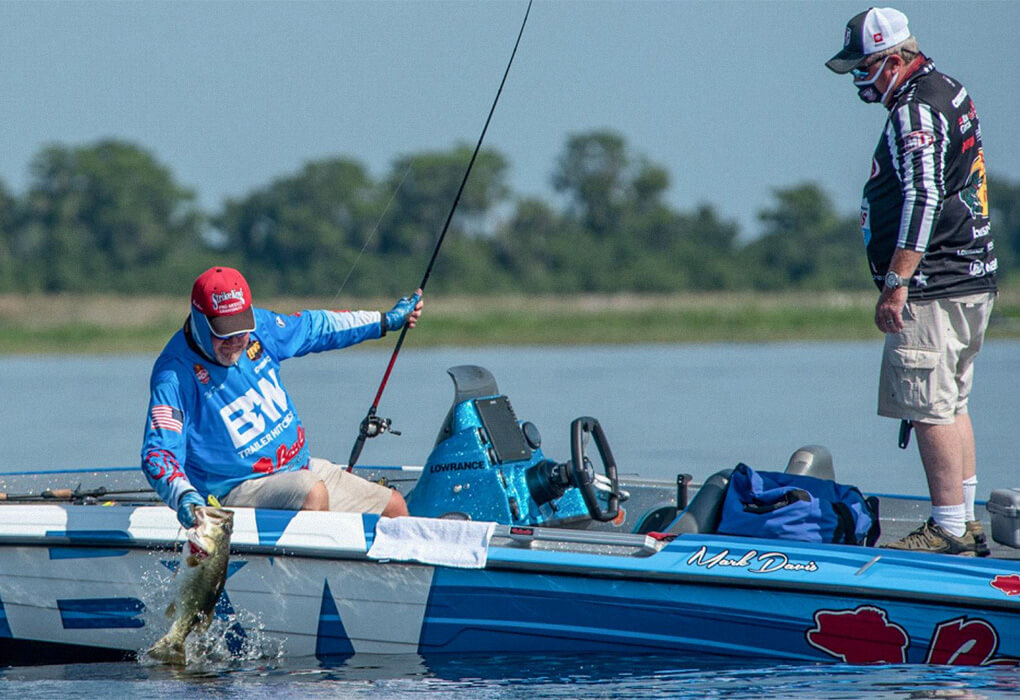 Mark Davis lands a big bass in a Bass Pro Tour tournament  as his boat official looks on (photo by Garrick Dixon/Major League Fishing)
Tips for Beginners
Davis advises beginners to worry about finding the fish first, then deciding which lure to use.
"I see beginners changing lures constantly, then saying, 'I threw everything in my tackle box at them, and they still wouldn't hit,' " Davis said. "Well, the lures weren't the problem. They weren't around the fish.
"I've always said the wrong lure in the right place is much better than the right lure in the wrong place. You have to find them first."
How?
By considering seasonal patterns and weather conditions, for example, bass will often be near spawning banks in the spring.
During post-spawn, they often relate to the main lake and secondary points.
In the summer heat, they often will relate to off-shore structure or shallow cover such as brush, boat docks, or laydowns.
Buy a starter fish finder and look for anything different–an isolated brush pile, boulder, or hump.
You might be surprised at the fish you locate.
Last Cast
Davis is a hybrid between old school and new school.
He learned to find bass before modern electronics hit the scene. Using nothing more complex than a flasher unit, he found bass by spending lots of time on the water and adapting to the conditions.
He continues to catch bass today by using the latest electronics, such as forward-facing sonar, to catch the main-lake bass that once were untouched.
But he will tell you that you don't need the latest high-dollar equipment and hundreds of lures to catch fish.
By spending time on the water, you can learn where the bass are hanging out and what type of lures they want.
Let us know in the comments section how you locate fish and how that process has improved your catch rate.
Until next time, keep those lines tight.