When Larry Nixon was a broke college student, he made a deal with his dad that ultimately changed his life.
"I told him, 'If you let me borrow your boat for three months–from January to the first of April–I'll make enough money guiding to go back to school,' " said Nixon, who lived in Arkansas at the time.
The plan called for Nixon to migrate from his home in Arkansas to the red-hot bass lake, Toledo Bend, in Texas, where his friends' fathers guided.
It wasn't that much of a leap of faith. Nixon had guided at Greers Ferry Lake since he was 16 and was a natural at catching bass.
Nixon's father agreed, and a Hall of Fame fishing career was born.
He said he guided every day for three months, and Nixon "saved every nickel and dime" he made. He made enough to not only pay for his dad to buy a new bass boat, but he also got to keep his father's old one.
Nixon never returned to college; instead, he continued his guide business. That laid the groundwork for a legendary run as a professional bass fisherman.
Nixon, 72, has been a pro for 45 years, longer than anyone except Rick Clunn. He found fame on the B.A.S.S. tour but later moved to the FLW circuit, where he competes today under the Major League Fishing brand.
Nixon, known as the General to fellow fishermen and fans (we'll get into that nickname later), is recognized as a pioneer for many tactics anglers use today.
He is best known for his prowess with plastic worms, applying techniques he learned while guiding at Toledo Bend.
Talking to him about bass fishing's history and the many ways fish can be caught on plastic worms was fascinating.
Once our telephone interview was done, I came away with the idea that he still has a passion for feeling that thump when a bass smacks a worm.
Retirement? Not yet. Like many who still love their job, he isn't ready to hang it up.
---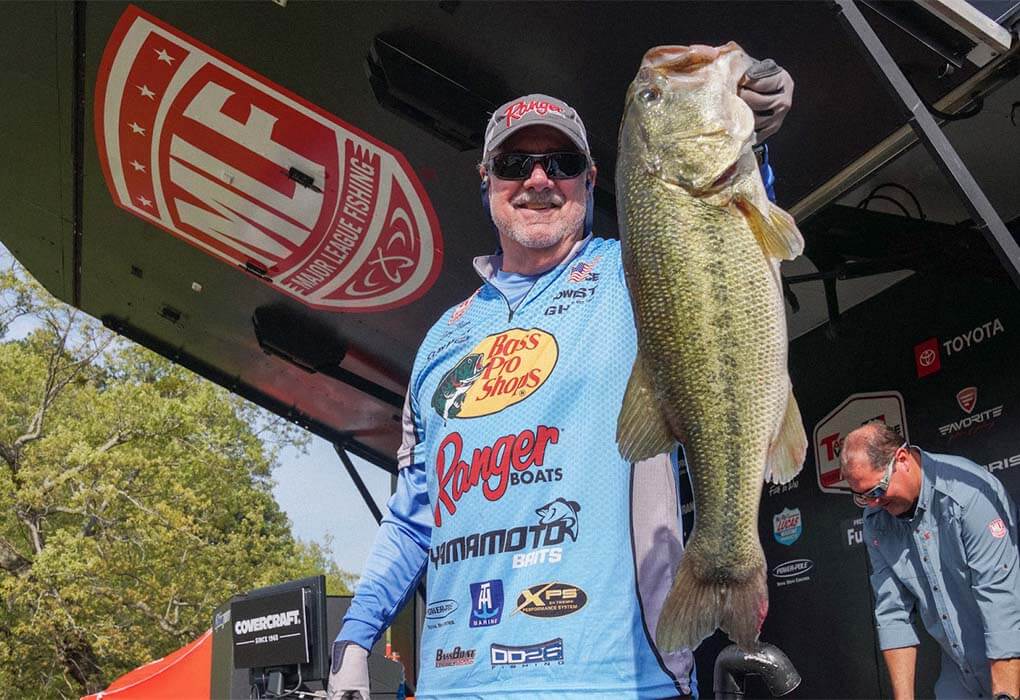 Larry Nixon, 72, has been fishing professionally for 45 years, and he still knows how to catch the big ones (photo by Rob Matsuura/Major League Fishing)
The Roots of a Plastic-Worm Master
When Nixon guided at Toledo Bend Reservoir at an early age, he quickly learned that there was one bait the bass would always hit–a plastic worm.
"We used Rogues, spinnerbaits, and crankbaits, but there were days when they didn't want a moving bait," Nixon recalled. "But they would always hit a plastic worm."
Nixon's secret weapon was a Creme Scoundrel, the first plastic worm ever made.
Nick and Cosma Creme followed their brainstorm and experimented with different formulas for making the soft-plastic bait in their basement in Akron, Ohio.
When they put their worms on the market in 1949, they quickly gained favor with fishermen. Sometime later, Nixon discovered their special allure.
"Fishing was so good on Toledo Bend at that time; you could take a party out in the morning and catch a limit, then take another group out in the afternoon," Nixon said. "We did a lot of plastic-worm fishing.
"The very best way was to fish it on a Texas rig (with the point of the hook buried in the plastic so that it was weedless). We were dealing with a lot of timber, brush, and grass in those days, and you could throw that worm anywhere."
"I learned how to deadstick a worm with no weight, which was deadly. It looked so natural, just drifting down."
Nixon devised another trick that put even more bass in the boat. He went to a small jighead, usually 1/8th-ounce, and hooked it through the head of the plastic worm.
The hook was exposed but often came through the grass without getting hung up.
"We could go out and catch (and release) 100 bass," Nixon said. "It was deadly."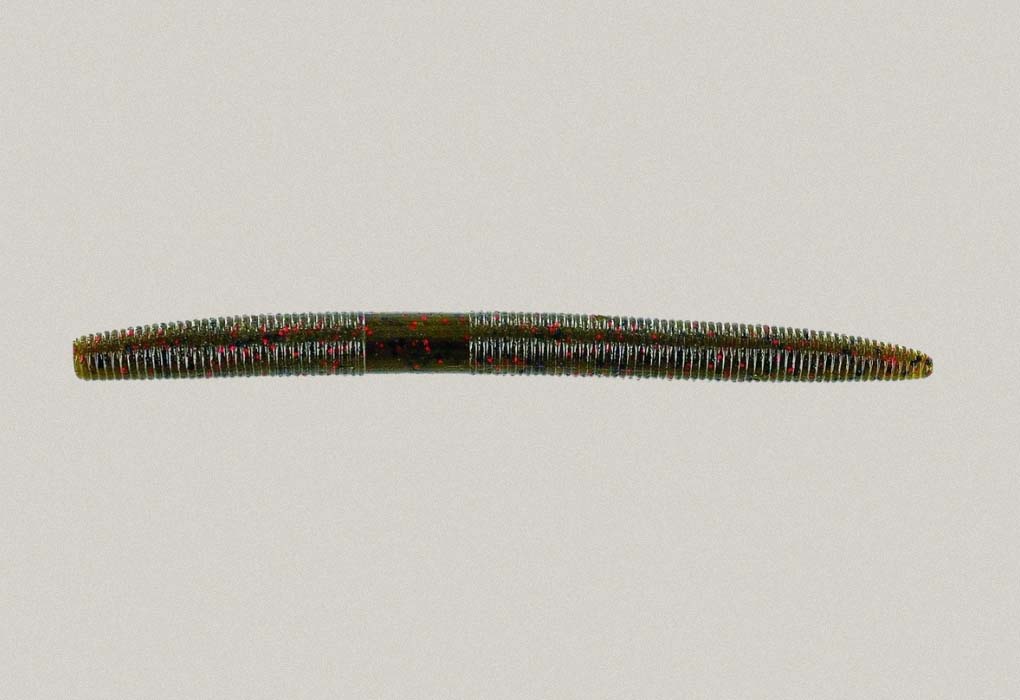 The Yamamoto Senko
More Plastic-Worm Tricks
In the early 1970s, Nixon learned a method that would forever change his fishing style.
He had been catching bass on Rat-L-Traps, but that pattern abruptly ended. While trying other baits, he noticed two fishermen just waylaying bass. Curious, he trolled over to the anglers to see what they were doing.
"That's when I saw my first plastic worm rigged wacky-style," Nixon said. "They were taking a 1-ought hook, running it through the plastic in the middle of the worm, and just letting it sink.
"By fishing it slowly, they got the action from both ends of the worm when it would sink, and the bass loved it. When I saw that, I thought, 'Oh, my gosh, I have a new toy to play with. ' "
Nixon has used that method to catch thousands of bass over the years. Today, he fishes exclusively with Gary Yamamoto plastic baits, his major sponsor.
The company's Senko is one of the best stickworms ever made, with a formula of salt and other ingredients that allow it to fall seductively through the water.
"When fishing is tough, and the bass are still shallow–less than 10 feet of water–take a Yamamoto Senko, Texas-rig it with a 4-ought EWG hook, cast it out weightless, and let it slowly sink to the bottom on a slack line," Nixon advised.
"Just deadstick it for a while, then slowly lift it. If you feel weight, set the hook. If not, give it a little pop and make it jump off the bottom, then let it drift down again.
"I've caught a gajillion bass that way over the years."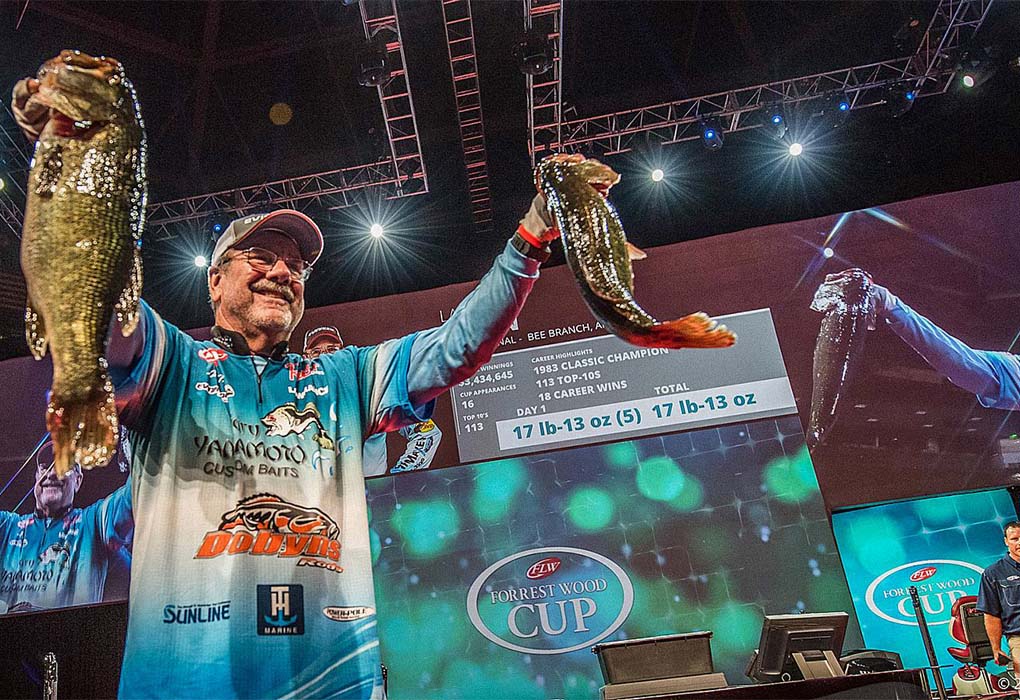 Larry Nixon has spent much of his life competing in major bass tournaments and displaying his catch to cheering fans (photo by Charles Waldorf/Major League Fishing)
The Plastic Worm: An All-Season Bait
Many fishermen consider the plastic worm a summer bait. And the bait is indeed highly effective when the bass hunker down in a brush pile, under a dock, or in the shade during the dog days.
But Nixon considers the plastic worm far more versatile than that.
"You can catch bass on plastic worms year-round," he said. "There's never a wrong time to use them.
"Even in the dead of winter, I'll take a five-inch cut tail worm, use my electronics to get right over the top of those fish, and just doodle-sock them. They'll bite the fire out of them."
Nixon also will flip and pitch plastic worms to shallow cover, drag a Carolina rig off points when the bite gets tough, and use a Chatterbait with a Senko trailer when he wants to cover water."
His standard approach to getting lots of bites is a 7-foot Dobyns medium-heavy baitcasting rod, a reel with 12- to 14-pound fluorocarbon line, and a Roboworm Rebarb hook varying in size with the bait he is casting.
He will use a one-quarter-ounce weight and Texas rig the worm. When catching big bass, he will go to an EWG worm hook, which he claims is the best on the market for flipping and pitching.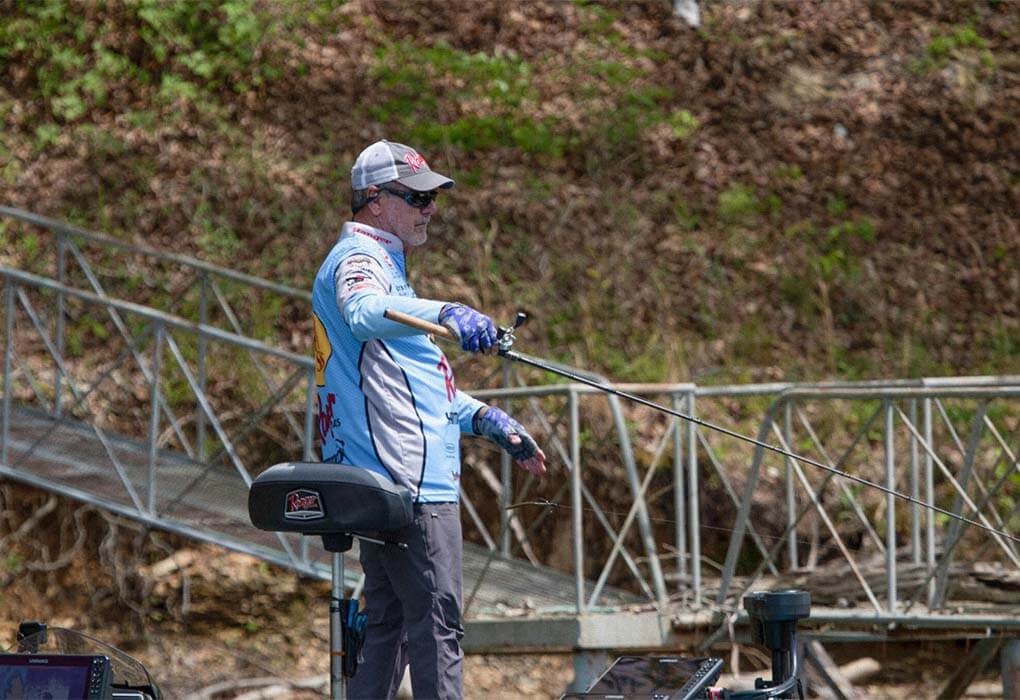 Flipping a plastic worm or jig along boat docks is one of Larry Nixon's favorite methods (photo by Jody White/Major League Fishing)
Though Nixon loves to fish plastic worms, he isn't a one-trick pony.
"You have to do it all to be successful today," he said.
Nixon uses chase baits such as crankbaits and spinnerbaits early in spring when the bass are just starting to move in. Later, he will flip or pitch bass jigs to brush, docks, and other shallow cover.
If bass are relating to dropoffs but are suspended, Nixon will cast and let the jig settle to the bottom, then snap it up three or four feet and let it freefall through the concentration of fish.
"Sometimes, that will trigger reaction strikes," Nixon said.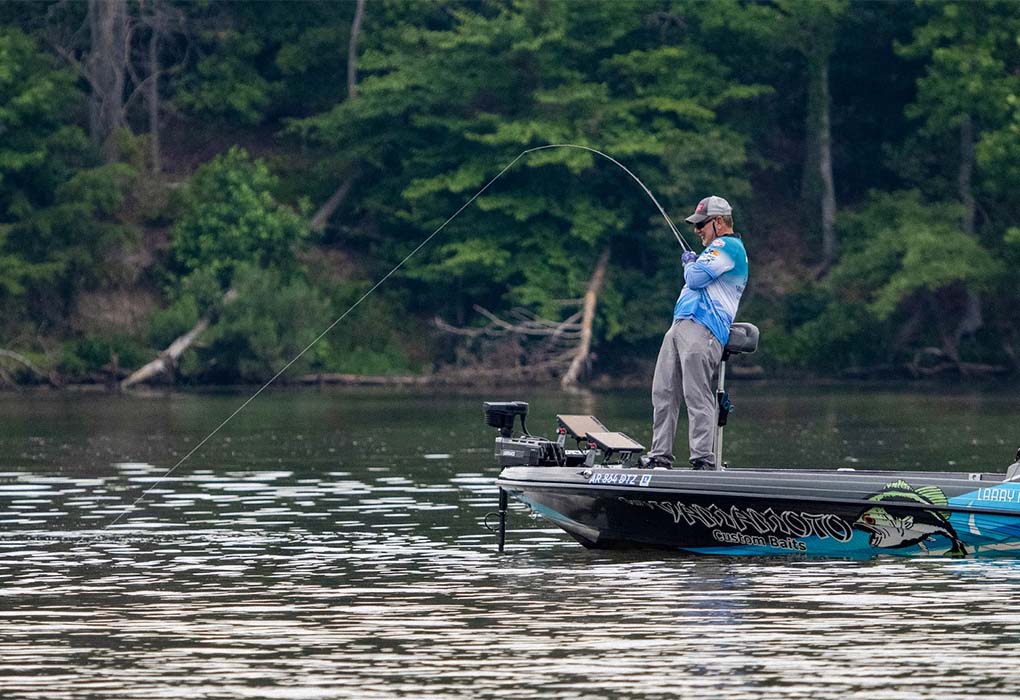 Larry Nixon battled a big bass during an FLW tournament (photo by Jody White/Major League Fishing).
Teaching an Old Dog New Tricks
Nixon felt incredibly proud of his 33rd-place finish in a Tackle Warehouse Pro tournament in the heat of summer 2022 on Lake Champlain.
"That was the first tournament I relied totally on forward-facing sonar," Nixon said. "The smallmouth were scattered, and without that technique, I wouldn't have caught much of anything."
For a veteran like Nixon, using that modern technology represented a significant change.
When he started fishing professionally, he relied on a simple flasher unit.
Now he's trying to adapt to the forward-facing sonar, which shows the real-time movement of the fish.
"It has been challenging for me to pick up," he said. "But if you want to compete today, you must use it."
Still, there is room for old-school methods and on-the-water sense. And as long as there is, Nixon will have a place on the pro tour.
"A bass is still a bass anywhere you go," he said. "I know their daily and yearly patterns as well as anyone in this universe.
"I'll continue to fish the way I always have, casting to grass, stumps, ledges, and docks."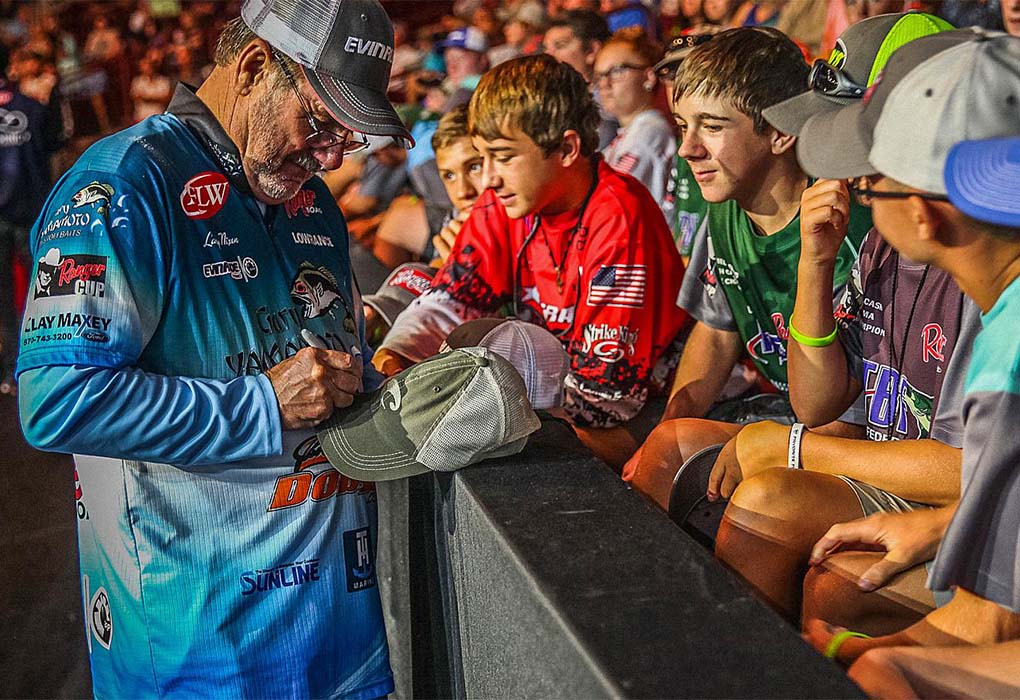 Larry Nixon remains one of the most popular bass fishermen on the pro tour (photo by Colin Moore/Major League Fishing).
About That Nickname…
The General is the guy in charge. So it's a fitting nickname for Nixon, who was dominant in pro bass fishing at one time.
He got that moniker in a tournament on Wheeler Lake years ago. He was in the thick of the competition for the title and among the fisherman roaring across the water where the bass had been biting.
But about halfway there, Nixon abruptly changed course and went against the grain to another spot.
"The wind was blowing from the southeast, and I didn't think I could catch them where I had been," Nixon explained.
Nixon won the tournament, and fellow angler Charlie Evans reacted by saying, "Only a General could do that."
The nickname has stuck.
Conclusion
Nixon is a living history book of tournament bass fishing.
He can tell you what it was like back in the sport's "good old days," and he can tell you what it's like now.
"I've seen some massive changes," Nixon said.
But one thing is still the same. As he said earlier, "A bass is still a bass." And traditional baits such as plastic worms still catch them.
Follow Nixon's advice, and you'll put more bass in the boat. Let us know about your experiences with worm fishing, and maybe share a tip or two in the comments section below.
Until next time, good luck with your bass fishing.