KVD.
In the world of bass fishing, that's code for greatness. Kevin VanDam, also known as KVD by his many fans, is perhaps the most dynamic bass fisherman in the country today.
He has 29 career wins, four Bassmaster Classic championships, eight Angler of the Year titles and is the pro sports's all-time leading money-winner, with $6.9 million in tournament earnings .
Yeah, KVD is kind of a big deal. And we're talking to him today, getting tips on everything from fall bassin' to his style of fishing to Michigan smallmouth fishing.
We'll also cast out some tips for beginners, talk about a record-breaking summer in Minnesota, and put you on some deals.
So get your life jacket and your fishing equipment, and hop into the boat. The bass are waiting.
– Brent
---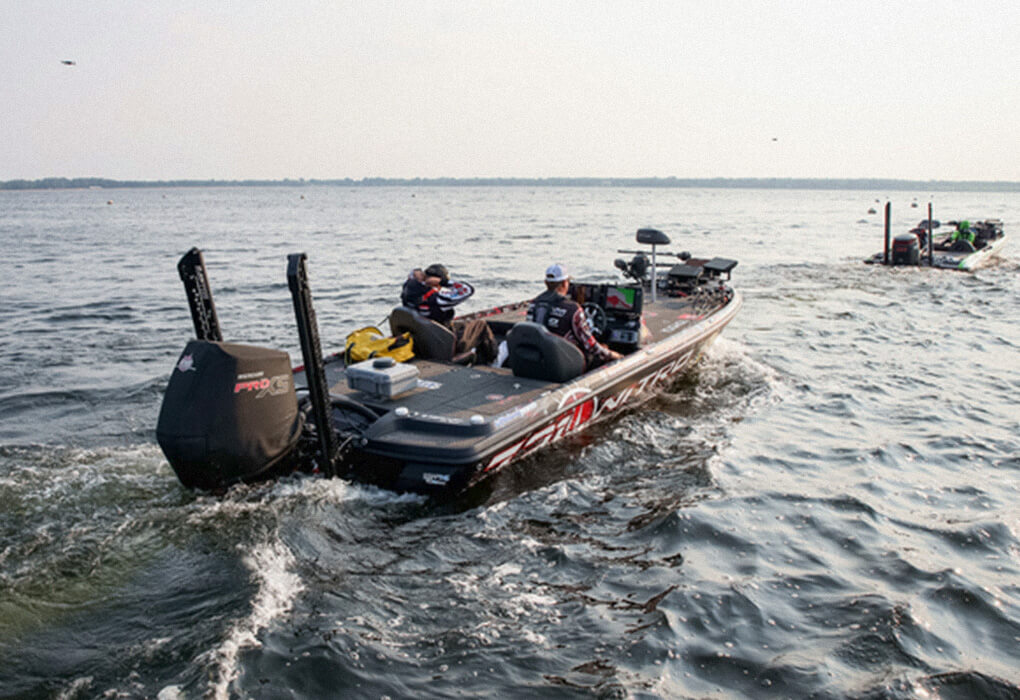 Kevin VanDam motors out for another day of fishing on the Major League Fishing Bass Pro Tour. (Photo by Joel Shangle/Major League Fishing)
These Deals Are Steals
In this weekly segment, I review the Internet for the best deals out there.
Because this newsletter is not sponsored, I can take an objective look and pass along what catches my eye–and wallet.
Three deals, three ways to save money.
Megabass Vision Oneten jerkbaits: Yeah, they're high-dollar, even when they are on sale. But I hardly ever see them sold for less than $25 (or $24.99 if you want to get precise). But this week Bass Pro Shops is selling selected colors of the Megabass Vision baits for $20. Scroll down through the list until you see the discounted baits. I think I am going to stock up.
Summer clothing: AFTCO is offering an end-of-summer sale on its popular brand of clothing. Everything from sun-protection long-sleeve shirts to shorts is on sale.
Casting rods: Scheel's is offering Abu Garcia Veritas casting rods for big savings. Regular price was $99.99; They're on sale for $49.99. The rods aren't top of the line, but they're a steal at this price.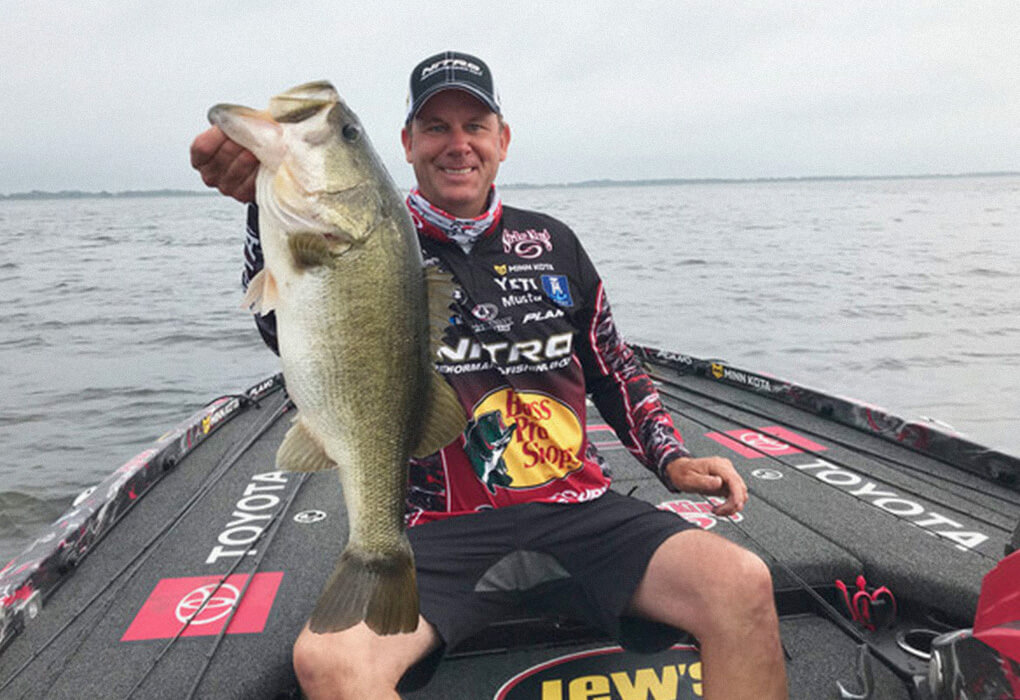 Kevin VanDam is looking forward to a fall filled with big bass. (Photo by Major League Fishing)
Fall is KVD Time
VanDam looks forward to fall days when the weather is cool and the bass fishing is hot.
The lakes are less crowded, with many turning their interest to football, hunting or weekend activities. But VanDam is still fishing, and enjoying some of his best action of the year.
"One of my favorite times to fish is from mid-September to mid-October," he said in a telephone interview. "The water temperature is still warm enough for the bass to be real active, and they'll hit moving baits.
"Length of day plays a big part. As the days get shorter and the water cools down, the bass will be chasing."
When the water temperature drops to 65 degrees, "things start to happen," VanDam said. That good bite can last until the temp drops into the low 50s.
VanDam looks forward to the crisp fall days when big bass are busting topwater lures. But he also catches fish on spinnerbaits, crankbaits and jerkbaits.
The bass are often shallow, chasing schools of baitfish, and they key on moving baits. Once the water drops into the low 50s, slower-moving baits such as tubes, jigs and swimbaits worked along the bottom come into play.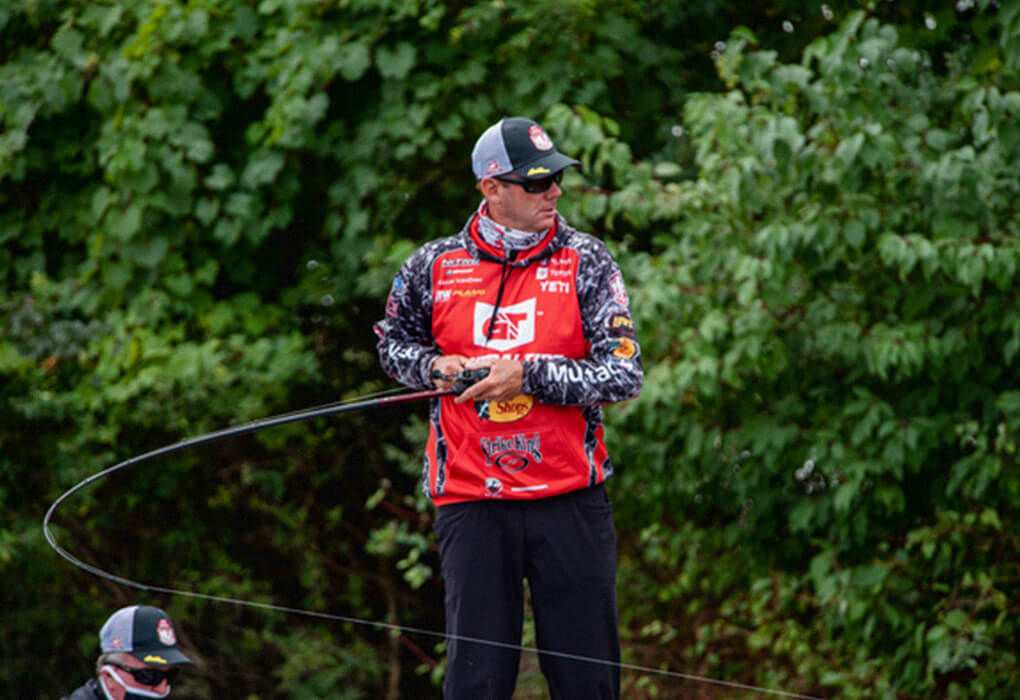 Kevin VanDam is known for his fast fishing style. (Photo by Garrick Dixon/Major League Fishing)
Taking a Fast Approach
VanDam isn't one of those "sit-back-and-wait-for-the-bobber-to-go-under" type of fishermen.
From the moment he hits the water, the bass are under constant attack.
He is known for his fast fishing style and the way he peppers the shallows with casts, hitting every piece of cover he can find, then quickly moving on.
"It's in my nature," VanDam said. "I'm always on the go.
"I just try to cover as much water as I can and get as many reaction bites as I can. If you're fishing slow and you're not around them, you can have a long day.
"When you fish fast, you have a better chance of finding them."
It's not as though VanDam is just blindly casting to the shallows, though. Each cast has a purpose.
"I improve my odds when I have a target to throw at–a dock, a clump of weeds, a brush pile, a rock, whatever," he said. "I'm keeping my lure in the strike zone."
It's no accident that he has designed many lures for Strike King that suit his style of fishing–crankbaits, topwater lures, buzzbaits, spinnerbaits and more.
He has used those lures to win tournaments and build on his impressive resume.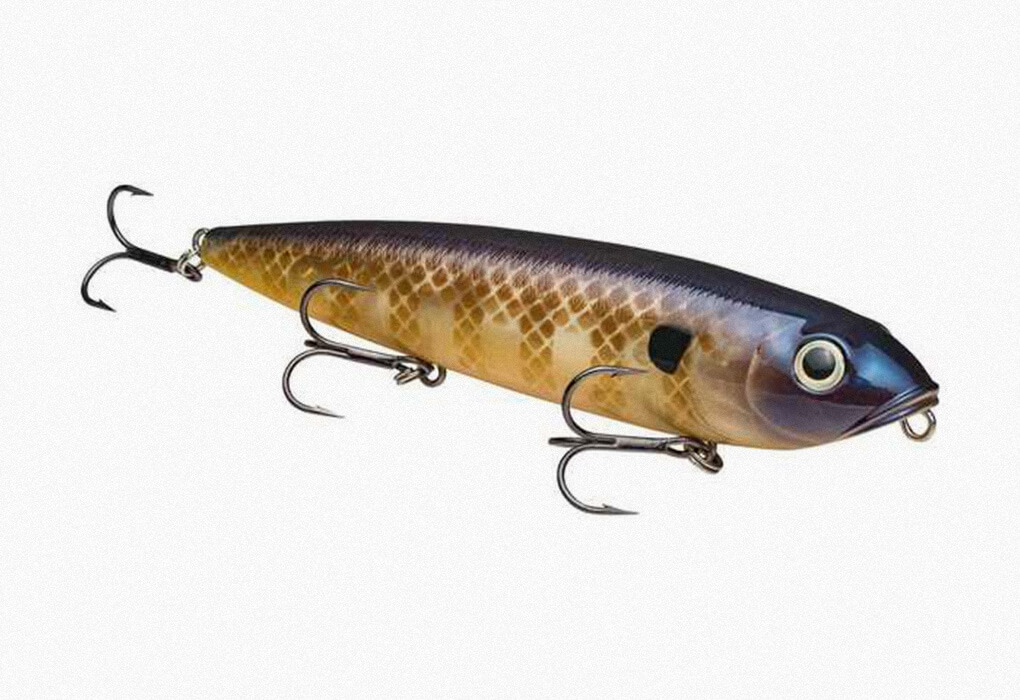 Strike King's KVD Sexy Dawg topwater lure is a big-bass catcher
Lure of the Week
When VanDam designed the Sexy Dawg topwater lure for Strike King, he had his own fishing style in mind.
He wanted a surface lure that would cast far and show plenty of action when he "walked the dog," zigzagging it over cover.
That's what he got when he came up with the Sexy Dawg.
"I love throwing a big topwater, and the Sexy Dawg is one of my favorites," he said. "I've caught a lot of big bass on that bait."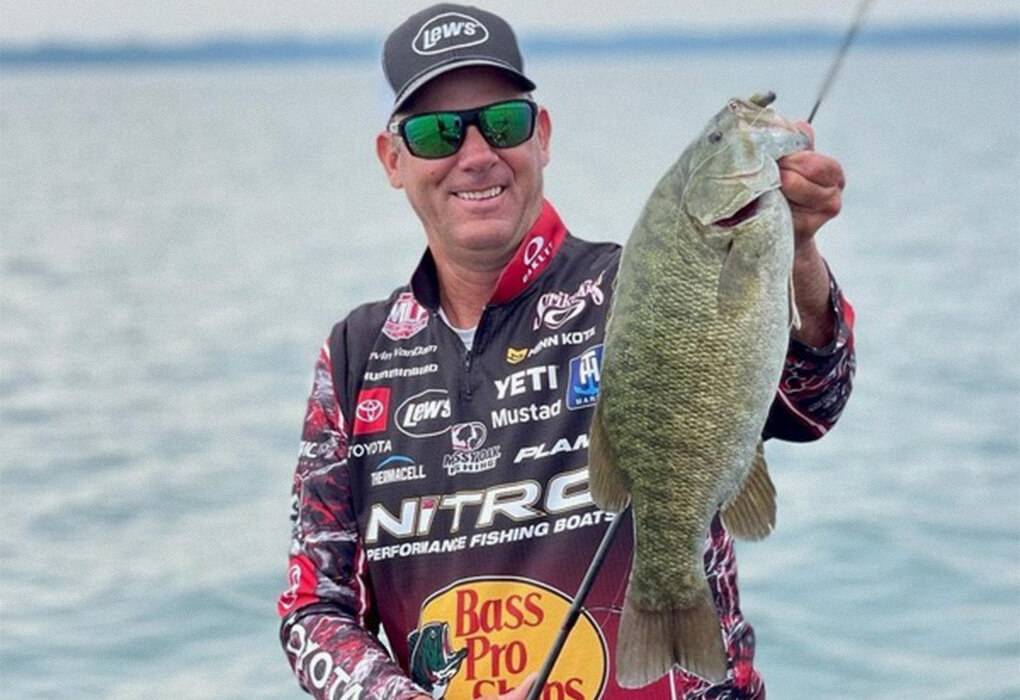 Kevin VanDam grew up in Michigan and knows how good the smallmouth-bass fishing can be in his home state. (Photo courtesy of Kevin VanDam)
Michigan's Lure
When VanDam was just 7 years old, he discovered the thrill of Michigan smallmouth fishing.
"My dad and his friends would make an annual trip to upper Michigan on Memorial Day weekend," said VanDam, who grew up in Kalamazoo. "When I was 7, he decided I was old enough to go with.
"That's when I caught my first smallmouth. I still remember the fight that fish put up."
Not much has changed. VanDam still relishes traveling to northern Michigan for some of the best smallmouth fishing in the nation.
"Upstate New York has some great smallmouth fishing, and so do Minnesota and Wisconsin," said VanDam, who is from Kalamazoo, Mich. "But I'd rank Michigan right up there.
"Our state is surrounded by Great Lakes on three sides, and they have some great smallmouth fishing. But there are also lots of smaller lakes in the northern part of the state that hold some big smallmouths."
And it's not just smallmouths.
"That region is so diverse," VanDam said. "You can have one lake that has clear, deep water and a lot of rock and sand that holds good smallmouths. And just a mile away, you'll have a lake that is shallow and weedy and is full of largemouths."
Spring and fall are the best times to fish those lakes, VanDam said. But bass can be caught throughout the summer, too, by fishing deep.
VanDam uses everything from finesse baits to tubes to drop-shot rigs to catch the smallmouth.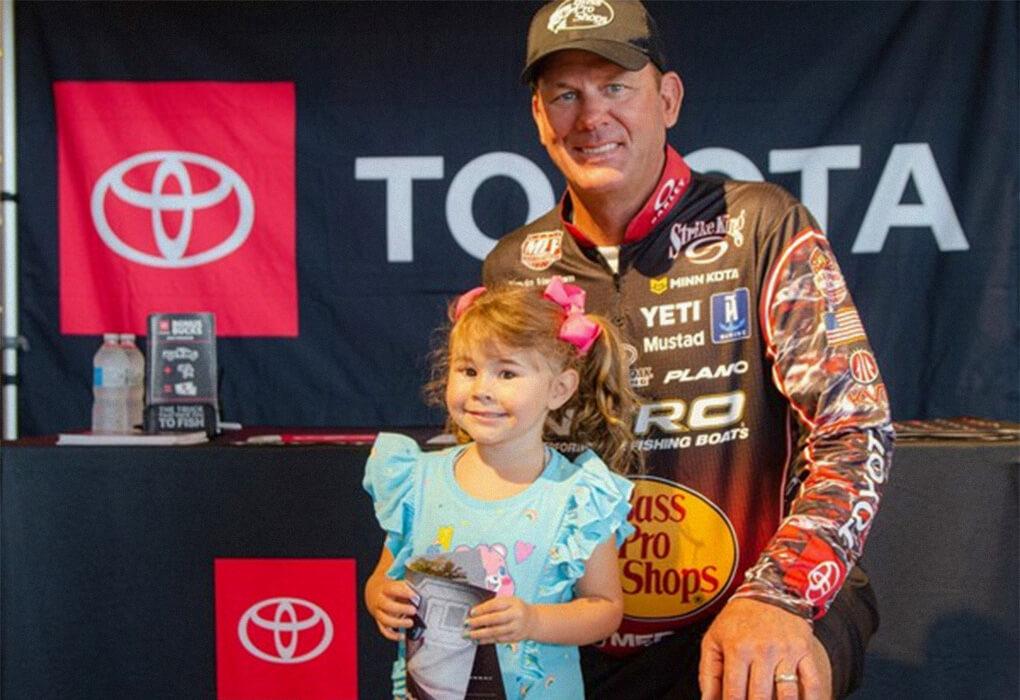 Kevin VanDam posed with one of his young fans at a Bass Pro Shops event. (Photo by Rachel Dubrovin/Major League Fishing)
Tips for Beginners
Want to catch more bass? Practice your casting.
That's the advice of Kevin VanDam, the legendary pro bass fisherman.
"The one big thing that fishermen can do to put more fish in the boat is to improve their casting accuracy," he said. "You can get a lot of reaction strikes just by putting your bait where the bass are hiding and by doing it quietly.
"Learning how to make an underhanded roll cast so that your lure lands softly is important."
That's where the practice part enters the picture.
VanDam recommends that beginning fishermen put plates or buckets out in their backyard and use a casting plug to practice aiming at those targets.
"Being a good caster can make a big difference on the water," VanDam said.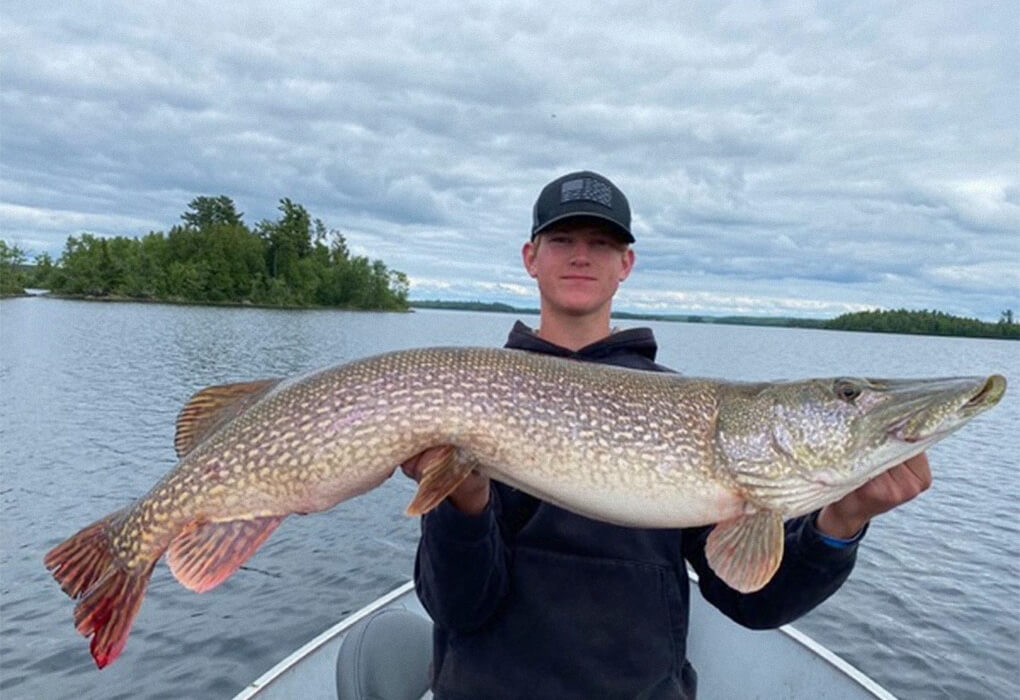 Brecken Kobylecky displayed the giant northern pike that gave him the catch-and-release state record in Minnesota. (Photo courtesy of the Minnesota Department of Natural Resources)
A Fish Story of Epic Proportions
Let's set the scene. A 15-year-old boy is fishing on the final day of his guided fishing trip on Basswood Lake in northern Minnesota.
The guide announces that there are 10 minutes left before they have to go in. But before time runs out, one of the rods bends sharply and Brecken Kobylecky of Geneva, Ill., starts reeling.
He finally lands a huge northern pike and the guide measures it at 46 ¼ inches. Kobylecky poses for a few photos, then releases his catch.
Later, he learns that he has a Minnesota catch-and-release state record. That fish, which was caught in mid-June, was verified as a record this week.
"The whole experience went by in a flash, but it was the experience of a lifetime I'll never forget," Kobylecky said in a Minnesota Department of Natural Resources press release.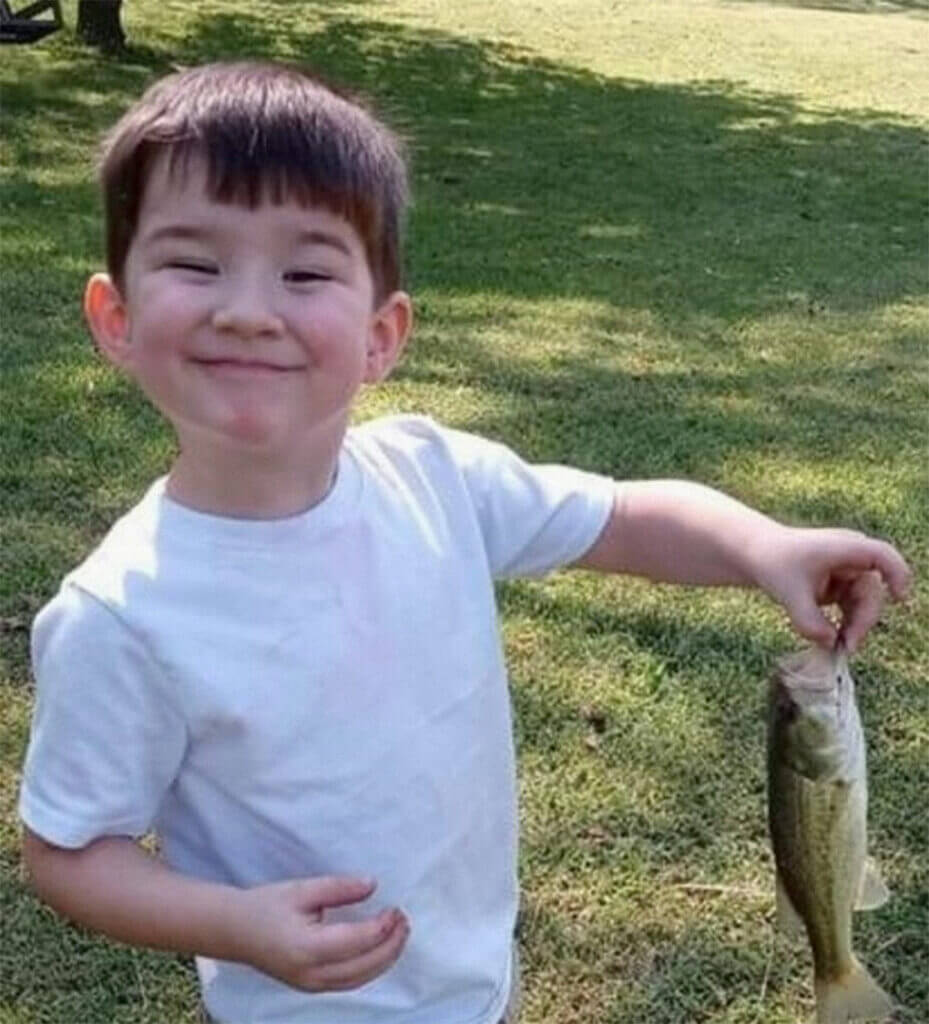 Killian McGaha, 3, proudly showed off the first fish he ever caught
Kids Stuff
I just love the power of fishing.
The smallest bass can bring the biggest smile to a little one's face. Look at Killian McGaha, 3, after landing his first-ever fish.
Killian, who live in eastern Kansas, was fishing at his relatives' farm pond when he watched his bobber go under.
He reeled in the fish, then proudly posed for a photo, which was later posted on the Facebook page of one of my friends. The family persuaded Killian to let the bass go.
Great job, Killian. You're our Junior Bassmaster of the Week.
That's it for this week. Be sure to email me your photos of the big ones that didn't get away. Just hit reply to this email and I'll get it.
Until next week, keep casting. I hope to see you on the water.