Joey Cifuentes couldn't have picked a better mentor.
When he arranged a meeting with one of his bass-fishing heroes, Larry Nixon, he was just hoping to get a few tips.
It turned out to be a full-scale, on-the-water class. A class that Cifuentes credits with taking him to the top of the bass-fishing world.
In 2023, his first year on the Bassmaster Elite Series circuit, Cifuentes unexpectedly won two national tournaments and captured Rookie of the Year honors.
He couldn't have done it without his "internship" with Nixon…and his own mastery of modern electronics.
"When I was getting started in tournament fishing, I met Larry (through a mutual friend) and we just kind of hit it off," Cifuentes said. "We live close to each other in Arkansas and we started fishing together.
"At first, I just kept my mouth shut and soaked in all that bass fishing knowledge.. It's not everyone who gets a chance to learn from someone like Larry Nixon."
So what did he learn? We're going to tell you.
And be sure to read until the end. This story has a twist. We'll give you a hint.The student is now instructing the teacher on some of the fine points of bass fishing.
---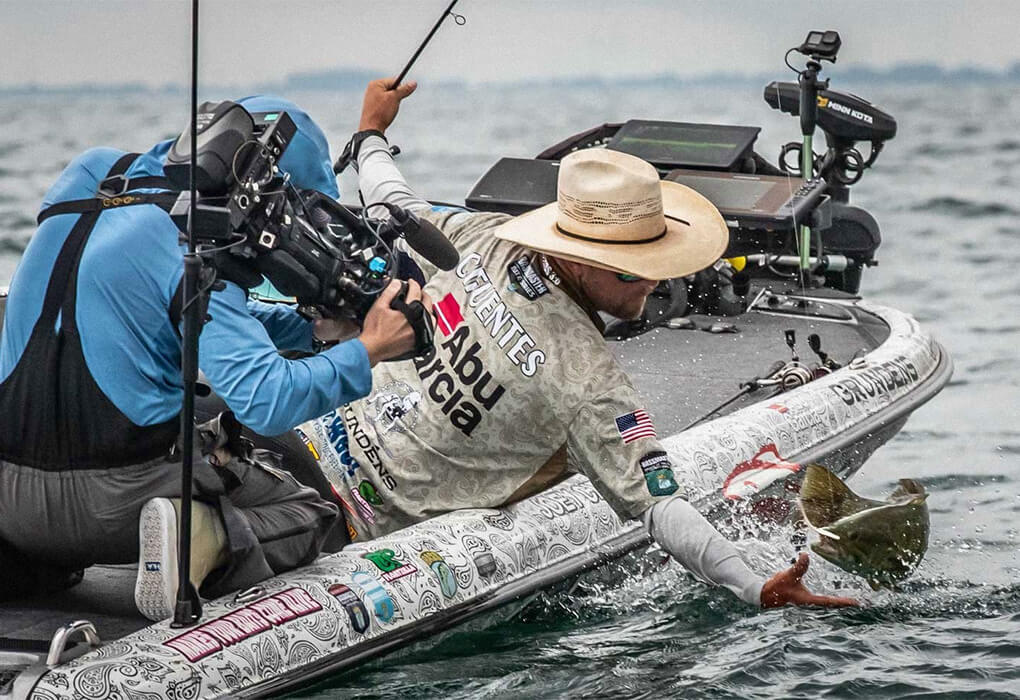 The cameras are now trained on Joey Cifuentes when he competes on the national stage, but it wasn't long ago that he was the pupil in legend Larry Nixon's class (photo by Shane Durrance/B.A.S.S.)
Bass Class
When Cifuentes met Nixon, he was a typical young gun just thirsting for bass-fishing knowledge.
Cifuentes grew up in Florida, and learned to bass fish on his grandparents' farm pond. He still remembers digging up mussels, prying them open and getting the meat inside to use for bait.
"We caught a lot of fish using that meat," he said.
Eventually, he graduated to fishing with topwater frogs and catching big bass skimming them over the lily pads.
But it wasn't until Cifuentes moved to Arkansas with his family when he was 16 that he developed an interest in tournament fishing.
He was a star pitcher on the high-school baseball team and he had his heart set on a career in the pros at one point. But after he developed arm problems, he turned his interests to bass fishing.
He also got involved in the family's cattle business. That's how he got his nickname, Cowboy. He began wearing a cowboy hat (partly to represent one of his sponsors, Cowboy Chrysler Dodge Jeep Ram) and it became his signature look.
Cifuentes and a close friend began doing well in local tournaments on Greers Ferry Lake, and he searched for an edge. That's where Nixon came in.
"He was already a good bass fisherman when I met him," Nixon said. "But he needed to learn patience. He would give up on an area too quickly.
"He needed to slow down and just pick an area apart before moving."
Cifuentes agreed, adding, "I would pull up to an area, make three or four casts, then move on. But Larry taught me to try different angles, go to other baits, and just be patient if I knew there were fish there.
"He tied on some baits that I had never thrown before. It really was an eye-opener."
Nixon also gave his protege tips on where to find bass. He stressed the importance of finding baitfish and also locating structure that would hold big bass.
In addition,Nixon stressed how conditions could dictate where the bass were holding. And he taught Cifuentes how different reservoirs or rivers often called for different techniques.
Just as important, Cifuentes learned about the mental part of the game.
"He taught me a lot about having confidence and not panicking when things aren't going right," he said. "He really made me a better fisherman."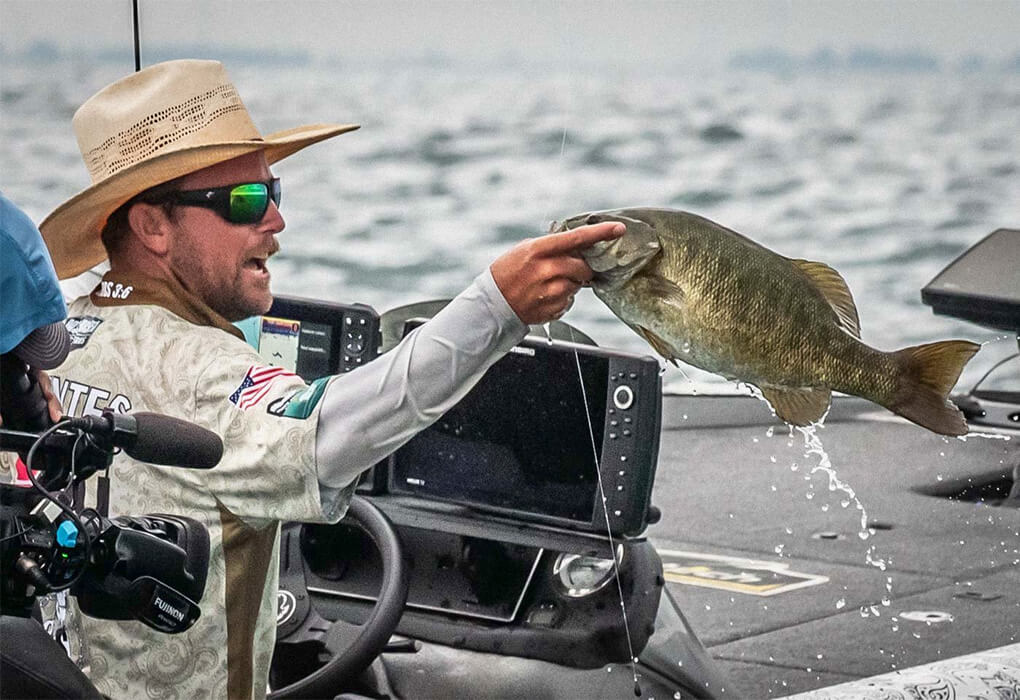 Joey Cifuentes is obsessed with catching big smallmouth bass, especially on the Great Lakes (photo by Shane Durrance/B.A.S.S.)
A Passion for Smallmouths
Cifuentes prides himself in having a "whatever-it-takes" attitude.
But if it were up to him, he would have a light spinning rod in his hands, battling a big smallmouth bass.
"You catch a largemouth, and it will fight and jump a little," he said. "But catch a smallmouth, and it's just downright mean.
"It's very aggressive and I love that."
In his blog, seen on his website., he explained further.
"I tell everyone that lives in the South that if you have not had a chance to go up north and fish for giant smallmouth, you have to go at least once," he wrote.
"There is nothing like catching 4- to 6-pound smallmouths in the gin-clear waters of the Great Lakes. Spinning rod setups, light line, set the hook, drag screams and a giant smallmouth jumps like 4 feet out of the water like in a Shamu show at Sea World."
Cifuentes uses forward-facing sonar to locate the structure or schools of baitfish that attract the baitfish. Often that means fishing in open water where waves crash into the boat and fishermen at the bow of the boat struggle to keep their balance.
It's often a vertical presentation, where fishermen keep their eyes glued to the screen to see how fish react.
Cifuentes excels at that game, using a drop-shot rig to dangle a Berkley soft-plastic bait in front of a suspended fish.
He started off the season using a drop-shot and a 6-inch finesse worm in the heavy timber to catch largemouth bass on Lake Seminole in Georgia.
But it was his second championship, on Lake St. Clair in Michigan, that he took the most pride in.
He got on top of big smallmouths and pitched a Berkley MaxScent Flat Worm to fish he marked. The fish often would hit the bait as it fell. If not, they would follow it and strike when the weight hit th bottom.
"The Great Lakes are so vast, the fish can be hard to find," Cifuentes said. "I love hunting, trying to figure out where creatures like deer live and travel. It's the same way with fish.
"I love to focus on mapping and search for the ridges and contour lines where they're going to be."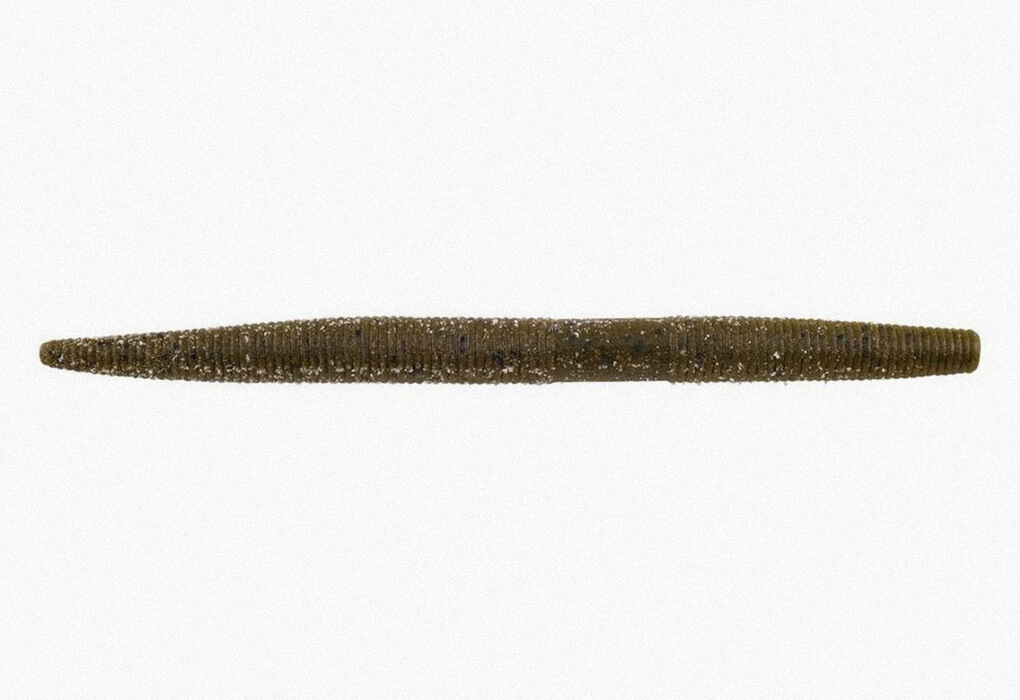 The Berkley MaxScent General
Man, that stinks
When Cifuentes started fishing, he wasn't convinced that bass could sniff out their meals.
But after using the odorous offerings of his sponsors, Berkley, he is a believer.
The Power Bait MaxScent plastic lures feature a flavor-enhanced formula that is designed to appeal to a bass' sense of smell and taste.
It's like Berkley's popular PowerBait on steroids.
"I've tested them out. I'll spot some fish on my electronics in a brush piles and I'll throw a regular plastic worm to them and not get hit," Cifuentes said. "Then, I'll try a MaxScent bait and more often than not, I'll get them to bite.
"It's no formal experiment or anything, but in my experience, that scent definitely helps, especially when the fish are being picky."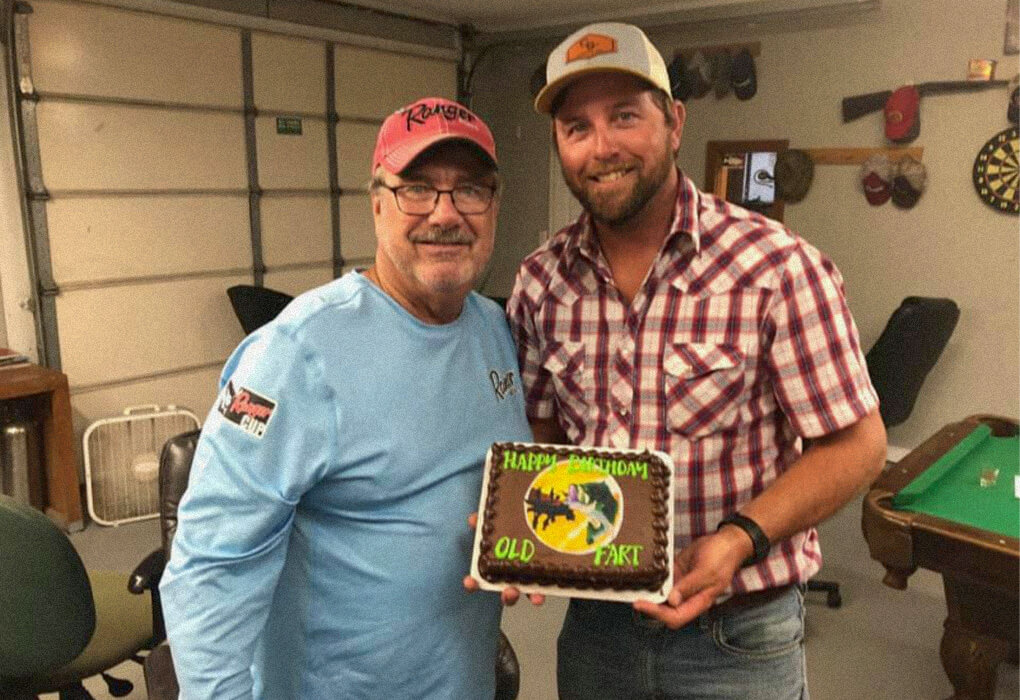 The teacher (Larry Nixon, at left) and his pupil (Joey Cifuentes) (photo by Travis L. Faulk)
Teaching the Teacher
Nixon was finding bass on his own long before many of the modern fish-locating electronics came on the market.
But that doesn't mean he is going to resist using the latest technology out there. That's where Cifuentes comes in.
As modern advances such as forward-facing sonar came in, Cifuentes turned into the teacher.
"I've always been pretty much tech-savvy, so I was able to help Larry with his set up," Cifuentes said. "It pretty much came 360..".
For a veteran like Nixon, using that modern technology represented a significant change.
When he started fishing professionally, he relied on a simple flasher unit.
Now he's trying to adapt to the forward-facing sonar, which shows the real-time movement of fish.
"It has been challenging for me to pick up,"Nixon said. "But if you want to compete today, you have to use it."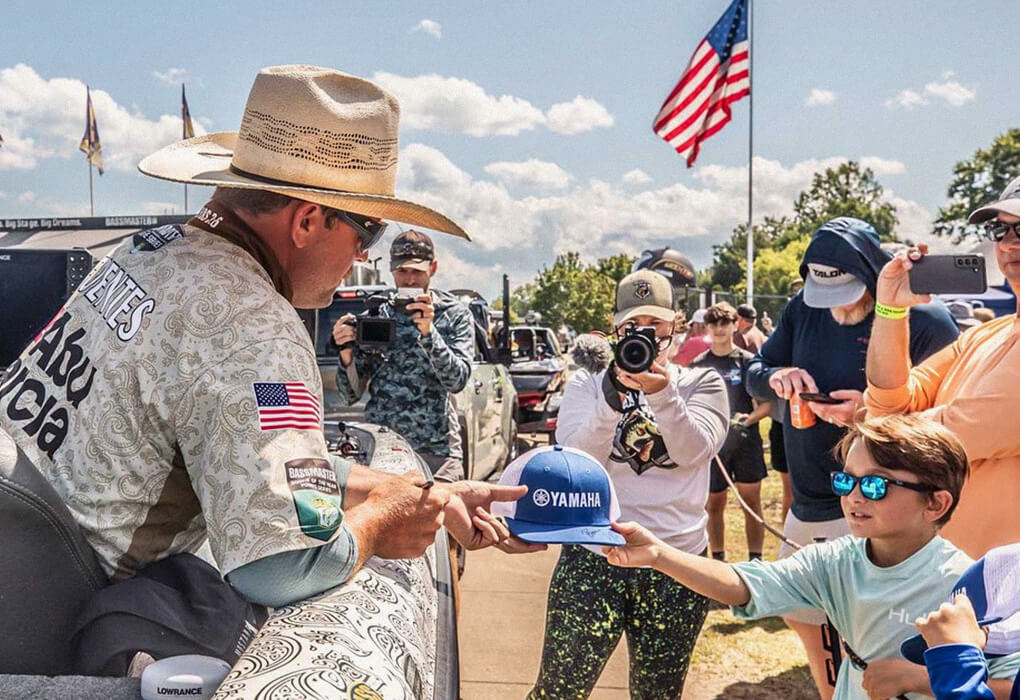 Joey Cifuentes is grateful for his many fans on the Bassmaster Elite Series (photo courtesy of Joey Cifuentes)
Tips for Beginners
Starting out and just looking for a few bites? Cifuentes recommends using a plastic straight worm such as Berkley's General or any other Senko-type bait.
Use light line – 6- to 8-pound test– and hook the worm wacky-style and weightless.  Then cast it out and let it flutter down along docks, timber, bushes and other cover.
"Rigged weightless, it's a quiet approach," Cifuentes said. "It doesn't spook the fish when it hits the water, and it's more of a natural look as it flutters down."
That's a Wrap
So what has the fisherman they call Cowboy taught us?
First, it pays to have a veteran fisherman as a mentor. He doesn't have to be a pro like Larry Nixon. He could just be someone who has fished for most of his life and is willing to share the backseat of his boat for a few days.
Second, it doesn't take a baitcasting rod to catch big bass. Cifuentes uses spinning equipment to land some hoss smallmouth bass.
Third, finesse tactics such as drop-shot and shaky head rigs can produce plenty of bites and some big fish, too.
Using a forward-facing sonar unit can pay dividends, but it's not the end-all for catching bass.
"It's just another tool," Cifuentes said. "In some of my tournaments, I never even use it.
"It's more important to spend lots of time on the water and be able to learn how bass react in certain conditions."