For a guy who didn't catch his first bass until he was in high school, Jay Yelas certainly has come a long way.
He grew up in Hawaii and southern California, where bass fishing "wasn't part of the culture," he said.
But when Yelas watched a bass boat work a bank near where he and his dad were trout fishing in California, his life path took an abrupt turn.
"They were throwing crankbaits, and one of the guys caught a big bass," Yelas recalled. "They were high-fiving and celebrating, and I thought, 'That looks a lot more exciting than what I am doing.' "
That marked the start of a long-time passion for bass fishing and a Hall of Fame career.
Competing on the national level, Yelas has built a record few can match. Known for his versatility, he had a streak of 24 consecutive years where he qualified for the championship tournament on either the Bassmaster or FLW circuit.
This week, we'll talk about Yelas' key to success, his involvement in bringing fishing to special-needs kids and get a few tips.
Fun guy to talk to. Keep reading to learn more about his passion for bass fishing.
– Brent
P.S. Coty Perry (our managing editor) just put together a free PDF that showcases our 10 favorite bass fishing rigs. It shows you what they look like and explains how to rig them.
I find it useful to print out and have on the water!
You can download it for free by clicking here.
---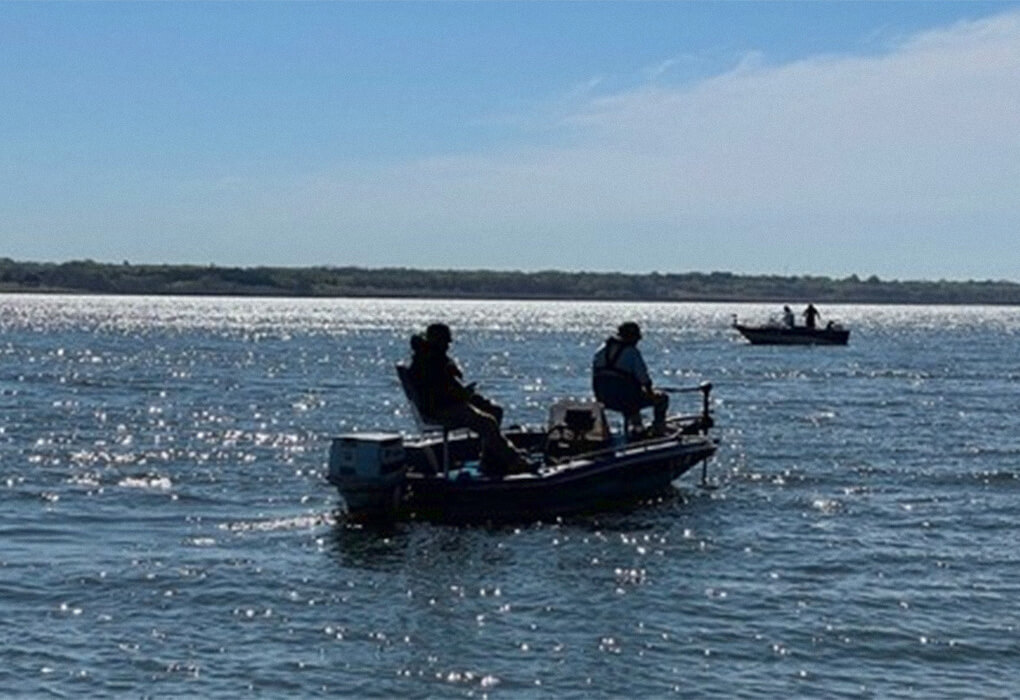 Keep telling yourself, "You can never have enough fishing equipment." Look at this week's deals. (Photo by Brent Frazee)
A Few Deals, A Few Steals
Keep shopping. There are some great deals out there this week.
Remember, we aren't sponsored, so our approach is unbiased. We review the major fishing-tackle websites, and pass along the deals that catch our eye.
A combo for intermediates: So, you're not ready to buy the top-of-the-line stuff, but you still want a good rod and reel combo. Consider the deal Dick's Sporting Goods is offering on Lunkerhunt Bedlam baitcasting combos.
A Defining Moment
No moment better defined Jay Yelas' ability to adapt than the 2002 Bassmaster Classic.
It was hot and muggy on Lay Lake in Alabama and most of the field was struggling to get the bass to bite. But Yelas discovered a pattern that would lift him to the championship.
He discovered that power was being generated for several hours at Logan Martin Dam, sending water flowing into Lay Lake. That current activated the bass, and Yelas got them to hit.
"The water would rise three feet, and these bass that were uncatchable until then, would move up onto these undercut banks and feed," said Yelas, 56, who lives in Lincoln City, Ore. "I would pitch a jig to the logs and overhanging trees and I caught some big bass."
Yelas has made a career of such "being-at-the-right-place-at the right-time" decisions.
Few fishermen are better than Yelas at reading the conditions and knowing how to react. He has 78 top 10 finishes in his 34-year pro career, indicating he usually can figure out a way to catch fish.
"Early in my career, I relied on a jig and a spinnerbait," he said. "But as time went on, I became more versatile.
"Back when I started, we didn't have much electronics. We had flasher units and the old paper graphs, that was it. We found fish by reading the conditions and making a lot of casts to find what the fish wanted.
"Today, I have all the electronics, but I haven't adjusted my fishing style. I still try to read the conditions and use my experience to tell me where the fish will be and how they be reacting."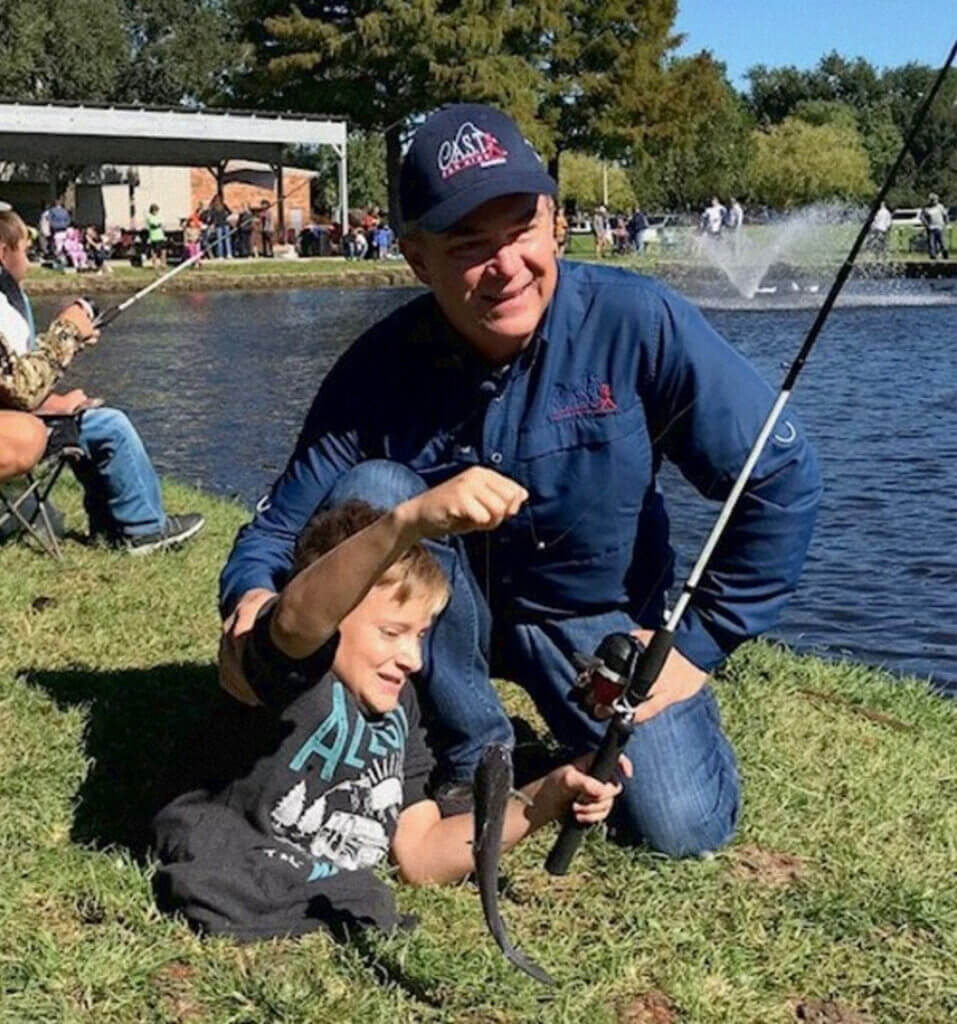 Jay Yelas enjoys giving back to the sport that has been so good to him by helping special-needs children discover the joys of fishing. (Photo courtesy of Jay Yelas)
Fishing's Magical Powers
Jay Yelas has seen the wonders fishing can produce.
He is the head of C.A.S.T.for Kids, a non-profit organization that puts on fishing events for special-needs children. And he has witnessed some touching moments.
"One of my favorite heart-warming stories involved a little girls who was nonverbal before our event," Yelas said. "A volunteer took her fishing in a bass boat and they had a great day.
"When they got back to the dock, the mother came running up to me, all excited. She was just elated.
"She told me her daughter had talked for the first time during that fishing trip."
The girl, who was 6 at the time, has come back in subsequent years and Yelas is amazed at her progress.
"A lot of these kids are a little timid when they show up," he said. "For many of them, it's their first time fishing and they're not quite sure they can do it.
"But when they start catching fish and having fun, they're all smiles. They're full of confidence."
And that carries beyond fishing, Yelas said.
"Imagine going through life when you are always an outsider; when you don't fit it," he said. "We put a little sunshine in their lives.
"We throw a big party and they're the stars of the show. Their parents tell us how important these events are for building self-confidence.
"The kids think, 'If I can do this, what else can I do?' "
C.A.S.T. for Kids, based in Salem, Ore., puts on fishing events in 33 states. Yelas was invited to be a board member in 2005, and he became the executive director in 2015 after the founder retired.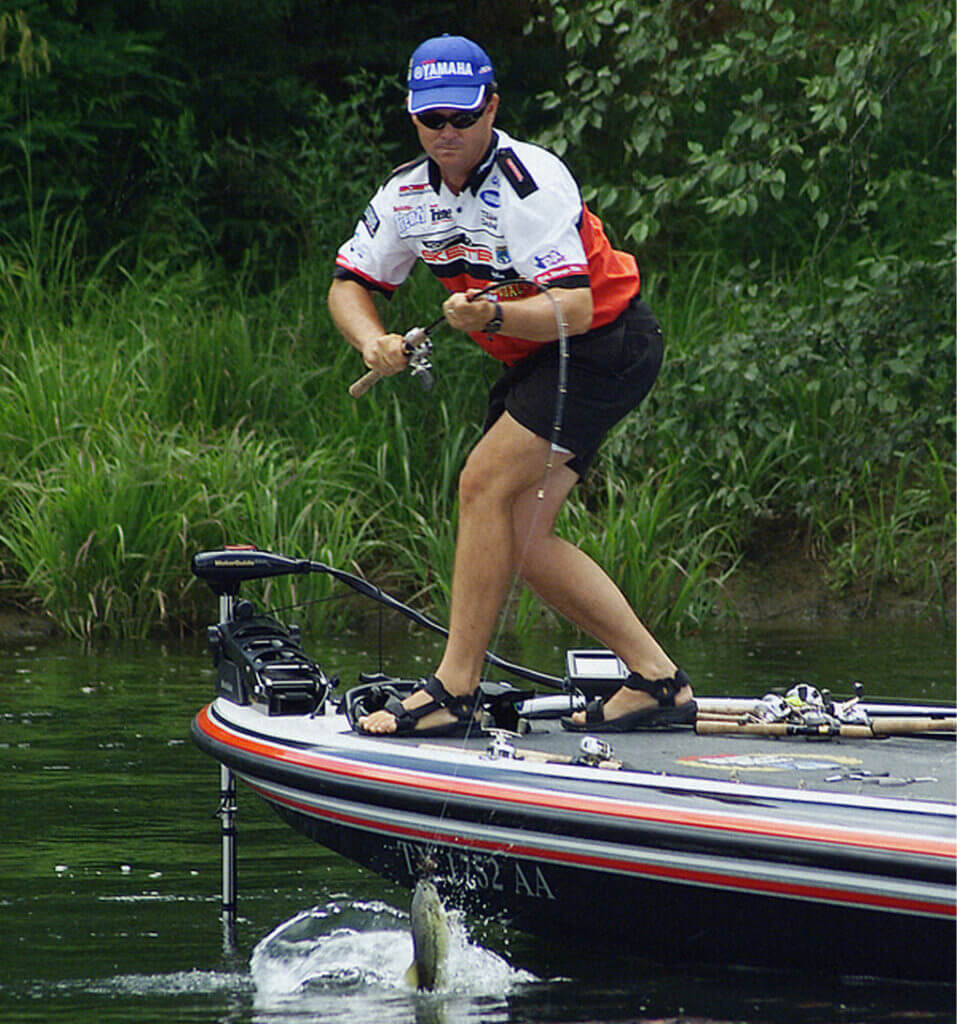 Jay Yelas is committed to the way professional bass fishing is perceived by the public. (Photo by B.A.S.S.)
A Man Of Conviction
Yelas is an affable, easy-going guy. But he isn't afraid to stand up for his beliefs.
When ESPN took over ownership of B.A.S.S. in 2001, the network made big changes, trying to build a viewership in ways that Yelas took issue with.
"ESPN was trying to make it show-time TV to get their ratings up," Yelas said. "There were things I didn't agree with. They tried to create a culture that I didn't think was in the best interest of our sport."
So after the 2006 season, Yelas left and joined FLW, the other major bass circuit at the time. He competed for 12 years there, and took up where he left off with B.A.S.S., winning Angler of the Year honors, qualifying for 11 championship events and earning $1 million in tournaments.
But after B.A.S.S. changed ownership and "the experiment," as Yelas put it, ended, he decided to return to the tour he once called home.
"We're back to living within ourselves and not trying to be something we're not," he said. "It's good to be back."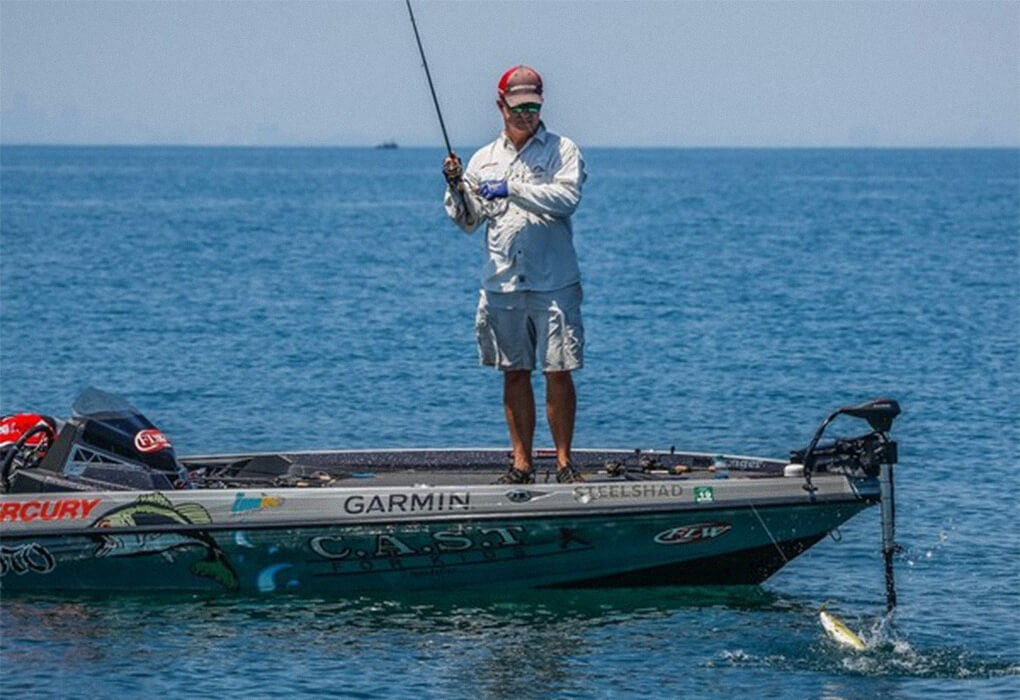 Jay Yelas reeled in a bass while competing on the FLW Tour. (Photo by Sean Ostruszka/Major League Fishing)
Looking Forward To November
Don't put your fishing equipment away yet. If you live in the South and lower Midwest, there's still time to catch a big bass.
Take it from Yelas. He looks forward to November, when the shad move to the shallows and the bass follow.
He starts his search on woody cover in creek and river arms, and looks for stained water where the shad are flipping. He will use moving baits such as a Chatterbait, spinnerbait or squarebill crankbait.
"A lot of times, the bass are holding in just a couple feet of water," he said.
When the water temperature drops into the low 50s, he often changes strategy and goes to a suspending jerkbait.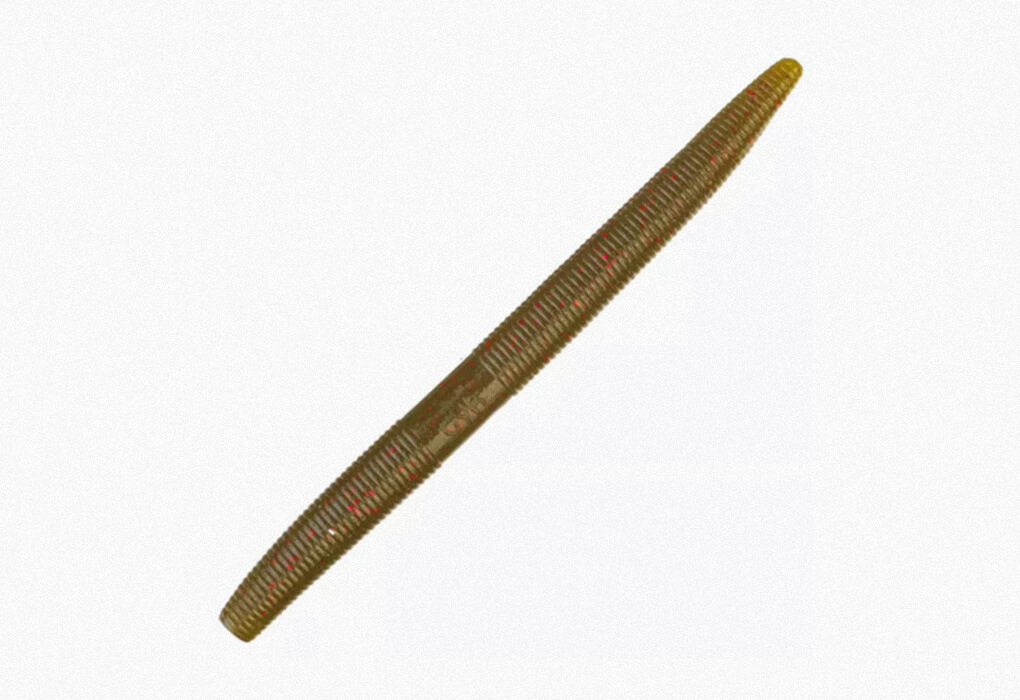 A great bait for beginners, the Yamomoto Senko
A Tip For Beginners
If you're just getting started in bass fishing, keep it simple.
"I think beginners get overwhelmed," Yelas said. "They bring 15 rods when they go out, all with different baits tied on.
"They need to determine the bass' mood and keep it simple."
If the bass want a slow presentation, Yelas suggest a green pumpkin Gary Yamomoto Senko. If they are more active, he suggests fishermen start with a three-quarter-ounce Chatterbait with a Zako plastic trailer.
Fishermen can branch out to other baits once they determine whether the bass want a slow presentation or a fast one. But those baits provide a good starting point.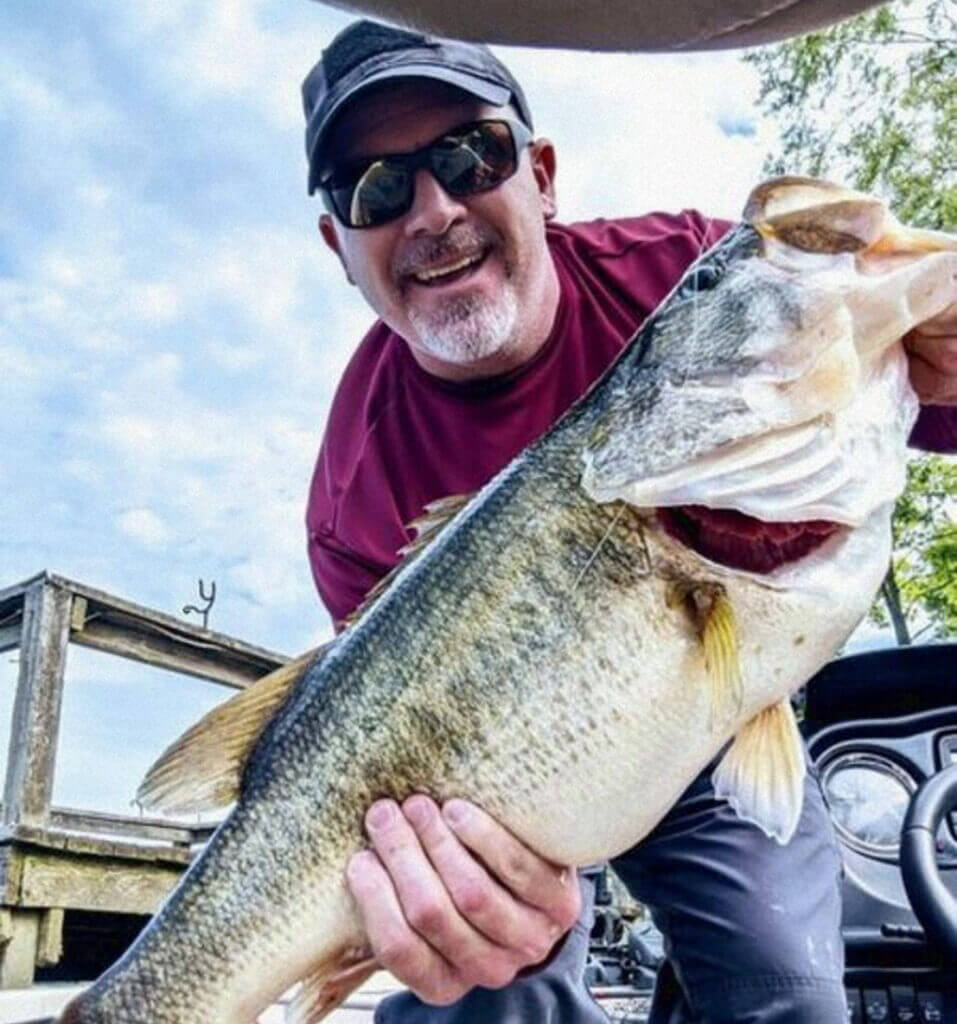 Clint Walton, a nurse from Bossier City, La., displayed the 9-pound, 13-ounce bass he caught this spring. (photo courtesy of Clint Walton)
A Salute To Nurses
Everybody can sympathize with hospital nurses, who are dealing with the stress of working long hours amid the COVID pandemic.
That's what makes Clint Walton's story so special. Walton, an emergency-room nurse at the VA hospital in Shreveport, La., had just finished working six 12-hour shifts in a row, and he was looking for a way to decompress. So he went fishing.
"I was just exhausted," Walton said. "But I had to get my mind off everything and just relax."
Walton traveled to Lake Murvaul in eastern Texas, with hopes of catching a few keeper bass. But the trip soon exceeded his expectations.
When Walton cast a D-Bomb plastic bait to a small dock, he felt a thump, then a strong pull. Minutes later, he landed the bass of a lifetime – a largemouth he later weighed at 9 pounds, 13 ounces.
Walton weighed and measured his catch, then posed for photos before releasing it.
"The biggest bass I caught before that weighed 6.73 pounds," Walton said. "This was the bass of my dreams."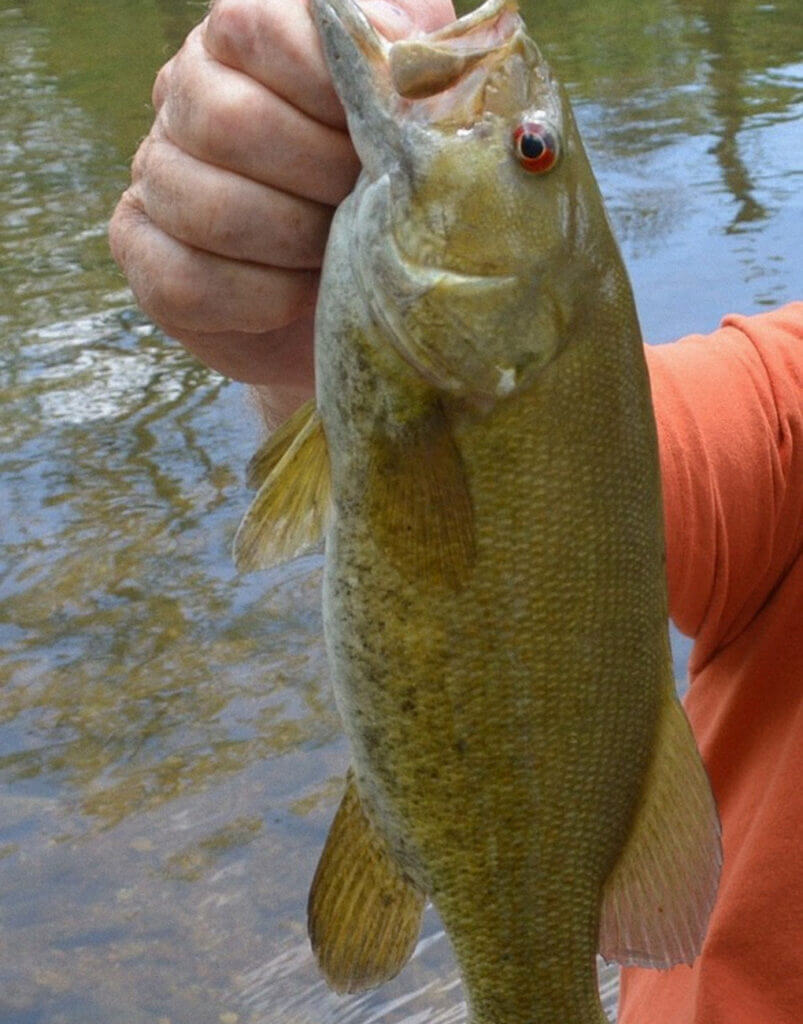 It's not too late to catch smallmouth bass in Iowa rivers. (Photo by Brent Frazee)
Fish Iowa
Most people flock to Iowa in the fall to hunt pheasants, deer or waterfowl.
But there's an overlooked opportunity available, too: a chance to add some cast to your blast.
As water temperatures drop, fish in Iowa's rivers rertreat to deep holes with very little current to spend the winter.
"Anyone willing to brave chilly temperatures can be rewarded if they seek out these areas," said Greg Gelwicks, a fisheries biologist for the Iowa Department of Natural Resources, in a press release.
He recommended the upper Wapsipinicon and upper Cedar rivers for smallmouth bass and the Shell Rock and upper Cedar for walleyes.
As water temperatures fall, fishermen often find the most success with a jig and minnow combination fished slowly off the bottom.
That's it for this week. Get out and enjoy the fall weather. And remember to contact us by hitting "return" on this email.
Send us photos of the big ones you catch or a tale about the one that got away (true stories preferred.)
Keep those lines tight.