Some professional bass fishermen pick up and move several times to get the experience they need to compete at the highest level.
Not Jason Christie. He Is a proud Sooner. He was born and raised in Oklahoma, and he isn't about to change that now.
"I haven't moved 10 miles in 48 years," said Christie, who lives in Park Hill, Okla. "I went to school here, played college basketball (Northeastern State University), coached, and started fishing here.
"I've lived around Lake Tenkiller my entire life, and that's worked out fine for me. I have no regrets."
From a high-scoring guard to a champion bass fisherman, Christie can trace his success to his roots in the red-dirt country of Oklahoma.
In 2022, Christie fulfilled his dream of winning the Bassmaster Classic., fishing's most-coveted title.
But that's only part of his story.
Fishing on the pro circuit since 2008, he has qualified for seven other Classics, won 18 tournaments, and become a household name in a sport he loves.
Yeah, this is one Sooner who has done Oklahoma proud.
Read on, and learn how he found success moving from the hardcourt to the water.
---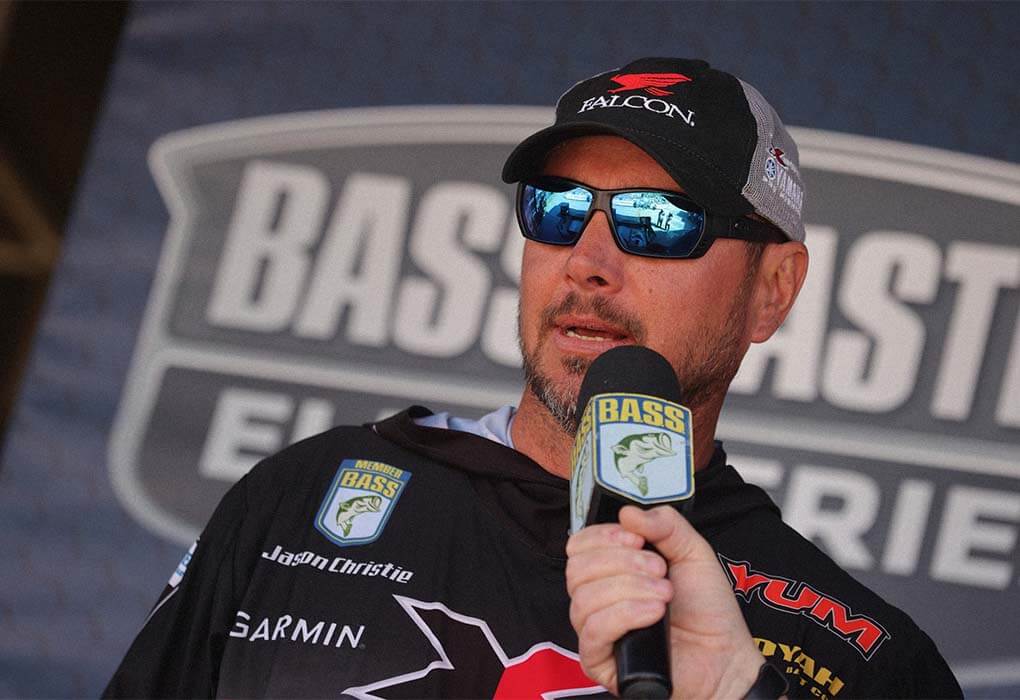 Basketball and the Outdoors
Christie remembers the moment he decided to go pro.
He was a basketball coach and a teacher at Tenkiller School, a junior high, and he had just led his boys and girls teams to state championships in 2008.
"I felt like there wasn't much more to accomplish, so I decided to start my professional bass fishing career," he said.
That was no idle aspiration. Christie had fished and hunted since his childhood days. He had plenty of mentors.
His dad and his uncles all fished and hunted deer, and they taught Jason the way of the outdoors.
"I had one uncle who was really good at throwing spinnerbaits, and I learned a lot from him," Christie said.
"Another of my uncles was good at flipping, and he taught me a lot, too."
When Christie wasn't on the basketball court or in the classroom, he was fishing or hunting deer.
He started in team tournaments, then moved on to the Bass Fishing League, the Central Pro-Am, the Everstart Series, FLW, and finally BASS.
Christie credits the place he was brought up as playing a significant role in his success.
"Tenkiller is a good bass lake," he said. "But we had a lot of good lakes not far away.
"Grand, the Arkansas River, Table Rock, Bull Shoals–they all weren't far away. And they all had different characteristics and taught me to be diverse."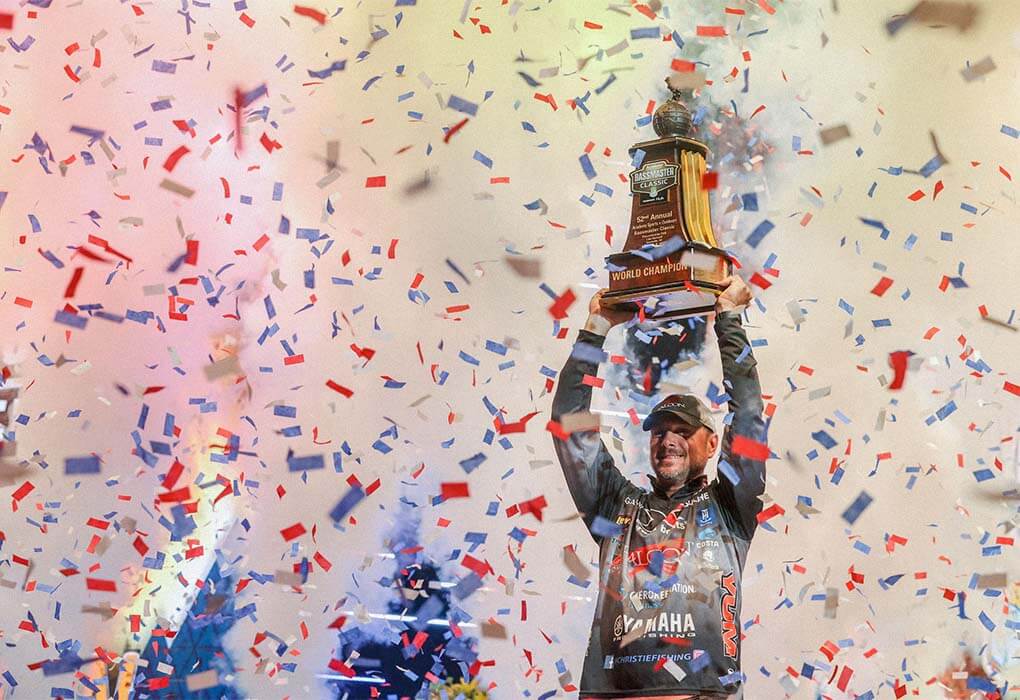 A Classic Moment
Few people remember who finished second in the Bassmaster Classic.
It's a winner-takes-all championship event.
The winner gets a big trophy, a considerable check, a confetti shower on stage, the interest of sponsors, and a place in bass fishing history.
The runner-up? He receives a "Nice try" from fellow fishermen and fans and has to live with the haunting thoughts of what could have been.
Such was the life of Christie.
He led the Classic twice on the final day (2018 at Lake Hartwell and 2016 at Grand Lake), only to watch his dream slip away.
Maybe that's why he was so relieved when he finally won the Classic in 2022.
"I've spent a lot of time over the years thinking about the two that slipped away," Christie said. "Now, I don't have to dwell about the 'woulda, shoulda, couldas' of my past.
"The money ($300,000) is great. But for me, to have that trophy means more than the money. You can finally put that check mark by my name and say, 'He finally won one.' "
Christie had to gulp on the final day, though. After two days of catching bass on a deep pattern at Lake Hartwell, he ran out of fish.
"I went back to my spot, and it looked like a ghost town," he said.
So he returned to his strengths and went shallow.
He started flipping boat docks with a jig and caught a limit of bass weighing 17 pounds, 9 ounces.
That lifted his three-day total to 54 pounds, just 5 ounces more than second-place finisher Kyle Welcher of Opelika, Ala.
"On the last day, when some things fizzled out, I thought, 'Here we go again,' but only for a minute," he said. "I was confident. I felt it was my turn."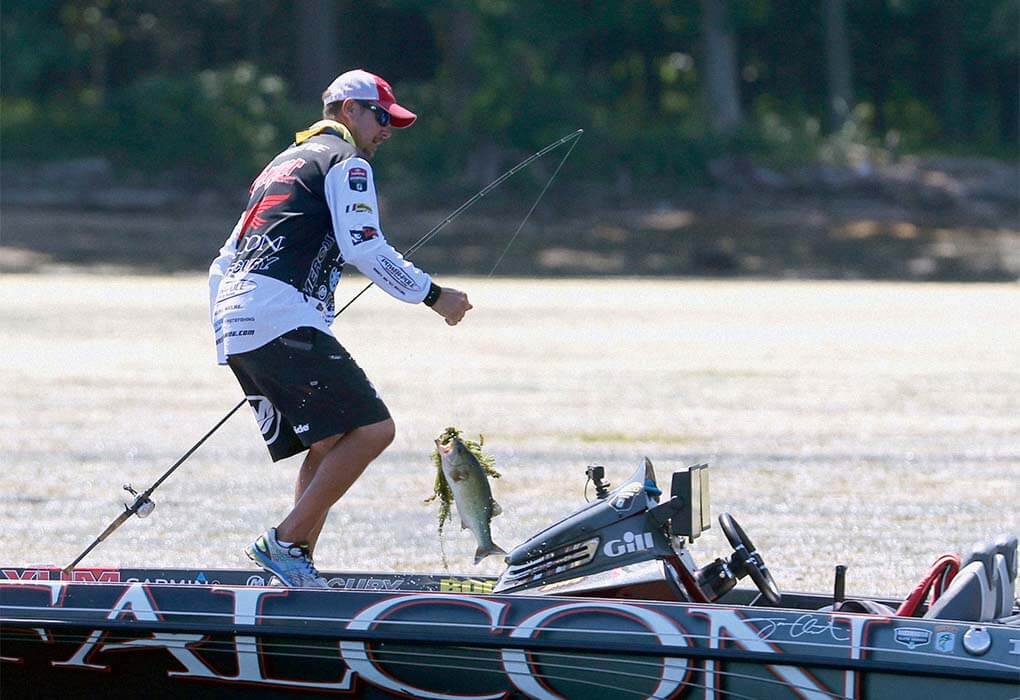 Shallow Fish, Deep Fish
When Christie caught bass in two distinctively different habitats during the Classic, he wasn't surprised.
He is convinced that some bass never leave the shallows, no matter how hot or cold it gets.
Another group lives far differently, staying offshore for much of the year.
"I think there are two populations of bass–one that stays offshore and only comes in to feed and spawn, another that stays shallow and relates to cover," he said.
The deep fish once had open water as a refuge. Few fishermen knew the behavior of those bass, and even fewer knew how to fish for them.
But that has changed with the advance of modern technology.
Technology such as LiveScope now reveals the real-time movement of those offshore bass and allows anglers to cast to moving targets.
And if that fails? Christie knows he can always move shallow and cast or flip to a different bass population.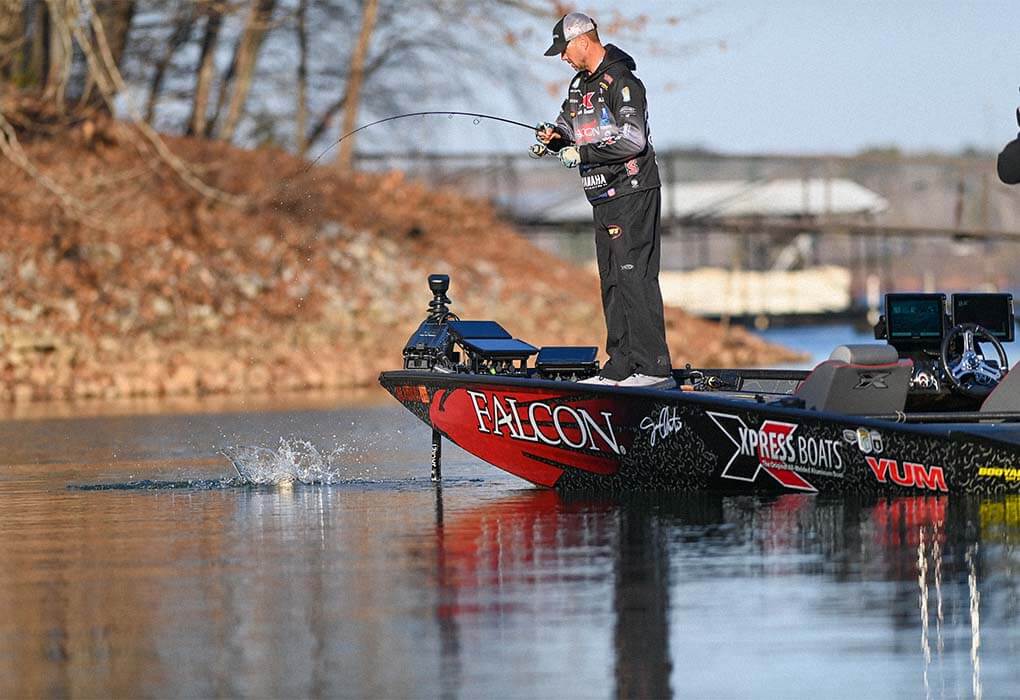 It's All About Decisions
When Christie caught a 6-pound bass in practice for the Classic, he had to resist the urge to force that into a pattern.
That big bass came in murky water and was fooled by a large spinnerbait, one of Christie's favorite lures.
So the Oklahoma pro had a reliable starting point going into the Classic, right? Wrong.
"I stayed away from the murky water because there wasn't a lot of it, and I knew it would be hit hard by other tournament fishermen and the locals,"Christie said.
"My comfort zone is in the dirty water. You can upsize your baits, you can fish shallow, and you can get away with more. But I just felt this tournament would be won in clear water."
That's why Christie went to deep water and relied on his Garmin LiveScope to locate fish.
He used a prototype bait made by Yum, which has since been named the FF Sonar Minnow and caught impressive bags of fish.
He fished the plastic bait on a 3/16th-ounce jig head.
Though the bait isn't on the market yet, Christie expects it to be a big seller.
He spent five years working on the bait design at Lake Tenkiller, getting it to drop to suspended bass spotted on LiveScope and stay there without swinging away.
When his bite died on the final day, Christie didn't panic and try to force the pattern he had established the first two days.
Instead, he went to one of his strengths, moved shallow, and started flipping to docks. He used a War Eagle Jiu Jigsu jig and a Yum plastic chunk trailer.
"I had no intention of fishing deep before the event started," Christie said.
"But when I drew a good boat number, I had one place I had confidence in; where I could at least start out catching some fish.
"I made good decisions from start to finish. It doesn't always work out that way."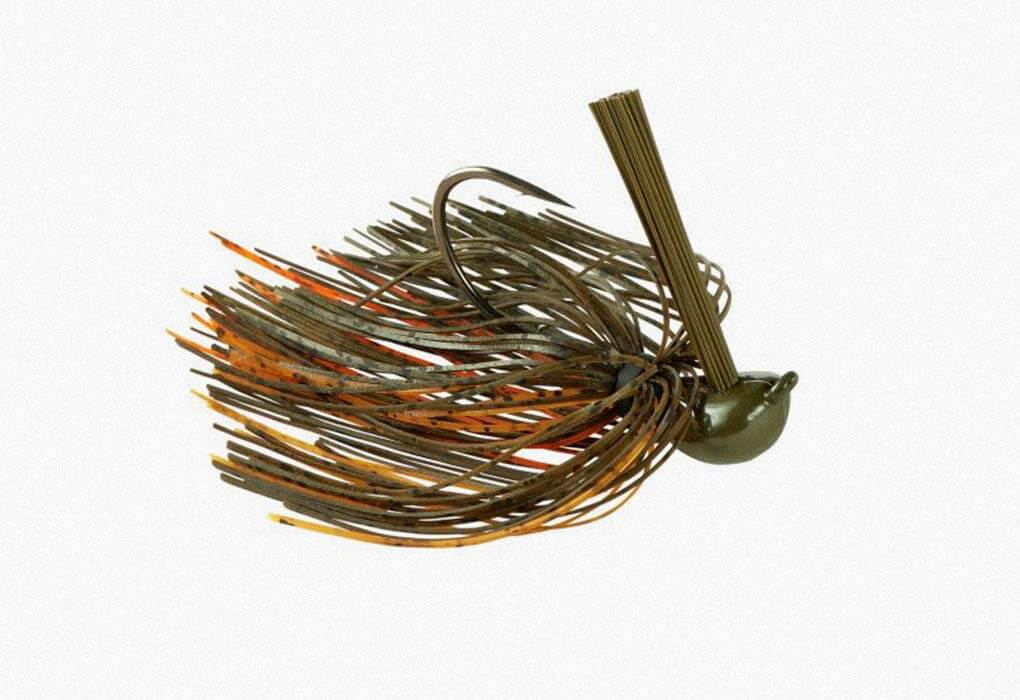 Want to Catch a Big One? Tie on a Bass Jig
If Christie were restricted to one bait, it would probably be a bass jig.
He has made a living flipping jigs to shallow cover–boat docks, grass, timber, rocks, and brush.
But that isn't the only way they can be used, he will tell you.
"The jig is the most versatile bait ever made," Christie said. "It's the all-time winningest bait.
"You can catch bass on jigs in Florida, California, New York, and everywhere in between. Bass will always eat crawdads, and that's what the jig imitates."
Christie often uses a Yum plastic chunk as a trailer for the jig he uses.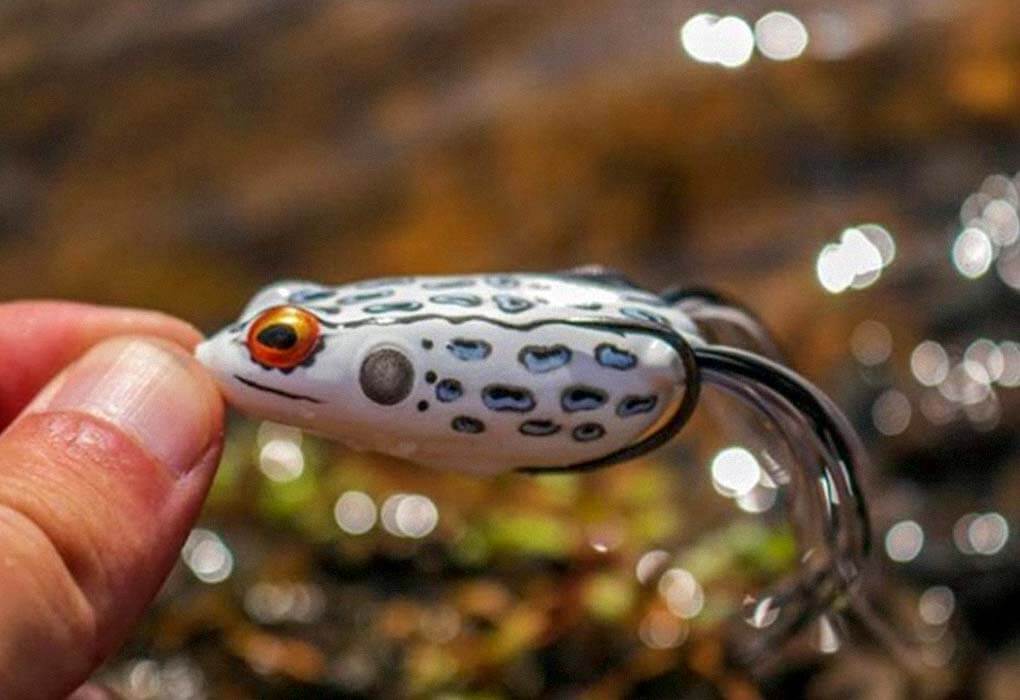 Fishing the Slop
Christie doesn't let heavy vegetation in the shallows stop him from going after big bass.
That's when he likes to go "frogging."
"I love fishing a (topwater) frog," he said. "You can work it through the thickest stuff, then a big bass comes up and busts it. Nothing like it."
Christie's go-to frog bait is the Booyah Pad Crasher. It features a soft-plastic collapsible body with long spinnerbait-type legs to entice the bass.
It is conducive to long casts and can be worked through the thickest vegetation without getting hung up.
Christie uses his 6-foot-10 signature rod, 50-pound braid, and a fast gear-ratio reel to work the Pad Crasher.
"In the summer, when there's a lot of vegetation, sometimes those fish will get under that thick stuff for the shade," Christie said.
"I've caught big bass when I throw a Pad Crasher in that situation."
Christie's Tips for Beginners
If you're just getting started in bass fishing, Christie has a few words of advice for you. "Keep it simple."
"There are so many baits on the market right now that it can be intimidating," he said. "Beginners think they have to spend $10,000 before they even go out."
"But That's not the case. Pick three or four baits–a topwater, a crankbait, and a couple of bottom baits–and learn how to use them. Once you get comfortable with those lures and start catching bass, you build from there."
Wrapping it up
So what can we take away from Jason Christie's life story?
First, even the pros make decisions on the water that they would like to take back.
But don't be too hard on yourself. There is always a chance for redemption.
Christie let two Bassmaster Classic titles slip away on the last day, but he returned and won the championship in 2022.
Second, never underestimate your competitive fire.
Christie had it when he was a star basketball player and has transferred that spirit to professional bass fishing.
Do your homework, learn about the bass' behavior, and put in plenty of time on the water, and you might follow in Christie's footsteps.