Mike Iaconelli has done it all in professional bass fishing, from winning the Bassmaster Classic to taking Angler of the Year honors.
But he's slowing down these days… literally. He is immersed in his newest passion, kayak fishing.
In this newsletter, he'll tell us all about stealthy fishing from a slow boat. And he'll point out why he thinks kayak fishing might be the key to bass fishing's future.
We'll also talk to an angler who caught a giant bass just as his canoe was taking on water, the lure of the week, some hot deals, and the best fisherman in the pro game.
So, grab your cooler, put on your life vest, and come aboard. We're ready to go fishing.
– Brent
P.S. Don't forget to rate this issue at the bottom so I know what you like (and don't)!
---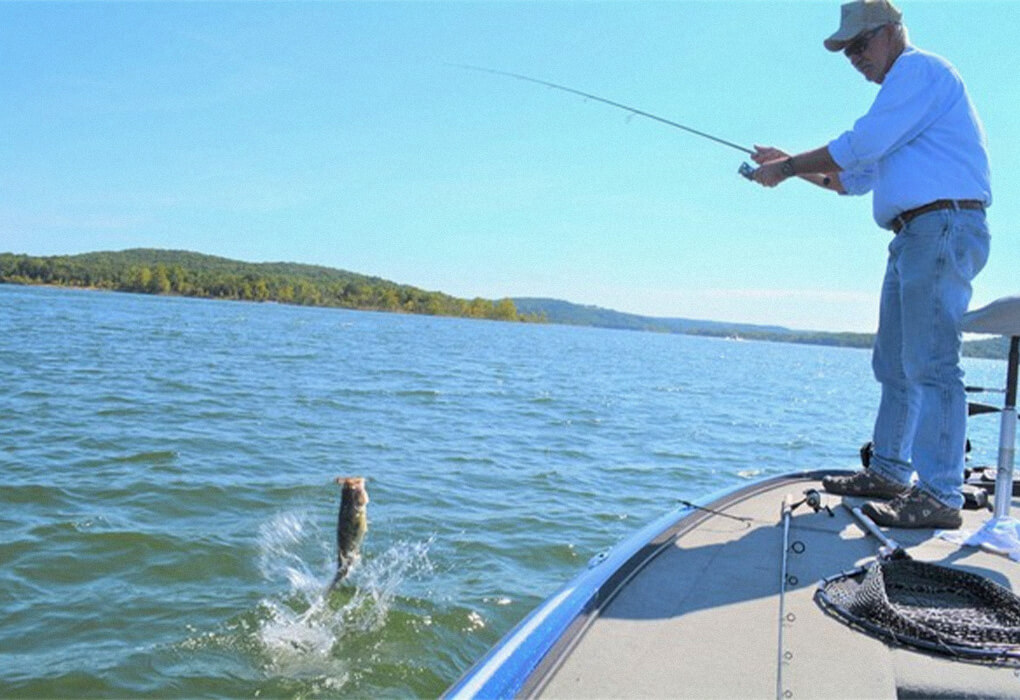 Some hot deals await fishermen looking for a bargain. (Photo by Brent Frazee)
Deals of the Week
We're back to help you spend your stimulus check. Hey, fishing is an essential business, isn't it?
There are some good deals out there this week. Here are a few that caught my eye.
Jigging spoons: I've used Bink's jigging spoons for years and I've caught everything from black bass to stripers on them. The company is now offering a sale on a specialty pack of 20 spoons of every color the company makes.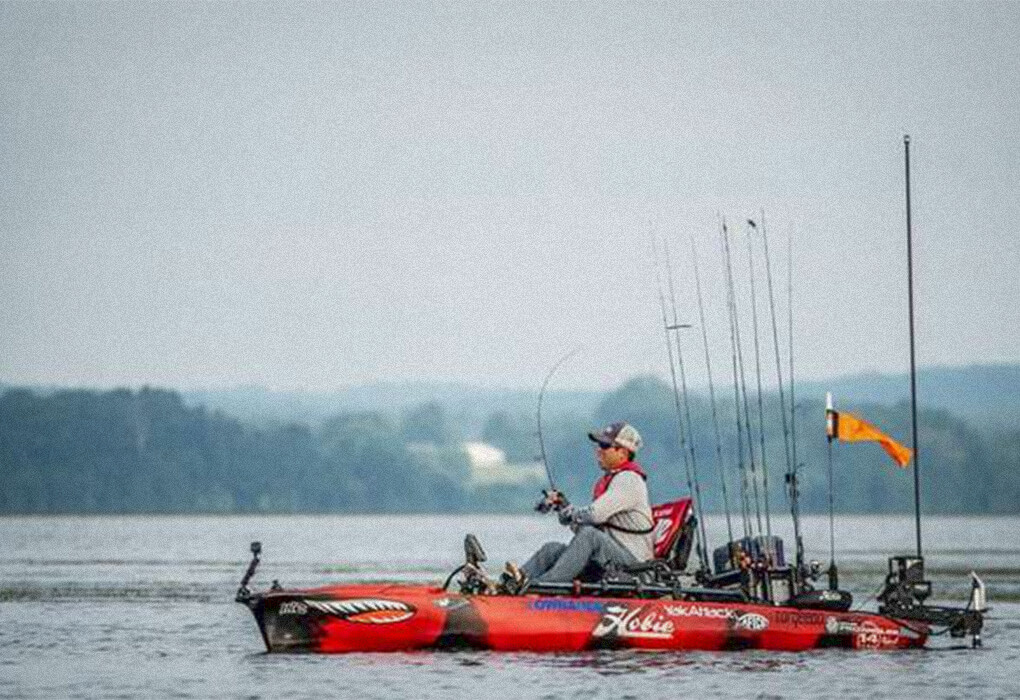 Bass pro Mike Iaconelli still fishes out of his high-powered bass boat, but he also has a passion for kayak fishing. (photo by Dalton Tumblin/B.A.S.S.)
The Ike Yak attack
Mike Iaconelli has come full circle in his bass fishing.
He started out fishing in small boats on small bodies of water in the Philadelphia area where he grew up. He gradually stair-stepped his way up until he was competing out of the 21-foot bass boat he runs on the pro circuit today.
But for at least part of the fishing season, he is back in a small boat–a 14-foot Hobie kayak that is a fishing machine. And at this stage of his life, that has become his passion.
"There's something special about returning to the way you learned to fish," Iaconelli said. "I grew up fishing out of canoes and small johnboats, fishing little places where others couldn't get to.
"Now I'm doing the same thing with my kayak."
It started about 10 years ago when Iaconelli first saw fishing kayaks at an ICAST show. When he learned that there were bass tournaments for kayak fishermen, he became even more intrigued.
He developed a relationship with one of the kayak industry leaders, Hobie, and he has been competing and promoting kayak fishing ever since.
"There are so many advantages to fishing out of a kayak," Iaconelli said. "It allows me to reach little pockets, small streams, across shallow sandbars–places I wouldn't be able to reach if I was in my big boat.
"I can sneak up on the fish, and I am down at their level. That allows me to see so much more than if I was standing on the deck of my bass boat."
Iaconelli's tricked-out Hobie is a fishing machine. It has a sonar locator unit at the bow, a Torqeedo trolling motor at the stern, and a rod rack that allows him to carry 8 to 12 rods.
Iaconelli won his first national B.A.S.S. kayak tournament last week on the upper Chesapeake Bay. He pulled out some last-second heroics to seal the win.
In kayak fishing, points are determined by inches of keeper bass caught. A competitor has to take a photo of the fish with his cell photo, then submit it to an app for it to count.
Iaconelli caught a keeper bass only one minute before the 2 p.m. cutoff time. He quickly took a photo and rushed to submit it to the app.
"I was sitting there watching the wheel (on his phone) spin, waiting for it to go through," he said. "It finally did with only three seconds to spare.
"What a great moment."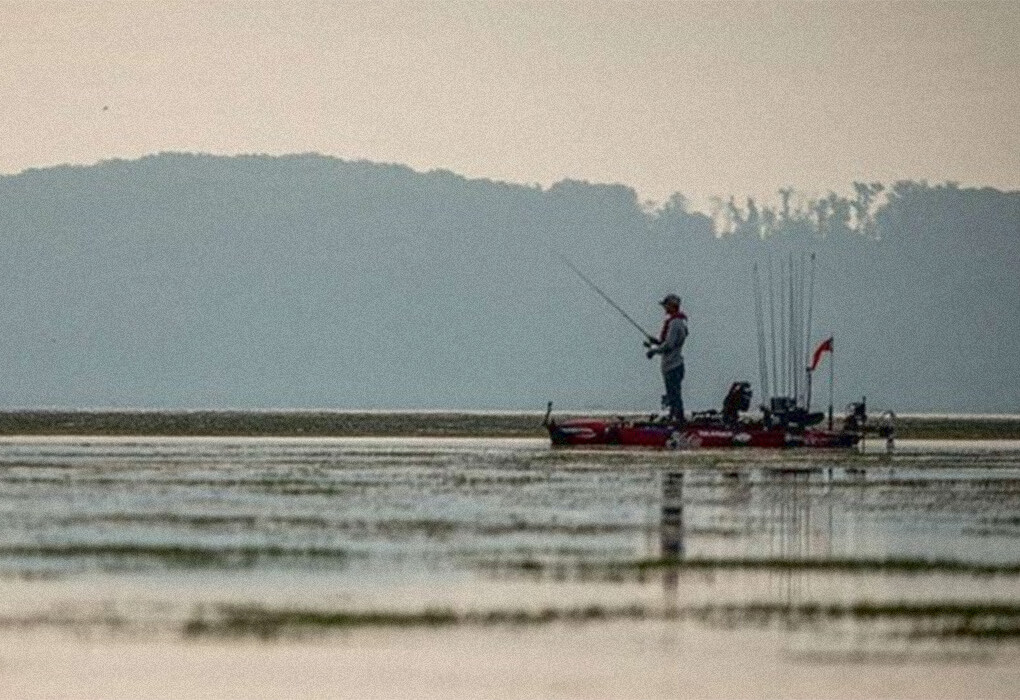 Mike Iaconelli fished in shallow, weed-choked waters when he competed last week in a B.A.S.S. National kayak even on Upper Chesapeake Bay. (photo by Dalton Tumblin/B.A.S.S.)
Kayaks: Starter Bass Boats
Iaconelli still competes in his high-powered bass boat on the B.A.S.S. and Major League Fishing circuits.
But he readily acknowledges that kayaks may be a better option for those getting started in bass fishing.
"Some young guys watch Bassmaster or Major League Fishing on TV and they say, 'I want to do that,' " Iaconelli said. "But it's not that easy.
"The type of bass boats we run might cost $70,00 to $80,00. Then you need a good tow vehicle, which might run another $50,000. Then there are all the other costs involved.
"You can buy a kayak for as low as $500. On the high end, you might spend $5,000 for a fishing model. But that's still far more affordable than a bass boat."
And the advantages far outweigh the disadvantages, Iaconelli said.
"They're light, so you can transport them on your vehicle or from back of your pickup," he said. "And you don't need a ramp to launch them.
"I'll hop over a guardrail, drag them down a trail, back down to a little lake, and I'm fishing."
A Leaky Boat, A Big Bass
When Justin Keith's canoe started taking on water, he knew it was time to paddle for shore.
But he had to make one last cast.
"There was a clump of trees that usually hold fish," said Keith, who was fishing on his family's pond on the Kansas Flint Hills. "I threw a topwater popper to the edge of those trees, and a bass just engulfed it.
"She moved a lot of water."
Keith took his time fighting the big bass, making sure he didn't horse it. When he got it to the boat, he quickly realized it was the biggest bass he had ever caught.
The fish measured 24 inches, which calculates to about 8 pounds on some conversion charts.
Keith posed for a picture, then released his catch.
"We knew there were some big ones in here," Keith said. "We catch bass 5, 6 pounds. But I was still surprised to see one this big."
As for the canoe, Keith isn't too concerned.
"We knew it had a crack in it," he said. "It's a slow leak. It will be OK."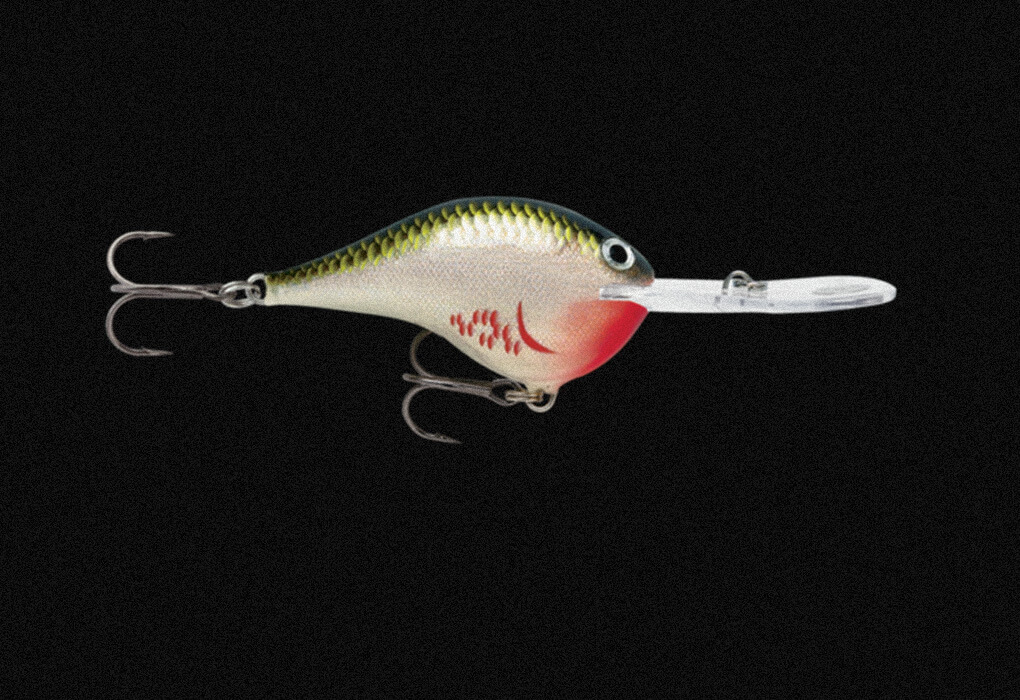 Rapala's DT20 crankbait gets down to where the fish often suspend in the summer
Lure of the Week
When the bass move out to deep water in the heat of summer, Iaconelli likes to cast a deep-diving crankbait to reach the zone where the fish are suspended.
Rapala has a DT series which stands for "down to." In the heat of summer, Iaconelli often goes to the big dog, the DT20.
It can be a load to make multiple casts and retrieve with this deep-digging bait. But it can pay off with big bass suspended above the thermocline on the main lake.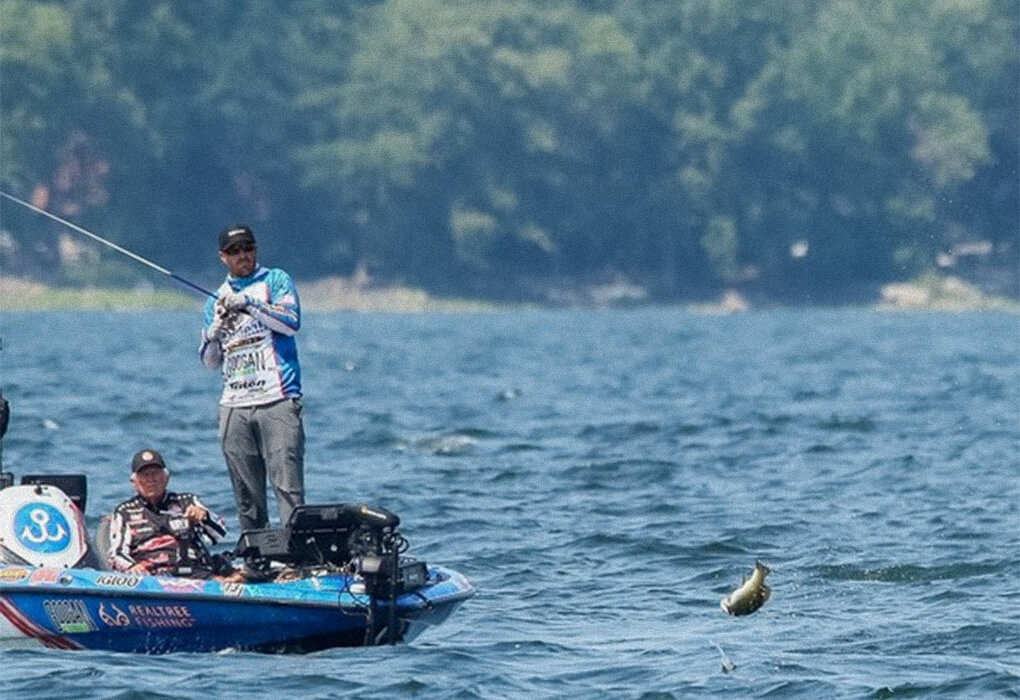 Jacob Wheeler fought a high-flying smallmouth bass during a Bass Pro Tour tournament he won on Lake Champlain. (photo by Josh Gassmann/Major League Fishing)
Who's The Best?
Jacob Wheeler is becoming a living legend in pro bass fishing.
The Tennessee fisherman is on a tear in the Major League Fishing's Pro Bass Tour, winning the last two events in dominating fashion.
His latest conquest came this week when took the title in the circuit's national tournament on Lake Champlain in New York.
It was his third victory on the Pro Bass Tour this year and the fifth in three years.
Using a drop-shot rig, Wheeler caught 27 bass weighing 88 pounds, 2 ounces in the championship round Wednesday.
That was 30 pounds, 13 ounces better than the weight turned in by second-place finisher Jacopo Galleli.
But such dominance is nothing new for Wheeler. He now has won five Bass Pro Tour events by an average of 20 pounds, 5 ounces.
At only 33 years of age, Wheeler figures to have many more years of pro bass fishing ahead. And more time to further solidify a reputation as one of the sport's all-time greats.
That's it for this week. Hope to see you on the water.