Visit any tackle shop and you'll see aisles filled with crankbaits of every size and color.
But which ones work best? And which ones do you need for the type of fishing you will be doing?
We've gone to David Fritts, the king of crankbait fishing, for some tips.
Fritts has made a living on the Bassmaster trail fishing hard baits. He has fished the pro circuit since 1991 and has used crankbaits to reel in most of the sport's major honors. That landed him a spot in Bass Fishing's Hall of Fame.
We'll also talk about some tips for fall fishing, Major League Fishing's Angler of the Year, and a lure that will put fish in the boat.
So grab your fishing gear and hop into the boat. It's time to go.
– Brent
P.S. Don't forget to fill out the survey at the bottom of this newsletter. If you like our content, be sure to forward this email to your friends.
---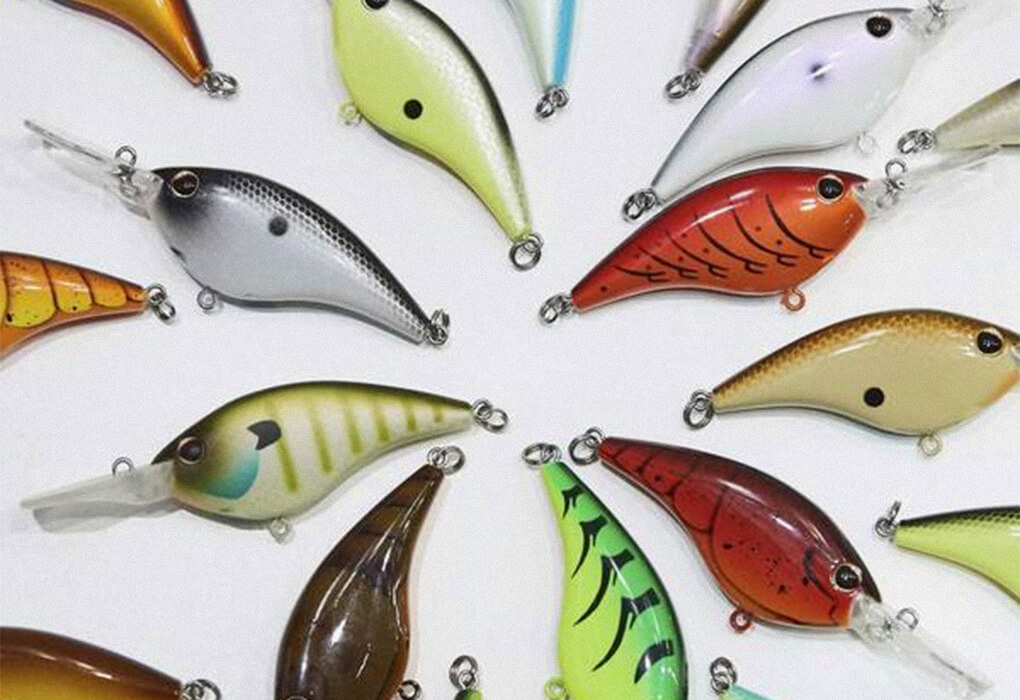 Berkley crankbaits are making a splash in the fishing world. (Photo courtesy of Berkley)
Deals of the Week
Each week, we keep our eye out for the best deals.
Because Your Bass Guy isn't tied to sponsors, we can offer an objective look at what's out there. Here's what we have this week.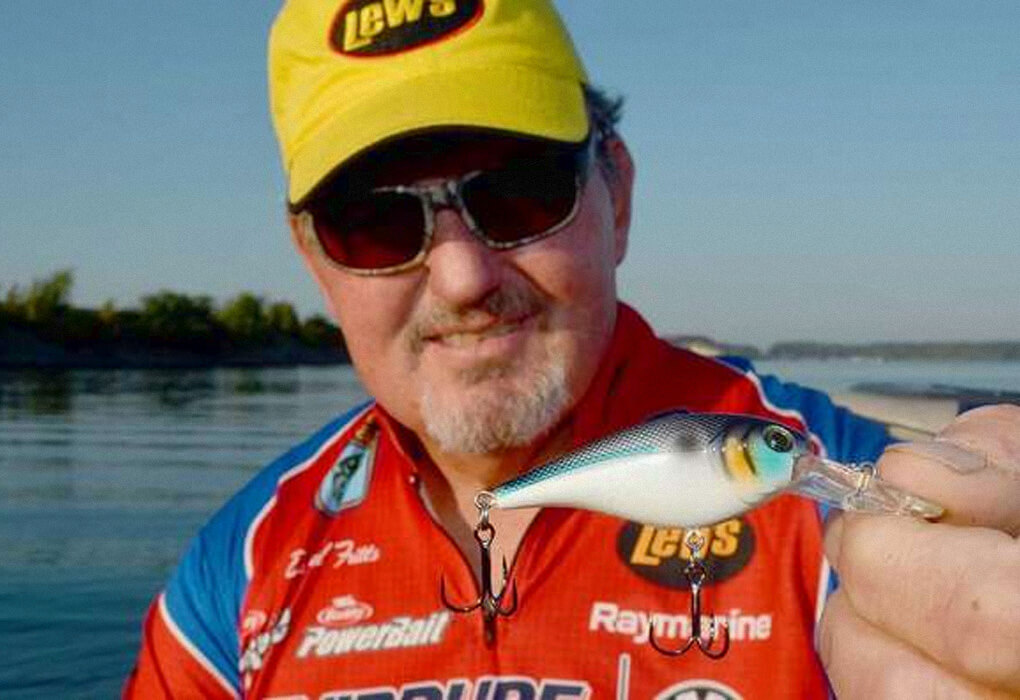 David Fritts is known as the Crankbait King in the pro bass fishing world. (Photo by Mark Hicks/B.A.S.S.)
Crankin' Up Big Bass
David Fritts has no trouble remembering how he got hooked on crankbait fishing.
"I was about 12 years old and our Sunday school class took an outing at High Rock Lake (in North Carolina)," said Fitts, who lives in Lexington, N.C. "Our teach bought each one of us a lure to use that day and mine was a crankbait.
"I didn't know how to use it, but I just threw it and reeled it back. On my second or third cast, I caught a five-pound bass and that ruined me for life."
That was the start for a long, impressive career. By the time Fritts was 15, he bought an aluminum boat with a 9-horsepower motor.
"I was driving a boat before I could drive a car," he said.
He started fishing the creek arms of reservoirs and the creeks themselves and he learned about what crankbaits could and couldn't do.
"I didn't know how to use a baitcaster back then," he said. "I just used my Zebco 1, and it was just the right retrieve for a crankbait.
"I just kept winding, knowing I was going to catch something. I learned a lot just by spending time on the water.
"I was consumed with fishing."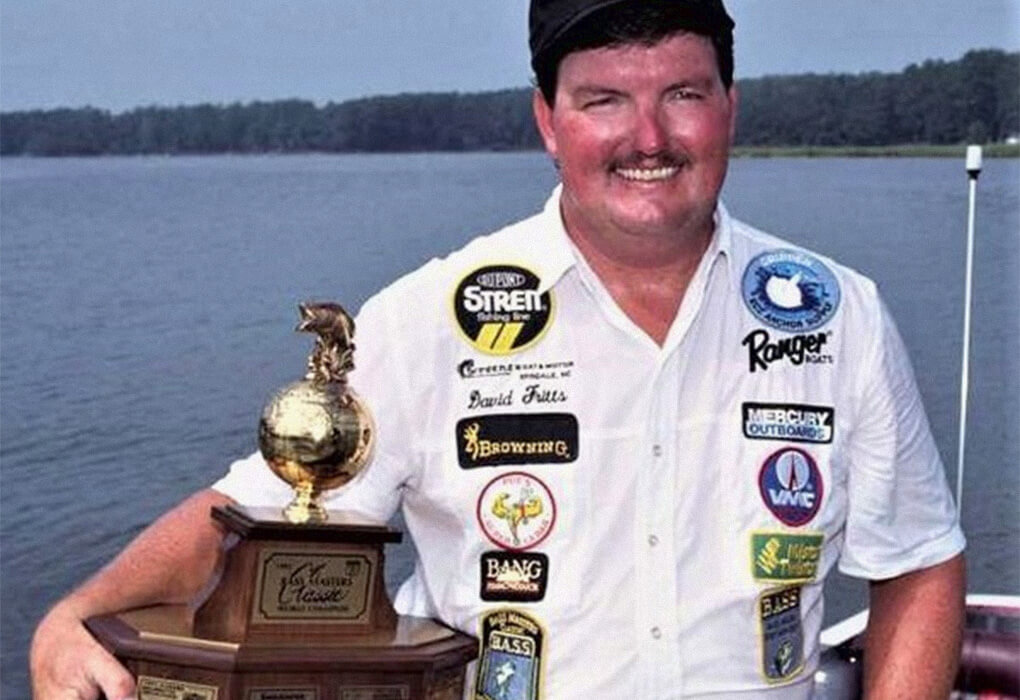 David Fritts used crankbats to win the 1993 Bassmaster Classic on Logan Martin Lake. (Photo by B.A.S.S.)
Off-Shore Success
Fritts had a simple formula to dominate tournaments in the early days: Fish where the bass hadn't seen many lures.
That meant using an Eagle flasher unit and locating prime off-shore habitat.
"Back in those days, there were only a handful of fishermen who fished off-shore structure. Those fish weren't pressured at all," Fritts said. "I got good at reading that flasher unit and I'd find ledges, dropoffs, rock piles, brush piles channel breaks, a bend in a creek channel, and I was amazed at how many fish were there.
"I can't tell you how many times I found schools of fish that I guarantee you had never been fished before. I had times when I would pulls up to a spot and catch multiple big bass."
Fritts used crankbaits to reach those bass. He soon learned that by making long casts with a deep-diving crankbait, he could get bass to come up and hit his bait.
He even drilled holes in the early Bagley and Poe's crankbaits he used and added lead to them to make them dive two to three feet deeper than they were designed to run.
"I was fishing deeper than anyone else," he said. "And that gave me an advantage."
That also gave him a name. Soon, Fritts was in demand as a lure designer. He developed successful crankbaits for Poe's years ago, then he moved to Berkley, where he still designs big-name crankbaits.
His early advantage faded when modern electronics such as down scan, side scan and even forward-facing sonar such as LiveScan came on the scene.
That technology allowed fishermen to find the bass and structure as never before. Fritts is still a master with crankbaits, though, and he relies on a mix of modern and old-time electronics to find the depth of water and structure.
He uses modern finders today but he also has an old Eagle flasher unit at his side.
"If you know how to use them, those flasher units are great," Fritts said, referring to the dial-type units that show the top and the bottom and flashes blips on the screen for anything that breaks the signal–anything from fish to brush or rocks.
"The flasher unit is still the king for showing you what kind of dropoff you are fishing."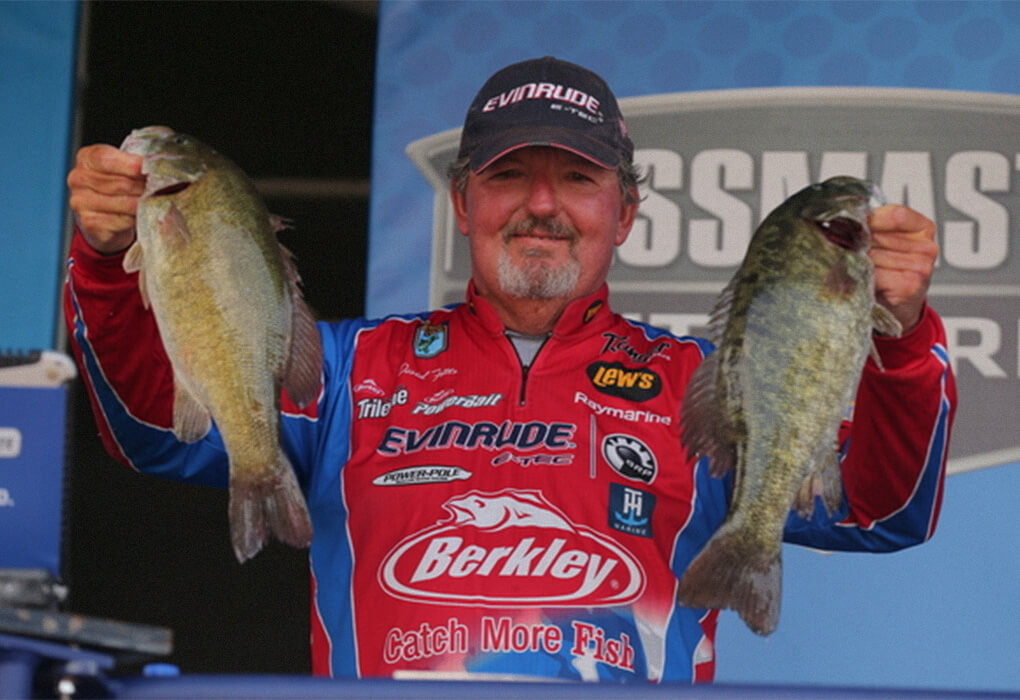 David Fritts still brings big bass to the scales in B.A.S.S. Elite tournaments such as the 2018 event at Lake Oahe in South Dakota. (Photo by James Overstreet/B.A.S.S.)
Crankbait Tips
Virtually anytime Fritts goes fishing, he has crankbaits tied on his rod.
Other than the three weeks around the spawn, I can catch them on a crankbait," he said. "Other than that time period, anytime the water temperature is above 50 degrees, I can catch them."
The best months are May and June, when the bass have recovered from the spawn and are actively feeding. But fall and even winter can be good, too.
Fritts excels at fishing off-shore structure–a ledge, a sharp dropoff, a brush or rock pile, a channel break.
He is a big believer in making long casts to those fish-holding areas.
"The farther the cast, the deeper that crankbait will run," he said. "Maybe a crankbait is designed to run five feet deep most of the time. You can get it to run seven feet deep with a long cast.
"A lot of times, that extra two feet will make a big difference on whether that fish will come up to hit it."
Contrary to what some fishermen believe, that crankbait doesn't have to be deflecting off something to get a bass to hit, Fritts said.
"Most of the time, I want a bass to come up and hit my bait," he said.
Making that crankbait look lively is the key, Fritts said.
"Yo want to wind it fast enough to make it look like it's alive, but you don't want to wind it so fast that it gets erratic," he said. "I like to jump it a little bit, pause. give it a jerk, sometimes a glide. You just have to figure out what the bass want."
The type of equipment is also critical, Fritts said.
He avoids reels with a fast gear ration. Instead, he uses reels that will take in 21 inches of line per turn. That amounts to a gear ratio of about 5:1 on the reels he uses. The Lew's BB1 baitcasting reel is his favorite, ideal for making long casts, he said.
Fritts uses the cranking rod he designed for Lew's, a mostly fiberglass rod called the David Fritts Perfect Crankbait Rod.
He uses a 6-foot, 8-inch rod if he is throwing at a shallow target with a shallow-running crankbait. But if he is in open water, he will go to a 7-foot-6 rod to launch long casts.
He uses 10-pound test monofilament line most of the time.
That combination works for Fritts. He has caught bass up to 9 pounds, 4 ounces with that formula. And he is convinced he had one far bigger on when he fished Falcon Lake in Texas in the early 2000s.
"That fish was suspended at the edge of a river channel," he said. "My bait was running 12 to 14 feet down in over 30 feet of water.
"He came up and just crushed it. He actually broke my crankbait in two and got off.
"I got look at him, and it was the biggest bass I've ever had on."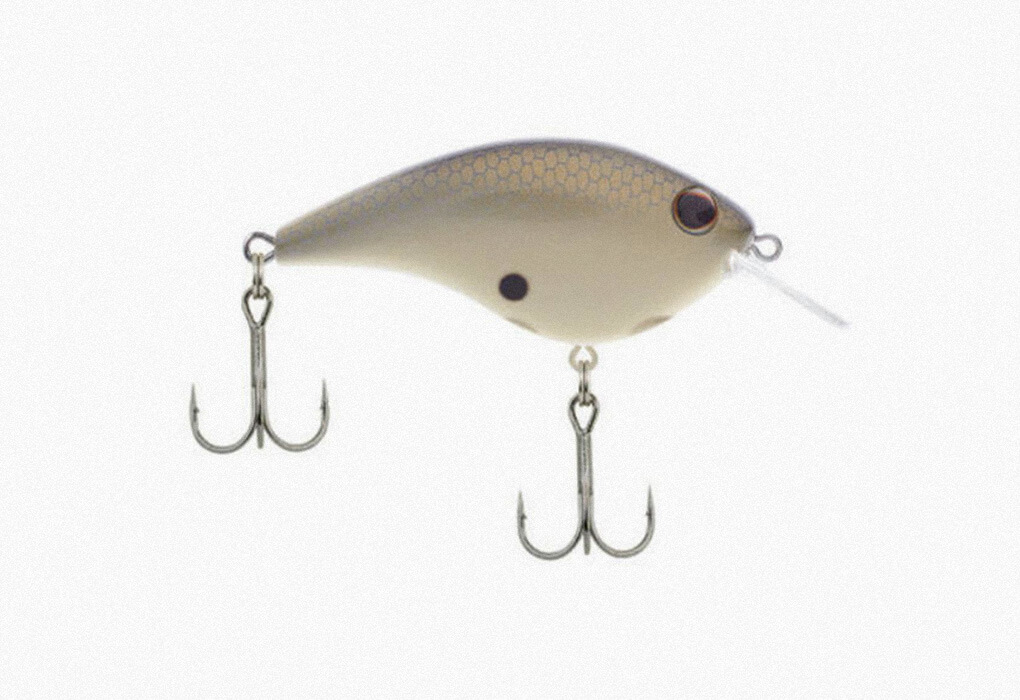 The Berkley Frittside crankbait
Lure of the Week
When you have a lure named after you, you know you're kind of a big deal.
Such is the case with David Fritts, who has designed dozens of crankbaits over the years. When he tells you the Frittside, a flat-sided crankbait he designed, is the best one he's ever made, you listen.
"We hit a home run with this one," he said. "It's all about the action. You can cast it out and reel it back, and you don't even have to be close to the bottom, and a bass will come up and take it."
OK, maybe that's a bit of salesmanship on Fritts' part, but the crankbait has gotten rave reviews since it hit the market in 2019.
It comes in a variety of colors, lengths and weights, and features the tight action designed to get sluggish or pressured fish to react.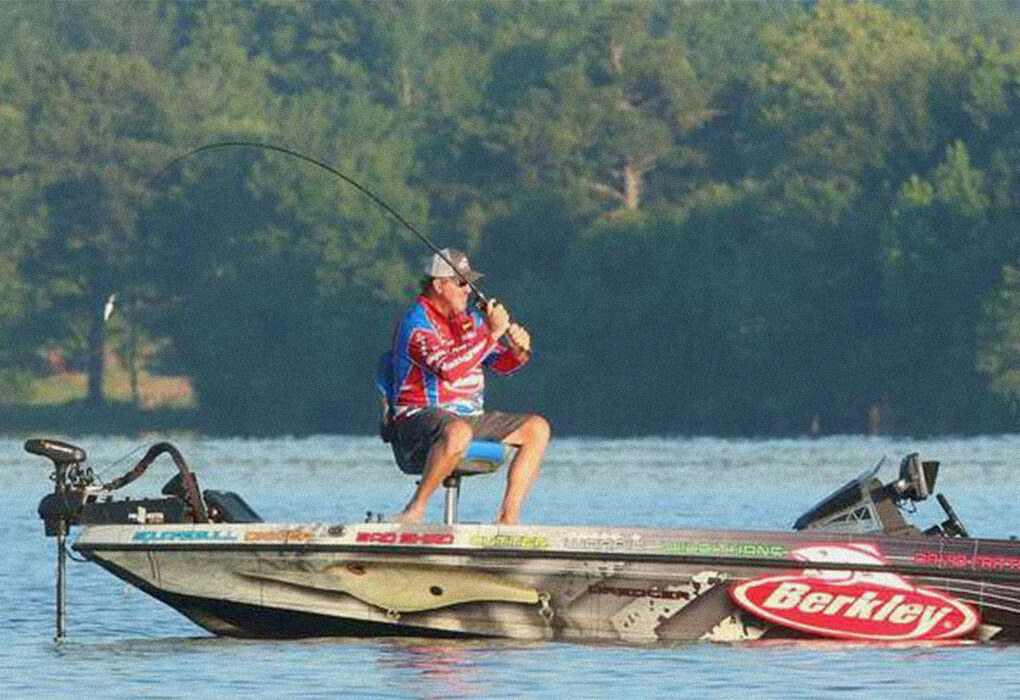 David Fritts launched a cast in a Bassmaster Elite tournament. (Photo by Thomas Allen/B.A.S.S.)
Fall Tips
Fritts looks forward to fall , when the water cools and the days get shorter.
The bass often get active, and they'll chase a crankbait.
"Fall fish love a rocky bottom and woody cover," Fritts said. "If you can find a brush pile on a rocky point, that's what they like, especially when it's close to a creek channel."
Fritts targets water 10 feet deep or less and likes to throw crawdad-colored crankbaits.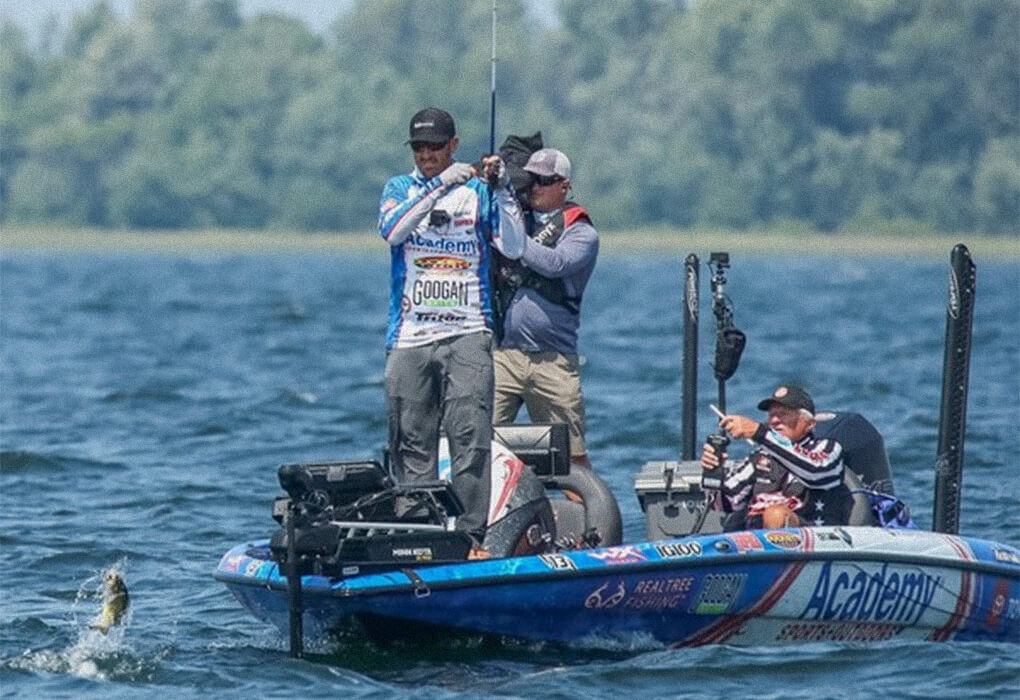 Jacob Wheeler landed a bass in a Major League Fishing Bass Pro Tour event. (Photo by Josh Gassmann/Major League Fishing)
Wheeler Takes Another Honor
Jacob Wheeler capped a wild season on he Bass Pro Tour by taking the one honor that had always eluded him. He earned the Angler of the Year title.
Wheeler, who is from Harrison, Tenn., enjoyed a record-breaking season on the Bass Pro Tour, Major League Fishing's top rung. He took the championship in three of the seven tournaments and posted huge total weights.
In the recent tournament on Lake St. Clair, he clinched the top spot in the points race.
"It's hard to pinpoint what you're doing differently when you're performing at a high level," Wheeler told Your Bass Guy in an interview earlier this summer. "I look at Kevin VanDam when he won multiple events in a season. I look at Skeet (Reece) and others who got on hot streaks.
"Part of is confidence. Confidence is big. You never question your decisions."
That's it for now. I'm going to buy a few crankbaits and hit the water.
Get out and enjoy the fall weather. The bass should be stirring soon. And remember, if you get a big one, send it to me by hitting reply on this email, and I'll get you some pub.