In this fast-paced world, Gary Yamamoto has become a legend operating in fishing's slow lane.
The Senko soft-plastic stick worm he invented in the early 1990s has become one of the best-selling lures of all time. The key to fishing it? Go very, very slow.
"I'll see people using the Senko and they're fishing way too fast. Then they can't figure out why they're not catching anything," Yamamoto said. "I just tell them, 'Slow down.' They're amazed at the difference it makes."
This week, we'll take a look at Yamamoto's path to fishing greatness–as a lure designer, a fisherman, an innovator, and a businessman.
He will share a few tips, talk about his special ties to Japan, and discuss his favorite fishing partners–his dogs.
So keep reading. You don't want to miss this one.
– Brent
As always, don't forget to rate my newsletter at the bottom so I know how I'm doing!
---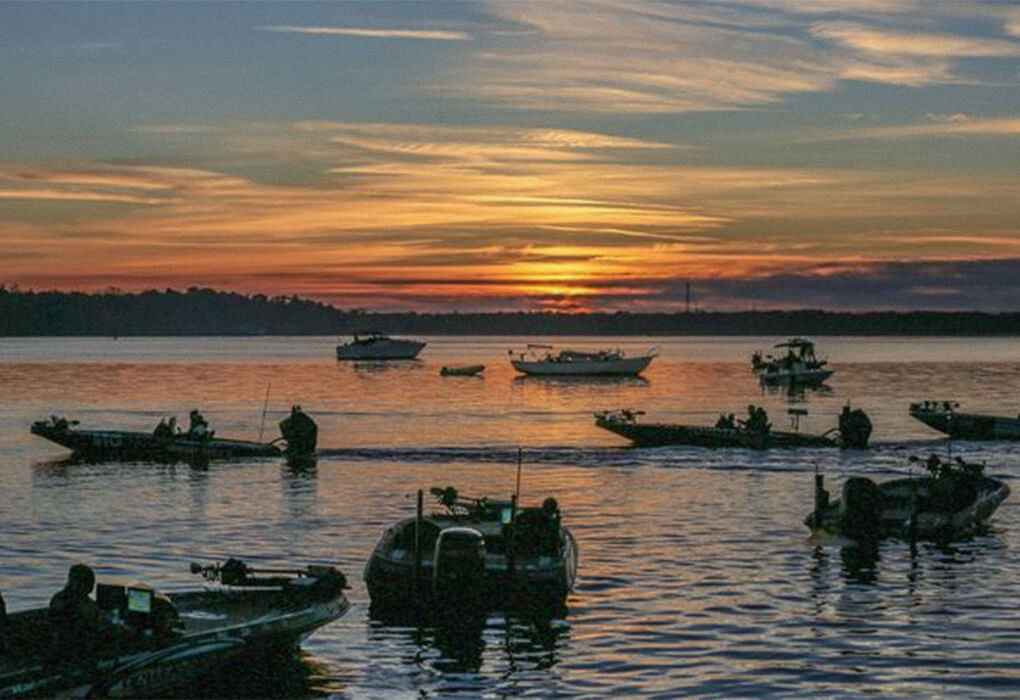 Looking to hook a few late-season deals? We have a few options for you. (Photo by James Overstreet/B.A.S.S.)
Deals of the Week
With the holidays approaching, we're starting to see some good sales on fishing gear.
Here are a few deals that caught our eye this week.
Electronics: Looking for a good deal on a starter fish-finder? Check out the special Walmart is offering. It has a sale on Lowrance Elite 9 fish finders. They regularly sell for $999.99; they're on sale for $599.
Rat-L-Traps: If you like using Rat-L-Traps, you'll want to check out this deal. The Bill Lewis Co. is selling a Classic Kit of five Rat-L-Traps for $24.95, a savings of more than $10 off regular price.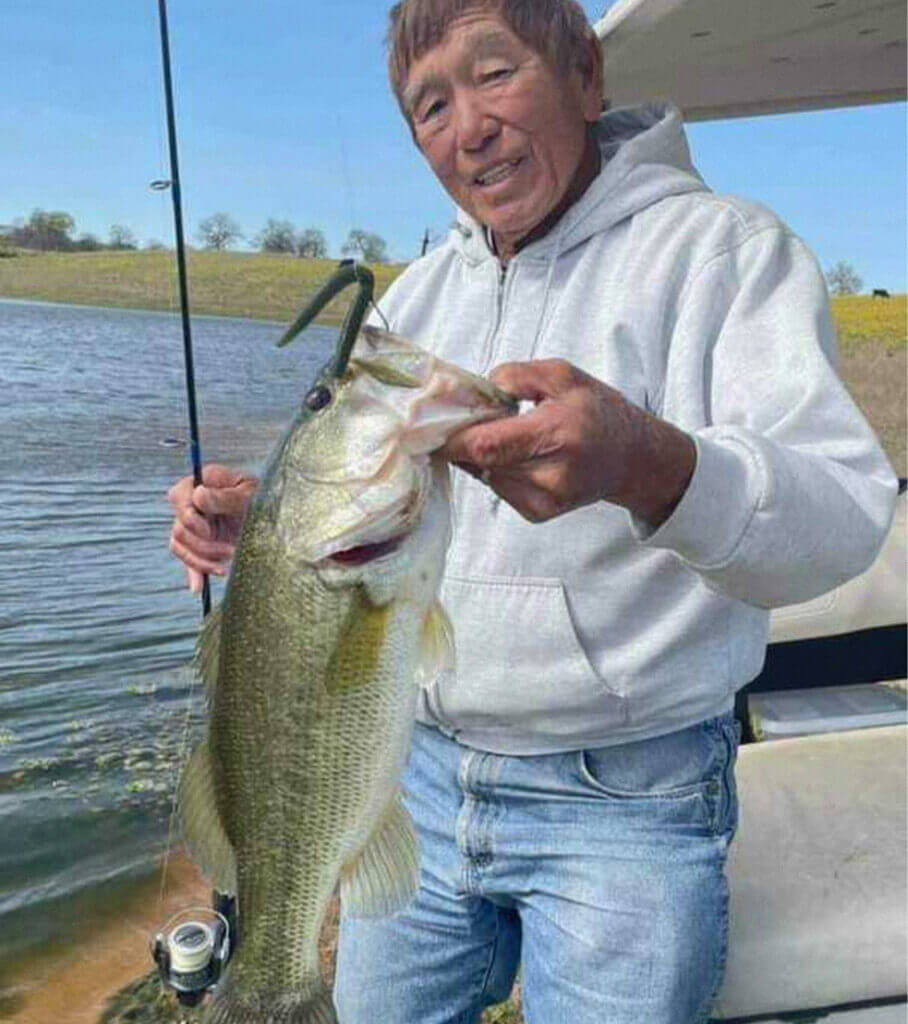 Gary Yamamoto held another big bass that fell victim to a Senko rigged wacky style. (Photo courtesy of Gary Yamamoto)
How It Began
When Gary Yamamoto opened a campground in Page, Ariz., he wanted to fish nearby Lake Powell.
So he bought a boat and set out to learn how to catch bass in the clear, deep reservoir.
He didn't want to fish with the big, cumbersome baits some used. Instead, he wanted to throw finesse lures that could be used on light line.
There was only one problem: Color selection.
"There were grubs on the market, but there weren't many colors," Yamamoto said. "So I called Gene Larew (who had a nationally known lure company) and he agreed to make up some for me in different colors. The only catch was that I had to buy $5,000 of each color.
"Well, that was a lot of money for someone just getting started. But I was serious enough that I bought $25,000 worth of grubs."
Turns out, it was a great investment. Yamamoto found success on those grubs, started doing well in tournaments and began experimenting with combining the bodies of those Larew grubs with the plastic skirts from another company, Twin-Ts.
When Twin-Ts went out of business, Yamamoto bought it and gained his own plastic injection equipment. And Gary Yamamoto Custom Baits was born.
One of Yamamoto's first big successes was the Hula Grub, a skirted grub with either a twin or single tail.
His baits were initially the rage in Japan. Though Yamamoto is an American citizen – he was born to Japanese immigrants in Hawaii–his ancestry brought him fame in Japan.
"Bass fishing was in its infancy in Japan at the time, and there was a lot of demand for smaller baits like grubs, short plastic worms, things like that," he said. "I was instrumental in bringing tournament fishing to Japan."
But Yamamoto wanted to get widespread exposure of his lures in the United States. To do that, he knew he would have to move from Arizona to the heart of American bass country, Texas.
That strategy worked, and soon Yamamoto Custom Baits became household name for bass fishermen.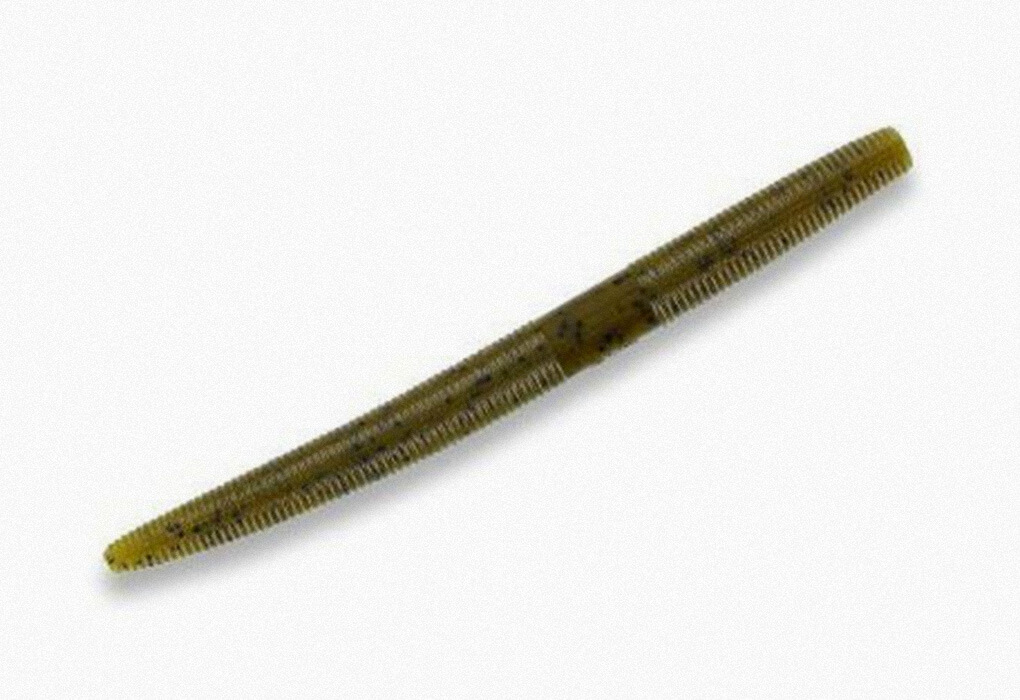 The Gary Yamamoto Senko, one of the best-selling lures of all-time
Inventing The Senko
They say that necessity is the mother of invention. Never has that been more true than in Yamamoto's case.
He was fishing the Bassmaster pro circuit at a time when the Slug-Go, a soft-plastic jerkbait, was the rage. But Yamamoto wasn't satisfied with the bait.
" You could jerk it around and bass would come up and hit," he said. "But it was hard to get a hook in them.
"In my opinion, the plastic was too hard. I thought, 'If I could make something softer, I could catch some big bass.' "
Yamamoto did just that when he developed the Senko, an unassuming looking plastic bait that has hidden magical properties.
Yamamoto experimented with different formulas until he came up with a just-right plastic mixture, salt content and design.
The bait slowly sinks with subtle movement, enticing even inactive fish to take a look. And the salt in the bait gets them to hold on longer.
"There have been 42 other companies that have tried to copy it, but not many have been successful," Yamamoto said. "Everyone else has copied the shape, but they haven't been able to match the process I use."
Yamamoto knew from the start that he was onto something.
"I was fishing a tournament at Toledo Bend and I saw a bass sitting on a bed," he said. "I cast out and missed the bed by five feet.
I thought it was a terrible cast until I let that Senko drift down and I saw that bass leave its nest and dart out to grab it."
And the name? Yamamoto's son came up with it.
"It stands for 'flash' in Japanese," Yamamoto said. "I don't know where that came from, but I was fine with it."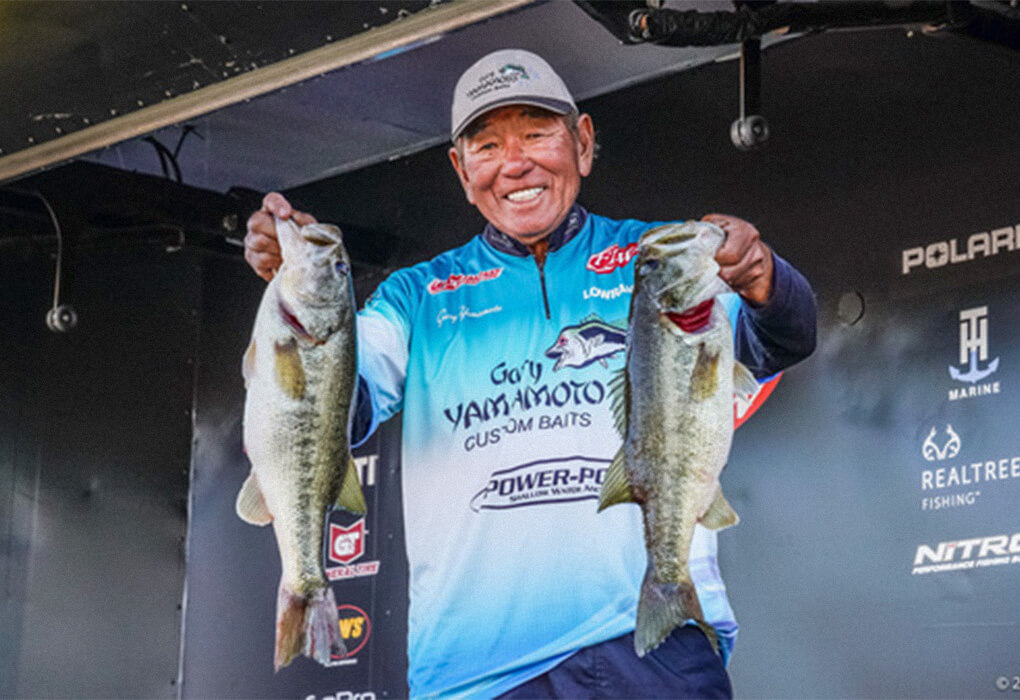 When Gary Yamamoto isn't busy developing soft-plastic lures or promoting his company, he often is competing in professional tournaments.. (Photo by Jacob Fine/Major League Fishing)
Slow Down
Yamamoto remembers a fishing trip that perfectly illustrated how effective a Senko can be when worked slowly.
As he guided a couple on Lake Baccarac in Mexico, he quickly surmised that he was dealing with two totally different skill levels.
The wife had hardly ever caught a bass and was unsure how to work a bait. The man was a seasoned angler and cast to every good-looking piece of cover he could find.
So, who caught the biggest bass? You know where this is going. The woman, of course, thanks to the Senko.
"My wife was in the back of the boat, helping her cast," Yamamoto said. "She just let that Senko drift along behind the boat, slowly lifting it and letting it fall back down, and she caught the biggest fish– 5s, 6s, 7s (pounds). It was an amazing day."
What impresses Yamamoto even more is that the bait will catch big bass in the toughest of conditions.
"Even when the fishing is supposed to be slow, I can go down to the ponds on my ranch, throw a Senko out and let it fall, then slowly lift it and move it 2 or 3 feet, and I'll catch fish," Yamamoto said.
Yamamoto used his baits to find success on Western bass circuits, he began fishing B.A.S.S. in 1988. He continued until 2016, when he moved to the FLW circuit.
He continues to fish the FLW side of Major League Fishing, even at the age of 78. He recently sold his Gary Yamamoto Custom Baits to GSM Outdoors, a company that specializes in hunting equipment but wanted to get into the fishing market.
But Yamamoto plans to stay around as a consultant for several years to help promote the products he believes in.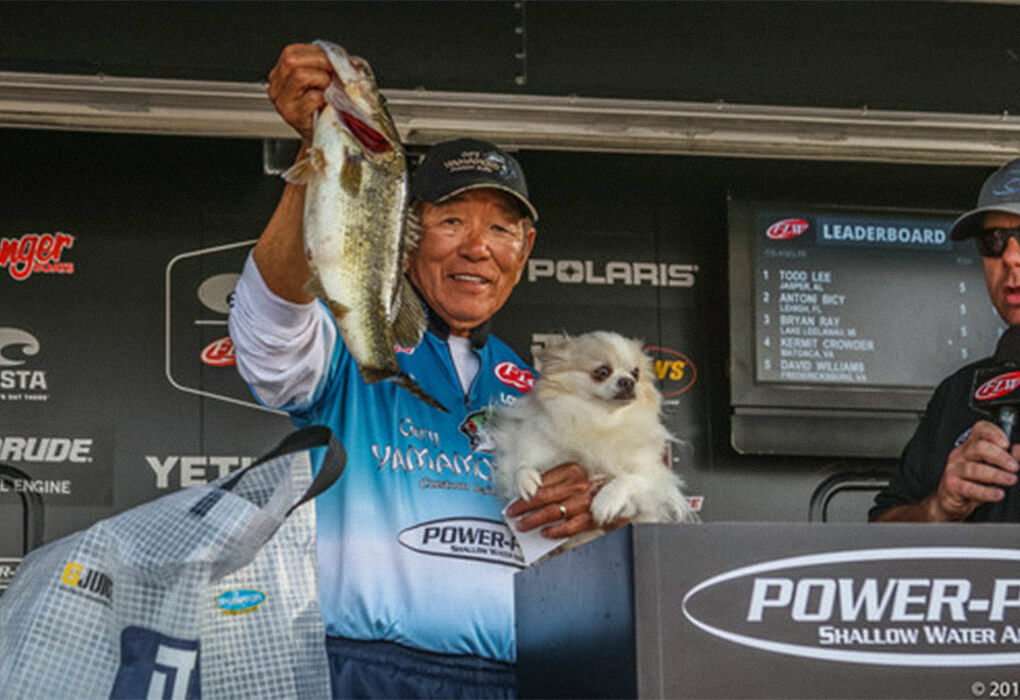 Gary Yamamoto posed with his fishing partner, one of his long-haired chihuahuas, during weigh-ins at a FLW tournament in 2017. (Photo by Charles Waldorf/FLW)
Yamamoto's Dog Pound
When Yamamoto decided to leave B.A.S.S. in 2016 and join FLW, he cited a reason you don't hear every day.
"B.A.S.S. told me I couldn't take my dogs with me anymore," he said.
Yamamoto has long been known for taking his long-haired chihuahuas with him in the boat when he is fishing solo in tournaments.
The dogs provide company and seem to enjoy a day on the water, and Yamamoto loves having them along.
He and his wife Beverly currently have three long-hair chihuahuas–Annie, Jacob and Zachary–and they're all experienced fishers. But Yamamoto stops short of calling them his good-luck charms.
"I haven't done great in some of the tournaments when they're along," he said with a laugh. "But I love having them there."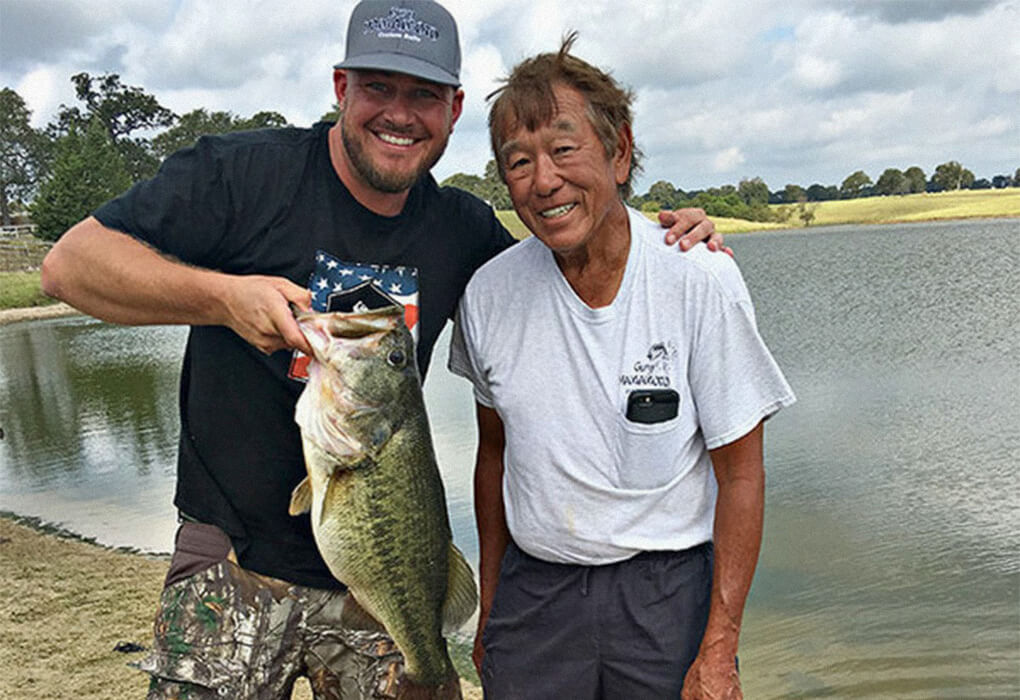 Fishing legend Gary Yamamoto (right) is at home on his ranch in east Texas, where he and his wife run a fishing operation and a cattle business. (Photo courtesy of Gary Yamamoto)
Home On the Range
Gary Yamamoto painted a nice picture with his words as he and I chatted on a telephone interview.
"I'm sitting out back, looking at one of my lakes and watching my cattle graze," he said. "It's very peaceful."
That BK Ranch, as it is called, combines Yamamoto's passions: cattle ranching and fishing.
The ranch in eastern Texas includes a series of ponds and lakes that are a destination for paying customers throughout the year. That water contains some trophy bass, including some that weigh in double digits.
It's a catch-and-release fishery, but the fishermen who visit aren't interested in taking home fish to eat.
The Yamamotos also operate the Inn at BK Lodge that provides comfortable lodging on their land.
Yamamoto enjoys managing the lakes, and takes pride in the big ones that are caught and released.
"It's a great place," he said. "We've got some big bass in there, but they don't bite every day."
Even on a Senko.
That's a wrap. Good luck with your fishing. And don't forget to send us your photos and/or fish stories by hitting "reply" on this email.
We want to hear from you.
Tight lines.