It doesn't seem possible, Gary Klein will tell you.
It seems like yesterday that he was one of the young guns on the B.A.S.S. pro circuit, catching bass at an impressive rate and making headlines.
Now he is one of the senior citizens on Major League Fishing's Bass Pro Tour, a veteran of 48 years of professional fishing.
At age 65, he is one of the oldest anglers in the game, a title he wears proudly.
Maybe he no longer posts the wins he did in his younger days, but he still has a passion for catching bass.
"I've never really had another occupation other than competitive angling," said Klein, a Hall of Fame fisherman from Mingus, Texas.
"When I graduated from high school in 1975, I was young and dumb. All I wanted to do was fish.
"But I guess that's worked out pretty well for me."
Indeed, it has. Klein is one of pro bass fishing's legends.
He has competed in more than 500 tour-level events and has more than 90 top 10 finishes on his resume.
He was inducted into the Bass Fishing Hall of Fame in 2018, and he continues to find success on the Bass Pro Tour that he co-founded.
What better fisherman to talk to about bass fishing in general and tactics and lures in specific.
Keep reading.
We're going to hitch a ride with one of the best bass fishermen ever to launch a cast.
---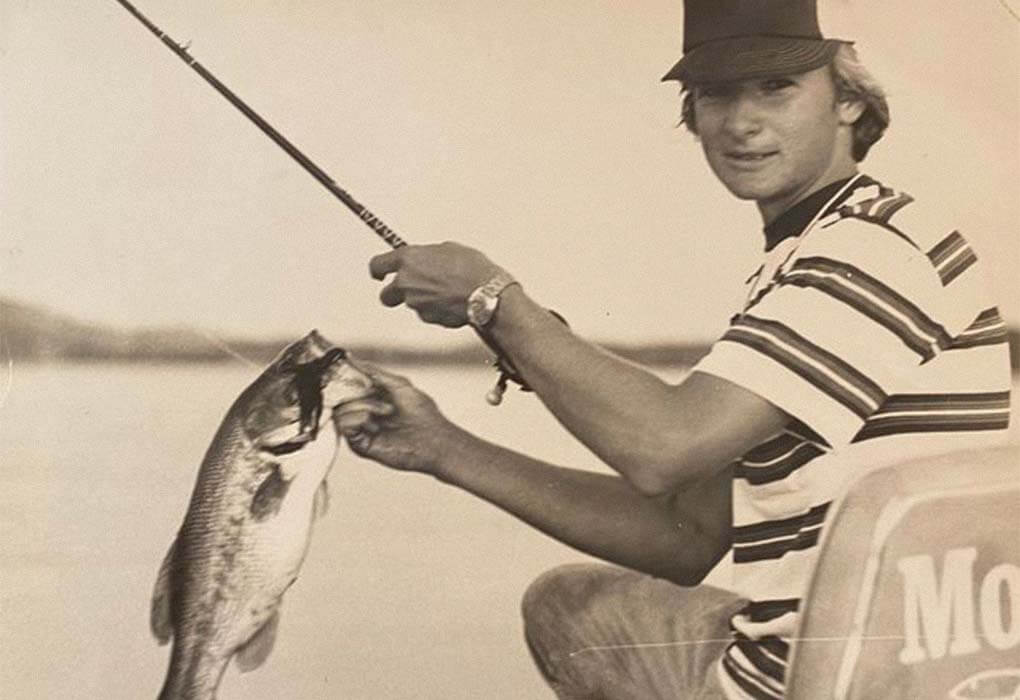 The Early Years
Living with his family in northern California, Klein was raised in the outdoors.
Gary fished, hunted, and camped while other kids played video games or sports.
"What I remember most about my childhood was spending time in a sleeping bad under the pine trees, looking up at the stars," he said.
Klein would fish from the bank for everything from rainbow trout to bass. It wasn't until his sophomore year in high school that he even learned what a bass tournament was.
"I was working a summer job at a marina on Lake Oroville, and a big bass tournament came to the lake," he said.
"I was pumping gas into the tanks of some of the big pros, and I would talk to them while I was doing it.
"I learned a lot that day."
One moment especially stands out.
"One gentleman had a big motorhome with Abu Garcia logos on it," Klein said.
"I helped launch his boat and drive it over to the marina. After doing that, he invited me into his motorhome and opened a closet filled with rods and reels. He told me, 'Take whatever you want.'
"That's how I got my first good rod and reel."
Before long, Klein used that rod and reel to compete in bass tournaments. He entered as a co-angler because he didn't have a boat, but he caught fish.
"In my first tournament, I finished 37th and won two dozen spinnerbaits," he said. "That was huge for me. I was actually getting paid to go fishing."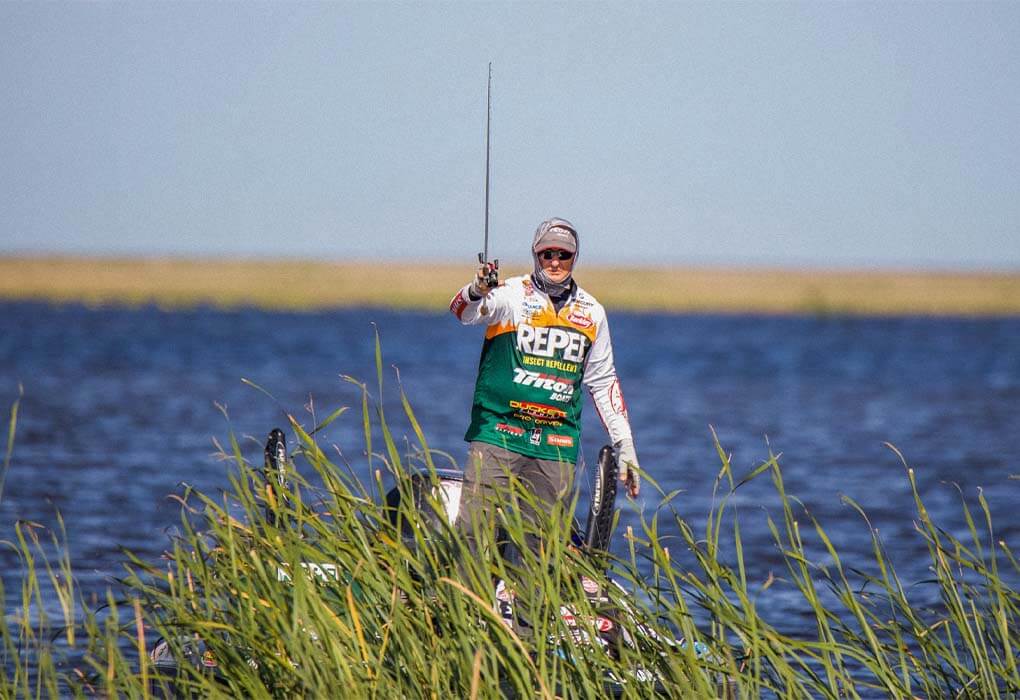 Learning From the Best
When Klein was still in his teens, he met Dee Thomas, the Western fisherman who pioneered flipping techniques. And it changed his life.
Thomas took a liking to the young fisherman and became his mentor. Klein soaked up every bit of information he could get and soon became an expert.
The technique was especially effective on California lakes, filled with shallow cover.
Thomas taught Klein how to use the pendulum, underhand cast to put a bait exactly where he wanted without making a loud splash that would spook the fish.
"None of this would have been possible if I hadn't met Dee," Klein said. "He taught me so much.
"He taught me to be a shallow-water angler and put my bait exactly where I wanted."
With additional help from Dave Gliebe, another legendary West Coast fisherman, Klein became known for fishing with an 8-foot flipping stick, 25-pound test line, and a plastic bait or a jig.
"My favorite all-time flipping bait is a 6-inch black plastic lizard," he said.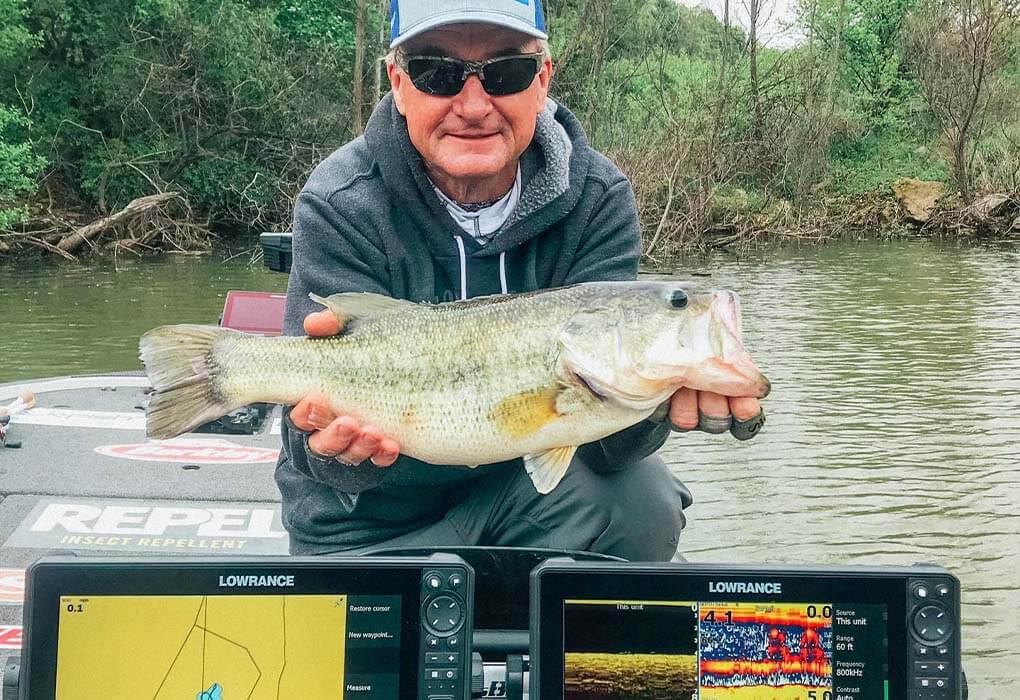 Understanding Bass Behavior
For Klein, the advanced electronics on his bass boat are much more than "fish finders."
He looks at them as his "underwater eyes."
"They teach me about the environment I am fishing," he said. "I can see rock, soft bottom, hard bottom, channels, how fish are conditioned by their environment," he said.
"For example, if the fish are on a crayfish bite, they're looking down. You can throw over the top of them all day long, and you won't get bit. That's where a jig, a Carolina rig, or a plastic worm are effective.
But if the bass are relating to shad, they're not on the bottom. They're usually suspended and looking up. That gives me clues as to what baits I need to throw."
Klein uses a B.A.S.S. tournament in 1988 at Bull Shoals Lake as an example. Most of the fishermen were fishing shallow and finding only moderate success.
But Klein used his Lowrance electronics to find the fish in 35 to 50 feet of water on the main lake.
He won the tournament by using spinning tackle and a drop-shot rig.
"My goal is to not only find the bass but to find out why they are there," Klein said. "Electronics are my way to do that."
Today's units are far more sophisticated than the simple flasher units Klein used when he got started.
Those sonar units feature a dial-type screen that shows the bottom and flashes lines when the signal is broken.
"I could use a flasher unit today," Klein said.
"With the latest technology, anything you see on the screen is history. What you're looking at is past. It's behind you.
"A flasher unit shows what is happening in real-time. Nothing is being recorded. It shows what is happening in the transducer's cone directly below you.
"The problem is that active fish seldom let you get over the top of them, especially in clear water."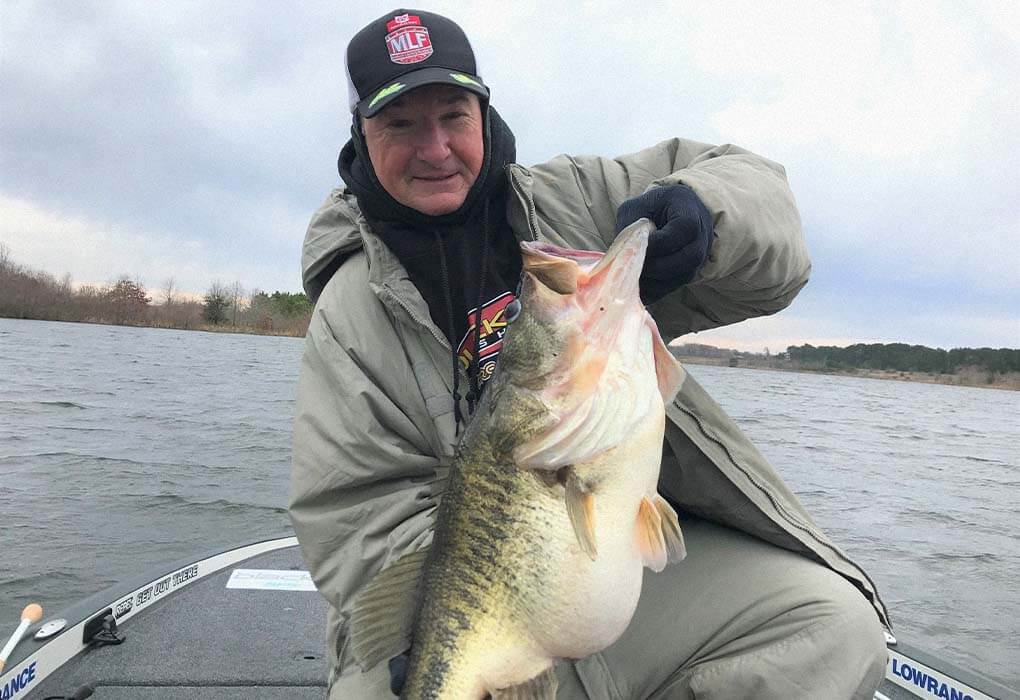 A Memorable Off-Shore Catch
At first glance, the odds were working against Klein when he and other pros joined fisheries biologists for a research fishing trip on a private lake in Texas this winter.
It was sleeting; a cold wind swept across the lake, and whitecaps rocked the boat.
So Klein moved off-shore and went hunting. The result? A 13.79-pound largemouth, his personal best.
"That bass was right on the bottom in 30 feet of water," Klein said. "I caught it on 6-pound test line and a spinning rod. It was quite a battle."
Klein caught the monster on a drop-shot rig with a Berkley Powerbait MaxScent D-worm, rigged wacky style.
The size of the bass wasn't totally unexpected.
Biologists with the Texas Parks and Wildlife Division use the east-Texas body of water for its ShareLunker program, where they take giant bass donated by fishermen to spawn in a controlled setting.
The fry and the adult fish are then released into public waters, and the genetics of Texas waters are enhanced.
Klein participated in that program, and his fish was used in the spring spawning program, then was put on display in a Texas Parks and Wildlife aquarium in Athens, Texas, for the public to see… and dream.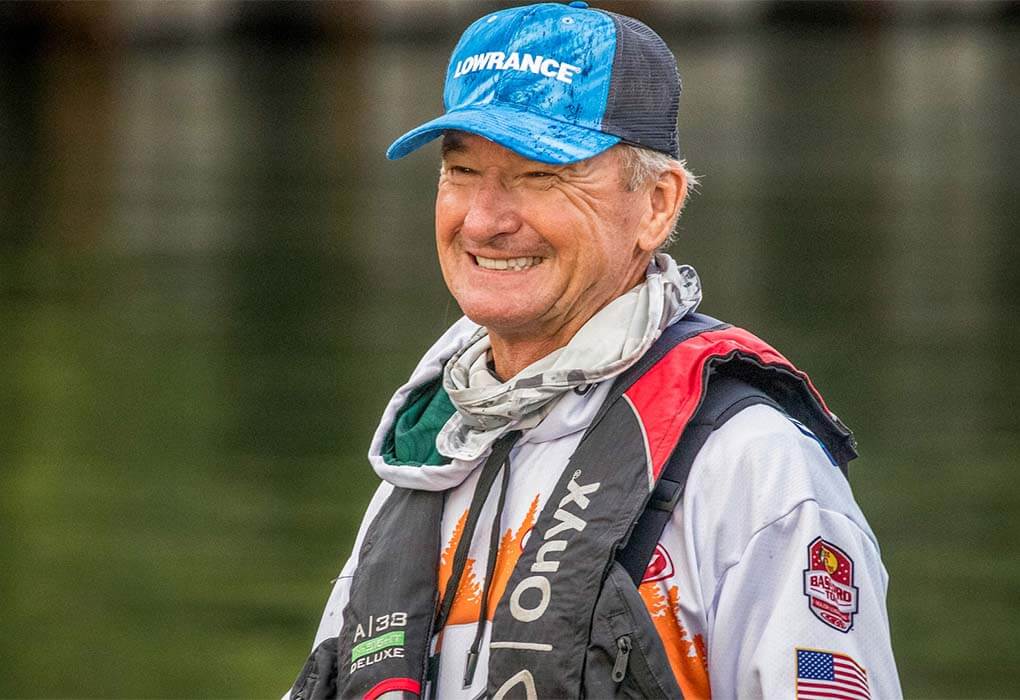 Charting a New Path
Klein and Boyd Duckett once starred on the B.A.S.S. circuit. But they weren't satisfied with the way professional bass fishing was headed.
They envisioned a new circuit where the top anglers could compete without putting up as much of their own money, where national television exposure was increased, and where participants received credit for all keeper fish caught and released, not just their five biggest.
That dream became a reality in 2011 when Major League Fishing launched. But it wasn't until 2019 that the circuit hit its peak. That's when the Bass Pro Tour began competition.
The circuit introduced a new format for tournament fishing featuring top pros such as Kevin VanDam, Jacob Wheeler, Ott DeFoe, Brent Chapman, and Skeet Reese.
Fishermen are credited for each "scorable" bass they catch, with the minimum size set for each tournament site. An official in each boat weighs the bass, then immediately releases it.
Action is captured by a cameraman in each boat and broadcast live on a website.
"I strongly believe the future of competitive fishing is 'catch, weigh, release,' " Klein said.
"No livewell transportation of bass, no mortality, no moving populations of fish around.
"Some fishermen love fishing for a 5-bass limit. But in our competition, you'd better catch more than five keepers a day, or someone will beat you."
Conclusion
Klein is a student of bass fishing. He doesn't simply rely on a machine to show him where the fish are. He wants to understand why they are there.
"I feel each bass is an individual," he said. "Some bass are loners; some like to be in schools. Some bass travel and some are homebodies. They establish a home range and seldom leave.
"Figuring out how they react to their environment goes a long way toward catching them."
Follow Klein's advice and do your homework. Turn on your electronics and see how bass are positioning themselves.
Learn how they relate to structure such as humps, dropoffs, and roadbeds. See how they suspend in the summer just above the thermocline.
It will make you a better fisherman.
Let us know how you do!