We know you have plenty of options when it comes to feeding your bass fishing "fix."
YouTube videos, podcasts, websites, Facebook and Twitter posts–there's more information being cast out than ever before. But we'd like to think that our weekly newsletter fits in nicely.
Each week, we bring you a timely look at what's going on in the bass-fishing world. We start with exclusive information from some of the top pros (this week, we'll feature Rick Clunn), add some great deals, toss in a few fishing tips, spotlight some big catches by both adults and kids, and clue you in on some hot spots across the nation.
That's our recipe and we're committed to sticking to it. But we need your help.
That's enough talk. Hop into the boat, put on your life vest, and let's get going.
It's time to harass those bass.
– Brent
---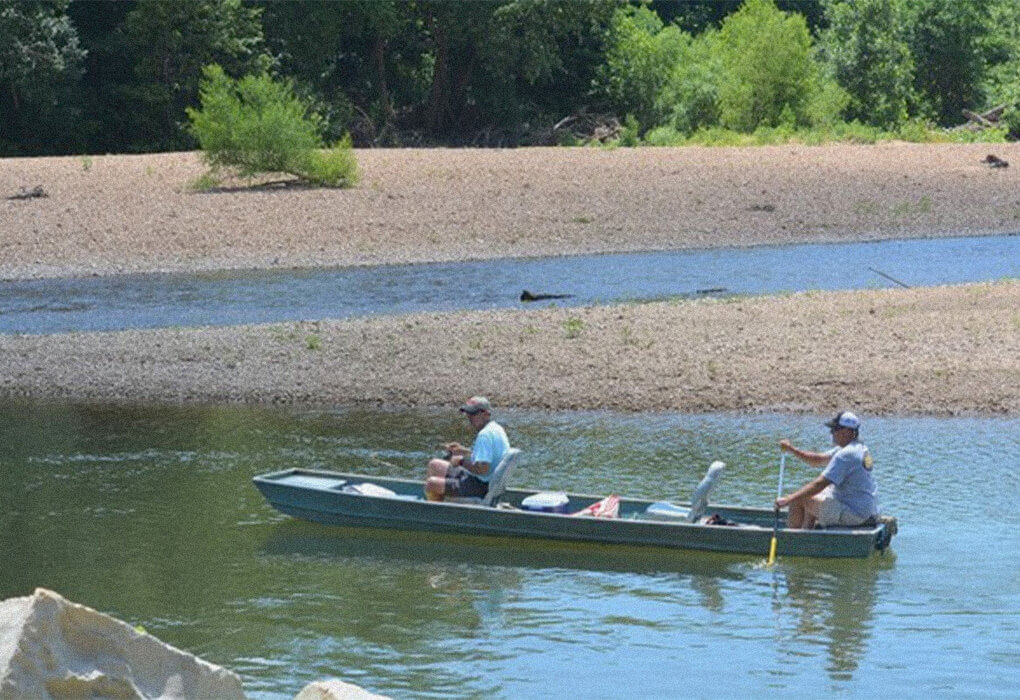 What a Deal!
Each week, we review websites to help you find three deals that stand out.
We try to offer something for everybody, from beginners to the advanced. Here are this week's finds.
Clearance lures: Bass Pro Shops is offering some great deals on well-known bass baits. In the chain's Bargain Cave, Z-Man Original Chatterbaits are being offered for up to 62 percent off the regular price. Johnson Beetle Spins, great lures for fishing ponds and other small bodies of water, are on sale for up to 50% off regular price. And Strike King Rage Swimmers are on sale for up to 30% off.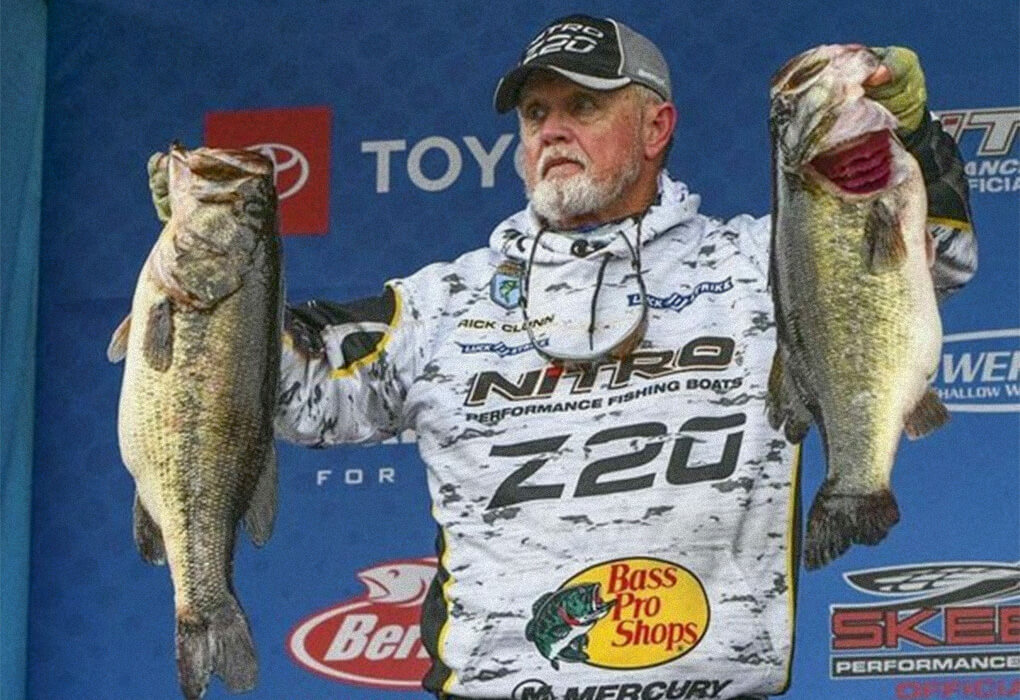 Bass-fishing legend Rick Clunn weighed in big bass en route to taking the title in a Bassmaster Elite tournament in 2019 on the St. Johns River in Florida. (Photo by Andy Crawford/B.A.S.S.)
Clunn's Quest for the Big Ones
When Rick Clunn got started on the B.A.S.S. pro circuit almost 50 years ago, he didn't target the biggest bass in the lake.
A good limit of fish would do. That's how he built a Hall of Fame career, winning four Bassmaster Classics and countless other tournaments and honors.
But after 48 years on the B.A.S.S. tour, the 75-year-old Clunn knows a a simple limit of keepers isn't good enough anymore. It takes big bass to succeed now.
The fishermen are better-educated, the electronics are more refined, and the fisheries are better.
"About six or seven years ago, I came to the realization that just getting a limit in wouldn't get me far in today's tournaments," he said. "It wouldn't even get me in the top 50 in some of these events.
"So I had to change. I used to have a 30-, 40-fish a day mentality. I had to do that when I was guiding. But I had to go to a mentality of catching five big fish a day.
"And that's not as easy as it sounds."
Self-analysis led Clunn to the conclusion that he was fishing too fast. He had to force himself to slow down and dissect each spot he targeted rather than making a few casts, catching the most aggressive fish, then moving on.
"Power Poles were the best thing that ever happened to me," he said of the devices at the stern of the boat that are dropped and serve as an anchor of sorts. "There were times when I would drop them down and I still had my foot on the trolling motor pedal, wanting to move on.
"They forced me to spend more time at one place and really observe what was in front of me."
The result? Clunn started bringing huge bass to the weigh-in scales. He is especially proud of one Bassmaster tournament in 2019 on the St. Johns River when he caught two bass weighing more than 9 pounds, including one that was 9 pounds, 14 ounces. In 2020 on Lake Fork, he caught bass weighing 8 pounds, 9 ounces, 6-6 and 5-9–and all on one day.
The key to his success? Oversized baits, a better understanding of big-bass behavior, and plenty of patience.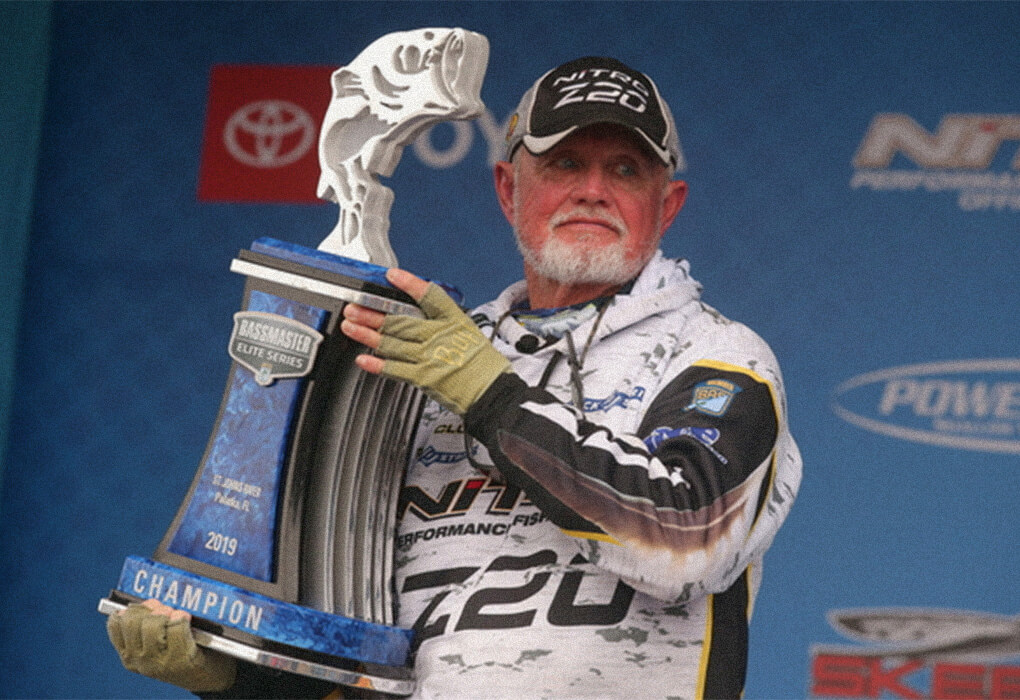 Even at an advanced age, Rick Clunn still is a winner in national bass tournaments. (Photo by B.A.S.S.)
Finding the Biggest of the Big
So, you've made multiple casts to an area without so much as a hit. You assume that it's time to move on. The big bass aren't there.
Wrong. Sometimes, they're lurking in the nastiest, darkest places where few fishermen dare cast.
That's the start of understanding the behavior of a big bass, Clunn said.
"Big bass are not chasers, except for a small window of time each day," he said. "They're not going to be out there chasing a bunch of small baitfish. They're going to be in the thickest cover they can find, waiting to ambush a big bream or a couple of big gizzard shad that swim by."
That's why Clunn goes to oversized baits these days. When he did so well at Lake Fork, he used a King Kong Shad crankbait, a huge lure that imitates a large baitfish.
Clunn designed the bait so that it will stay balanced even when it is retrieved quickly.
"At Fork, all of the big bass I caught were holding on dark wood, places like docks or brush," Clunn said. "They were reaction strikes. I had to bounce that bait off the edge of a piling or off the top of a brush pile.
"That triggered them to bite."
Clunn also uses big topwater baits or spinnerbaits, which imitate struggling baitfish.
He keys on dark areas that often are difficult to reach for the average angler. That might be the center of a brush pile, the edge of a dock, under a canopy of thick grass, or the thickest part of a laydown.
When he says he is slowing down in working areas, that doesn't refer to the speed of his retrieve. He often burns his lures to get a reaction strike.
But he does spend more time in a likely looking spot and makes more casts before moving onto the next spot.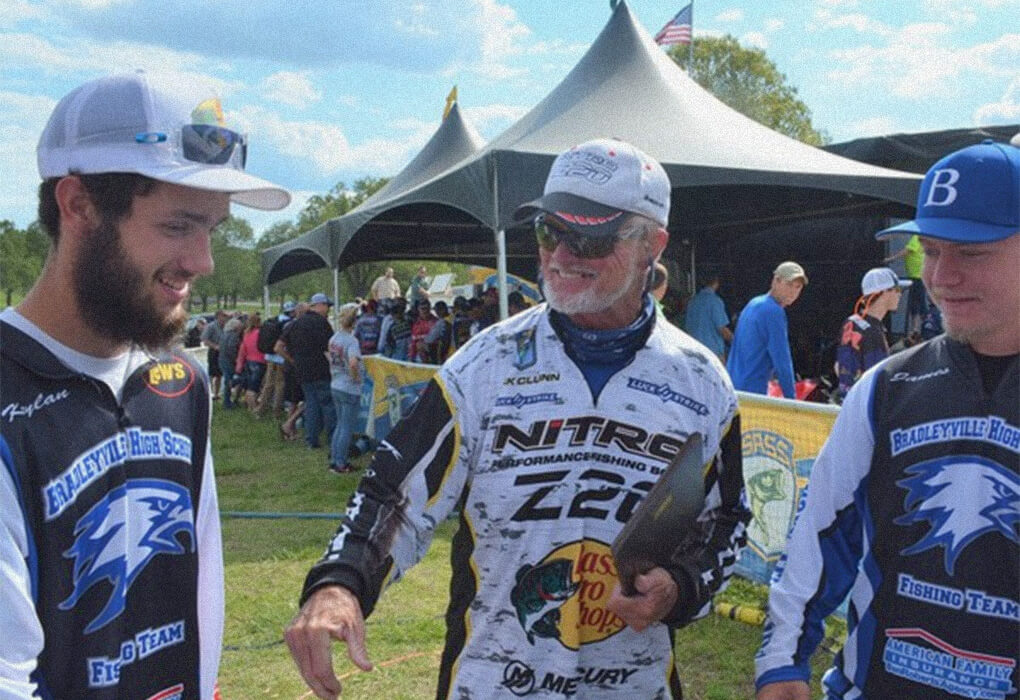 Rick Clunn visited with high school anglers after a Bassmaster tournament in the Ozarks. (Photo by Brent Frazee)
A Champion for Senior Citizens
When Rick Clunn became the oldest fisherman to win a B.A.S.S. national tournament, he became an inspiration for many senior citizens.
He was 69 when he first set the record in 2016. He was 72 when he broke his own mark three years later.
In a sport dominated by the young and energetic set, that's remarkable. But then, Clunn isn't one who lets his life be defined by age.
"Never accept that your best days are behind you," he said in a now-famous quote after his first record-setting performance.
Later he added, "A long time ago, I stopped paying attention to timelines – the terrible twos, the ugly teen years, the midlife crisis, retirement time. I don't pay attention to any of that.
"If you listen to everyone else, you'll get premature notions about who you really are."
Now 75 years old, Clunn is still casting.
"I always used to say, 'The great thing about fishing is that you can do it from age 6 to 60,' " he said. "Well, I'm in my 70s, and I'm still going.
"Age doesn't relegate you to be an armchair fisherman."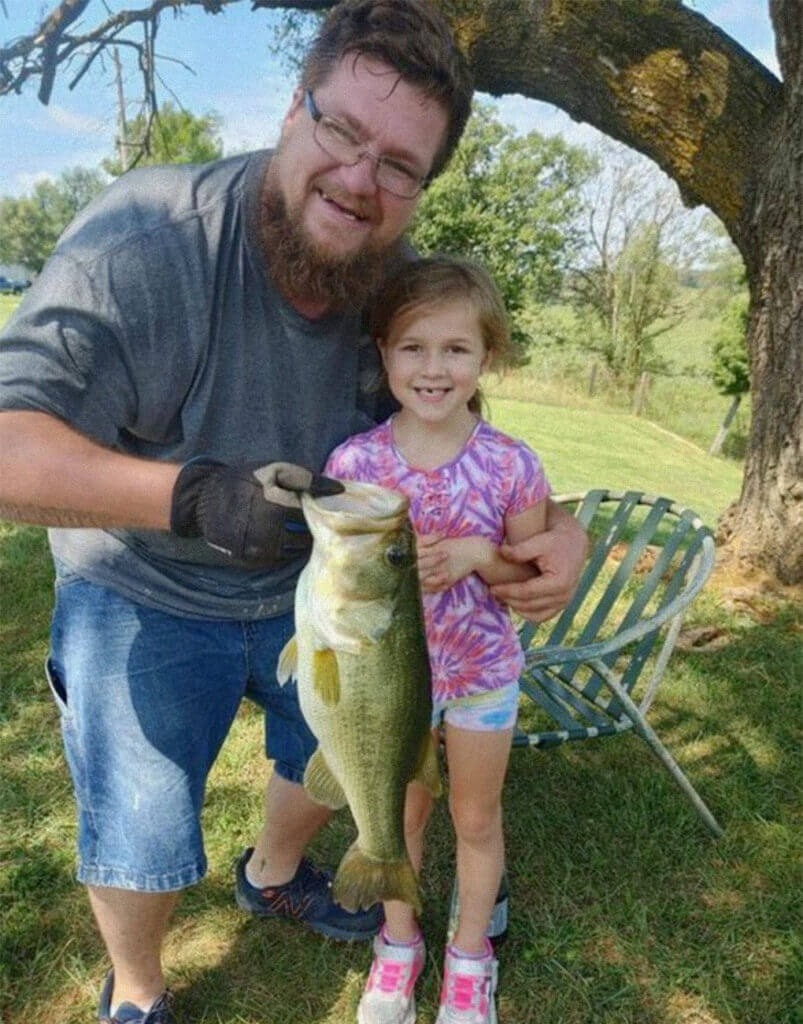 With a little help from dad, LayLa Pulis, 6, shows off the big bass she caught on a farm pond
Kids Stuff
Chances are, LayLa Pulis won't forget one of the first times she was able to cast and reel in fish on her own.
Her dad had just shouted, "Last cast," so the 6 year old tossed her bait and bobber into the shade under a tree on the Missouri farm pond they were fishing.
When the bobber went under, she started reeling in another small panfish. That's when things got interesting.
That struggling bluegill quickly became bait for a big bass, and LayLa had a fight on her hands. The largemouth stripped out line on the Zebco 202 she was using and the girl just held on.
But after a spirited battle, LayLa had the fish in the shallows, where her dad grabbed it.
Then the celebration began.
"I've been fishing since I was her age and I've never caught a bass that big," said Michael Pulis, LayLa's dad. "We didn't have a scale, but I'd estimate that fish had to be at least 4 pounds.
"We let it go. LayLa has been bragging about it ever since."
Dad and daughter live in Springfield, Mo., and were fishing on a friend's farm pond.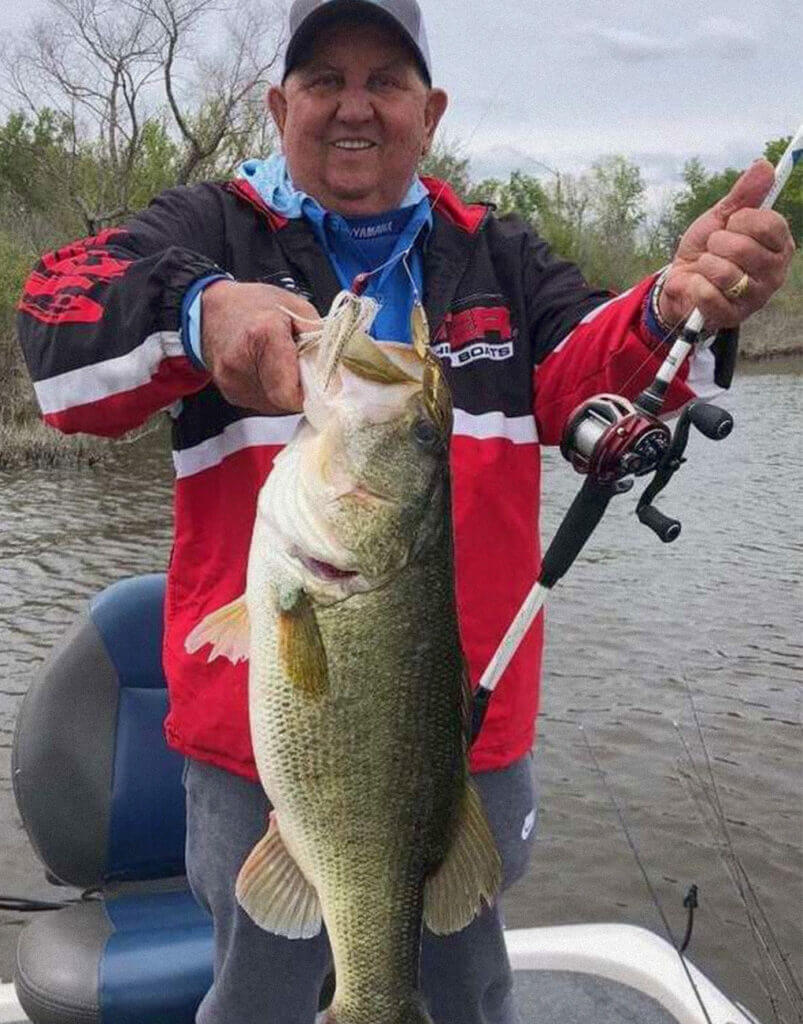 Lonnie Stanley, a lure designer and pro fisherman who passed away last week, was one of my heroes..
Thanks for the Memories, Lonnie
When I was just a pup in the outdoors writing game, I interviewed an up-and-coming lure designer by the name of Lonnie Stanley.
Like so many inventors, the bass jigs he came up with were born out of necessity. Lonnie wasn't satisfied with the other bass jigs on the market at the time, and he had ideas on how to develop a better product.
He was a good salesman. He offered to send me some samples, but the ethics policy at the newspaper I worked for wouldn't allow us to take freebies, so I went to the store and bought some.
I didn't know much about working a jig, but I experimented with different retrieves at a neighborhood pond and caught my personal best largemouth the third time out.
It was only a little over 5 pounds, but it looked huge to me.
I thought of that moment last week when I heard that Lonnie passed away at age 76.
After that memorable spring day in the early 1980s, I went on to become a steady customer of Stanley Jigs, and fishing a jig and pig became my favorite way to catch bass.
Many others must have shared my loyalty to the baits, because Stanley Jigs became one of the nation's most popular bait companies.
Lonnie and his company branched out to make spinnerbaits, which became popular with such well-known pros as Rick Clunn. Later, he started manufacturing his own line of plastic baits.
Meanwhile, Lonnie used his own baits to find success on the B.A.S.S. circuit. He qualified for five Bassmaster Classics, the sport's championship event. But he was just as proud of the fact that many national tournaments were won by anglers using his baits.
We'll miss him. R.I.P., Lonnie.
That's it for this week. Keep fishing and keep catching. And email me a photo of the big ones you pull in. We'll be sure to feature you in the next newsletter!