Thank you all for joining me for another week!
Before we get out on the water this weekend, take a look at what has happened around the fishing world this past week and you just might get a tip or two to try.
P.S. There's a feedback form for you at the bottom of this letter. Smash that button and tell us what you liked (or didn't like) about today's stories.
P.P.S. If you have a picture of a big one you want to show off, reply to this email and I'll get it.
---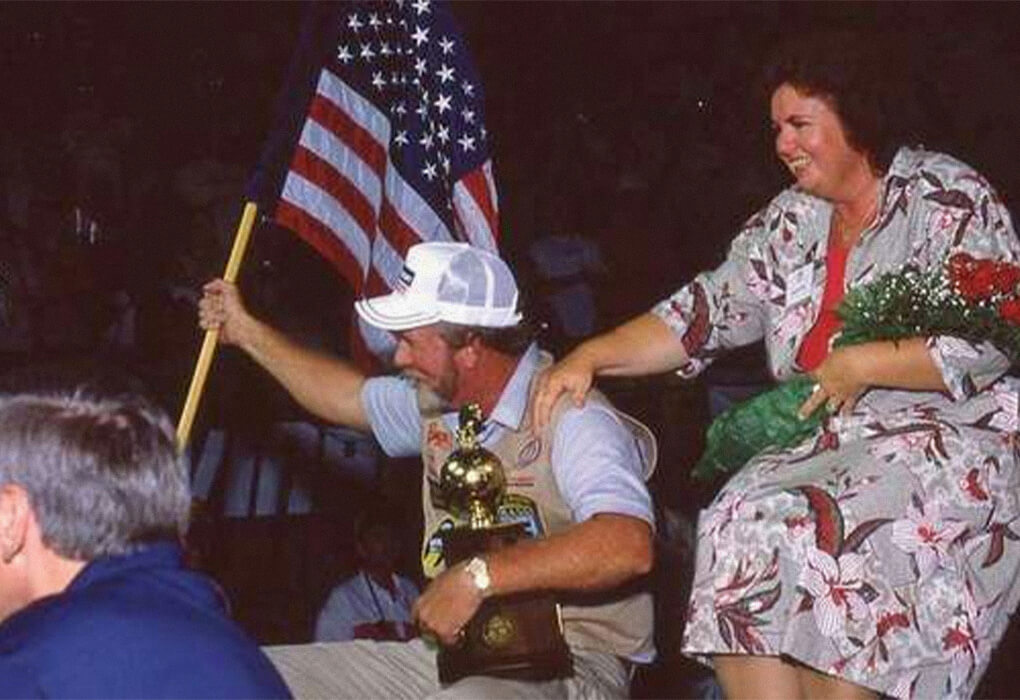 Guido Hibdon and his wife Stella celebrated after Guido won the 1988 Bassmaster Classic. (Photo by B.A.S.S.).
Classic Fishing
The Bassmaster Classic is fishing's version of "The Greatest Show on Earth."
It's much more than just a bass tournament. It's a glitzy, multi-day celebration of America's most popular gamefish and the people who chase it.
The grassroots anglers who compete in local bass tournaments dream of one day competing in the Classic—pro fishing's championship tournament—the same way Little Leaguers dream of one day playing in the World Series.
Each year, they flood major cities such as Birmingham, Ala., Oklahoma City, Okla., and Charlotte, N.C., and participate in their version of a national holiday. They aren't hard to spot. Most of them don their favorite fishing shirt adorned with patches of their favorite products.
They hit the town in hopes of rubbing elbows with their favorite pros, attending a large sports show in which the latest bass fishing lures, rods, and reels are on display, and launching their boats and following their favorite pros from spot to spot during competition.
Large banquets fill ballrooms, fishermen appear at meet-and-greet sessions at businesses, and the pros sign autographs and pose for photos numerous times for their fans. Then they fill arenas to watch weigh-ins and cheer for their favorite pro fishermen.
Who says fishing isn't a spectator sport?
Not bass fishermen in Fort Worth, Texas, the city hosting the Classic this week. They're showing up in force for the big show.
The three-day tournament begins today at Lake Ray Roberts. By Sunday afternoon, one fisherman will be holding a big trophy over his head as confetti rains down and the roar of the crowd heightens.
The winner will earn $300,000, and a chance to earn much more in endorsements and public speaking and appearance opportunities.
Yeah, the Bassmaster Classic is kind of a big deal.
Humble Beginnings
It wasn't such a big deal when B.A.S.S. founder Ray Scott held his first Classic, though.
When the pros weighed in during the 1971 Classic at Lake Mead, only a few spectators gathered to watch.
That was understandable, given the lack of pre-tournament publicity about where the Classic would take place.
In an effort to determine the pros' true fishing ability, Scott kept the location of the Classic a secret until the last minute. In fact, it wasn't until the 24 fishermen boarded a flight and were in the air before Scott revealed where they were headed.
Even the promoter, Scott worked out a plan where each of the participants were provided the same type of bass boat. Each fisherman was limited to four rods and 10 pounds of lures.
Scott also had side attractions, including prizes to the women who brought in the best recipes and dishes.
But it wasn't until Scott abandoned the mystery lake concept and began holding the Classic at announced venues that the attendance grew.
By 2009, 137,000 people attended the championship event and its side shows at Shreveport, La., and pro bass fishing became nationally known.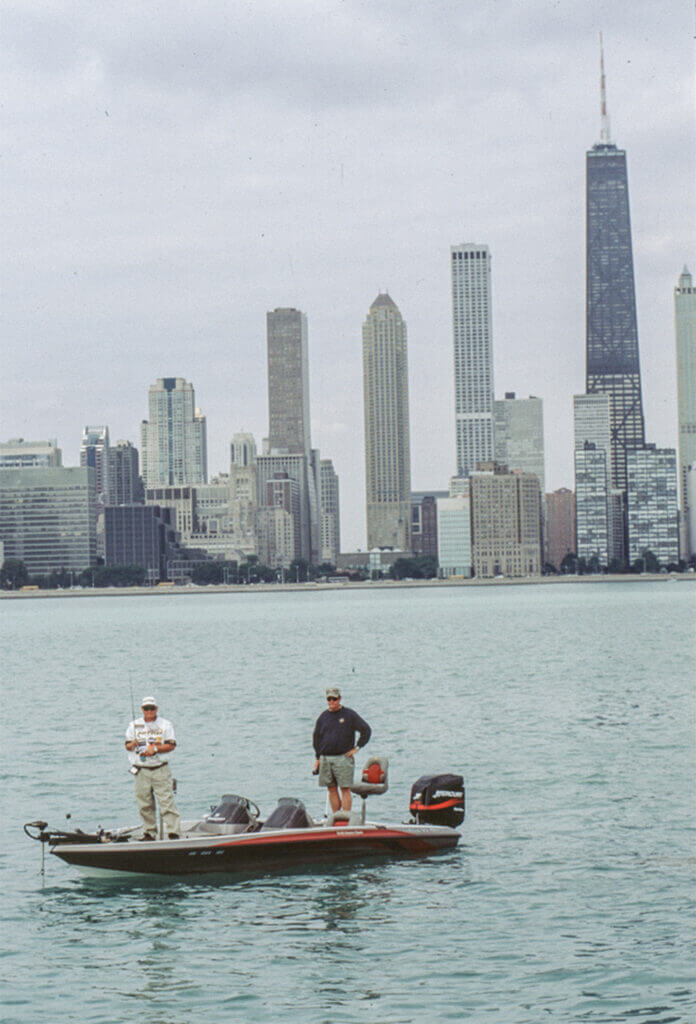 Bass fishing in downtown Chicago? Yup, it happened in 2000 during the Bassmaster Classic. (Photo by B.A.S.S.)
My Most Memorable Classic
I witnessed some of the Classic's finest moments when I was the outdoors editor of The Kansas City Star. But one tournament stands out in my mind: the 2000 event in Chicago.
It was surreal seeing bass boats dwarfed by the skyscrapers in the Windy City, not far from where I grew up. And to watch weigh-ins in Soldier Field, where I had watched the Bears play for years, was something I'll never forget.
I also remember the pros dodging huge freighters on the Chicago River as they headed for their fishing spots. One media member came back with quite a story about a white-knuckle ride he had with one of the pros. (During those days, media members served as marshals).
"We were heading up the river and there were two big freighters up ahead, with just barely enough room for a bass boat to fit through," that writer told me. "I thought, 'Surely, he's going to slow down and idle through.'
"But he didn't. We hit the side of one of those freighters and kind of pinballed through, but everything was OK."
I also remember how kids threw everything from batteries to CDs at the pros as they went under bridges. And many of the country boy pros told stories about the "interesting" refuse they found in the water.
Woo Daves enjoyed his finest moment at that Classic, winning the tournament by catching big smallmouth bass on Lake Michigan.
It was a gamble to bring big-time bass fishing to the big city, and it didn't work. The crowd was sparse at weigh-ins in Soldier Field, much to my disappointment. But it was still a moment I'll never forget.
Catch of the Week
At a young age, Zac Welch already knows what he wants to be when he grows up – a professional fisherman.
He's off to a good start. Welch, 14, attracted national attention recently when he caught a 12.41-pound largemouth bass on O.H. Ivie Lake in Texas.
Welch was fishing with a friend, Holt Teplicek, in a youth tournament when they spotted the fish hovering over a nest.
"We worked that fish for over an hour before she finally ate the (Strike King) Rage Bug I was flipping," said Welch, who lives in Wall, Texas. "She just went crazy. She pulled me into some heavy cover and wrapped the line around a branch.
"But my dad (who was the team's adult observer) jumped in and got her free."
Welch landed the bass only minutes before weigh-ins. They had to race back to the tournament headquarters to assure that their catch would count.
Even then, Welch and Teplicek finished third in the event. But the big bass was an eye-opening addition to Welch's already impressive resume.
He got started fishing with his dad, Will, when he was just big enough to handle a rod and reel. Today, he regularly fishes youth tournaments and has caught some big Texas bass. But none bigger than the one caught recently.
Lure of the Week
An oldie but goodie, the Cotton Cordell Red Fin still catches a lot of bass.
It was one of the first wake baits to hit the market and quickly made a splash in the bass fishing world. In recent years, it has been overshadowed by new surface baits. But it is still effective.
In the clear Ozarks reservoirs, fishermen still use the Red Fin early in the morning to create a wake and imitate a struggling shad. It's especially effective when it's worked over the top of flooded timber in deep coves.
That's a wrap. We'll be back next week to talk about the Bassmaster Classic results, more big catches, and some hot lures. If you have a picture of a big one you want to show off, reply to this email and I'll get it.
Until then, keep those lines tight.