When Chris Zaldain targets trophy bass, he often casts lures as big as the fish some anglers catch.
We're talking big swimbaits–soft-plastic baits up to 12 inches long.
That's Zaldain's specialty; he has the logbook to back it up. His personal best largemouth weighed 14 pounds, 1 ounce.
But he also has caught and released three bass in the 13-pound range, a couple more weighing 12, and several others in the 11-pound category.
All would be the catch of a lifetime for most bass fishermen.
Zaldain, a veteran fisherman on the B.A.S.S. Elite Tour, was born and reared in California. And he got to know his neighbors–a thriving population of trophy bass–real well.
"I was fortunate enough to grow up an hour from the California Delta and three hours from Clear Lake–two of the best bass fisheries in the country," said Zaldain, who now lives in Fort Worth, Texas.
"For me, that was a goldmine. California's warm climate and the trout-stocking program were the recipe for massive bass.
"You couldn't ask for a better place to learn to bass fish."
That experience in the Golden State has paved the way for a successful career in pro fishing for Zaldain.
Since qualifying for the Elite Tour in 2012, he has finished top 10 in 19 tournaments and has amassed over $1 million in winnings.
Want to catch a big one? Zaldain is the guy to talk to.
---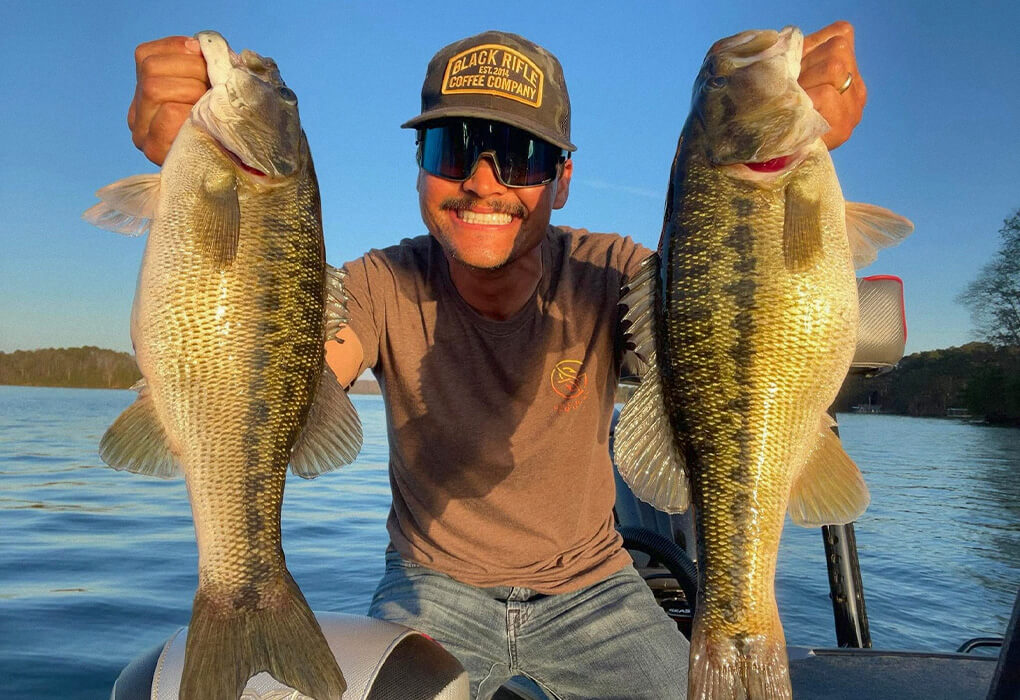 California was a good training ground for bass fishing pro Chris Zaldain (photo courtesy of Chris Zaldain)
A Memorable Start
Let's start with a fish story.
Picture the neighborhood kids riding their bikes to a small creek together. One of them shares a handful of plastic worms he took from his dad's tackle box.
A young Chris Zaldain rigs up one of the worms Texas-style, just like he had seen on a TV show. On his first cast, his lure lands unceremoniously in a tree hanging over the water.
"I was shaking that branch to try to get loose, and my plastic worm was splashing around on the surface," said Zaldain, who lived in San Jose, Calif., at the time. 
"All of a sudden, a bass came up and just ate that thing. I couldn't believe it.
"It looked huge when I got it in, but it was probably only 3 pounds. Still, it was a moment I'll never forget. I remember thinking, 'How cool is that?'
"After that, I was hooked."
Zaldain quickly realized how fortunate he was to live in northern California.
He was surrounded by good bass water, ranging from small clear-water lakes teeming with spotted and smallmouth bass to sprawling, dirty-water areas such as the California Delta.
"You pick a technique mentioned in Bassmaster Magazine, and you could catch bass on it somewhere in California," he said.
"The state has a remarkably diverse bass fishery. You can find just about every situation there.
"Before long, I was learning how to drop shot, use swimbaits, work finesse baits, flip and pitch, everything."
"It was a great place to learn."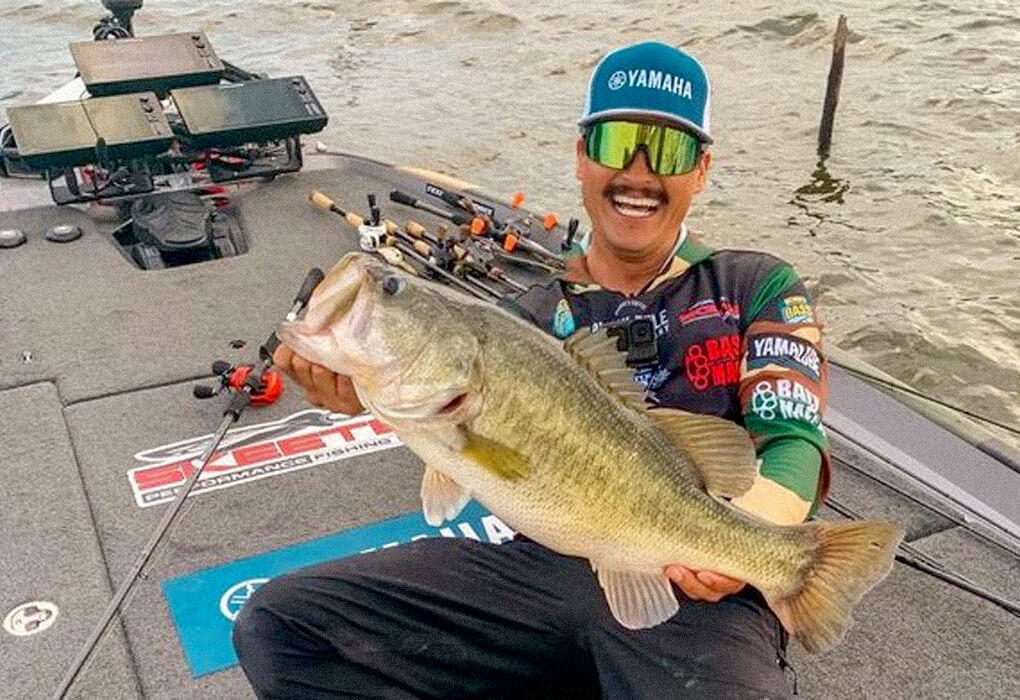 Chris Zaldain uses big swimbaits to catch trophy bass at places such as Lake Fork in Texas (photo by B.A.S.S.)
Riding the Swimbait Craze
In the late 1990s and early 2000s, big plastic swimbaits were just starting to make waves in California. And Zaldain was among those who perfected how to use them.
"They weren't as lifelike as they are now," Zaldain said. "But it didn't really matter."
"They were a new profile for these bass. Most of them were in trout patterns to imitate the rainbows that were being stocked. The bass would feed on those stocker trout, and that's why swimbaits worked so well."
Zaldain first found success on a 9-inch Osprey swimbait; then, he was fortunate enough to get his hands on one of the high-dollar Huddleston baits.
He caught a 14-pound bass on the latter and added three fish in the 13-pound range for good measure.
"I did a lot of damage on that bait," he said.
He learned through experience how to use the popular baits to call in the big ones.
He also perfected his equipment. He started with a flipping stick, 20-pound-test monofilament, and a small reel.
Now he uses an 8-foot 13 Fishing Omen heavy-action swimbait rod and the company's Concept A3 casting reel, designed for tackling giant fish, whether muskies, saltwater species, or double-digit bass.
He uses 25-pound test Seaguar AbrazX fluorocarbon line and launches long casts.
Zaldain has added one more weapon to his arsenal. He designed a swimbait for Bass Mafia and has already caught big bass on the prototype.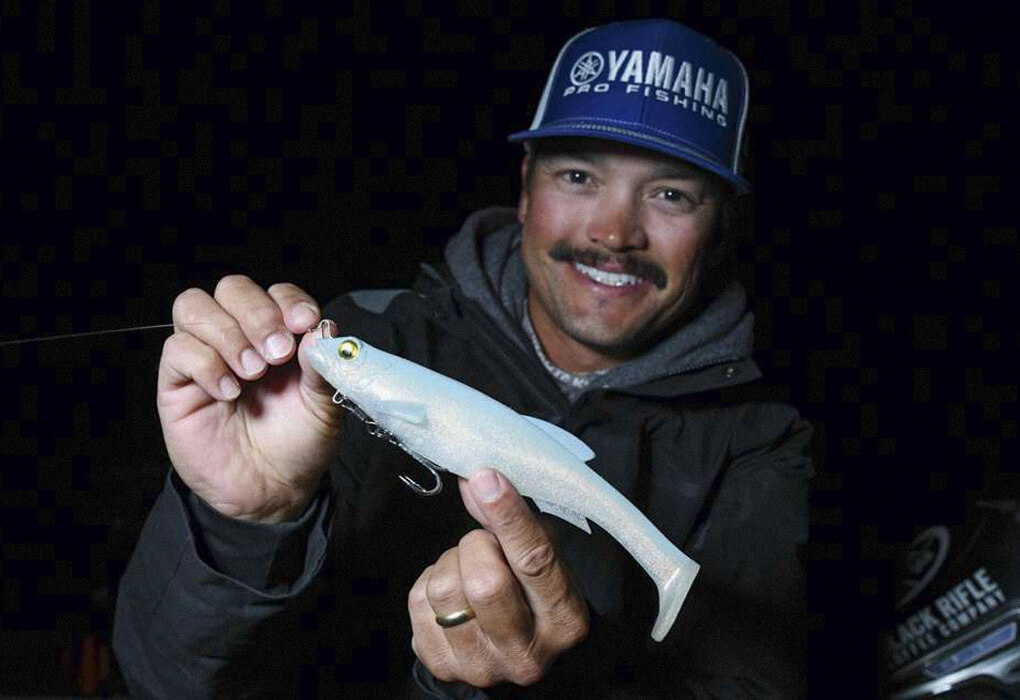 Chris Zaldain displays one of the swimbaits he uses to catch big bass (photo by B.A.S.S.)
Keys to Swimbait Success
For as alluring as swimbaits might be, there are limitations, Zaldain said.
They won't work everywhere, anytime. There are keys to fishing them.
You need to fish them in a place with a good bass population big enough to take a bait of that size. "I look for a fishery with good numbers of 5-pound-plus bass," Zaldain said.
Zaldain also targets fisheries that have good populations of trout or gizzard shad.
Swimbaits are most effective in pre-spawn and post-spawn phases, Zaldain said. His favorite months for fishing them are February and March and May and June.
Zaldain likes to fish "uphill"–that is, positioning his boat in the shallows and casting to deeper water.
He lets his swimbaits sink after he casts and tries to retrieve them close to the bottom unless he marks suspended fish on his forward-facing sonar.
There are exceptions, of course. But those are the optimal conditions.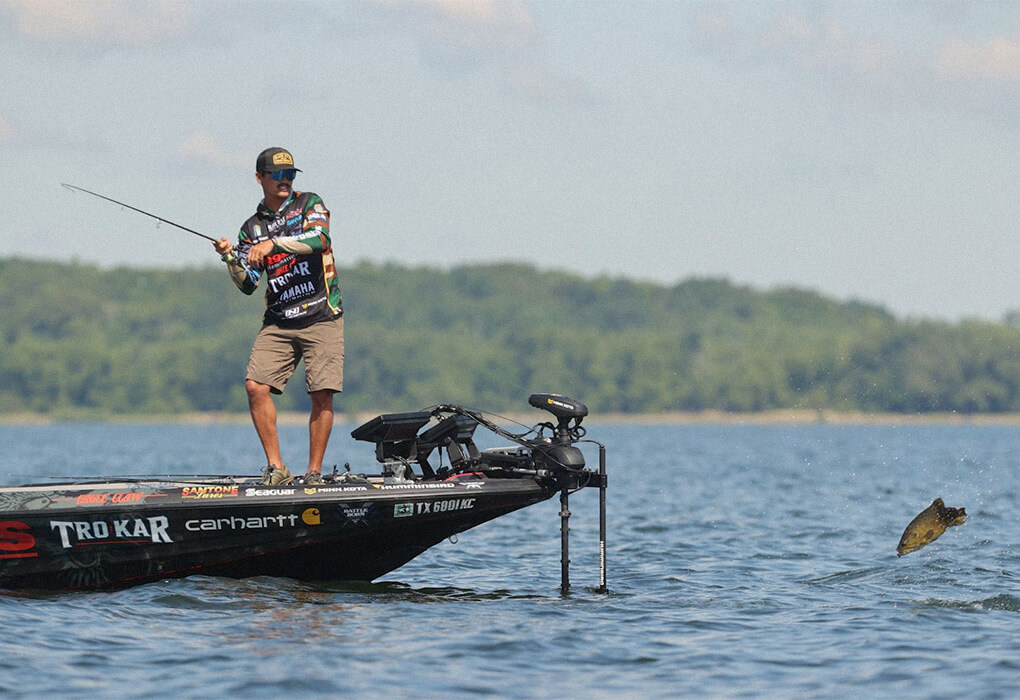 Chris Zaldain is known for his use of big swimbaits. But there are times when smaller finesse swimbaits will catch big bass, too (photo by B.A.S.S.)
Bigger Isn't Always Better
Zaldain doesn't always throw the biggest lure in his tackle box.
He also enjoys downsizing his equipment and using smaller swimbaits for smallmouth and spotted bass.
"I love light-line fishing," he said. "There's something about clear water that scares a lot of Southern anglers, but I've caught a lot of big fish in those conditions."
When he is fishing clear water, Zaldain drops down to spinning equipment with 10-pound braided line and an 8-pound-test fluorocarbon leader.
He will use small swimbaits or drop-shot with various plastic baits.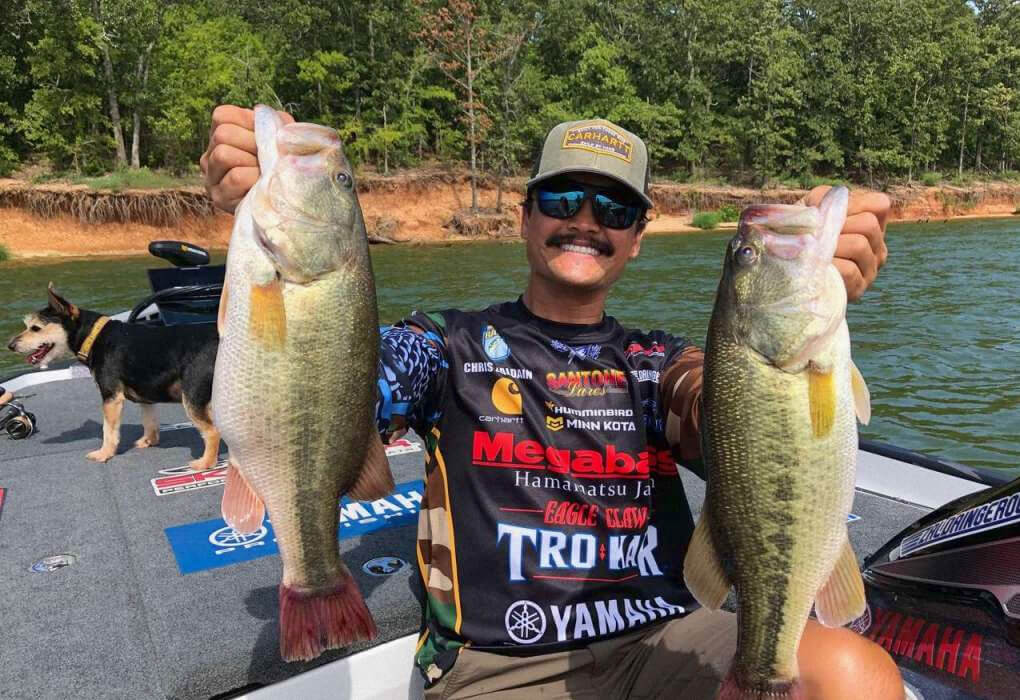 Chris Zaldain follows a routine when fishing new water (photo by B.A.S.S.)
Where to Start?
When Zaldain is fishing unfamiliar water, he often starts with the main-lake points or the original river channel.
"Everything in the lake relates to those spots," he said. "A lot of times, there is current in that river channel; it's just something we can't see. But that current will attract fish.
"My philosophy is that the biggest bass will always be on the main lake."
Often, Zaldain will fish within sight of the dam.
And if he fails to get bites there? The second place he will fish is secondary points.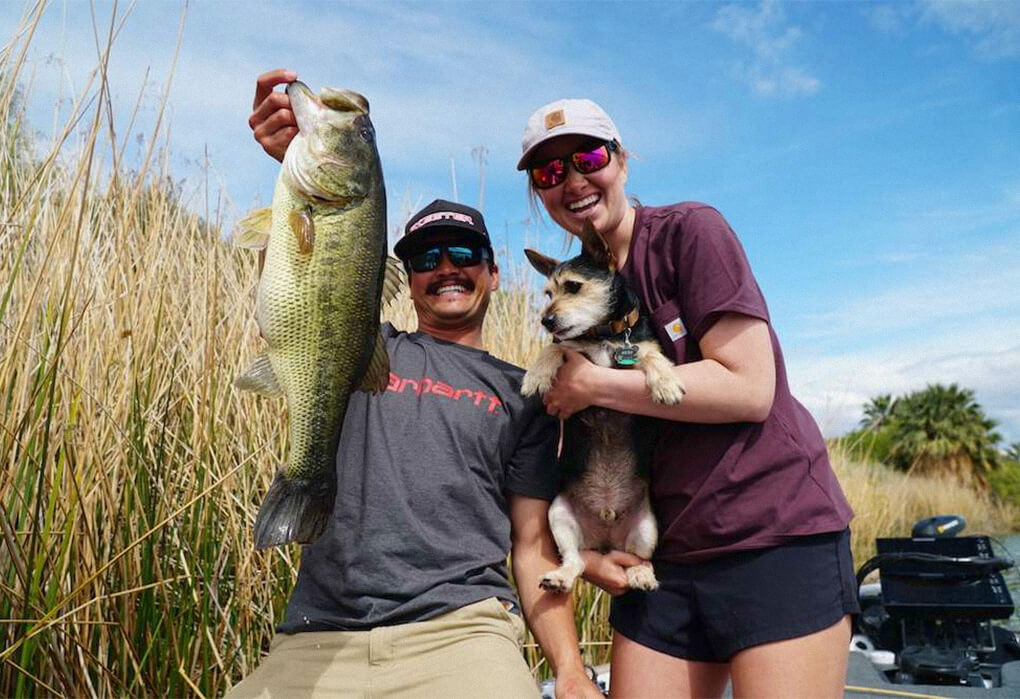 Meet the Zaldains–Chris, his wife Trait, and their fishing dog, Nebo (photo courtesy of B.A.S.S.)
Team Zaldain
When Zaldain was trying to get a date with the woman who is now his wife, he used unusual bait: fish pictures.
"I met her at one of the Bassmaster Opens; she was fishing, and she kind of brushed me off," Zaldain said with a laugh. "I had to send her some big-fish pictures to get her interested.
"We started fishing together, and we hit it off."
Today, Chris and Trait Zaldain are quite a team. Trait is an excellent angler in her own right, having competed in Bassmaster Open tournaments with her dad.
Now she helps Chris with the business side of his operation and fishes with him whenever she gets a chance.
The couple's rat terrier, Nebo, is usually along for the ride. The Zaldains have two other dogs, but they often are left on shore.
"They like to swim too much, and that disrupts the fishing," Chris said.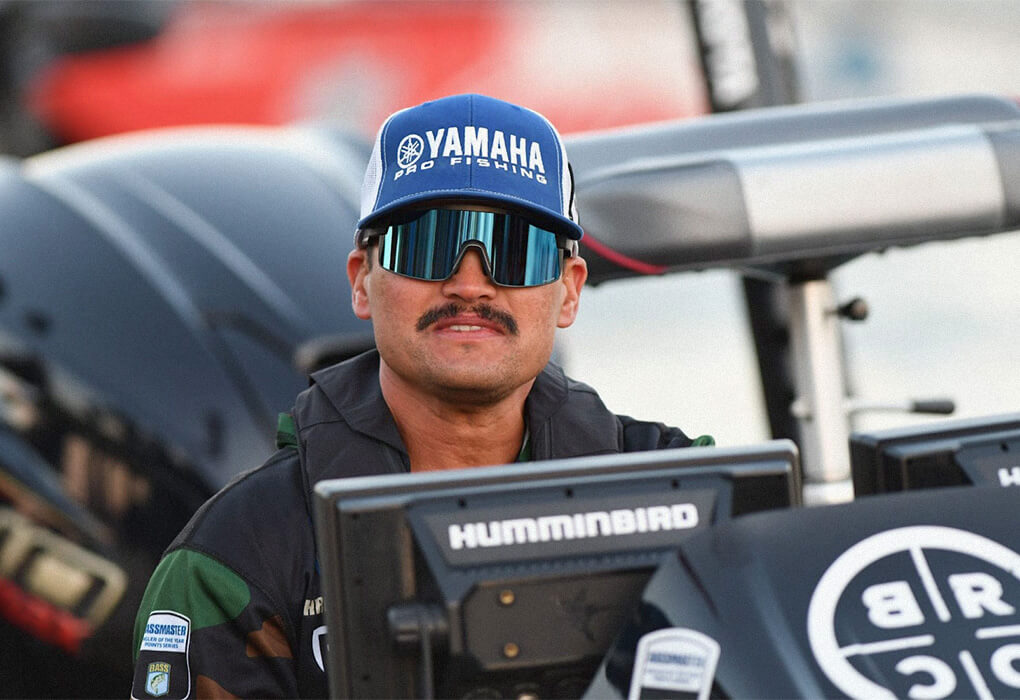 Chris Zaldain advises beginners to match the color of the bass' forage when starting out (photo by B.A.S.S.)
A Tip for Beginners
Zaldain recommends that beginners keep it simple when getting started.
He said they don't need to buy every color of lure on the shelf. Instead, start with the basics.
He recommends green pumpkin for clear water and black and blue for dirtier water for soft-plastic baits and jigs.
For hard baits and spinnerbaits, he suggests white for clear water and white and chartreuse for dirtier water.
"With those four color patterns, you will catch bass," he said.
That's a Wrap
When it comes to swimbaits, Zaldain is the guy to talk to.
He has won thousands of dollars on the pro circuit throwing the oversized lures, and he continues to search for new applications for the baits.
But he will be the first to tell you they are no magic bullet. There is a time and a place to use swimbaits, and he outlined his tips in the text above.
The next time you fish a lake with big bass, follow Zaldain's advice and see what happens. You might catch the fish of a lifetime.
Until next time, keep those lines tight. And get back to us in the comments section below when you catch a big one.