So, you think the life of a pro bass fisherman sounds glamorous?
Check out Brandon Palaniuk's lifestyle in his early days on the B.A.S.S. tour. Instead of a motel room, he slept in his truck. Instead of nice meals at restaurants, he made tomato soup out of boiling water and ketchup packets and main courses out of dehydrated food.
That was his life when I fished with him on Lake Okeechobee for a story in 2012. I felt almost guilty when I went back to my comfortable resort with my wife at the end of the day.
But hey, when you're scrimping to afford life on the pro tour, that's what you do.
"I didn't have a lot of financial backing when I got started," said Palaniuk, 34, who lives in Idaho. "I was going to do everything in my power to make it work.
"The only glamor I cared about was walking across that stage."
He's done that many times in his B.A.S.S. career. Today, he is one of the top pros on the circuit, and you should see where he and his wife stay when they're on the road now. It's a little different than the back of his truck. We'll talk about that later.
This week, we're going to look at Palaniuk's rags-to-riches story, get some fishing tips, look at a few of his favorite lures and get some insight on what it takes to be a pro.
So pile on some clothes, hop into the boat and get ready for a brisk ride. The fish are still hitting.
– Brent
---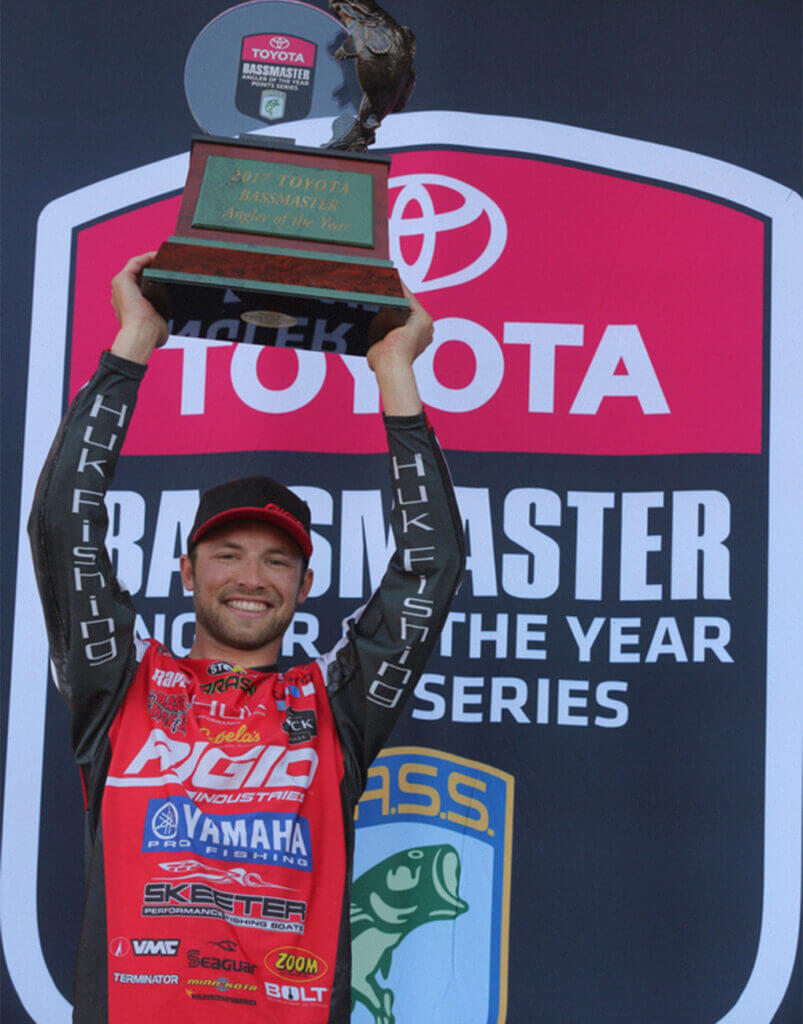 Brandon Palaniuk was all smiles after winning the Bassmaster Elite Series Angler of the Year trophy in 2017. (Photo by Seigo Saito/B.A.S.S.)
From Idaho To Stardom
Idaho isn't exactly known as a breeding ground for professional bass fishermen. It has some great trout streams and some big salmon, but bass? Not a lot.
But as unlikely as that might seem, that's where Brandon Palaniuk got his start.
"We had a family friend who fished in tournaments here in the Northwest region, and he took me out fishing for bass for the first time when I was 8," Palaniuk said. "We fished on a little lake called Lake Hayden.
"I remember it like it was yesterday. I caught a 4-pounder from the back of the boat and I was just thrilled.
"To this day, I catch bass out of that same bush where I caught my first one."
That experience inspired Palaniuk to set a career path. He joined a local bass club and at age 16 became one of the youngest anglers to fish what is now known as the B.A.S.S. Nation. That circuit consists of bass-club fishermen who compete on a circuit in their region.
If they're good enough, they can advance through a gauntlet of local and regional tournaments and qualify for the nationals. Then, if they win the nationals, they advance to the Bassmaster Classic, where the top pros compete.
Palaniuk was good enough. He won the B.A.S.S. Nation championship tournament in 2010, and he was on his way. He finished fourth in his first Bassmaster Classic, then went on to the Elite pro series in 2011.
Since then, he has won five national tournaments, finished in the top 10 in 28 tournaments and won the Bassmaster Angler of the Year title in 2017.
He owes his success to the difficult path he had to take to make it to the big-time.
"When you're brought up in a place like Idaho, where there isn't a lot of bass water, you have to be versatile to get them to hit," he said. "You have to try different things, because they've seen a lot of lures at the places that do have bass.
"That taught me a lot."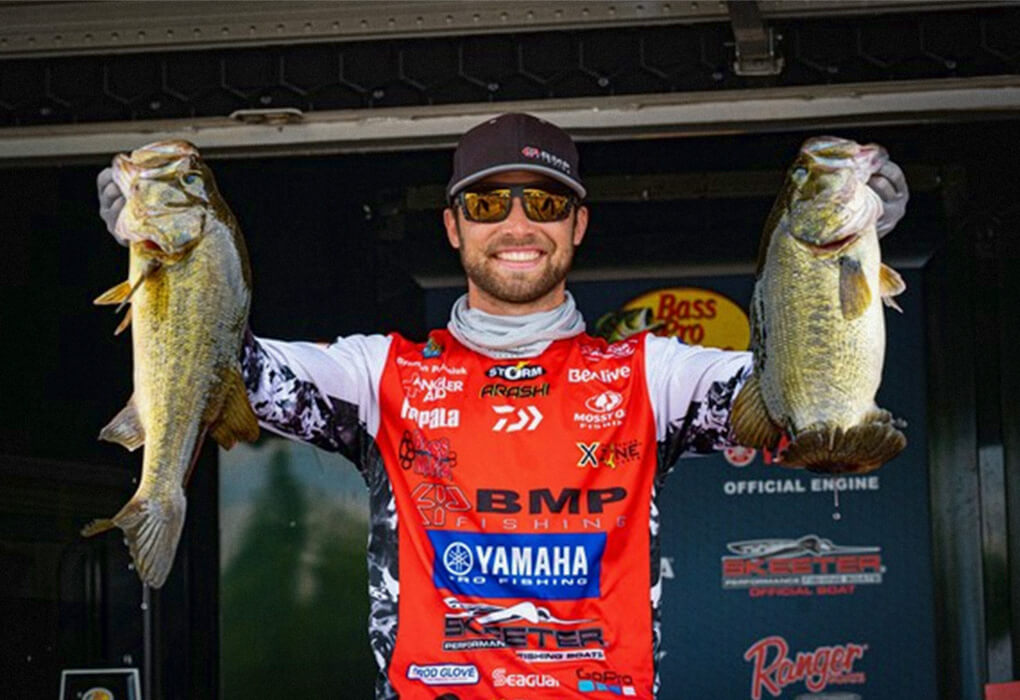 Brandon Palaniuk considers the drop-shot rig his most-reliable bass bait. (Photo by Brenden Kanies/B.A.S.S.)
Getting The Drop On Bass
Ask Palaniuk about his go-to bait for bass fishing, and he often talks about the drop-shot rig.
The rig features a weight on the bottom and a small hook tied about 12 to 16 inches above.
The idea is to get finesse baits off the bottom and make them more visible to bass. Because the baits are often presented in a horizontal way, they tend to display tantalizing movement with the slightest vertical presentations from fishermen.
"I've probably won more money on a drop-shot than any other bait," Palaniuk said. "It looks like an easy meal to bass. It's floating there, just barely moving, and you can keep it right in their strike zone."
Palaniuk's favorite drop-shot bait is an X-Zone Deception 6-inch straight-tail floating worm.
Palaniuk often uses a medium to medium-light action spinning rod, with a compact reel with a good drag system.
He likes to use 15-pound-test Seaguar Smackdown braid in the Flash Green color, so he can detect subtle bites. He uses a 12-foot fluorocarbon leader of 6-, 8- or 10-pound test, depending on the water clarity.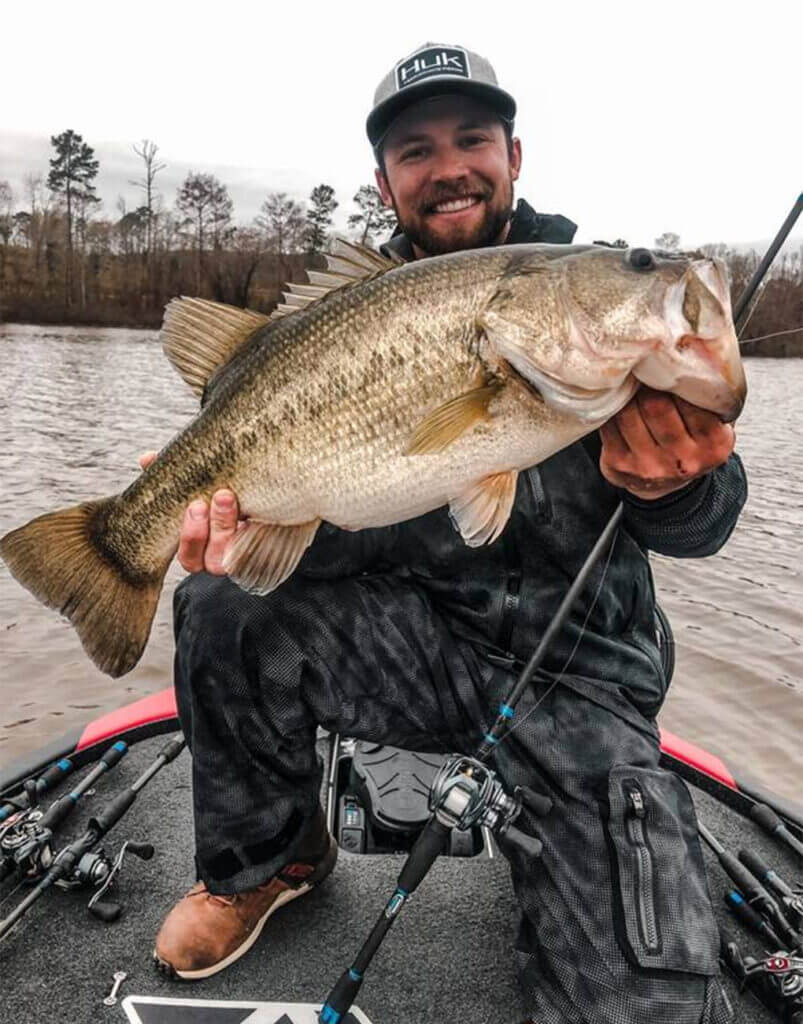 When Brandon Palaniuk targets big bass, he casts big baits. (Photo courtesy of Brandon Palaniuk)
Big Baits = Big Bass
Looking to catch the bass of a lifetime? Try casting a bait about the size of the fish some anglers catch.
We're talking about a swimbait as big as 10 to 12 inches long. That's what Palaniuk does.
He uses slightly smaller glide baits in tournaments, but when he is fishing for fun, he goes to the jumbo sizes.
"I use the 10- to 12-inch baits when I'm fishing for fun, but I usually don't throw them in a tournament because they limit the number of bites you will get," Palaniuk said. "But I'll use 7- to 8-inch baits in tournaments and I catch a lot of fish on them."
Palaniuk's favorite is the Storm Arashi Glide Bait, a jointed hard bait he helped develop that swims in a S pattern when retrieved. He throws it over ambush spots, whether it be a laydown, a dock, a bluff wall or a long point with a dropoff.
Palaniuk's personal-best bass, weighing 12 pounds, 4 ounces, was caught on an 8-inch swimbait on Lake Travis in Texas.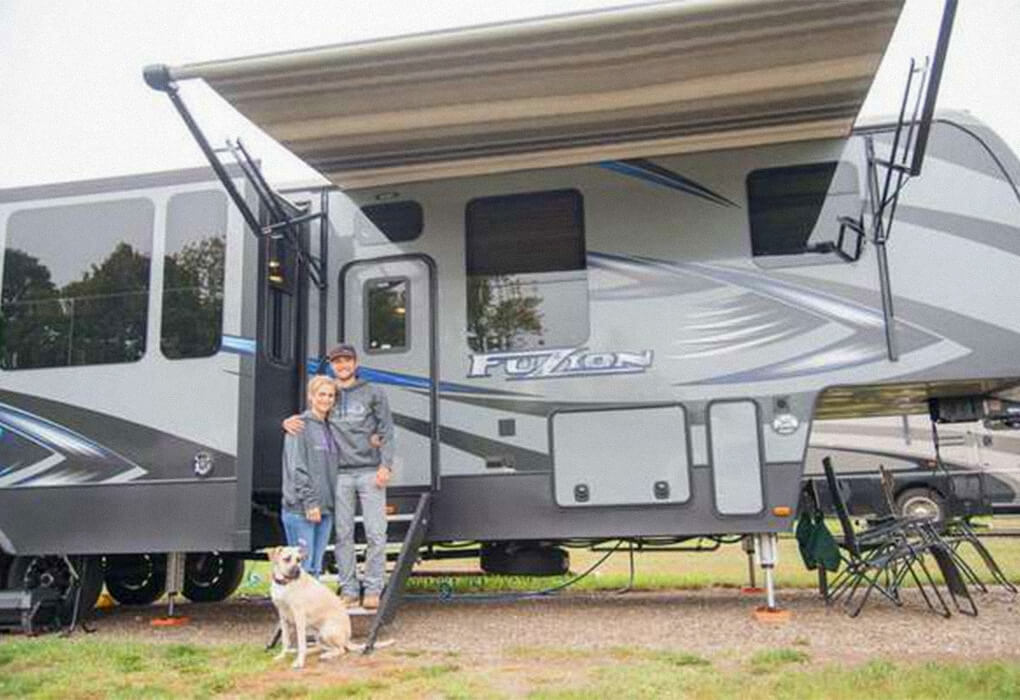 Brandon Palaniuk and his wife Tiffanie stay in a luxury RV when they travel these days. (Photo by Garrick Dixon/B.A.S.S.)
The Camping Lifestyle
Life at the campground is quite a bit different these days for Palaniuk.
Remember the times when he slept in the back of his truck? Well, he has upgraded to a 43-foot-long fifth wheel RV.
He and his wife Tiffanie stay in that luxury home-on-wheels for nine months of the year during the fishing season. Their Keystone Fuzion Toy Hauler features three slide-outs, two full bathrooms and bedrooms, satellite TV, a kitchen with a cooking area and refrigerator, and comfortable furniture.
"I've gotten out of sleeping in the back of my truck, in hotels and in rental houses to having our own place on the road," he said. "It's a better way of life.
"I get off the water and I can sleep in my own bed. It's consistency, which helps my performance.
"We have everything we need to survive anything except for a tornado, a hurricane or a Zombie apocalypse.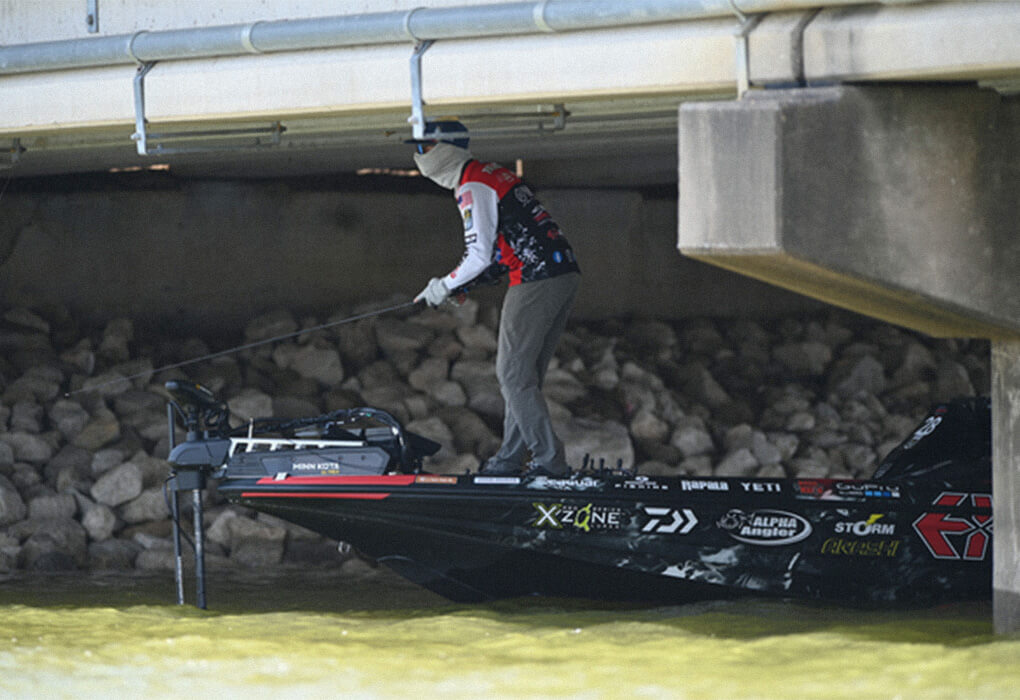 Brandon Palaniuk knows that hard-to-reach places occasionally hold big bass. (Photo by Chris Brown/B.A.S.S.)
Tips for Cold-Water Bassin'
When cold weather sets in, that doesn't always spell the end of the bass-fishing season.
Even in water less than 50 degrees, there are ways to catch them. The first step is finding the baitfish. Palaniuk often finds that forage around vertical structure–places that allow bass to slide up and down in the water column without exerting much energy.
"Places like a ledge, a bluff, a sharp dropoff can be good," Palaniuk said.
He often uses baits that he can retrieve slowly in the cold water–a suspending jerkbait such as the Rapala Shadow Rap Deep, or a drop shot or a Ned Rig.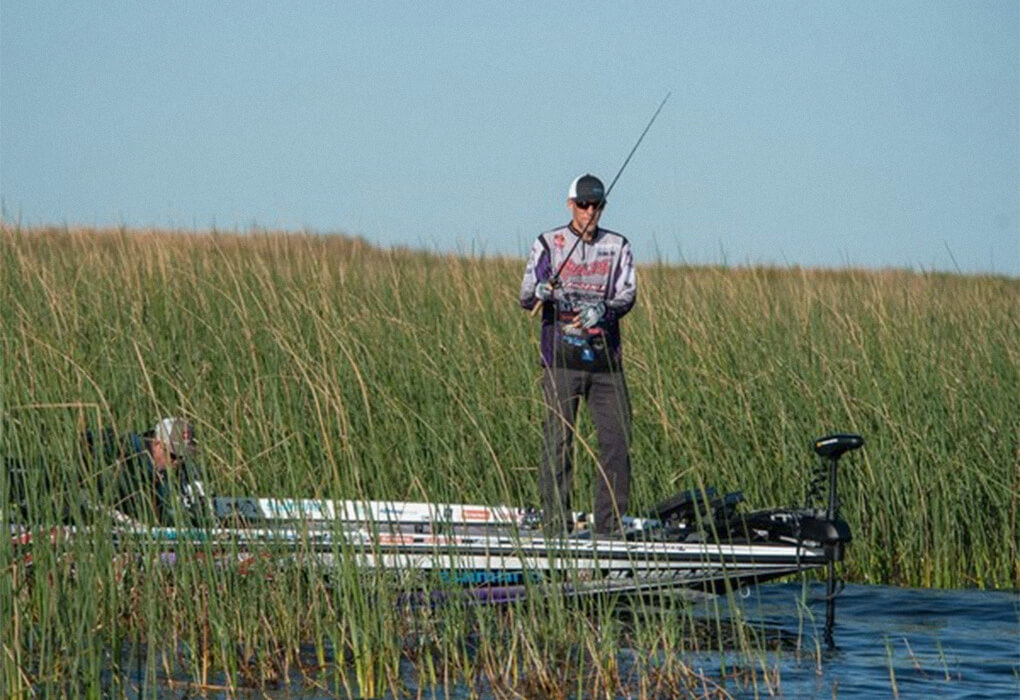 Aaron Martens, a bass-fishing legend who passed away in early November, will be remembered as a pro who took advantage of the clues nature presented. (Photo by Garrick Dixon/Major League Fishing)
Remembering Aaron
When I look back on the late, great Aaron Martens, I smile when I recall one of his greatest moments.
He was fishing in a Bassmaster Elite tournament at Lake Havasu in Arizona, when he caught bass on the most unusual pattern.
I called it "the baby bird pattern."
Observing that bass were feeding on baby blackbirds that fell out of their nests in heavy vegetation, he went to a bait that imitated the fledglings.
He started pitching a heavy jig in a color that imitated the baby birds and caught enough bass to win the four-day tournament.
"I don't know why people don't believe me," he later told reporters. "Birds are definitely part of their (bass') diet.
"I've caught them in California and had them spit up full-grown blackbirds."
Martens paused and added, "Maybe it's such a good pattern because so many people don't believe it."
Martens passed away on Nov. 4 after a long fight with brain cancer. We'll miss his outgoing personality, his passion for bass fishing and his innovative ways to catch the big ones.
That's it for now. Please fill out our weekly survey and let us know how we are doing.
Tight lines.