Are you a newbie when it comes to bass fishing? We can help. With summer under way, lots of people will be bass fishing for the first time.
We're dedicating this newsletter to inexperienced bass fishermen who are looking to cut through the hype and red tape.
If you catch a big one, send us a photo and some details about how you caught it by hitting "reply" on this email. We'll give you some pub.
---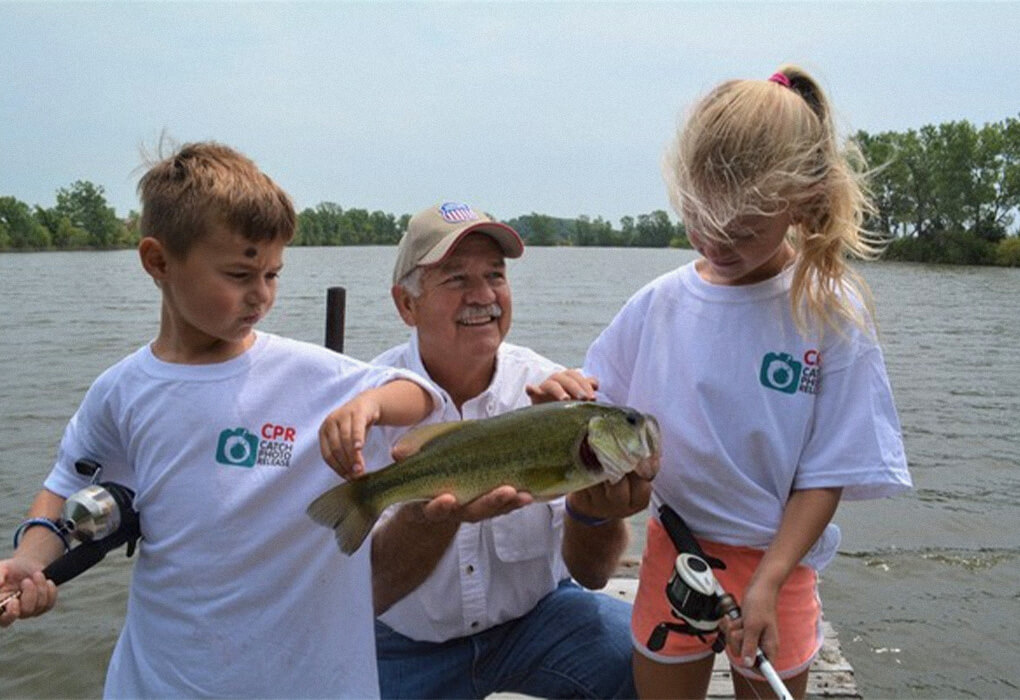 A farm pond or a small lake is a great place to get started in bass fishing. (photo by Brent Frazee)
Starter Kit
So, you are a newbie to bass fishing and you are feeling a bit overwhelmed.
You walk into a big tackle shop, and you see the array of lures, the sleek bass boats and the latest electronics, and you think you'll have to take out a second mortgage to do well in this sport.
Not true. There are ways to catch lots of bass without breaking the bank. Here are a few tips.
You don't need a $50,000 bass boat to catch fish. Get started by fishing off the bank. Instead of a large reservoir, look for a smaller body of water such as a state fishing lake, a farm pond or a community lake.
Don't start with an expensive baitcasting rod and reel. Instead, get a medium-light spinning rod and reel spooled with 6-pound test line. That setup is light enough to handle but still sturdy enough to land a keeper bass.
When it comes to lures, start with the basics. One of the baits I always recommend for beginners is the Ned Rig. It is a fishing lure at its simplest, consisting of a plastic bait attached to a pill-shaped, light jig head. When retrieved slowly, it will garner a lot of bites and will provide a good starting point for beginners.
Learn when to fish. A beautiful, sunny day might seem great for the fisherman, but it isn't for the bass. They often are light-sensitive, especially in clear water. Get up early and fish at dawn or wait until dusk. If your schedule doesn't allow for those times of the day, wait for an overcast day and go out.
Research what the bass are feeding on at the lakes you want to fish. Shad or crawdad imitations are popular because they are a major forage base at many reservoirs.
Also study the effects of water temperature. Spring is often the best time to fish because the bass are in the shallows to feed and spawn. But that doesn't mean they can't be caught in the summer. At dawn or dusk, the fish often rise to the surface to chase shad or other baitfish. That's when topwater lures can produce explosive strikes.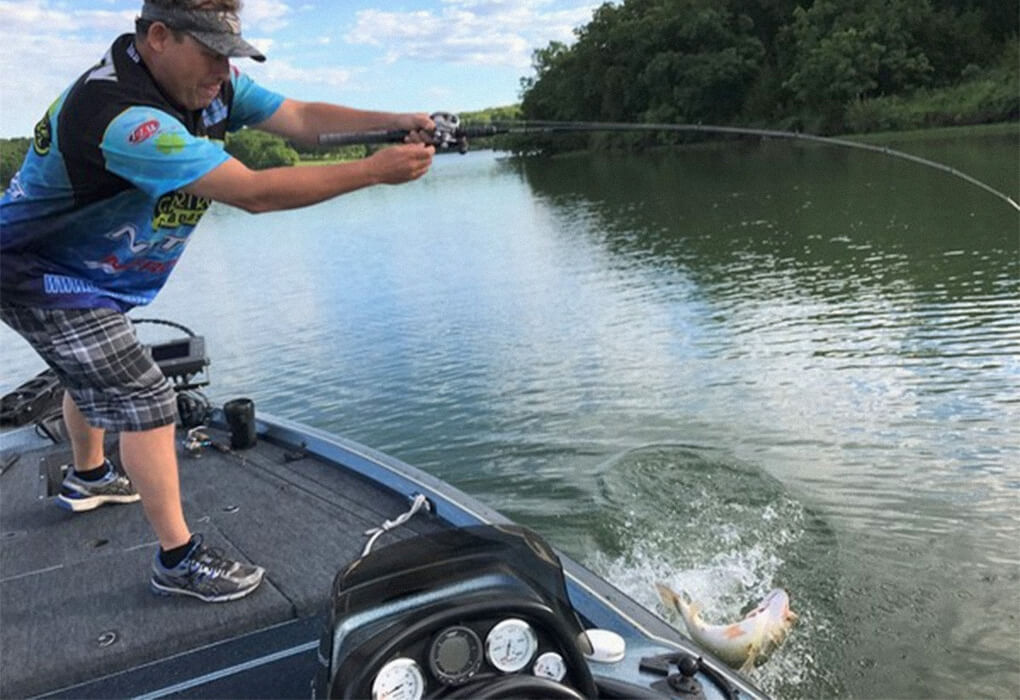 Fishing from an aluminum bass boat on a small lake can be a great way to catch big bass. (photo by Brent Frazee)
Beginner Stage, Part 2
OK, you've caught bass on small bodies of water and you're ready to move on to larger lakes and reservoirs.
You're ready to buy your first boat. My advice, don't go for the biggest, shiniest toy and you can find. Yeah, you might be styling in your new ride, but it's better to progress in steps.
I advise finding a used aluminum bass boat. They generally have the features of the fiberglass models—a live well, rod storage, trolling motor, and even a low-priced fish finder—but at a fraction of the price.
Then spend plenty of time on the water. There's no substitute for experience.
Study the best lures for the time of the year you will be fishing and try to use them in the right places. For example, the large numbers of bass you caught in the shallows during spring probably won't be there in the heat of summer. They will move deeper and will often relate to drop-offs, humps, road beds or isolated brush piles.
Finally, don't try to learn a large reservoir all at once. It will likely lead to frustration.
"Find a creek arm or cove that offers lots of options and try to learn that area as best you can," said Brent Chapman, one of the top fishermen on the Major League Fishing bass circuit. "If you try to cover a big lake from the start, you're spreading yourself too thin.
"Learn one small area and catch some bass there, then look for similar areas elsewhere and apply what you've learned."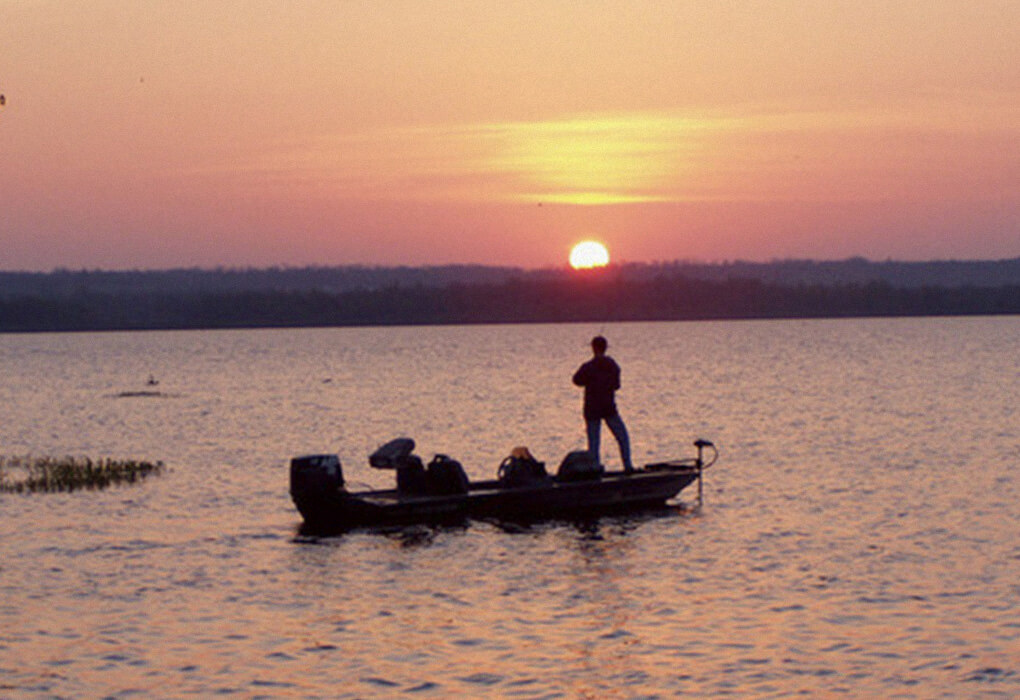 When all else fails, try fishing points. (photo by Brent Frazee)
Getting To The Point
So, you're still having trouble locating bass? There is one spot that seldom fails to hold fish—points.
"Any time of the year, you can't go wrong fishing a point," Chapman told Your Bass Guy. "There almost will be bass relating to the structure on a point."
Chapman likes to fish points that offer depth options.
"They might be shallow one day, then out in 30 feet of water the next," he said. "But they're still relating to that point."
If you mark shad on your sonar unit, bass usually won't be far away. It's up to you to figure out how to catch them.
Lure of the Week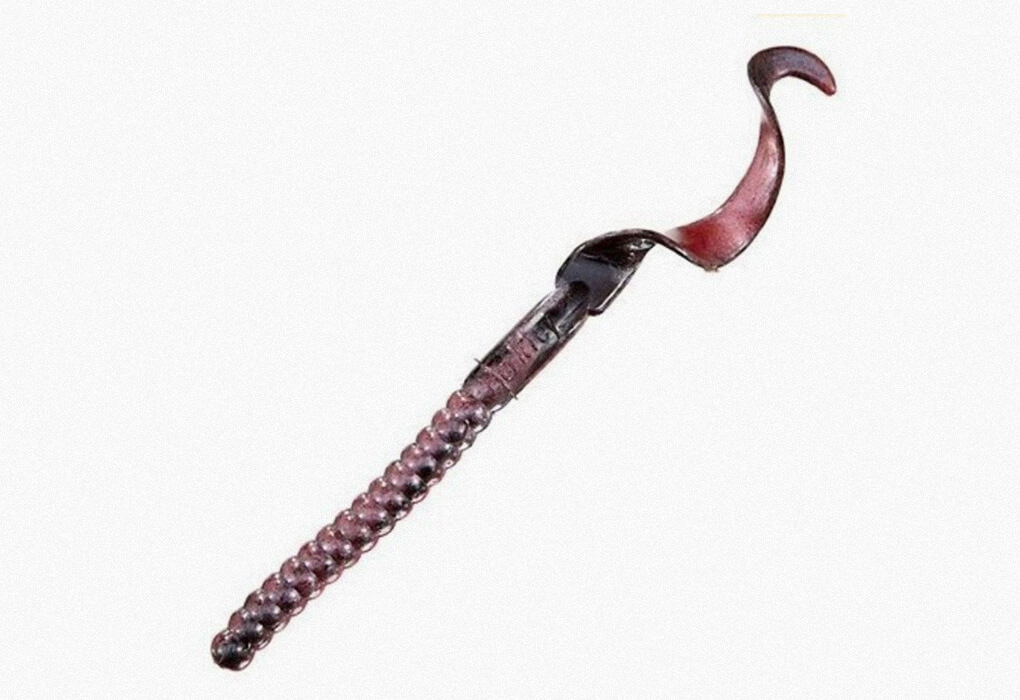 The Berkley Power Worm
We're going to stay with our beginners' theme here and put you on a lure that is identified with summer—the plastic worm.
To be specific, we're going to go with the 7-inch Berkley Power Worm. Made of plastic infused with the Power Bait substance that makes fish hold onto the bait longer than others, it is a proven bass-catcher.
Rigged Texas-style, with the barb of the hook buried in the plastic, the plastic worm often is used with a 3/8th-ounce bullet weight and 12- to 20-pound test line, depending on the type of cover you're fishing.
The nice thing about fishing the plastic worm is that there really is no wrong way to fish it. Many fishermen cast it into the gnarliest cover they can find—the brush piles or flooded timber that other anglers avoid.
But others will merely let it sink, then steadily retrieve the worm just above the bottom.
Don't Forget the Live Bait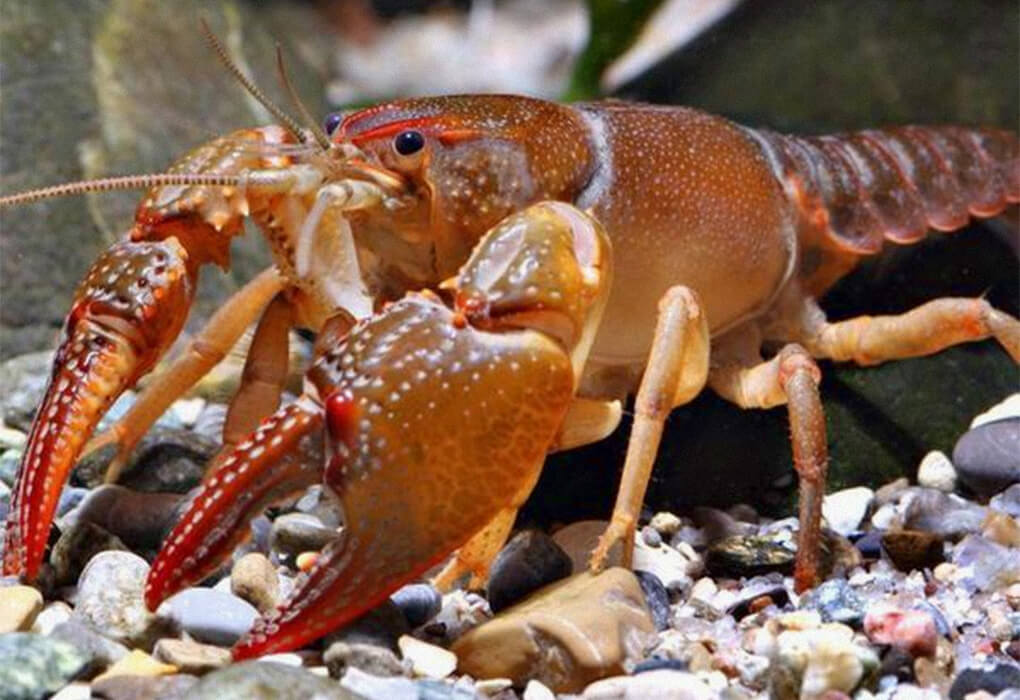 Crawdads can be an effective bass bait. (Photo by Missouri Department of Conservation)
I remember the time I got a lesson about the effectiveness of live bait.
We were floating a stream in the Arkansas Ozarks and we were using plastic crawdad imitations with little success. We pulled over onto a gravel bar for a lunch break and I began to turn over rocks to see if I could spot crayfish.
I found a wealth of the small crustaceans, the same shape and color of the imitations we had been using. I decided to put one of the live crawdads on a small hook and let my line drift into an eddy.
I immediately got a hit and I pulled in a 13-inch smallmouth bass. That was no fluke. I continued to collect bait and caught several more fish before it was time to move down stream.
The moral of the story: Sometimes it's hard to beat the real thing.
Bass fishermen tend to stick up their noses at live bait because it is not allowed in most tournaments. But if an angler is just fishing for fun, bait with some life to it can be the way to go.
My personal best largemouth bass, which weighed 11 pounds, 1 ounce, was caught on live bait years ago on the St. Johns River in Florida. I was fishing with a golden shiner under a big balloon that served as a bobber.
I also remember days when my dad and I used nightcrawlers to catch bass along a windy bank near our cottage in Wisconsin.
And I have used big shiners to lure big bass many times on small bodies of water when I was just starting to fish.
Yeah, it's fun to use artificials to fool the bass into thinking they are eating the real thing. But sometimes, there's no substitute for the real thing.
Give life bait a try the next time the fishing slows down. You might be surprised at what you catch.
That's it for now. Good luck with your fishing this weekend. I hope you catch a big one, then send me a photo so I can feature your catch on the next newsletter.
See you on the water.