You would think the heat of summer would be a terrible time to fish for bass in Florida. But there are exceptions to every rule.
This week we'll feature a fisherman who caught a trophy largemouth in hot water. And that was no accident. He has a set strategy when he chases the big ones.
We'll also look the effectiveness of fish attractants, a plastic worm that has been around for years, and an outbreak of COVID on the pro fishing tour.
And we're starting a new features this week, Kids stuff, where we'll feature junior bass fishermen. If you would like to participate, send of a picture of your little one with a bass and a little information about how the fish was caught, and we might include it in an upcoming newsletter. Just hit reply to this email, and we'll get it.
Enough talk. Hop into the boat and let's get going.
Brent
P.S. Don't forget to forward this email to a fellow angler if you feel I did a good job with this edition. Would make my day.
---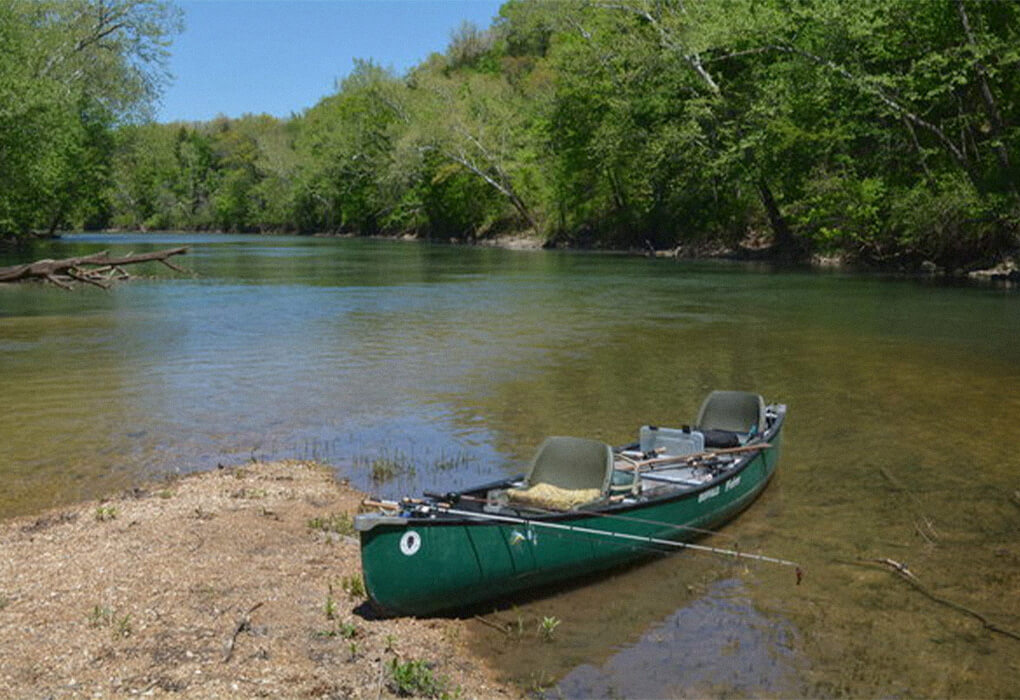 A summer day, a cool stream and a canoe. It's time to go fishing. (Photo by Brent Frazee)
Deals of the Week
Note to beginners: You don't have to be wealthy to catch a fish.
There is some good, quality equipment out there to help you get started. True, it's not as good as the high-dollar stuff. But it's a starting point.
Here are some deals:
An affordable spinning rod: Kastking is selling its Royal Legend spinning reel for $34.99. It's a reliable brand, and the reel is getting good reviews.
Crankbaits: If you're looking to add crankbaits to your tacklebox, Discount Tackle is offering 25% off on select Strike King and Rapala crankbaits. A word of advice: The offer is good for only a portion of the color patterns. Scroll through the list and choose the ones with bargain pricing.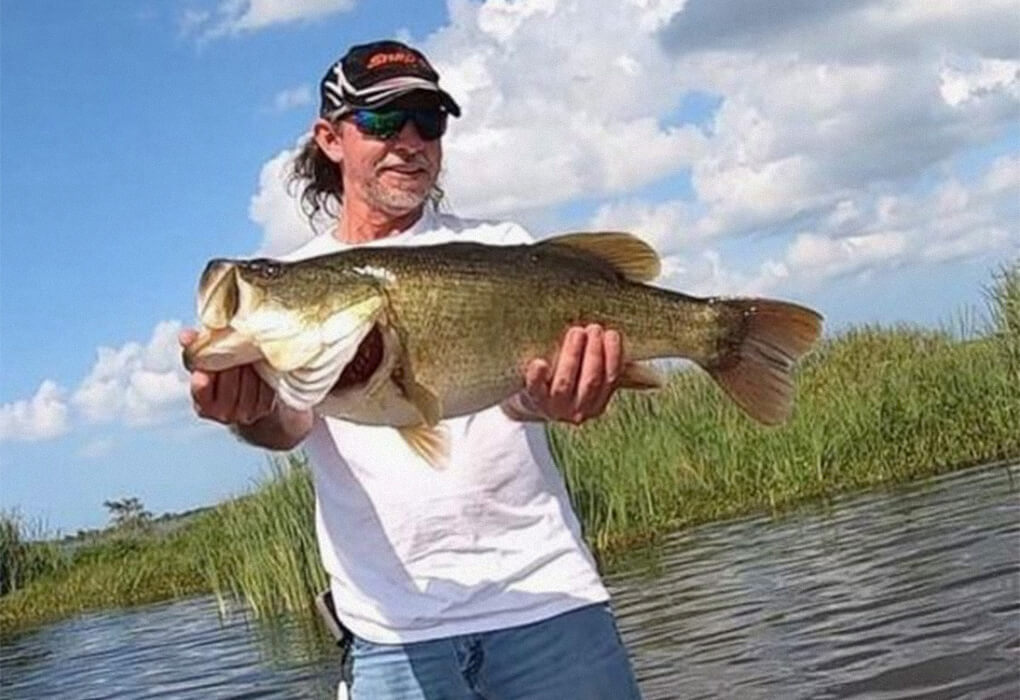 Jonathan Mickler doesn't take the summer off when he chases huge bass in Florida. He caught this one, which weighed 8.11 pounds, last week
Hot Weather, Hot Fishing
Most bass fishermen don't equate a day when the heat index is over 100 degrees and the water temperature is 92 as a good time to chase trophy largemouths.
But that didn't discourage Jonathan Mickler, who lives in eastern Florida. He knows the big ones will hit, no matter how hot it gets.
He proved it last weekend when he landed an 8.11-pound monster out of Headwaters Lake in east-central Florida.
"You would think the bigger fish would be off-shore in the deeper areas when it gets this hot," Mickler told me. "Headwaters has water up to 30 feet deep. But that's not where we're catching them.
"I'm fishing in only 8 to 10 feet deep along the edge of the hydrilla."
The bass will retreat to the shade of those thick weeds and use it as ambush cover. They often will be positioned at the edge of those weeds and wait to ambush baitfish swimming by.
That was the scenario when Mickler caught his 8-pound bass last weekend.
He cast a 10-inch Culprit plastic worm into the hydrilla and pulled it through the vegetation until it reached the edge. Then he let it flutter down, and that's when the bass hit.
That's a routine pattern for Mickler when he fishes famous bass waters such as the Stick Marsh, the Harris Chain of Lakes, Lake Toho and Lake Okeechobee.
Mickler, 48, grew up fishing Culprit plastic worms, and he hasn't quit.
"The ribbon tail has an action that the bass love," he said.
He also believes the fish attractant he uses, made by Baitmate, gives him an advantage.
"In the summer, I slow down my retrieves," Mickler said. "The bass are a lot like us in this hot weather. They don't want to do too much.
"But if you pass that worm in front of them, they'll hit."
Lure of the Week
The Culprit plastic worm has a rich history.
It was designed by Rodney B. Dann, a Florida tournament fisherman who was looking for a plastic worm with more action. He poured the prototypes in his garage and soon had them in the water enticing bass.
Word got around as Dann gave baits to friends, and soon they were in demand. Dann put his invention on the market in 1977 and it wasn't long before they were being mass-produced.
They were one of the first two-tone baits, with one color on the main body and another on the tail.
Dann died in 1983 of injuries suffered in a boating accident while he competed in a bass tournament. But his invention lives on.
The Culprit Original Worm is still manufactured in Clermont, Fla., and continues to attract bass just as it always has.
Kids Stuff
Logan Sweitzer is getting to be an old pro at this bass fishing.
Logan, 5, has been fishing with his dad, John, all summer long on Kansas farm ponds.
His latest fish weighed more than 4 pounds, and the photo of him holding his catch was chosen as one of the weekly winners in the Summer-long Family Fishing Contest in Kansas.
"I cast it to a hole in the weeds for him, but he caught it and fought it to the bank," John said.
Logan caught the bass on a green-pumpkin plastic stick worm, rigged weightless so that it would slowly flutter down into openings in the weeds.
The contest is the brainchild of Phil Taunton, who hosts the What's In Outdoors radio show on KVOE in Emporia, Kan.
He has held contests promoting youth fishing since 1997. This year's contest is open to youths ages 17 and under. There are five categories: catfish, bass, crappies, sunfish and other (rough fish, turtles, crawfish and frogs).
Taunton accepts entries by email at outdoors@kvoe.com, and weekly winners receive prizes and are featured on the Flint Hills Life Channel television show and the What's In Outdoors radio show on KVOE-AM radio show.
The contest will continue through Sept. 3.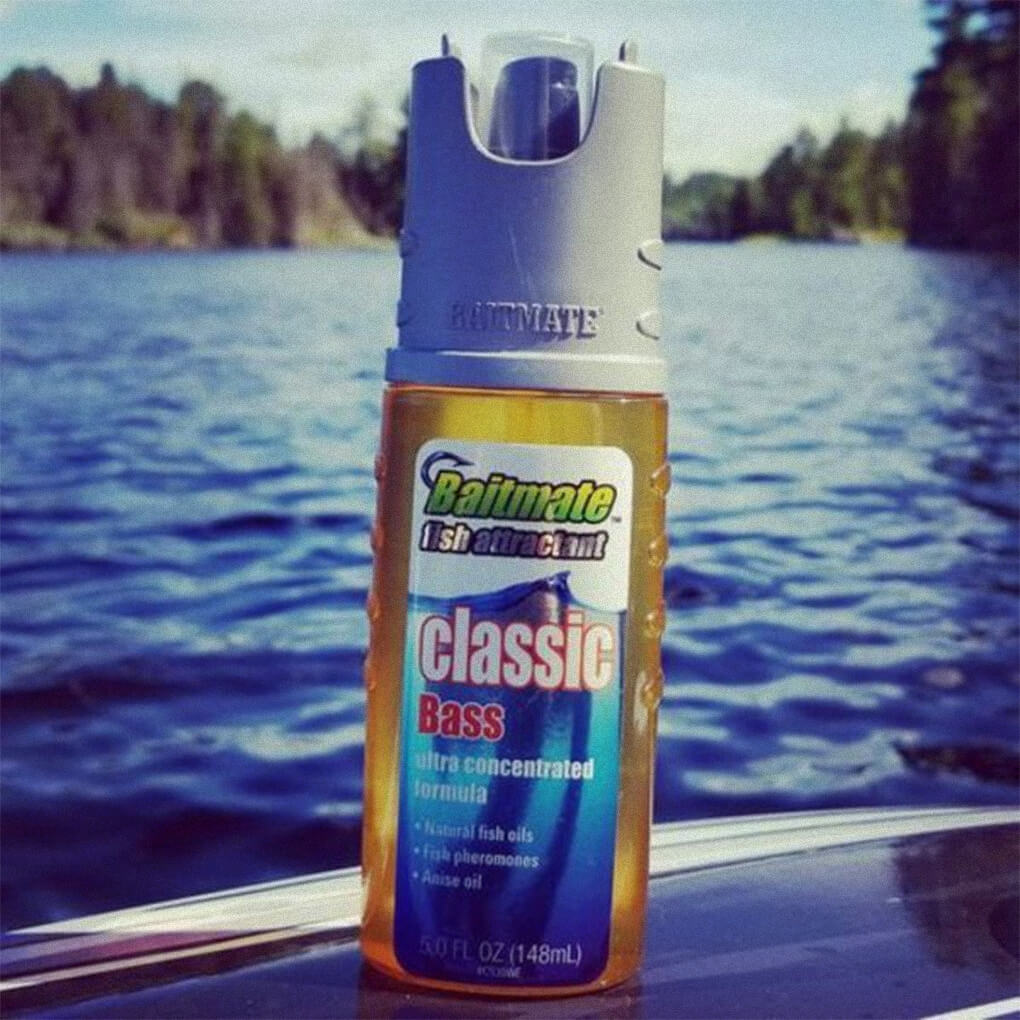 Some fishermen swear by spray-on fish attractants
Can Bass Sniff Out Their Next Meal?
I remember the first time I learned that fish attractants can be successful.
I was fishing with Frank Fensom at Truman Lake when the large Missouri reservoir was in its infancy. We used identical plastic worms off a wind-blown point, yet Frank was catching bass and I hadn't gotten even a hit.
I studied what he was doing differently, and saw that he was dipping his worms in a bottle of mulberry juice between each cast. Finally, I broke down and begged, and he passed me a bottle of my own.
I immediately started catching fish, and I became a believer.
Since then, I've used more refined attractants such as Smelly Jelly,Pro-Cure, and Berkley Gulp spray, and I've come to the conclusion that it can help…under some situations.
I've read studies about a bass' senses, and they indicate that largemouths can indeed smell. But it's one of the lesser senses it uses to pinpoint its prey.
Jonathan Mickler, an accomplished bass fisherman in Florida, is convinced the attractants work.
He is a member of the pro team for Baitmate Fish Attractant, and he believes in the product he promotes.
"Down here, a lot of our lakes are stained," he said. "If you fish an area long enough and you see the weeds moving, I think the scent helps them locate the bait."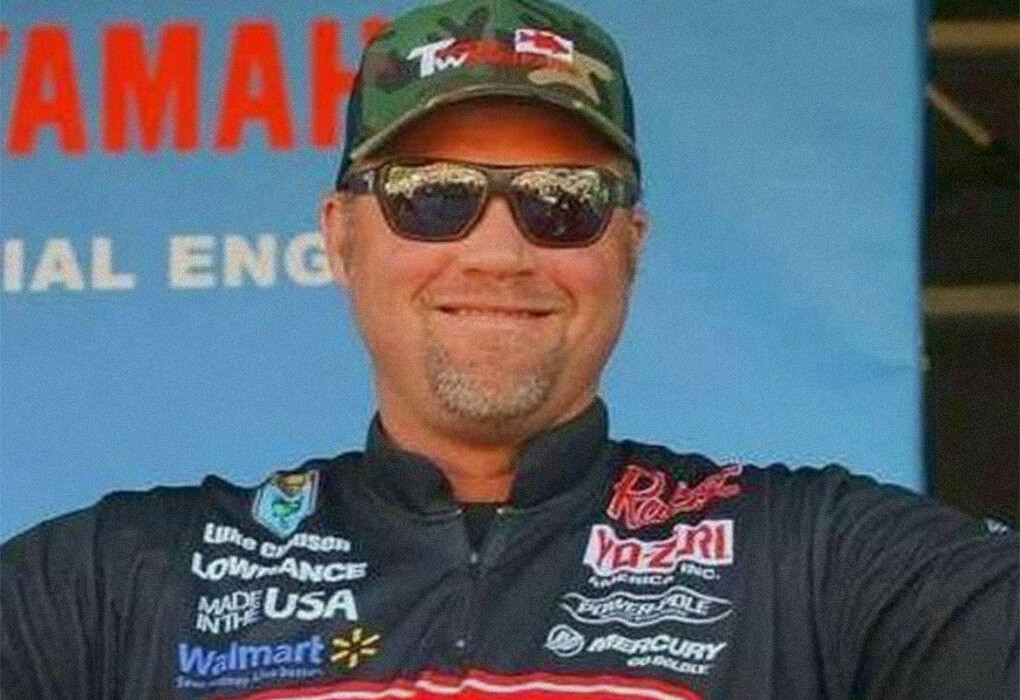 Luke Clausen is one of Major League Fishing's stars who is battling COVID. (Photo by Major League Fishing)
Pro Fishing Isn't Immune from Covid
Several of pro fishing's biggest names have confirmed on Facebook that they are battling COVID.
In a statement Wednesday, the Major League Fishing tour said that seven anglers would not be fishing in the Bass Pro Tour tournament on Lake Champlain this weekend. It did not specify the reason because of privacy issues, but some of the stars have shared their status with their fans.
Luke Clausen said in a Facebook post that he was in the hospital as of Wednesday and was battling breathing problems. Fletcher Shyrock also posted that he is in the hospital.
On Facebook, Shyrock said, "After ICAST (a national show previewing next year's fishing products), I got COVID. I dealt with the typical annoying flu-like symptoms for several days…After thinking I was in the clear, my breathing/respiratory system took a gnarly downhill turn and I was forced to the ER."
Randy Howell also confirmed on Facebook that he has been "fighting sickness" and is too weak to fish for an extended period of time.
In addition, walleye pro Gary Parsons also announced that he contracted COVID and will miss the next national tournament.
All of the anglers mentioned have one thing in common: They attended the recent ICAST show in Orlando, Fla., to promote their sponsors' new products.
That's it for now. We'll see you on the water.