Rick Voss posed with the $100,000 bass he caught during the Big Bass Bash at Lake of the Ozarks
The Big-Dollar Fish
Rick Voss of St. Louis hit the jackpot when he fished the Big Bass Bash last weekend at Lake of the Ozarks in central Missouri.
He caught a 7.53-pound largemouth on the final day of the big-fish tournament and took home a check as big as his fish–$100,000.
The tournament, put on by Midwest Fish Tournaments and sponsored by Aftco and Phoenix Boats, annually attracts hundreds of amateur anglers who believe that their next cast could be a moneymaker.
Voss, 62, has come close before. He finished third in 2017.
He has fished Lake of the Ozarks since he was "6 or 7," he said., so he was well-aware of what the big lake can produce.
He caught an 8-pound largemouth several years ago on a March day, casting a Wiggle Wart. He worked a cove near the 4-mile marker of the 55,000-acre lake in this year's Big Bass Bash.
He was working a Zoom Brush Hog in the shallows between two docks when the big one hit.
"I knew this was a good spawning cove and that big females would be moving up soon," Voss said. "So, I spent most of my time in there the two days of the tournament.
"I only caught small males Saturday, but this big one moved in Sunday. All it takes is one fish."
One Bass = $1 Million
Somewhere out in Lake Martin in Alabama, there's a tagged fish worth $1 million bucks.
Yeah, you read that right. You could become a millionaire simply by catching a bass.
That fish, which is either a largemouth or a spotted bass, was tagged and released as part of the Crank 4 Bank fundraiser, which benefits high-school fishing teams.
Two hundred bass were tagged and released in the 41,500-acre reservoir and fishermen have from now to July 4 to catch one of them.
Anglers must register in advance for $100, then they can cast for cash. Two hundred bass ranging from 2 ½ to 7 pounds were tagged.
There will be a virtual bass tournament associated with the tagged fish event, and other prizes will be awarded. But it's the $1 million-dollar fish that has everybody dreaming.
For more information, including rules and registration, go to the website here.
Senko Time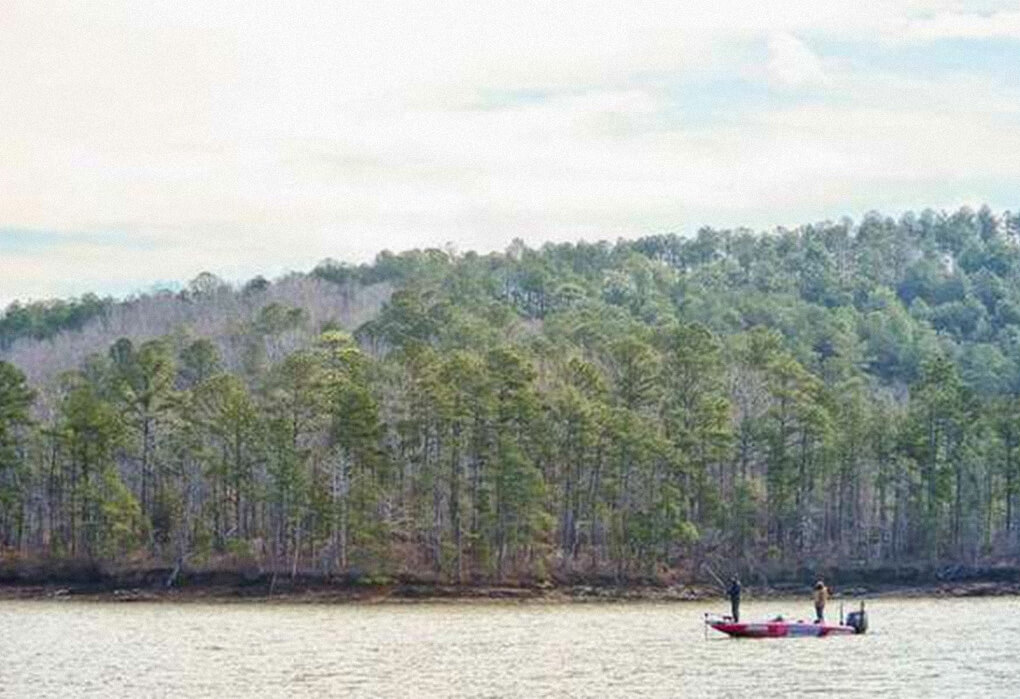 Bass fishing at Lake Martin. (Photo by Garrick Dixon, B.A.S.S.)
This is the time many bass fishermen anticipate.
The water temperature in many reservoirs is warming and the big largemouths are getting ready to spawn.
One exciting way to catch them is to go sight-fishing when there is good water clarity. Guides in the Ozarks go to the back of gravel-bottom coves and look for the circular areas where the bass have fanned out their nests.
As the water temperature rises toward 60 degrees, large bass often cruise near those areas before they lock onto their nests. That's when the fishing can get good.
We often use weightless Senkos (straight plastic worms) rigged either Texas style or wacky style and make a long cast to one of the nests and let it drift down in an erratic fashion. In clear water, you can often watch a bass dash out of nowhere to attack the perceived nest invader.
That best fishing takes place right before the bass actually stay on the nests. Then they can get picky as their minds are on spawning. But if you can hit that magic pre-spawn window, the fishing can be memorable.
And When The Bass Are On The Nest?
When the bass commit to nesting, they can get hard to catch. But not impossible.
Alton Jones of Woodway, Texas, proved that when he won the Major League Fishing Heavy Hitters Tournament on Shearon Harris Reservoir in North Carolina last week.
Known as one of the best sight fishermen in the pro game, he excelled in the championship round on April 14th.
He flipped a Texas-rigged Gitzit tube to fish and he spotted, and landed a winning total of 12 bass weighing 45 pounds, 9 ounces. That strategy earned him a $100,000 paycheck.
"Every fish I caught today was an individual," Jones said in a press release issued by Major League Fishing. "I had to figure out what each fish was doing and how to work that particular fish.
"That's one of the things I love about sight fishing. What makes one fish hot, the other fish will ignore. So, it's kind of a thinking man's game."
Stealth is an important factor, Jones said. It's important to stay as hidden from the bass as possible.
"If you can see them, they can also see you," he said. "I try to hide from the fish, and I've got a few other tricks that I like to pull."
We Want To Hear From You
We value our readers. Do you have a tip you'd like to share? How about a hot lure? Or a destination that is a great bass-fishing spot?
Reply to this email, and we might use your information.
And if you enjoyed this issue, please forward to a fellow angler!
Until next time, keep casting!