Jeremy Lawyer has traveled a long, winding path to bass fishing's promised land.
"When I was growing up, I would wake up Saturday mornings to watch Bill Dance on TV, and I always dreamed of doing something like that," said Lawyer, 43, who lives in southwest Missouri. "But I never really thought it would become a reality.
"But here it is."
We'll take a look at Lawyer's climb to the big leagues, how some advice from a fishing legend helped him chart his career path, and get a few fishing tips.
So keep reading. If you've ever dreamed about one day becoming a pro, Jeremy's story might give you some inspiration.
Brent
P.S. I'm sending this on Wednesday vs our usual Friday scheduling due to the Holidays. Hope you all don't mind.
---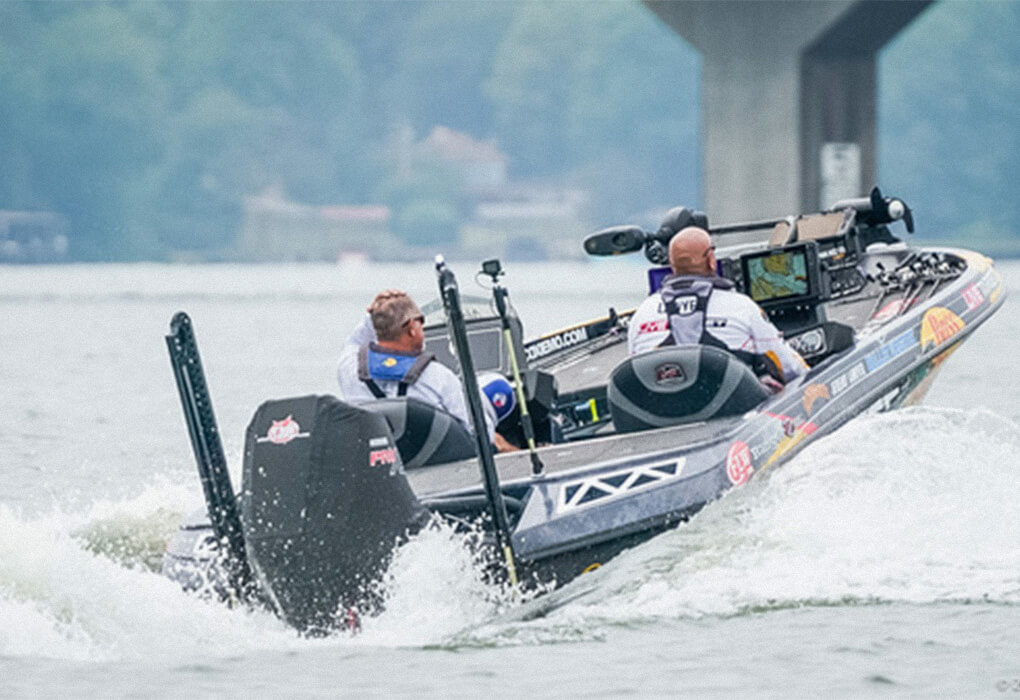 Ready for takeoff? It's time to shop. (Photo by Jody White/Major League Fishing)
'Tis The Season of The Deals
Black Friday and Cyber Monday mean plenty of deals for those shopping during the holiday season.
Here are a few that caught our attention. But you'd better shop early. Some of these deals won't be around for long.
Electronics: Bass Pro Shops is advertising huge savings on a Lowrance HDS Carbon 12 HD Fish Finder. It's part of the chain's Black Friday Week sale. But better hurry if you're interested. Supplies are limited.
Pond boat: Looking for a boat for fishing small bodies of water? Academy has a deal for you. It has Pelican Bass Raiders on sale for $699.99. Regular price is $1,059.99.
Spinning rods: Field and Stream Shop has a great deal on Shimano Clarus spinning rods. Regularly priced at $79.99, they're on sale for $34.99.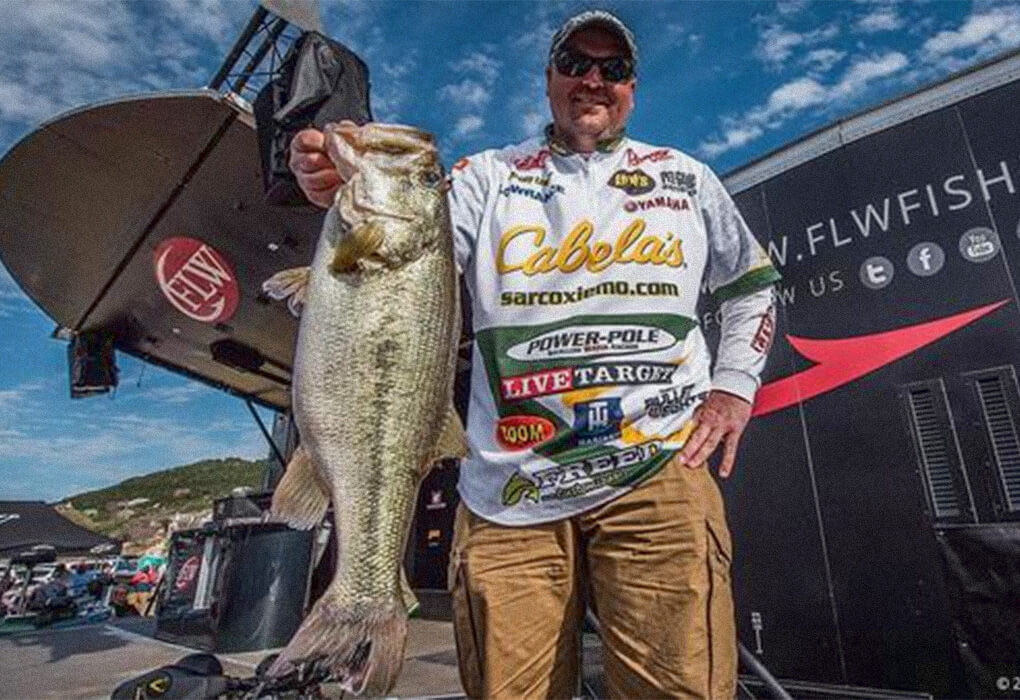 Growing up in the Ozarks gave Jeremy Lawyer a great place to learn how to fish for bass in a variety of conditions. (Photo by Charles Waldorf/Major League Fishing)
A Perfect Place To Call Home
When Jeremy Lawyer was a teenager, he got some advice from bass-fishing legend Guido Hibdon that inspired him to follow his dreams.
"I went to listen to Guido give a seminar and I stuck around to get his autograph," Lawyer said. "I'll never forget what he told me.
"He said if I could learn to fish four lakes near me – Truman, Table Rock, Lake of the Ozarks and Stockton–I would be off to a great start.
"He told me those four lakes would teach me to catch bass in conditions just like I would find in other places on the pro circuit–fishing deep, fishing docks, fishing murky water, fishing a lake with three species of bass…
"It was a good way to learn to be versatile. And that stuck with me."
Hibdon has since passed away, but his advice lives on. Lawyer learned to fish those famous bass lakes and applied what he learned to other bodies of water on the tournament circuit.
He started off on the FLW's BFL circuit for weekend anglers and found success there. But his career soon hit a crossroads.
It costs money–big money–to fish the bigs. And Lawyer simply didn't have the finances to do it.
"I worked as a city administrator and my wife worked in a bank, and we were pinching pennies just to live the way we wanted to," he said. "The only way I was going to be afford to go pro was to win a major tournament like the All-American (FLW's championship event)."
That dream almost faded when Lawyer came close several times but just missed out on a big paycheck. Finally in 2016, on his fifth try, Lawyer won it and took home $120,000.
That allowed him to compete on the FLW Tour against the sport's top anglers. He has three titles on the FLW circuit to his credit, and has finished in the money in a number of others.
Now he's back in Major League Fishing's top circuit, the Bass Pro Tour, and he credits his wife, Stacey, for standing alongside him "100 percent" as he pursued his dream.
"She was willing to give up having a new house and a new vehicle just so I could afford to compete," Lawyer said. "But things worked out. We have those things now and we're excited about the future."
He found out in late August that he qualified for the Bass Pro Tour based on his showing in the 2021 Major League Fishing Tackle Warehouse Circuit.
"Without the stepping stones FLW (now under the Major League Fishing umbrella) had in place, I never would have been able to do it," he said. "I definitely had to work my way up, but it all worked out."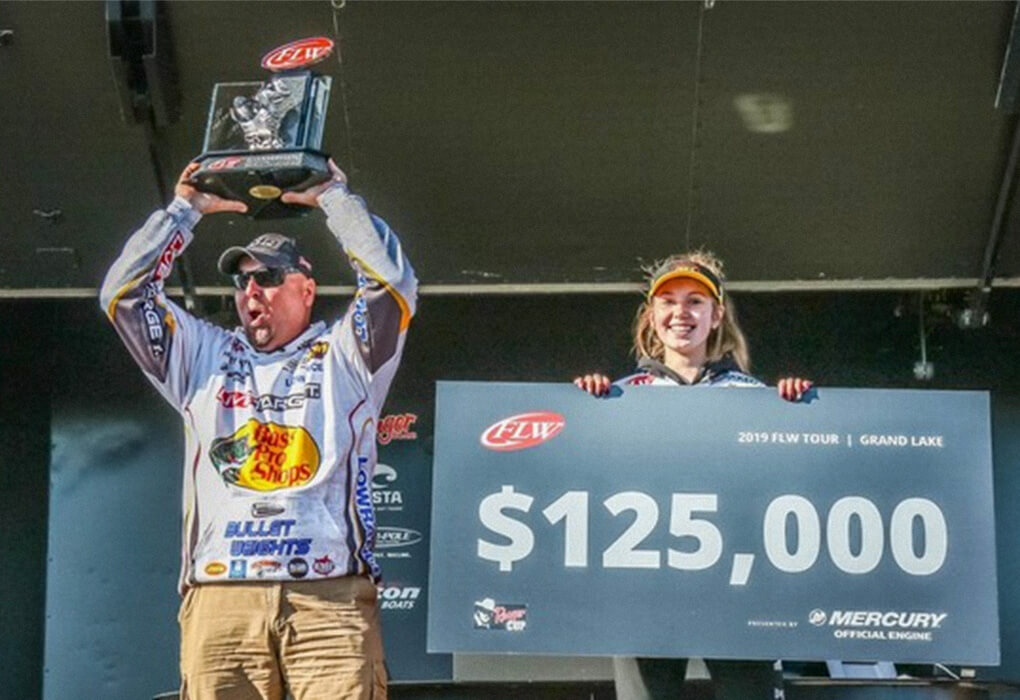 When Jeremy Lawyer celebrates victories in pro bass fishing, his daughter Abbey is often on stage to help him. (Photo by Kyle Wood/Major League Fishing)
The Nice Thing About Ozarks Fishing…
Lawyer feels blessed to live in the heart of Missouri's bass country.
"The bass are easy to pattern in the Ozarks," he said. "If you catch them, say, on a transition area from a bluff end to pea gravel, you can go to something that looks similar and catch them there, too.
"You go down South and fish a lake with grass, and you can throw all that out the window."
There, he said, the fishing is more "spot" oriented.
"Maybe it's a shell bed surrounded by grass. Or a bank that has the perfect kind of grass," Lawyer said. "You can't go around and look for similar spots. It doesn't work."
But he has learned to adjust. That's part of the pro game.
Still, many of his best moments have taken place in the Ozarks.
His personal best bass, a largemouth weighing 10 pounds, 7 ounces, was caught at Table Rock Lake just a short drive from his home n Sarcoxie, Mo. It came on an Alabama Rig, which was the rage at the time.
"I cast between two cedars on a secondary point and she hit," he said. "The funny thing is, she didn't hit that hard she didn't fight hard, either."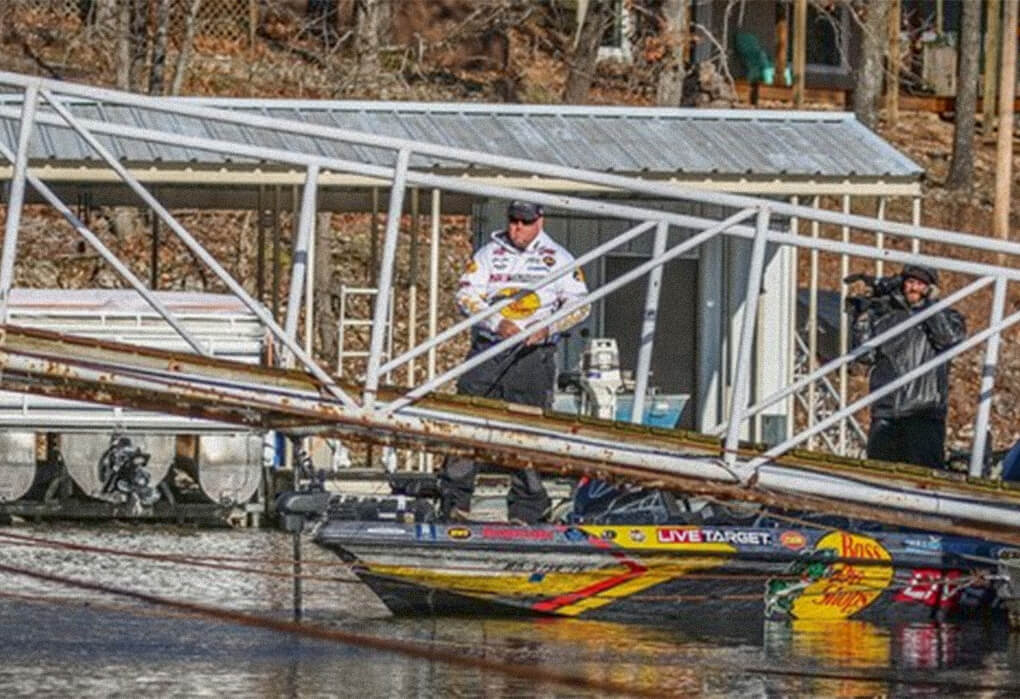 Jeremy Lawyer knows that big bass often hide near boat docks. (Photo by Jody White/Major League Fishing)
Fishing The dock In The Bay
When many bass fishermen launch their boats from their docks, they are leaving one of the best places to catch a big bass behind.
Take it from Lawyer. He has caught many of his biggest largemouths from docks–specifically, in the sheltered water behind the docks.
"Most fishermen don't want to mess with the cables and the tight spots to cast," Lawyer said. "But that's where the big ones are.
"They feel protected back there because they don't see many lures."
Lawyer takes a different approach to fishing behind the boat docks depending on the time of the year. In the fall, he often uses a topwater lure. In the spring, it might be a spinnerbait. And in the winter, he might flip a jig.
But there is a common denominator, he said. The harder the water is to reach, the better the chances a bass will be hiding there.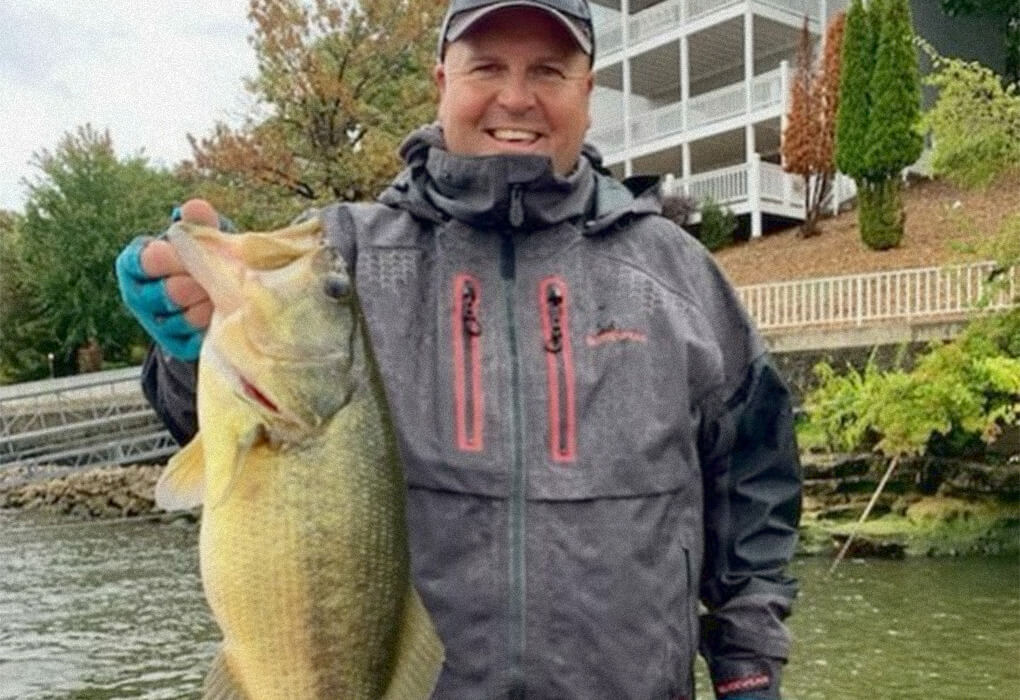 It can get cold in the Ozarks, but that doesn't stop Jeremy Lawyer from catching bass (Photo courtesy of Jeremy Lawyer)
Cold Weather, Hot Fishing
Late fall and early winter don't stop Lawyer from fishing.
In the deep, clear reservoirs of the Ozarks, that's when the bass fishing starts to heat up.
"I think there are two populations of bass in these deep Ozarks lakes," he said. "One always wants to be near the banks, the other suspends in deep water and only comes to the banks to spawn."
Lawyer often targets the latter. When the bass suspend in the deep flooded timber, he often will use a 3-inch smoke-colored grub on a three-quarter-ounce jig head. Using a spinning rod, he will cast out and count down until the plastic lure gets down to the level where fish are showing on his sonar unit. Then he will use start slowly retrieving it to imitate a sluggish shad.
Lawyer also will use a Freedom Turnback Shad, a hard bait that often is used for ice fishing elsewhere, to vertically work the timber. He lifts the bait, then let it glide down, often triggering strikes.
"You might be fishing in 100 feet of water, but the bass will be suspended in the top 20 feet of water in the tree tops," he said.
Lawyer has learned a lot about bass's wintertime behavior from LiveScope, the electronic device that shows real-time movement of fish.
"We've caught bass in 60 to 70 feet of water on the bottom," Lawyer said. "You don't want to bring them up too fast or they'll get the bends. Even then, you have to let the air out of their bladders sometime.
"We try not to fish that deep. But it's really opened our eyes as to how deep they will go."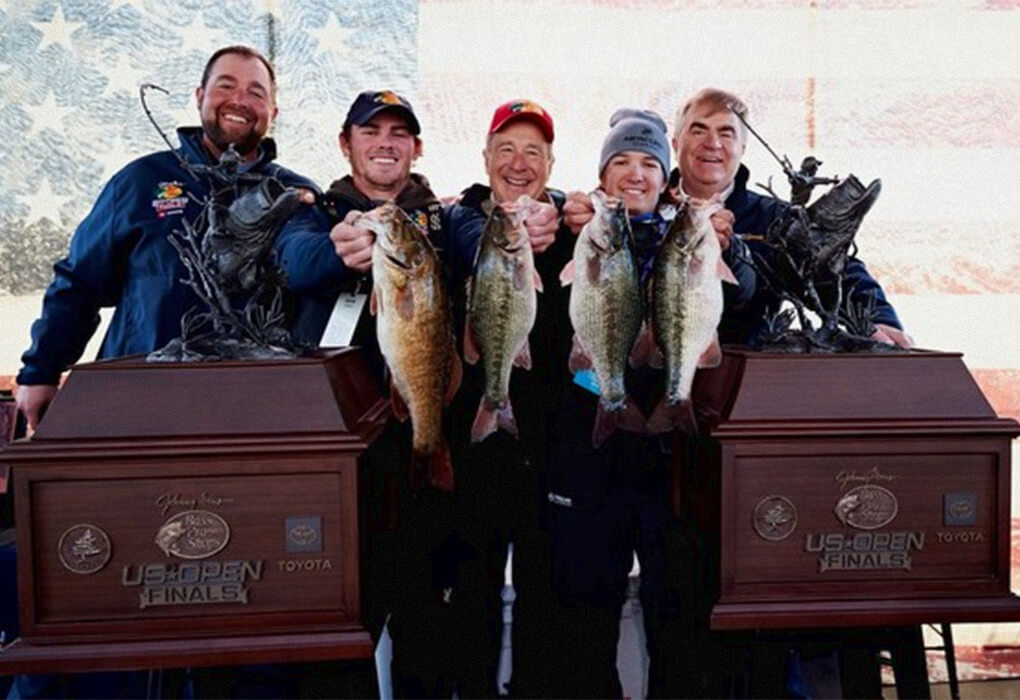 Tucker Smith (second from right) and Logan Parks (second from left) celebrated their million-dollar championship in the Johnny Morris Bass Pro Shops U.S. Open National Bass Fishing Championship. They were joined on stage by Morris (center), Morris' son, John Paul (left) and Bob Carter of Toyota Motors. (Bass Pro Shops photo)
A Million-Dollar Catch
Wow, what a celebration of bass fishing.
Where else do you see the winners split a $1 million first prize and each receive a bass boat and a tow vehicle?
Where else do you see 10 kids who wrote essays about why they like to fish receive bass boats themselves?
Where else do you see bass-fishing celebrities such as Bill Dance, Kevin VanDam, Roland Martin and Jimmy Houston take those kids out fishing in their new boats?
Where else do you see a total purse of $4.3 million–the highest in the history of fishing? And all this, for an amateur tournament?
Yeah, the Johnny Morris Bass Pro Shops U.S. Open National Bass Fishing Amateur Team Championship was kind of a big deal.
It was the ultimate owners appreciation tournament, featuring amateur anglers who own boats made by the White River Marine Group.
Two-person teams qualified through their performance in preliminary tournaments, then 350 of them gathered at Table Rock Lake for the three-day championship from Friday through Sunday.
The field was pared to the final 50 teams for the final round and the weights were zeroed out. Tucker Smith and Logan Parks of Shoal Creek, Ala., teammates on the Auburn University fishing team, persevered.
They caught five bass weighing 16.41 pounds to barely edge second-place finishers Joseph Nicholson and Gary Sterkel, who caught 16.18 pounds of bass.
Smith and Parks fished Table Rock for the first time, but they used a combination of old-school and new-school tactics to catch their bass.
They followed gulls diving to feed on shad to a productive spot, then used forward-facing sonar that shows bass movement in real time to know where to cast their baits. They caught most of their bass on a Berkley PowerBait MaxScent Flatnose Minnow.
They weren't the only winners, though. Morris and Bass Pro Shops, along with tournament sponsor Toyota, donated $1.58 million of the proceeds to the National Fish Habitat Partnership, which adds cover to aging lakes.
All in all, it was a great week for bass fishing.
That's it for now. I hope you have a great Thanksgiving.