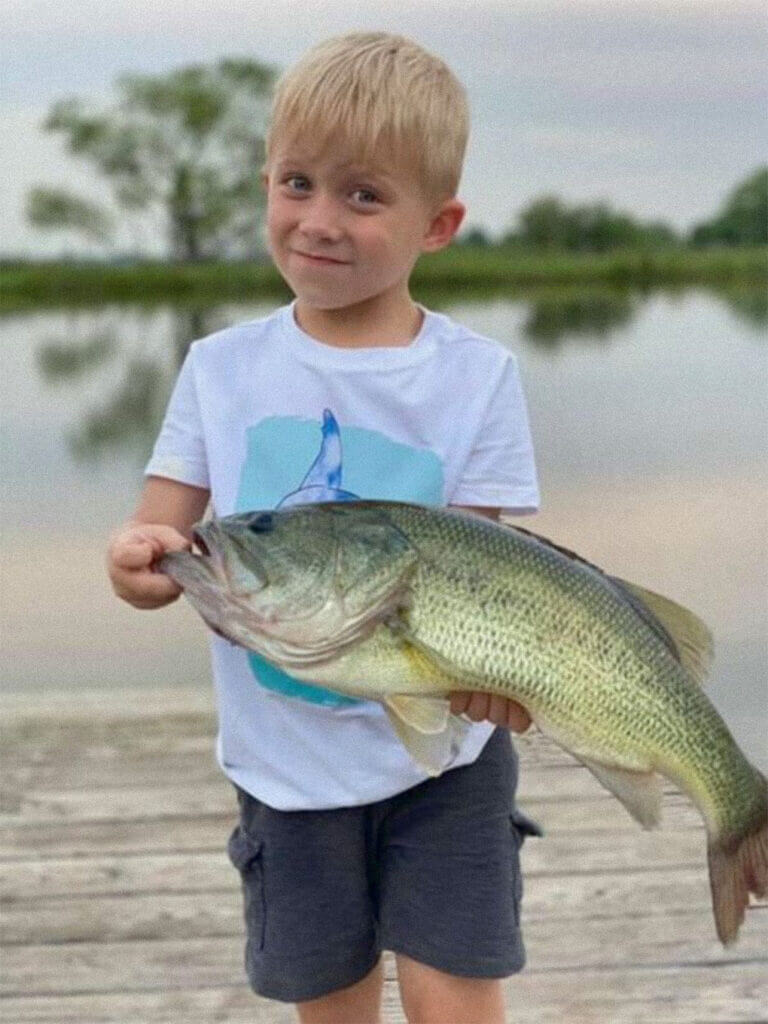 Hendrix Gleason, 4, posed with his trophy catch
Catch of the Week
I love hearing stories about children who catch fish that are the envy of adults many times their age.
That's Hendrix Gleason's story. The 4-year-old from Kansas City, Mo., was fishing with his family on a farm pond when he wandered off a bit to cast out his bobber and minnow.
When he hollered, "I've got one," his dad, DL Gleason, didn't get too excited. That changed when the bass rocketed out of the water in an attempt to throw the hook, and he saw how big it was.
Hendrix landed the bass, and a handheld scale showed that it weighed an even 5 pounds. The youngster posed for pictures, then released his catch. He has been recounting his experience ever since.
"He's telling everyone that he's the fishing master," DL said with a laugh.
The experience was extra-special for DL. His family once owned the land and he managed the fishery, ensuring fish populations were in proper balance, there was good habitat and selective harvest was practiced.
He was heartbroken when the land had to be sold. But he asked the new owners if he could take his children to the pond to fish, and they gave him permission.
Now that body of water will hold even more sentimental value to the Gleason family.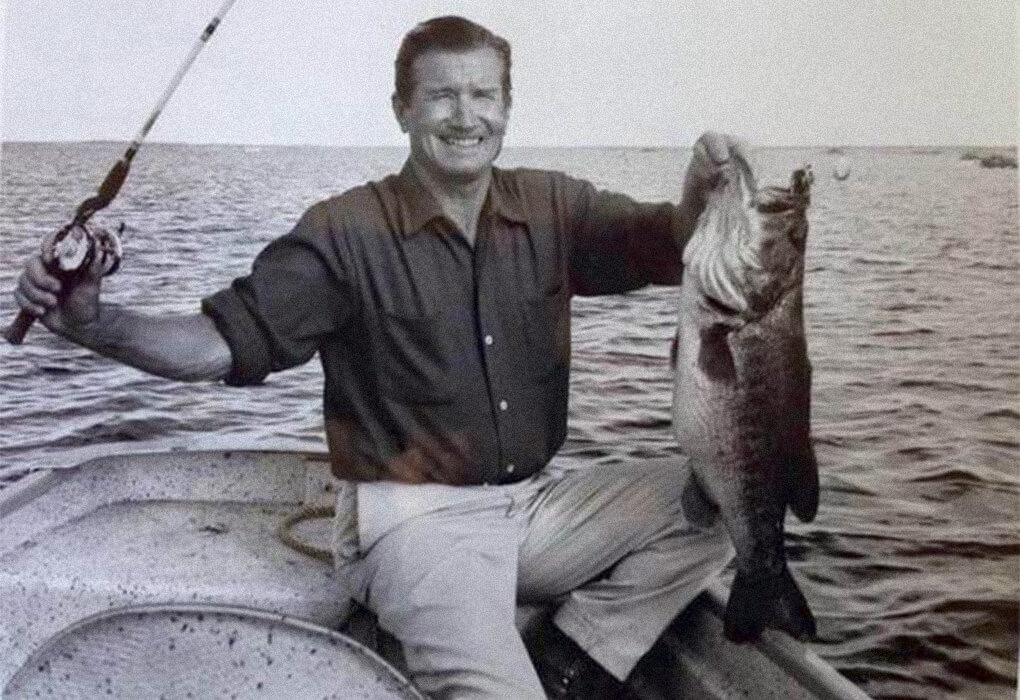 I have memories of a special day with Virgil Ward, host of the Championship Fishing television show
Seriously, This Fish Story is True
When friends ask me about my biggest bass, I talk about the big one that got away. And you know the kind of looks I get.
But I'll swear on a stack of Bibles, it really happened.
It was in the 1980s, and I was fishing with one of my heroes, Virgil Ward, on his farm pond in western Missouri. I was doing a story for my new employer, The Kansas City Star, and I wanted to relate some on-the-water action.
Ward's crew was filming us for a segment on his TV show "Championship Fishing." It was supposed to be a film on fishing for big crappies, and we got plenty of good footage.
When I hooked one good-sized fish, the cameraman told me to take my time brining it in so that he could get some good action shots. When I reeled it up near the boat, a dark shadow emerged from the depths and closed in on the crappie I was fighting.
It finally rose and I watched the biggest bass I have ever seen inhale that panfish like it was a small minnow.
I remember stammering to the cameraman, "Did you get that?" He gave me a thumbs up and kept filming.
Virgil instructed me to open the bail on my spinning reel and let the bass swallow the crappie. I did and waited a while before I started slowly reeling my line in. The bass was still there and I knew my ultralight was no match for the huge bass. I opted to just lead her to the surface, where maybe we could net her.
Good strategy, but it didn't work. As the line tightened, the bass decided to fight and I lost. All I had for the experience was a mangled crappie that looked like it had been in a train wreck.
That's my story and I am sticking to it.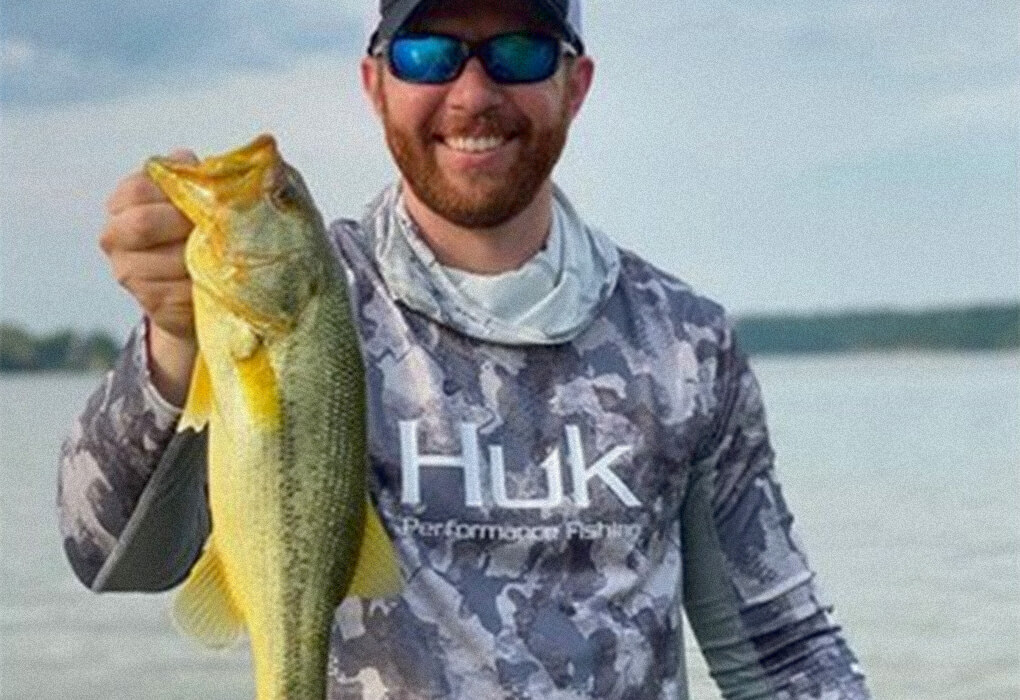 Josh Rogers displays his unusual catch
The Golden Bass
Josh Rogers caught a one-of-a-kind bass Wednesday at Beaver Lake in northwest Arkansas.
It wasn't its size that made it special. It was the coloration. The largemouth was a golden color instead of the dark green fishermen are accustomed to seeing.
"Josh needs to buy a lottery ticket, because he caught (a 1 in a million fish)," said Jon Stein, a fisheries biologist for the Arkansas Game and Fish Commission.
The 2-pound bass was a genetic anomaly, lacking the darker pigmentation largemouths usually have. "This is very rare," Stein said.
Rogers, who lives in Bentonville, Ark., caught the fish on a swim jig. He posed for photos with his unusual catch, then released it.
He later emailed the photos to the Arkansas Game and Fish Commission, which then informed Rogers what he had caught.
Now Rogers plans to have a replica mount made of the bass, which he said will serve as a reminder of the day he struck gold at Beaver Lake.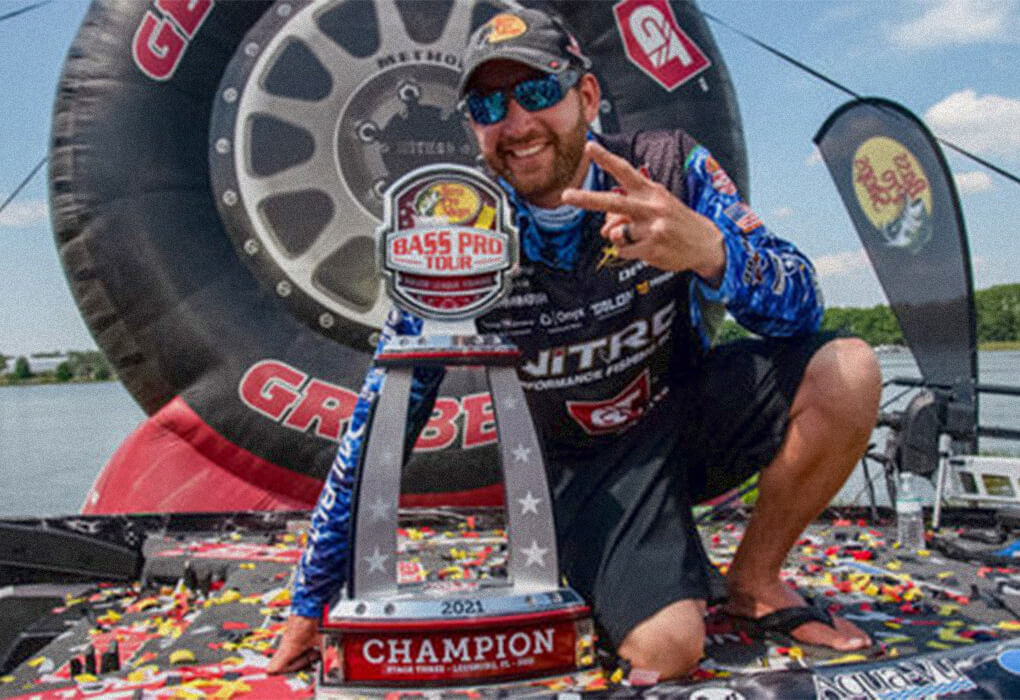 Ott DeFoe scored a runaway win in the Bass Pro Tour event at the Harris Chain of Lakes in Florida. (Photo by Garrick Dixon/Major League Fishing)
A Dominant Performance
When bass fishermen say Ott DeFoe dominated the Bass Pro Tour event on the Harris Chain of Lakes this week, that's an understatement.
DeFoe caught 30 bass weighing 73 pounds, 14 ounces in Wednesday's championship round of the Major League Fishing event, "edging" second-place finisher Bobby Lane by 27 pounds, 1 ounce.
It was the most lopsided win in the history of the Bass Pro Tour, and DeFoe's second title of the year on the circuit (and second check for $100,000).
DeFoe, who lives in Blaine, Tenn., saved his best for last in the four-day tournament. When scores were zeroed out for the championship round, he went on a tear.
Targeting the shad spawn that was taking place in the thick vegetation, he used a Rapala OG Slim crankbait and a prototype swim jig to catch most of his fish.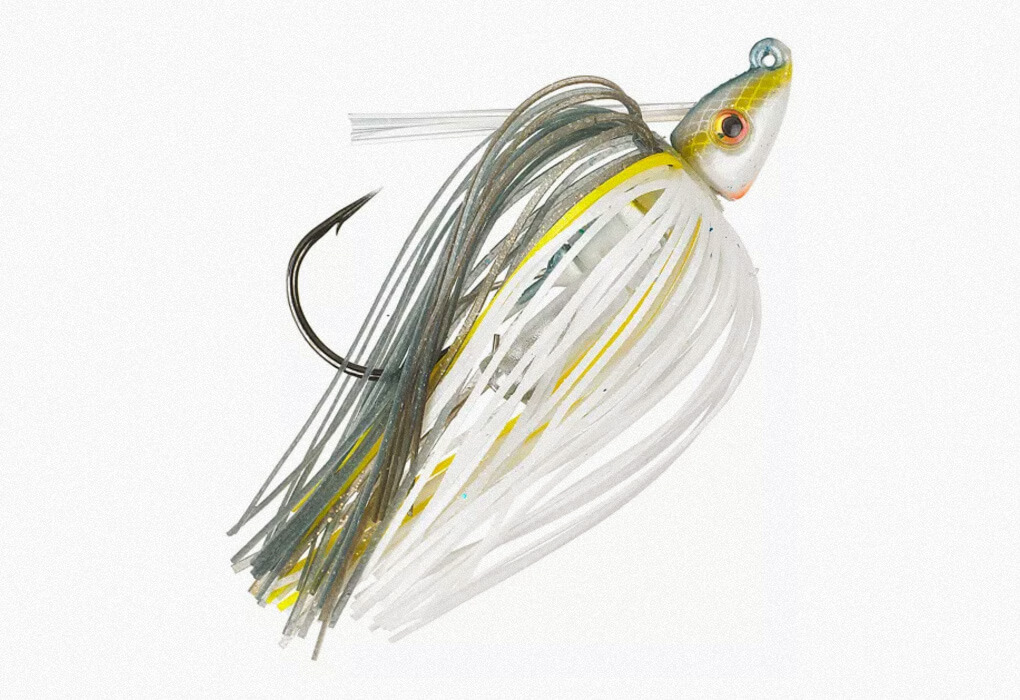 Lure of the Week
While the shad are still in the shallows, the swim jig can be a great secret weapon for bass fishermen.
Unlike most bass jigs, this bait isn't meant to be bounced along the bottom. It has a tapered head and a skirt that undulates when it is retrieved. Paired with a swimbait trailer, it is a killer lure when bass are post-spawn and feeding heavily on shad.
I like Strike King's KVD Swim Jig. Designed by the legendary Kevin VanDam, it features an exclusive skirt design and true tracking out of the box.
The key to working it? Crank fast.
"Speed is one of the keys," VanDam said in a video put out by Strike King. "A lot of people want to fish it real slow in cover. But you want to fish it fast. It's a reaction bite."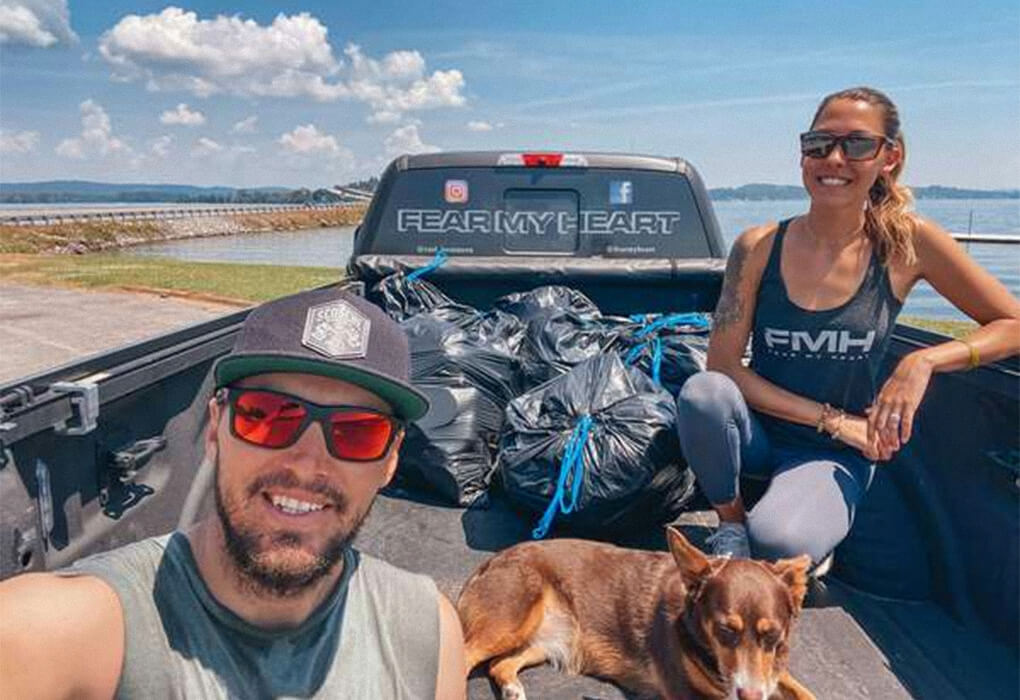 Bassmaster pro Carl Jocumsen and his wife Kayla are on a quest to pick up litter at lakes where he competes in Elite Series tournaments
A Great Role Model
Recreational bass fishermen occasionally portray the pros in negative terms. I keep telling those critics that inconsiderate professional fishermen are the exception, not the rule.
I have one more example after what took place last week. After being eliminated from the championship round of a Bassmaster Elite Series tournament at Lake Guntersville in Alabama, Carl Jocumsen stuck around for another day to tour the lake and pick up trash.
He and his wife Kayla spent three hours picking up trash along both sides of three bridges. By the time they were done, they had 10 full garbage bags and a new quest. The Jocumsens plan to stay over after future Elite Series tournaments and collect trash. They hope to recruit others to join in.
Their efforts go along with the B.A.S.S. National Clean-Up Challenge sponsored by AFTCO and Huk, in which local volunteers have gathered lakeside to collect litter.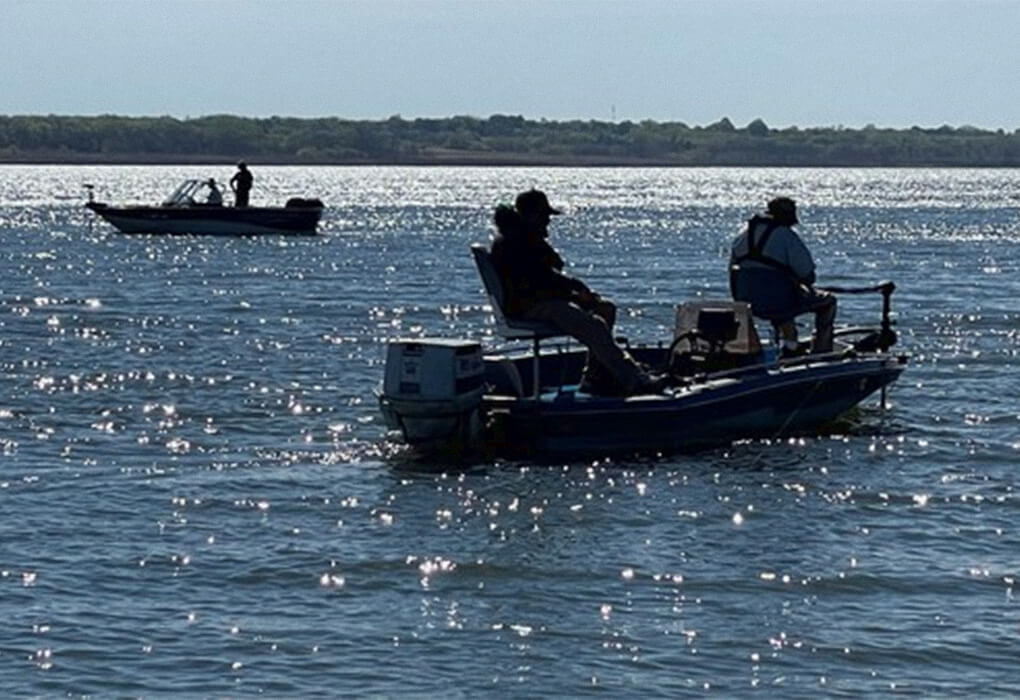 Be Safe Out There
During Memorial Day weekend, lakes across the country will be full of boats. And that presents additional dangers.
Every year, hundreds of boaters who think they don't need to be reminded of safety tips are involved in accidents. So, in the midst of National Safe Boating Week, we're going to go over this again.
1. Wear a Personal Flotation Device. And make sure it's comfortable. If it's not, you're not going to wear it for long.
2. Bass fishermen, use a kill switch. If you should hit something and you're thrown from your boat, the switch will kill the engine.
3. Leave the alcohol at home. "Don't drink and drive" applies on the water as well as on land.
4. Put down your cellphone. Distracted driving is one of the leading causes of boating accidents.
5. Have a lookout, especially in crowded conditions. Slow down and drive defensively.
6. Be courteous. Don't cut in front of someone at a high rate of speed or get too close to other boats. Road rage doesn't apply only to highways.
Sorry if this sounds like I'm preaching, but I want to see you live to enjoy another fishing trip.
Remember to email me your brag photos for catch of the week. C'mon, it was a big fish. It doesn't hurt to show it off.
Have a great holiday weekend, and catch a big one.
See you on the water.