From first-time anglers to crusty old veterans, fishing the waters of Lake Erie means trophy walleye.
Often overlooked, Erie has some of the best largemouth and smallmouth bass fishing in the US, and it offers several other fishing opportunities that have made it a "go-to" fishery.
The following is all you need to know about bass fishing Lake Erie and how to get the most out of your next fishing trip.
Going fishing to Lake Erie? Then give a read to our Fishing License guides.
---
About Lake Erie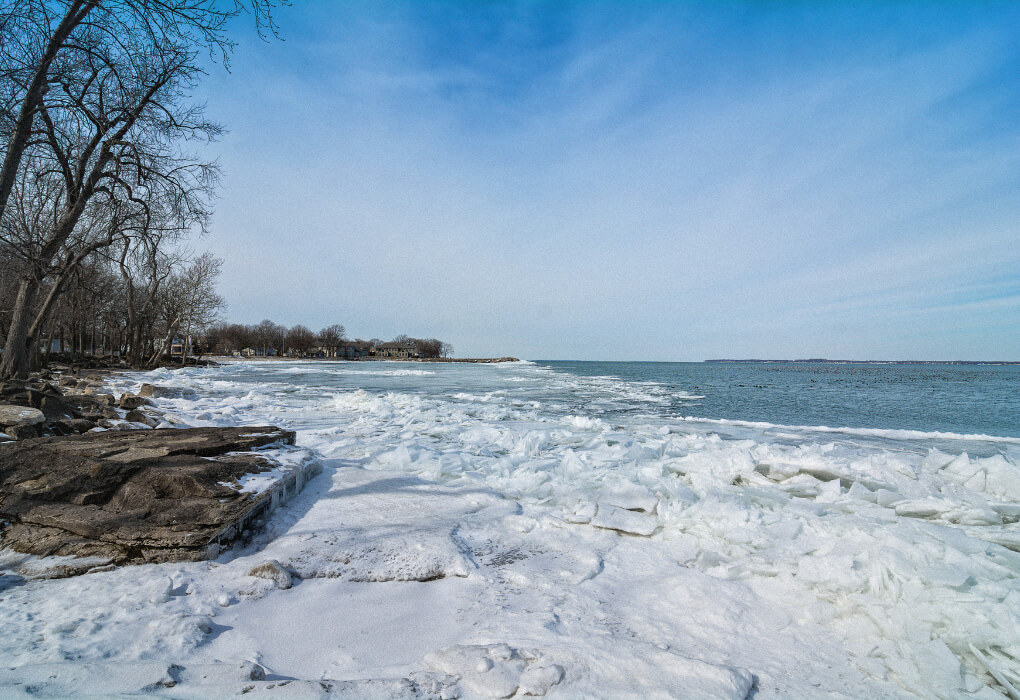 Erie holds a special place among the Great Lakes.
Known for its cold water (it only reaches about 70 degrees during the height of summer,) it is the southernmost, shallowest, and smallest Great Lake by volume.
Fifty-seven miles wide and 241 miles long, it touches Ontario, Canada, Pennsylvania, Ohio, Michigan, and New York in the USA.
In addition to smallies, largemouth bass, and walleye, there are over 22 gamefish species, including, but not limited to:
Lake trout
Brown trout
Rainbow trout
Steelhead salmon
Coho salmon
Atlantic salmon
Yellow perch
Lake whitefish
Sturgeon
Common carp
Freshwater drum
Longnose gar
White bass
Multiple panfish species
Each of these species thrives in the lake, an improvement from the 60s and 70s when the lake had multiple environmental issues.
Spring Bass Fishing on Lake Erie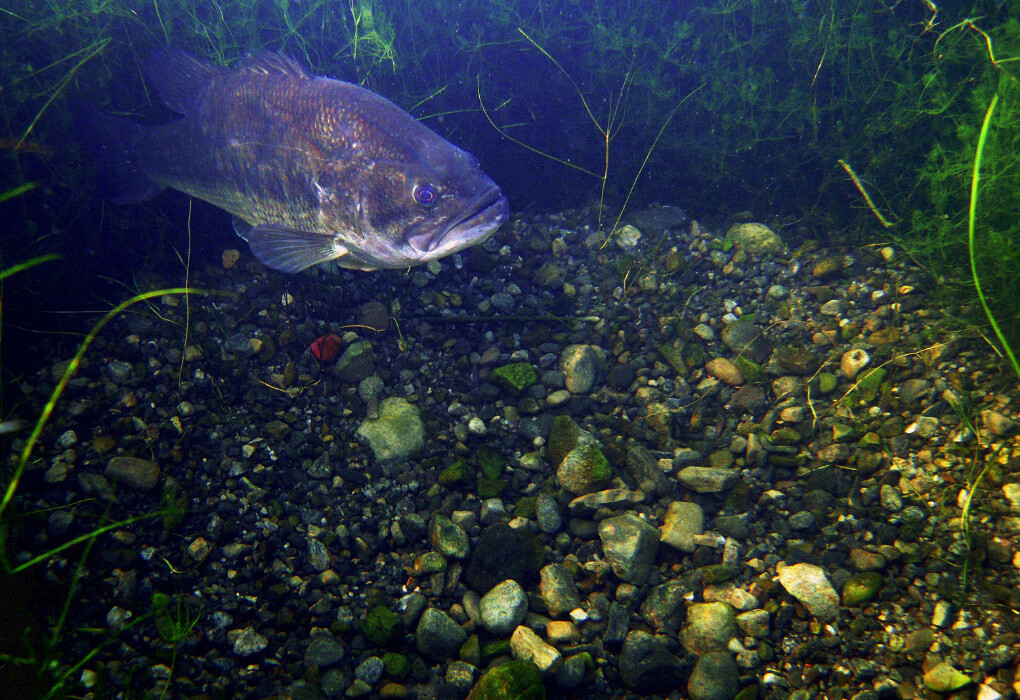 Lake Erie smallmouth bass fishing hot spots include nearshore reefs, shoals, inlets, tributary streams, and protected harbors in the spring.
The fish are looking for warmer water after the winter's freeze to stock up on shiners and other baitfish before they spawn.
The spring season for largemouth bass is similar, although the fish are not nearly as voracious as smallies because water temperatures are still frigid.
Large lake sections are rocky along the coast, so cast and retrieve lures work best. Try using tube jigs, weightless plastic worms, crankbaits, blade baits, spinnerbaits, and diving stick baits.
During the spring, bass will hang out in 2 to 20 feet of water. Once they start spawning, bass become protective of their nest but don't venture far from it so you have to put finesse presentation in their face to get a bite.
Depending on where you fish, spawning regulations will apply. Most are strict catch and release requirements, but you should check to ensure your fishing strategy is legal before starting.
Summer Bass Fishing on Lake Erie
While water temperatures do not rise as fast or as much as on other lakes, the summer months find the fish hanging out between shallower bays and deeper water.
During early summer, trolling with spinners or deepwater crankbaits will yield hungry bass, as will using a drop-shot rig and jerkbaits in the flats.
When cruising the depths looking for Lake Erie largemouth bass, try and find rocky structures and sudden drop-offs. Critter lures, like those that resemble crayfish, grubs, or worms, work best with bronzebacks near the bottom.
If you use live bait, follow the laws of the jurisdictions you are fishing in. A fish finder GPS combo is invaluable for finding bass in summer and keeping track of your location.
Fall Bass Fishing on Lake Erie
When things start to cool down, bass return to the flats, shoals, and shallows to bulk up for the winter, large bass can be found in shallower than usual water.
The drop-shot and plastic baits that resemble white, cream, or pearl-colored shad work well.
In addition, bladed baits like spinnerbaits and chatterbaits work well, as do shallow water crankbaits and weightless plastic worms.
Fish any minnow-like lure from mid-fall until ice-in using a lift and flutter approach, which resembles a dying shad struggling to stay off the bottom.
Some of the best smallmouth bass fishing is in the fall once the waters return to a more stable and cool temperature. During this time, bass will attack just about anything they can fit in their mouths.
Winter Bass Fishing on Lake Erie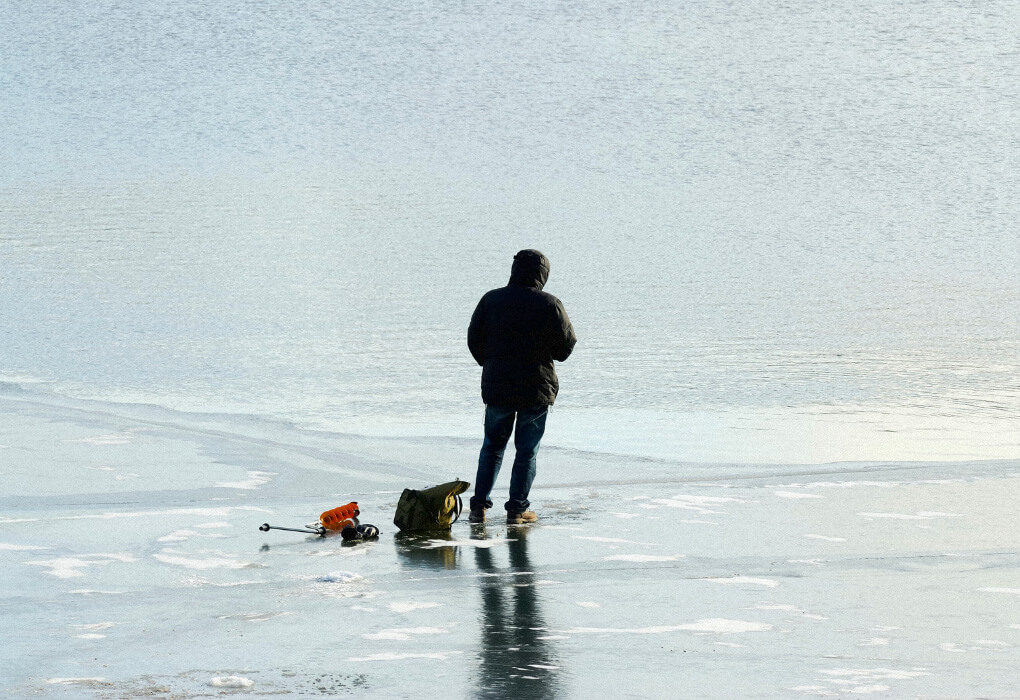 Lake Erie smallmouth fishing is possible in open water and late in the season on the ice. Using jigs and live bait on the ice is advisable.
If you are open-water fishing, the ned rig works best. Look for bass in deeper water primarily.
Ice fishing for bass and several other species is extremely popular for part of the year and on parts of the lake.
Ice fishing anglers can score bass working with jigs, spoons, flashers, and plastics that mimic fish like the goby, as well as live minnows.
Anglers must be cautious when ice fishing on the lake because while Erie often freezes over or the vast majority of its surface freezes, the strength of the ice can be deceptive.
Best Places To Fish on Lake Erie
As a lake, it is difficult to find anywhere that bass are not prolific.
If you follow the instructions above for seasonal approaches and adapt to local environments, Lake Erie fishing is excellent all year long, including during ice fishing season.
Getting to Erie is easy because it touches three states and Canada and has several metropolitan areas along the lake. There are also multiple sport fishing guides and charters around the lake.
Frequently Asked Questions
Here are a few commonly asked questions by people looking to fish Lake Erie.
Where is the best fishing in Erie?
The best fishing in Erie is Presque Isle Bay to the western basin and down the southern points around Cleveland.
If you are new to Erie, the key is to consider one of the many fishing charters that populate the lake.
What is the best fish to catch on Lake Erie?
A walleye is the best fish to catch on Lake Erie, but it has also yielded monster smallmouth, giant largemouth, and jumbo yellow perch. 
Can you ice fish on Erie?
Yes, in parts of Lake Erie, you can ice fish throughout the winter.
Make sure, though, if you go to ice fish, that you adhere to ice thickness rules, as Erie is infamous for its ice thickness shifting throughout the season. 
Final Thoughts
Bass fishing in Lake Erie offers some of the best opportunities to catch trophies that you will find in the northeast and across the country.
Tailor your approach to the season, and you are almost guaranteed to land as many fish as you can handle. One trip and Erie will be at the top of your list of fishing destinations.
What are some fisheries that should be at the top of our list of fishing locations?