---
We independently research, test, and recommend the best products; you can learn more about our review process here.
With all the emerging brands and new spinning reel technologies, it can be a little overwhelming for the average fisherman to know to pick the best spinning reel.
I got my start in the fishing world at age six.
Since then, I've used 100's of reels and have interviewed just as many professionals about their personal preferences when it comes to spinning reels.
In this nest spinning reel guide I'll help you maneuver the different reel terminology and help point you to what I think are the best reels on the market.
But in order to accurately compare some of my all-time favorite spinning reels of the past to the newer models, I set off on a weekend trip to the marsh in Southeast Louisiana. It's there that I put them all to the test.
Top 3 Spinning Reels on the Market
As a quick summary, here are my top three choices for best spinning reels based on my research and testing.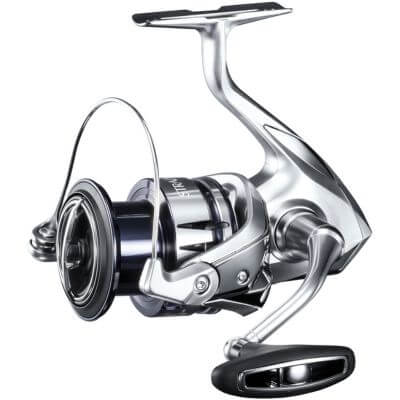 Shimano Stradic FL Spinning Reel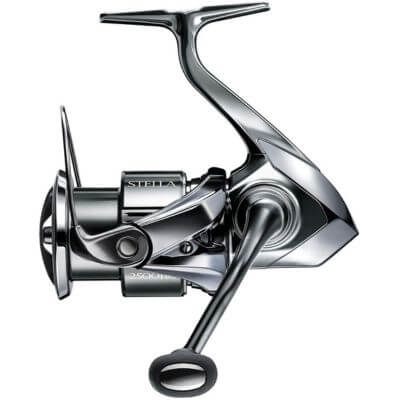 Shimano Stella FK Spinning Reel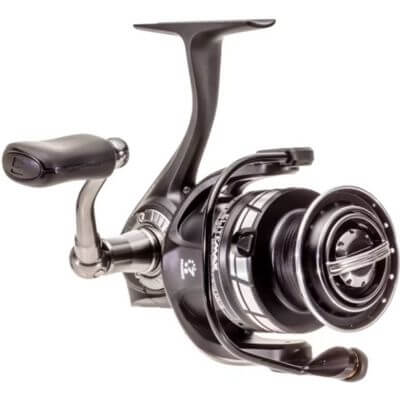 Abu Garcia Elite Max Spinning Reel
---
Best Overall Spinning Reel
Shimano Stradic FL Spinning Reel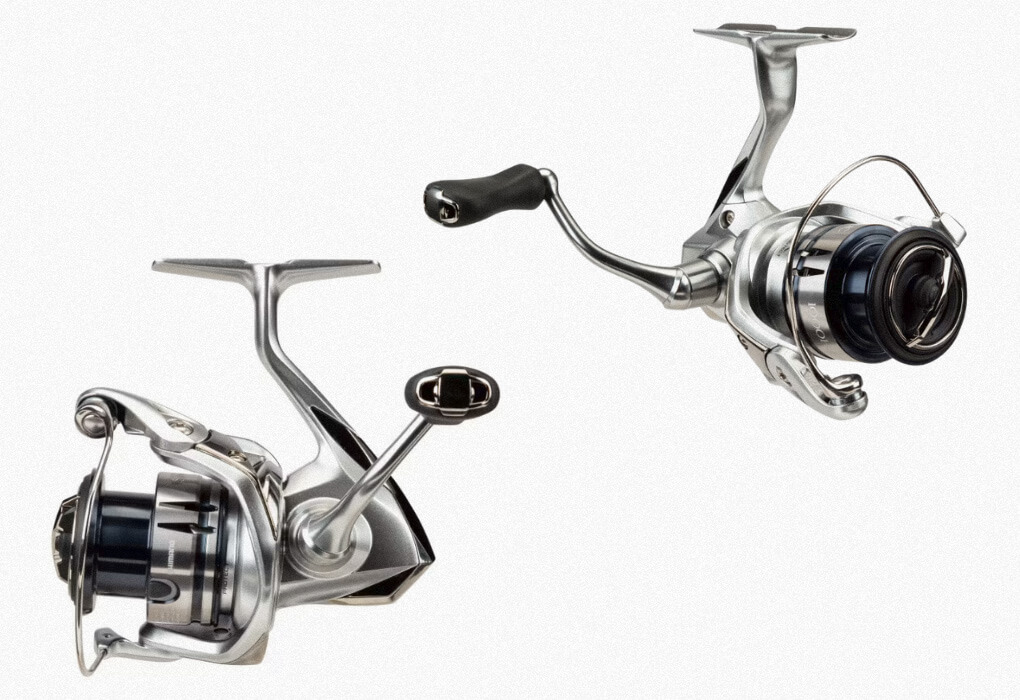 Specs
Type: Spinning 
Gear Ratio: 6.0:1, 6.2:1, 6.4:1 
Weight: 9.3
Bearings: 6+1
Line Capacity: 14/165
Why We Chose It
Out of the box I could tell that the Stradic FL was special. The reel has loads of features that all come together to make one near-perfect specimen of a spinning reel. 
When I tested the reel in the marsh the first thing I noticed was how hard the reel was.
Let me be more specific. There's no give or flex in any section of the reel. The reel works in unison without any play in any of the gears, reel seat, or spool.
It's what Shimano calls Silent Drive technology which is a combination of three features that come together to make a really quiet cast and retrieve.
The first feature is Shimano's HAGANE Body which is a rigid reel body design that reduces flex and any potential noise caused by body movement.
The second feature is Shimano's MicroModule Gear which is a gear system which is basically smaller teeth and sprockets that engage with one another. The smaller teeth mean a soother, quieter retrieve.
The third feature is The G-Free Body which shifts the center of gravity closer to the angler's hand position reducing weight shift. 
All I know is this reel is comfortable and I could have used it all day without tiring out. This is a really great design! 
I was able to try out this reel on Saturday morning throwing a spoon along the shoreline of the marsh in about two feet of water. This reel withstood a punishing flurry of redfish that measured from 16 inches to 28 inches.
Those redfish put the drag system to the test and it performed well.
The only drawback I found was that the drag wasn't as smooth as some other reels that I tried out.
However,  this reel was the best of the bunch and took the top spot for Best Spinning Reel.
I also liked the Abu Garcia Zata Spinning Reel which came close to getting the "best Overall" title but the reel wasn't as smooth as the Stradic FL.
Later that afternoon I was able to try out the reel on freshwater bass that were deeper in the marsh and it handled four bass masterfully.
If you are looking for a spinning reel that can cover both freshwater and saltwater fishing, the Shimano Stradic FL Spinning Reel is the way to go.
It was a true soldier and held up to the brackish  marsh conditions that I put it through all weekend. 
Best Tournament Grade Spinning Reel
Shimano Stella FK Spinning Reel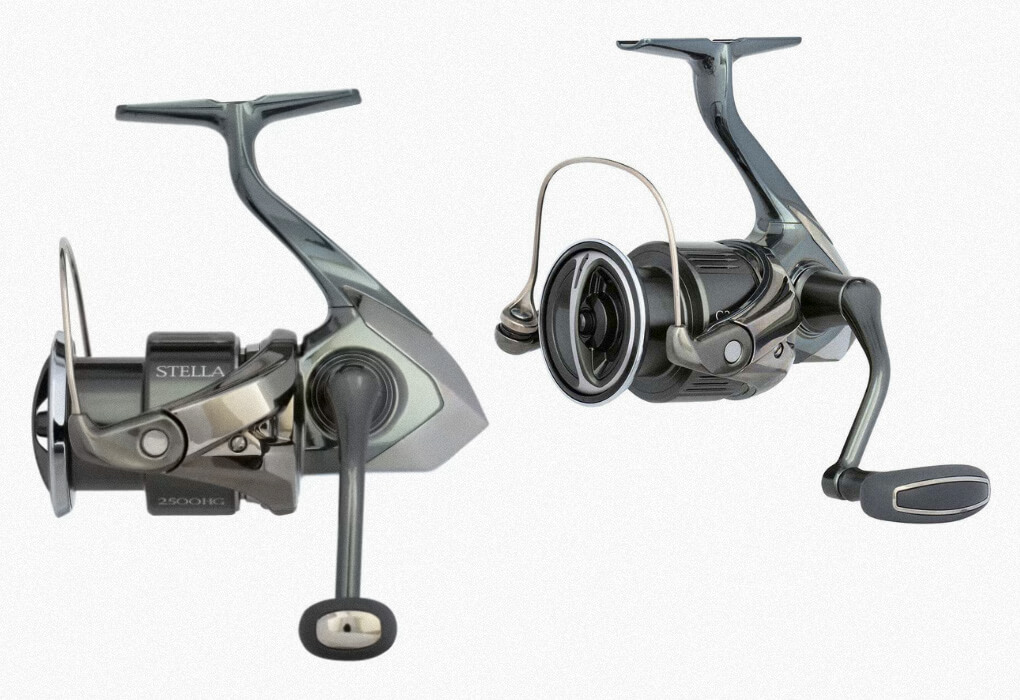 Specs
Type: Spinning 
Gear Ratio: 5.1:1, 6.2:1
Weight: 6 oz. 
Bearings: 12+1
Line Capacity: 6/110
Why We Chose It
Oh boy…where do I start? Let's begin with the most noticeable feature that I noticed when I tested this reel. THE RETRIEVE.
I'm not exaggerating when I say this is the smoothest spinning reel I have ever used in my entire life. When turning the handle there were times where I thought this reel was battery powered.
The spool turns with the slightest touch or effort due to what they call the Infinity Drive system.
So instead of having the main shaft supported by the pinion gear, it's now supported by a new low friction bushing that significantly decreases resistance which results in the lightest winding reel in the industry.
Also the rigidity of the reel is obvious. There's no give or flex in any section of the reel. The reel works in unison without any give in any of the gears, reel seat, or spool.
The Infinity Loop and Anti Twist Fin are responsible for the best level winding I have ever felt. There is no sagging tension whatsoever with this reel.
I paired this reel with my Shimano Teramar PX Southeast Spinning Rod during my test. I was able to catch three bass and a redfish that was busting shad in a shallow trenesse that was spilling out of the marsh. 
This reel is special.
It's like somebody dared Shimano to spare no expense with making this reel. It's made with the finest materials including liberal use of C14 and 13 total ball bearings (the more bearings, the smoother the reel)
The downside is obviously the price with it coming in at over 700 bucks but hey, you get what you pay for.
The Shimano Stella FK Spinning Reel is a reel that towers above all other reels in my opinion. There was no other reel that I tested that came close to this reel.
I'm already budgeting for a chance to get one in the near future. How many more days to Black Friday?
Best Budget Spinning Reel
Abu Garcia Elite Max Spinning Reel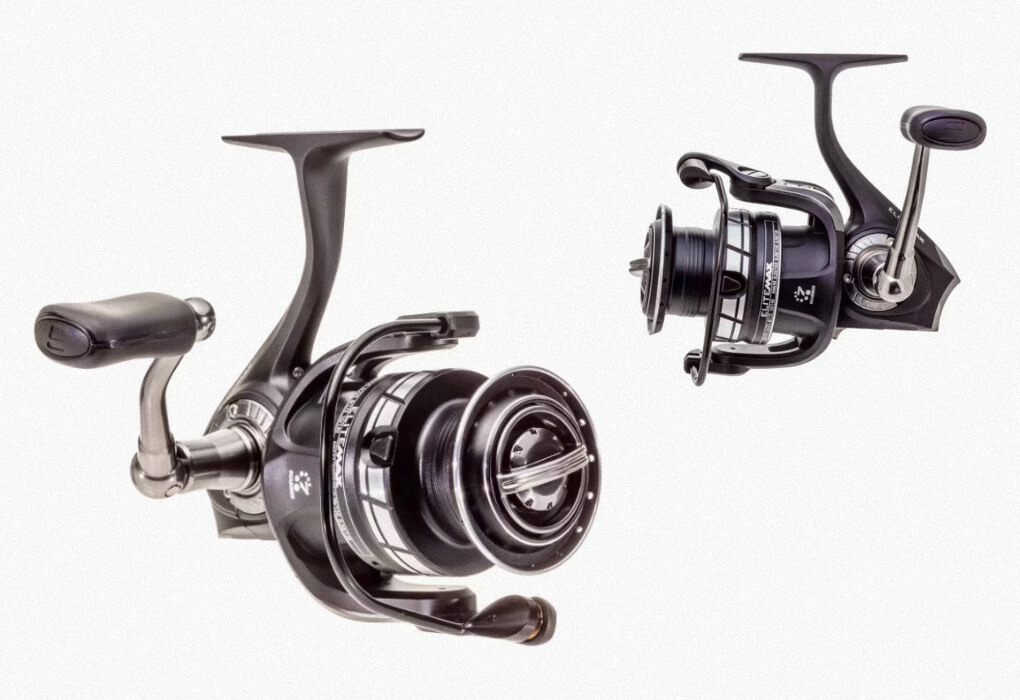 Specs
Type: Spinning 
Gear Ratio: 6.2:1 
Weight: 8.5
Bearings: 6+1
Line Capacity: 8/175
Why We Chose It
This little reel is quite an overachiever as I was surprised that it was able to check off all of the boxes when it comes to weight, material makeup, and casting distance.
Add to it the under $75 price tag and the Elite Max was our choice for Best Budget Spinning Reel. 
The Abu Garcia Elite Max Spinning Reel comes in two sizes: 30 and 40. It has a gear ratio of 6.2:1
The reel is available in right hand or left hand retrieval.
When testing this reel the biggest thing I noticed was its ability to cast farther than any of the other budget reels that I tried. In fact it almost beat out out top rated spinning reel: the Shimano Stradic FL.
It's because of the Lip Design or to put it in fancy company lingo, it's Rocket Spool Lip Design.
Basically this means the line moves back and forth at a slower speed resulting in the line flowing off the reel smoother.
This explains my long casts when using it. I was able to catch five marsh bass that were gathered back in a duck pond.
I was using a weightless Matrix Shad on a worm hook which is a very light lure. The reel casted beautifully and I hit all my targets. 
The Carbon drag system also had a high-end feel and sound to it when the biggest bass (2.6 pounds) made a quick run away from me after it hit.
One bad thing about this reel is that it only comes in two sizes which are size 30 and 40 so if you're looking for a smaller reel I would check out the Plueger President Spinning Reel which is very similar to this reel and comes in sizes 20 and 25. 
Overall, the Abu Garcia Elite Max Spinning Reel impressed me and I would recommend it for those fishermen who are beginners and looking for a reel to start with.
The price point and all the features make it a definite winner in my book!
Best Saltwater Spinning Reel
PENN Battle lll Spinning Reel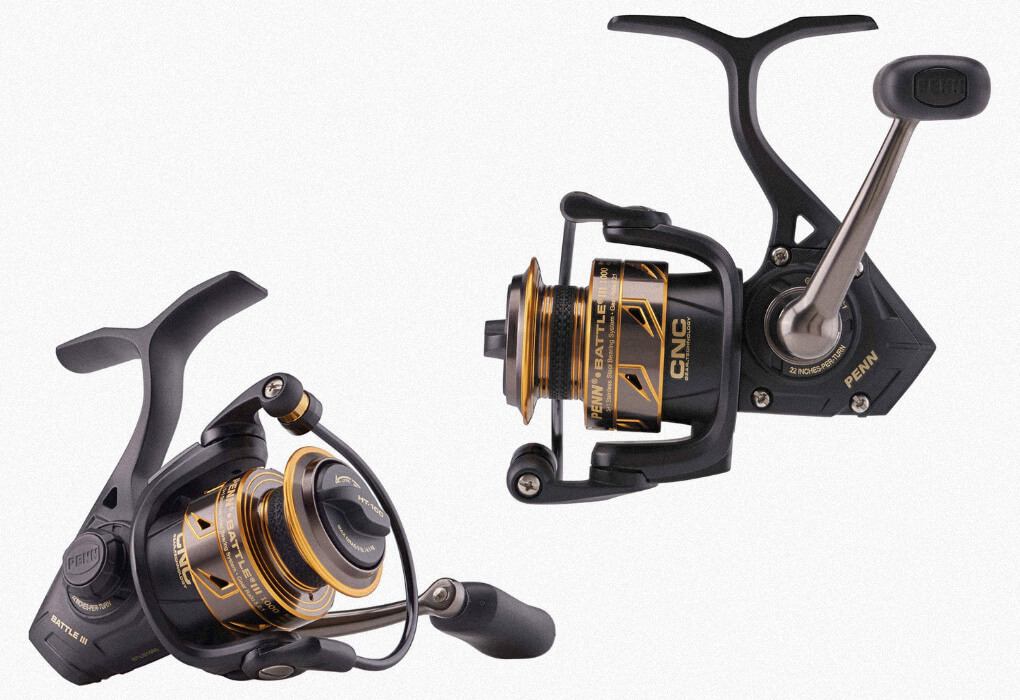 Specs
Type: Spinning 
Gear Ratio: 4.2:1, 4.2:7, 5.2:1, 6.2:1, 7.0:1
Weight: 9.7
Bearings: 5+1
Line Capacity: 10/165
Why We Chose It
Let me start out by saying even before my marsh test, I've used this reel for saltwater fishing so I am very familiar with it.
If you've ever used the older PENN Battle ll reel, you will notice that the Battle lll is a heck of a lot smoother. 
That's because the older model used stock gears that fit together.
The new PENN Battle lll is CNC machined, which means the gears are cut from one block of metal which makes for a PERFECT fit. And you can tell when you reel this thing!
It's got the smoothest retrieve of all the reels and it's because of its new CNC Gear Technology which is plastered all over the reel just to make sure you know it!
I was able to test this rod in a school of speckled trout using a popping cork.
The reel made very long casts which was helpful as I approached the school of trout. (It's best not to disturb the trout while they are feeding)
I put 14 speckled trout in the boat and the reel performed wonderfully.
I even got to try out the drag system when a 25-inch gafftop catfish inhaled my shrimp and made a run for it pulling off about 50 feet of braided line.
The HT-100 Carbon Fiber Drag System made a big difference as the drag pull was smooth and without any sporadic jerks.
This is important when catching larger fish. You don't want the line being pulled out fast, in sudden spurts, as this adds more tension to the line.
The only downside that I can see is that the reel is slightly heavy but that's only due to the metal sides on the reel. Also be sure to spray this reel down with WD40 because the metal will corrode after using it in saltwater.
If a metal body is a factor in your decision I can point you to the Lew's Custom Speed Spin Reel which has an all-aluminum body and performs pretty close to the PENN Battle.
Overall, the PENN Battle III is a fantastic reel and offers so many sizes that it will fit any type of saltwater fish you are targeting. Add this reel to your saltwater collection and thank me later! 
Best Ultralight Spinning Reel
Pflueger Patriarch Spinning Reel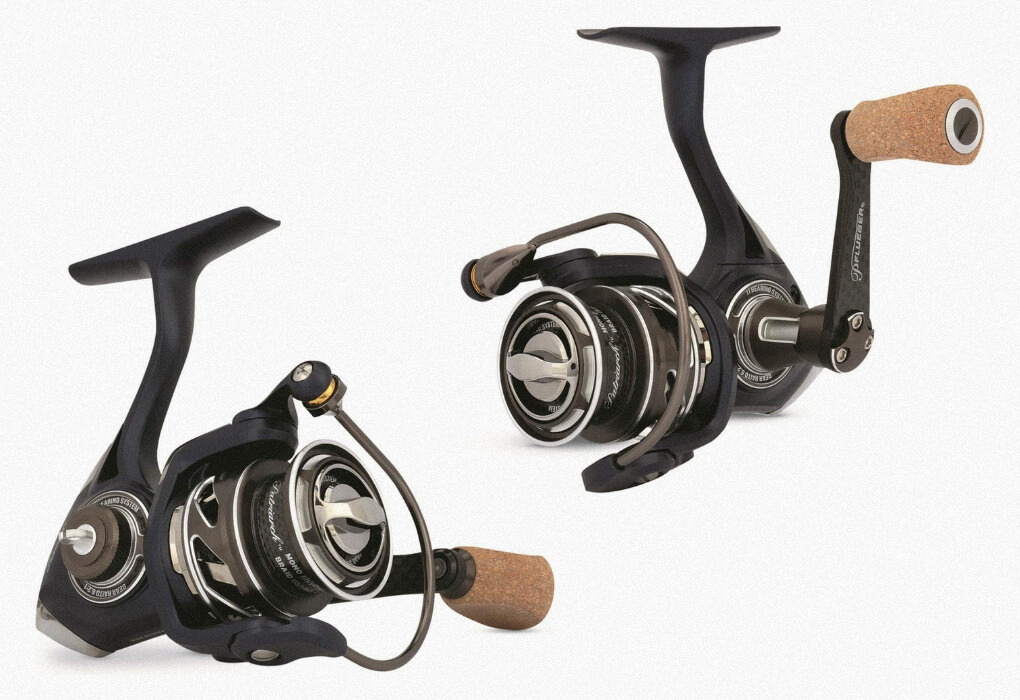 Specs
Type: Spinning 
Gear Ratio:  6.2:1
Weight: 6 oz. 
Bearings: 10+1
Line Capacity: 8/140
Why We Chose It
Finding an ultralight spinning reel that fits my needs is quite a challenge so I was really looking forward to testing the handful of reels I brought out to the marsh.
When I tested the Pflueger Patriarch Spinning Reel there were quite a few qualities that impressed me. 
The first thing I noticed was the weight. It's a really light reel coming in at 6oz.
The cutaway rotor and overall small size is what puts this reel in the ultralight category for me. The magnesium body is another reason why this reel is so light.
Now let's move on to the retrieve. This reel casts and retrieves like a high-end reel.
I was able to cast weightless Flukes and walk them across the water's surface for some fun top-water bass action. The Patriarch handled all of the bass with ease which is something that some ultralights struggle with. 
I really noticed the 11 ball bearings. They made a big difference and the smooth retrieve was the reason that we gave this reel the nod over the Daiwa BG Spinning Reel which was similar in comparison (The BG only has 7 bearings) 
If you're looking for an ultralight spinning reel that not only can handle bream, but can handle bass, the Pflueger Patriarch Spinning Reel is the rod to go with. 
It checked all the important boxes that make up a legendary ultralight reel!
Testing Procedures
Since spinning reels are used for both freshwater and saltwater, I sought out a place to test the reels on a wide variety of fish including bass, speckled trout, redfish, sheepshead, drum and flounder.
That place is the Biloxi Marsh on the southern shoreline of Lake Borgne in Southeast Louisiana.
During my time on the water I specifically focused on these qualities that each reel possessed:
Gear Ratio: Spinning reels are used for all kinds of fish so having the right gear ratio is important.  During my test I tried out these reels to see if their retrieve speeds held up to the manufacturers claim.
Construction:  Owning a tricked out reel is great, but finding one that's going to last is as important as all the bells and whistles.

During my test I examined each reel and ranked each one according to the material used to make it and how well the reel is put together. 
Drag System: The improvements in the drag system of spinning reels in the last decade have been amazing. Not only does a great drag help with line breakage, it also gives the angler an advantage when tiring out those big fish.

During my weekend I kept a keen eye (and ear) on the drag systems especially when those big fish made hard runs. 
Ball Bearings: The number of ball.
How to Choose the Best Spinning Reel?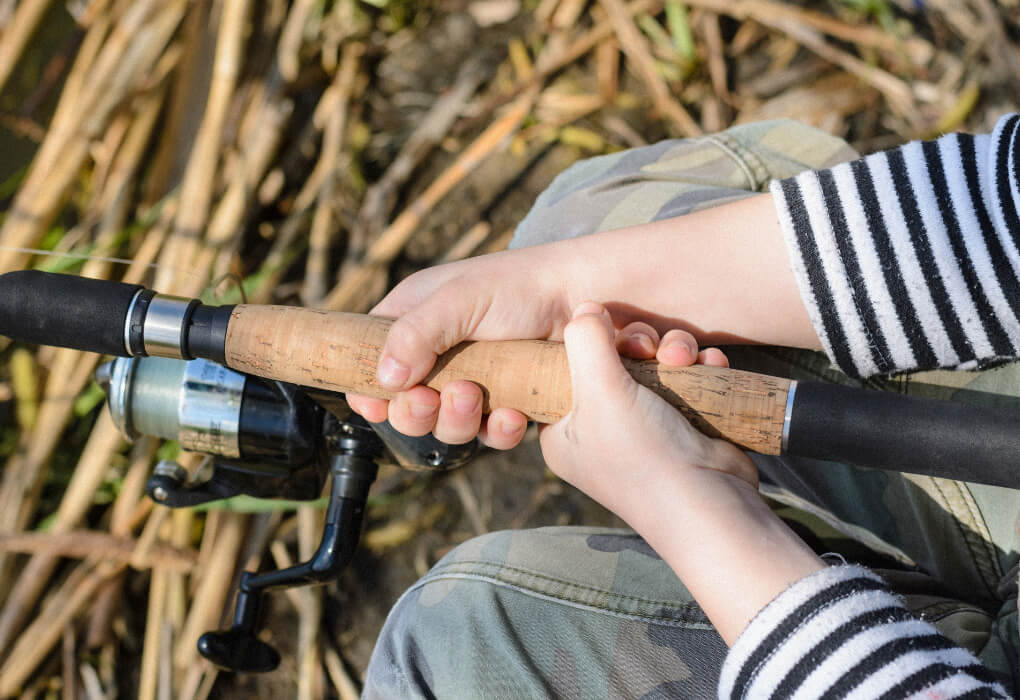 There's no doubt that spinning reels are the most popular reels on the market. Their versatility and ease of use are what make them the first choice for most anglers.
They can be used to catch small fish like bream and they can be used to catch saltwater fish like redfish.
When looking at a spinning reel there are a few important factors that are key to selecting the right reel.
Size
The size of the reel plays a factor when choosing a spinning reel. This is really no surprise as you'll want a larger size reel when fishing offshore for larger fish.
A size 500 or bigger is preferable for these big fish. For inshore saltwater fish like redfish and speckled trout you'll want a reel that between 2500 and 4000.
Smaller freshwater fish like bass and bream call for reels that are 1500 to 2500.
Bearings 
The bearing system is what makes the reel retrieve smoothly.
In order to help you understand how the number of bearings affect the smoothness of the retrieve, here's a really simple equation to remember. The more bearings in the reel means the smoother the retrieve is going to be.
Also you'll want to take a look at what the bearings are made of.
Corrosion-resistant stainless steel bearings are best because they won't wear down over time, and if you maintain it, you won't have to worry about the dirt and debris getting inside and causing the bearings to corrode.
Gear Ratio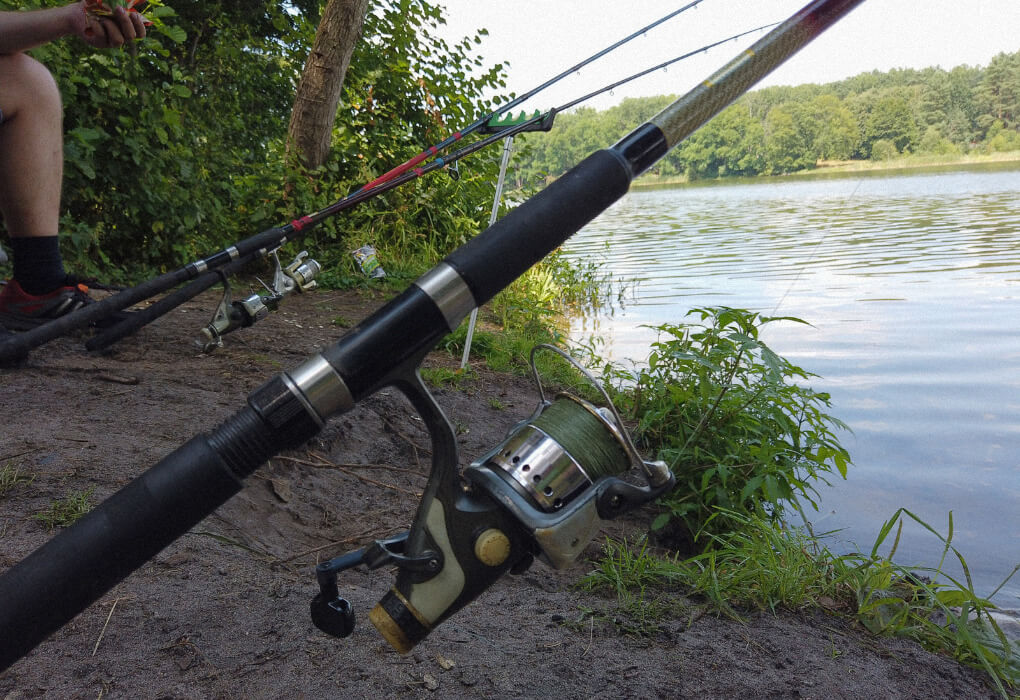 The gear ratio is the number of cranks it takes to get the fishing line to rotate.
So, if you have a 6:1 gear ratio, it means that every time you crank the handle one time, it turns the internal gear six times.
This should be factored into what kind of lures you want to throw. If you're going to put this reel on a rod to catch saltwater fish, then you'll need to go with a slower gear ratio.
If you're using it for smaller freshwater fish, then you'll want to go with a faster one. Also what kind of lures you use will affect what gear ratio you'll need.
If you're burning spinnerbaits or using crankbaits, a faster gear ratio is better.
Final Thoughts
During my test of numerous spinning reels in the Biloxi Marsh I learned a ton about just how good the manufacturers are making these reels.
There were some really good spinning reels and can honestly say that there were some hard choices that I had to make.
So let's review our top pick!
For the best spinning reel overall, I chose the Shimano Stradic FL Spinning Reel. It was an outstanding reel and led the pack when it came to material makeup, smoothness, and casting ability.
While the Stradic FL won overall, you really can't go wrong with all the reels mentioned in this Best Spinning Reel Guide that I've put together. 
Give them a try and tell us what you think! We'd love to hear from you!