---
We independently research, test, and recommend the best products; you can learn more about our review process here.
When it comes to spinning reels there are a lot of high-quality reels on the market that deliver the goods when it comes to construction, drag, weight, and a smooth retrieve.
Of course, you're going to pay for them with some reels costing over $800. Then there are some reels that are more affordable and cost under $100.
While these reels might not have all the bells and whistles like 13 ball bearings, Duracross drag washers, or 30 pounds of max drag, they get the job done without breaking the bank.
In this best spinning reel under $100 guide I took 8 of the top-selling budget reels and headed to a private lake for an on-the-water test.
During this test, I studied how each reel performed and ranked them to come up with a guide to help you choose your next budget reel.
Top 3 Saltwater Spinning Reels on the Market
As a quick summary, here are my top three choices for best inshore spinning reels based on my research and testing.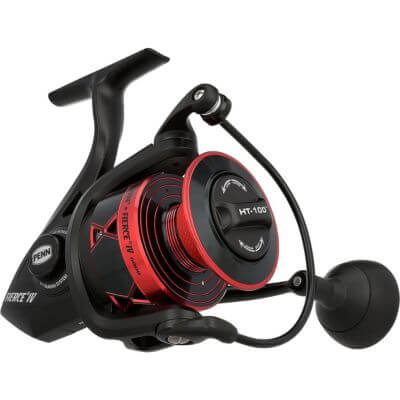 PENN Fierce IV Spinning Reel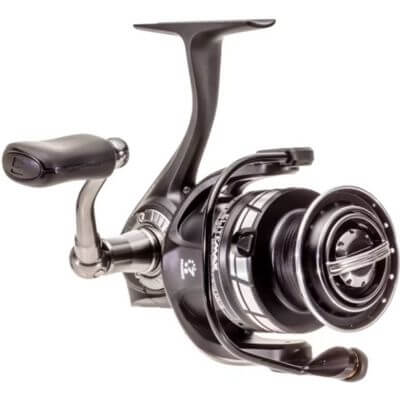 Abu Garcia Elite Max Spinning Reel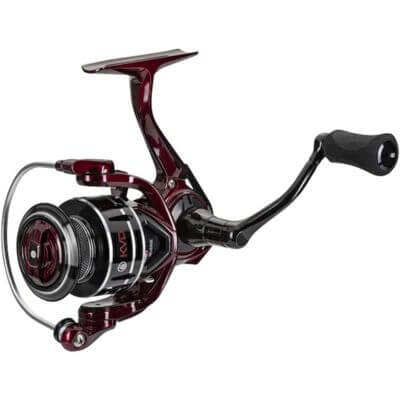 Best Spinning Reel for Bass
Lew's KVD Spinning Reel
---
Testing Procedure
The private lake where I held my test provided me with a lot of different fishing situations including deep drop-offs, sand bars, submerged logs, and lily pads.
But more importantly, it was stocked with big bass because that is the result of a stern size limit of 18 inches.
I figured I would need to test the drag system on these reels and these 5+ pound fish would be the perfect fish to do it.
During my time on the water I specifically focused on these qualities that each reel possessed:
Construction:  Finding a well built reel for under $100 can be a challenge. During my test, I examined each reel and ranked each one according to the material used to make it and how well the reel is put together. 
Drag System: Here is where a lot of manufacturers cut corners. Having a strong drag system is important. Not only does a great drag help with reducing line breakage, it also gives the angler an advantage when tiring out those big bass.

During my weekend I kept a keen eye (and ear) on the drag systems especially when those big fish made hard runs. 
Ball Bearings: A true sign of a high-end reel is how many ball bearings it has. Generally, the more bearings a reel has, the smoother the retrieve.

I tested out these budget reels to find which ones excelled in the retrieve department. 
Weight: When it comes to spinning reels, the weight of the reel is very important. You don't want the reel throwing off the balance of the rod that you are using.

During my test, I checked all the reels to see if they matched up to their specified weights. 
Best Overall Spinning Reel Under $100
PENN Fierce IV Spinning Reel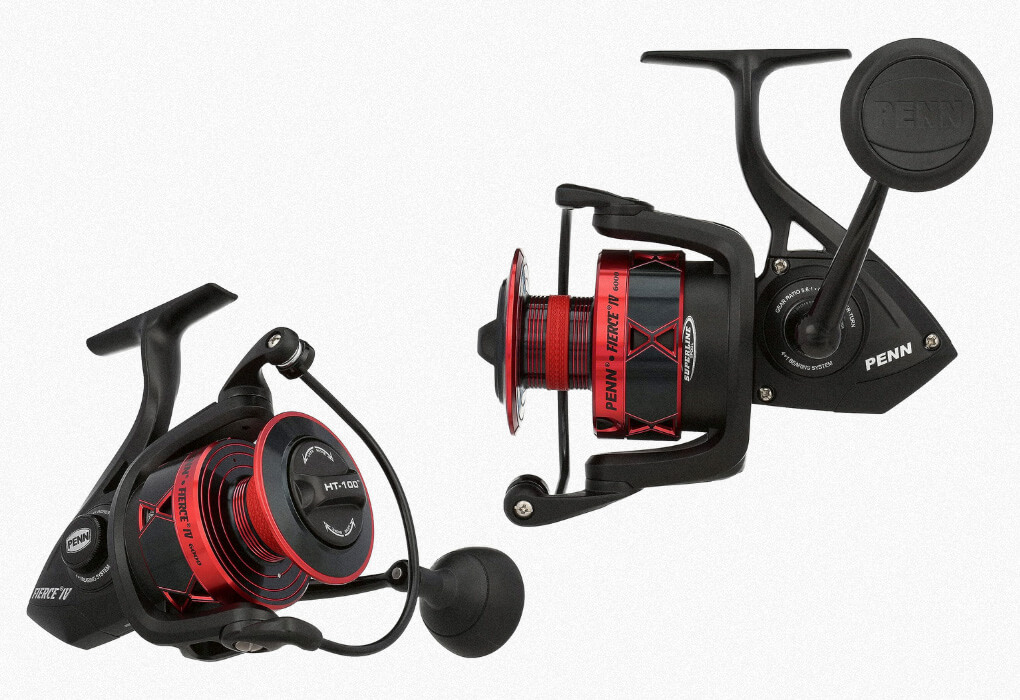 Specs
Type: Spinning
Gear Ratio: 5.3:1, 5.6:1, 6.2:1
Weight: 9.9 oz.
Bearings: 4+1
Line Capacity: 8/175
Why We Chose It
PENN and quality go hand in hand. These reels are built solid and just because the 5.3:1 and 5.6:1 model is under 100 bucks doesn't mean PENN let up the gas pedal when it comes to building a beast of a reel.
I tested this reel in the lake casting on the outside edge of a grass line.
I was throwing a white 4" Zoom Fluke on a weightless keeper hook and picked up 4 bass. (There's nothing like catching top-water bass on weightless Flukes)
I was also able to test the drag when I hooked a 3-pounder which made a run into the lily stems. The HT-100 Carbon Fiber Drag System managed beautifully! The drag pull remained smooth without any sporadic jerks.
This is a great little reel! Built solid and has great line capacity so you can fill it with a ton of braid.
Another thing that I noticed with the Fierce lV is the Superline Spool which allowed me to spool up with thicker braided line and still manage to get a ton of line on it! 
It's got 5 total bearings which made for a decent retrieve when it comes to smoothness.
For a slightly smoother retrieve, the PENN Battle ll Spinning Reel offers an extra bearing for a couple of bucks more. 
Overall the PENN Fierce IV impressed me enough to rank it as the best overall spinning reel under $100. It's a fantastic reel and hey…it's a PENN…what more do I need to say!
Add this reel to your spinning reel collection and don't look back!
Best Saltwater Spinning Reel Under $100
Abu Garcia Elite Max Spinning Reel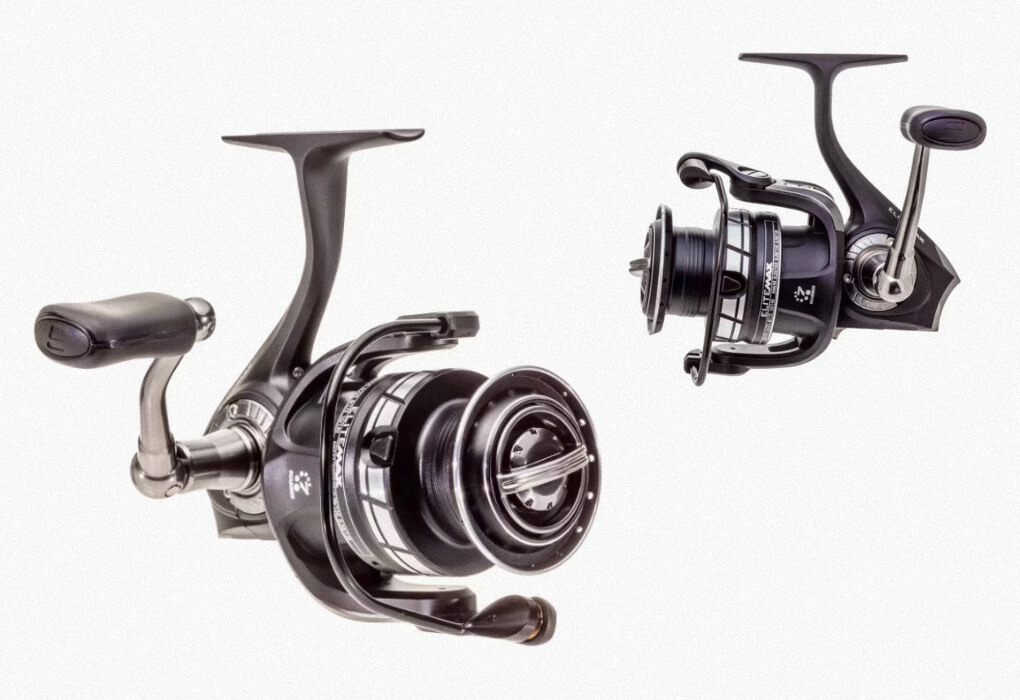 Specs
Type: Spinning
Gear Ratio: 6.2:1
Weight: 8.5
Bearings: 6+1
Line Capacity: 8/175
Why We Chose It
It's not too often that you get added features to a reel that sells for under $100 but Abu Garcia has found a way to cram a bunch of features into an already well-built, durable spinning reel.
This Elite Max led all the other budget reels I tested in the casting department.  
Abu Garci's patented Rocket Spool Lip Design worked flawlessly. I monitored the line and it flowed off of the spool and there were noticeably less rebounds as the line bounced back and forth off of the spool wall.
The 7 corrosion-resistant ball bearings are perfect for any saltwater intrusion inside the reel.
The Carbon drag system had a high-end feel and sound to it which was a bit of a surprise being that the drag is usually where companies cut corners on budget reels.
We chose the Elite Max as the best saltwater because of its durable build and carbon body. Another thing that solidifies it as a great saltwater spinning reel is the size. 
It's perfect for inshore trips, but if you are looking to fish bass with this, it may be a bit too large. (Only available in size 30 & 40)
Fortunately, there is a reel that is very comparable to the Elite Max and that is the Plueger President Spinning Reel which comes in sizes 20 and 25.  
Overall, the Abu Garcia Elite Max Spinning Reel scored impressive marks and often performed like a high-end spinning reel. 
I would recommend it for those fishermen who are beginners and looking for a reel to start with. The price point and all the features make it a definite winner in my book!
Best Ultralight Spinning Reel Under $100
Pflueger President Spinning Reel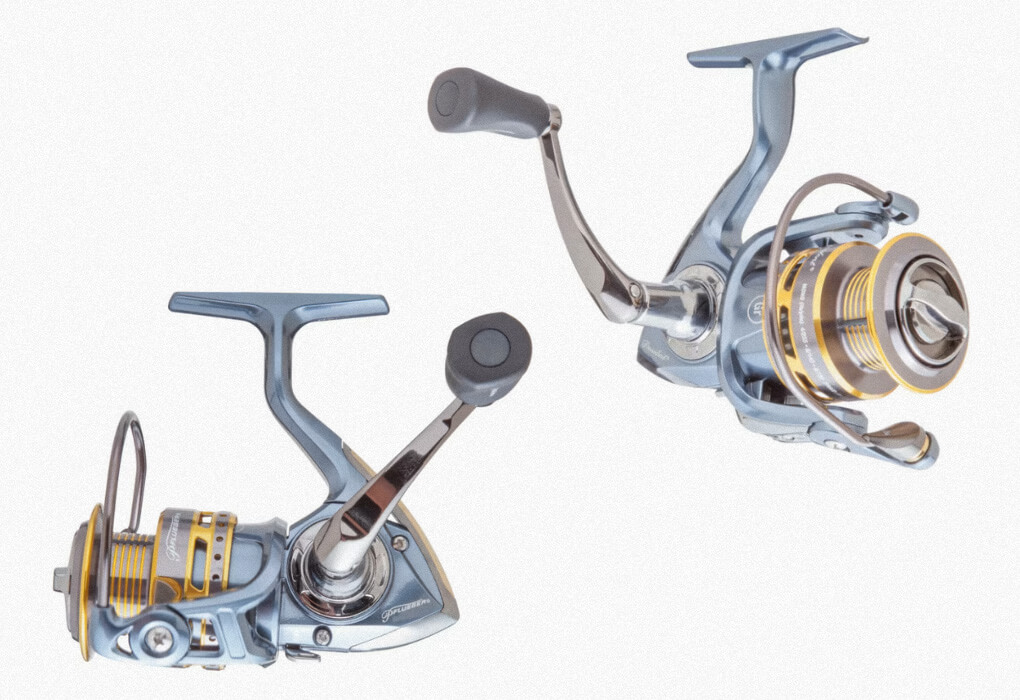 Specs
Type: Spinning
Gear Ratio: 6.2:1
Weight: 6.2
Bearings: 6+1
Line Capacity: 4/100
Why We Chose It
One of the biggest mistakes you can make when selecting an ultralight reel is to get a reel that is too big. The Pflueger President was custom made to be a true ultralight reel from the weight and size to the casting ability. 
Trying to force a normal spinning reel onto an ultralight rod almost always ends in disaster because the reel outweighs the rod.
The size 20 reel only weighs 6.2 pounds so it's a true ultralight reel.
During my test, I paired the President with a 6'8, Medium action Abu Garcia Veritas rod and beat the bank with a Rapala Ultra Light Shad. 
I latched on to a 1.5-pound largemouth bass and got to witness what this ultralight reel was made of.
The bass made a deep run and the 7 lb. drag screamed for about 5 seconds before I was able to start turning the handle slowly.
As far as casting, the reel cast smoothly and I never encountered any "hiccups" from the bail wire opening and closing.
The line flowed off the spool freely and my casts consistently landed within two feet of the bank which led to that 1.5-pound bass being caught.
The reel actually reminded me of the Pflueger's more expensive Patriarch Spinning Reel. The only thing is the Patriarch has a lot more drag and has 11 ball bearings which makes the retrieve smoother.
I did manage to get this reel wet after a wave came over the bow of my boat and I will say that the reel made a grinding noise like it had sand in it.
After the ride home and the reel dried out the noise stopped so I wouldn't say it's that big a deal.
As an extra bonus, this reel can easily fill the role of an ice fishing reel if you need a reel to pair with your ice fishing rod.
The graphite makeup is cold proof and it matches up with most hard water rods.
When it comes to getting the most bang for your buck, the Pflueger President is the perfect ultralight spinning reel to target bream and bass. 
After trying it out, don't be surprised if you end up getting another one to match up with  some of your other rods.
Most Versatile Spinning Reel Under $100
Shimano Sedona FL Spinning Reel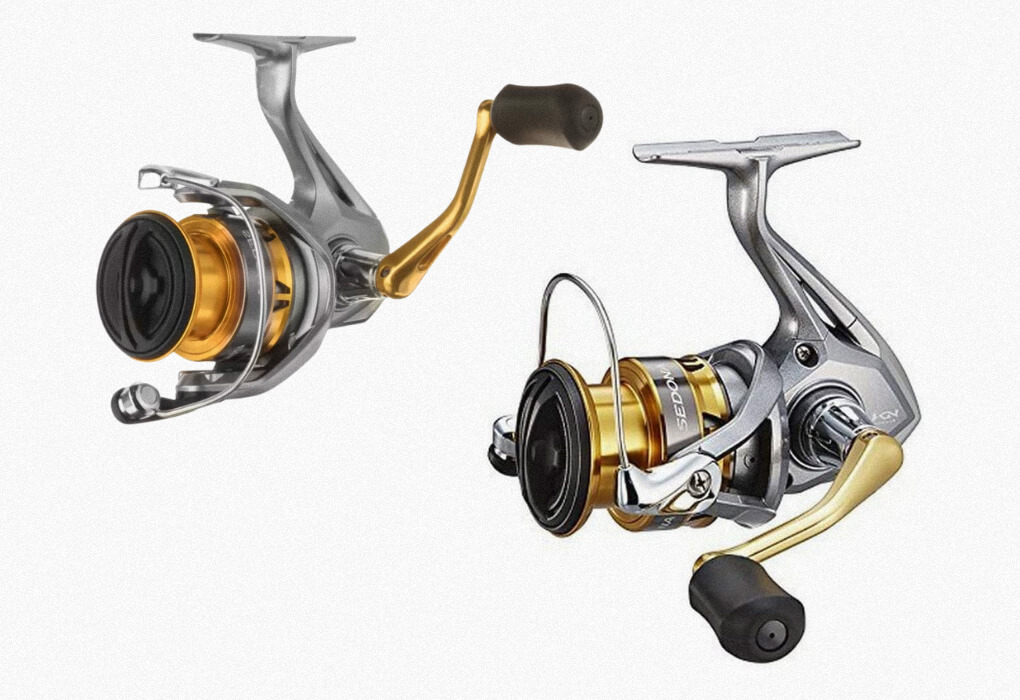 Specs
Type: Spinning
Gear Ratio: 5.0:1, 5.6:1, 6.2:1
Weight: 7.6 oz.
Bearings: 3+1
Line Capacity: 6/110
Why We Chose It
Right out of the box I was impressed with the Shimano Sedona. 
It was one of the lightest reels that I tested and was rock solid when I tried to twist it. FYI, to test a reel's rigidity all you have to do is twist the handle in a fashion that it's not supposed to be turned.
If you hear any noise or feel any play in the reel that tells you it's probably not a Hagane body.
I brought along the 1000 model for my bass fishing trip to the lake and decided to try throwing a crank because of its low gear ratio of 5.0:1.
I was using a Rebel Crawfish in the red color. Typically I use crawfish-colored lures in the spring when the crawfish are coming out of the ditches and pouring into the lake. 
I ran this crank horizontally along the shoreline and picked up four bass with the biggest being two pounds. The drag was really smooth when it made a run.
I was able to make a quick adjustment to the drag because it was a little light. The knob on the top of the reel was perfectly placed for my left hand to reach up and tighten it.
The Sedona comes in sizes from 1000 all the way up to 8000 so it can serve as a saltwater reel and even an offshore reel. It is truly a versatile spinning reel if I ever saw one.
The reel made noticeably long casts and I didn't have any problem with line twists or jams. One thing with the bail: when it's cocked open, it will close with the slightest touch.
During one of my cast I accidentally knocked it with my knuckle and it slammed close mid-cast. Not a big deal for most people.
I also tried the Shimano Nasci FC Spinning Reel on my trip and this reel was slightly better in terms of the bail not being so sensitive. 
Overall, the Shimano Sedona won me over as not only a great bass fishing reel but a spinning reel that can be used in freshwater or saltwater. It was hands down the most versatile reel I used on during my test. 
Best Spinning Reel for Bass Under $100
Lew's KVD Spinning Reel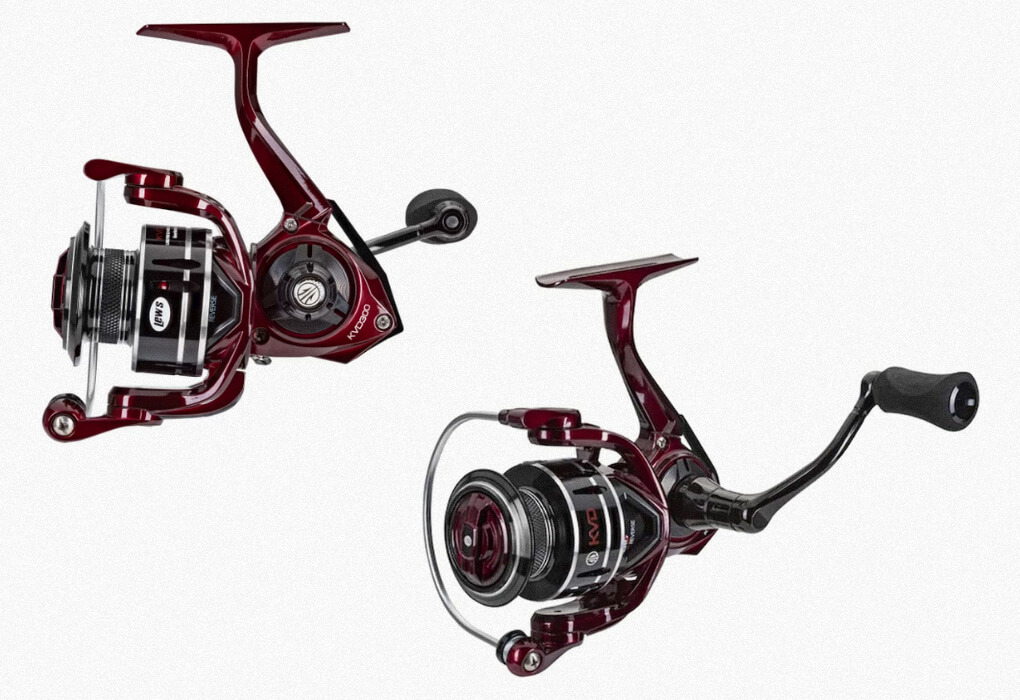 Specs
Type: Spinning
Gear Ratio: 6.2:1
Weight: 8.5 oz.
Bearings: 9+1
Line Capacity: 8/120
Why We Chose It
At just under $100, the Lew's KVD Spinning Reel may be the most complete spinning reel for bass fishing. 
It's got a ton of features that stood out to me during my test like a high-end soft EVA handle knob, a tough aluminum body and sideplate, and a whopping 10 ball bearings.
The biggest thing that stood out to me when using this reel is the retrieve. Lew's jammed a total of 10 bearings inside the KVD Reel putting it in a class of its own when it comes to budget reels. 
I fished with it all morning and could hardly put it down.
Talk about a smooth reel! I was able to cast and retrieve my way to 7 bass that spanned a total of 1.3 miles along the shoreline. (I drained the battery on my trolling motor this morning)
I just couldn't stop casting this reel. It's so smooth!
I was using the size 2000 reel and let the drag do the work when a 3.5-pound bruiser mauled my MiniMax Chatterbait. 
The 14 lb drag system bullied this female bass to the boat and I was able to net her with ease for a quick catch and release.
The KVD comes in three sizes: 200, 300, and 400. All these sizes have the same ratio of 6.2:1 which is a great middle-of-the-road speed but may be a little slow for crankin'.
When using this reel it reminded me of the Daiwa Fuego LT Spinning Reel as far as its buttery smooth retrieve. 
At the end of the day, I was thoroughly impressed by the Lew's KVD Spinning Reel and have total confidence that it can be your go-to reel when fishing for bass.
Whether you're a beginner or a novice, this reel doesn't fish like a budget reel. Heck, for the price, I'd get two!
How to Choose a Spinning Reel Under $100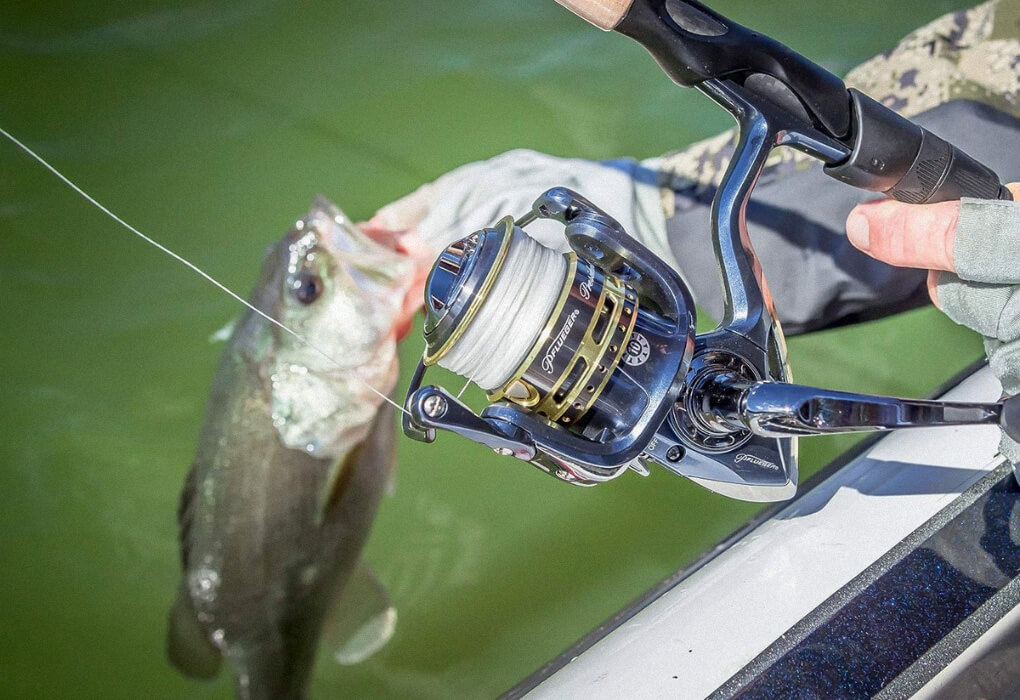 When choosing a spinning reel under 100 bucks you're going to have to focus on the most important features. Ball bearings, drag, and body construction.
Ball Bearing Systems
Typically the more ball bearings that are inside the spool, the smother the reel is going to be. However, if the bearings are made of cheap material, that's not always going to be the case.
A good starting point is at least 4 bearings. 
Look at what the bearings are made of and go from there. High quality material like stainless steel is what you are looking for when choosing a spinning reel with a good ball bearing system.
Drag System
The drag system is easily one of the most important parts of any fishing reel as it will likely be the make-or-break factor that determines whether you're going to get that big bass in the boat.
Make sure the reel offers a quality front drag, as well as rear drag. A smooth, consistent drag pull is important for tiring big bass.
This is where manufacturers often try and cut corners so inspect that max drag spec and try to get a reel with a max drag of at least 11 lbs.
Construction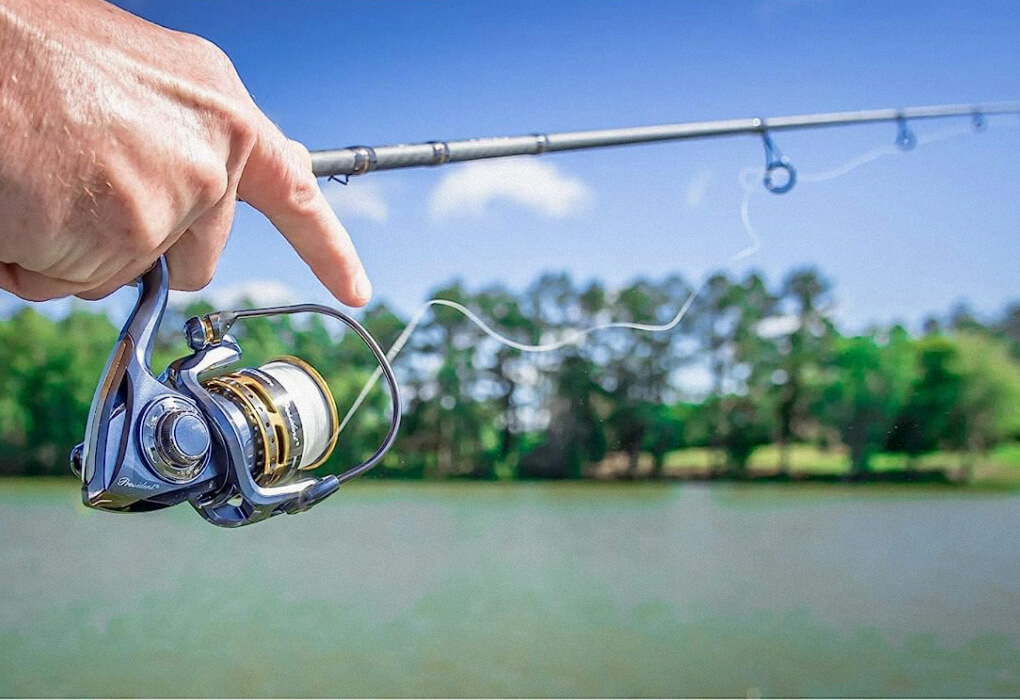 Just because a reel's under $100 doesn't mean it has to be made of cheap material.
The best spinning reels on the market are going to feature a full-metal construction including a side plate and anodized gear that protects you against saltwater.
You'll also see a lot of reel manufacturers use phrases like "Hagane body" or "G-Free Body."
These are basically fancy and trademarked ways for them to say that their body is made using all metal, it's locked tight, so nothing gets in, and it won't flex or bend when you put excess pressure on it.
These are all important factors to consider.
Final Thoughts
During my test of numerous spinning reels at the trophy lake, I found some really solid reels that were all under $100.
While there were a lot of tough choices, I feel we ended up with a list that will help point you in the right direction as far as choosing a spinning reel under $100
So let's review our top pick!
For the best spinning reel overall, I chose the PENN Fierce lV. It was an outstanding reel and led the pack when it came to material makeup, smoothness, and max drag. 
While the PENN Fierce lV won overall, you really can't go wrong with all the reels mentioned in this Best Spinning Reel for Under $100 Guide that we've put together.
Give them a try and tell us what you think! We'd love to hear from you!